Certainly an indulgent dish in this house, this Veal Scallopini is a tasty reminder of the restaurant where we met. The crispy breading and tender meat with frothy, buttery sauce, and tang of the lemon juice with the saltiness of capers - this dish is a home run. If veal isn't in your wheelhouse you can certainly use chicken breast. Slice it thin, cover it with plastic wrap and pound it thin. The preparation from there is the same, though cooking the chicken may take just a touch longer. This recipe will make enough for two servings.
Here's what you will need:
1 package (about 12 ounces - 4 cutlets) Veal Cutlets - they should already be prepared thin and ready to go in the meat department of your grocer. Don't be afraid to consult with the clerk, its better to buy the right thing the first time.
For the breading:
1 ½ cups Italian breadcrumbs
¾ cup Panko breading
2 tablespoons chopped Italian parsley
¼ cup grated parmesan cheese
½ teaspoon kosher salt
½ teaspoon black pepper
all purpose flour for dredge
3 whisked eggs for dredge
canola or vegetable oil for pan frying
For the sauce:
¾ stick butter (6 tablespoons)
¼ cup lemon juice
2 tablespoons nonpareil capers (or however many you prefer)
In a shallow bowl, add together breadcrumbs, parsley, parmesan, salt and pepper. If the bowl is shallow enough you will be able to dredge the veal cutlet without folding use that, otherwise transfer to a flat dinner plate.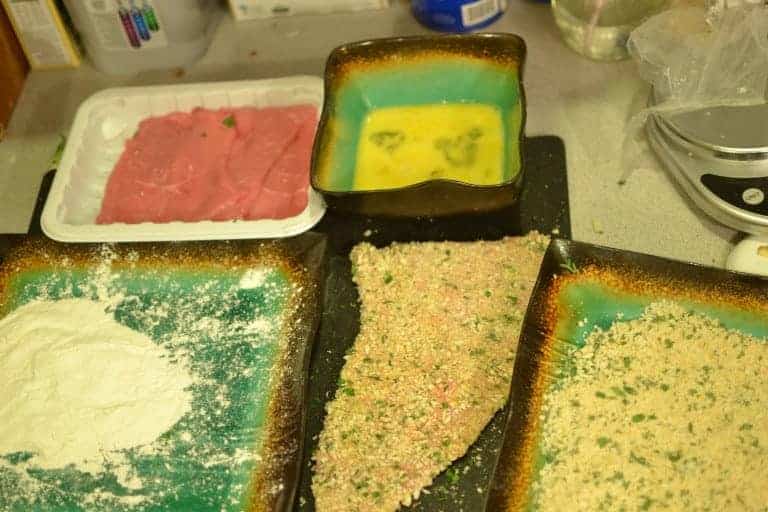 In addition, set up your dredging 'station' - flat plate or shallow bowl with all purpose flour, whisked eggs, and breadcrumb mix. Coat both sides of the cutlet in flour, make sure it is completely covered but shake off excess. Repeat process for eggs. Coat with the breadcrumb mixture, pressing gently to ensure a sufficient coating.
Depending on how many cutlets you plan to prepare, you can start the cooking process and continue your dredging while the first batch cooks. I was only making four cutlets total so I breaded everything together and then cooked them two cutlets at a time.
Heat a large sauté pan on your stove top and add enough oil to coat the pan and then some - about a ¼" of oil. Have ready a plate with paper towels on the side so you have somewhere to put you cutlets when they are done cooking, paper towels are optional but I like to drain the excess grease off if possible. Saute until golden brown on both sides, cooking time will vary depending on the thickness of your cutlet. I typically cook on medium-high heat rather than just high for this dish, because you want the oil hot enough to fry but not so hot your breadcrumbs will burn before the center is cooked. My advice? Having a small tester piece is a great option and gives the added bonus of a snack.



While your cutlets are crisping up, start the sauce. In a saucepan, melt the butter and add the lemon juice together cooking on medium heat. Whisking occasionally until the sauce starts to simmer. Once a simmer begins, continue whisking so the butter does not burn before the sauce is done. The sauce will be done once the liquid reduces and becomes frothy - about 7-10 minutes. The lemon flavor will be pronounced, but will mellow out once on top of the scallopini. If it is too tangy for your taste buds, at the remaining 2 tablespoons of butter and reduce again. At this point you can add your capers or add them as garnish once your sauce is on top of the cutlet. Our Veal Scallopini was served alongside pan sautéed brussel sprouts and parsnips. Needless to say, the house was very quiet during dinner that night!
Happy eating!