Layers of limoncello soaked ladyfingers and fluffy mascarpone cream whipped with fresh lemon zest and lemon curd. This easy limoncello tiramisu recipe is a simple no-bake dessert and a lemon lover's dream come true in one!
If you're looking for the perfect summer dessert, it is right here my friend.
It's fluffy, each bite laced with lemon perfection, sweet soaked cookies, and just overall deliciousness from start to finish. Plate licking will not be judged.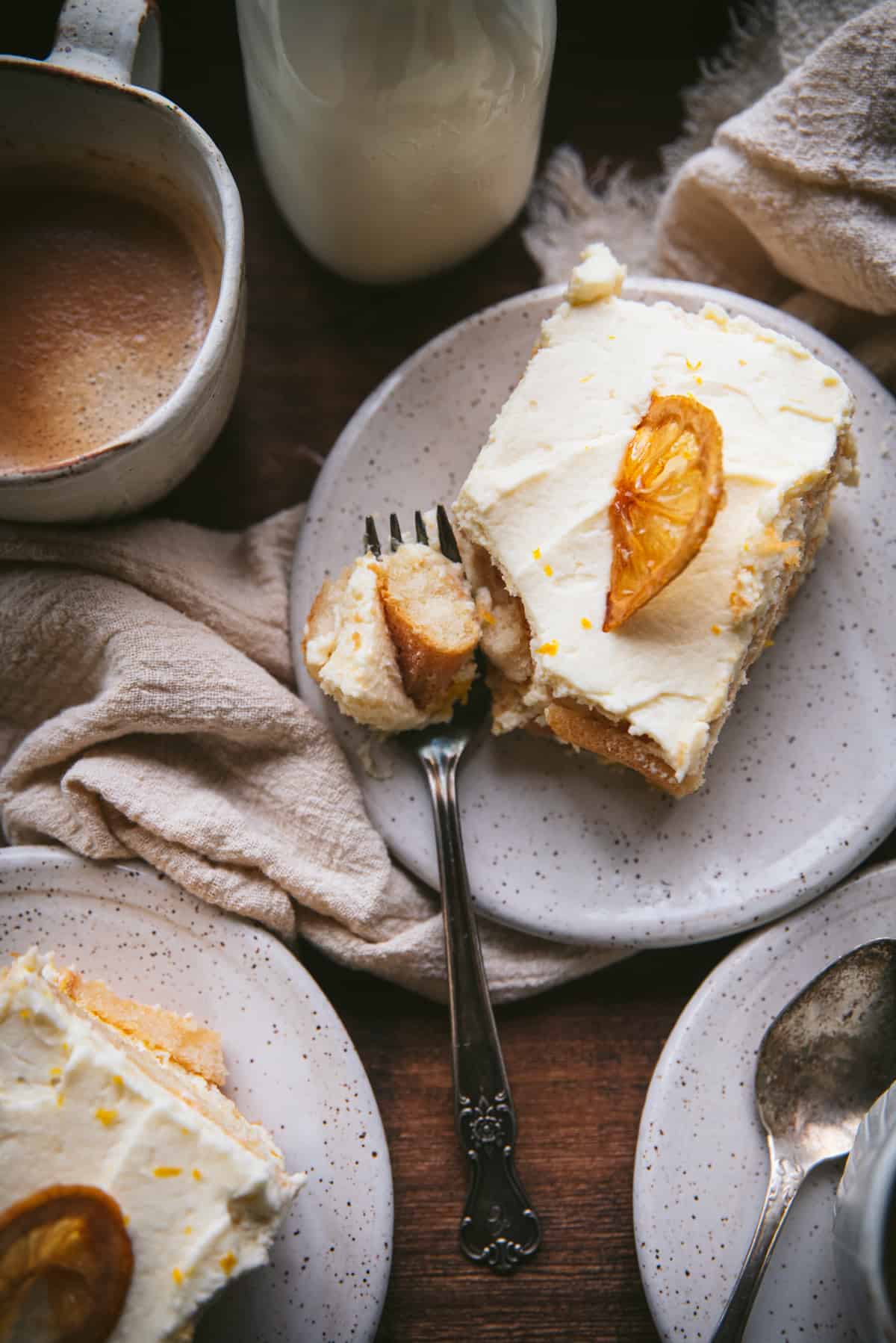 Why should you run out and grab the ingredients to make this lemon-style tiramisu?
Let me tell you:
easy, no bake recipe- perfect for summer!
make it up to 2 days in advance
no eggs, no whisking over a double boiler, etc.
can be made with a standing mixer or hand mixer, or even just a whisk if you really want to get an arm workout in
there's an easy swap if you want an alcohol-free version too!
Sounds good right? Let's do it!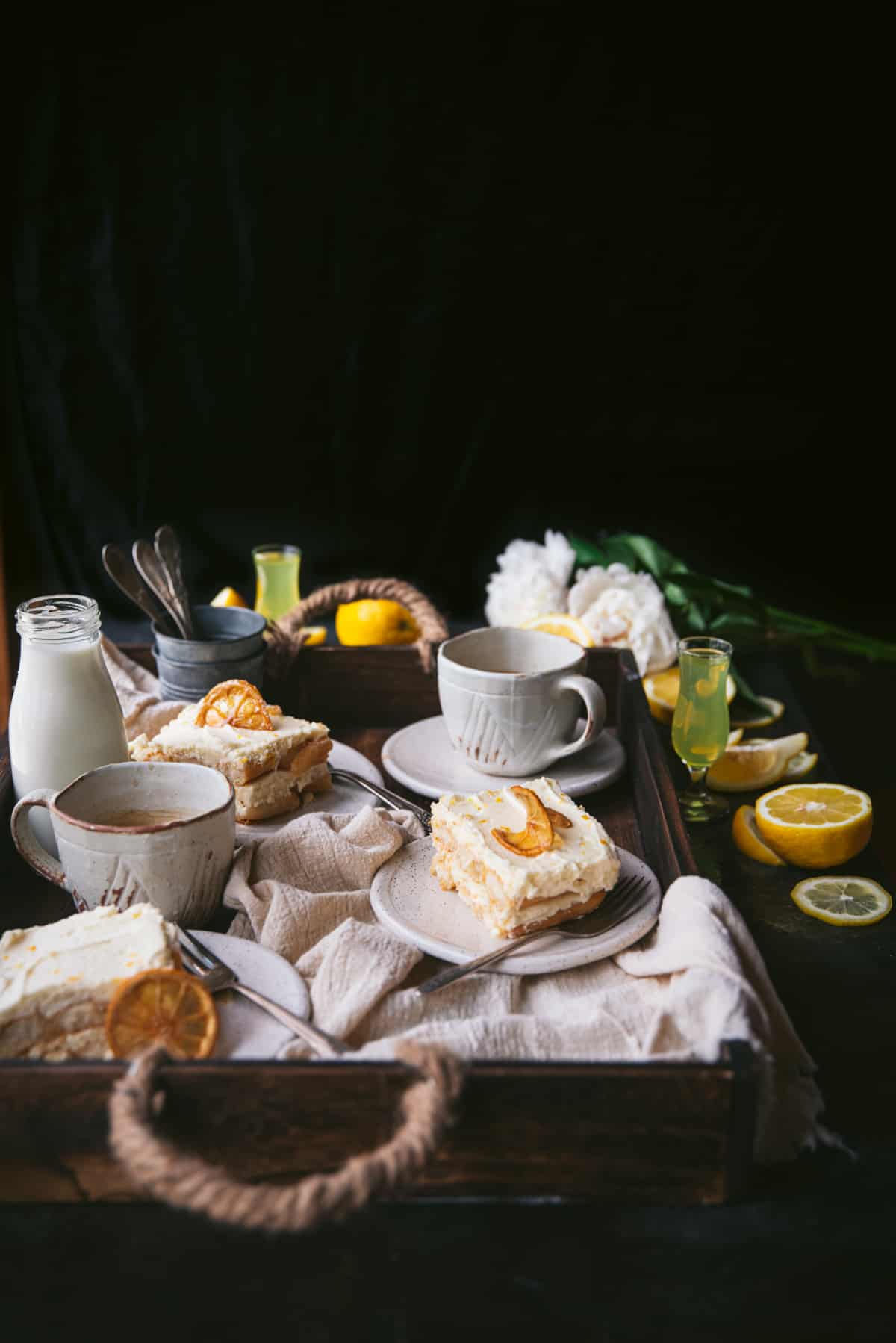 Ingredients & Subsitutions
Here's what you'll need to make the recipe as written:
ladyfinger cookies (there are 24 cookies in each 7-ounce package so grab 2!)
mascarpone cheese (typically I can only find 8-ounce tubs, so I just buy 2)
limoncello liquor
granulated sugar
heavy cream (the pint container is perfect)
2 lemons for zest & juice
lemon curd (the Bonne Maman brand is my favorite and the size is perfect!)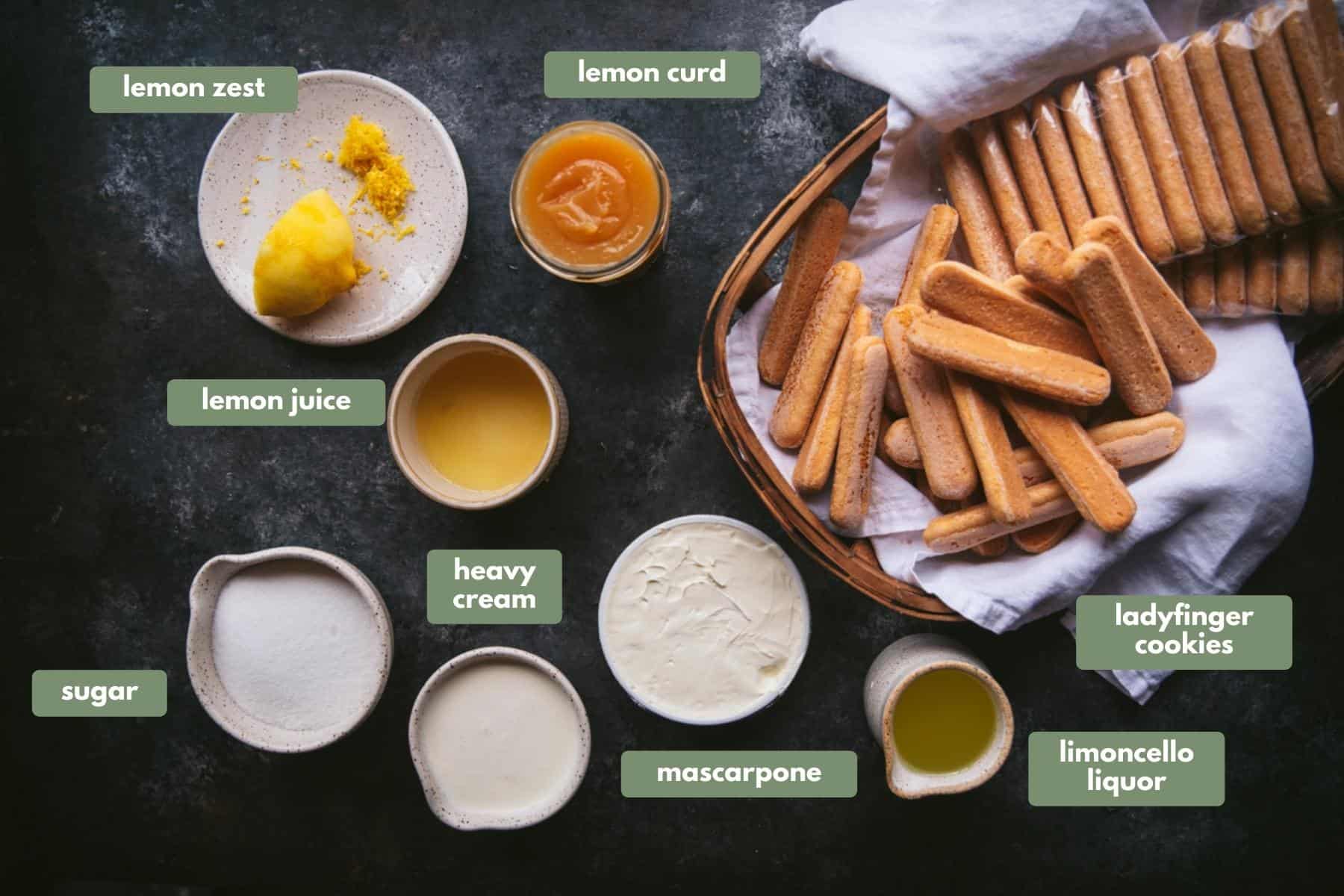 When it comes to swapping ingredients, there are plenty of alternative ingredients you can switch based on what's available and in your price range!
Limoncello: if you want to make this without alcohol swap the limoncello for frozen lemonade concentrate. Also, I gave out a lot of samples in testing to check the 'is this too boozy-ness' of the cookies, which received a 'no' in response, but if the 1 ½ cups of limoncello have you unsure you can either replace some of the limoncello with water or lemonade.
Mascarpone cheese: cream cheese can definitely be substituted here, it will taste a little tangier but still tasty!
Lemon curd: I love just using store-bought lemon curd, but if you have homemade on hand that will work great as well. You can also swap it out for any sort of fruit preserves you have on hand for added fruit flavor. Anything with raspberry preserves is a personal favorite!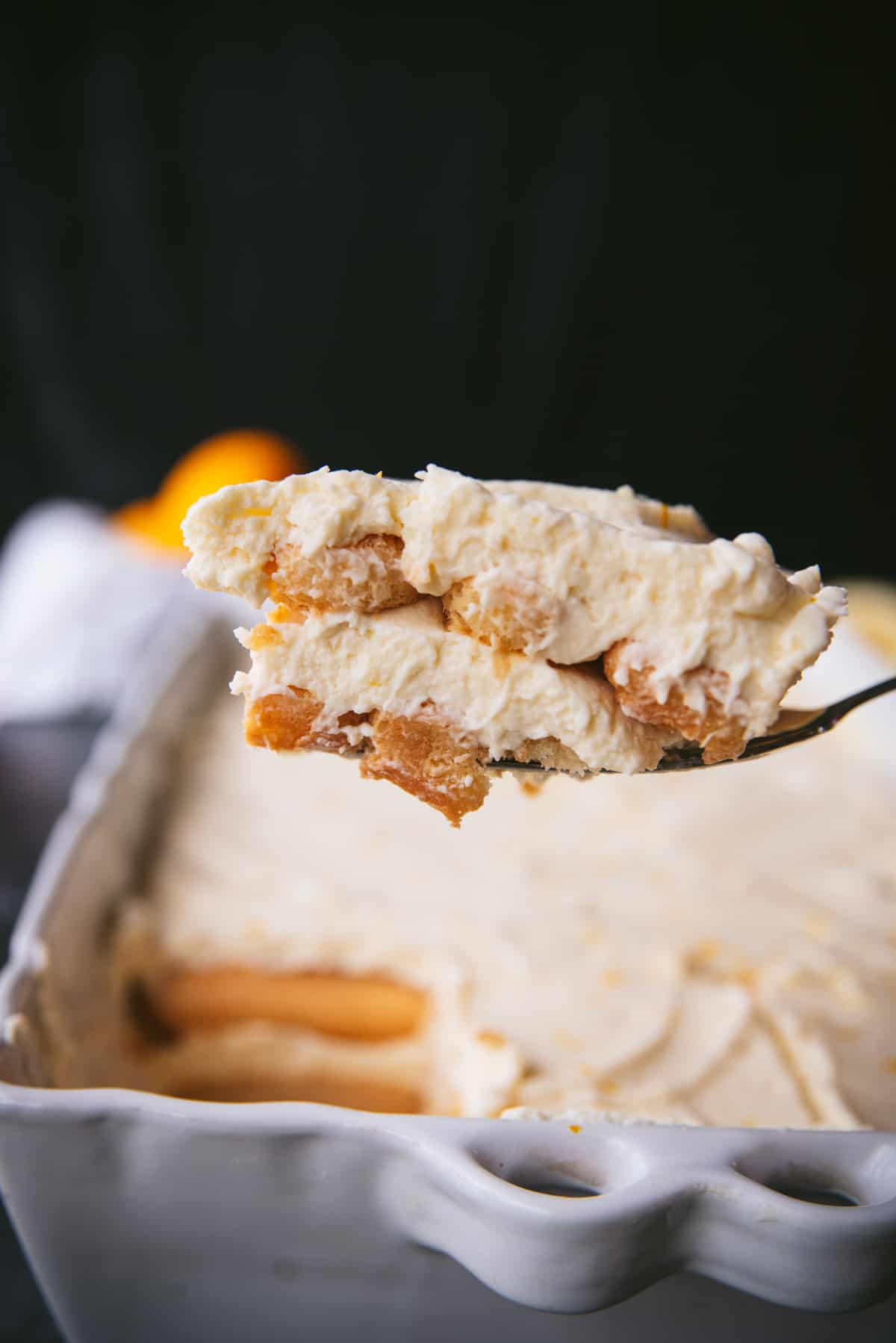 How to make Limoncello Tiramisu
The key to making good lemon tiramisu is well-soaked cookies and the perfect ratio of mascarpone and whipped cream so it's just the right amount of sweet and fluffy.
Traditional tiramisu recipes use egg yolk, sugar, and sometimes alcohol whisked over a double boiler to create a zabaglione sauce. This limoncello tiramisu recipe is cutting a few corners so it's super easy to make without losing any of the richness.
Because we're skipping this step, the rest of making this dessert is going to go so quick and easy!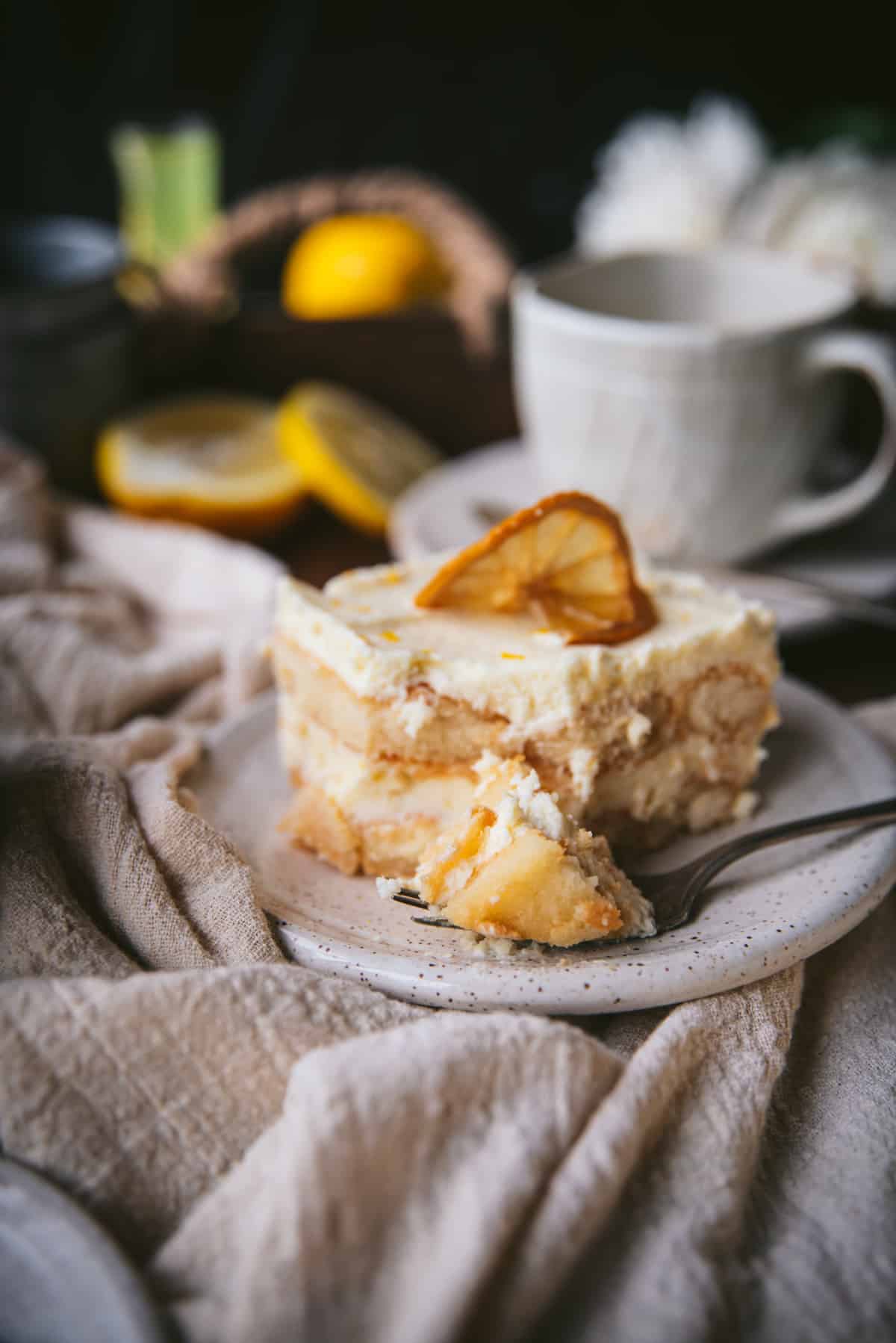 Step 1: Soak the cookies. Find a shallow bowl with a flat bottom - think like a food storage container - that will work perfect! You want the liquid to be high enough but a flat bottom to dip multiple cookies at once.
Mix together 1 tablespoon of the lemon zest, the limoncello, and water in the bowl. Stack 3 to 4 cookies in your hand and dip the bottom of the cookies in the liquid for about 3 seconds, flip the cookies over in your hand and dip the dry side for another 3 seconds. Transfer to a sheet pan while you soak the remaining cookies.
Step 2: Make the lemon curd and mascarpone mixture. In a medium mixing bowl, beat together the lemon curd, room temperature mascarpone, sugar, and lemon zest until smooth
Step 3: Make whipped cream! That's it. Just whip the cream in a clean bowl until it's whipped cream. Working in 3 batches, add the whipped cream into the lemon mascarpone mixture. Gently mix it in so you don't lose any of the airiness.
Step 4: Assemble. Spread a thin layer of the mascarpone cream on the bottom of a 9x13 pan (this will help with serving later on). Layer the cookies in 2 rows or 12 cookies each. Cover with half of the mascarpone cream mixture. Repeat with the remaining ingredients. Optional: top with extra lemon zest.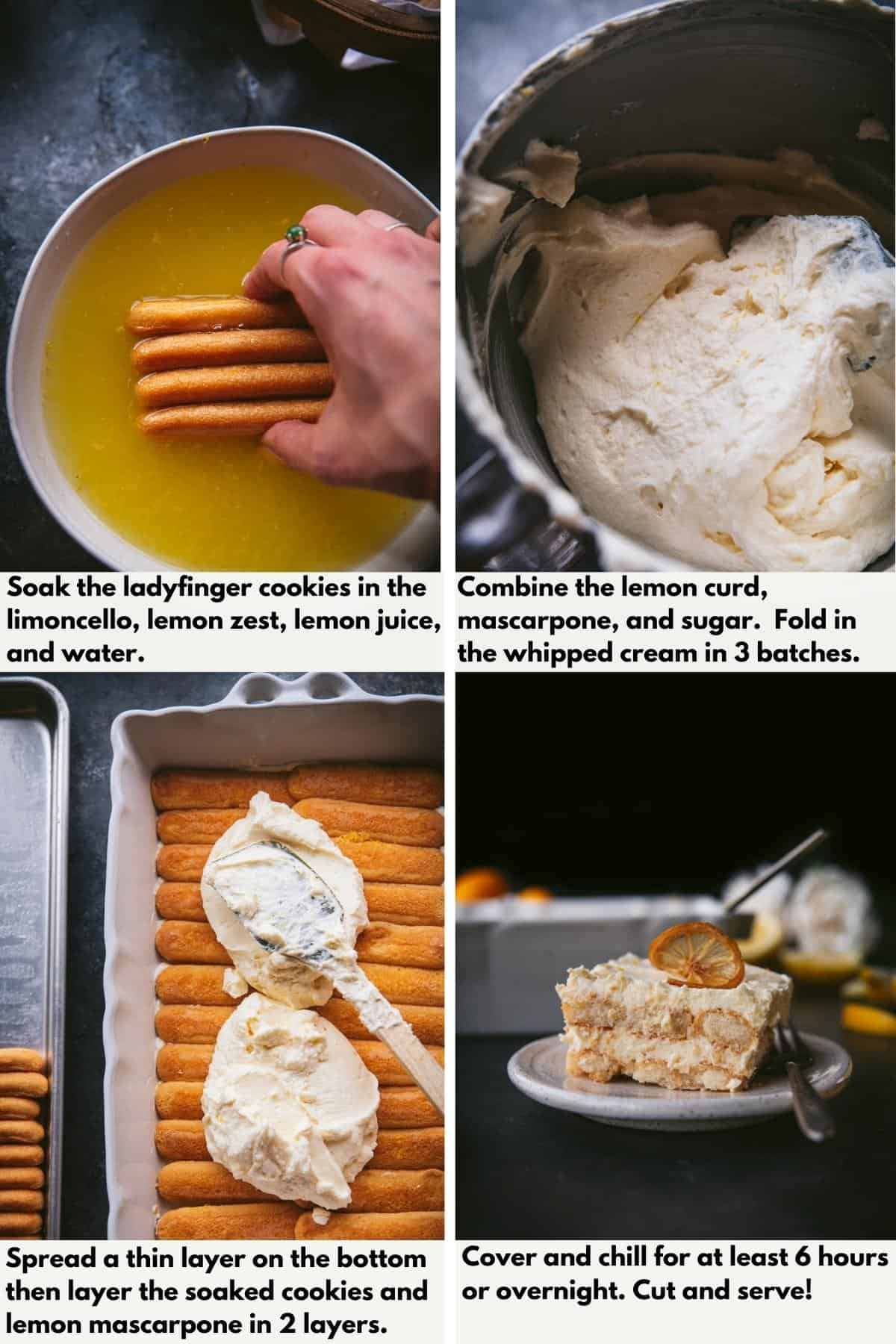 Can you make it without the alcohol?
Yes!! When it's time to soak the cookies, swap out the limoncello for thawed frozen lemonade concentrate. Alternatively, you can simmer the limoncello in a saucepan for about 5 minutes to cook off the alcohol.
Tips for making tiramisu
Listen, I'm not trying to brag but I've made roughly 5,672 tiramisu during my employment at a local Italian restaurant chain.
The same place I learned how to make risotto, chicken piccata, this smoky eggplant pasta, and the best, spicy red sauce muscles.
Here are a few tips to make it a breeze if it's your first time that will work on traditional or limoncello tiramisu:
Chill your mixing bowls to help keep the mascarpone cream nice and fluffy
The mascarpone should be room temp but keep the heavy cream cold!
Don't skimp on soaking the cookies!!! hold each side in the liquid for about 3 seconds.
Seriously, let them get wet. The centers should be just holding it together (I feel like this is a metaphor for my life.)
You can totally soak the cookies a day in advance, just keep them in the fridge uncovered)
Use a shallow bowl or container with a flat bottom to soak the cookies
Plan to chill your finished tiramisu for a minimum of 6 hours, but truly overnight is best - this will help keep it from falling apart while serving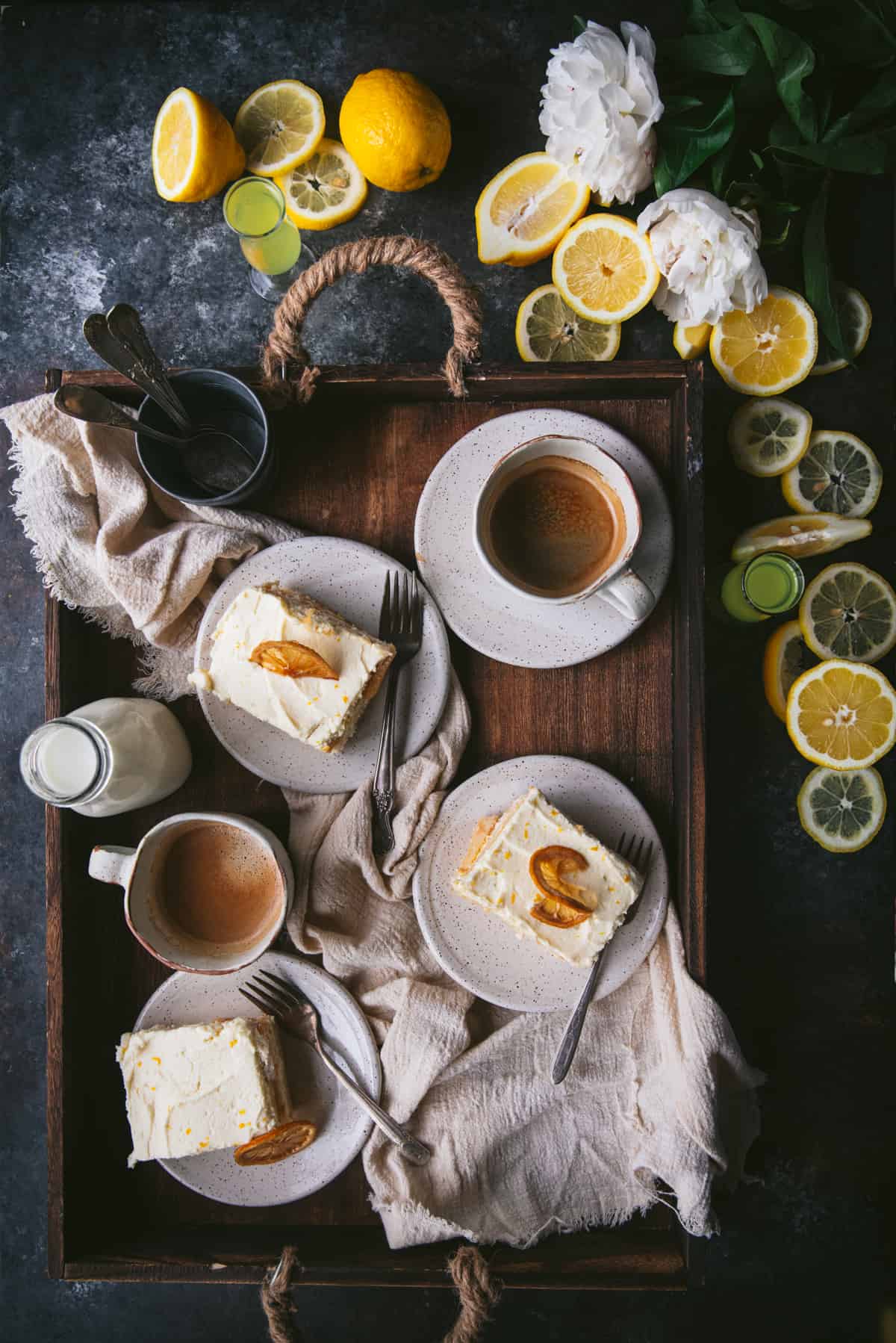 FAQs
How far in advance can it be made?
You can start soaking the cookies the day before you make it, so in total, about 2 days before you plan to serve it.
How long should you chill tiramisu?
At least 6 hours, but overnight is best.
How long is tiramisu good for once it's made?
I'd highly recommend enjoying your tiramisu within 3 to 4 days of making it. The whipped cream mascarpone mixture will start to lose its texture and may even get a little gummy after that.
Can you freeze it?
Yes! Wrap the pan tightly with two layers plastic wrap before freezing. It will keep for up to 3 months in the freezer. Thaw overnight in the refrigerator.
If you love all things lemony, be sure to check out these other citrus sweets!
Did you make this recipe? Let me know in the comments and please leave a star rating in the recipe card! Thank you for your support!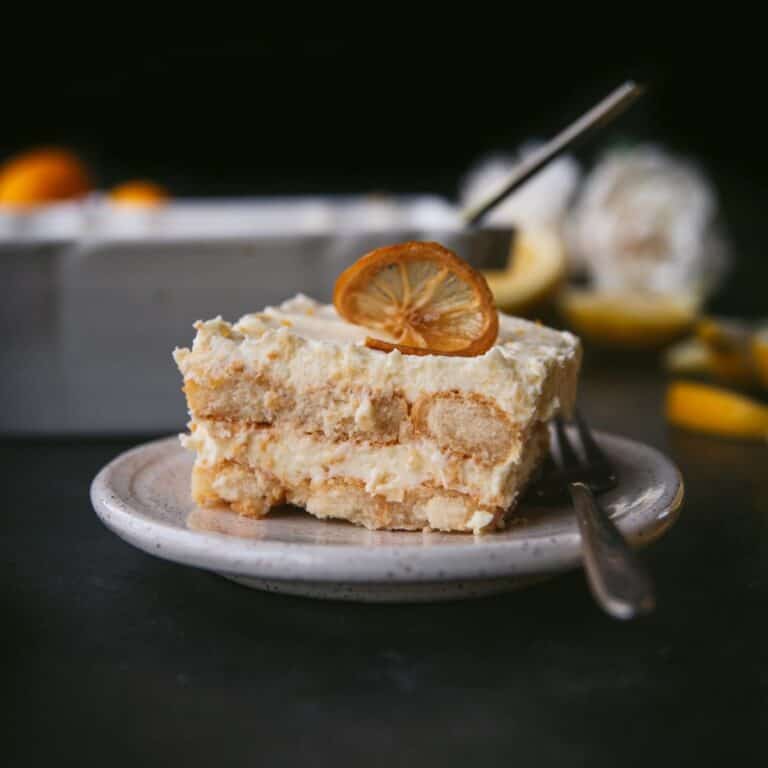 Limoncello Tiramisu
A lemon twist on the classic Italian dessert! Limoncello tiramisu is a great, easy to make, no bake summer dessert with sweet lemony flavor in each bite.
Print
Pin
Rate
Equipment
9x13 pan

sheet pan

(for storing soaked cookies)

standing mixer or hand mixer

lemon zester
Ingredients
2

packages

ladyfinger cookies

(about 48 cookies)

1 ½

cups

limoncello liquer

½

cup

water

2

tablespoons

lemon juice

2

tablespoons

lemon zest

(about 2 lemons, divided)

16

ounces

mascarpone cheese

(room temperature)

1 ½

cups

lemon curd

(12-ounce jar)

½

cup

granulated sugar

2

cups

heavy cream
Instructions
In a shallow bowl, combine the 1 ½ cups limoncello, ½ cup water, 2 tablespoons lemon juice, and 1 tablespoon of the lemon zest (about the zest of 1 lemon).

Stacking 3 to 4 cookies at a time, dip one side of the cookies for about 3 seconds, flip and dip the other side for another 3 seconds letting excess liquid drain slightly before placing on a clean sheet pan. Once all the cookies are soaked either discard the remaining liquid (there should be less than a ¼ cup left) or pour over soaked cookies. Transfer the pan to the refrigerator to chill while making the filling.

Combine the 16 ounces mascarpone cheese, 1 ½ cups lemon curd, ½ cup granulated sugar, and 1 tablespoon lemon zest in a mixing bowl and beat on medium speed in a standing mixer or with a hand mixer for about 1 minute or until smooth.

In a clean mixing bowl, beat the heavy cream until stiff, it should have the look of whipped cream.

Working in three batches, add the whipped cream to the mascarpone mixture. Gently stir the whipped cream into the mixture so the whipped cream doesn't lose its fluffy texture.

Spread a thin layer of the finished lemon mascarpone cream on the bottom of the pan. Layer the soaked ladyfingers in 2 rows (12 cookies in each row.) Top with about half the lemon mascarpone cream and repeat with the remaining ingredients.

Cover the pan and chill in the refrigerator for at least 6 hours or overnight. Slice, serve, and enjoy!
Notes
To make this non-alcoholic, substitute lemonade concentrate for the limoncello.
Ladyfinger cookies should be well soaked, but still able to handle without completely falling apart.
For best-whipped cream results, I like to chill the bowl of my mixer in the fridge while prepping the other ingredients.
Nutrition
Calories:
660
kcal
|
Carbohydrates:
59
g
|
Protein:
8
g
|
Fat:
37
g
|
Saturated Fat:
23
g
|
Polyunsaturated Fat:
1
g
|
Monounsaturated Fat:
5
g
|
Trans Fat:
1
g
|
Cholesterol:
156
mg
|
Sodium:
165
mg
|
Potassium:
79
mg
|
Fiber:
1
g
|
Sugar:
38
g
|
Vitamin A:
1296
IU
|
Vitamin C:
2
mg
|
Calcium:
96
mg
|
Iron:
1
mg