The classic flavors of the original recipe with a lightened-up twist! Avocado green goddess dressing is bright and fresh, swapping the traditional mayonnaise base for avocado and greek yogurt. The result is a rich and creamy taste! This recipe takes less than 5 minutes to make, is perfect for using leftover herbs, and only requires a quick blend in the food processor!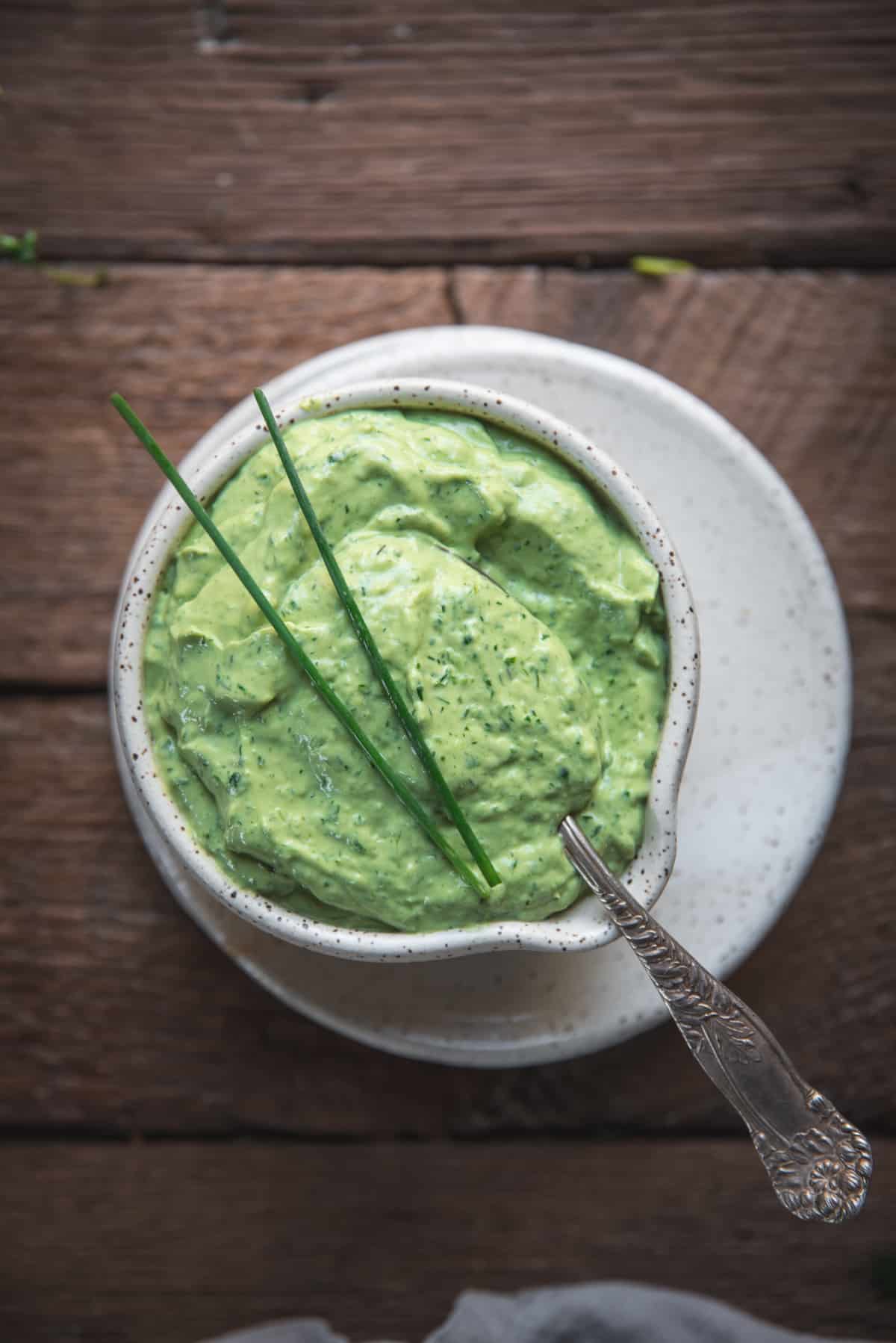 Bring on the creamy, herby goodness!! This lower-calorie version of green goddess is just heavenly - see what I did there?
We love it for dipping vegetables, drizzling over salads (like this Chipotle Cobb) and it makes a great drizzle over tacos and roasted veggies.
What does it taste like?
Bright, fresh, summery! A gorgeous green dressing taste similar to ranch dressing thanks to the use of fresh herbs like parsley, chives, and cilantro. The addition of dill and tarragon tie in classic Greek flavors and gives it a little spin.
The creamy avocado and yogurt add richness in both taste and texture with just the right amount of tangy flavor.
What is green goddess dressing made of?
The classic recipe for green goddess dressing does not contain avocado and typically requires mayonnaise or egg yolk and olive oil (the building blocks of mayo) as the base for the creamy texture then add the fresh herbs, lemon, and spices.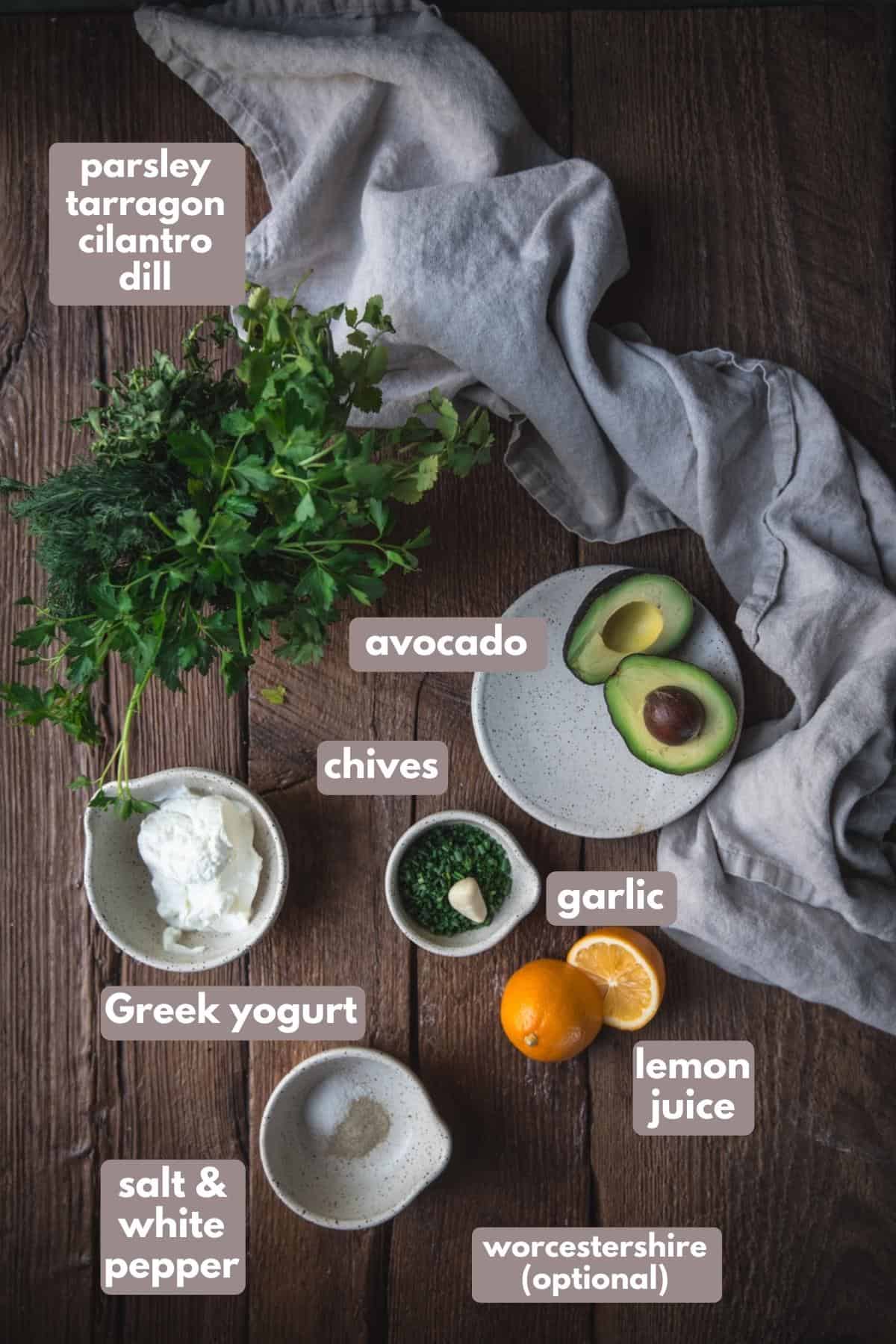 When the weather turns warmer and the herbs are growing in full force - this is perfect!
Ingredients:
ripe avocado
greek yogurt
mixed herbs - I use parsley, cilantro, tarragon, and dill!
chives
garlic
lemon juice
Worcestershire
salt and white pepper
a little water for the right texture
Substitutions:
If you can't find fresh herbs you can substitute dried but it will affect the taste and the color of your final dressing. Dried herbs just don't pack the same flavor punch as fresh ones, that's all.
Can you switch the herbs?
Yes! Basically, any green herb like parsley, mint, cilantro, dill, and tarragon - any of these - will craft a great dressing.
Non-diary yogurt is a great substitution to make this an easy vegan dressing.
How to make it
This is my favorite part of this recipe - it is SO easy and quick to make!
Grab your food processor and pulse the herbs until finely chopped.
Add the garlic and chives and pulse until finely chopped.
Add the remaining ingredients (avocado, yogurt, lemon juice, Worcestershire, salt, white pepper) and blend on high speed for 30 to 60 seconds until completely combined.
On low speed, slowly add water until your desired thickness is achieved.
For dips, you can omit the water completely or add just a little water.
Can you make green goddess without a food processor?
Yes! Get your sharpest knife and chop the herbs, chives, and garlic as finely as possible.
In a mixing bowl mash the avocado and combine all the ingredients with a rubber spatula until smooth and fully incorporated.
This method may take a few extra minutes but will yield the same result.
How to store it
After your dressing is done, store it in an airtight container. For example, a mason jar with an air-tight lid or a dressing container with a screw cap.
Because of the avocado, the shelf life of this recipe is a little shorter than a typical dressing recipe.
Can you freeze the leftovers?
If you only plan to use a little, try freezing what's leftover!
Transfer the avocado green good dressing to a freezer bag, press out any excess air in the bag, and freeze OR pour into an ice cube tray and freeze into cubes.
To defrost, let the dressing thaw at room temperature or in the fridge. You may need to give it a quick blend in the food processor to redistribute the ingredients.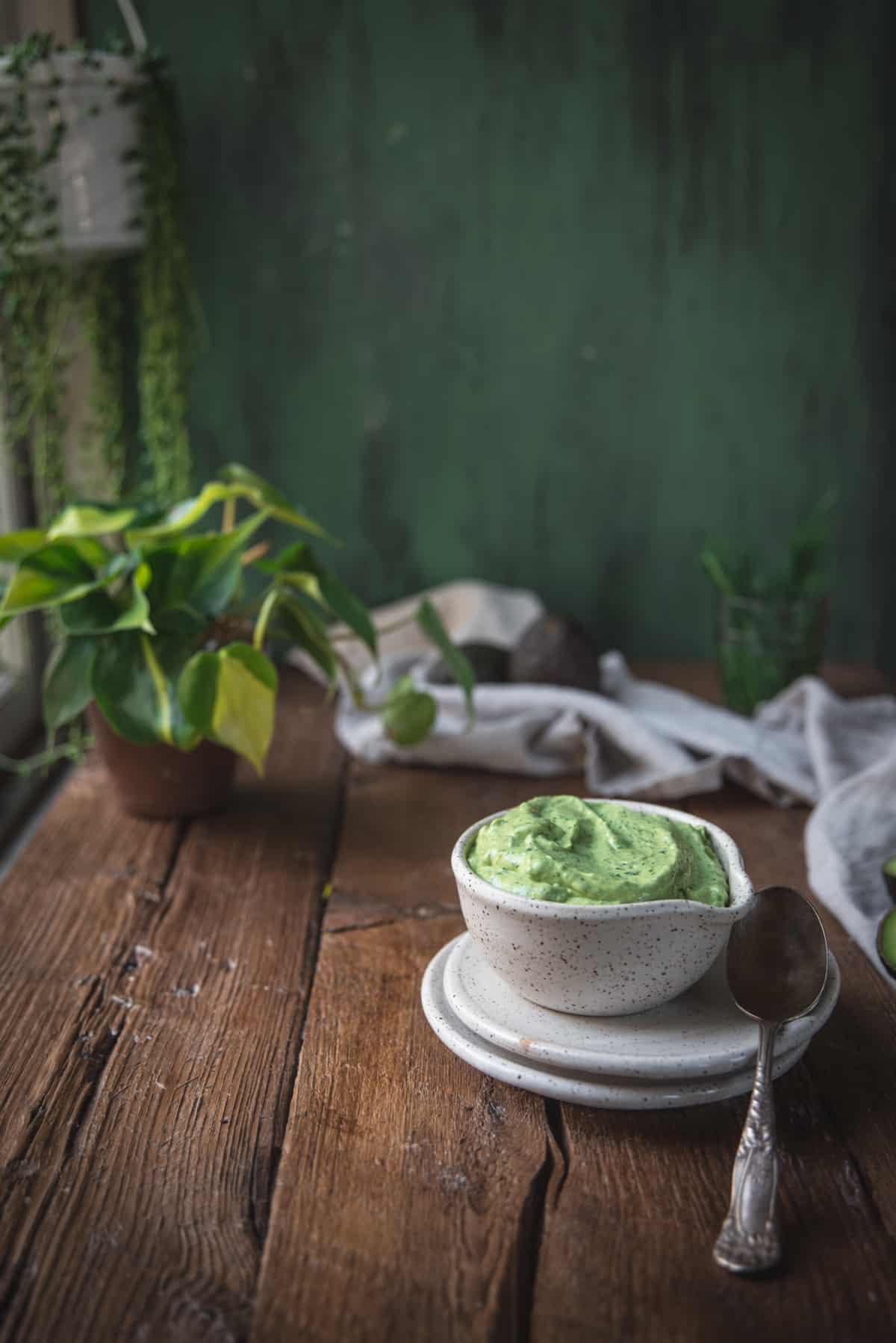 How to use creamy avocado green goddess dressing
Clearly, the first thing that comes to mind is salad. I love, love, love a loaded salad with a rich creamy dressing like this chipotle chicken cobb!
Try this corn and avocado salad with seared halibut or give these falafel quinoa bowls a little drizzle for more herb packed punch!
Less traditional ideas include adding it to a grilled veggie and chicken kebab platter, drizzle over cilantro lime tacos, or salmon sliders.
Truly, this is a great dressing and sauce to grab whenever you want fresh herb flavors.
If you made this recipe I'd love to know! Please leave a rating below in the recipe card and tell me how you used it in the comments!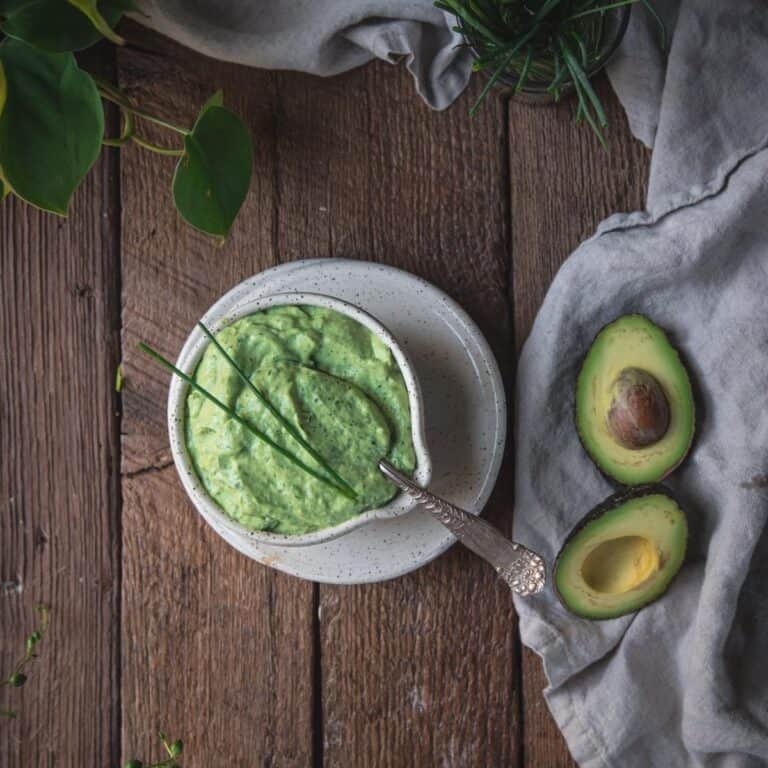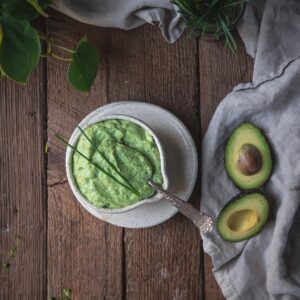 Avocado Green Goddess Dressing
Herb garden growing out of control? This easy and quick homemade dressing is a great way to use up leftover herbs! Avocado green goddess dressing tastes just like the classic recipe but with a few lightened up swaps for a healthy, creamy, and flavor packed dressing easily whipped up in the food processor in just minutes.
Print
Pin
Rate
Ingredients
¾

cup

plain Greek yogurt

1

ripe avocado

1

cup

mixed herbs - parsley, cilantro, tarragon, dill

(see notes for substitutions)

2

tablespoons

chives

1

clove

garlic

2

tablespoons

lemon juice

½

teaspoon

Worcestershire

(optional, about 2 splashes)

½

teaspoon

salt

¼

teaspoon

white pepper

¼

cup

water
Instructions
In the food processor, pulse the herbs until finely chopped. Repeat with the garlic and chives.

Add the remaining ingredients and run the food processor on high until combined and smooth, about 30 to 60 seconds.

With the food processor running, slowly pour in the water until desired thickness is achieved. Use less water for a thick and creamy, dippable dressing or more water for a pourable style of dressing.
Notes
Use as much or as little water depending on how thick you want the dressing.
My go to herbs for this dressing are parsley, cilantro, tarragon, and dill - but you can use what you have on hand. Mint is a great option if you don't have one of those four or just have a lot of mint on hand. You can also add in any leafy greens you have leftover too!
To make this without a food processor, take extra time to chop the herbs, garlic, and chives super fine before mixing all the ingredients together in a bowl until smooth.
To freeze, transfer the leftovers to a freezer bag, press any air out of the bag and freeze. Alternatively, pour any remaining dressing into an ice cube tray, freeze, then pop out and place in a freezer bag. Thaw at room temperature and whisk or run through the food processor to remix the ingredients.
Nutrition
Calories:
391
kcal
|
Carbohydrates:
26
g
|
Protein:
19
g
|
Fat:
27
g
|
Saturated Fat:
5
g
|
Polyunsaturated Fat:
3
g
|
Monounsaturated Fat:
16
g
|
Cholesterol:
8
mg
|
Sodium:
1058
mg
|
Potassium:
1114
mg
|
Fiber:
13
g
|
Sugar:
8
g
|
Vitamin A:
4569
IU
|
Vitamin C:
93
mg
|
Calcium:
260
mg
|
Iron:
4
mg