Buttery and flaky puff pastry filled with bites of creamy, tangy mascarpone, fresh strawberries, and sweet basil. A strawberry pastry braid is a great dessert or breakfast pastry that is easy to make and looks impressive!
I love to make this for family brunch or when I need to bring a ready made dessert somewhere.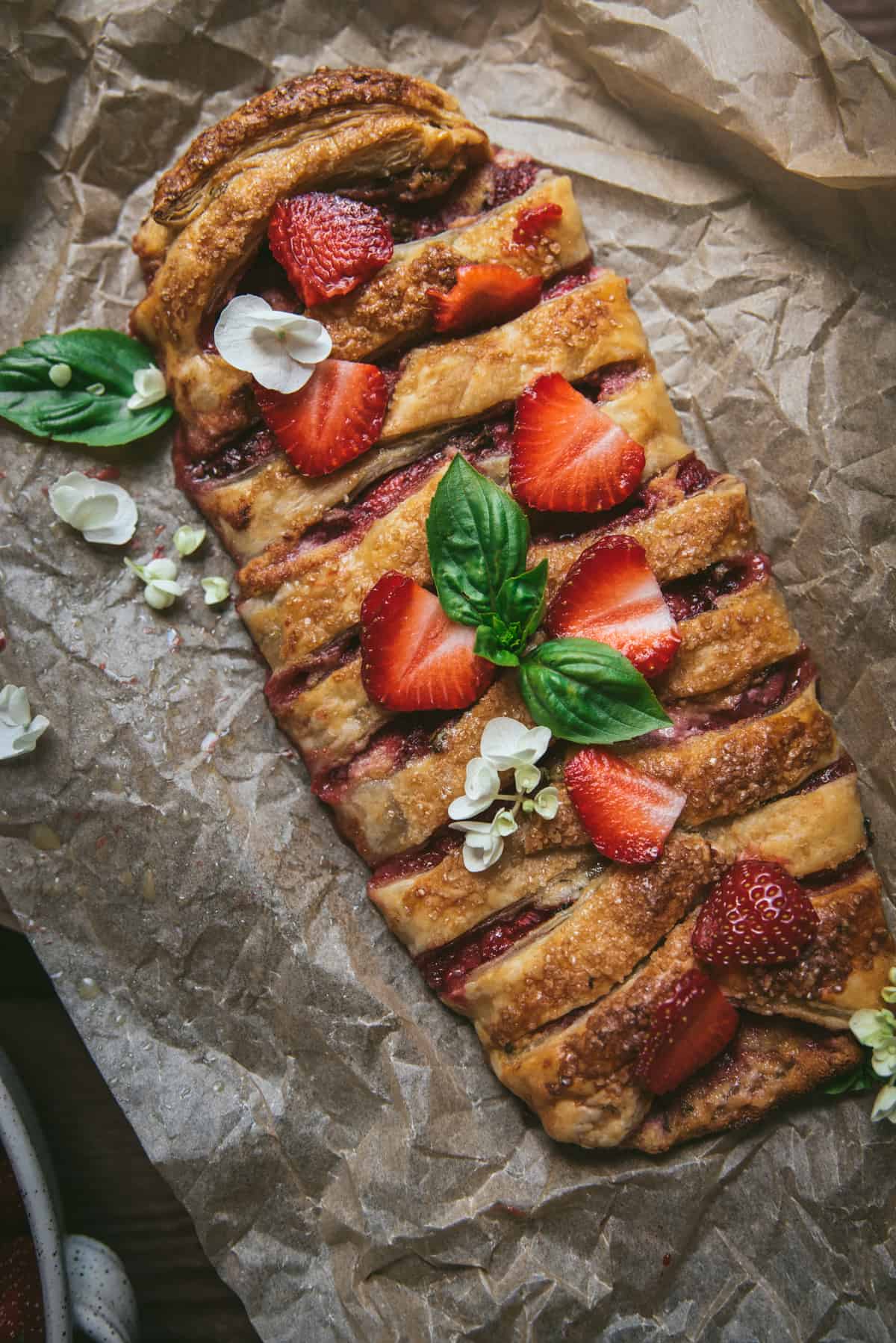 Truly, when it comes down to it I'm a sucker for anything strawberry - sangria, margaritas, layer cake, sweet and savory grilled cheese...you get the point.
This braided pastry stuffed with juicy fresh strawberries is currently at the top of the list.
The flaky layers of pastry give off breakfast and brunch vibes, but it's also sweet and jammy and could totally be served for dessert. Just imagine it with a scoop of vanilla ice cream or fresh whipped cream.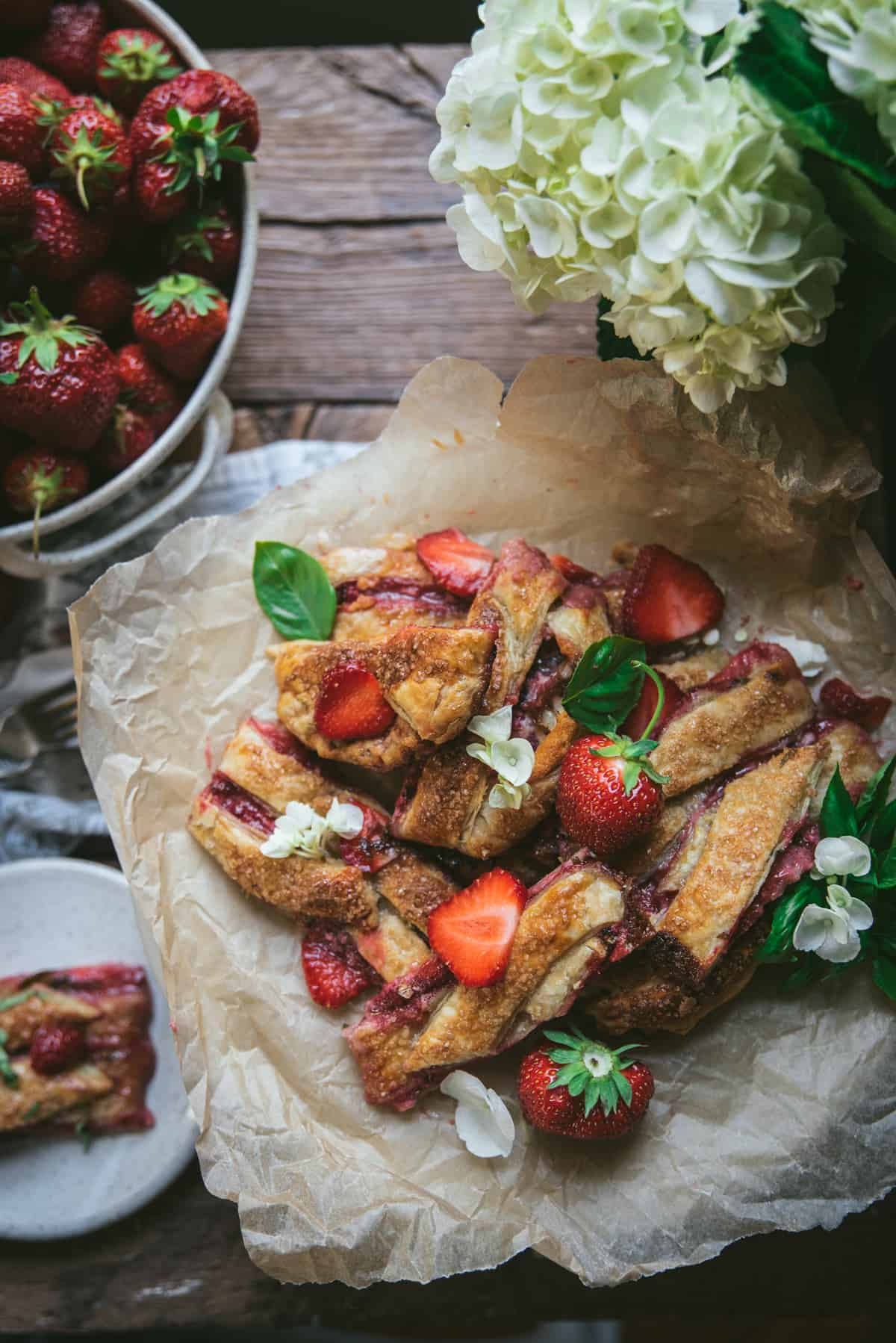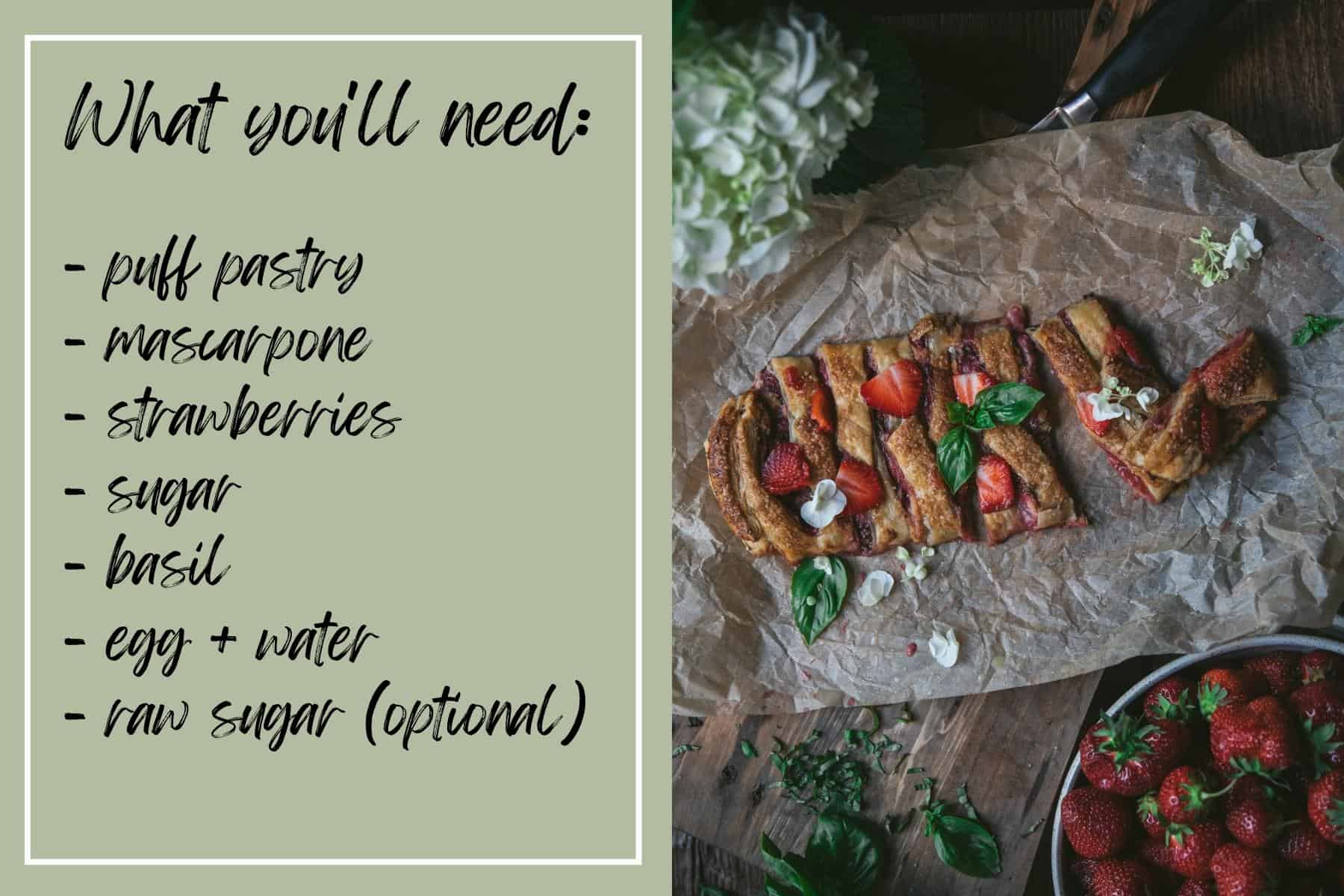 Using pre-made puff pastry is going to save us SO much time and effort. I love it for easy hand held snacks like these meyer lemon bites or something easy but impressive like this baked brie and fig jam.
How to make a strawberry puff pastry braid
A pastry braid is quick and simple to make, you can make them sweet, savory, or a bit of both, and it comes out looking like you purchased it from a professional bakery!
Ingredients you'll need:
premade puff pastry sheets (2 per package)
fresh strawberries
mascarpone
sugar
basil
egg wash
sugar in the raw sprinkle (optional)
Substitions:
cream cheese for mascarpone
maple syrup for sugar
leave out the basil or substitute for any other mild herb like lavender, chamomile, or lemon thyme
heavy cream instead of egg for a shiny crust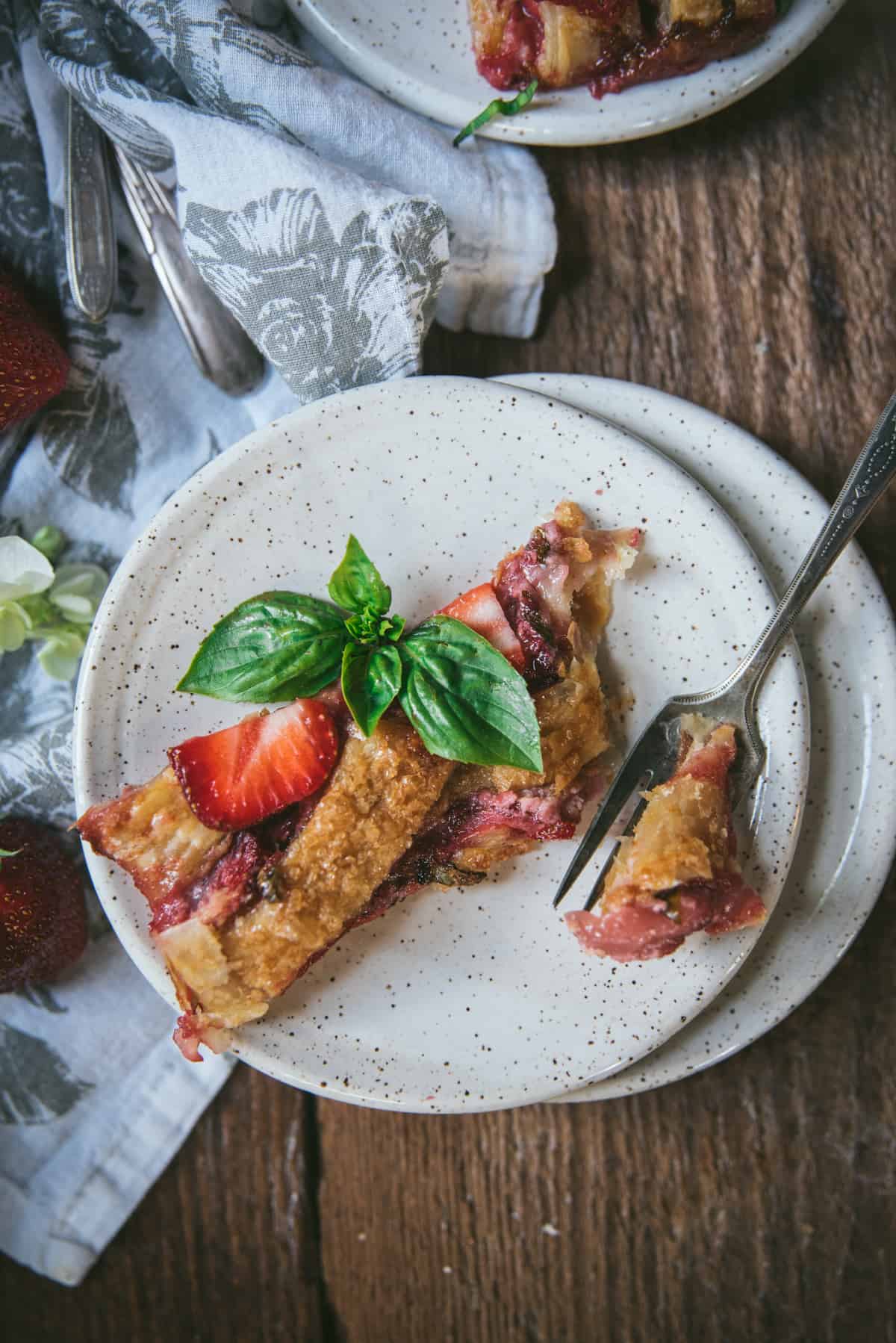 Puff Pastry Braid Filling Ideas:
One of my favorite things about this recipe is you can recreate over and over again with different flavors!
any fresh fruit or fruit preserves
mild cheeses like brie, mascarpone, cream cheese, etc.
mozzarella and pepperoni
feta, spinach, and artichoke
lemon curd
rosemary, cranberries, and brie
blue cheese and prosciutto
asparagus, ham, and scrambled eggs
It doesn't have to be just sweet fillings, some of those savory ideas are making my mouth water!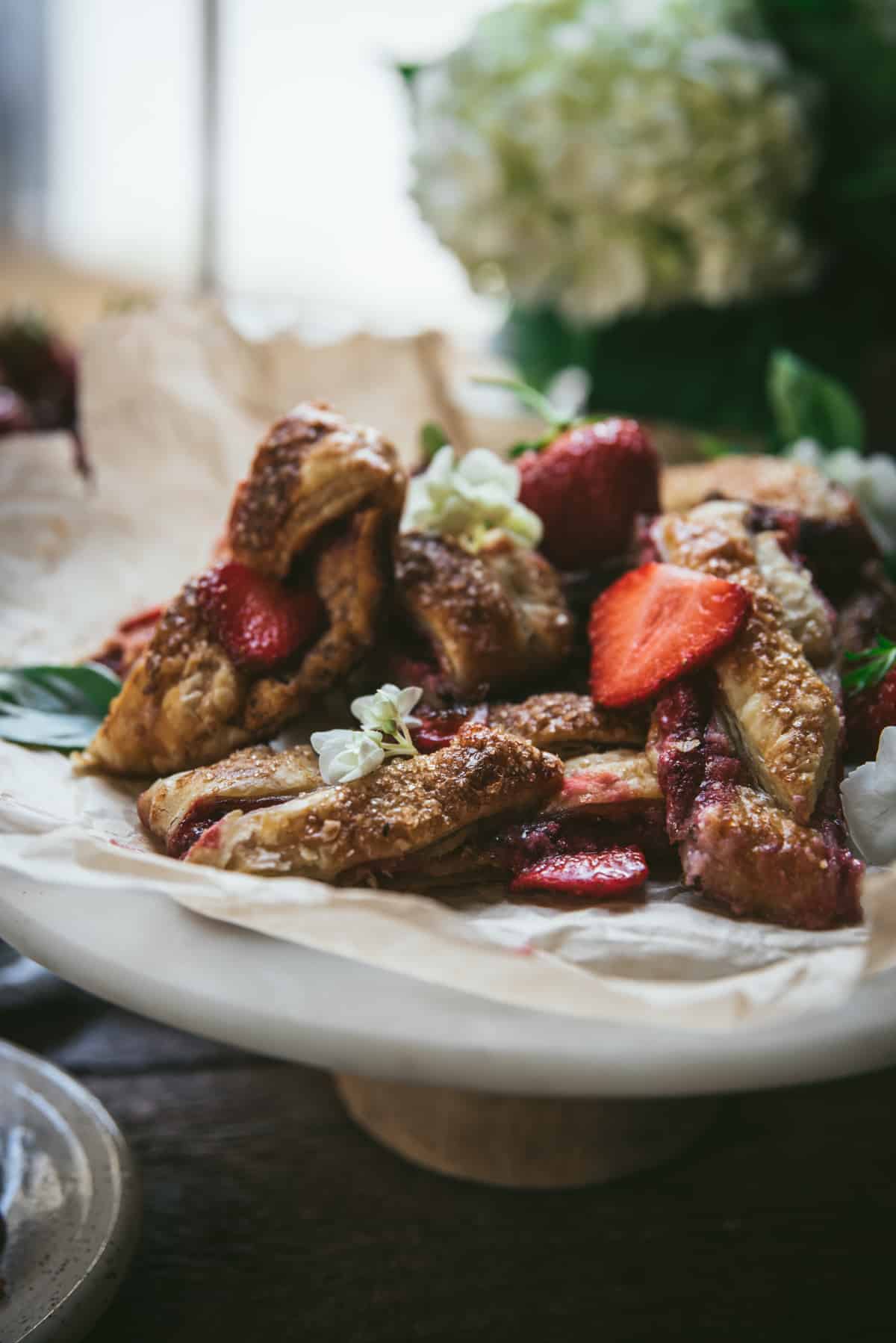 Step by Step Guide
Step 1: Thaw the puff pastry sheets in the fridge overnight, you will use both puff pastries and can keep them in their wrapped packaged. Lightly flour a piece of parchment paper or worksurface and rolling pin. Carefully unfold the each sheet and place on the parchment paper or work surface. Sprinkle with basil and evenly roll out the sheet just enough to about 10 inches by 12 inches.
Step 2: In a small bowl, combine the room temperature mascarpone and sugar. Spread half the sweetened mascarpone on each of the puff pastries. Leaving about 1 inch at the top and bottom.
Step 3: Cut the sides of the pastry in 1" strips on an angle. Top the mascarpone with fresh sliced strawberries.
Step 4: Whisk together the egg and water. Lightly brush the puff pastry strips. Fold the top and bottom ends over the filling. Fold over a strip from the left side, then the right side, matching them in the middle.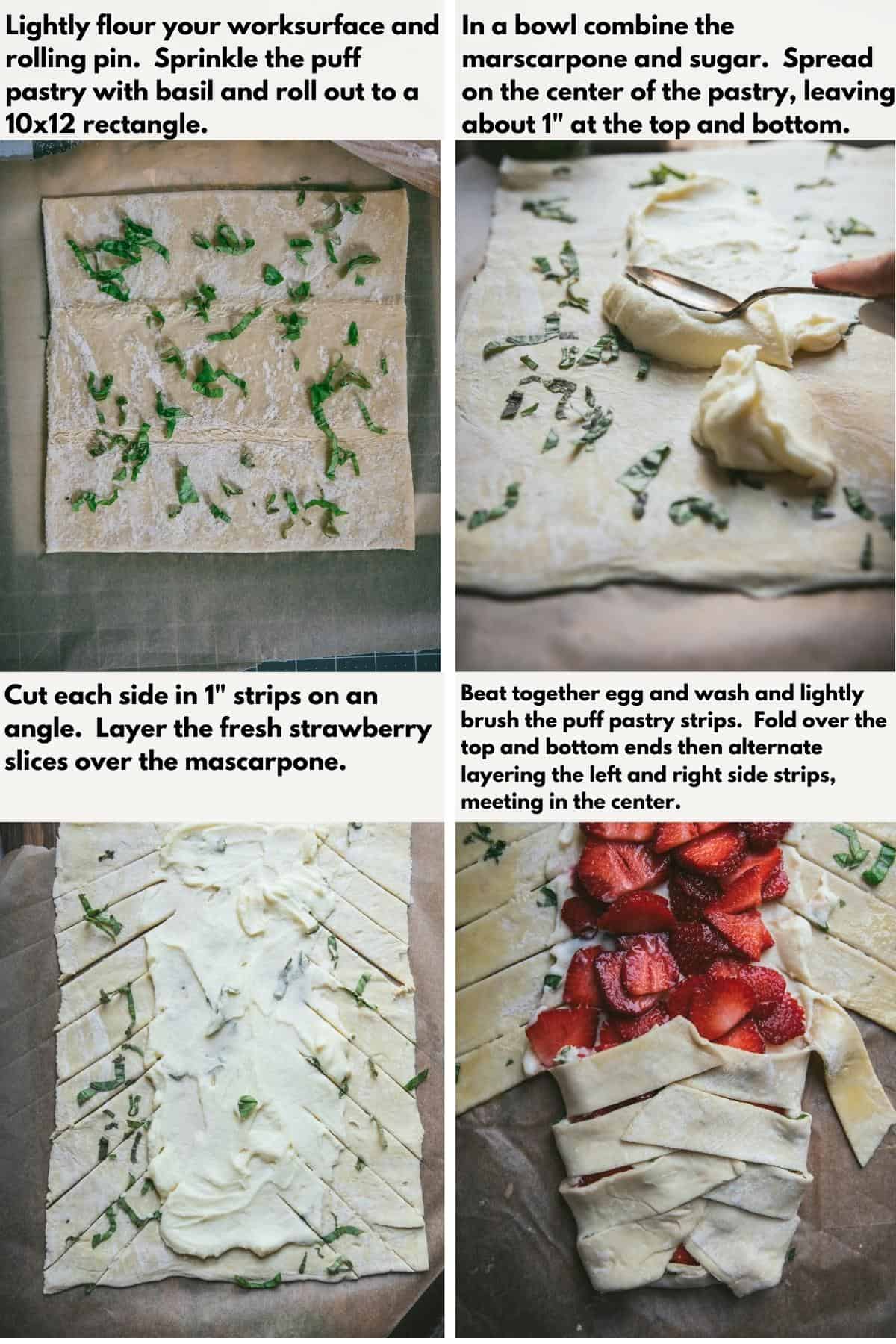 Step 5: Once the pastry is 'braided' brush with the egg mixture and (optional) sprinkle with raw/turbinado sugar. Transfer to a baking sheet - I find it easiest to keep the puff pastry on a piece of parchment paper during prep and transferring the whole thing to a baking sheet.
TIP: If the puff pastry is really warm, transfer the braid to the freezer for 5 to 10 minutes for a better puff during baking.
Step 6: Bake at 400°F for 35 to 40 minutes. Let cool for about 10 minutes before serving to allow the juices from the strawberries to cool.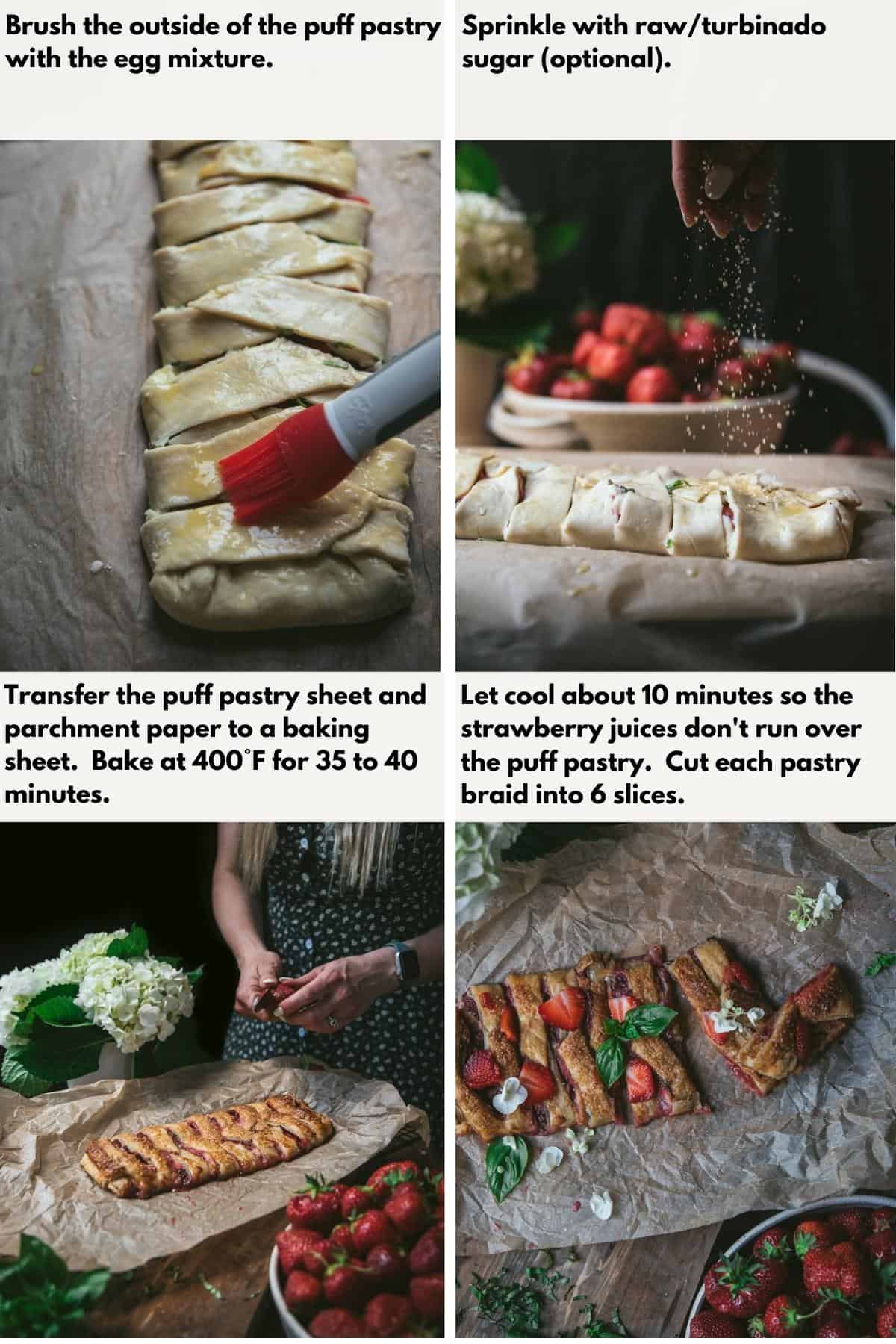 Tips for working with puff pastry
Puff pastry works best when cold. The layers of fat create steam as it bakes which is what causes that airy, flaky texture. More steam is created when the fat is cold - or even frozen - when it bakes.
If the puff pastry is too warm, pop it in the freezer for 5 to 10 minutes before baking.
Cold hands will help when handling the puff pastry, too. Rinse them under cold water before starting the braid.
Thaw your puff pastry in the fridge overnight and unfold it once its thawed. If you need to use it right away and forgot to thaw it, leave it on the couter top for about 45 minutes to 1 hour.
Roll out your puff pastry with care! Too thin and it will not puff. Also, be sure to lightly flour your work surface and rolling pin.
Always use a sharp edged knife whenever cutting the pastry to make a clean cut. A dull knife or cutting object squishes layers together and prevents a good puff in the oven.
Chill before baking. Get those fats as cold as possible for the best puff.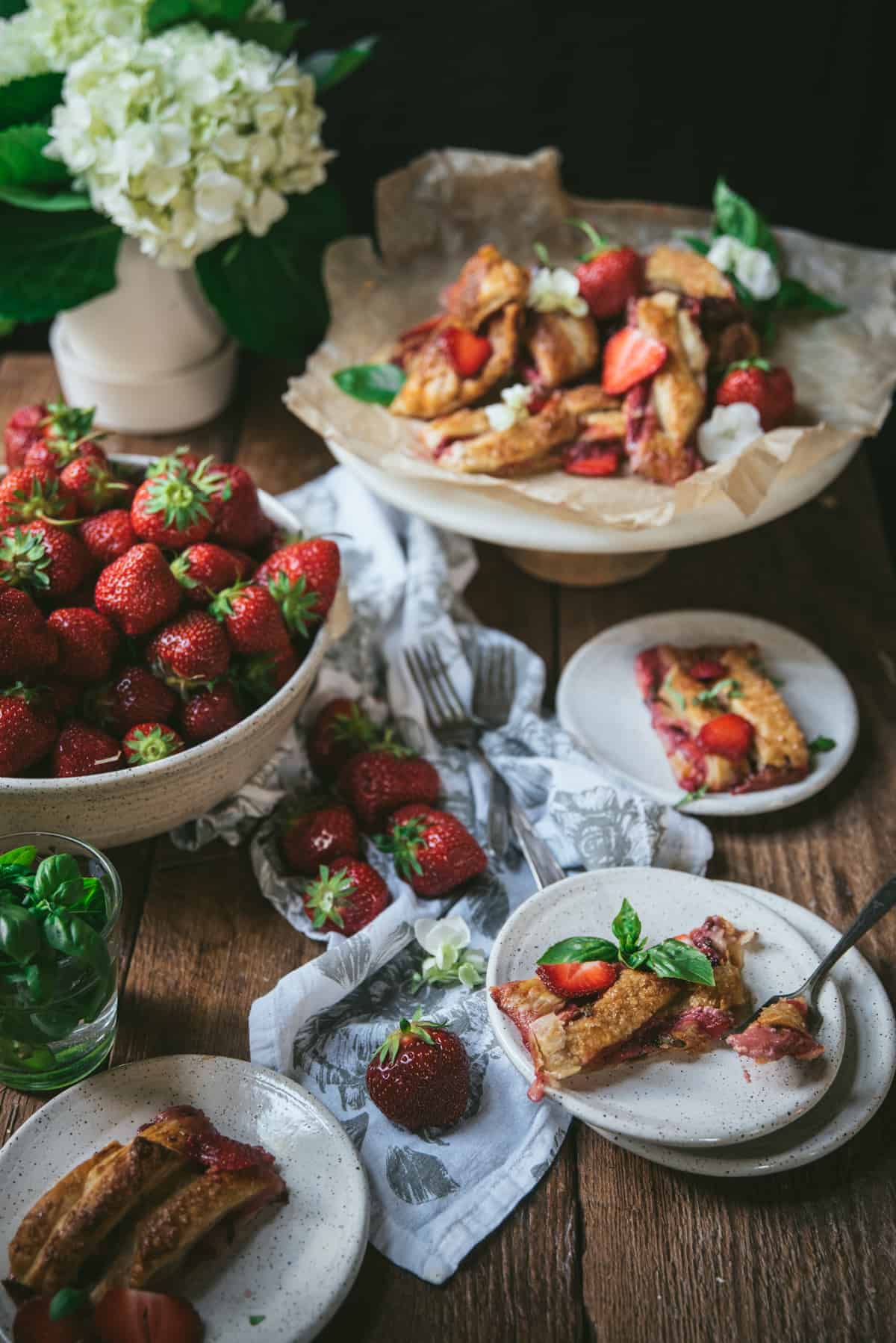 Loved this recipe? Let me know in the comments and leave a star rating in the recipe card below! Be sure to search 'puff pastry' on the site for more easy brunch and dessert ideas!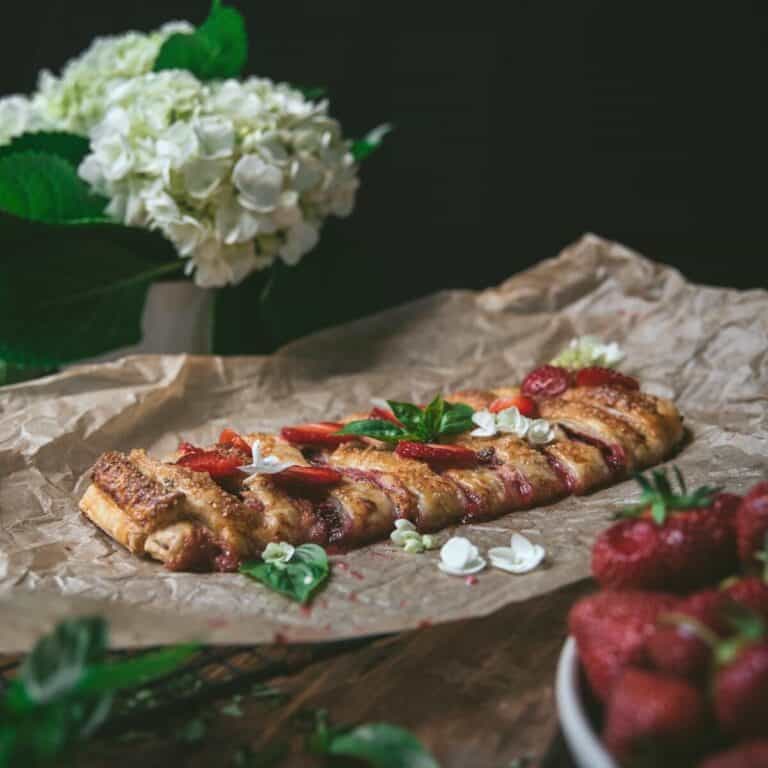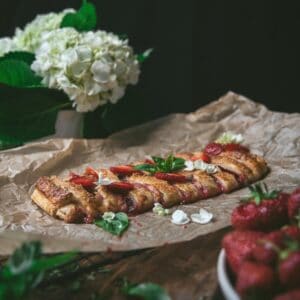 Strawberry Mascarpone Puff Pastry Braid
Puff pastry braid filled with sweet strawberries, creamy mascarpone cheese, and a sprinkle of fresh basil is the perfect dish to bring to brunch or serve for dessert this summer! So simple to put together but looks like it came from a professional bakery!
Print
Pin
Rate
Equipment
parchment paper

Rolling Pin

sharp knife

baking sheet
Ingredients
1

package

frozen puff pastry

(2 sheets per package)

3

tablespoons

fresh basil

(chiffonade)

8

ounces

mascarpone cheese

(room temperature)

⅓

cup

granulated sugar

10 to 12

strawberries

(sliced)

1

tablespoon

water

2

tablespoons

raw sugar
Instructions
Thaw the puff pastry per package directions. Slice the strawberries and set aside. In a medium mixing bowl, combine the mascarpone cheese with ⅓ cup sugar.

Preheat the oven to 400°F. Lightly flour your work surface. Sprinkle the puff pastries with basil and roll out each sheet to roughly a 10x12 rectangle. Transfer to baking sheet or parchment paper. (Once the puff pastry is filled and braided it may be difficult to transfer to the baking sheet.)

Using the back of a spoon, spread the mascarpone on the center of both sheets of puff pastry, leaving about 1 inch of pastry on the top and bottom. Top the cheese with slices of strawberries. Optional: sprinkle with additional fresh basil.

In a small bowl, whisk together the egg and 1 tablespoon water. Slice the puff pastry on each side of the filling on an angle to create 1" strips (as shown in the how to photos in the post above.)

Lightly brush the strips with the egg mixture, this will help the braids 'stick'. Fold over the top and bottom of the puff pastry to seal in the ends. Fold over one strip on the left, followed by one strip on the right side overlapping the first strip. Continue braiding until the pastry is covered. Repeat with the remaining puff pastry sheet.

Optional: brush the top of each pastry with the remaining egg mixutre and sprinkle with raw sugar.

Place on a baking sheet and bake at 400°F for 35 to 40 minutes. Let cool for 10 to 15 minutes before slicing. Enjoy!
Notes
If the pastry dough is really warm before baking, place it in the freezer for 10 minutes for the best 'puff' during baking.
If the strawberries are really juicy, give the puff pastry a few minutes to rest after baking to prevent the puff pastry from getting soggy.
Nutrition
Calories:
343
kcal
|
Carbohydrates:
27
g
|
Protein:
4
g
|
Fat:
24
g
|
Saturated Fat:
9
g
|
Polyunsaturated Fat:
2
g
|
Monounsaturated Fat:
9
g
|
Cholesterol:
19
mg
|
Sodium:
112
mg
|
Potassium:
42
mg
|
Fiber:
1
g
|
Sugar:
8
g
|
Vitamin A:
293
IU
|
Vitamin C:
6
mg
|
Calcium:
33
mg
|
Iron:
1
mg