A blending of peachy pink colors and rosé simmered strawberries among layers of white cake. All that deliciousness cloaked under a fading pink ombre mascarpone and whipped cream frosting. This cake is everything summer and everything delicious.
Do you have that one friend that's like, "Eh, I don't really like frosting."
Me: "Oh, ya I totally get that. Sometimes too much sweet is just too much."
Also Me: Secretly hopes for the corner piece with all the buttercream frosting and the roses on any sheet cake.
While I try to empathize, I think it's been proven that these pearly whites contain a sweet tooth. Fluffernutter Cupcakes, Salted Caramel Pretzel Cake, Chocolate Oreo Cake, etc, etc. Well, sweet frosting haters, this cake is for you!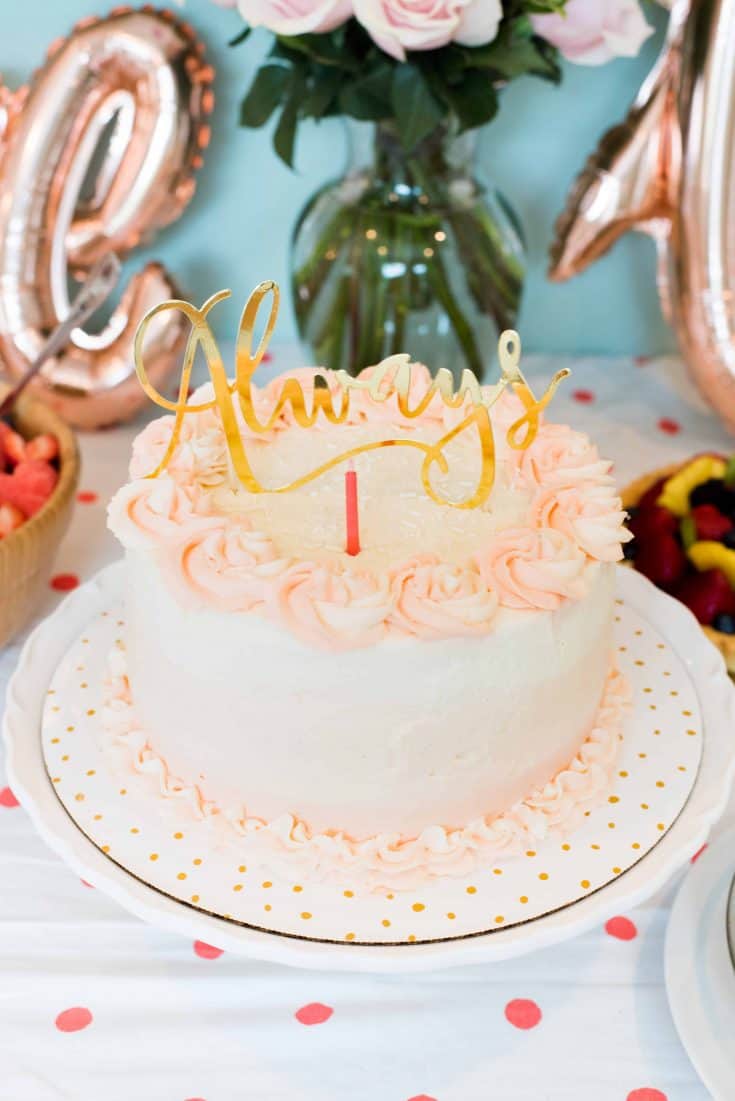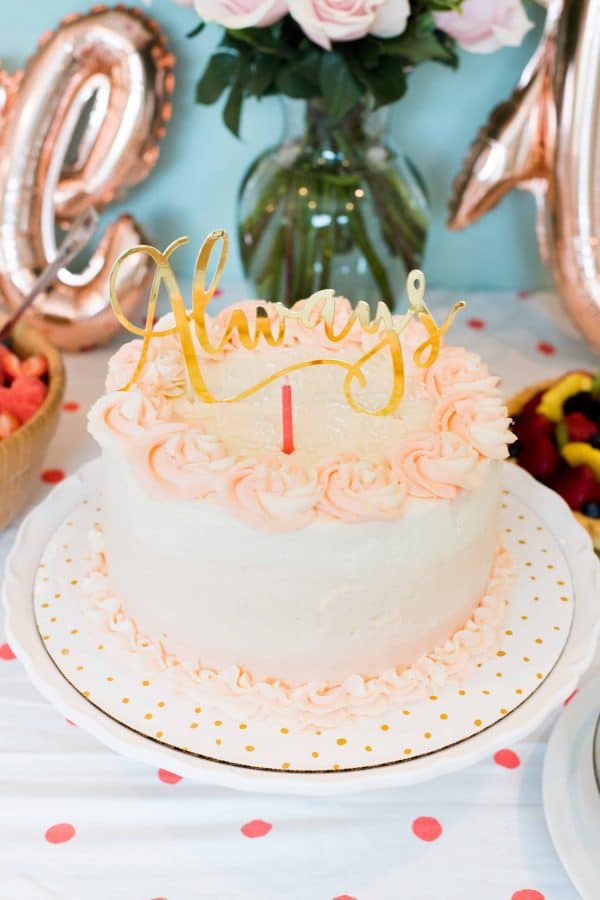 Strawberry Rosé Ombre Cake
Mascarpone whipped cream frosting is light and creamy with just a touch a sweet. Mascarpone cheese helps keep the frosting stable enough to sit out for a few hours (in air conditioning) without melting or becoming overly soft. Combined with rosé simmered strawberry filling, this cake is also a win for the strawberry shortcake lovers. Let's get down to the nuts & bolts flour & sugar of this cake.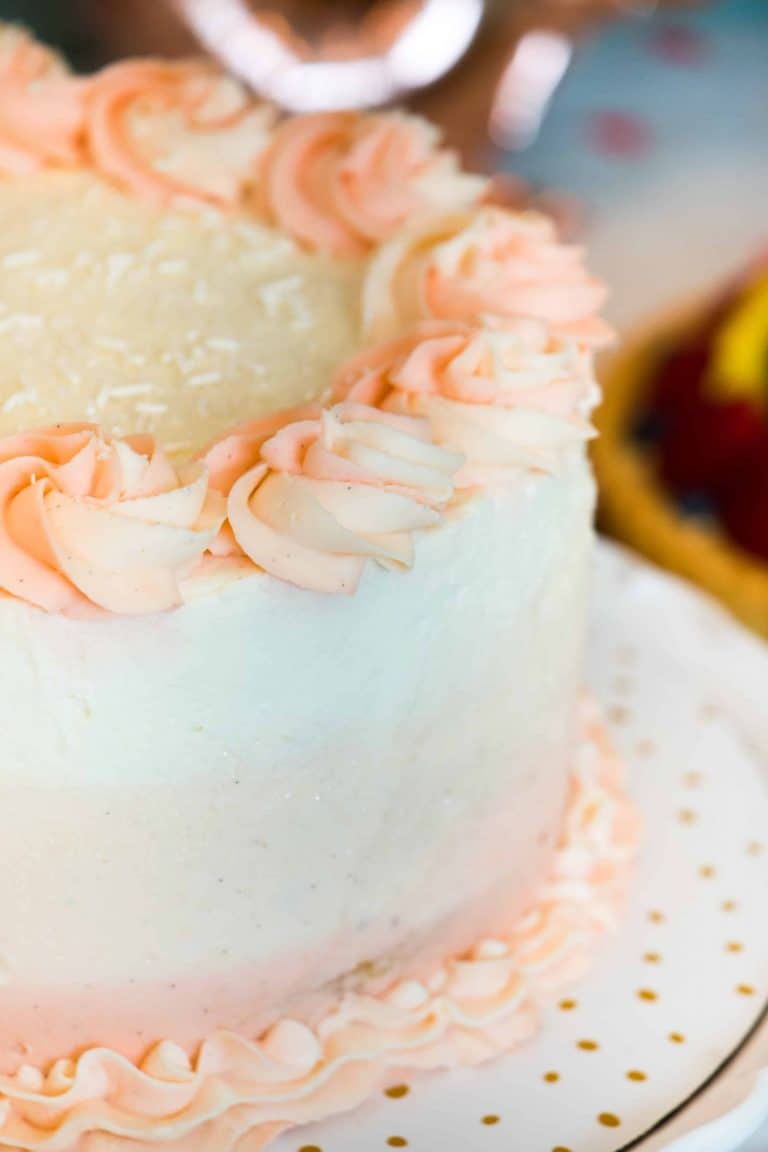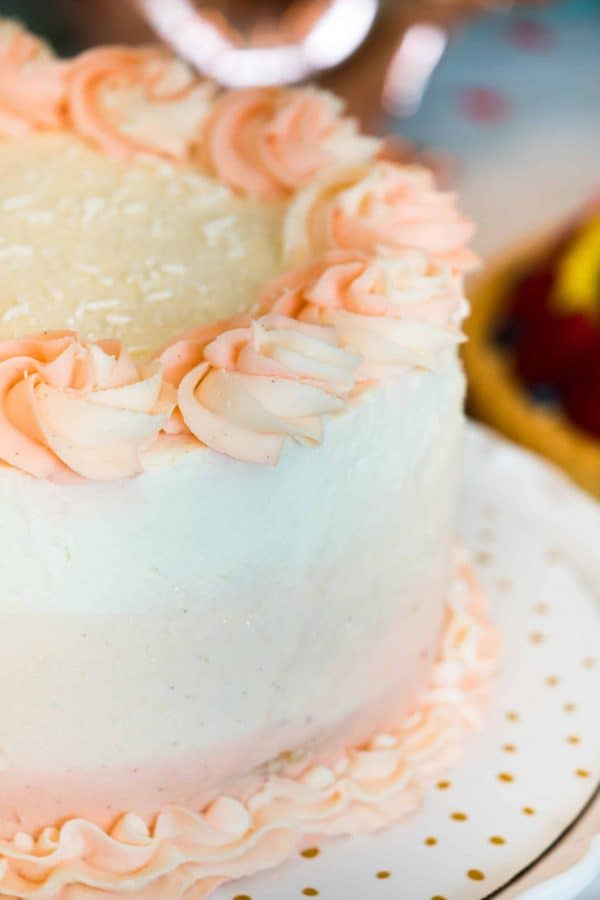 Bakery Style White Cake
This white cake recipe is the real deal. You know when you order a fancy cake from a professional bakery? We're talking that kind of white cake. The recipe format is adapted from I Am Baker, from which the quantities are modified to result in three 8-inch cakes versus 2 or 4. The process....was a whole lotta fractions process. If only I had started baking earlier on, my grades in math would've been better.
Wilton Icing Colors in 'Peach' and 'Pink' are the perfect combination to bring just the right blush color to both the cake and the frosting. And most of all with these cake dye colors...a little goes a long way. Like a long way. Like, driving to the grocery store that's never busy in the next town over, long way.
This recipe uses a fair amount of egg whites, once beaten well will create a fluffy, light texture. To create a fading 'ombre' color gradation, divide that batter into three batches. Add a very small amount of peach icing color and, literally a speck, small amount of pink icing color to one batch and beat on medium low speed until the color is incorporated - about 1 minute. Repeat this will the other batch, adding just a touch more color.
The moral of this ombre dyeing story? You can always add more color, but you can't take away.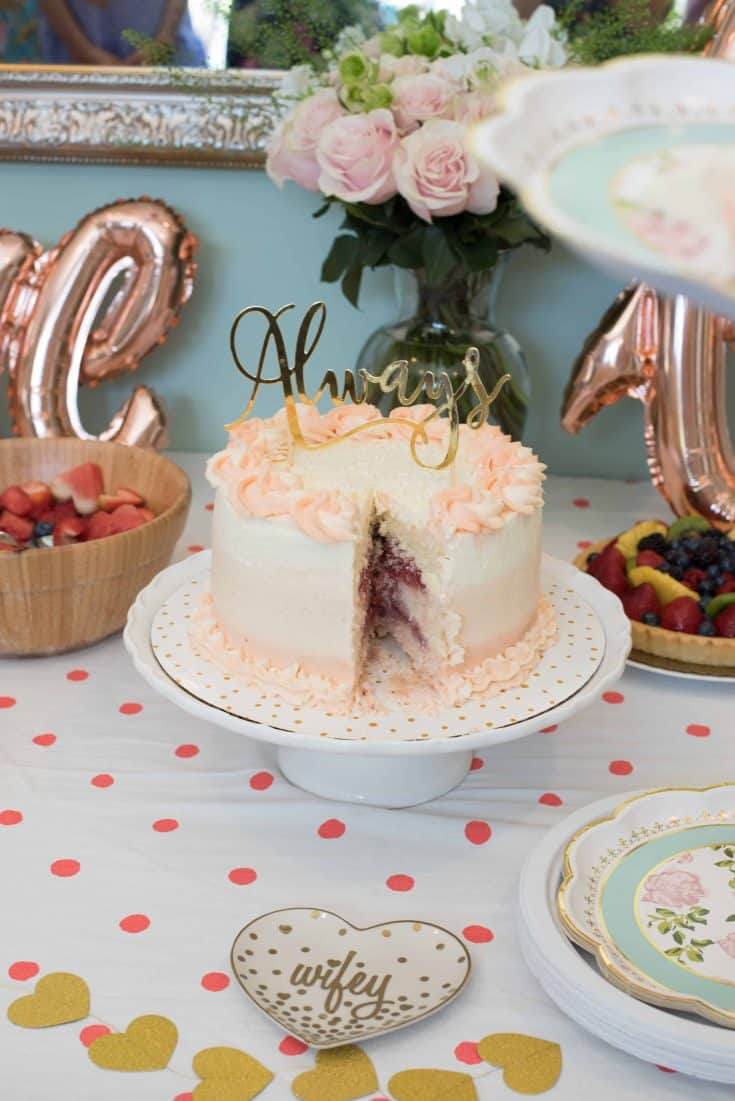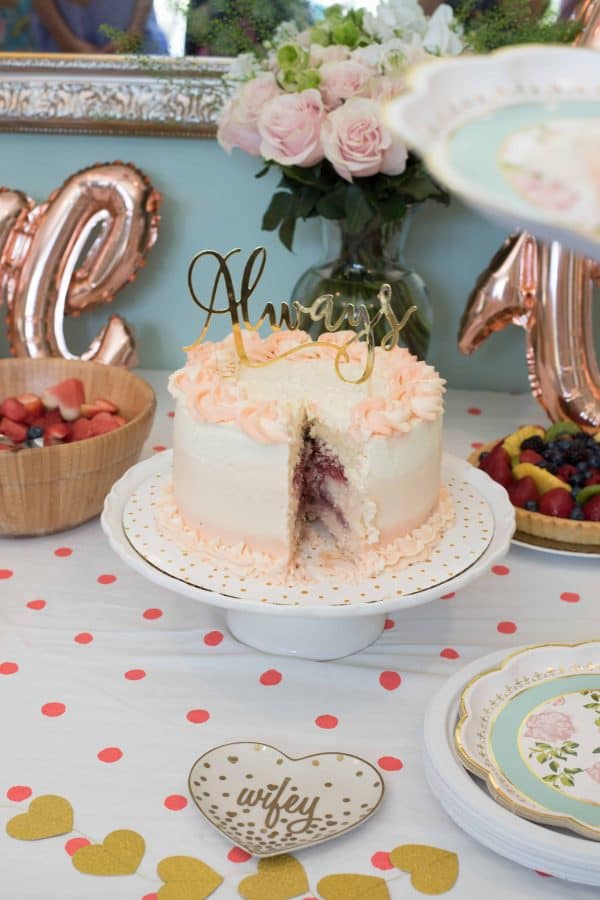 Filling + Frosting
Fruit fillings are my favorite for summertime cakes. The juicy strawberries bring beautiful sweetness while rosé wine adds just a little acidity to balance the scales. When combined with fluffy, moist white cake and whipped cream frosting this cake will bring back summer memories of strawberry shortcake at first taste.
Fresh, new strawberries will yield the best results. If they've been in the refrigerator for a bit, save 'em for jam or freeze for smoothies. Older strawberries will give off way too much water and the flesh will break down. The end results will still be delicious but seep into the layers of the cake rather than providing a strawberry preserve-like barrier between cake layers.
Can we chat just a bit about glorious Whipped Cream Mascarpone Frosting for this Strawberry Rosé Ombre Cake? This not-so-sweet, creamy, slightly tangy frosting will bridge the gap and unite your non-cake lovers (if those people even exist) and buttercream sweet tooth friends.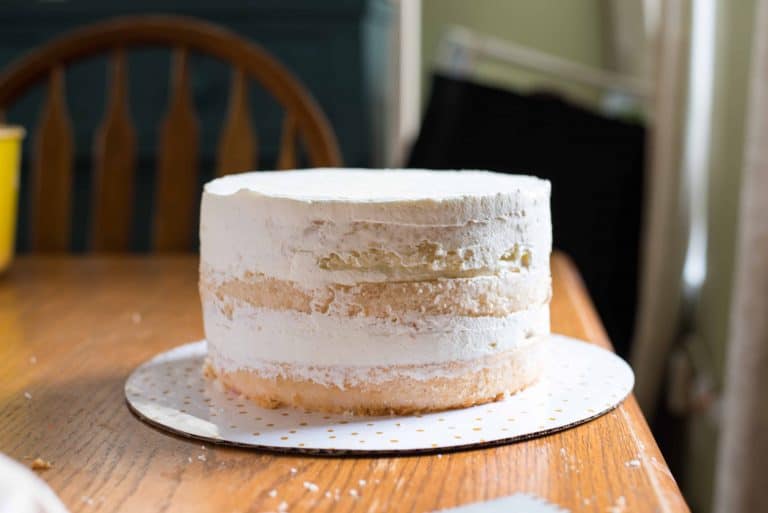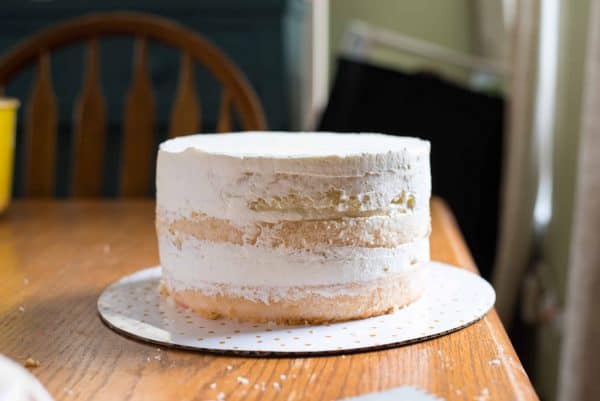 Light and creamy in texture and taste from fresh whipped cream, this frosting is also stable from mascarpone cheese. After whipping ingredients together, remove a little more than ⅓ of the frosting and add to a large piping bag. You will be using the white to pipe a 'moat' border on each layer to contain the strawberry filling from spilling out, as well as the top of the cake. A little more of the plain white frosting will be required.
Using the toothpick technique, add a small amount of peach and pink to the frosting and whip for 30-45 seconds to incorporate color. Remove half and add to a piping bag. Repeat the dyeing process adding just a touch more color. Add remaining frosting to a third piping bag.
After building the layers and frosting the cake, even out the piped frosting using a cake scraper.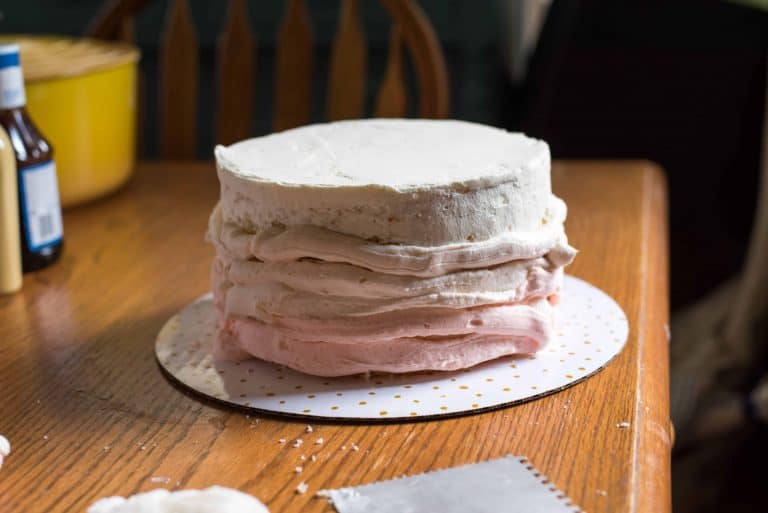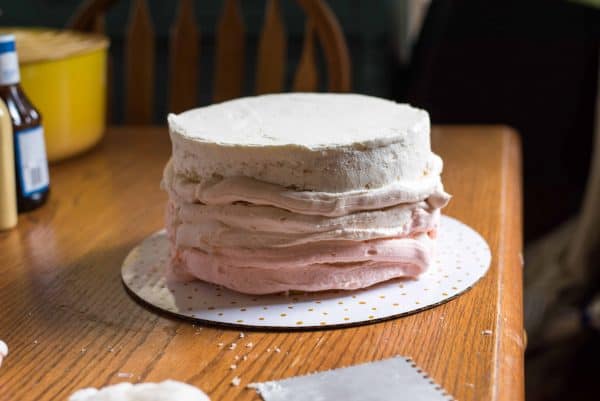 Optional: If you feeling' fancy and all, create an ombre frosting for piping large rosettes on the top of the cake. Using leftover frosting from the three separate piping bags, empty them two at a time, in two layers into one large piping bag fitted with a large star tip. Pipe large rosettes on top of the cake and a small ribbon along the bottom. Bonus for this extra effort - it will hide any imperfections in the frosting job. Win win.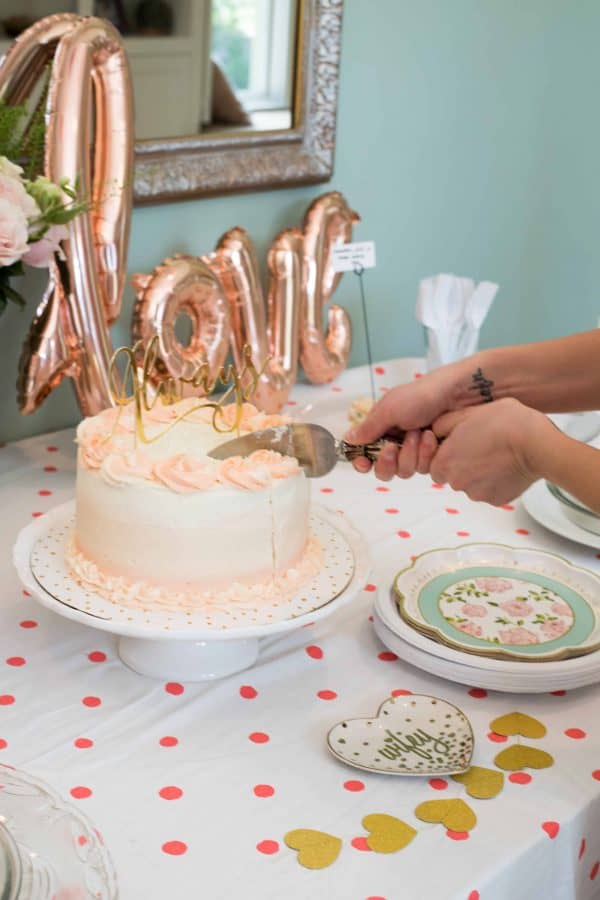 Pairings + Troubleshooting
What's better than Strawberry Rosé Ombre Cake? Having the perfect cocktail to wash it down. Like this Watermelon Rosé Sangria from my girl Jordan over at The Fitchen. I love her cocktails and I think you will too. Who's up for some taste testing?
If you're feeling the need for some bubbles but also need to beat the heat, obsession is the only way to describe with these Strawberry Bellini Prosecco Pops from The Domestic Dietitian. Perfect pairing for this Strawberry Rosé Ombre Cake. Both the cake and these tasty frozen adult treats are perfect for summer brunches, like this recent Bridal Shower in Blush & Gold where Strawberry Rosé Ombre Cake was a hit.
Love the idea of this cake, but fear it may end up as a dreaded #PinterestFail? Start off with some of these Tips and Tricks to Help You Bake Like a Pro from Foodal. OR this one that's full of 15 Tips and Tricks to Improve Your Baking Routine. Side note: I'm positively falling in love with this site. It's a plethora of delicious recipes and lots of information about the ingredients. It just speaks to my inner nerd. Food nerds of the Internet unite!
Nevertheless, nerd or no, let's unite over the summertime bliss of this Strawberry Rosé Ombre Cake.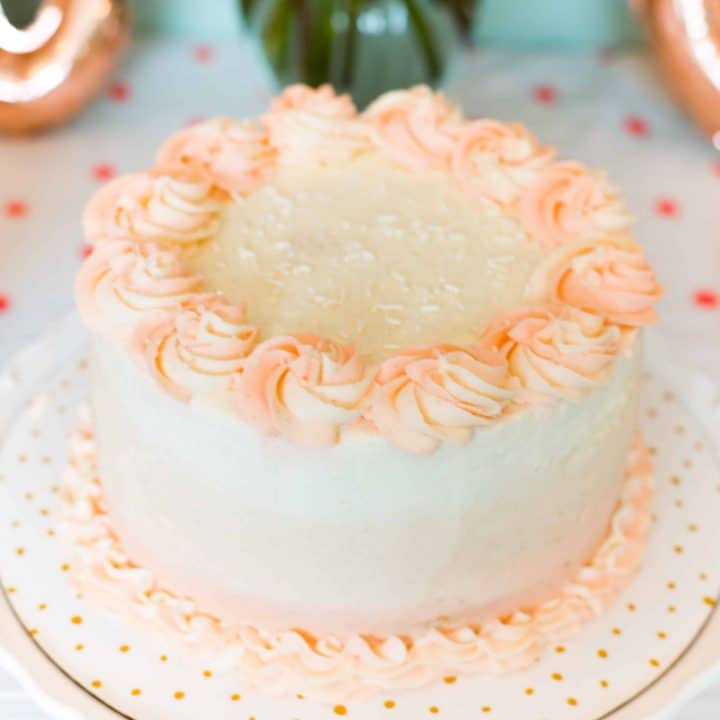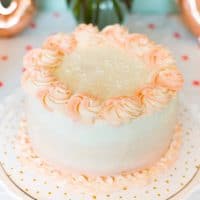 Strawberry Rosé Ombre Cake
Moist white cake becomes peachy-pink ombre perfection with layers of juicy strawberry filling and light, fluffy, subtly sweet whipped cream mascarpone frosting.
Print
Pin
Rate
Servings:
12
to 16 servings
Ingredients
Strawberry Rosé Ombre Cake
Three Layer Ombre Cake
3

cups

+ 2 tablespoons cake flour

1 ½

cups

whole milk

(room temperature)

9

large egg whites

(room temperature)

2

teaspoon

almond extract

2

teaspoon

pure vanilla extract

2 ½

cups

granulated sugar

2

tablespoons

baking powder

2

teaspoons

salt

2 ¼

sticks unsalted butter

(cubed, softened but still cool)

Wilton Cake Icing Peach

Wilton Cake Icing Pink
Strawberry Rosé Filling
2

lbs

fresh strawberries

(hulled and sliced in half)

1 ½

cups

dry rosé wine

¼

cup

granulated sugar

2 to 3

teaspoon

fruit pectin

(brand such as Sure Jell)
Whipped Cream Mascarpone Frosting
16

ounces

mascarpone cheese

(softened but still cool)

2

cups

heavy cream

1 ½

cups

confectioners sugar

1

teaspoon

vanilla bean paste

(vanilla extract can be substituted)

Optional: White Sprinkles

(Sparkling Sugar for decoration)
Instructions
Three Layer Ombre Cake
Preheat oven to 350°F and prepare 3 8-inch baking rounds with butter and flour.

In a large bowl, combine milk, egg whites, and extracts. Mix with a fork until ingredients are combined, about 1 minute.

Using a standing mixer* fitted with the paddle attachment, add cake flour, sugar, baking powder and salt to the mixing bowl. Mix on low speed until dry ingredients are thoroughly mixed.

With mixer on low speed, add cubed butter to the dry ingredients a few cubes at a time. Mix on low for 1 to 2 minutes. Texture will resemble coarse sand.

Add most of the milk mixture to the mixing bowl, reserve about 1 cup. Beat on medium speed for 1 full minute. Add remaining wet ingredients and mix on medium speed for an additional 1 minute.

Pour ⅓ of the batter into prepared pan. Return the mixing bowl to the standing mixer and make your lighter colored layer - a light pink color.

Using a toothpick, dip just the tip of the toothpick in each of the Wilton Cake Icings (Peach and Pink) and add to the batter. Beat for 20 seconds and check the color. Cakes will lighten as they bake, add additional color if necessary. If color is correct, mix for an addition 20 seconds until color is thoroughly combined. Pour ⅓ of the batter into prepared baking round.

Repeat Step 7 with remaining ⅓ of batter.

Bake for 27 to 30 minutes at 350°F until a toothpick inserted in the center comes out clean.**

Let cool fully, about 30 minutes, before frosting.
Strawberry Rosé Filling
In a large sauce pan, add strawberries, rosé wine and granulated sugar. Stir over high heat, until sugar dissolves.

Cook for 10 minutes over high heat, uncovered and stirring occasionally. Add fruit pectin and stir to combine. Reduce heat to medium-low and simmer for 15 to 20 minutes until mixture is thick. Mixture will continue to thicken as it cools.

Let cool completely, about 15 minutes, while preparing the frosting.
Whipped Cream Mascarpone Frosting
In a chilled mixing bowl, add mascarpone cheese and heavy cream. Mix on low speed until mascarpone cheese thins out and heavy cream begins to thicken, about 2 minutes. Scrape down the sides and bottom of the bowl with a rubber spatula.

Add confectioners sugar and vanilla. Gradually increase speed to medium-high over the course of 2 to 3 minutes. Frosting should be stiff enough it does not fall off the beat or paddle attachment when raised.

Remove just over ⅓ of the white frosting and transfer to a large piping bag.

Repeat the dyeing process used when making the cake. Using just the tip of a toothpick, add Peach and Pink colors to the frosting. Mix on low to medium speed until incorporated - be sure to avoid over beating. Transfer ½ of the dyed frosting to a large piping bag.

Repeat Step 4 with remaining frosting, making the color just a touch more vibrant.
Assembling your Strawberry Rosé Ombre Cake
Pipe a small dime sized dollop of frosting on your cake stand or cardboard base to 'lock in' the bottom layer. Pipe a thin, but high layer on the outer edge of the top of the layer. This will keep your strawberry filling from spilling out as weight is added to the cake.

Add half of the strawberry rosé filling to the center of the cake and smooth out to the piped edge.

Repeat Steps 1 and 2 on the next layer.

Using the white frosting pipe the top of the cake and down the sides of the top layer. This does not have to look pretty, the cake scraper will smooth out the imperfections. Reserve ¼ cup to ½ cup of the white frosting if you plan to pipe rosettes on the top of the cake.

Lightly smooth the top of the cake and scrape the sides to create a light 'crumb' coating.

Using the lighter of the two colored frosting, pipe the outside of the middle of the cake. Repeat with the darker color on the bottom layer of the cake. The entire cake should have a crude, thick piped frosting all over. Reserve ½ cup to ¾ cup of each of the peach-pink frosting for rosettes.

Using a cake scraper, smooth the top of the cake and continue down the sides. Wipe off any access frosting with a hot, wet towel.***

In a large piping bag fitted with a large star tip, empty the contents of the white frosting and the lighter frosting at the same time into the new bag. Repeat with the darker colored frosting and what is left of the lighter colored frosting. Use this to pipe rosettes on the top of the cake and a ribbon along the bottom.

Optional: Use sparkly or white sprinkles to decorate the top of the cake.
Notes
*Cake can also be made using a hand mixer with standard mixing attachments.
**Bake Even Strips are recommended for evenly baked cakes.
***Wiping the cake scraper with hot water will help smooth the frosting more easily.
Nutrition
Calories:
745
kcal
|
Carbohydrates:
95
g
|
Protein:
11
g
|
Fat:
34
g
|
Saturated Fat:
20
g
|
Trans Fat:
1
g
|
Cholesterol:
96
mg
|
Sodium:
691
mg
|
Potassium:
277
mg
|
Fiber:
2
g
|
Sugar:
67
g
|
Vitamin A:
1175
IU
|
Vitamin C:
45
mg
|
Calcium:
252
mg
|
Iron:
1
mg