Unapologetically Strawberry. If I had a new hit album coming out, that would be the name. Probably a title track on there too. And I'd play it all. summer. long.
#noregrets
You know what else you should have no regrets about? Putting fruit on your grilled cheese.
It's like opening a door to a whole new world of good eating. I mean, we can be all for savory grilled cheeses, but we can also be for that contrast of naturally sweet and savory too. If cheese can be served alongside fruit for dessert, than we can put fruit on our damn grilled cheese and eat it for lunch.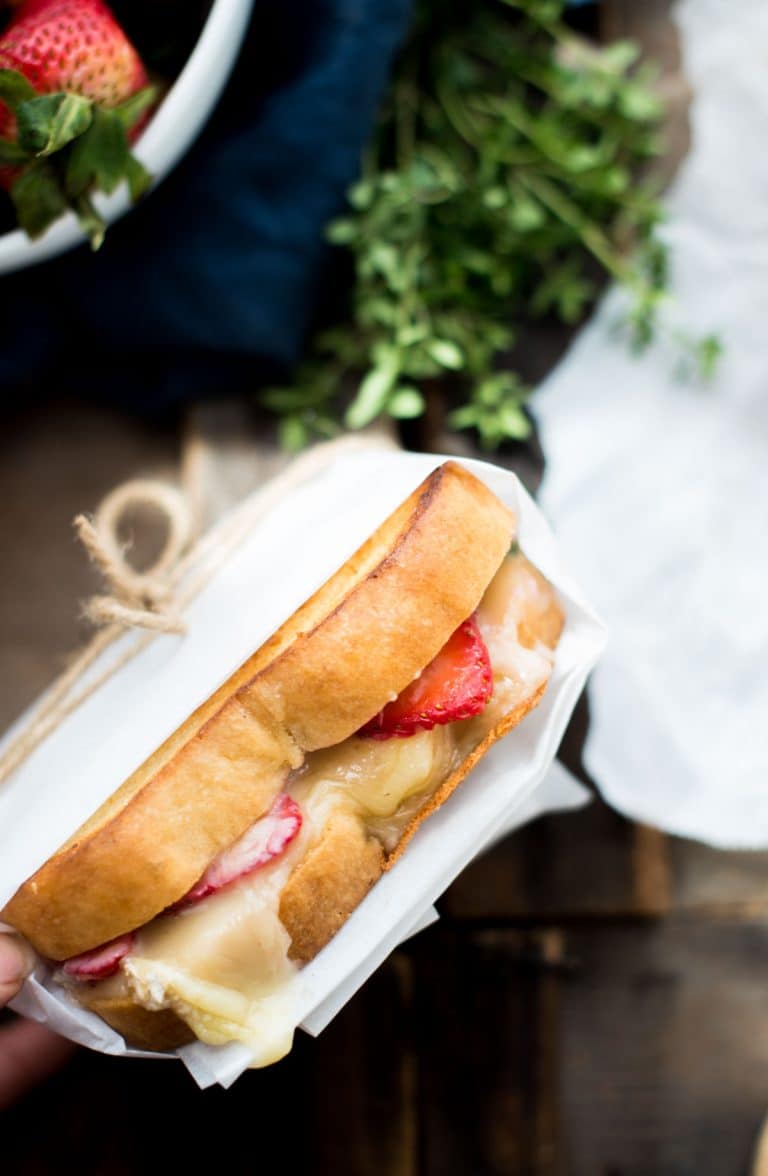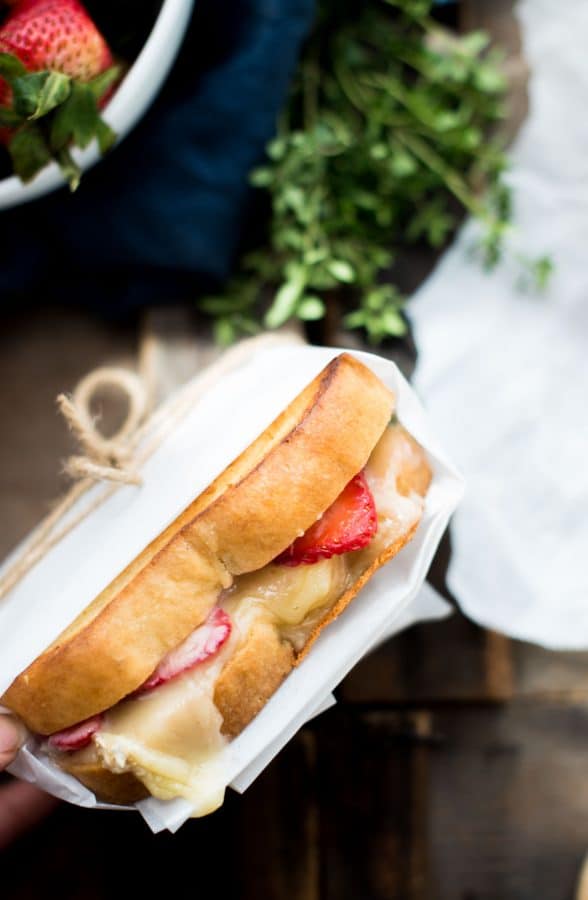 From Pan to Plate
Thank you to Diamotech pans for letting me test out their new cookware!
Let's be honest, it didn't take having a toddler to seriously master my grilled cheese game. But now that I can hind behind that excuse, I'm going to. Helloooo, what else are we gonna dunk in all these delicious soups?
A connoisseur of kitchen gear, local Boston based cookware company Diamotech probably spotted me a mile away. We put their new pan to the test and walked away with tasty results. Here are our top tips for mastering the perfect crisp and creamy grilled cheese.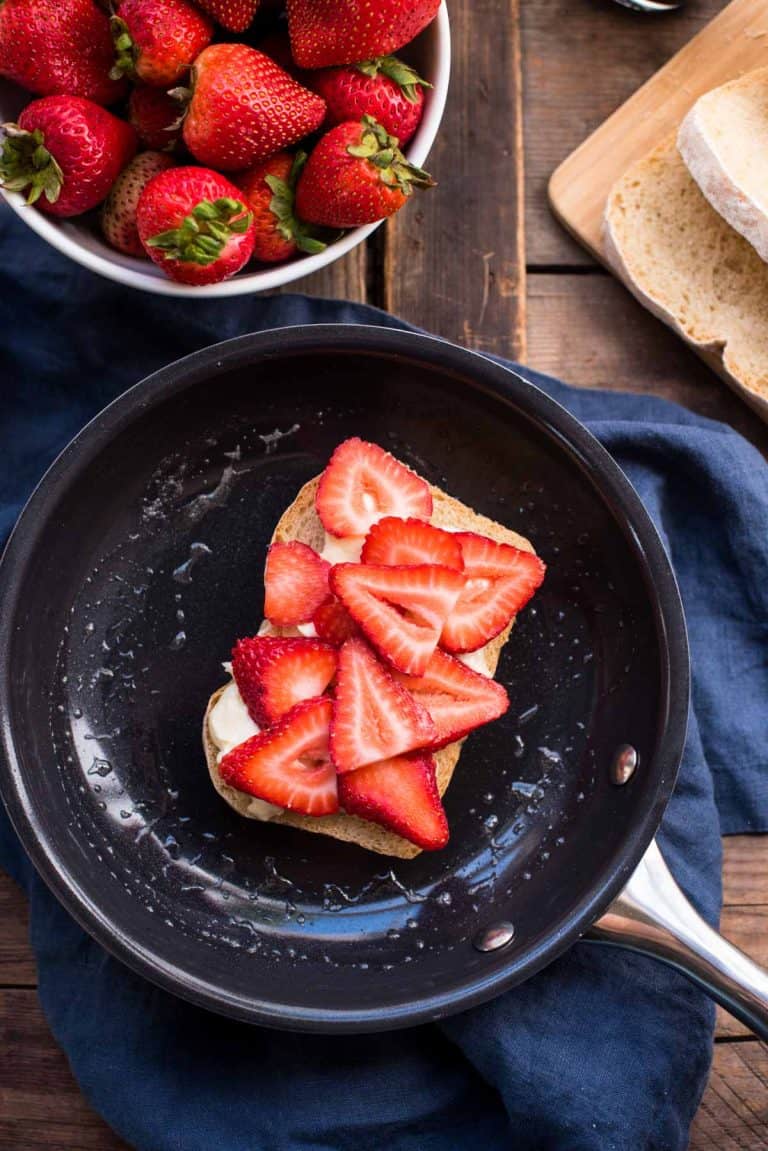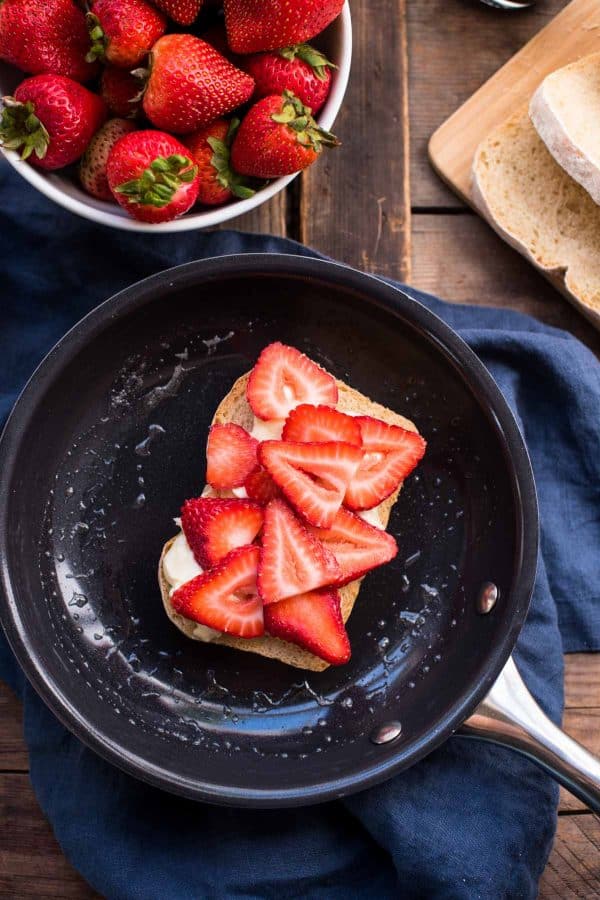 Non-stick pan. I really did love this pan. It was easy to season, goes from stove top to oven, and YOU CAN THROW IT IN THE DISHWASHER. Dishwasher safe FTW every time.
Butter. My preference is unsalted. Since we bake a lot (a lot) of things in this house - from cheesecakes to cornbreads - it's just become standard to only have unsalted butter, because salt can always be added. Or you can even use mayonnaise. YES. I went there and I'm not sorry. Mayo is awesome for making grilled cheese bread crispy and my French Canadian blood is ignoring your judgement.
Bread. A hearty whole grain, a tangy sour dough, or a vivacious ciabatta are all good places to start. Personally, I love the traditional school yard nostalgia of a thick, country style white bread. Especially for this Strawberry Brie Grilled Cheese since it really lets the flavors of the cheese, fruit and herbs shine through while providing the perfect crunch.
Medium heat. Have the heat too high, you'll risk burning the bread before your cheese gets melty. Have the heat too low the butter will soak all into the bread before browning.
Get cheesy. The grilled cheese world was not built on one cheese alone. Sharp cheddar is the #1 go to, but Muenster is a nice mild alternative. If you want things to get gooey, savory good go for the brie.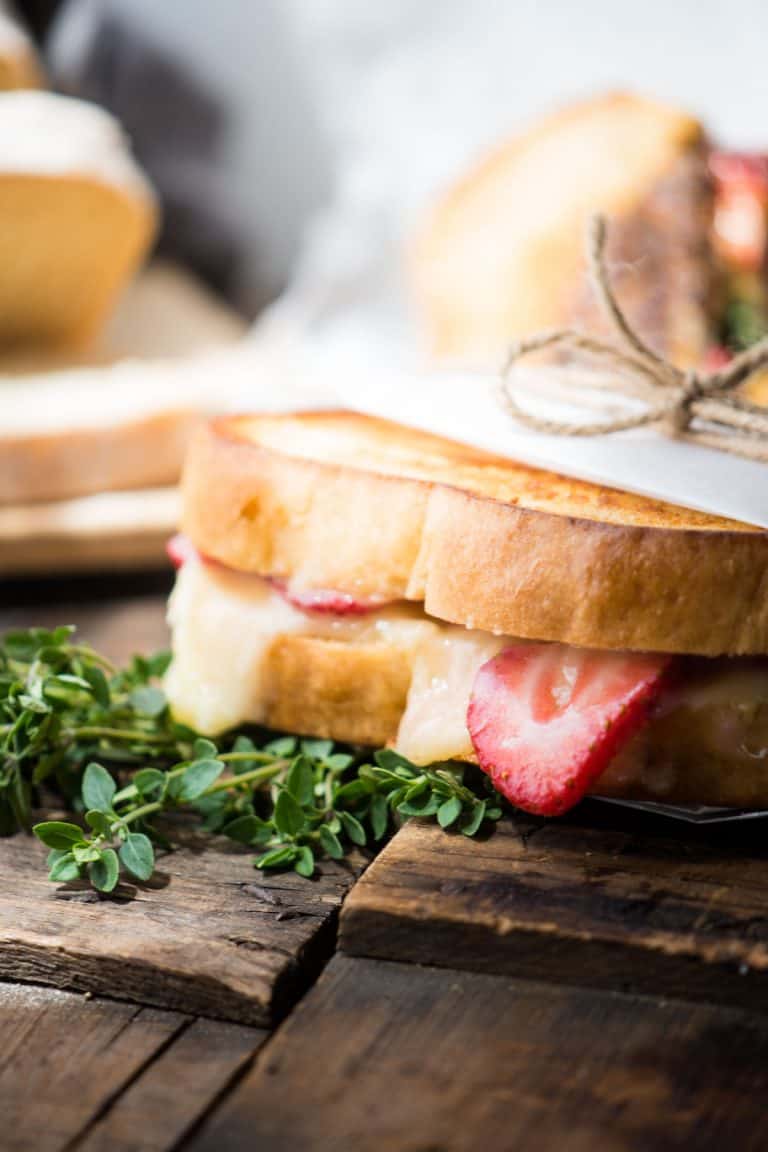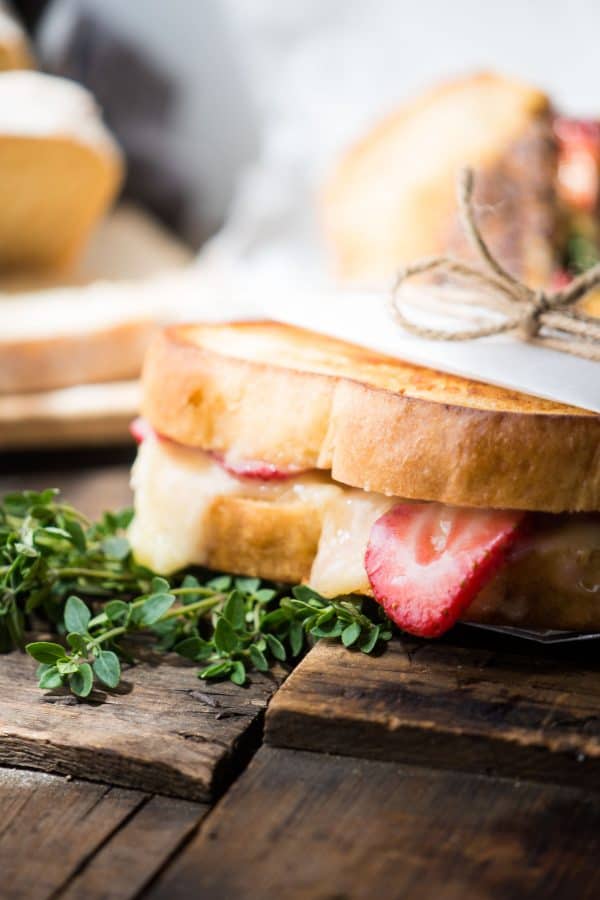 Strawberry Brie Grilled Cheese
Go for the brie - triple cream brie if it's available. It's mild enough that it won't overcome the pop of the fresh strawberries, but savory enough to still calm that salty cheese need and the melt factor of brie is going to have you feeling all sorts of passionate things about food.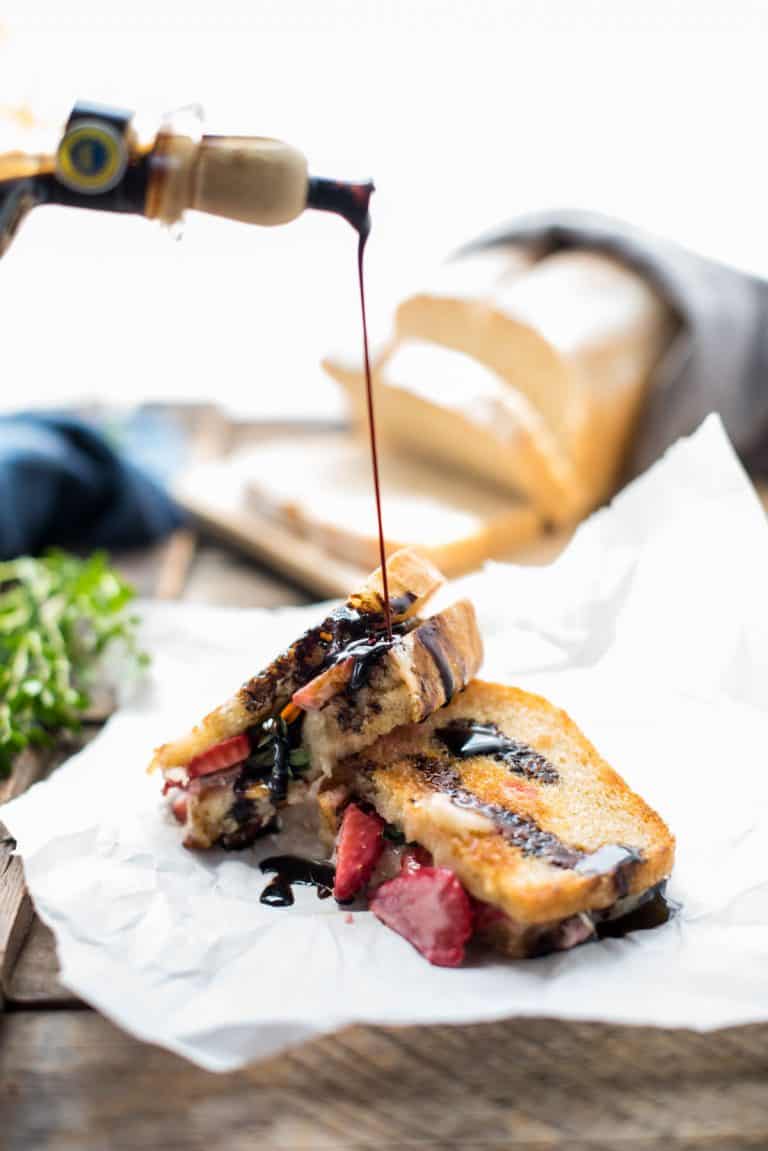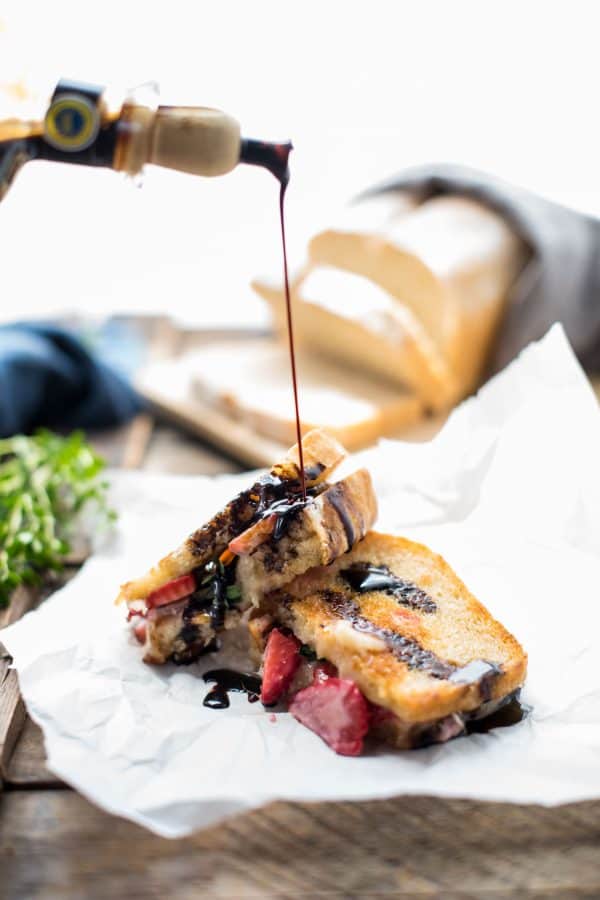 And then, you have the fresh thyme hiding inside to pop up and surprise you half way through a bite. Surprise you in like a "Surprise! Here's an all exspenses paid vacation to the spot of your choosing" kind of surprise. Not like a surprise, here's a flat tire.
While the Strawberry Brie Grilled Cheese may just be summertime sandwich perfection, I would like to personally offer my recommendation to drizzle that plate of perfection with a little balsamic. You can either top the insides before adding the last piece of bread, pour over the crunchy outside before you dig in, or maybe dip it on the side of the plate. Either way, you gonna be happy my friend. And that is all I could really ask.
Pin this for later ????
Did you make this? Tell me about it in the comments! If you're Team Fruit + Cheese - what are your favorite ways to have them?!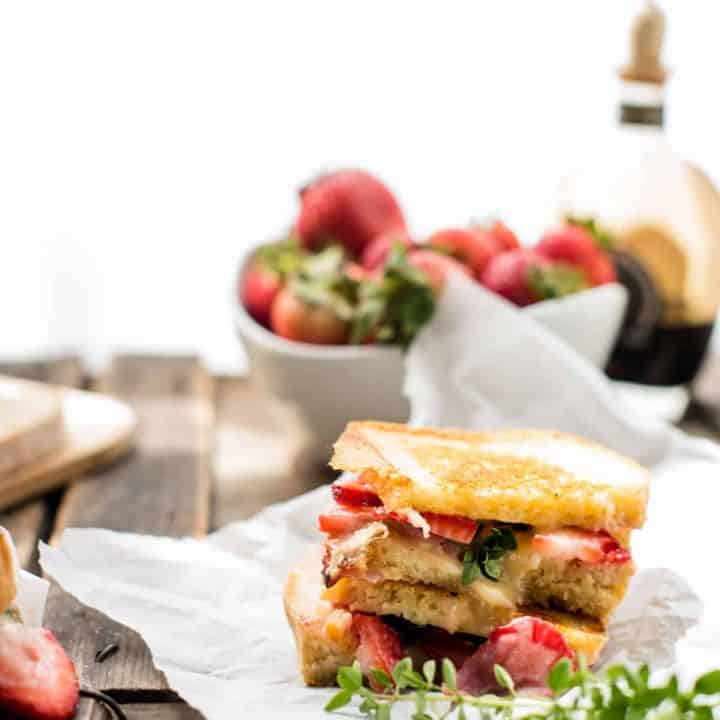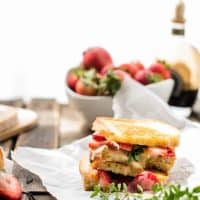 Summer Strawberry Brie Grilled Cheese
Melty, creamy brie cheese, sweet ripe summer strawberries, and a hint of fresh thyme sandwiched between crisp, buttery country white bread for the ultimate summer grilled cheese.
Print
Pin
Rate
Ingredients
2

thick slices

country style white bread

(or another hearty style bread like Ciabatta)

1

tablespoon

unsalted butter

(room temperature)

3

large

strawberries

(tops removed and thinly sliced)

2

ounces

triple cream brie

(rind removed)

1

sprig

thyme

Optional: aged balsamic or balsamic reduction
Instructions
Prep the bread:

Spread ½ tablespoon on one side of each piece of bread. Heat a non-stick skillet over medium-high heat. Place the first slice of bread butter side down in the skillet.

Stack the ingredients: Layer pieces of brie cheese, strawberries, thyme leaves (removed from the sprig,) then remaining brie cheese. Top with the last piece of bread, butter side up.

Grill to crispy perfection: Cook each side for 3 minutes until golden brown and cheese is melty. Remove to a plate and slice down the middle with a serrated knife.

Optional drizzle: for extra flavor, tang, and a little sweetness, drizzle Strawberry Brie Grilled Cheese with an aged balsamic (something that's naturally thicker and sweeter because of it's aging) or a balsamic reduction (balsamic vinegar that's reduced with sugar).
Notes
If the butter is not room temperature, melt in the pan first, then move the bread around the pan to soak it up.
Nutrition
Calories:
449
kcal
|
Carbohydrates:
31
g
|
Protein:
17
g
|
Fat:
29
g
|
Saturated Fat:
17
g
|
Trans Fat:
1
g
|
Cholesterol:
87
mg
|
Sodium:
605
mg
|
Potassium:
277
mg
|
Fiber:
3
g
|
Sugar:
7
g
|
Vitamin A:
743
IU
|
Vitamin C:
49
mg
|
Calcium:
255
mg
|
Iron:
3
mg