Brrr!!! It's cold out there...must be some Toros in the atmosphere? Nope, it's just stupid amounts of cold. Well here's a no brainer recipe for Chicken and Rice soup to warm you up from the inside out!
I absolutely love soup. It's so easy, great for leftovers and depending on what kind of soup you're making it can be easy on the waistline too. Typically, I use chicken breast because I prefer white meat, however, if I'm pressed for time occasionally I will buy a pre-cooked roaster chicken at the deli and just pull the meat. In addition, I tend to go a little lighter on the rice because I like a lot of broth. That is probably due to the one time when I was younger my mom asked me to add rice to the soup and added...well,let's just say we had Chicken Soup for a month after she was done fixing it. The lesson learned? You can always add more after it simmers and the rice expands a bit.
Here's what you'll need for this classic:
Cook Time: about 45 minutes to 1 hour.
Prep Time: 20 minutes
Preferred Cookware: 5 gallon stock pot
1-¼ lbs chicken breast (you can use more or less depending on your preferred chicken to veggie ratio, but that's typically the weight of 1 package of chicken breast at the market)
1-½ celery hearts, diced
1 lbs carrots, peeled and diced (can substitute baby carrots)
1 large yellow onion
⅓ cup long grain brown rice (sometimes I use Pastina to make my husband happy, he prefers the little stars)
2 quarts chicken stock (check back on this - I will turn this into a link for making your own chicken the next time I make it at the house)
2 bay leaves
1 teaspoon kosher salt
½ teaspoon black pepper
Set your oven at 350 F and cook off the chicken breast, unseasoned, for 20 minutes. In the meantime, diced the celery, onion and carrots. Heat the stock pot and olive oil (about 2 tablespoons.) Once oil is hot add the diced vegetables and sauté over medium high heat, season with salt and pepper. When the chicken breast is cool enough to handle diced that up as well and add the the vegetables.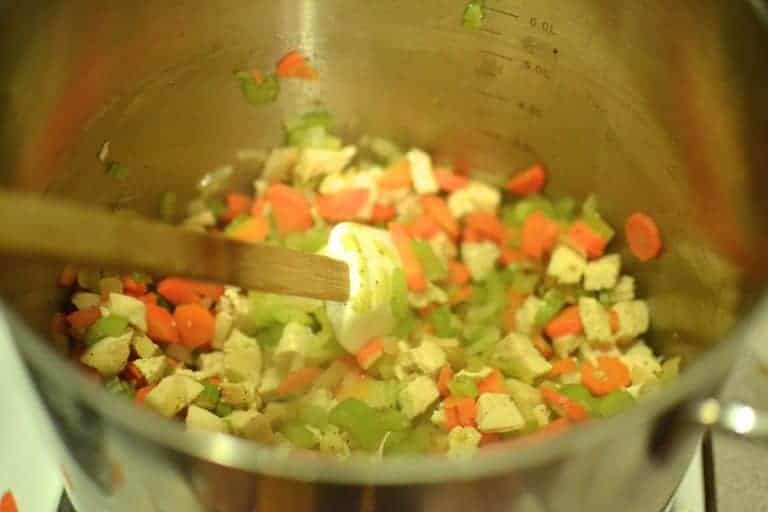 The important thing to remember when chopping up vegetables and proteins for a soup is that you want to diced them small enough they fit on a soup spoonStir all the ingredients, add chicken stock, bay leaves, additional salt or pepper (if needed) and rice. Let simmer for about 45 minutes or until the rice is cooked.