Easy pulled chicken, diced tomatoes, tender kale, hearty wild rice and rich chicken stock simmered in less than half the time with a little help from the instant pot. Instant Pot Hearty Chicken and Wild Rice Stew is perfect for cold weather comfort food cravings!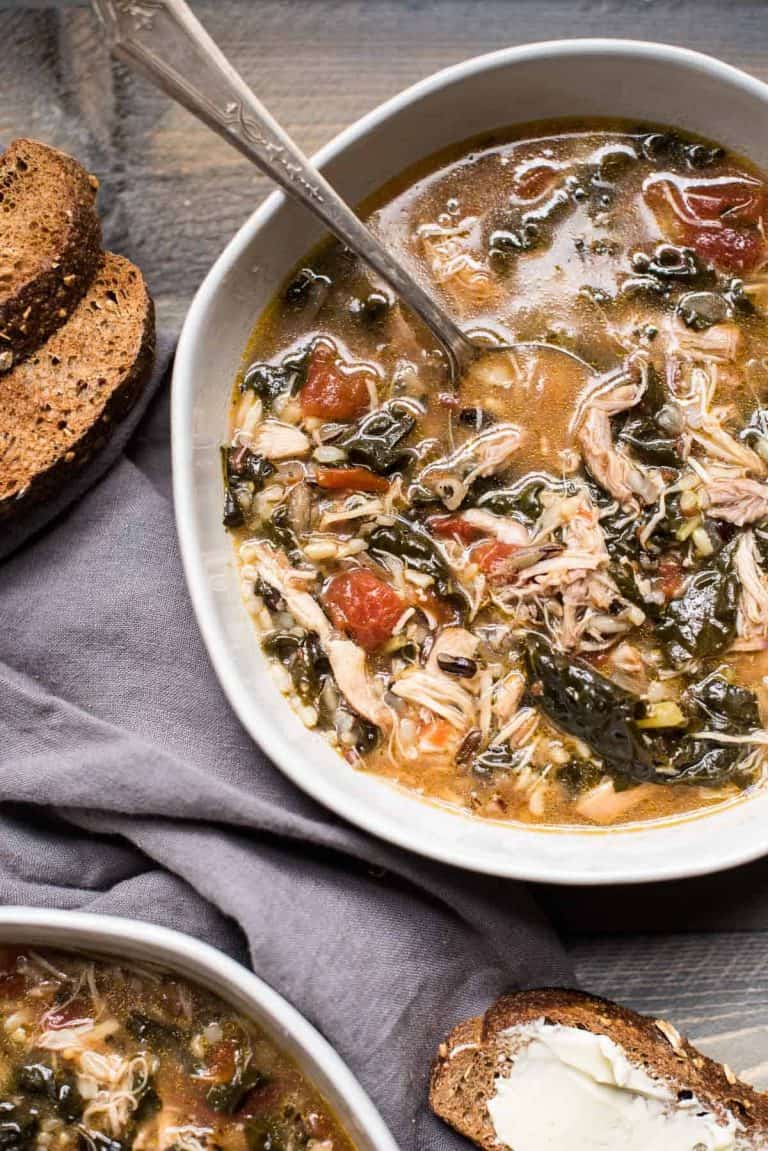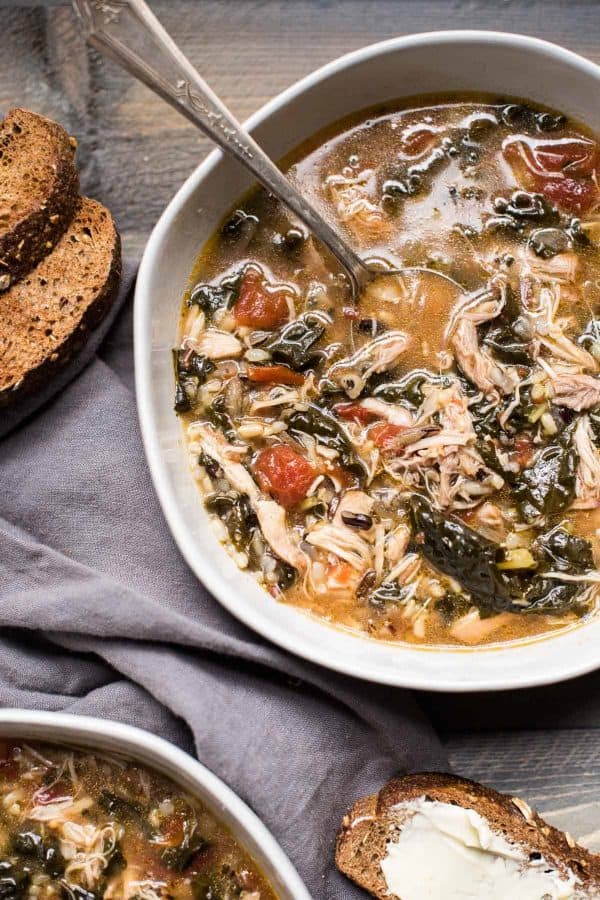 Oh here it is. The magic instant pot chicken stew we've been eating on repeat for the last two months. And I am 100% not exaggerating this.
Not like a "hey family I'm going to force feed you the same soup over and over again." No, no. It's like "this soup is so good and filling and healthy and ridiculously easy so I'm just going to keep it stocked in the fridge at all times, kthanksbye."
(My thoughts are typically run on sentences for the record.)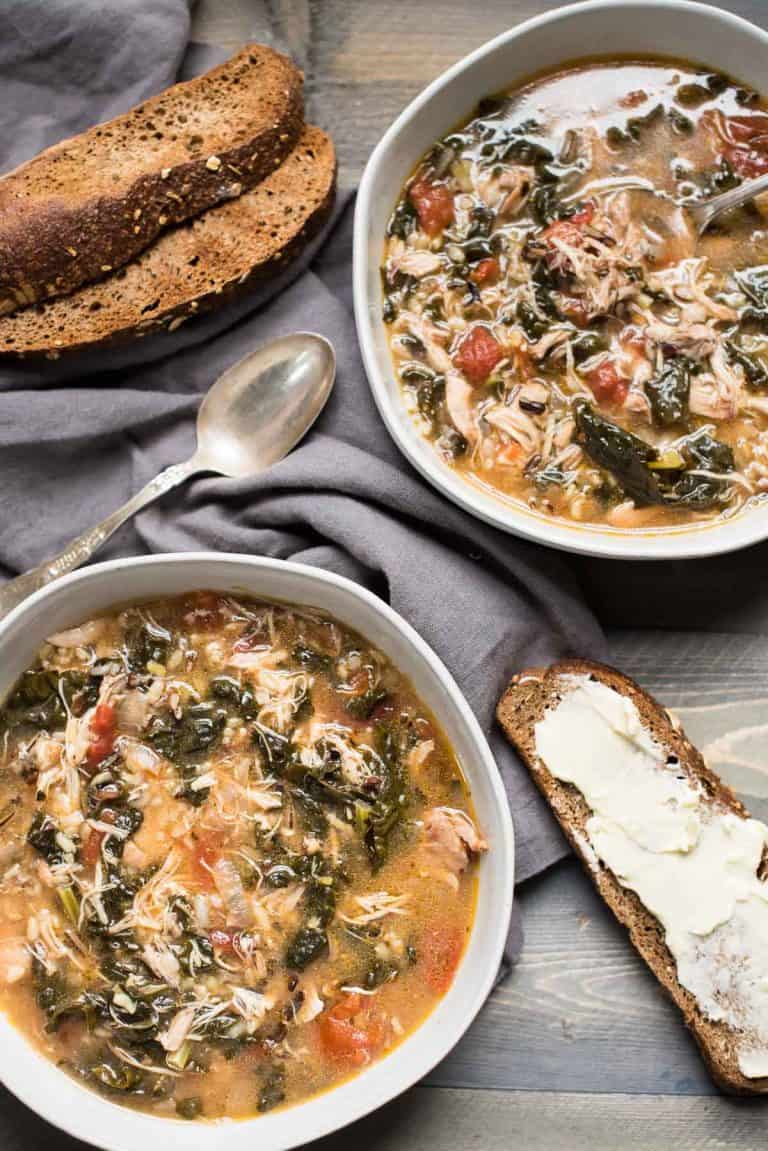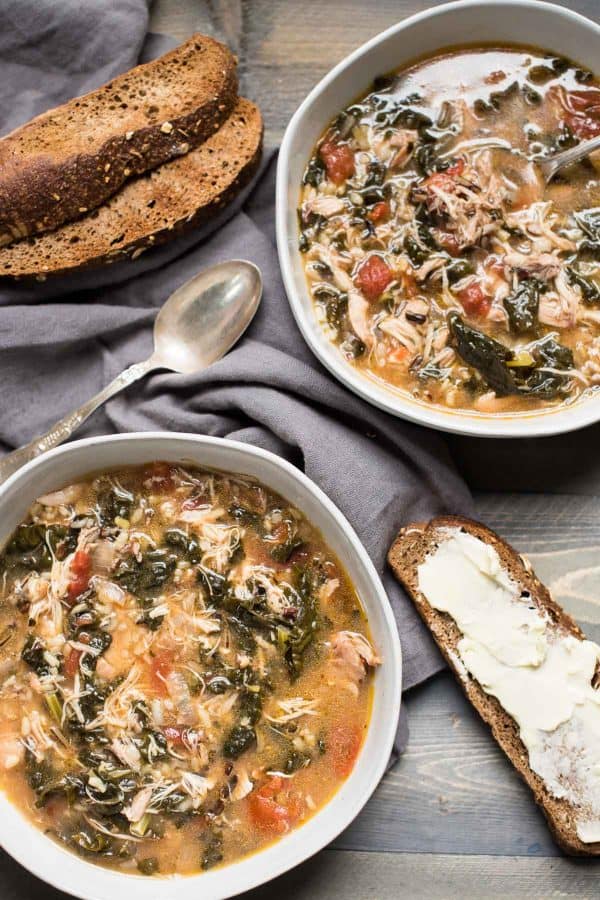 Using the Instant Pot for frozen chicken
You know those days, or nights, when you walk in the door and your brain is immediately like, "what the hell are we going to eat, all the meat is in the freezer?" Especially been feeling this since I've been using Butcher Box for all our meat.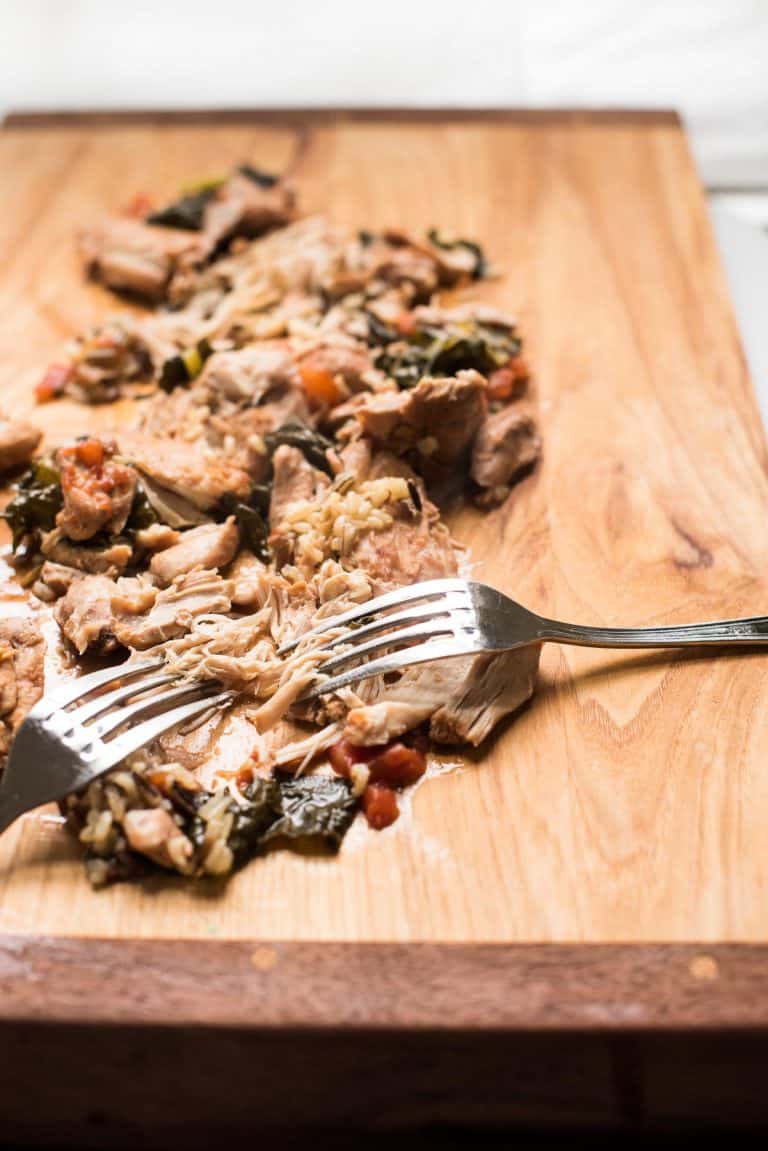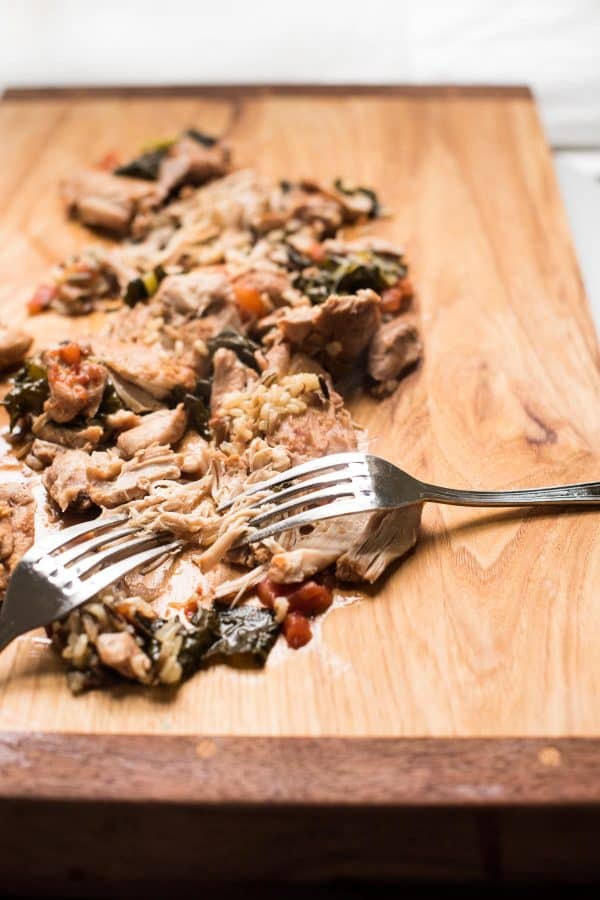 Convenience of having all your meat mailed to you: 11 out of 10
Awesomeness of customizing your box with exactly what you want: 10 out of 10
Occasionally forgetting to thaw out your meat in time for dinner: 3 out of 10....well, unless you've got a handy pressure cooker to help you take the defrosting short cut!
Just grab two packages - about 1.5 pounds - of boneless, skinless chicken thighs and throw them right in the pot after the white wine. The chicken comes out of the pressure cooker near falling apart. Just pull the pieces out with a pair of tongs and pull apart with two forks before adding back to the soup.
Then all you need a is huge bowl and some crusty bread.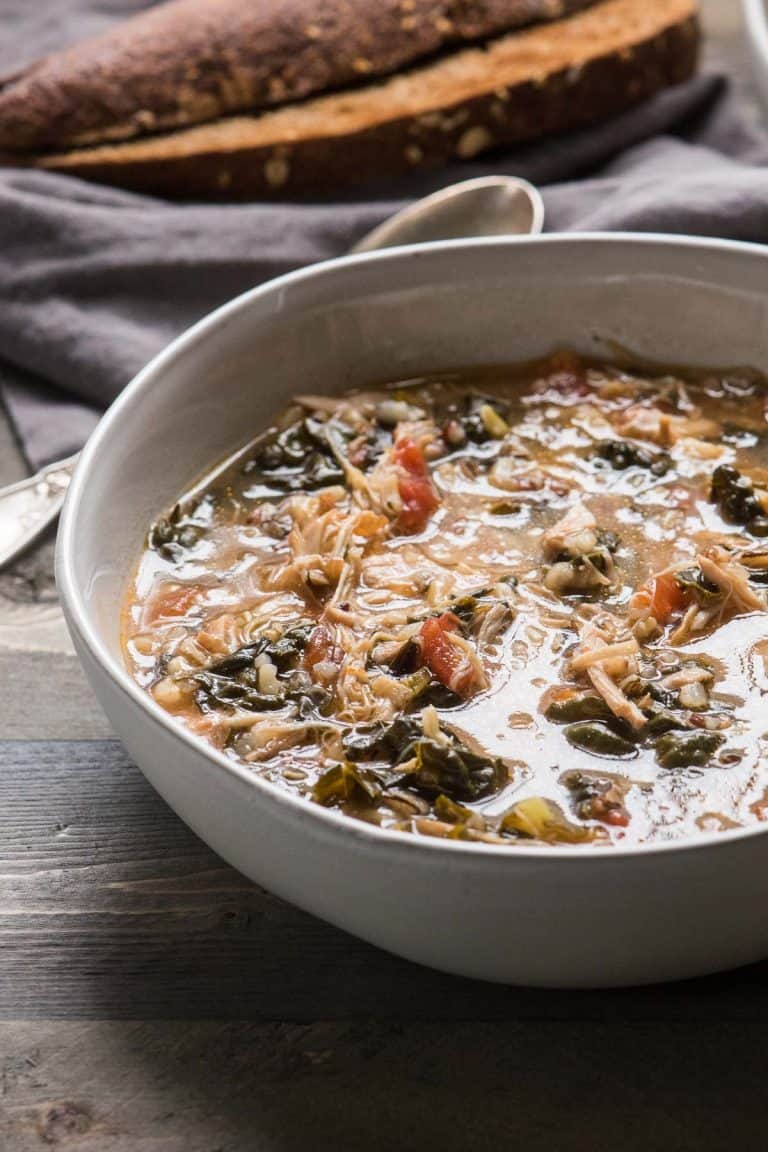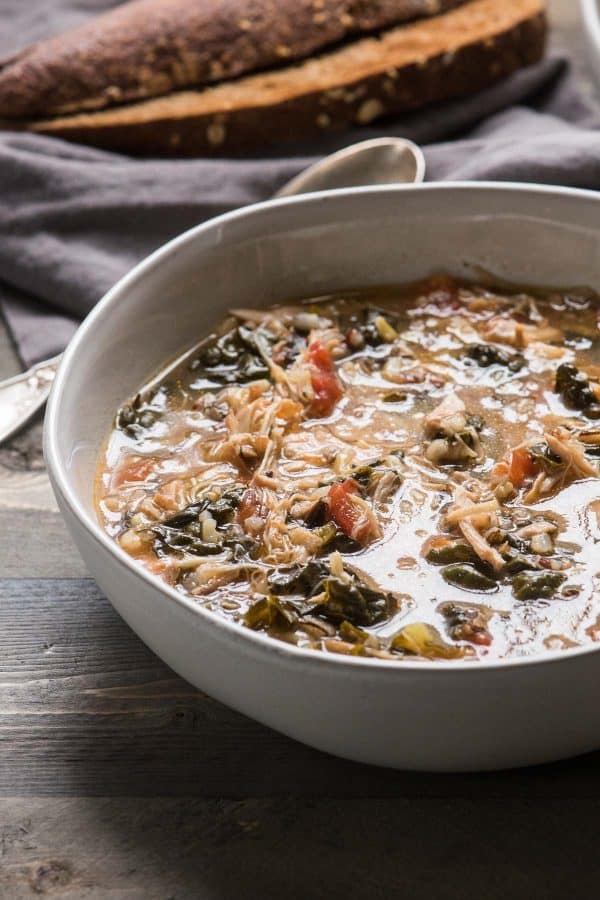 But what if my chicken is fresh? Well, congratulations on being better prepared for life than me. Just cook all the ingredients for the same amount of time.
The hardest part about this soup is waiting for the Instant Pot to depressurize so you can vent it, pull the chicken and get on to eating. And don't sweat it if some of the kale and rice and what not come out with the pieces of chicken. Everything is going right back in the pot after, so it doesn't really matter if there are a few stragglers.
Did you score an Instant Pot during Black Friday/Cyber Monday? If you're just starting out your pressure cooking journey, here are a few more recipes to try out this cold weather season:
Still need a pressure cooker in your life? The 8 quart Instant Pot is the one that I have and love. The bigger size is great for making large batches of chicken stock and soups like this one. If that's a bit too much gadget for you, they also make a 6-quart version.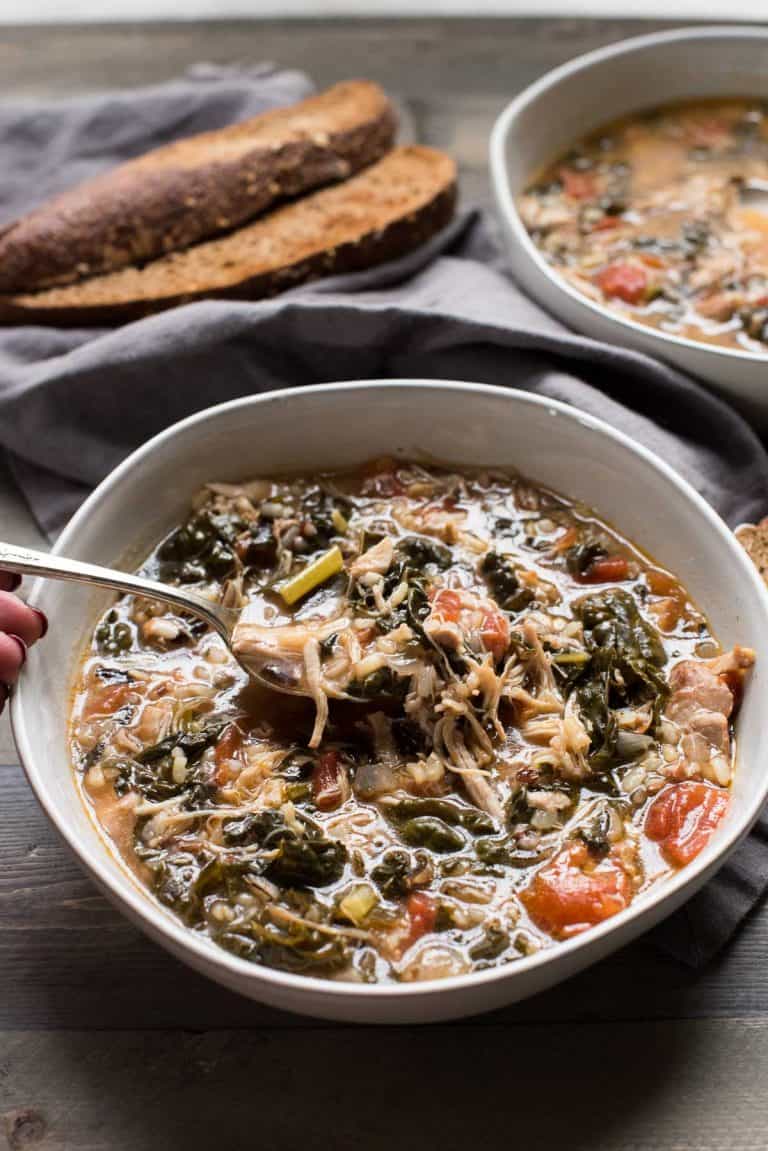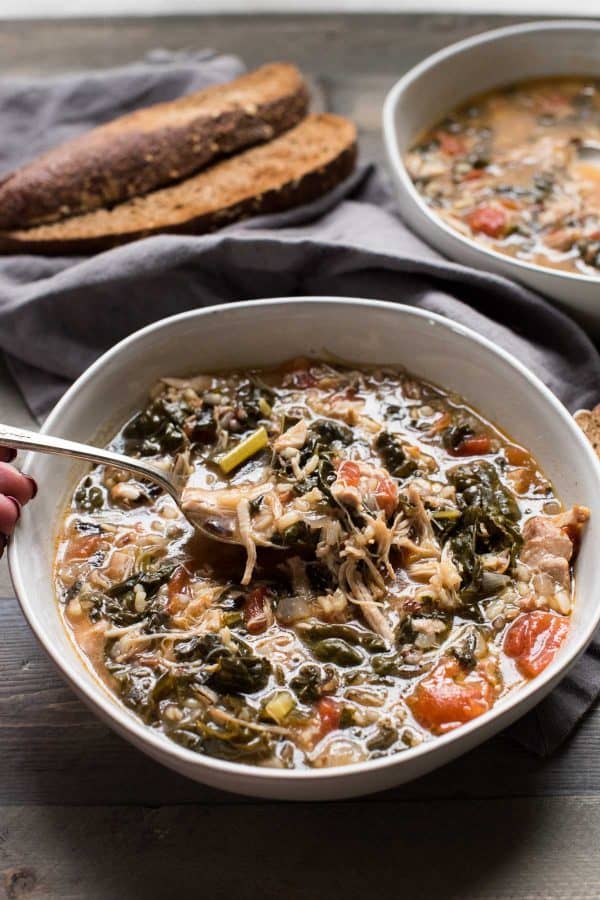 Before we get on to good eating, I have one last tip for you. When it comes to adding the chicken stock to your instant pot chicken and wild rice soup, I'd recommend using either homemade chicken stock or low-sodium chicken stock and then adding salt and pepper to taste. For me, that ended up being about 2 teaspoons but saltiness of stocks and the type of salt you use varies. So just see about it as you go.
Go forth and eat good soup my friends.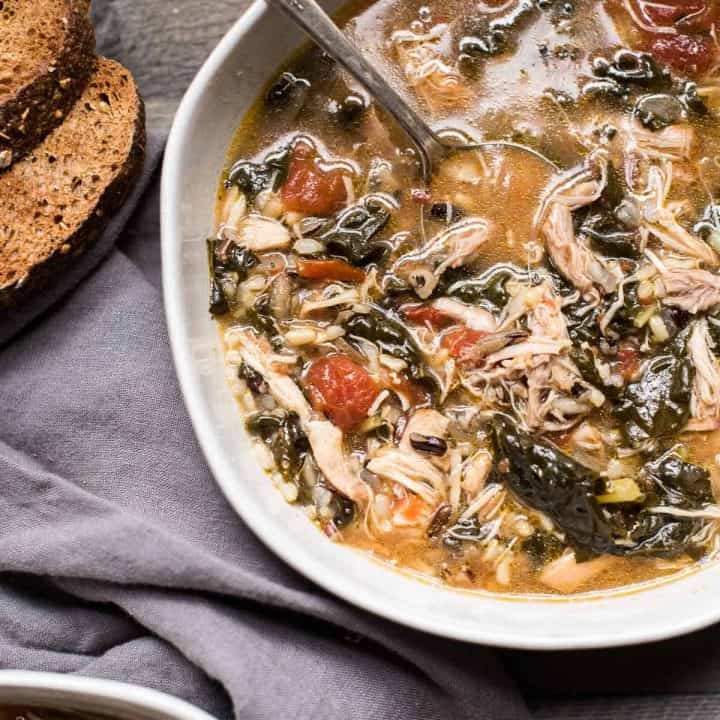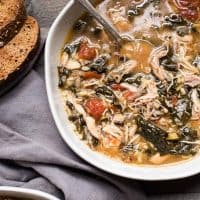 Instant Pot Hearty Chicken and Wild Rice Stew
Tender pulled chicken, wild rice, tuscan kale and chopped tomatoes in rich chicken stock cooks up in no time in the Instant Pot.
Print
Pin
Rate
Servings:
6
to 8 servings
Ingredients
2

tablespoons

extra virgin olive oil

1

yellow onion

(diced)

2

cloves

garlic

(minced)

⅓

cup

white wine

1 ½

pounds

boneless skinless chicken thighs

( (fresh or frozen))

4

cups

tuscan kale

(chopped)

1

14.5-ounce can

diced tomatoes

((do not drain))

1

cup

wild rice

1

bay leaf

2

quarts

low-sodium chicken stock

salt and pepper

(to taste)
Instructions
Turn your Instant Pot to the 'Sauté' setting. When the olive oil is hot, add the onion and cook for 2 minutes until translucent. Add garlic and cook about 1 minute until fragrant.

Add the chopped kale to the pot and let it cook down for 1 minute while stirring. Pour in white wine and reduce for about 2 minutes. Incorporate the remaining ingredients to the pot.

Close the lid to the pot and set to 'seal'. Cook for 20 minutes on high pressure or using the 'stew' setting, depending on your Instant Pot model. After cooking, let the Instant Pot naturally depressurize for 10 minutes before venting. Once the red toggle button is down, you can open the lid.

Remove the large pieces of chicken to a cutting board or plate. Using two fork separate the chicken into pulled chicken pieces. Once all the chicken is pulled, stir it back into the Instant Pot and serve.
Nutrition
Calories:
349
kcal
|
Carbohydrates:
27
g
|
Protein:
33
g
|
Fat:
12
g
|
Saturated Fat:
2
g
|
Trans Fat:
1
g
|
Cholesterol:
108
mg
|
Sodium:
204
mg
|
Potassium:
772
mg
|
Fiber:
2
g
|
Sugar:
2
g
|
Vitamin A:
1433
IU
|
Vitamin C:
18
mg
|
Calcium:
57
mg
|
Iron:
2
mg