Fork tender, slow braised beef simmered with hearty vegetables and potatoes in rich beef stock with fresh herbs. This classic beef pot roast is simple and perfect to soothe comfort food cravings.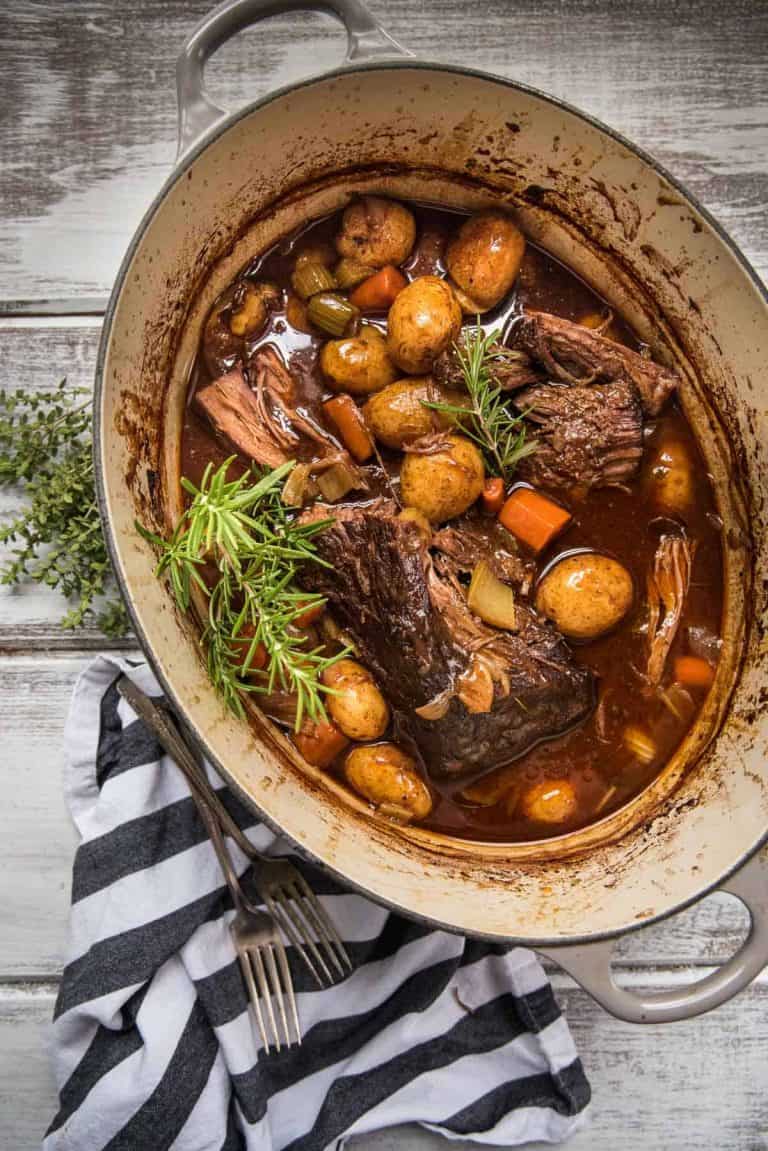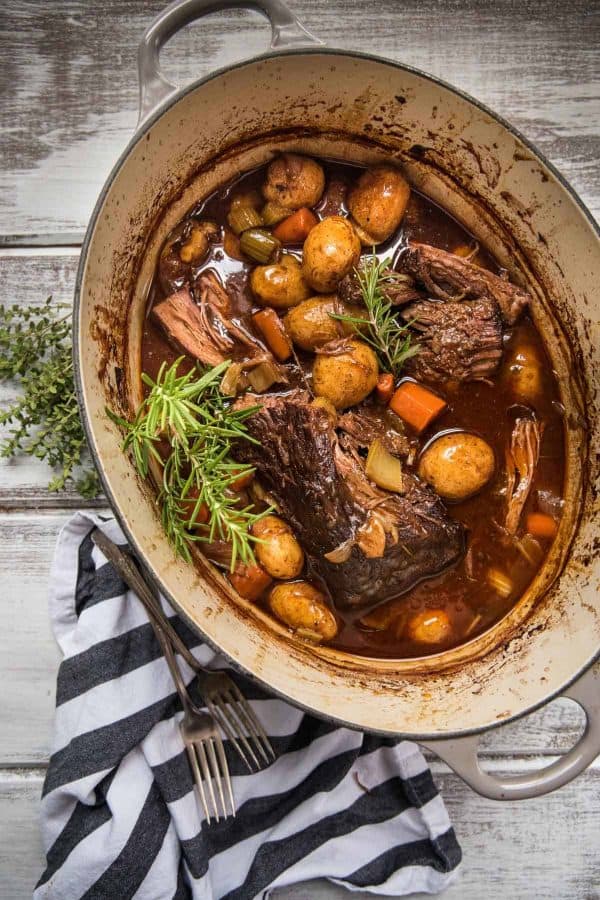 You know those meals that make you feel warm and cozy from the inside out? When the weather shifts, at least here in New England, it's time to break out the list of comfort food go to recipes and Classic Beef Pot Roast is on the top of that list.
Granted, right now Mother Nature seems to have been enjoying a few too many sangrias because it's the end of September and still 90°F in Boston, but it's ok, we can repeat this pot roast once it's flannel weather.
But why should be excited for pot roast?
Uses less expensive cuts of meat
Easy to find ingredients
Better than Yankee Candle smell through the whole dang house
Simple preparation
Feeds a crowd with minimal effort and expense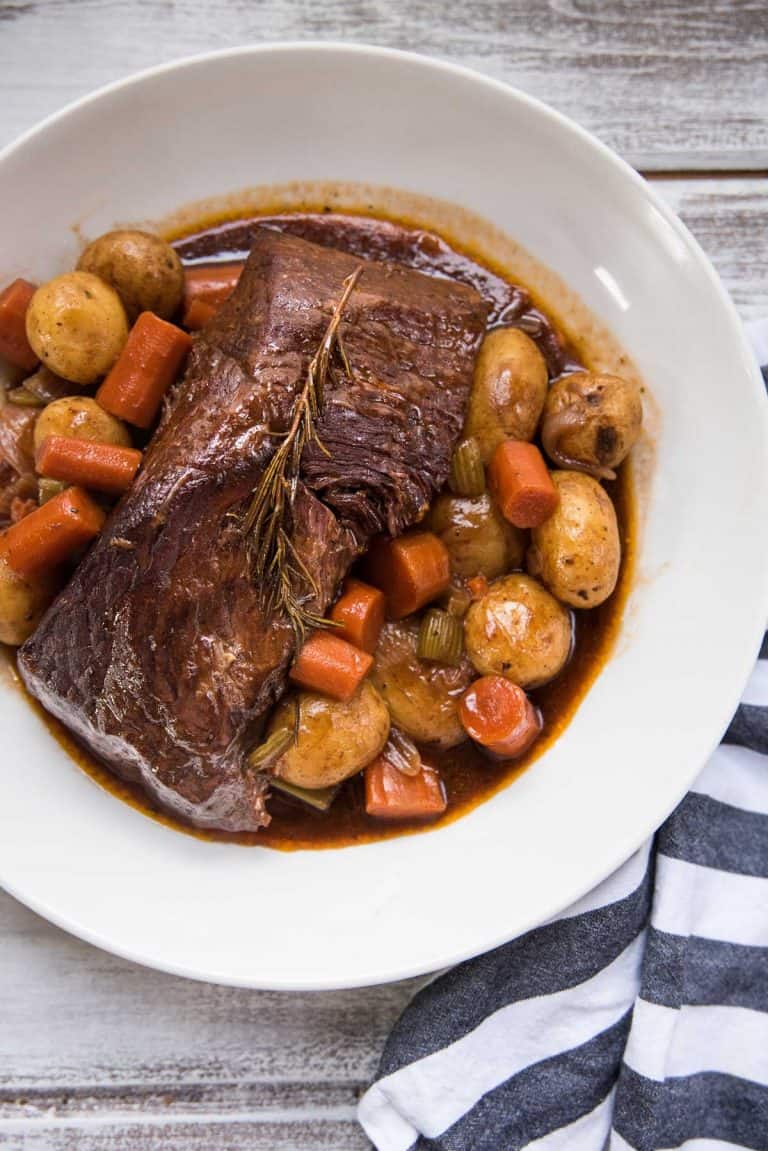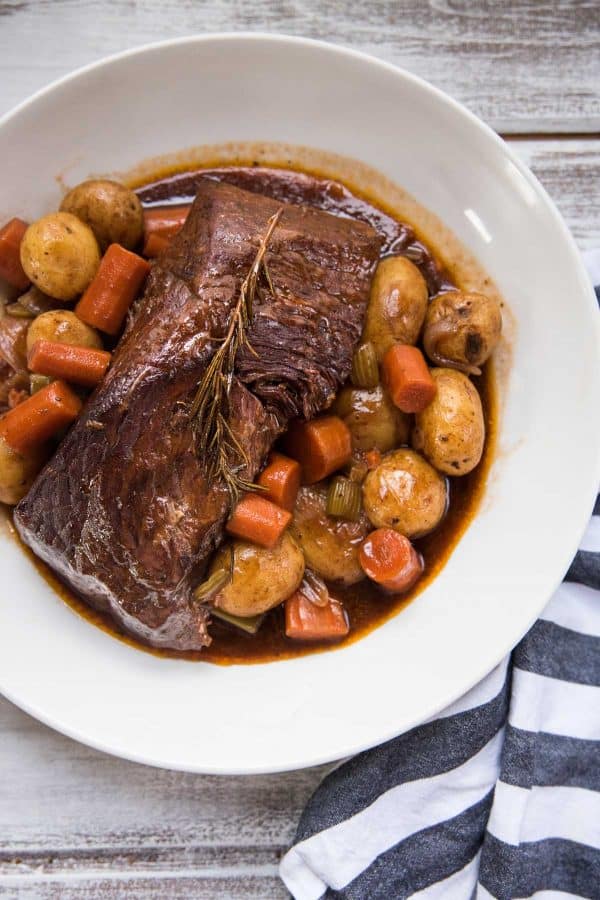 Classic comfort food
What makes this pot roast classic? This recipe is actually inspired from a 1983 Southern Living Cookbook I picked up in a consignment shop for $5.00 - with a few tweaks like fresh herbs and cooking in the oven rather than the stove top.
(It also turns out that things like mayonnaise cake and gelatin salads were also very popular in 1983 but we won't be venturing down that path anytime soon.)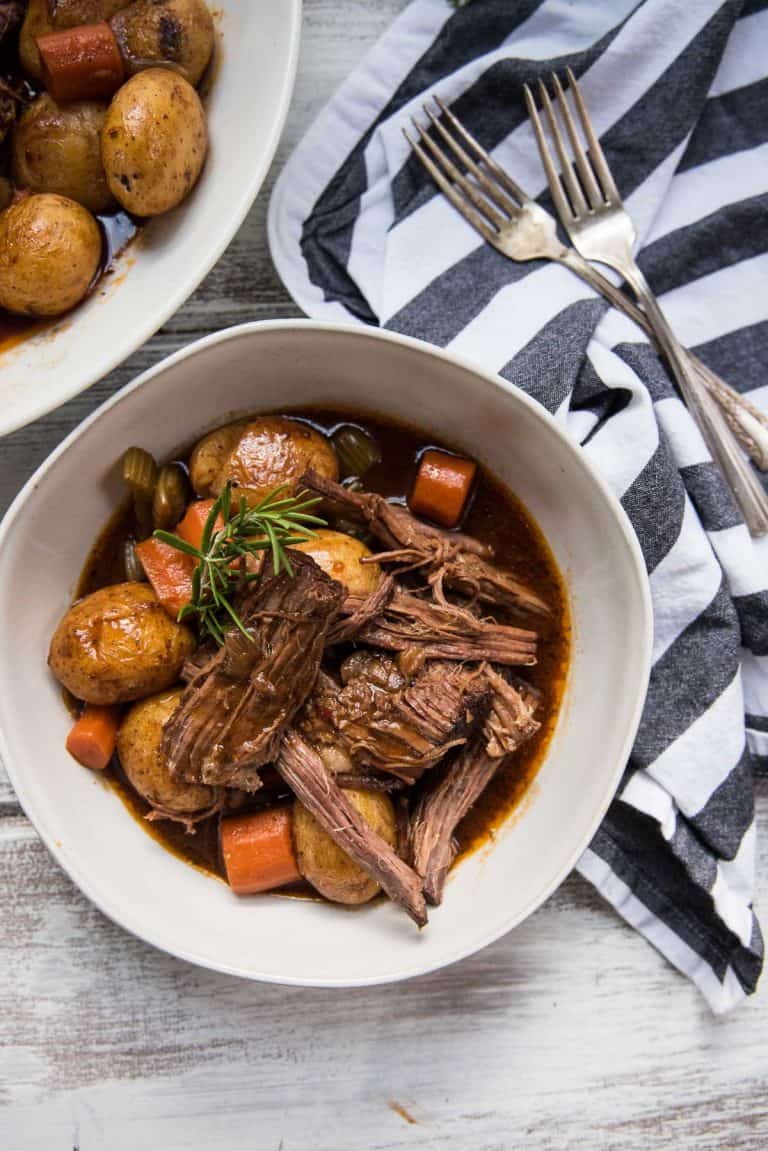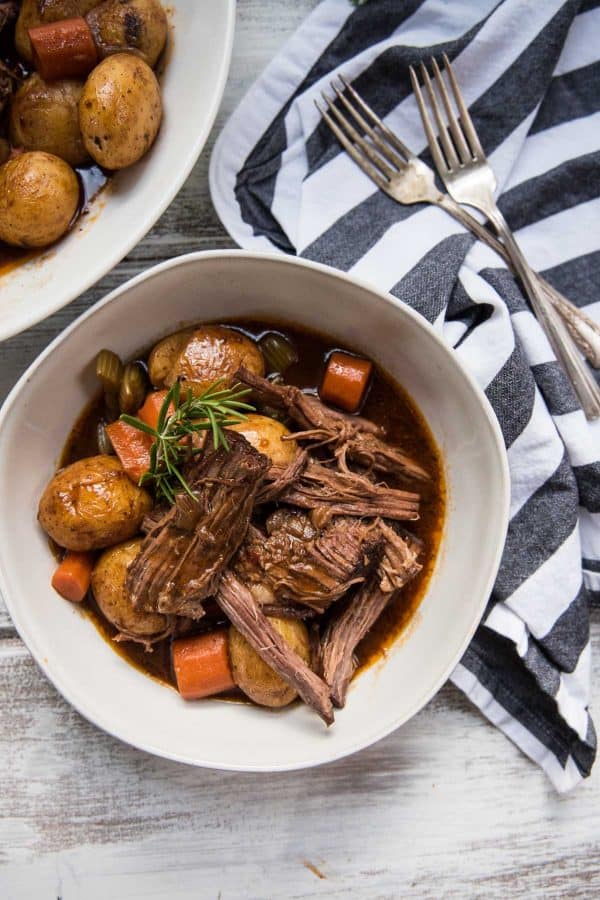 It's a classic, go to recipe filled with simple and easy to find ingredients. The pot roast is braised on the stove top to start the cooking process then the vegetables are given a quick sauté in the same pan. Following that all the ingredients go into the pan, it's covered then you'll cook it in the oven for a few hours until the roast easily breaks apart with a fork.
Sounds pretty manageable right? It is!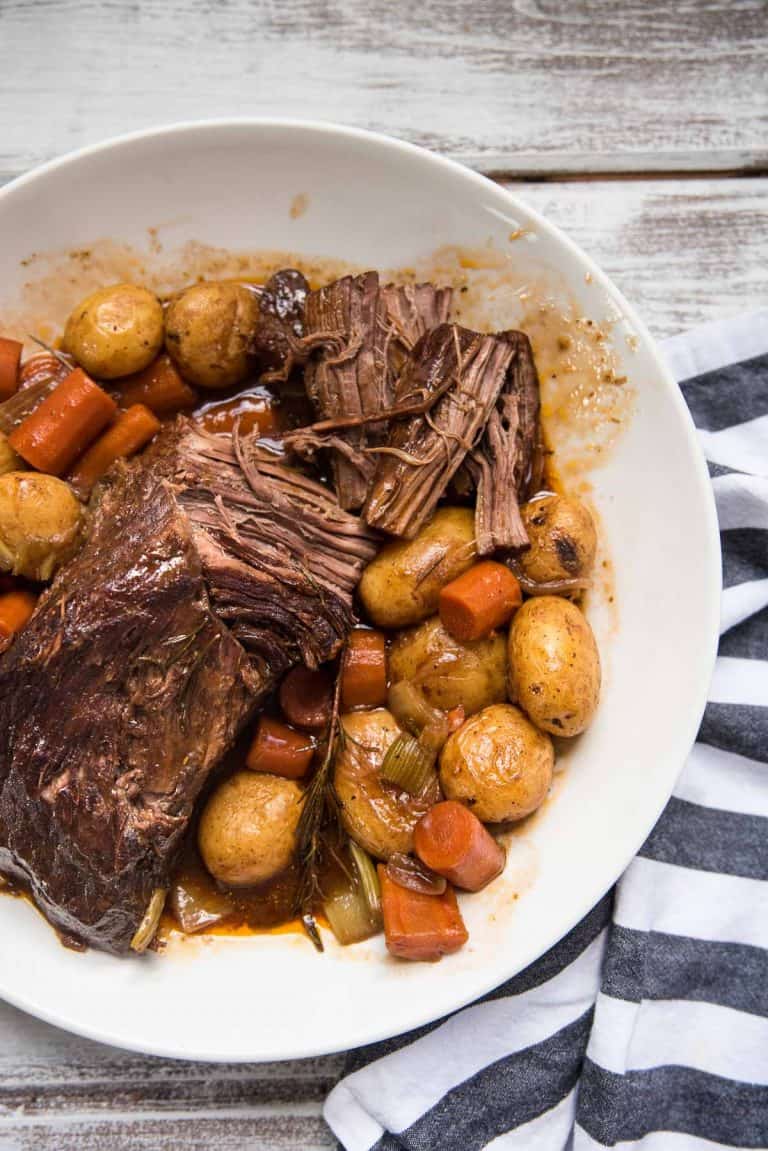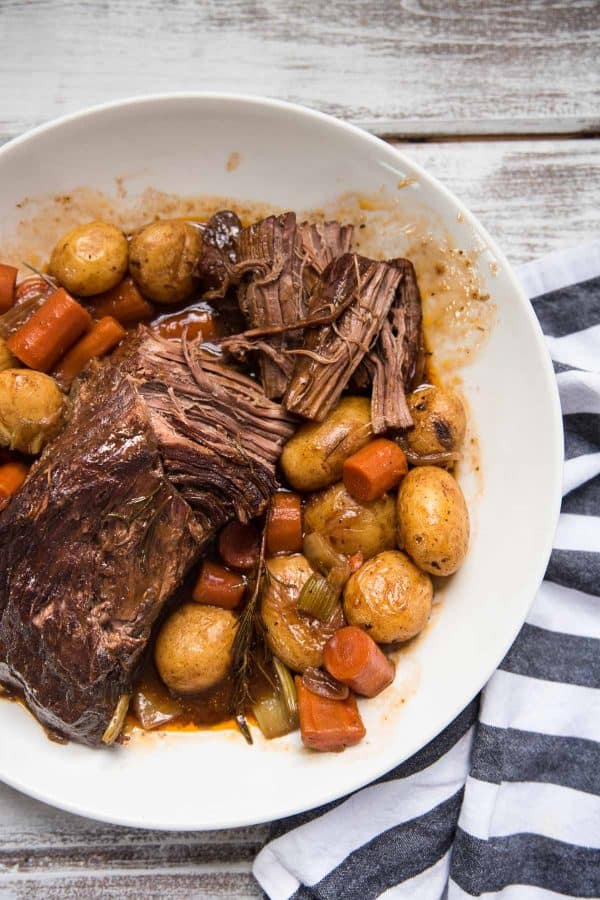 What cut of beef for pot roast?
Really, any tough, lean cut of beef is perfect for pot roast! You want a 3 to 5 pound cut that would be complete hockey puck if you were to sear it like a steak.
Here's what you should look for in the store:
Chuck: A lot of times this cut will be labeled "pot roast" in the meat department of the grocery store. You can look for cuts like "chuck roast" or "boneless chuck roast." It's a tough cut with a lot of connective tissue. It will still have some fat to the roast which will simmer into the gravy during cooking.
Round: A round cut is taken from the rear leg of the cow so it sees a lot of work, so this cut of muscle is used by the cow frequently and is leaner than a chuck roast. I prefer round buts because they have less fat and are generally smaller and perfect for a four person meal. You'll find these cuts labelled "bottom round" "eye of round" and "top round" at the store.
Brisket: The brisket cut comes from two different muscles in the front part of the cow. The "point cut" or the deckle is going to be the fattier part and flat cut or "first cut" is leaner.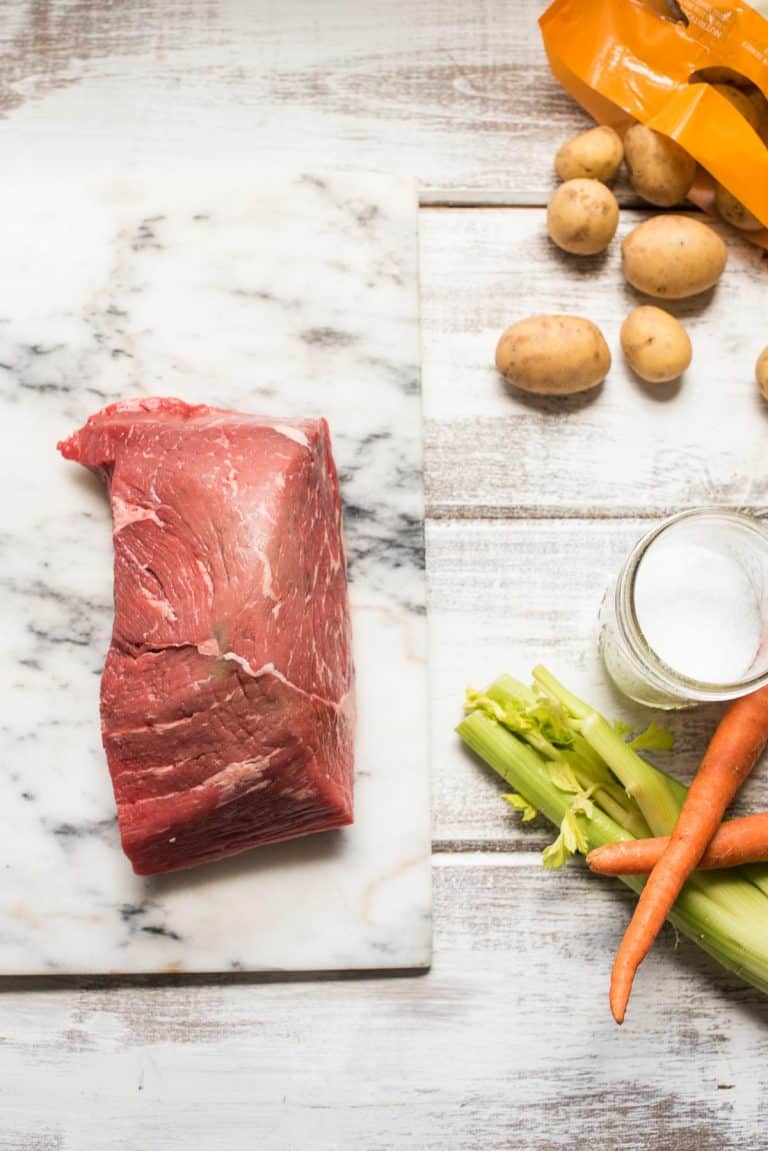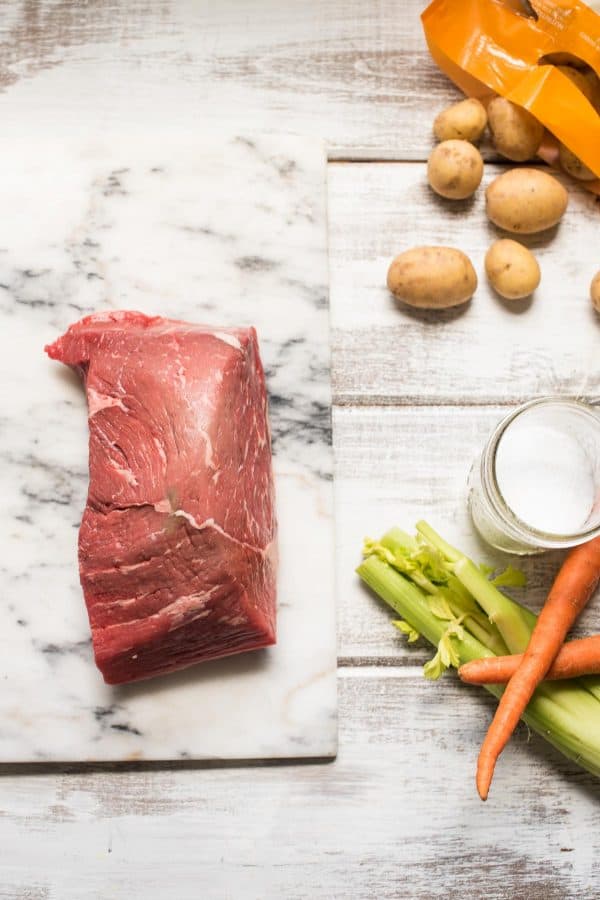 Whichever roast is the right fit for you, they'll all end up delicious! Just a few simple steps will get us there.
How to make Classic Beef Pot Roast
First step to starting any sort of beef cooking. Close your eyes and channel your inner Salt Bae. Pat the roast dry and then season all sides of it liberally with salt and black pepper. More liberally with the salt than the pepper.
Grab your go to heavy bottom pan.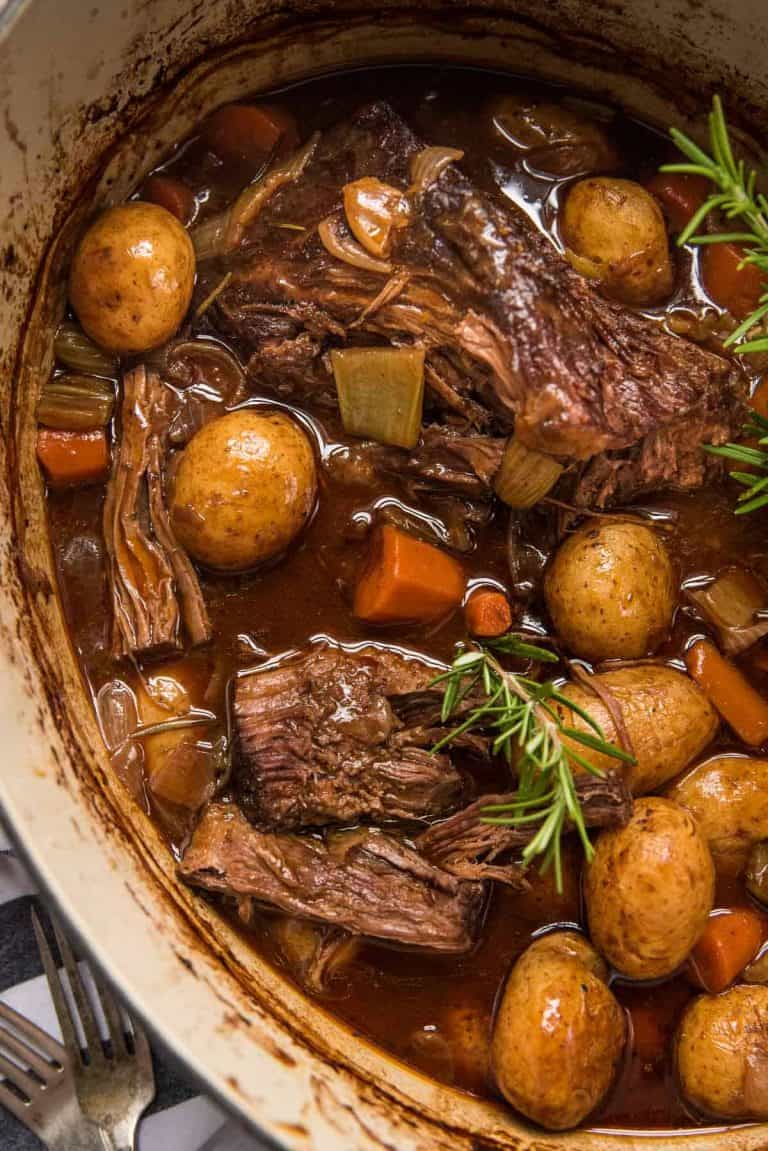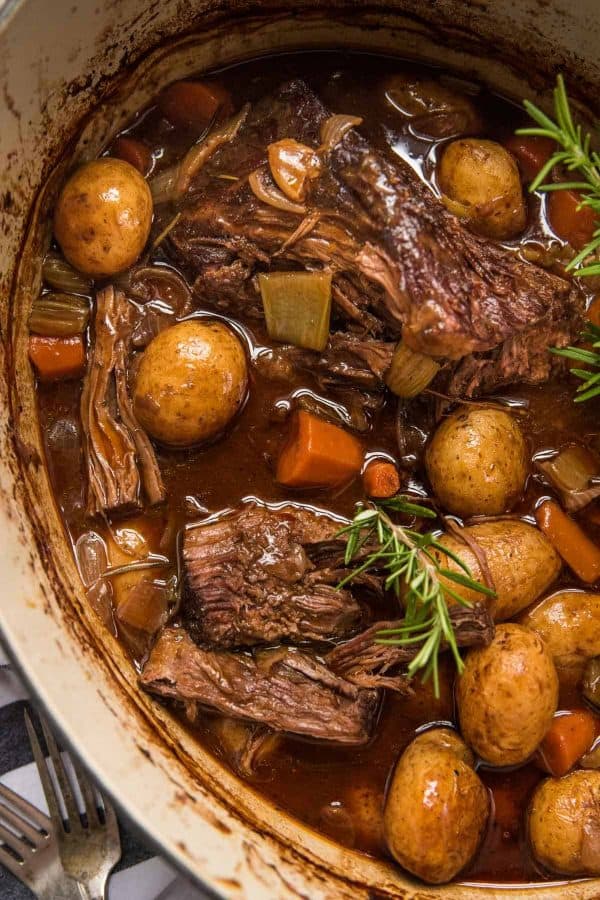 WHICH PAN SHOULD YOU USE FOR POT ROAST?
Personally, I'll always grab my Le Creuset enamel coated oval dutch oven. They're really pricey but if you treat them good, they last forever and they are soooo easy to clean. I scored one at Homegoods over less than half the price.
If you're in the market for more affordable options, both Cuisinart and Lodge have great options for enamel coated and standard cast iron. Personally, Lodge brand is one of my favorites for their cast irons so that would be my go to choice.
Don't have a dutch oven? Don't stress you can still make pot roast, your pan just needs to fit these super important criteria:
Your pan has heavy bottom so you don't burn all that goodness inside
Has a tight fitting lid to keep all the moisture and heat in during cooking
The sides are high enough to hold the liquid, vegetables and roast
Whatever you can find that will do those three things, you'll be on your way to comfort food nirvana.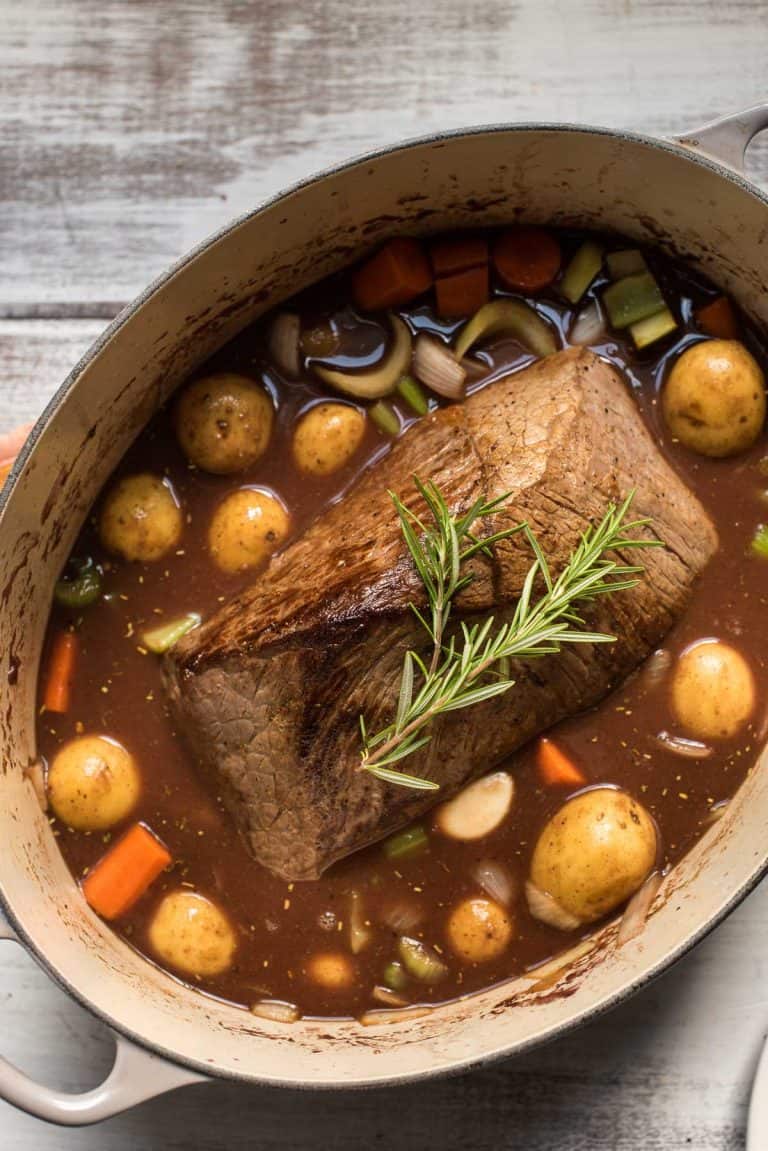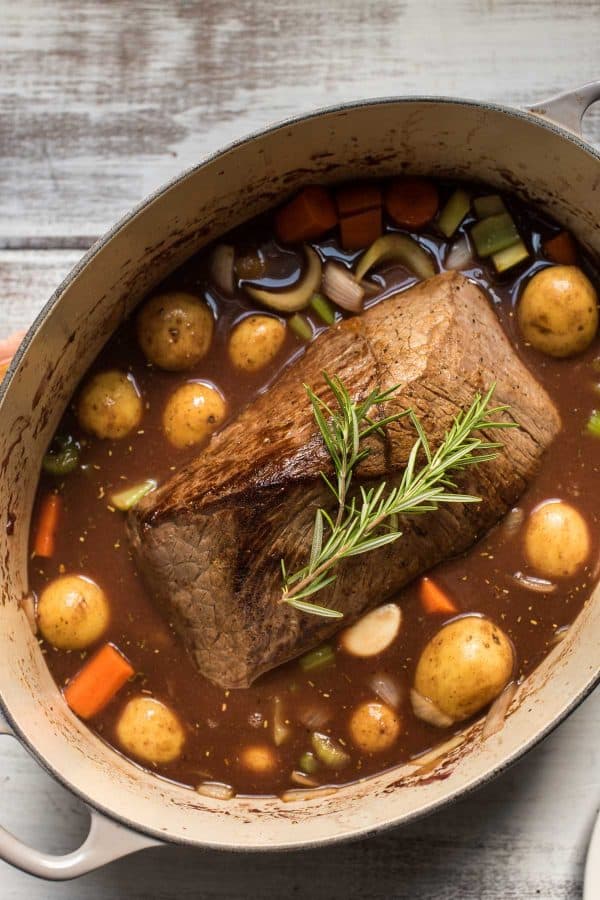 WHY SHOULD YOU SEAR THE POT ROAST?
Fun fact, searing doesn't actual 'seal in the flavor'. It's just a way to get a chemical reaction started in the meat and starts the break down of all those tough connective tissues we talked about during the cut selection.
The end result makes for tastier eats so it's worth the extra step but if you can't do it, your pot roast journey is not predetermined for failure.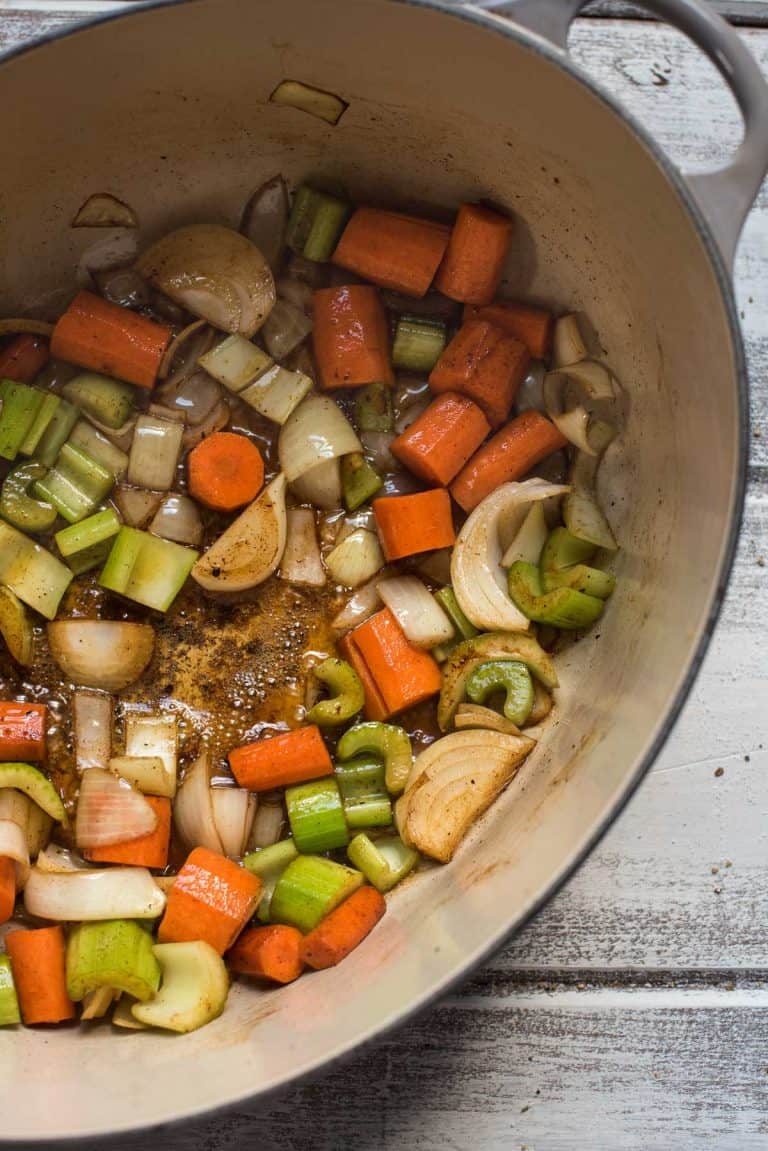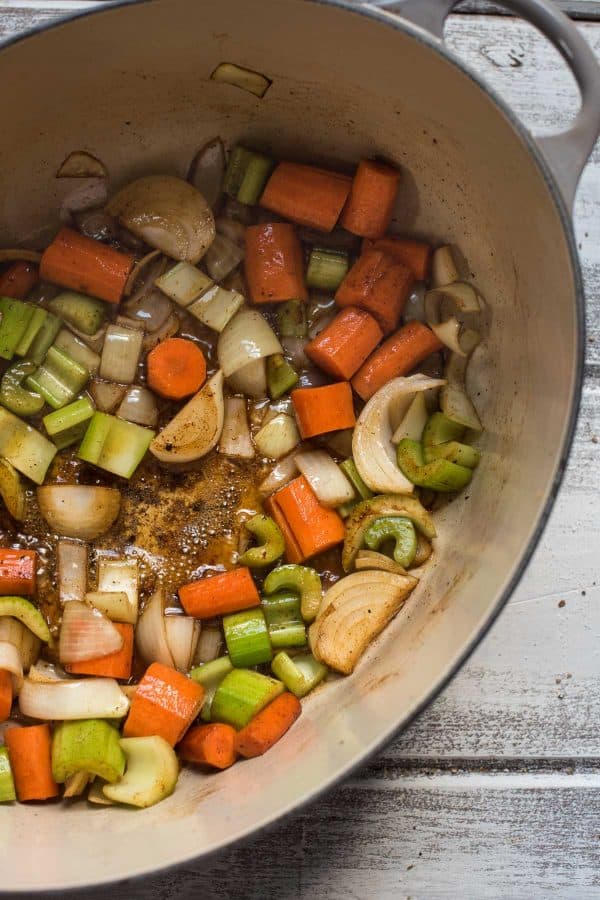 Following the searing, remove it quickly from the pan and give the veggies a quick sauté. The veggies will pick up any fat flavors from the roast and add it to the gravy during the slow cooking in the oven. Then we have our magic sauce step.
Coat the veggies with flour before adding the wine. The flour will thicken the sauce and by tossing it with the veggies first we won't end up with any flour clumps in the sauce. Win win. For a gluten free option, substitute half the amount of flour with corn starch.
Those are seriously the hardest parts. That's it.
From this point on we add all the other ingredients to the pan. Put a lid on it. Shove it in the preheated oven and forget about it for about 3 to 5 hours (depending of the size of the cut you used).
Isn't that beautiful?!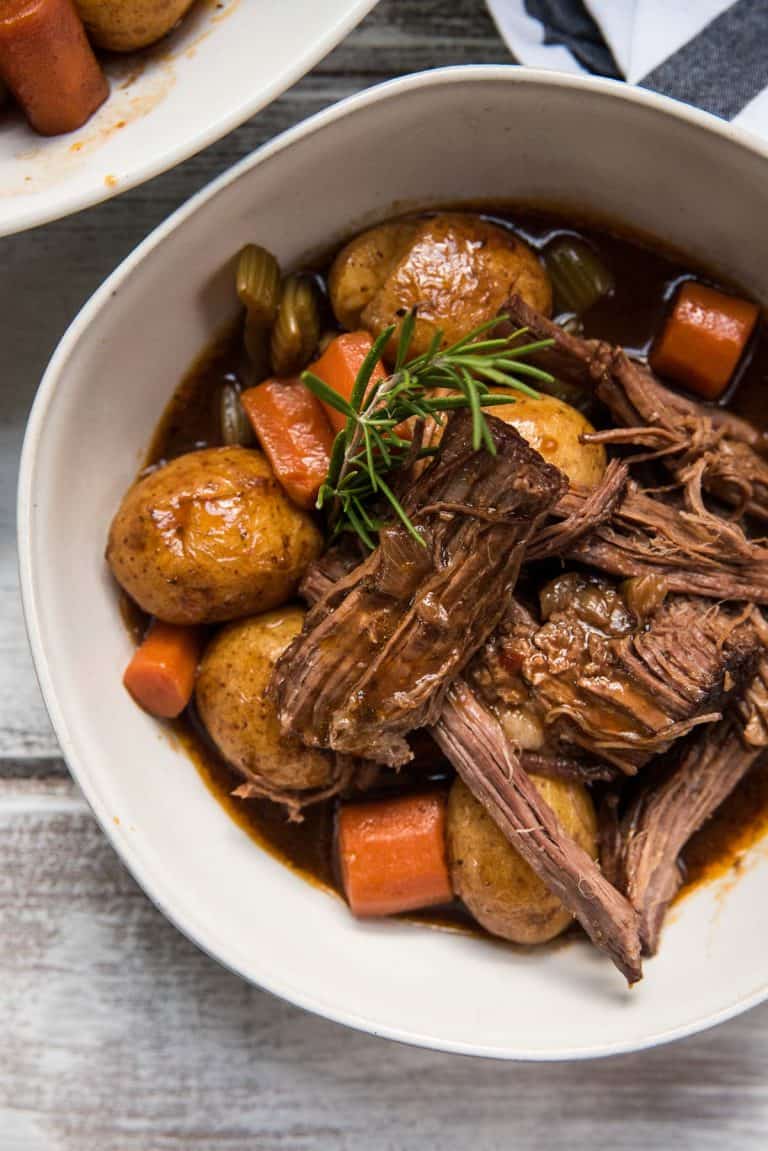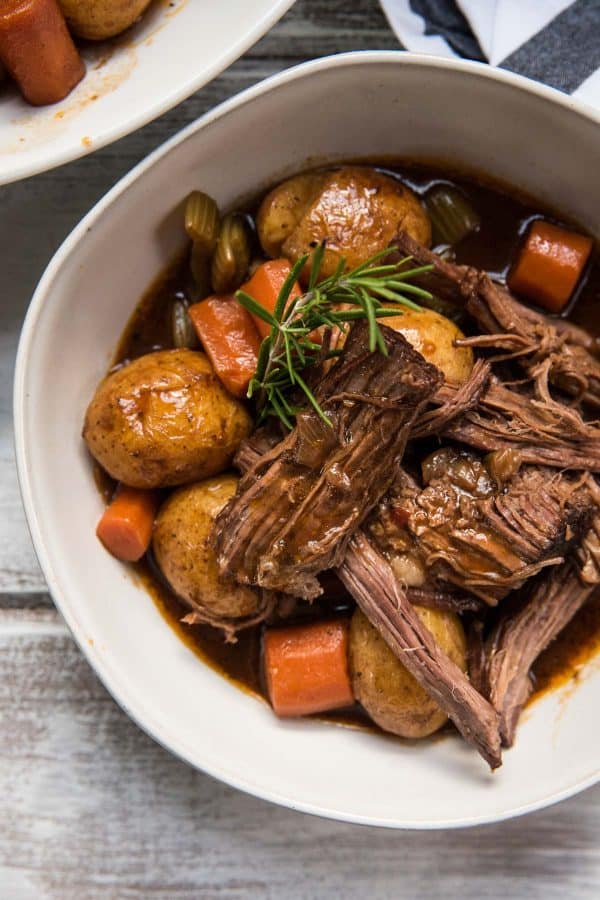 WHAT TO SERVE WITH POT ROAST?
All the goodness inside the pan! In this house we take all those aromatics vegetables, the gravy and tender piece of pot roast and dish it out in a bowl alongside a piece of crusty bread. This Roasted Garlic Crusty Soup Bread is no knead and perfect for sopping up that gravy.
If looking for another side dish, go for something light and simple! A simple greens salad with a light lemon dressing is perfect, the acidity in the dressing will compliment the richness of the pot roast well.
Another classic option would be to skip putting whole potatoes in the dutch oven and make them into mashed potatoes instead. If you're up for a little more work, this will be a taste bud pleasing option.
Lastly, if low carb is your goal you should try Elizabeth's mashed cauliflower in place of potatoes. This dish is creamy and full of buttery herb flavor.
LOOKING FOR MORE COMFORT FOOD GOODNESS? TRY THESE RECIPE IDEAS!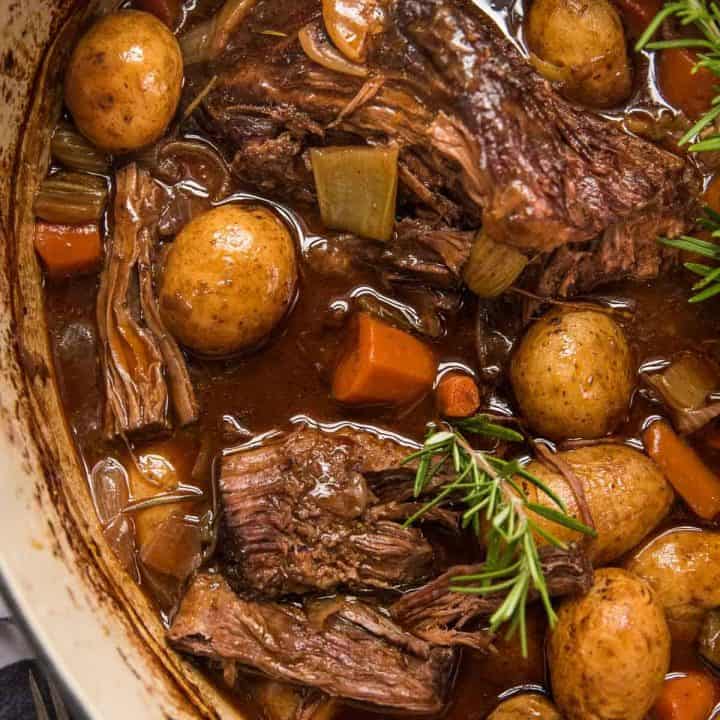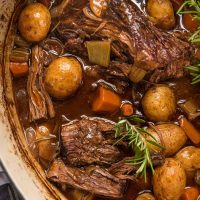 Classic Beef Pot Roast
Simple and delicious! Classic beef pot roast is the perfect comfort food recipe. Braised beef simmered low and slow in rich stock with hearty vegetables, potatoes and fresh herbs.
Print
Pin
Rate
Servings:
4
to 6 servings
Ingredients
3 to 4

pound

bottom round

(chuck roast or brisket cut)

2

tablespoons

canola oil

2

tablespoons

unsalted butter

1

yellow onion

(½" dice)

3

medium

carrots

(peeled and chopped)

3

stalks

celery

(trimmed and chopped)

1

pound

small yellow potatoes

3

cloves

garlic

¼

cup

all purpose flour

1

cup

red wine

2

10-ounce cans

beef consummé

(see notes)

2

teaspoons

Italian seasoning

1

pinch

red pepper flakes

1

large spring fresh rosemary
Instructions
Preheat the oven to 350°F. Season all sides of the roast liberally with salt and pepper.

On the stove top, heat the dutch oven over high heat. At the oil and butter and once melted and hot, sear the roast fat side down first for 3 minutes, top side for 3 minutes and each short side for 2 minutes.

After searing, remove the roast from the dutch oven to a plate. Add the onion, celery and carrots to the pan. Sauté for 2 to 3 minutes then sprinkle the flour over the veggies and stir well to coat all the vegetables with flour.

Reduce the heat to low and add the wine to the pan, stir well to mix the flour into the wine - the liquid will thicken as it reduces. Repeat with the beef consummé until the wine and the consummé are well combined.

Add the potatoes, garlic, Italian seasoning and red pepper flakes. Return the roast and any drippings to the pan, fat side down, and top with the rosemary sprig. You might need to wiggle the pot roast in-between the vegetables so that it is sitting the sauce. The roast will need the liquid to braise and become tender.

Cover the dutch oven and place on the bottom third rack. For a 3 lb roast, cook for 3 ½ hours. Anything over 3 lbs cook for 3 ½ to 4 hours or until the roast easily breaks away with a fork.

Serve a piece of pot roast over generous portions of the vegetables and sauce. To thicken the sauce, remove the roast and simmer on the stove top over low heat for 5 minutes. To remove any oil/fat that settles on the top, lightly skim the top with slices of bread or if serving later, refrigerator the whole pan and skim the fat off once it solidifies.
Notes
Beef stock can be substituted for beef consummé
To make this gluten free, substitute the flour for ⅛ cup corn starch
Nutrition
Calories:
796
kcal
|
Carbohydrates:
37
g
|
Protein:
80
g
|
Fat:
30
g
|
Saturated Fat:
10
g
|
Trans Fat:
1
g
|
Cholesterol:
226
mg
|
Sodium:
259
mg
|
Potassium:
2011
mg
|
Fiber:
5
g
|
Sugar:
5
g
|
Vitamin A:
7981
IU
|
Vitamin C:
29
mg
|
Calcium:
139
mg
|
Iron:
9
mg