Great for the holidays or even weeknight dinner! Savory sausage and kale stuffing is simple to put together, rich, and flavorful with sweet Italian sausage, sauteed shallots and garlic, sweet pecans, and crisp kale layered between bites of stock soaked breading.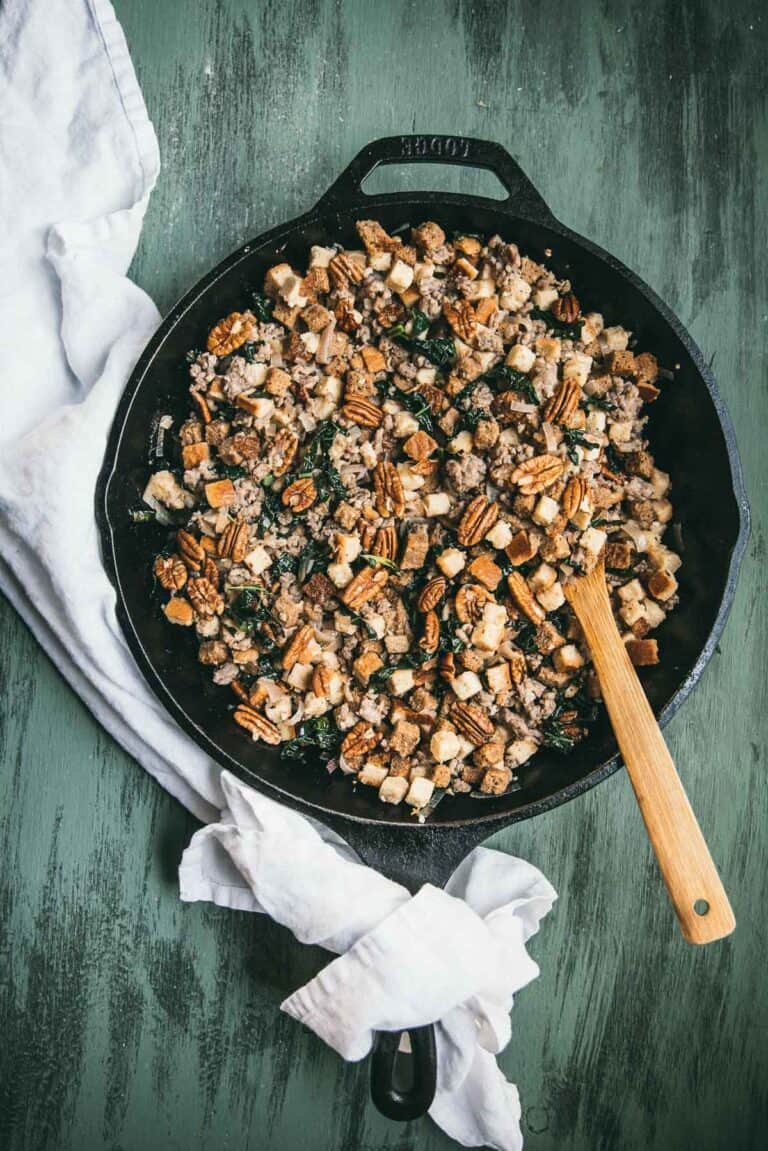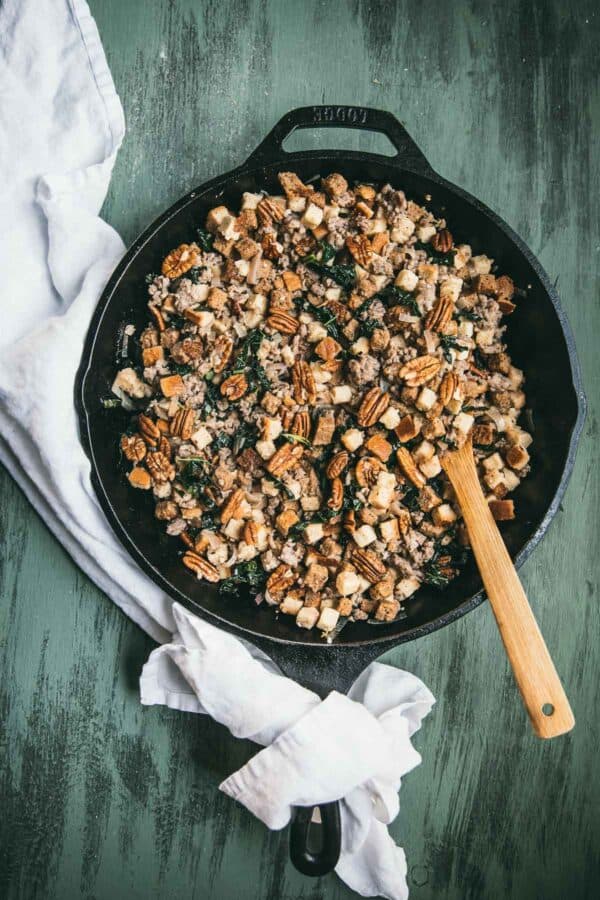 We're sounding the horn for all the savory stuffing lovers and putting out a call to make this savory sausage and kale stuffing this holiday season, or really, whenever you want.
I know we just talked about cornbread stuffing, but this guy right here with the kale and the pecans and the simple ingredients? He's savory with just the right amount of crunchy ingredients - lookin' at you pecans and kale - and totally perfect to pair with any roasted meal.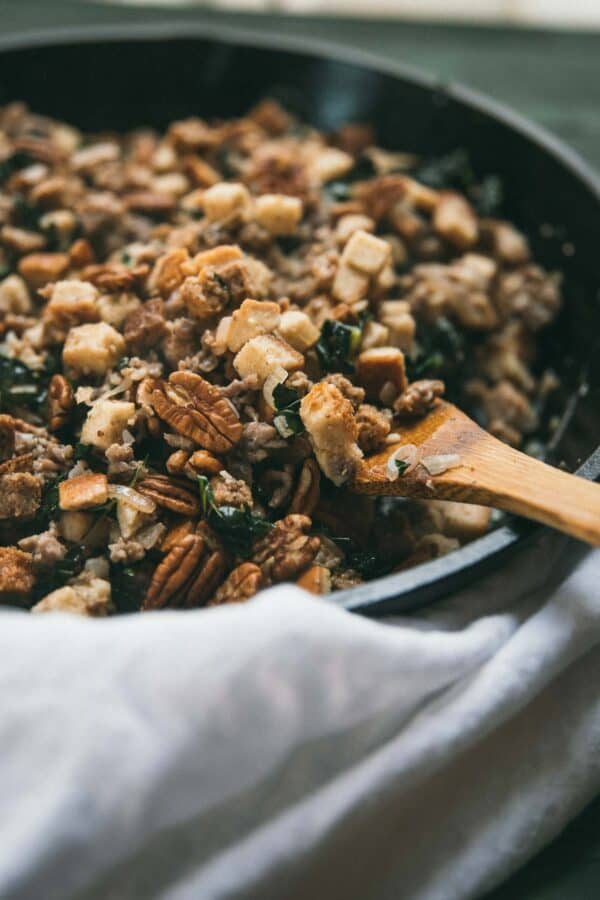 Let's break down the major points on this quick side:
rich sweet Italian sausage
crisp kale
buttery shallots
savory chicken stock
crunchy, naturally sweet pecans
fluffy, soaked country-style bread
It's going to be great!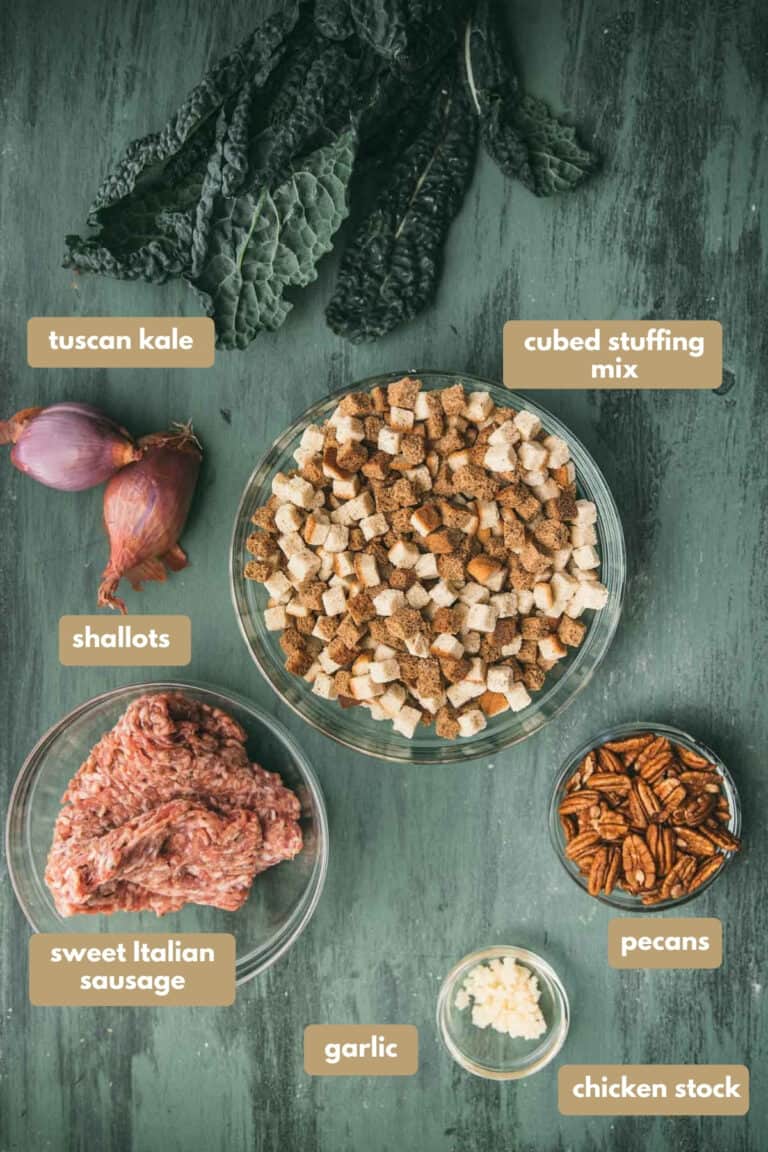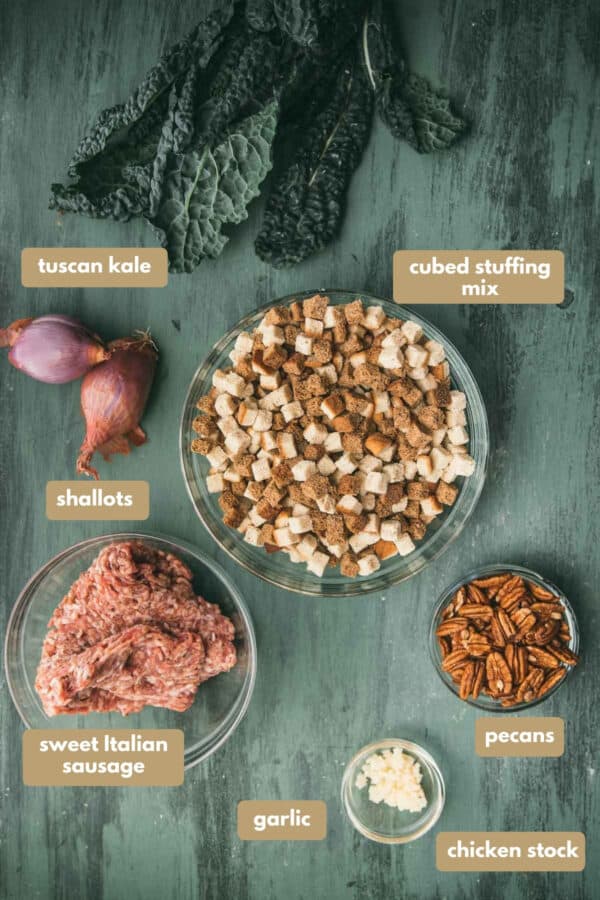 How to make sausage and kale stuffing
I'm pretty sure that I already mentioned it's simple and quick like 5 times, but it is. We're going to sauté, cook, boil, and stir. That's pretty much stuffing in a nutshell.
If you can't find shallots, you can use just a medium-sized yellow onion, or leeks would be a great substitution as well. Something in the onion family.
Once the shallots, garlic, and kale are sautéed, I like to cook my sausage right in the same pan without transferring anything. Just keep an eye on the shallots to make sure they don't brown and turn down the heat if they start to. The fat in the sausage should add enough liquid to the pan to keep this from happening.
Be sure to bring your stock to a boil before adding the pecans and stuffing cubes.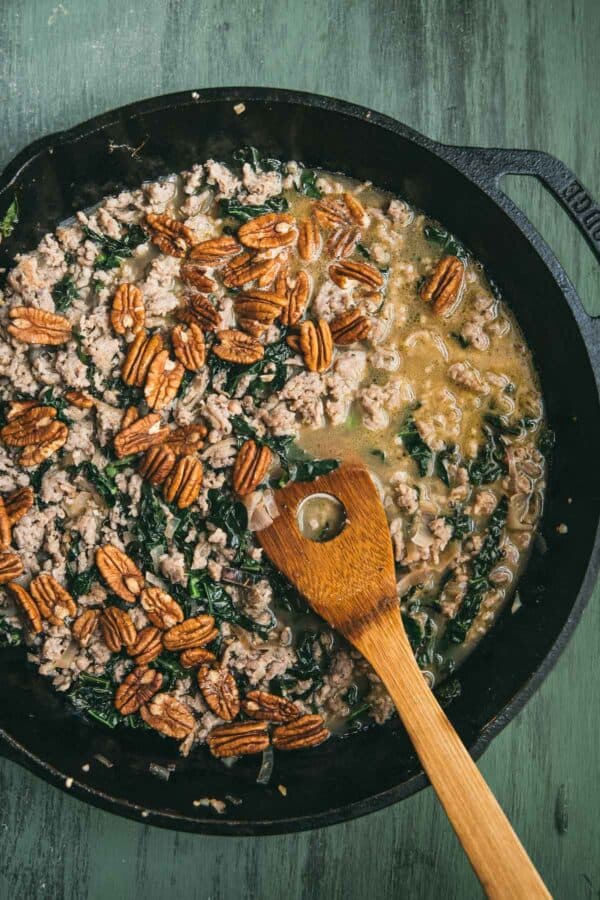 tips for making the best stuffing
Sauté the veggies in butter
watch the heat and lower it if the vegetables start to brown
cook the greens enough to be fork tender
buy loose sausage (without the casing) to make it even easier
gently stir the stuffing cubes into the broth so you don't mush some and have others too dry
let the stuffing stand before serving to soak up all that tasty liquid
cover while it's standing to trap the steam if you'd like a wetter-style stuffing
Note: Quick sidebar about this stuffing...when reheating it to serve with dinner later in the day, I stuck the stuffing in the cast iron skillet on the smoker we had going in the backyard to keep it warm. 10/10 would recommend that move again. The result was a rich, smoky stuffing easily reheated and now my cast iron smells like BBQ every time I use it. SO. GOOD.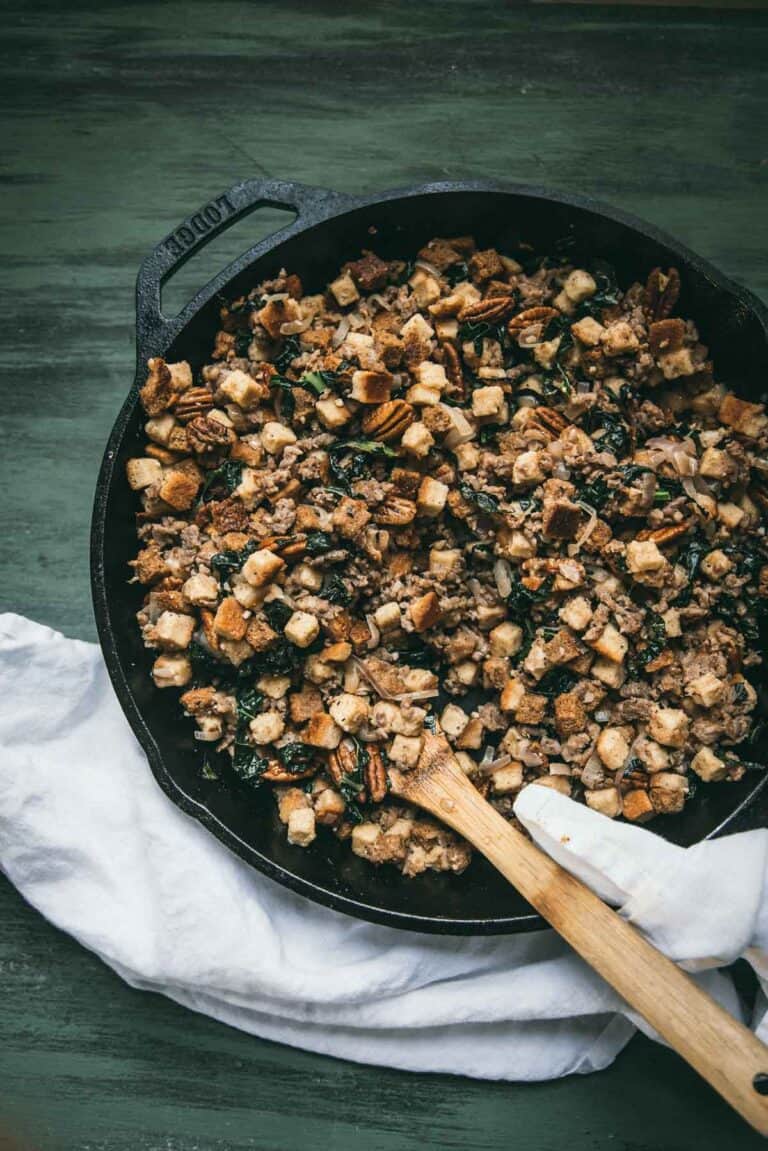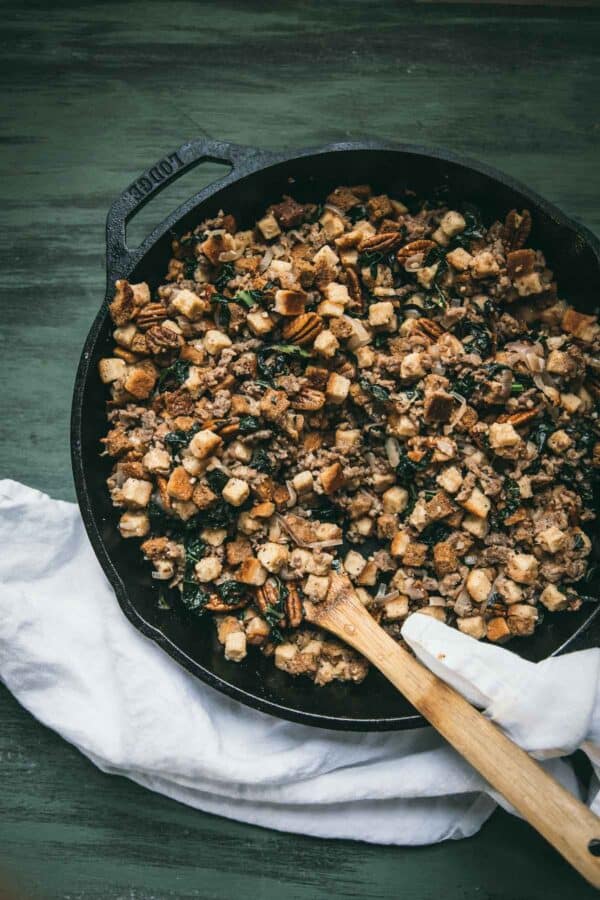 What to serve with stuffing?
Anything roasted is my go-to plan, you don't have to wait for Thanksgiving to break out the stuffing. So if you're whipping up a roasted chicken or pork loin, this sausage and kale stuffing is great with that as well.
If a turkey is your end game, an apple cider brine is one of my favorites. The sugars in the apple cider naturally sweeten and crisp the skin and the flavor is so good. Parsley and thyme butter rubbed turkey is a new fan favorite in our house.
Since this stuffing is savory, we're planning to have something sweet on the plate as well. Whether it's homemade cranberry sauce, roasted butternut squash, or even cinnamon rolls, a little sweet will balance out all that rich, savory deliciousness.
What are you serving with your stuffing? Are you a stuffing all year kind of cook or just for traditional holiday meals? Let me know in the comments! Be sure to tag @hungerthirstplay in your holiday cooking so we can see your masterpieces!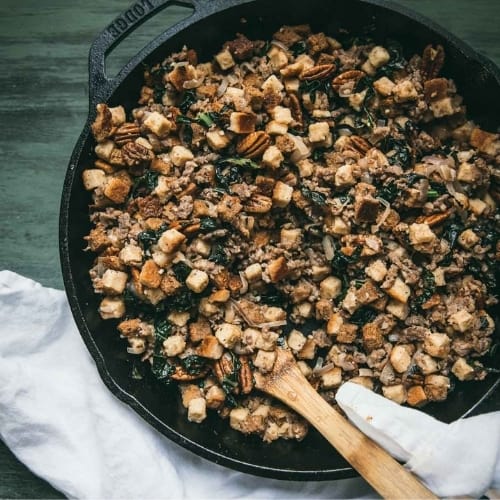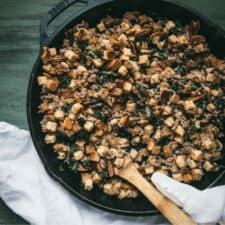 Sausage and Kale Stuffing
Easy, savory sausage and kale stuffing comes together in minutes and adds flavor and texture to the traditional recipe! We love the rich sausage, crisp kale, and butter shallots in between bites of stock soaked bread!
Print
Pin
Rate
Ingredients
4

tablespoons

butter

3

shallots

(cut in half-moon slices)

1

clove

garlic

(minced)

1

head Tuscan kale

(thinly sliced)

1

pound

sweet Italian sausage

(loose)

2

cups

chicken stock

1

cup

pecan halves

1

bag

country-style cubed stuffing

(12-ounce package)
Instructions
Cook the veggies. In a large skillet or cast iron pan, melt butter over medium heat. Sauté the shallots for 2 minutes, turning down the heat if they begin to brown too quickly. Add garlic and cook until fragrant, about 1 minute. Stir in the kale and cook for about 2 minutes, stirring occasionally. Lower the heat if shallots start to brown.

Scramble the meat. In the same pan with the vegetables, cook the sausage over medium to medium-high heat breaking it apart with a spatula or wooden spoon as it cooks. Once the sausage is cooked through, add chicken stock, and bring to a boil.

Make the stuffing. Remove from heat and add the pecans and stuffing cubes. Mix gently until soft. Let stand about 2 minutes before serving. For a wetter style stuffing, cover for 5 minutes after mixing.
Notes
Yellow onion or leeks can be substituted for shallots if you can't find them
Any style stuffing can be used, as long as it's the same size (12-ounce package) the recipe will work out.
If making this in advance, have a little extra stock on hand when reheating it.
This stuffing is so good smoked! If you have access to a smoker, try leaving it on the smoker for a few minutes before serving.
Nutrition
Calories:
397
kcal
|
Carbohydrates:
16
g
|
Protein:
13
g
|
Fat:
32
g
|
Saturated Fat:
8
g
|
Cholesterol:
46
mg
|
Sodium:
731
mg
|
Potassium:
341
mg
|
Fiber:
3
g
|
Sugar:
4
g
|
Vitamin A:
303
IU
|
Vitamin C:
4
mg
|
Calcium:
50
mg
|
Iron:
2
mg