Fizzy watermelon basil limeade is super refreshing, great any time of the year, and a fun nonalcoholic way to make soda at home. It has just the right amount of sweet and tangy with crisp bubbles!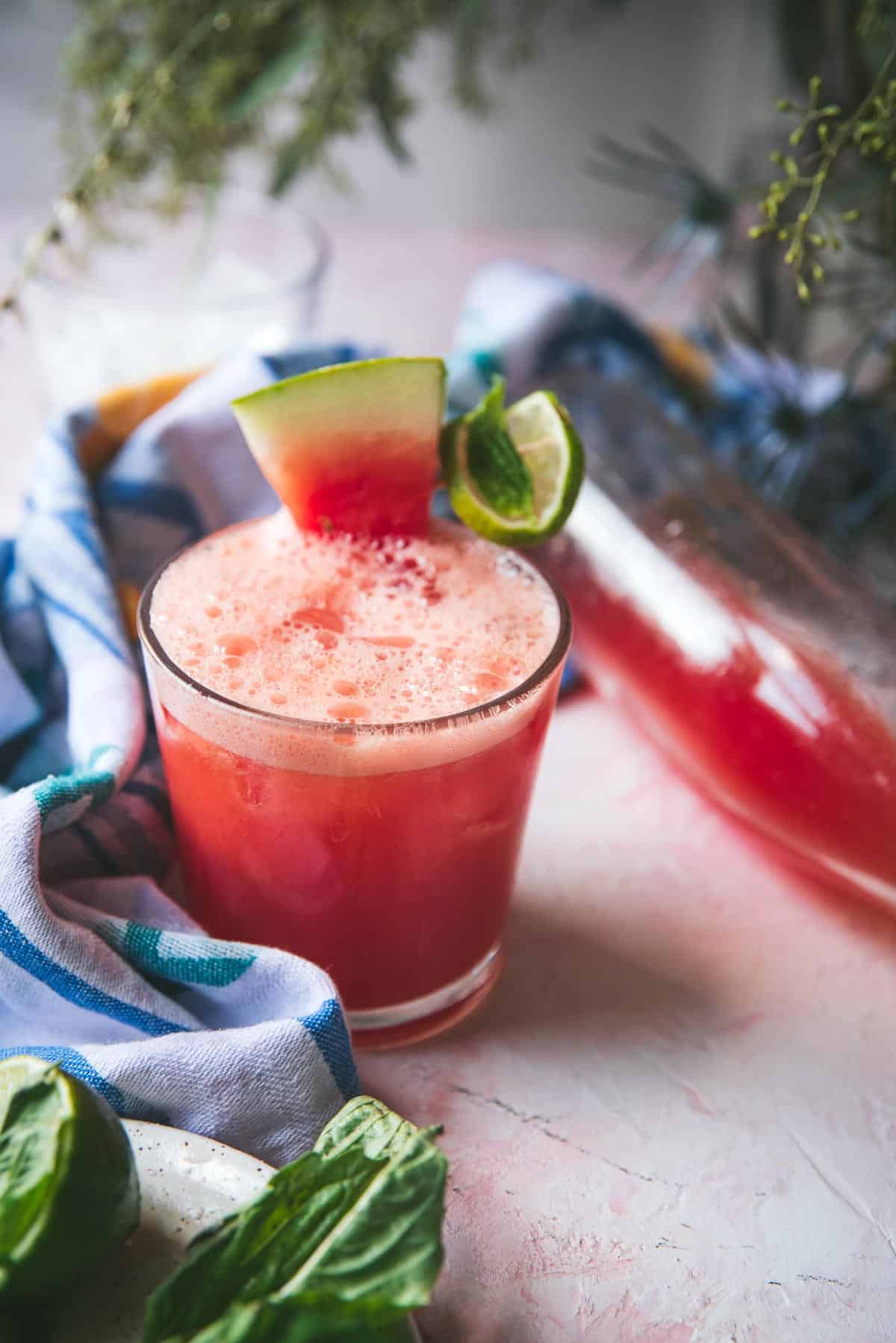 Do you want to know what makes me feel fancy? Having homemade soda in the middle of the afternoon with the girls!
After taking these photos we swapped our tea party for these fancy, slightly bubbly beverages and it was so fun. Plus, watermelon infused limeade is WAY more fun to sip on than fake tea.
These fancy (but not really fancy because they're super easy to make) refreshments are perfect for any time of year.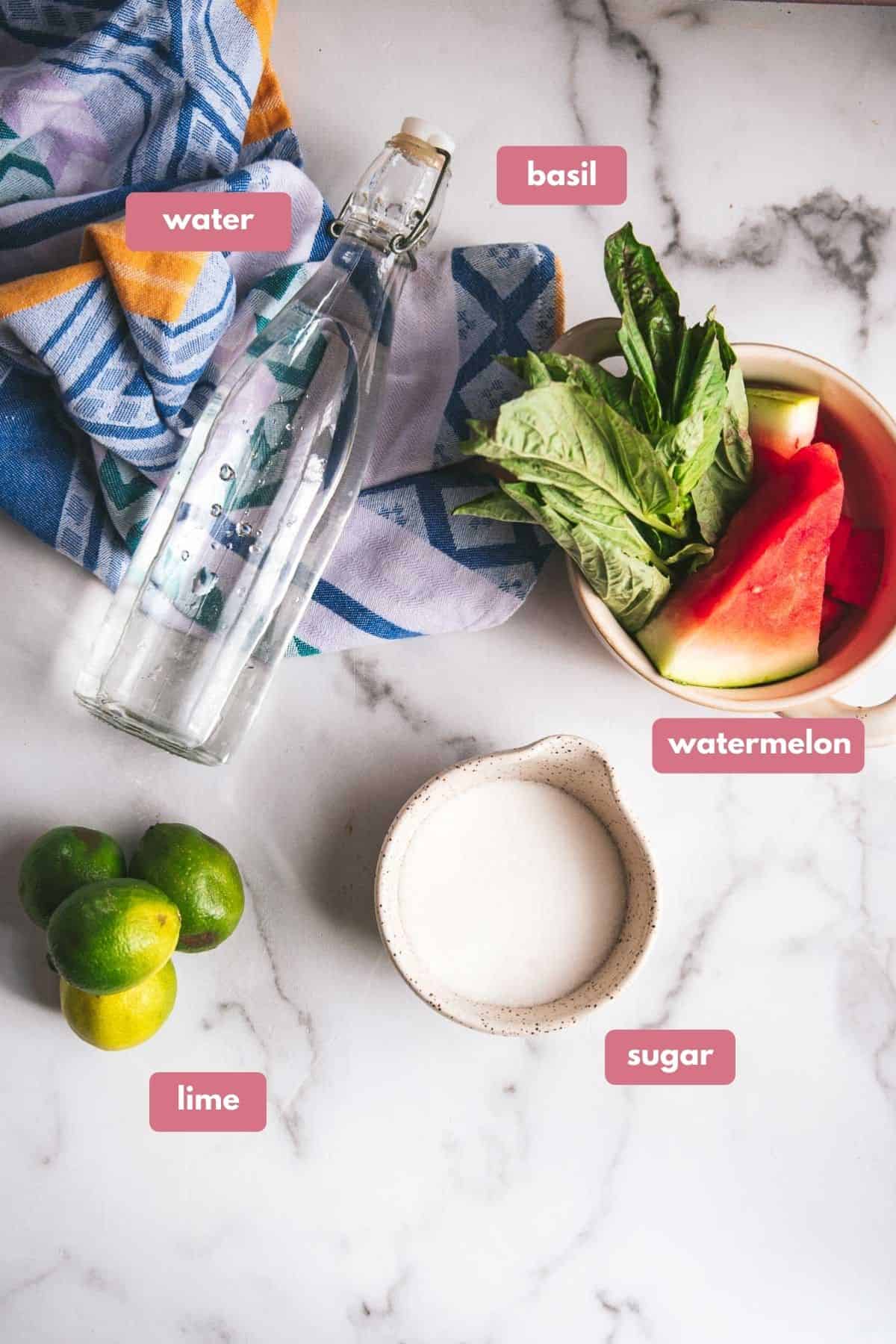 How to make watermelon basil limeade
We're in winter here right now so sometimes watermelon is hit or miss, but it's all good because we're going to be pureeing the fruit and then straining it. So no matter the season, you'll just end up with bright, refreshing watermelon juice.
Note: if the watermelon is a little underripe, it may take a little more to get 1 cup of strained juice
The basil syrup adds just the right amount of sweetness to the drink. All you have to do is combine the basil with equal parts sugar and water and bring it to a boil.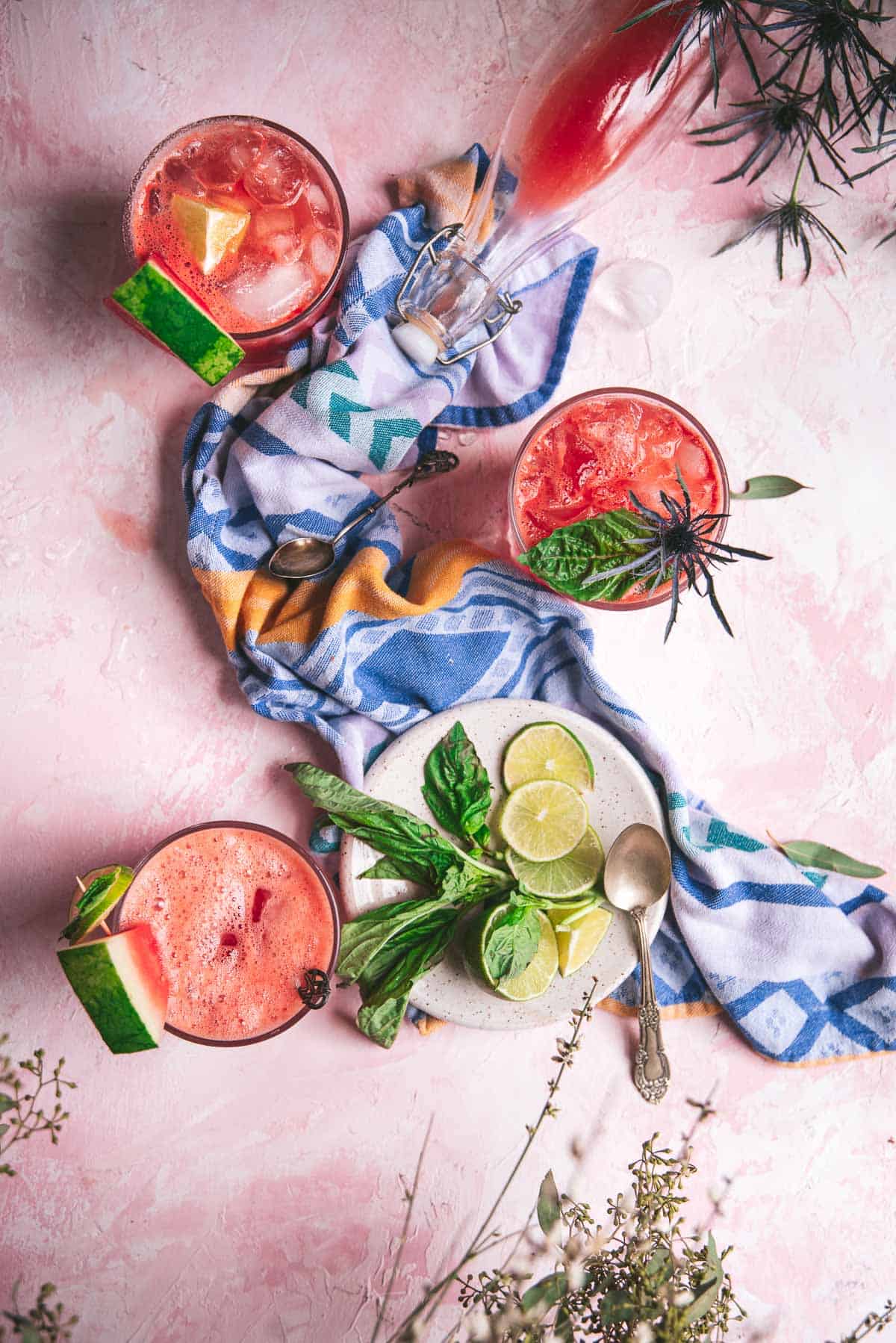 Once the syrup comes to a boil, remove it from the heat and it will steep as it cools.
The fresh-squeezed lime juice gives the familiar tart pop just like traditional lemonade. If you don't have limes, lemons would also work perfectly. Don't forget to add in the extra water to balance out the concentrated juices!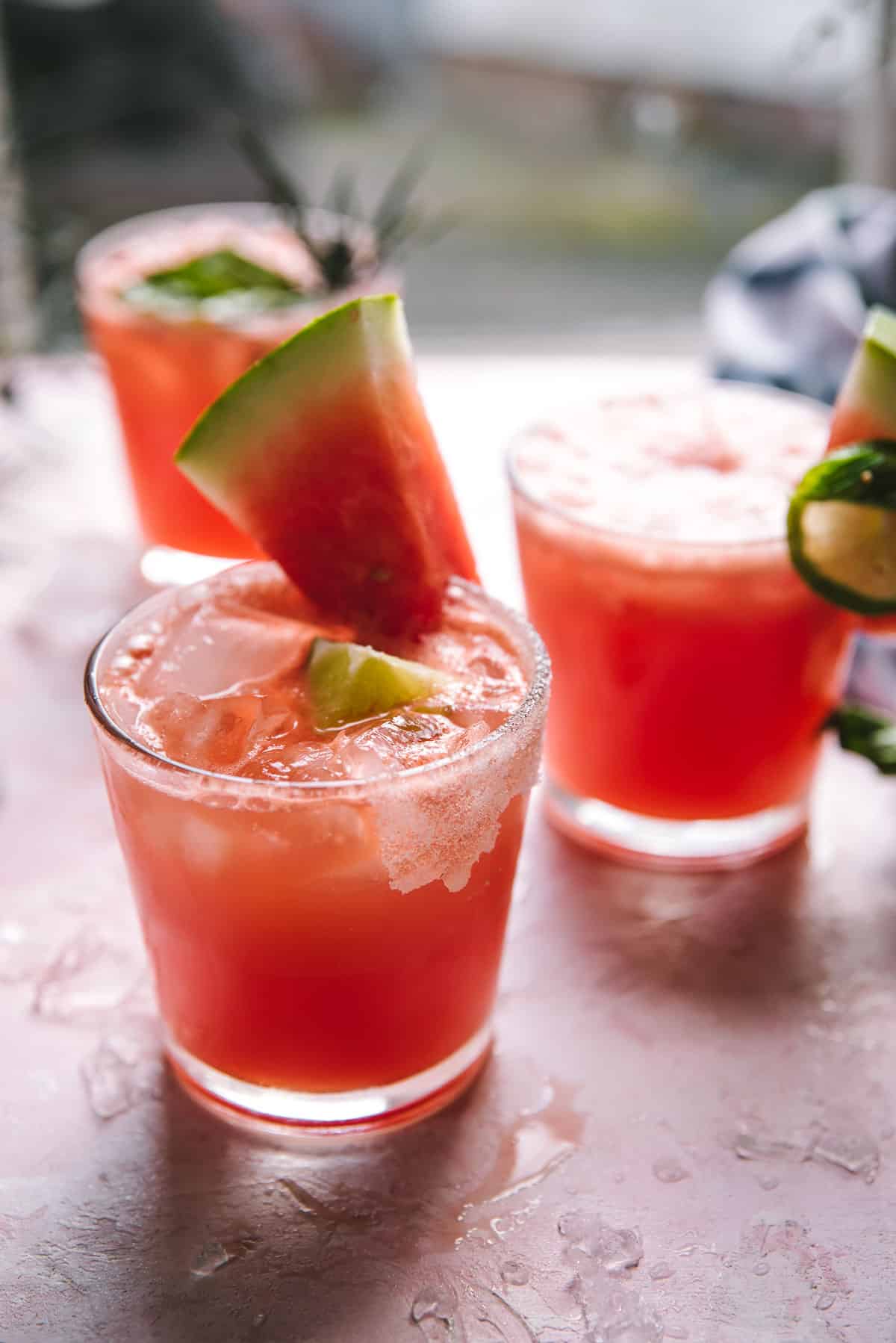 But how do you make it bubble?
You have a few options when it comes to making this at home fruit juice cooler have a little fizz.
1. Substitute a can of plain soda water for the water in the recipe.
2. Use a soda dispenser.
3. Use a whipped cream siphon.
Since I'm trying to cool it on the kitchen gadgets, I make use of my whipped cream siphon to make homemade soda. The only difference is that you need to tip the canister upside down and make sure the nozzle is in the glass to avoid splashing.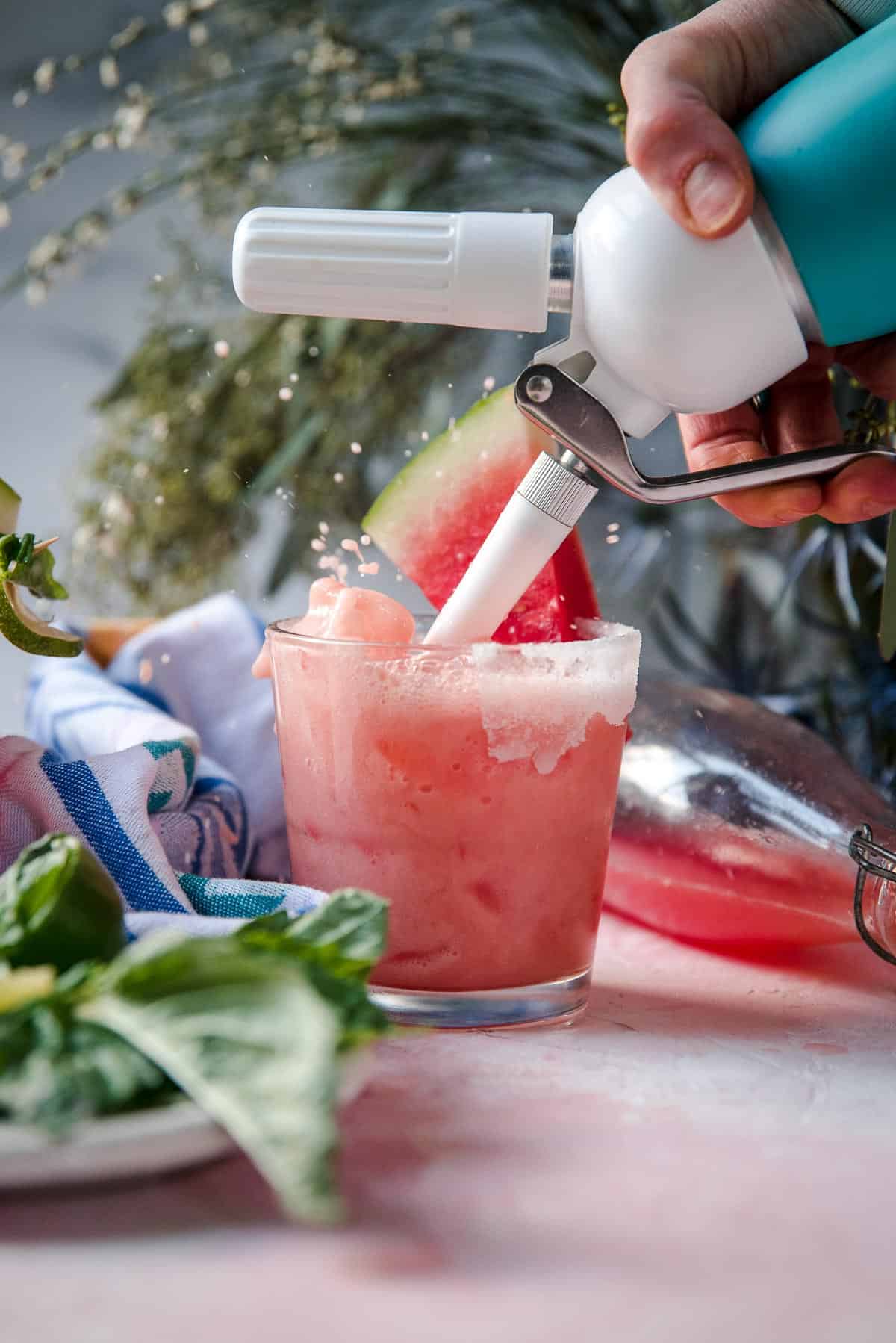 The soda dispenser is a bit more functional because the nozzle is placed at a better angle and you don't have to tip the canister. I like the whipped cream dispenser because I can use it for multiple things like, well, whipped cream...but also nitro cold brew coffee, sodas, and fizzy cocktails.
If you opt to substitute canned soda water know there are 12 ounces in a can and only 8 ounces of water in the recipe, so I'd recommend gently stirring and tasting after pouring in about ¾ of the can.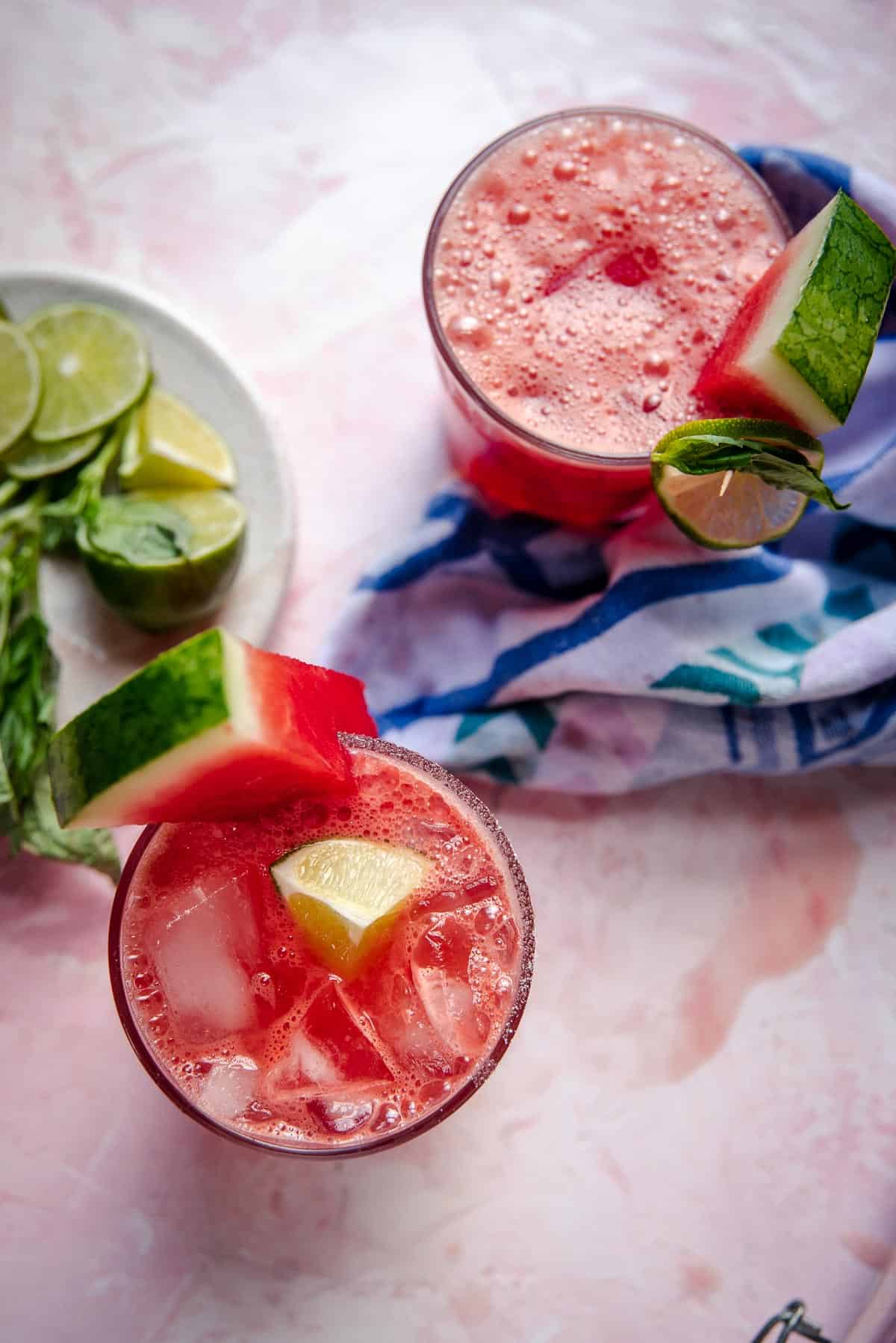 What to have with your limeade...
Well, if you're looking for more of a cocktail hour than a mocktail hour, any clear liquor can be added to upgrade this drink to 21+ status. My go-to would be vodka, but rum or gin would be equally delicious!
Need something to munch on while you sip? Keep it light and fresh!
Did you make this recipe? Let me know how it went in the comments below!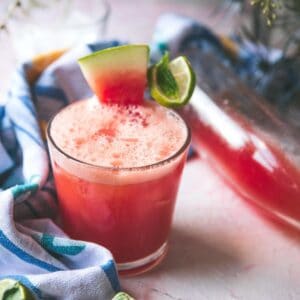 Watermelon Basil Limeade
Refreshing with a just-right pop of sweet and tart! Watermelon basil limeade is an easy to make treat the whole family will love to sip.
Print
Pin
Rate
Ingredients
2

cups

watermelon chunks

8

large basil leaves

½

cup

sugar

½

cup

water

½

cup

lime juice

(about 4 to 5 limes)

1

cup

cold water
Instructions
Make the basil syrup. Combine the sugar, water, and basil in a small saucepan. Bring to just a boil, remove from heat and let cool for 5 minutes. Remove the basil leaves before using.

Purée the watermelon. In a blender, food processor, or with a hand blender, purée the watermelon until smooth. Strain through a fine-mesh strainer. You should have about 1 cup of watermelon juice after straining.

Make the limeade. In a pitcher or pan, whisk together the watermelon juice, basil syrup, lime juice, and water. Transfer to a soda or whipped cream dispenser. Screw the lid and nozzle on tight, and add a fresh CO2 charger to the container. If you don't have a dispenser, substitute soda water for regular water.

Serve. Garnish with fresh watermelon, basil, and lime, and enjoy! Add a splash of your favorite liquor to upgrade to an adult cocktail.
Notes
Canned soda water can be substituted if you don't have a soda or whipped cream dispenser. Use about ¾ of the can and test before adding the whole can.
A soda or whipped cream dispenser will work. A soda dispenser is a little more mess proof, the whipped cream dispenser will need to be tilted upside down and the nozzle placed well into the glass.
If your kids aren't a big fan of bubbles, they can be skipped! The CO2 infusion makes it just a bit fizzy though and my kids (who don't like bubble water) love these.
Nutrition
Calories:
509
kcal
|
Carbohydrates:
133
g
|
Protein:
2
g
|
Fat:
1
g
|
Saturated Fat:
1
g
|
Sodium:
24
mg
|
Potassium:
493
mg
|
Fiber:
2
g
|
Sugar:
121
g
|
Vitamin A:
1959
IU
|
Vitamin C:
62
mg
|
Calcium:
56
mg
|
Iron:
1
mg