Tired of serving the same hummus and veggies at your get togethers? This whipped feta with roasted garlic tomatoes is so easy and absolutely delicious! Your friends and family will love to scoop up the creamy, salty feta cheese whipped into a smooth, dippable appetizer and topped with roasted garlic and blistered cherry tomatoes.
THIS. I want to live in a world were THIS whipped feta is at every event. It hits literally all the necessary items on the list:
Easy to make - I made this in the toaster oven! (But definitely can be made in the conventional oven too.)
Simple to find ingredients - picked everything up at Target
Great appetizer for company - brought to Easter dinner
Ridiculously good flavors - think salty feta, creamy yogurt, chewy pita, wonderfully acidic tomatoes, rich roasted garlic olive oil
I'm pretty sure you guys are with me too, because after posting a teaser about it in the Facebook group you guys were so ready for it!
This post contains affiliate links. The price you pay does not change, but I make a commission from the sale.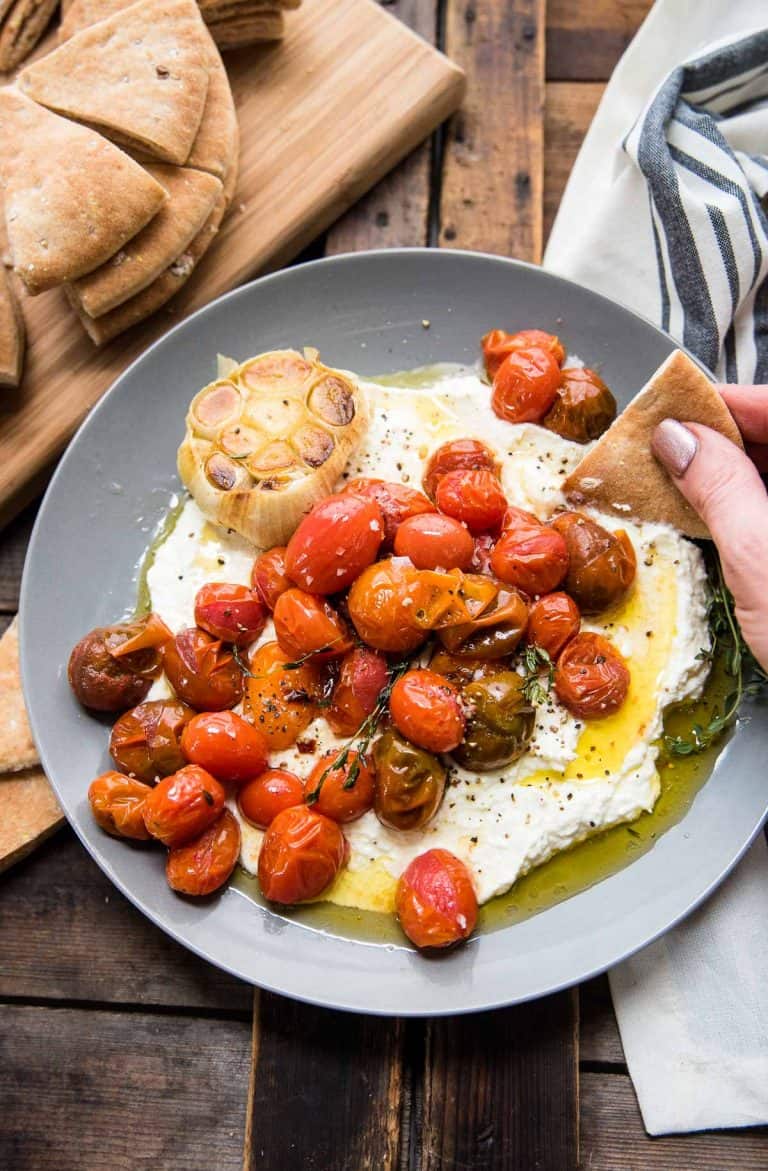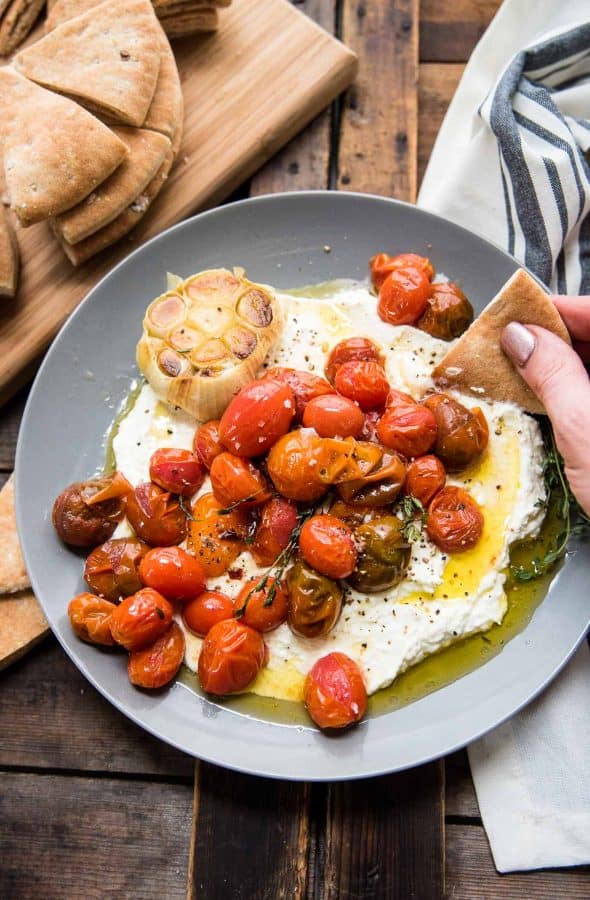 And after bringing it to Easter and watching it disappear, I'm super ready for you guys to have. This is hands down one of the most delicious feta things my tastebuds have ever enjoyed.
It's always good to have something tasty on hand when you hit those big personal milestones. Like, when you accidentally lock your baby in the car, because that happened on Sunday. ::Insert all the palm to face emojis right here::
Everyone is totally fine and Ella ended up falling asleep once the police got there to open the door, but a special shout out to Manchester Police Department for helping me through one of my bigger parenting blunders. So yes, someone get me a snack please. And by 'snack' I mean a plateful of this savory whipped feta and a bag of soft pita.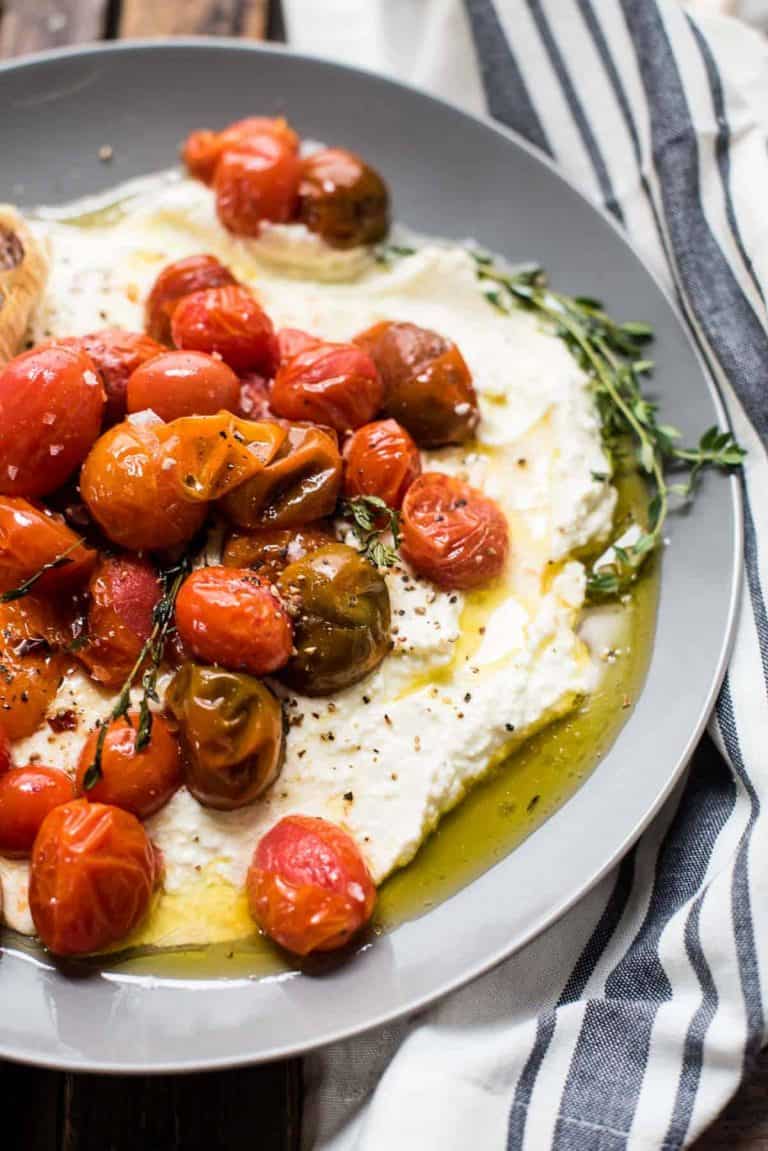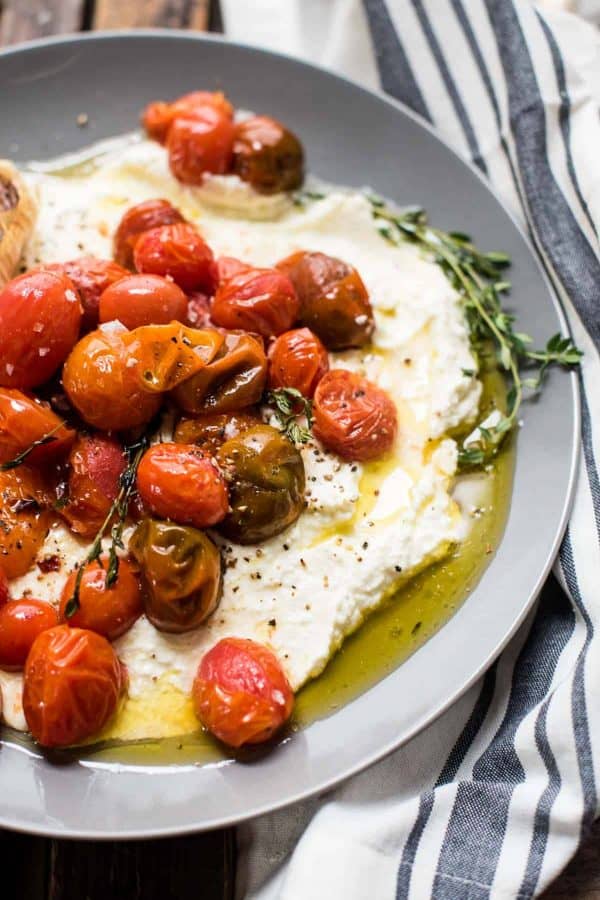 how to make whipped feta with roasted garlic tomatoes
Where are my toaster oven people at? If you've been following along on instagram you've certainly seen me cook full meals in our toaster oven. It's perfect for humid, hot, or even just busy days because you can keep the house cool and put it on a timer.
The roasted garlic tomatoes are 100% a toaster oven masterpiece, which is why I love how easy it is but you can definitely make it in a conventional oven, too.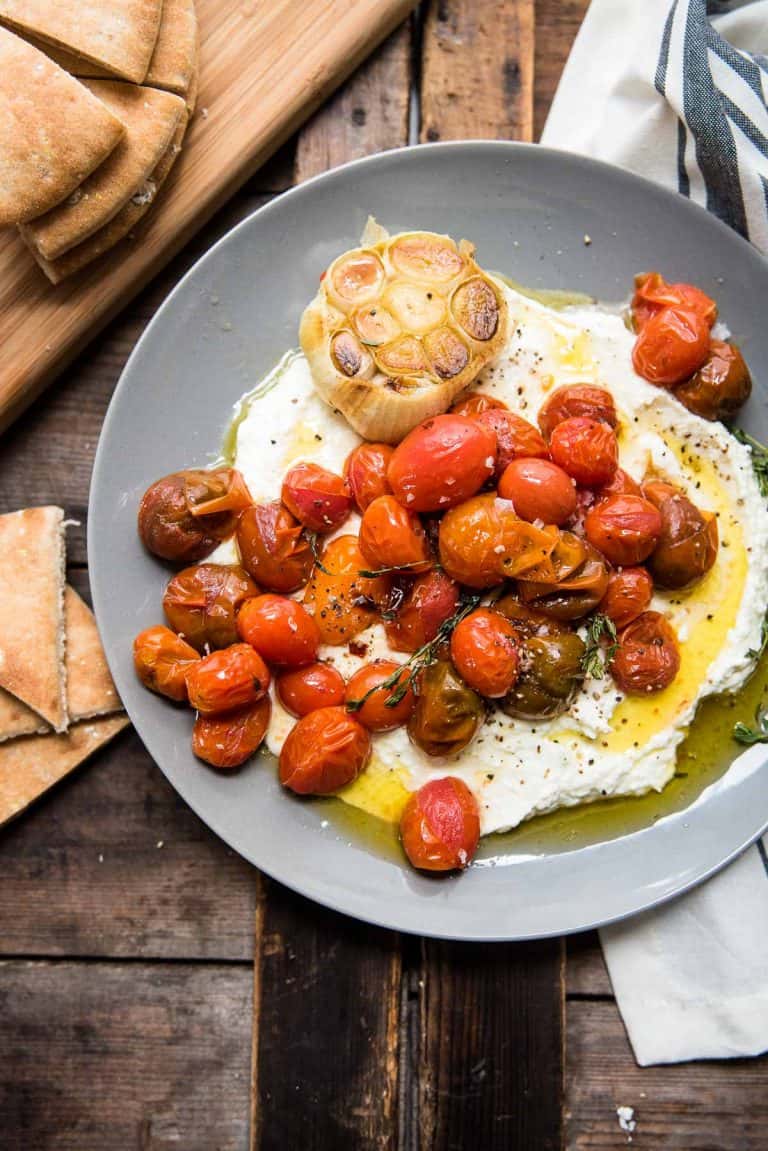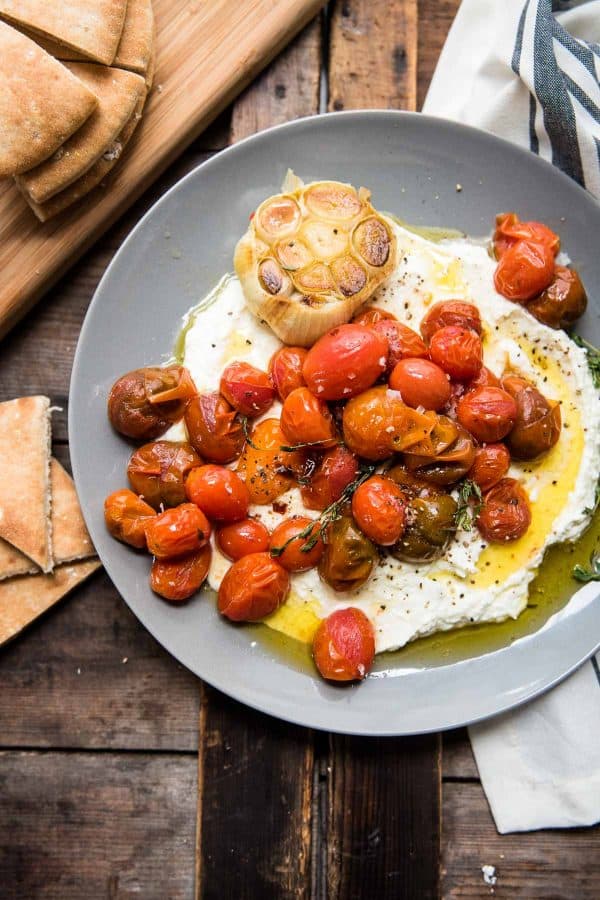 You'll want to get the garlic roasting before doing any other prep. Cut off the top of a head of garlic, enough to expose the cloves but not quite in half. Place in the center of a piece of aluminum foil and drizzle with olive oil. Fold up the edges of the foil so it makes a sealed 'pouch' and roast on a foil lined baking sheet for 20 minutes at 350°F.
After roasting the garlic comes the trickiest part. And it's only tricky because you just don't want to burn yourself. Add the tomatoes to the baking sheet and carefully unfold the foil pouch, draining all the oil and the roasted garlic onto it. Using a rubber spatula, move the tomatoes around so they are coated in the garlic oil. Season and set them under the broiler to blister.
Did I mention you're almost done?! One quick blend with the food processor and you'll be on your way! Just add the feta, yogurt and a smidge of olive oil to the food processor and pulse until it's nice and creamy.
Spread the whipped feta onto your favorite serving dish. Using tongs, carefully place the head of garlic onto the platter. Spoon the blistered tomatoes and roasted garlic oil on top of the whipped feta. Depending on how much your tomatoes cracked, you can use all of the oil and roasted tomato juice or just a little.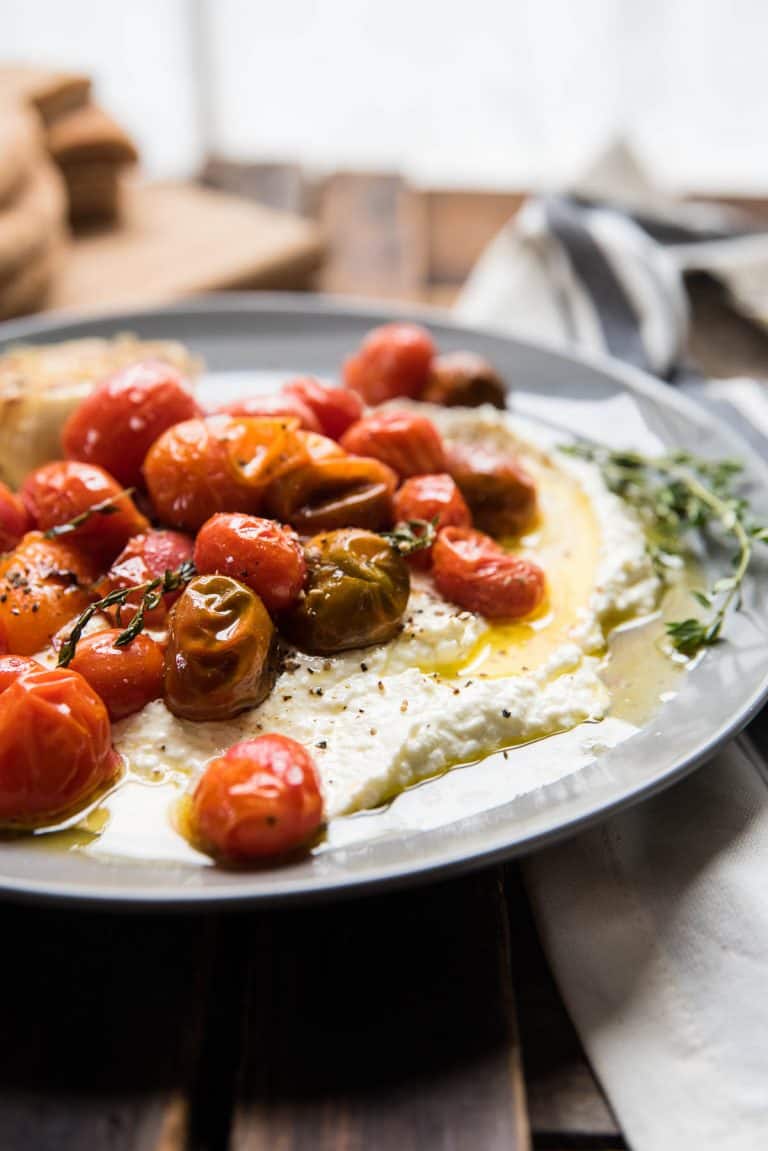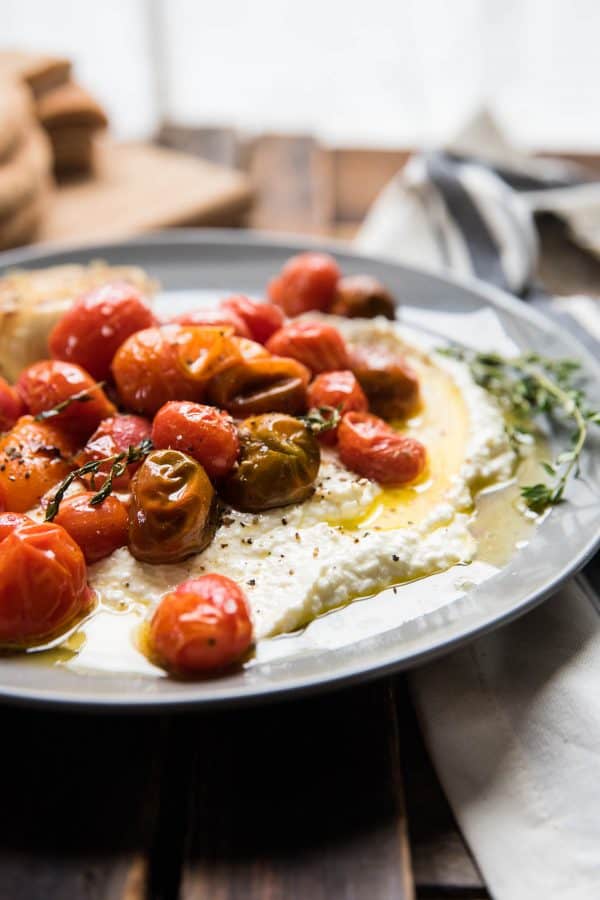 I love to sprinkle Malden's flaked sea salt and some roughly cracked pepper on top the tomatoes and whipped feta. It looks just a smidge fancy and tastes delicious. For the rough cracked pepper, just set your pepper grinder on the loosest setting.
To scoop up your mouth bound masterpiece, these multi-grain pita pocket thins are perfect. I love the size, how easy they are to cut into even triangles and the texture. A nice platter of veggies or even crunchy gluten free pita chips are good too!
Whether it's a snack before the meal or to go alongside it, you whipped feta and roasted garlic tomatoes are going to be a no brainer win in the delicious category.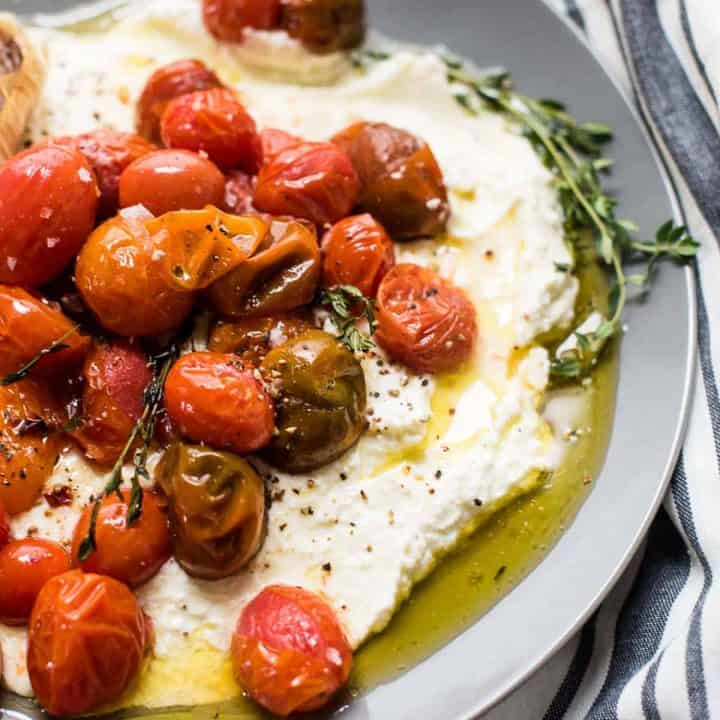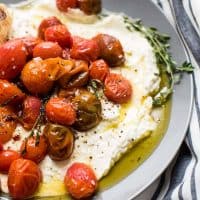 Whipped Feta with Roasted Garlic Tomatoes
Your friends and family will love to scoop up the creamy, salty feta cheese whipped into a smooth, dippable appetizer and topped with roasted garlic and blistered cherry tomatoes.
Print
Pin
Rate
Servings:
8
to 10 servings
Ingredients
1

head

garlic

¼

cup

+ 2 tablespoons extra virgin olive oil

(divided)

3

sprigs fresh thyme

12

ounce

package

(about 2 cups heirloom cherry tomatoes)

8

ounces

feta cheese

¼

cup

whole milk Greek yogurt

⅛

teaspoon

salt

⅛

teaspoon

black pepper

pinch

of red pepper flakes

(optional)

1

package Pita Pocket Thins

(cut into bitesized triangles)
Instructions
Preheat the oven to 350°F and line a baking sheet with foil. Place another smaller sheet of foil on top to make your roasted garlic foil 'pouch.'

Remove the top of the head of garlic. Place of loose sheet of foil and drizzle with ¼ cup of extra virgin olive oil. Fold up the sides of the foil to make a pouch and place in the oven for 20 minutes.

After the garlic has roasted for 20 minutes, set the oven to broil on high. Add the tomatoes to the foil lined sheet pan. Very carefully unfold the foil pouch - tongs with work best - so that you do not burn yourself on the hot oil.

Add the head of roasted garlic and the oil to the sheet pan. Using a rubber spatula, toss the tomatoes with the oil and lightly season with a sprinkle of salt. Add fresh thyme and red pepper flakes (optional) to the pan. Spoon extra oil on top of the head of garlic. Place the sheet pan under the broiler for 8 to 10 minutes or until the tomatoes have blistered and the garlic is soft and slightly browned.

While the tomatoes are cooking, prepare the feta. In a food processor, combine the feta, yogurt and 2 tablespoons of olive oil. Season with just a pinch of black pepper. Pulse to combine the ingredients - about 10 to 12 times - and run on low speed for 10 seconds until creamy.

Spread the feta onto a serving plate. Spoon the blistered tomatoes and about ¾ of the roasted garlic oil on top. Sprinkled the tomatoes with flaked sea salt and fresh cracked pepper. Slice the pita pocket thins into 8 triangles per pita and serve with the whipped feta.
Notes
This can easily be made in a toaster oven as long as it has a bake and broil function.
If your oven does not have a broil function, increase the oven temperature to 425°F and allow a few extra minutes to blister the tomatoes.
If preparing in advance, wait until serving to top the feta with the tomatoes and oil. You can store the feta in the refrigerator but keep the tomatoes and oil out at room temperature.
Nutrition
Calories:
303
kcal
|
Carbohydrates:
35
g
|
Protein:
11
g
|
Fat:
13
g
|
Saturated Fat:
5
g
|
Cholesterol:
26
mg
|
Sodium:
361
mg
|
Potassium:
139
mg
|
Fiber:
2
g
|
Sugar:
3
g
|
Vitamin A:
138
IU
|
Vitamin C:
2
mg
|
Calcium:
164
mg
|
Iron:
1
mg