Strawberry Shortcake Cupcakes have all the parts of the classic summertime dessert - no fork or plate required! Fluffy, shortcake style cupcakes stuffed with fresh strawberry filling and topped with melt in your mouth clouds of whipped cream frosting. These will be a hit at your next cookout, BBQ, or birthday celebration!
There are two approaches to strawberry shortcake. You're either team biscuit or team cake.
While I love a good shortcake biscuit when the toppings are really juicy, strawberry shortcake with a buttery, fluffy, bakery-style white cake is my favorite version and the inspiration for this recipe!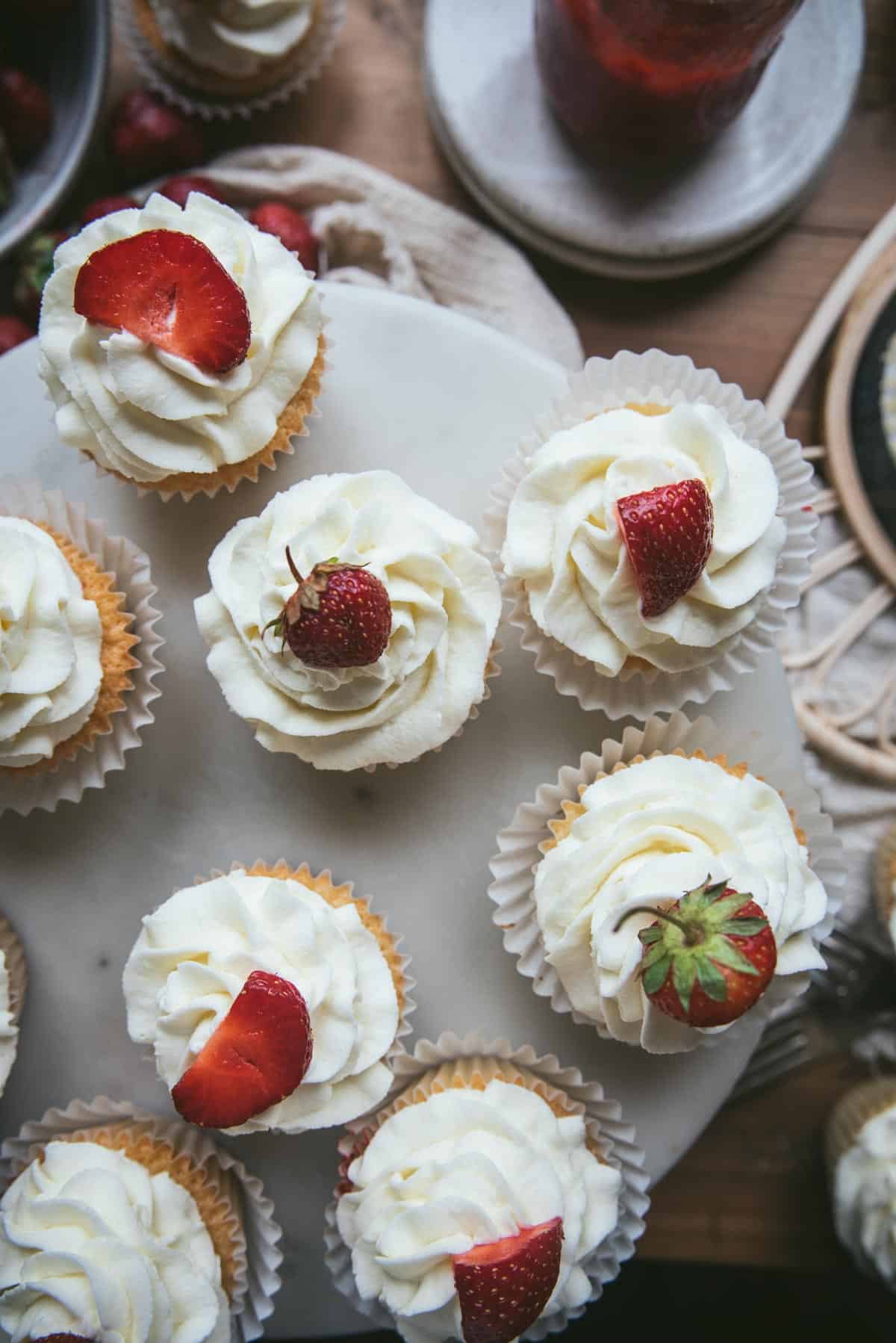 That was the goal of this dessert recipe. All the flavors and textures of strawberry shortcake - cake style - stacked up in an easy finger food dessert.
What do these cupcakes taste like?
Like summer sunshine and fluffy clouds! Kidding. Mostly.
The cupcakes are a beautiful mix of bakery-style white cake texture (thanks to the eggs) and classic vanilla cupcake. The filling is a combination of strawberry preserves and strawberry topping. And the fresh whipped cream frosting is light and just the right amount of sweet.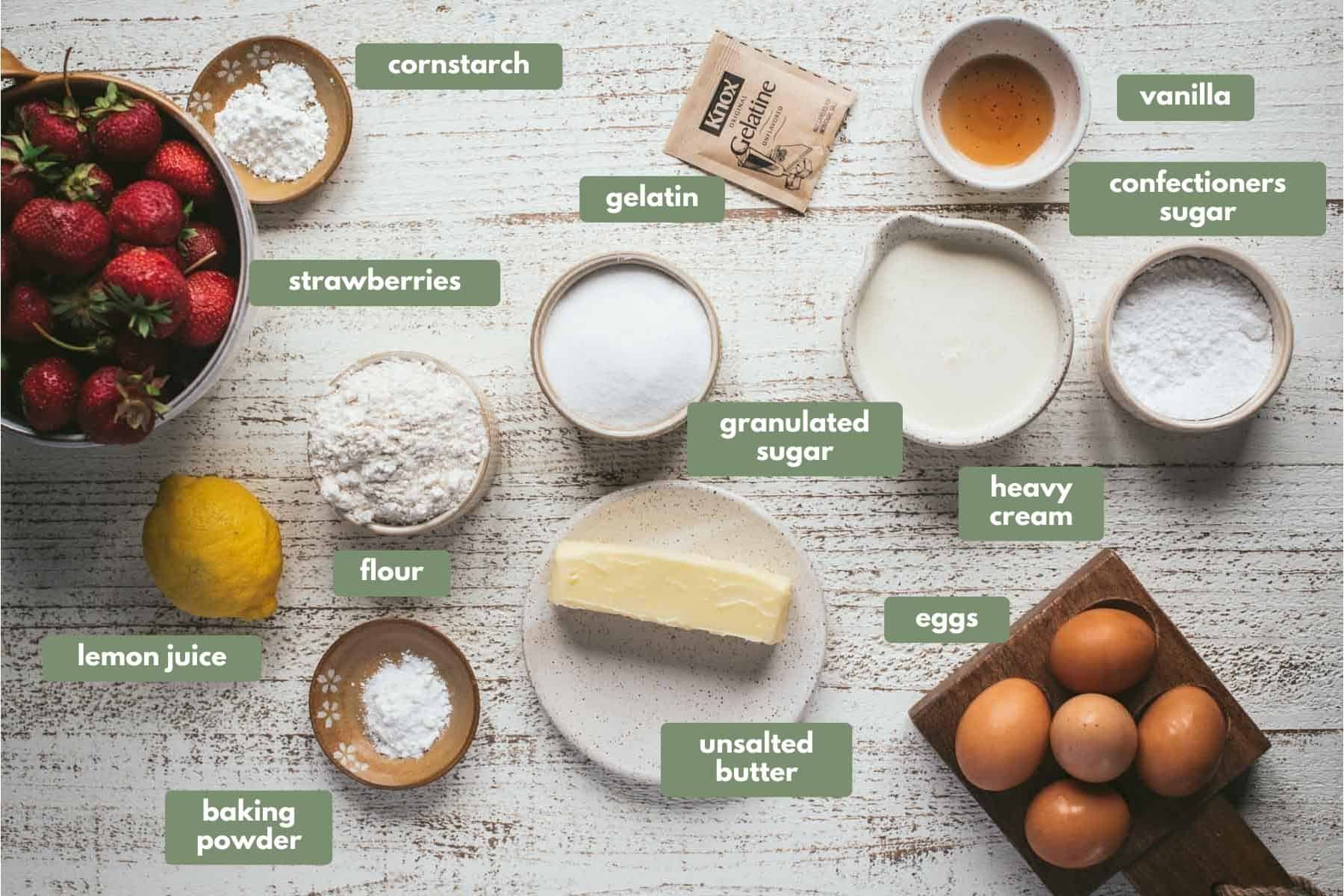 INGREDIENTS & SUBSTITUTIONS
There are 3 parts to making this sweet summer treat.
shortcake style vanilla cupcake
fresh strawberry filling
stabilized whipped cream frosting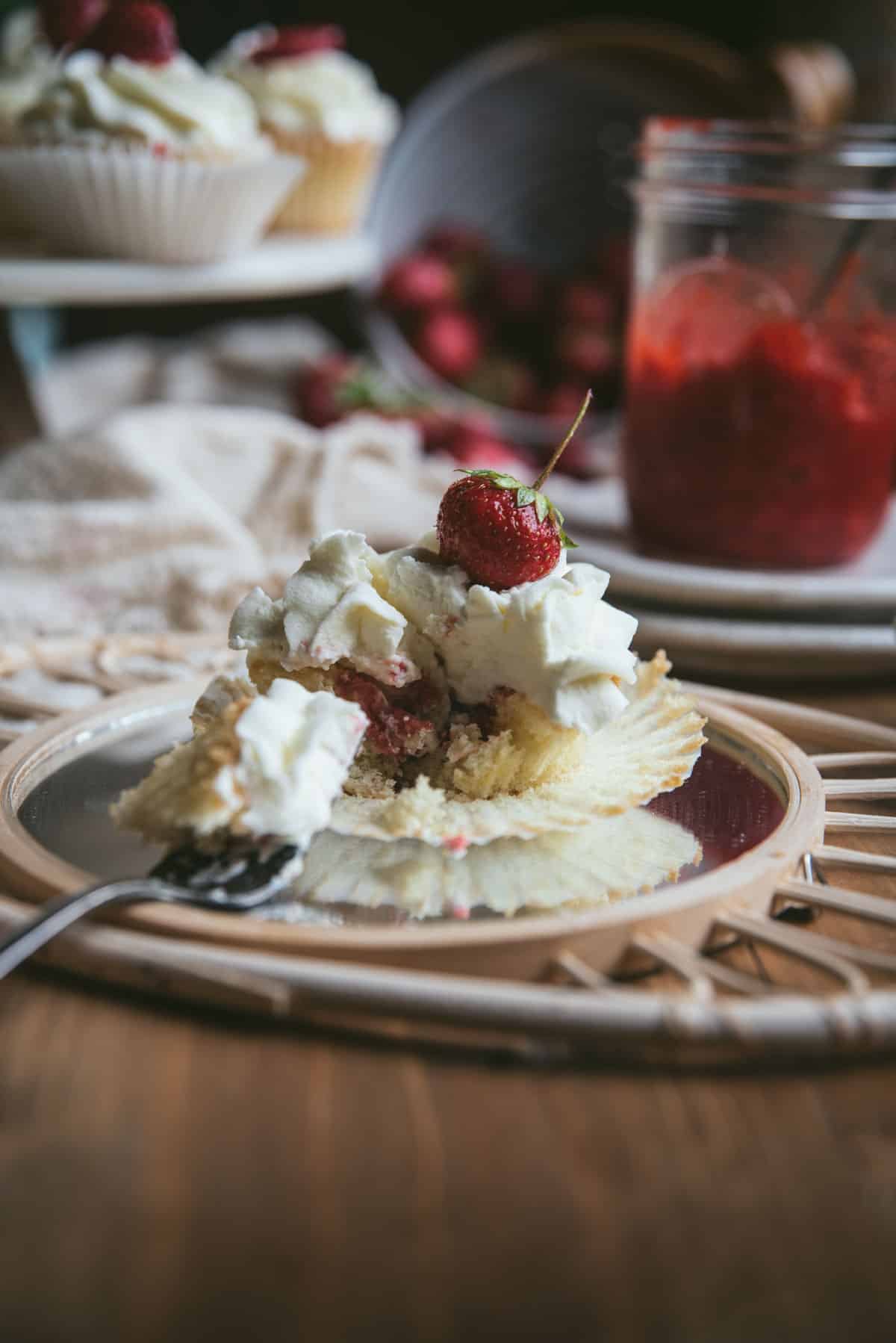 The cupcakes:
The style of cupcake for this recipe is more of a traditional bakery style white cake where the base is heavy in eggs more than butter and sugar to create that fluffy texture. You'll need you'll need standard cupcake ingredients - butter, sugar, flour, baking powder - but also more eggs than usual.
Can I use my favorite vanilla cupcake recipe instead?
Absolutely. The cupcakes may be denser than what's pictured here but if you have a back pocket recipe, gluten free recipe, or a box mix (no judgement here!) - please do what fits your life.
The filling:
The key to the filling is get the texture just right so its still a little runny and can be pipped out of the piping bag into the cupcakes, but not so runny it's nearly impossible. You can 100% also ditch the piping bag and spoon the strawberry filling into the cupcakes as well.
I find the piping bag makes it a little easier to 'stuff' the cupcakes with plenty of filling, but I have also just used a spoon.
If going the piping route, I'd recommend making the filling in advance or allowing plenty of time for it to cool and thicken before transferring it.
You can use fresh or frozen strawberries for the filling. Be sure to quarter or slice the strawberries so the pieces will fit through the hole of the piping bag.
You could also substitute strawberry preserves. The Bonne Maman brand is my favorite. I'd recommend heating it up just a little before piping or spooning it into the cupcakes.
The frosting:
Strawberry shortcake is a go to summer dessert and summer can be hot! To help keep your cupcakes gorgeous, we're going to make stabilized whipped cream frosting. It will making piping a breeze and hold it's structure so you can make your strawberry shortcake cupcakes a day or two in advance.
Stabilized whipped cream requires heavy cream, confectioners sugar, vanilla extract, and a thickening agent. This recipe calls for unflavored gelation.
You can find the gelatin in the baking isle at the grocery store, usually over by the instant pudding and Jello mixes.
If you'd prefer to just use a classic vanilla buttercream recipe, go for it.
Do not use canned whipped cream. It will fall and make a mess after a few minutes.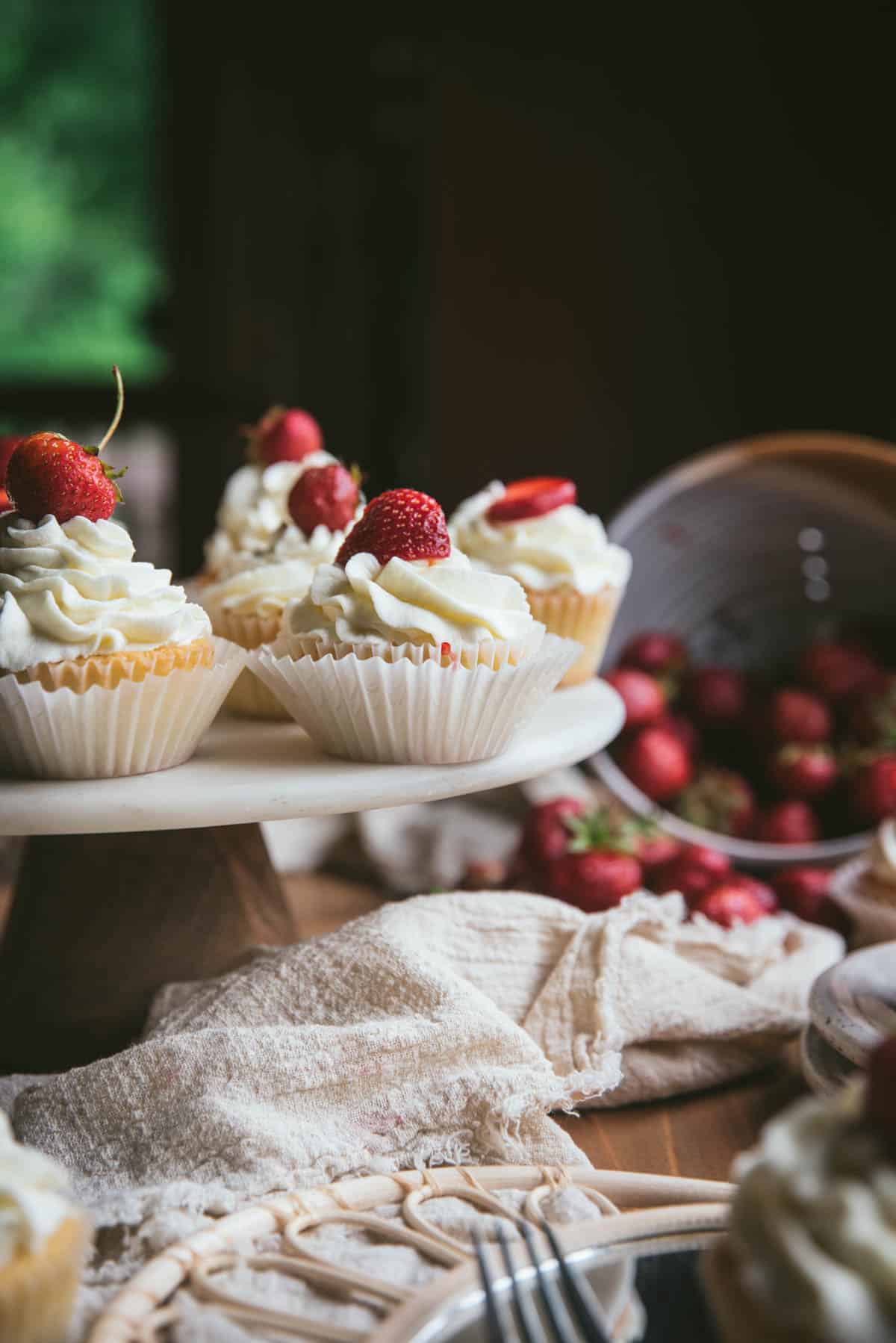 HOW TO MAKE STRAWBERRY SHORTCAKE CUPCAKES
Start by making the strawberry filling. You'll want to give it plenty of time to cool.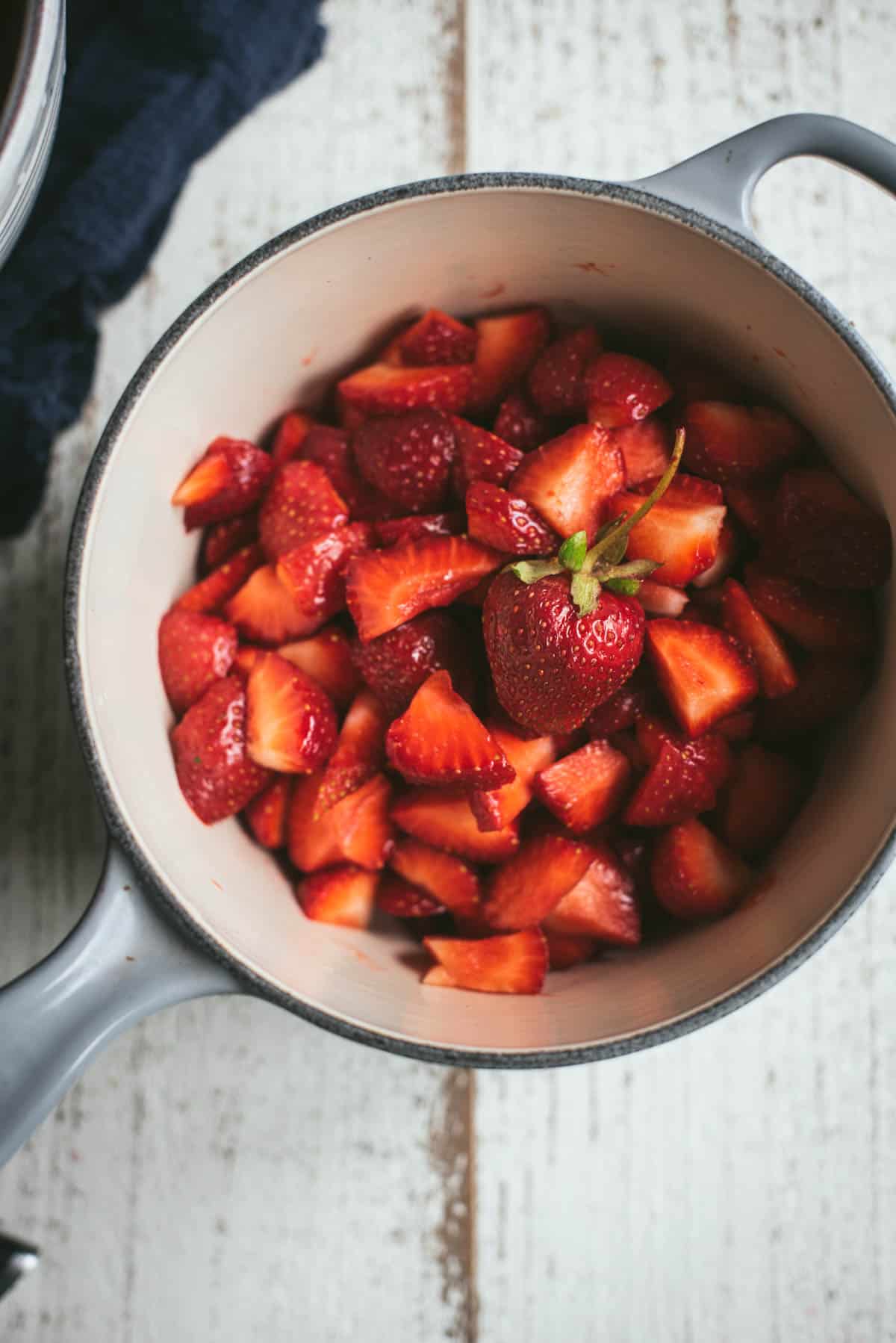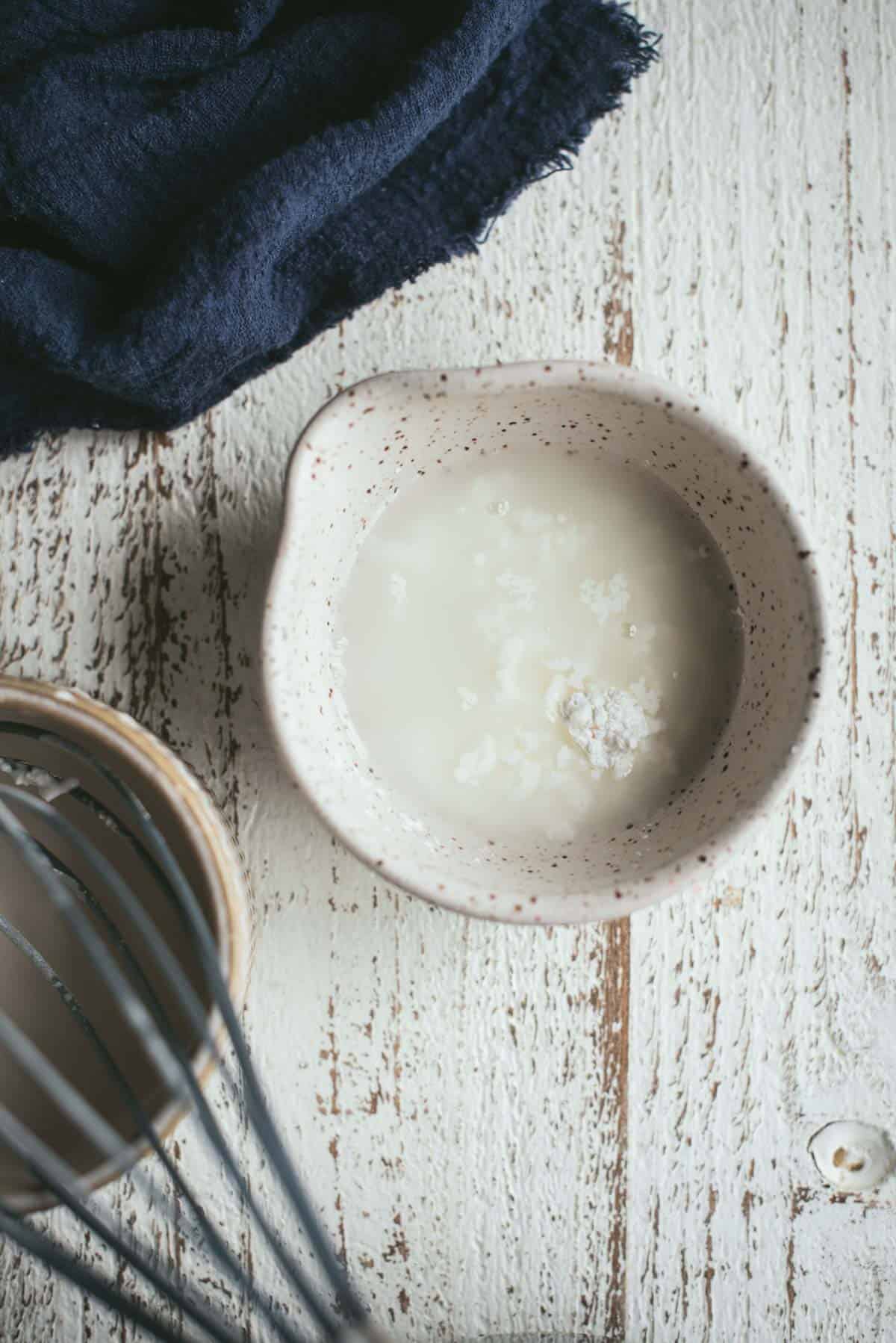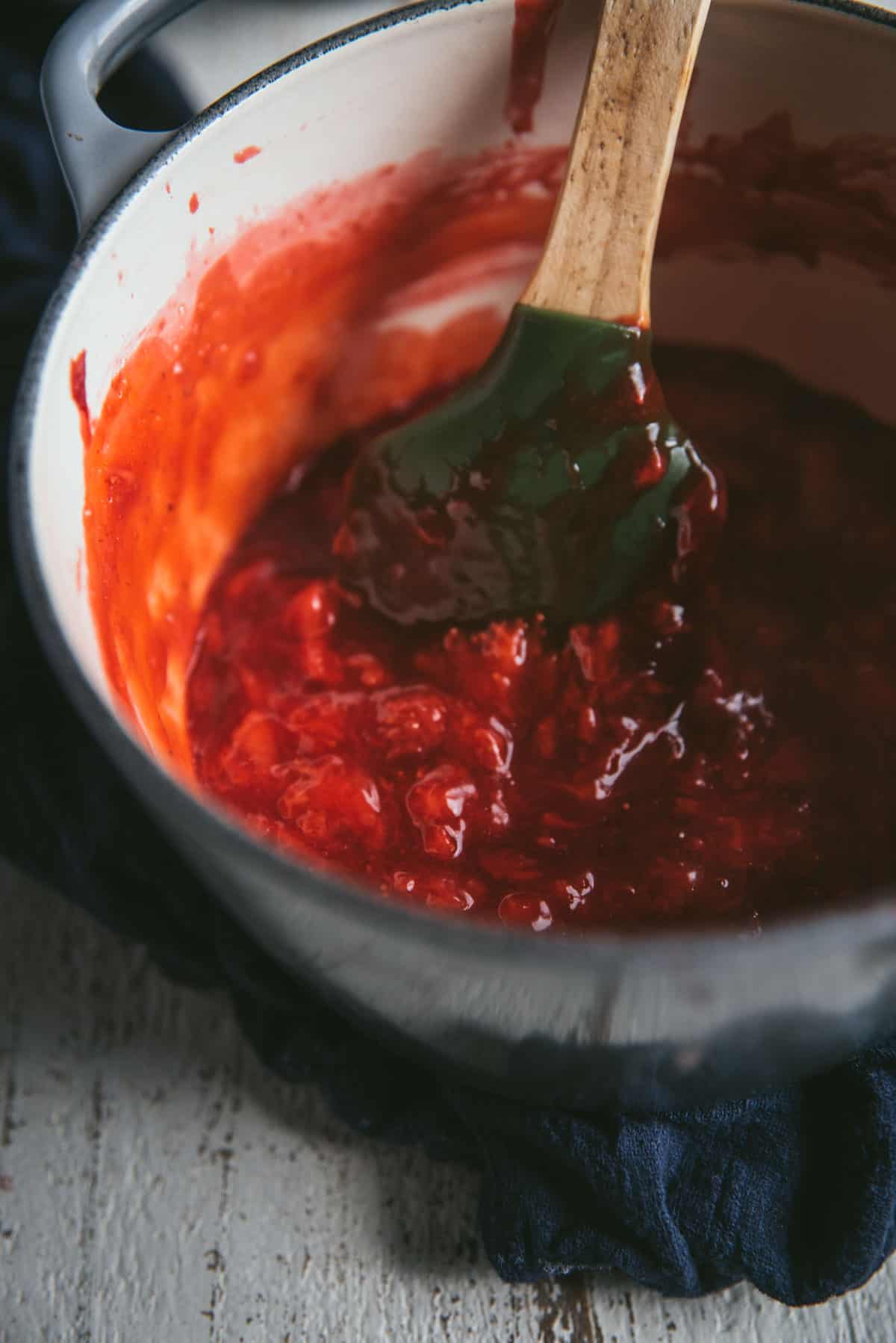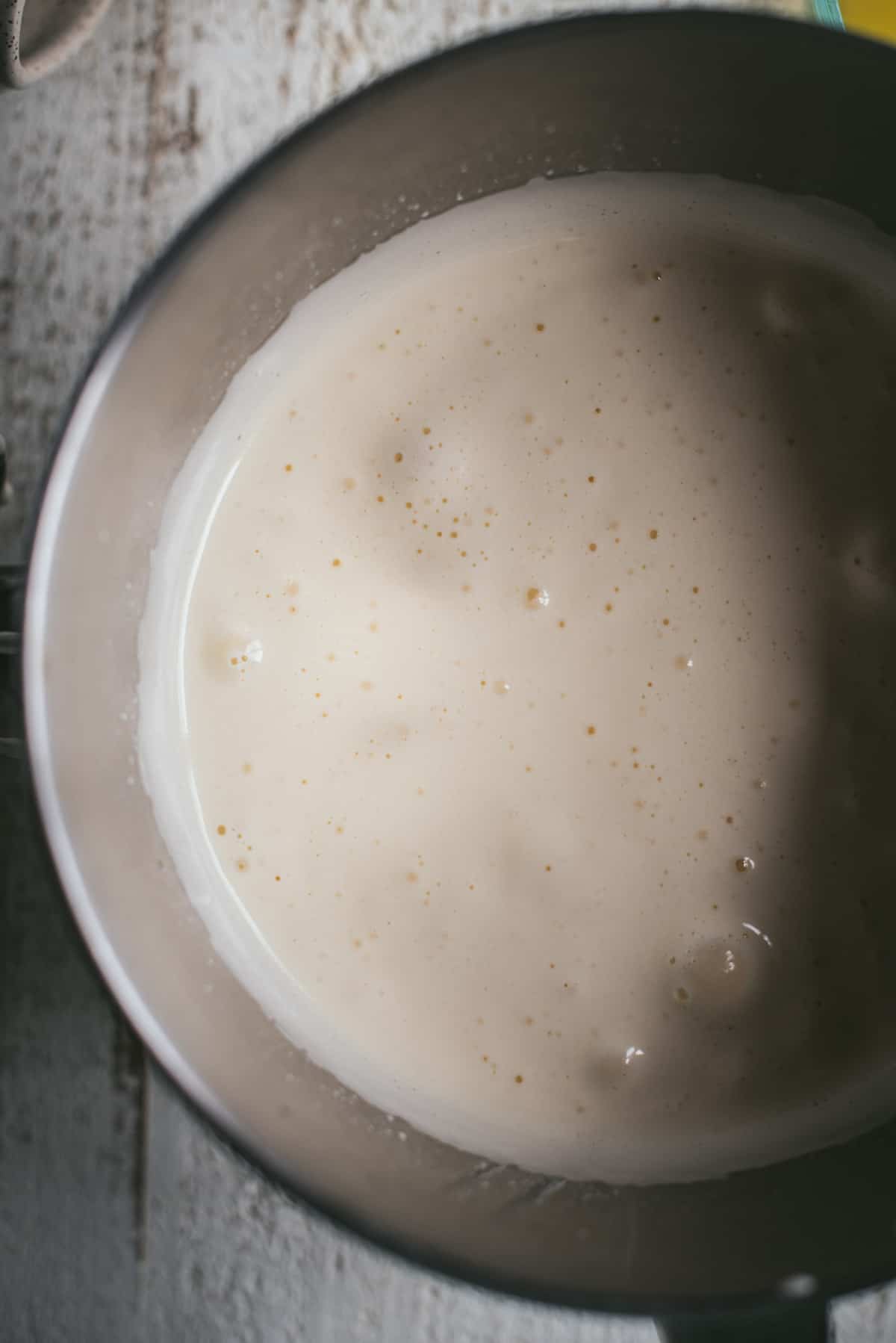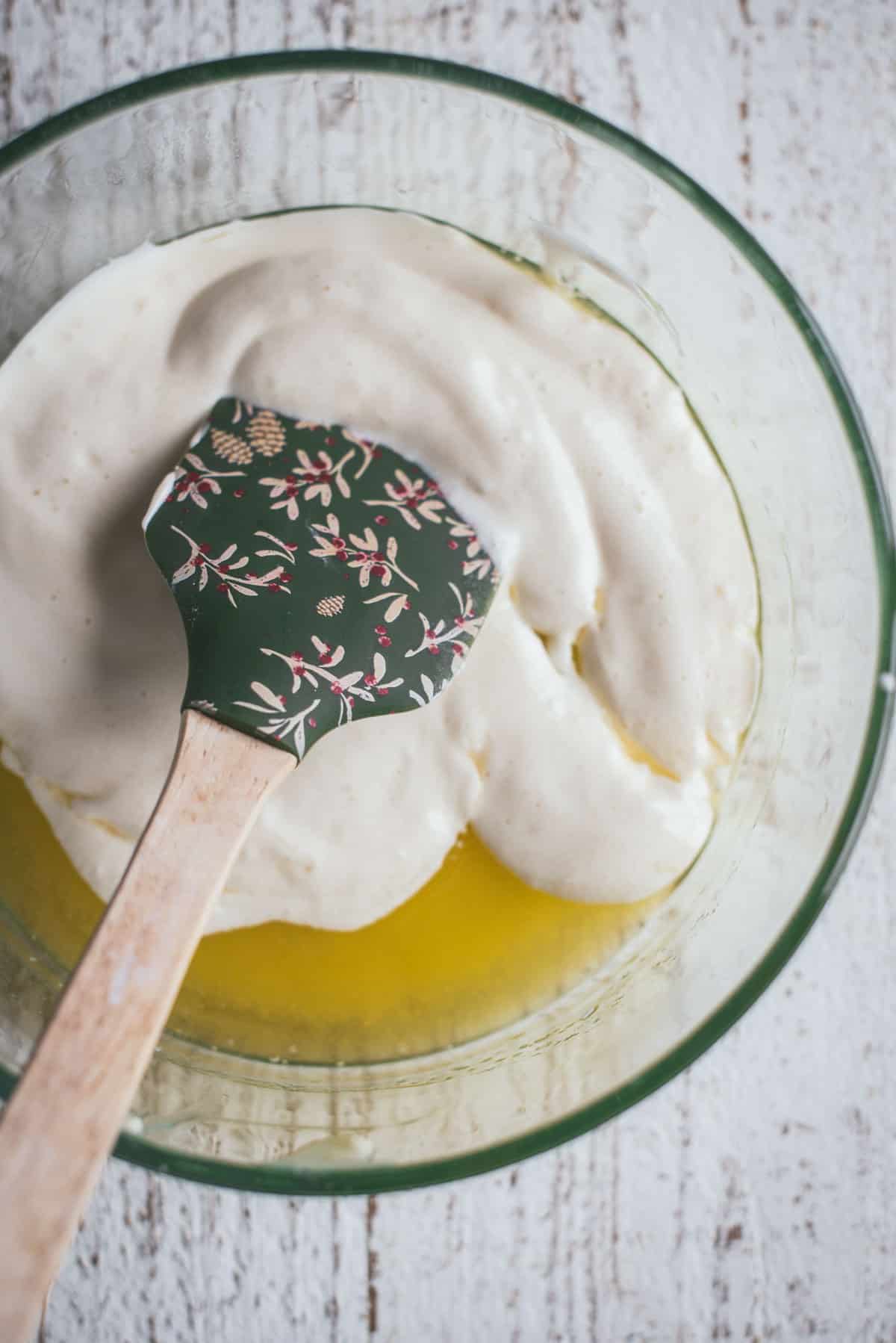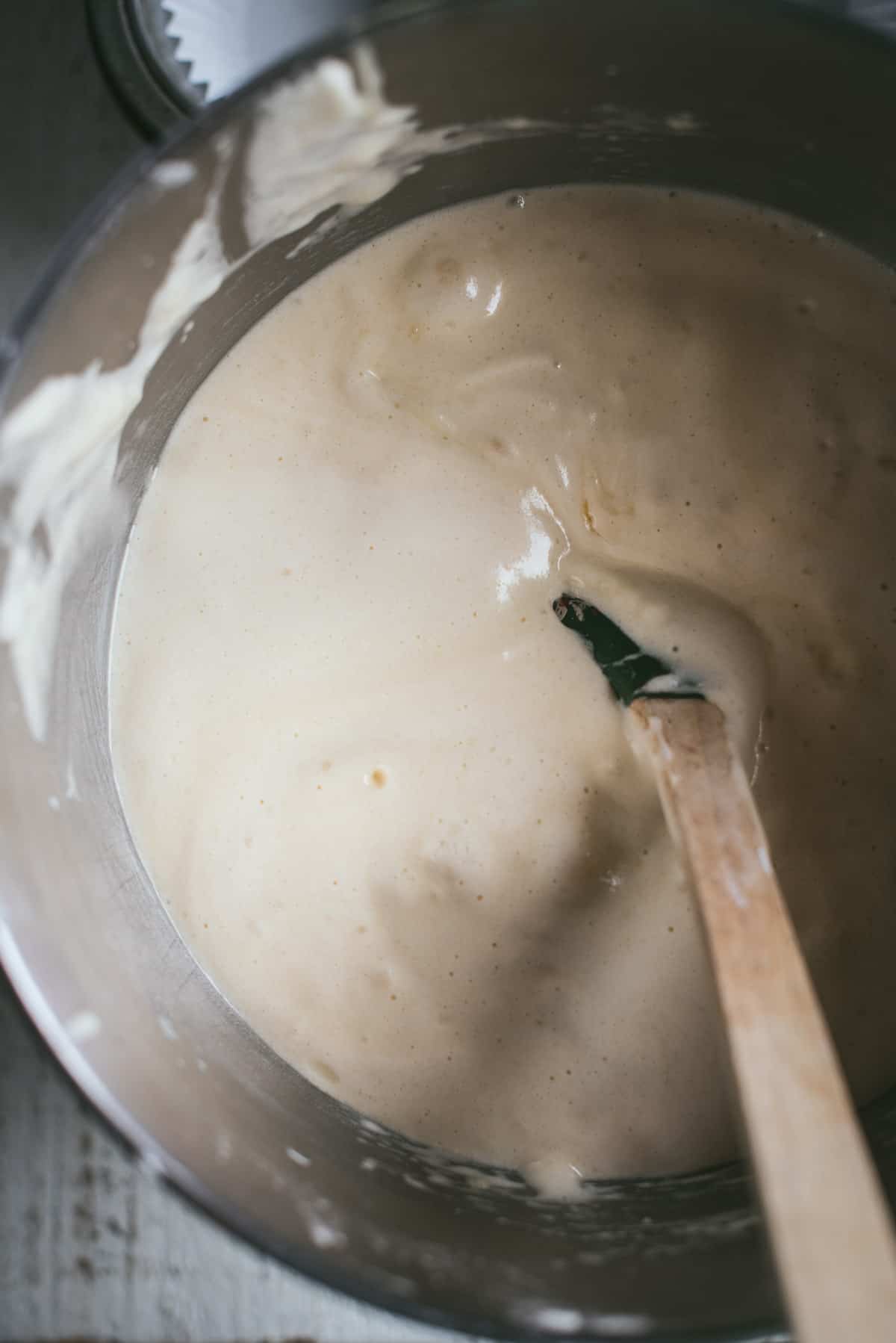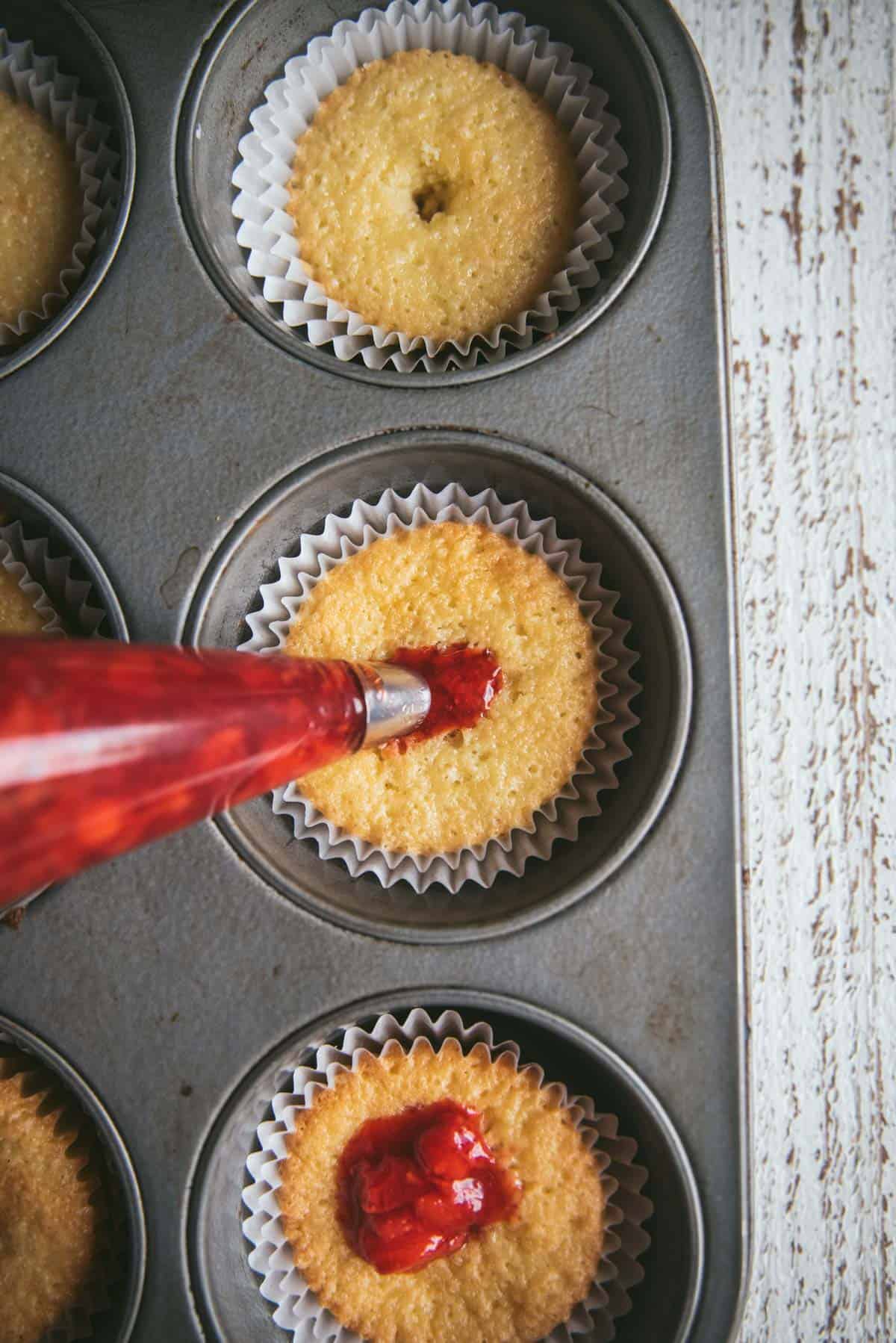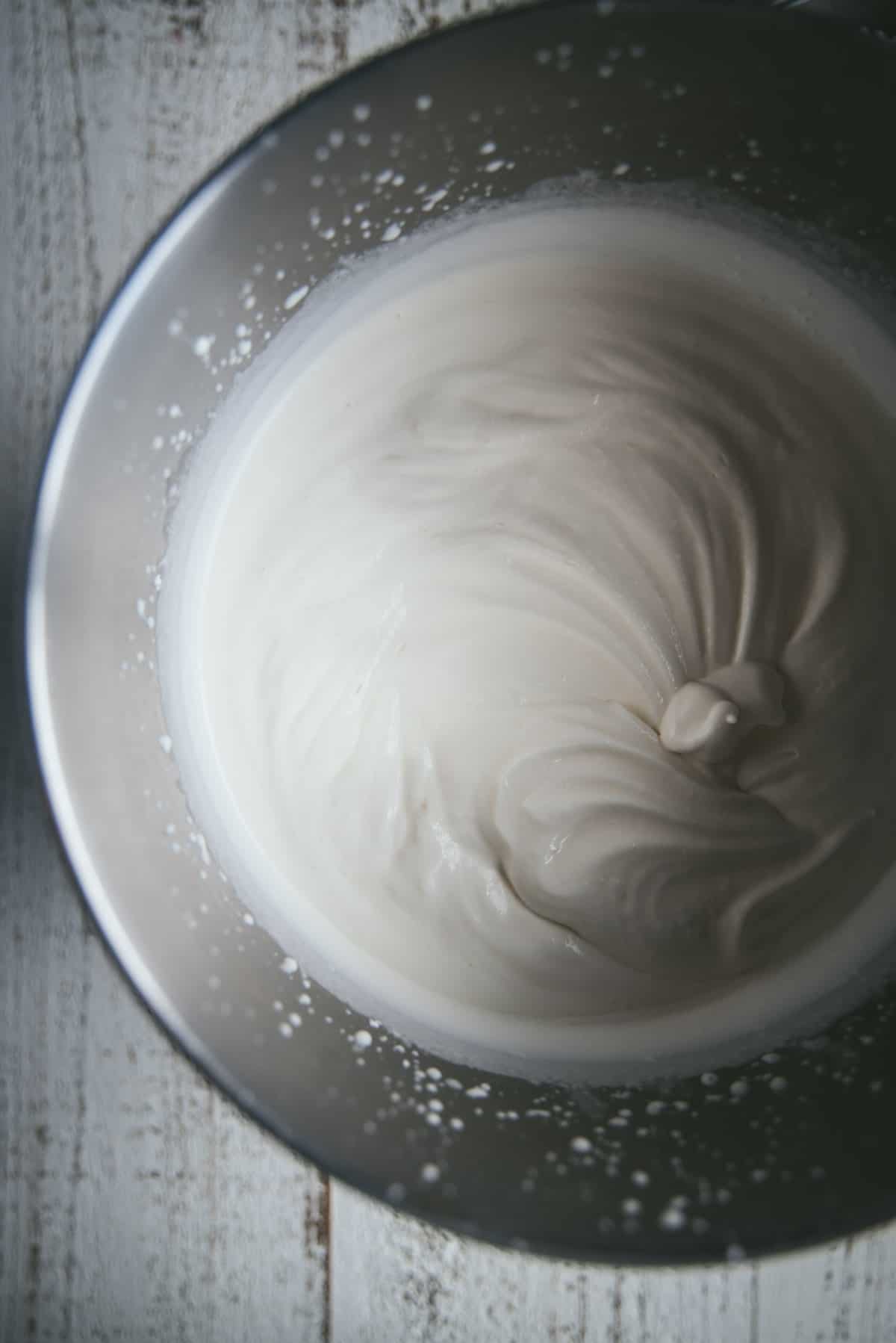 FILLING THE CUPCAKES
You can either use a pairing knife, cupcake corer (affiliate link), or a large piping tip to hollow out the cupcakes.
It doesn't have to be perfect, you're going to top them with frosting anyways.
Just make sure you don't poke a hole through the paper and be sure to leave a layer of cupcake - even if thin - on the bottom.
You'll want the hole to be about ¾-inch to 1 inch wide so you can get plenty of juicy strawberry filling in there without the cupcake falling apart while you eat it.
FAQS
How many strawberries do you need?
1 pound of strawberries - about 2 ½ cups. You'll need to cut the tops off the strawberries and cut them in quarters.

You may want to keep some extra whole strawberries on hand for garnishing the top of the cupcakes.
Can I use frozen strawberries for the filling?
Absolutely! Don't defrost them. You make need to stir a little extra or mash them to get the strawberry pieces small enough to pipe.
Do I have to pipe the filling?
Nope! You can definitely spoon the filling in if you prefer.
Can I make strawberry shortcake without strawberries?
Yes, you can absolutely substitute the fruit in the filling for any other type of fruit. Blueberries, peaches, raspberries, etc. would all be delicious.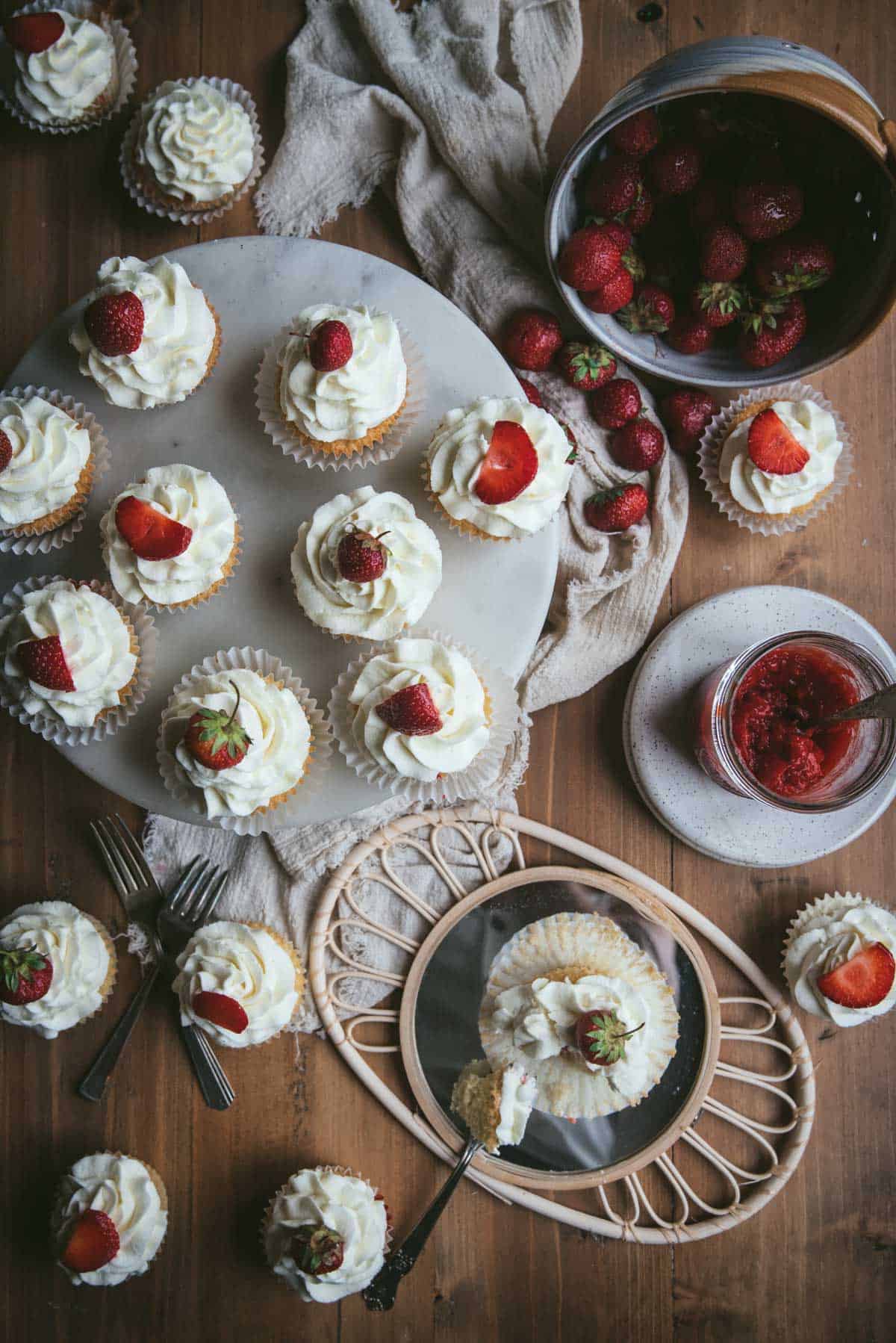 MORE STRAWBERRY SWEETS…
If you're a strawberry afficianado like myself, well, we just wrapped up our first strawberry week on the blog and I have so many good ideas for you!
For the cheesecake lover in your life, make this Fresh Strawberry Cheesecake that's a copycat of the Cheesecake Factory classic.
Ready for something to sip on? Strawberry sangria or strawberry rhubarb sangria should be your next cocktail. Or if tequila is more your vibe, be sure to muddle up some Strawberry Cucumber Margaritas - perfect for taco night!
Love a strawberry filling for layer cake? Rosé Ombre Cake has a rosé wine simmered strawberry filling between each layer and light mascarpone frosting. It's similar to this Strawberry Shortcake Cupcake recipe but in a three-layer cake form!
If you loved these cupcakes I'd love to know what or who you made them for and if you could leave a star rating in the recipe card! Thank you for being here and for your support!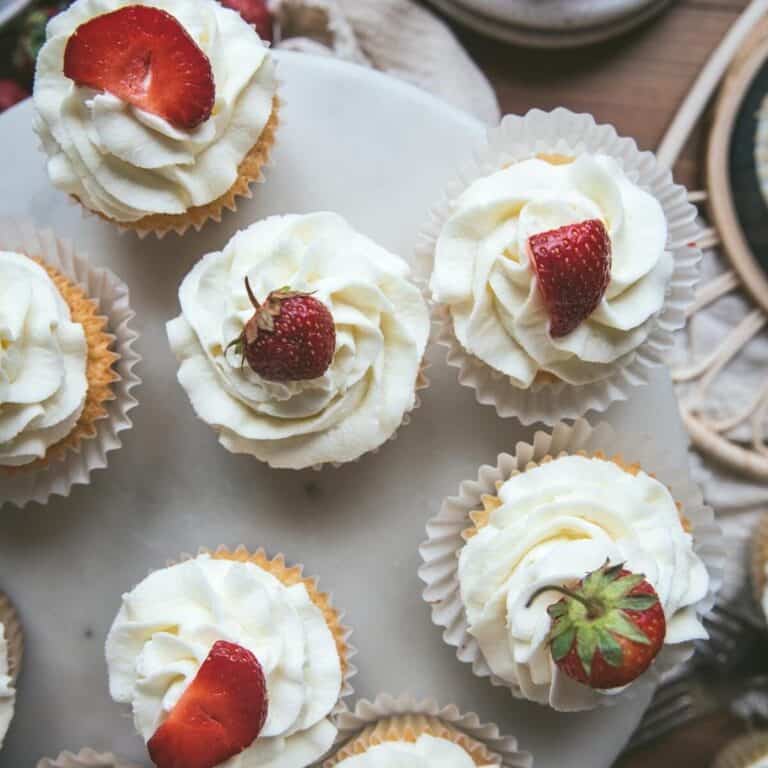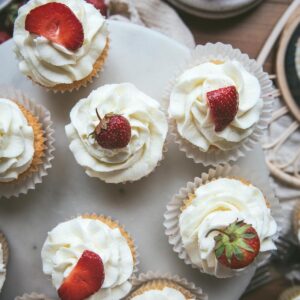 Strawberry Shortcake Cupcakes
A perfect way to serve the classic summer dessert without the mess! All the flavors of strawberry shortcake but in cupcake form.
Print
Pin
Rate
Equipment
cupcake pan

cupcake liners

standing mixer or hand mixer
Ingredients
Shortcake Cupcakes
5

large

eggs

(room temperature)

½

cup

unsalted butter

(room temperature)

1

cup

granulated sugar

1¼

cup

all purpose flour

2

teaspoons

baking powder
Strawberry Filling
1

pound

strawberries (fresh or frozen)

(hulled and quartered)

2

tablespoons

cornstarch

2

tablespoons

water

1

tablespoon

lemon juice

¼

cup

granulated sugar
Stabilized Whipped Cream Frosting
1

packet

unflavored gelatin

(2 ½ teaspoons or 7g)

3

tablespoons

water

(cold)

3

cups

heavy whipping cream

(cold)

1

cup

confectioners sugar

2

teaspoons

vanilla extract or vanilla bean paste

whole strawberries or white sprinkles for garnish

(optional)
Instructions
Strawberry Filling
In a medium saucepan, whisk together the cornstarch and warm water until there are no clumps. Add the quartered strawberries, lemon juice, and granulated sugar and gently stir to combine.

Bring to a simmer over medium heat, stirring frequently. Frequent stirring will help break down the strawberries.

Once the mixture reaches a simmer, reduce the heat to medium-low and simmer for 5 minutes. Remove from the heat and let cool completely.

Transfer to a piping bag (without a tip or with a large circle tip) or use a spoon to fill the cupcakes.
Shortcake Cupcakes
Preheat oven to 350°F. Fill the cupcake pans with liners.

In the bowl of standing mixer or in a mixing bowl and using a hand mixer, beat the eggs on medium-high speed (#6) for 60 seconds. While the mixer is running, slowly add the sugar over 45 seconds. Increase the speed to high (#8) and beat for 7 minutes.

While the eggs are beating, whisk together the flour and baking powder in a small bowl. Sprinkle the flour mixture over the eggs (with the mixer off). Beat on low speed (#1) for 10 seconds. Repeat 2 more times, scrape down the sides, beater, and bottom of the bowl and beat on low speed for 15 seconds. Do not overmix and loose all the air you just worked so hard to get into your batter.

Melt the butter in a microwave safe bowl. Take 1 cup of the flour and egg mixture and whisk into the melted butter. Do this in the bowl the butter is in or a separate bowl to incorporate the fat of the butter with the eggs.

Add the butter and egg-flour mixture to the batter in the mixing bowl and mix on low for 15 seconds until combined.

Using a large cookie scoop or spoon, fill the cupcake liners ⅔ of the way. Bake in the preheated oven for 15 to 18 minutes or until cupcakes just start to brown and the center springs back when pressed. Allow the cupcakes to cool for 10 to 15 minutes before removing the centers. Be sure to cool completely - or even refrigerate - before frosting.
Stabilized Whipped Cream Frosting
In a small microwave-safe bowl, whisk the packet of gelatin and 3 tablespoons cold water together and set aside. This will firm up as you prep the whipped cream.

In a mixing bowl or using a stand mixer, combine the 3 cups cold heavy whipping cream, 1 cup confectioners sugar, and 2 teaspoons vanilla. (Chilling the mixing bowl in advance is best, especially if the weather is hot!) Beat the cream mixture with the whisk attachment on medium-high speed (#6) or using a hand mixer, until the mixture starts to thicken but soft peaks have not formed yet.

Check the gelatin, it should be firm at this point. Microwave in 5 second invervals until it is liquid again, but not hot. Use a fork or slotted spoon to gently remove any foam that may have settled on the top.

With your mixer on low speed, slowly drizzle the liquid gelatin into the cream mixture then gradually increase the speed of the mixer to medium-high (#6) until stiff peaks form. Do not walk away from the mixer while doing this, overbeating the mixture will result in clumpy, curdled looking whipped cream.

Transfer the whipped cream to a piping bag fitted with your preferred piping tip and assemble the cupcakes. If there is downtime between making the frosting and piping it, be sure to store it in the fridge.
Assembling the cupcakes
Once the cupcakes are cool. Remove the centers using a knife, piping tip or cupcake corer. The holes should be about ¾ to 1 inch wide. Leave a layer of cupcake on the bottom.

Pipe or spoon the strawberry filling into the center of each cupcake.

Pipe the top of each of cupcake with whipped cream frosting. Optional: garnish with a whole strawberry, strawberry slice, or white sprinkles.
Notes
The strawberry filling can be made a few days in advance. You may need to warm just slightly to get the right gooey texture.
If there is leftover filling, store in an air tight container in the fridge for up to 2 weeks. Use leftover filling on toast, over yogurt, or on top of cheesecake.
Store the finished cupcakes in the fridge until serving. Try to store the cupcakes away from strong-smelling foods like onions, peppers, etc. because the whipped cream may pick up those flavors if being stored next to those items for an extended period of time.
Nutrition
Calories:
244
kcal
|
Carbohydrates:
23
g
|
Protein:
3
g
|
Fat:
16
g
|
Saturated Fat:
10
g
|
Polyunsaturated Fat:
1
g
|
Monounsaturated Fat:
4
g
|
Trans Fat:
1
g
|
Cholesterol:
83
mg
|
Sodium:
60
mg
|
Potassium:
81
mg
|
Fiber:
1
g
|
Sugar:
17
g
|
Vitamin A:
614
IU
|
Vitamin C:
12
mg
|
Calcium:
51
mg
|
Iron:
1
mg