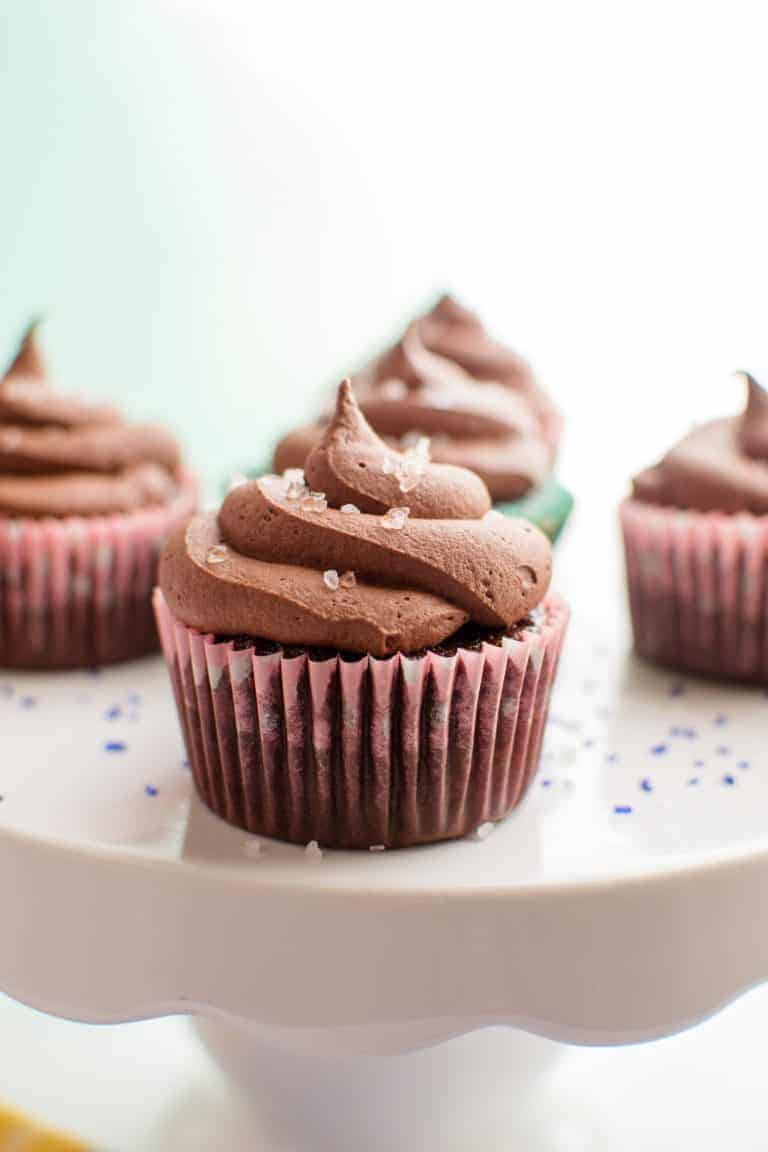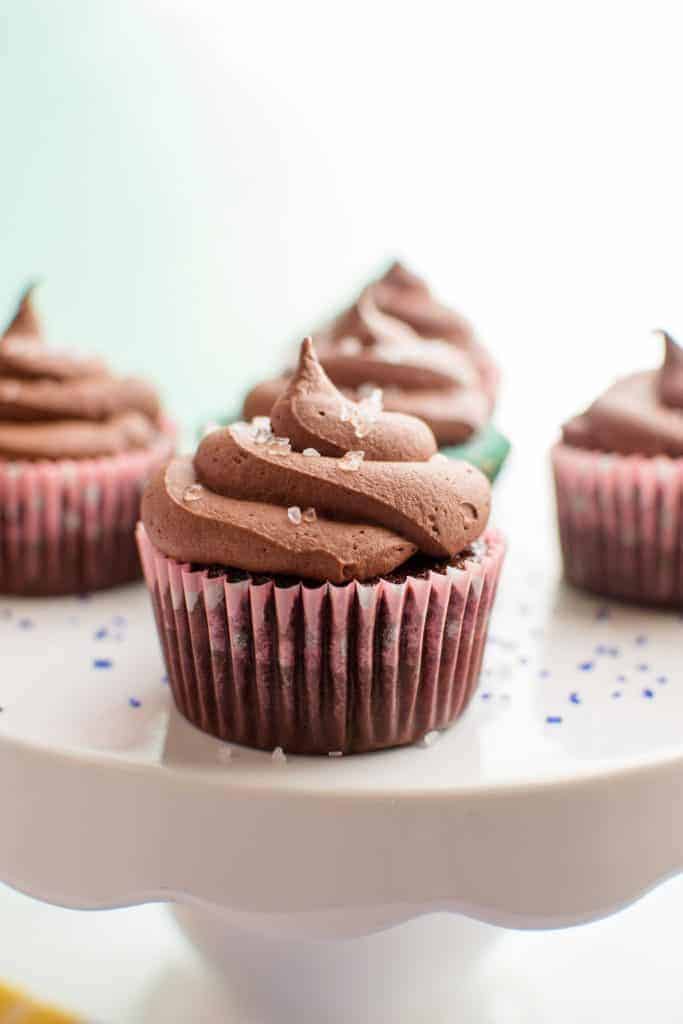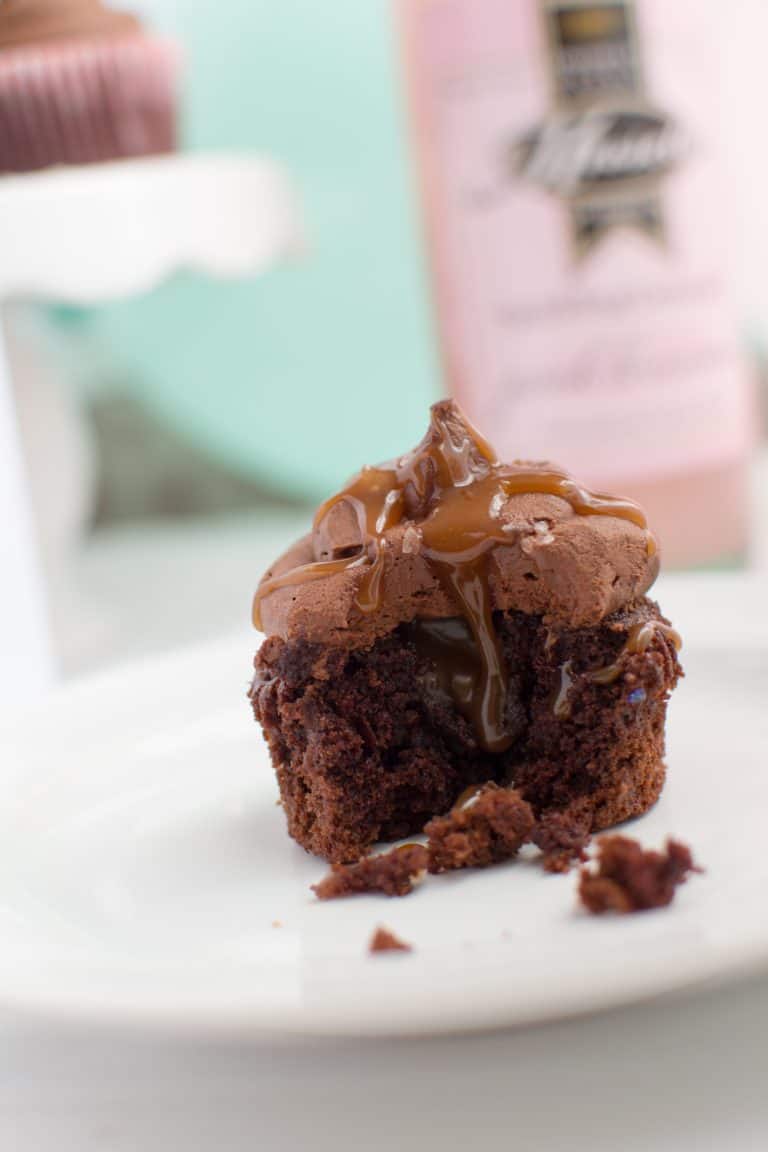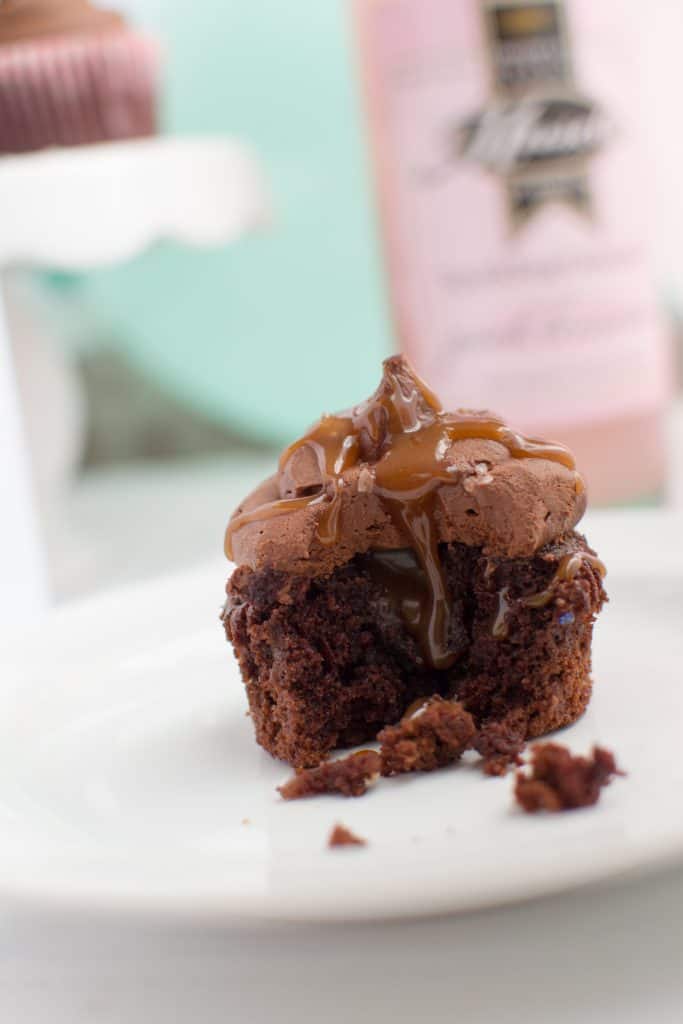 Being my first post-Frank creation/thank you gift to the radiation staff at MGH, I wanted to go big or go home. For what was a rather personal journey made public, I would like to think mission accomplished for all of the above.
These cupcakes are big on flavor, texture and balance of salty and sweet with an ooey, gooey bonus in the middle...best to be eaten in yoga pants. Which is exactly what happened when it rained the entire post-Frank celebration weekend at the lake house.
::insert sigh and eye roll::
But a little rain didn't stop us from a successful weekend of late night acoustic sing alongs, swimming with the misty morning like something out of a horror movie, drunken Uno, and being Irish good-byed by your friends in the middle of the afternoon so they can take a nap. Not to mention all the snuggle time you could ask for watching terrible movies.
Salted Caramel Chocolate Cupcakes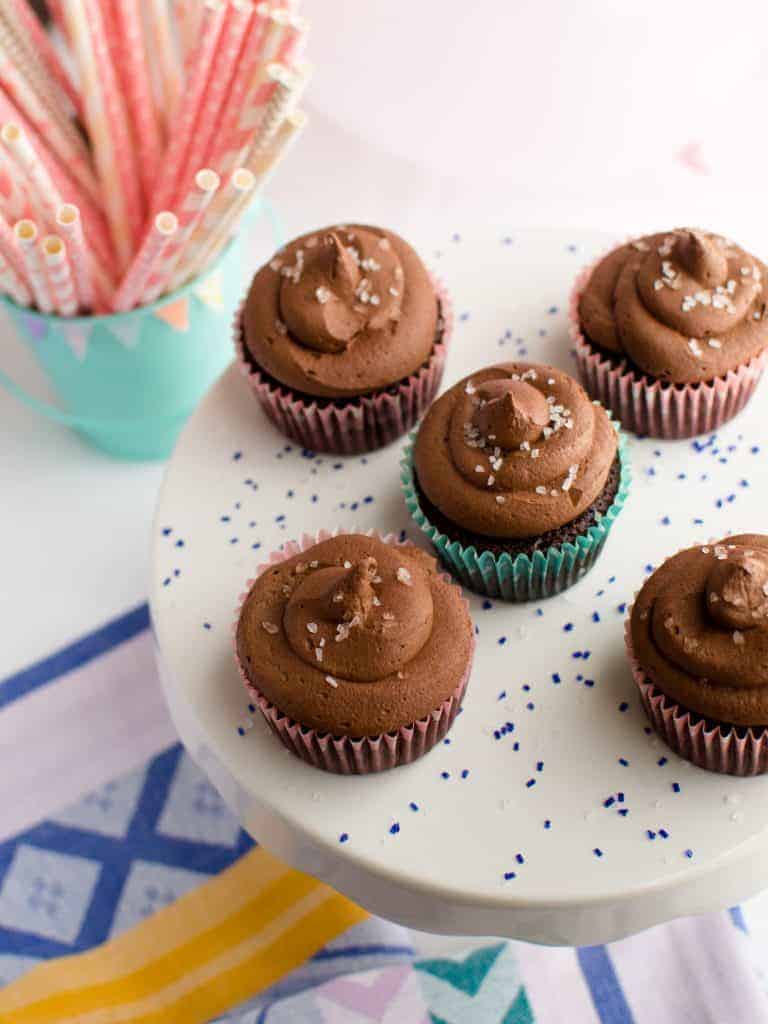 But back to the cupcakes. Soft chocolate cupcakes stuffed with gooey, sweet, salty caramel snuggled under a fluffy cloud of dark chocolate buttercream. Because the only way to improve a chocolate cake is to stuff it with something, obvi.
Have you ever met a cupcake you didn't like? If you have, well, I don't think I can relate, and it makes me sad for you. 'Obsession' would be a good way to describe this chocolate cupcake recipe. Simple, quick and without any wacky ingredients, this homemade recipe yields about 30 cupcakes.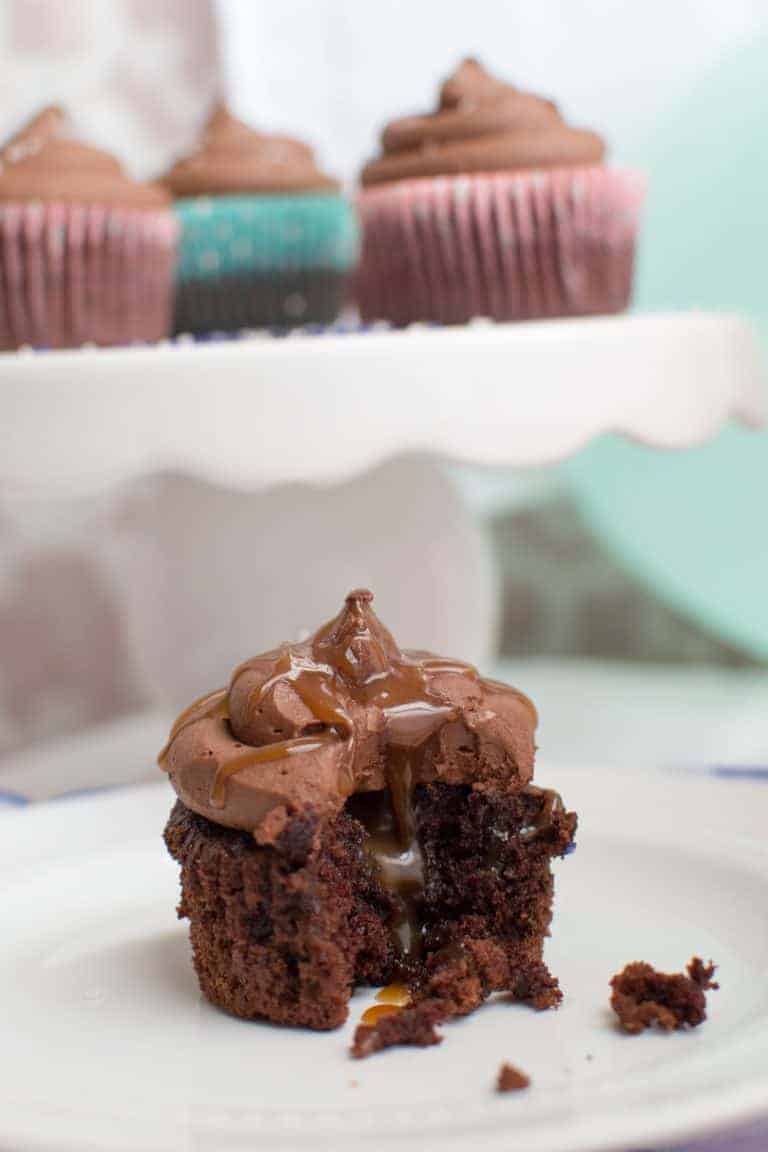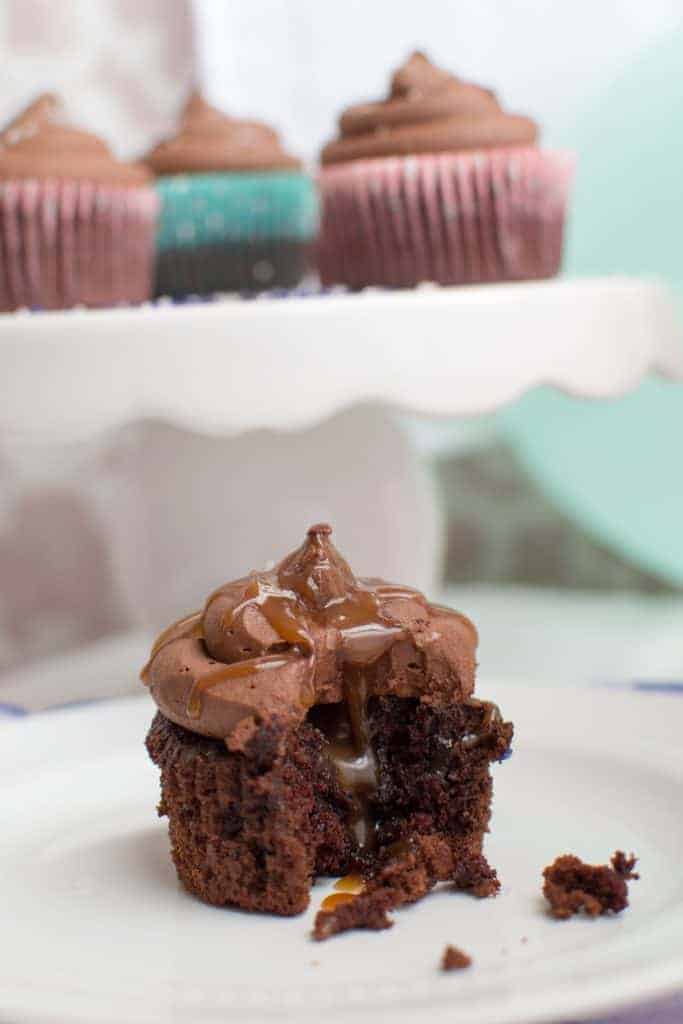 The salted caramel is a bit more involved but will yield tasty results worth every effort. And plenty of it...think ice cream sundaes, apple slices, store it in a mason jar for a last minute gift, oh the possibilities! Unfortunately you will need a candy thermometer to get the right consistency, but for the cost you can get a lot of use out of them.
If the thought of bringing thermometers into the mix is just too much, here's a great recipe from Sally's Baking Addiction that is simple and delicious: Homemade Salted Caramel. This recipe does produce a slightly thinner caramel than the recipe below so the caramel center may be just a touch runnier upon consumption - no complaints here!
The chocolate buttercream provides a great texture and a rich flavor from the use of melted chocolate over pounds of confectionary sugar. With the sweetness of the caramel the dark chocolate is just the right balance of sweet, but if dark chocolate is not your thing, substituting semi-sweet or even milk chocolate chips are an easy swap. A little sprinkle of sea salt flake or larger sea salt pieces provide an eye-appealing and simple decoration, but also compliment the dark chocolate frosting like a good friend. So I say, be like sea salt and make these for your friends.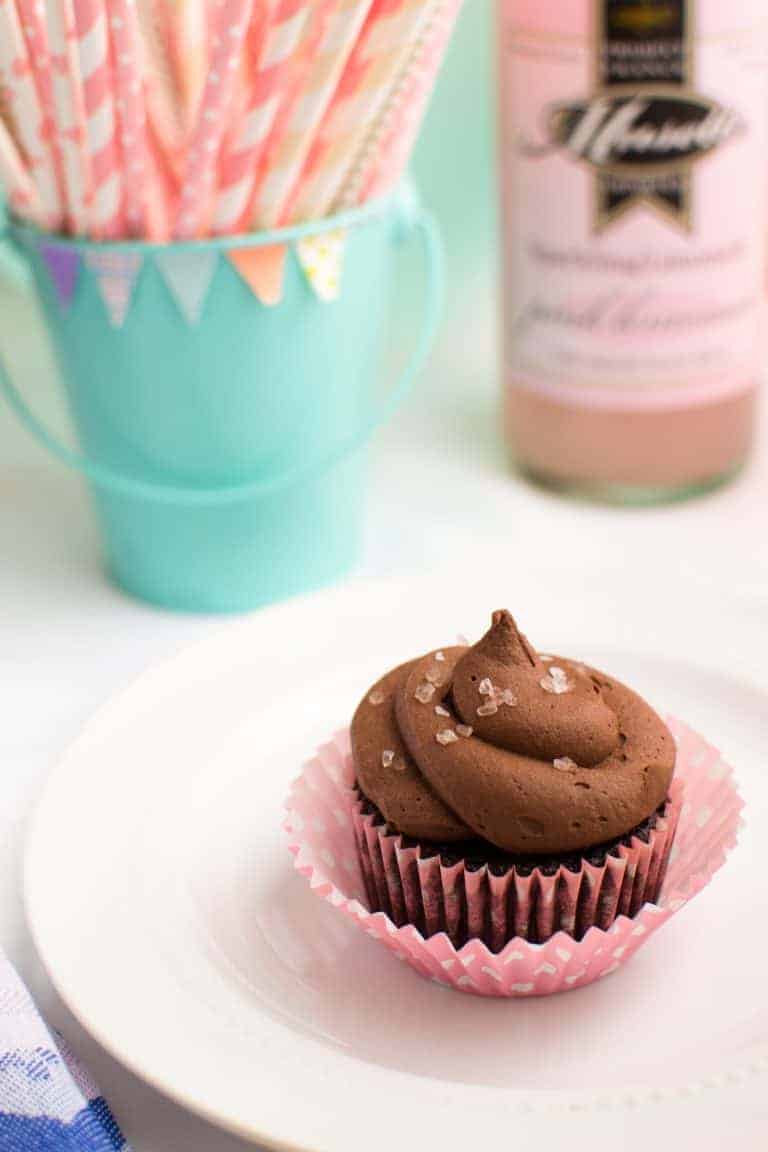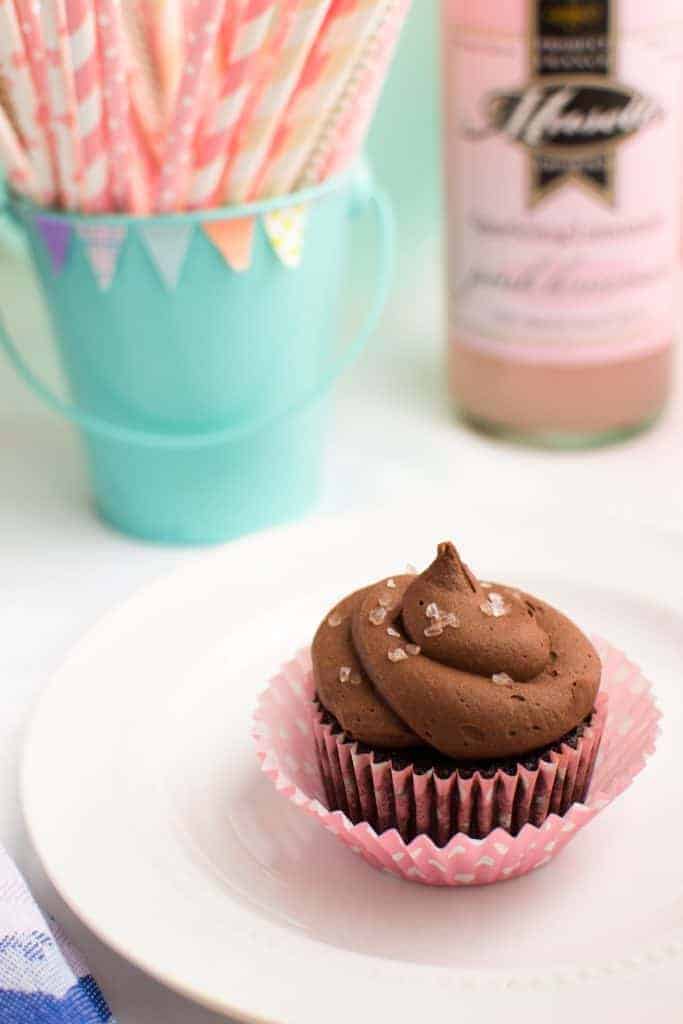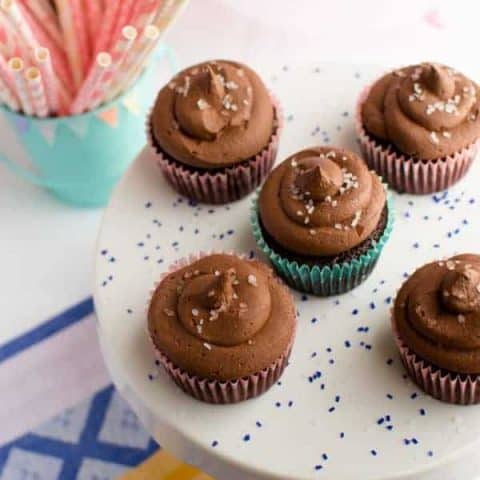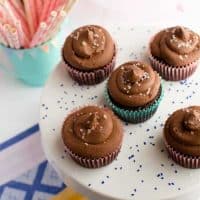 Salted Caramel Stuffed Chocolate Cupcakes
Salty, gooey caramel is the perfect surprise stuffed inside this fluffy, chocolate cupcake!
Print
Pin
Rate
Ingredients
For the cupcake:
1 ¾

cup

all-purpose flour

2

cups

granulated sugar

¾

cup

cocoa powder

1 ½

teaspoons

baking powder

1 ½

teaspoons

baking soda

2

eggs

½

cup

vegetable oil

1

cup

whole milk

2

teaspoons

vanilla extract

1 ½

teaspoons

espresso powder

(optional)

1

cup

boiling water
For the caramel:
4

cups

granulated sugar

¼

cup

light corn syrup

¼

cup

water

2

cups

heavy cream

1

teaspoon

course salt

2

sticks

cold unsalted butter

(cut in rough tablespoon pieces)
For the frosting:
¼

cup

plus 2 tablespoons cocoa powder

¼

cup

plus 2 tablespoons warm water

3

sticks

unsalted butter

(room temperature)

1 to 1 ½

cups

confectioner's sugar

1

10-ounce bag

dark chocolate chips

(melted and cooled)

course sea salt for sprinkling
Instructions
For the cupcakes:
Preheat the oven to 350F and line muffin tins with paper liners. Set water to boil either using a tea kettle or sauce pan.

In a mixing bowl add flour, sugar, cocoa powder, baking powder and baking soda. Mix until combined.

On low speed add eggs, milk, oil, vanilla and espresso powder (if opted for). Bring to mix on medium speed for 2 minutes, scraping the bowl if needed.

Add the boiling water and mix until combined, about 1 minute.

Fill cupcake liners ¾ of the way and bake for 20-22 minutes or until a toothpick comes out mostly clean, rotating pans halfway if oven heat is uneven.

Remove from baking tins. Allow to cool and remove the 'core' of the cupcake. If you do not have a cupcake corer, a metal piping tip (1M) also works well.
For the caramel:
Add the granulated sugar, water and corn syrup to a heavy bottom, large sauce pan. Without stirring, cook over medium-high heat for 13-15 minutes until the mixture turns a dark amber. If working with a gas burner that has a 'hot spot', turn the pan throughout the cooking process so the sugar on the hot spot does not burn.

Remove from heat and slowly stir in heavy cream. Mixture will bubble, be sure to use a large enough sauce pan and avoid getting any splatter on your skin. Stir until smooth.

Return the pan to medium heat and cook until the mixture reaches 240F on the candy thermometer.

Once the mixture reaches temperature, immediately remove from heat and stir in course salt. Stir in butter, one piece at a time, stirring until all butter has dissolved before adding the next cube.

Will yield about 4 cups of caramel, allow to cool slightly (about 5-10 minutes) and add 1 ½ cups caramel to a small piping bag. Cut off a large enough tip to fill the cupcakes, but not so large the caramel will drip all over in between cupcakes. Piping bag may be hot, have a kitchen towel available.
For the frosting:
Prior to making the frosting, melt the chocolate and allow to cool (10 minutes.)

In a small bowl whisk together the cocoa powder and water until cocoa dissolves.

With a mixer, beat together the butter, 1 cup of confectioner's sugar and a generous pinch of kosher salt until pale and fluffy.

Add the melted and cooled chocolate and beat on medium speed for 2 minutes. Additional confectioner's sugar can be added after incorporating the melted chocolate if frosting is too soft or for additional sweetness.

Transfer to a piping bag with a round tip to frost the cupcakes, sprinkle with flake or large sea salt crystals for decoration.
Nutrition
Calories:
451
kcal
|
Carbohydrates:
56
g
|
Protein:
2
g
|
Fat:
26
g
|
Saturated Fat:
17
g
|
Trans Fat:
1
g
|
Cholesterol:
74
mg
|
Sodium:
95
mg
|
Potassium:
86
mg
|
Fiber:
1
g
|
Sugar:
49
g
|
Vitamin A:
733
IU
|
Vitamin C:
1
mg
|
Calcium:
43
mg
|
Iron:
1
mg