Halfway, baby! We are halfway done with radiation. Well, technically just over the midpoint - 14 days left. If you're curious what treatment is actually like, it's really very quick, efficient and simple. We drive to Mass General Hospital, head to the Proton Center, I scan my card upon arrival and about 5 to 10 minutes later they call me in to 1 of 4 rooms used for proton radiation therapy.
Typically I see the same 4 to 5 people every day for my treatment. We joke, we talk about restaurants, plans for the week, I yell at them for putting country music on - the atmosphere is light. I lay on the table with my complementary warm blanket and they snap me into that god forsaken mask that is so perfectly molded to my face it squishes my nose and leaves a waffle print on my forehead for 30 minutes post-treatment.
Sometimes I'm thankful for all those MRIs leading up to this, the 'mind over matter' mantra most certainly helps from freaking out. Two sessions of radiation that take about 10 to 15 minutes. Occasionally a little longer if we have to wait a while for the beam. And that's it, quick, efficient and simple.
For the most part, the attack against Frank has been pretty manageable. Lots of nausea. Like 1st trimester morning sickness all over again without the rally that you're growing a human. A few other minor side effects, but I try to look on the bright side. I'm taking more naps now since college, so that's nice. Also, once treatment is over I'll have an awesomely creepy ice mold that I whole heartily plan on using at the post Frank party to have my face starring back at everyone out of the punch bowl. See? Bright side.
Of course there are some things I could live without, like the ulcer in the back of my mouth and the fact that I went from exercising 4 or 5 days a week to maybe going to yoga once a week. Exercise had become my stress release over the last two years, so if in the next 3 weeks or so I freak out on you don't take it personally. But most of all, I could do without today. Today, I discovered I am starting to lose hair.
You can't tell, but I can. Which clearly means I am neurotically obsessing and checking out my barely noticeable bald spot every trip to the bathroom. When you are continually consuming hydrating beverages because radiation makes you constantly thirsty, it's a lot. It's superficial and with my hair down it's 100% unnoticeable, but to run my fingers through my hair and have substantial amounts of hair woven through them is anxiety inducing for me.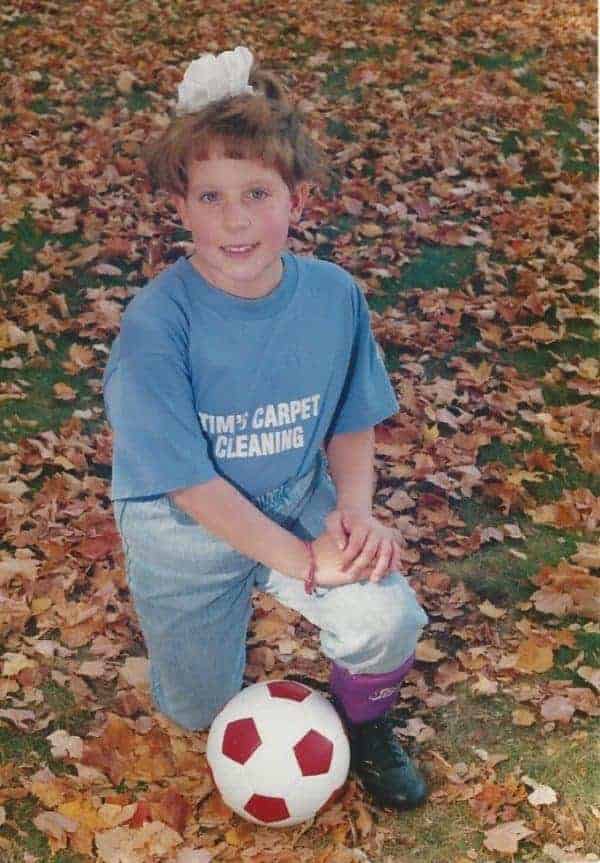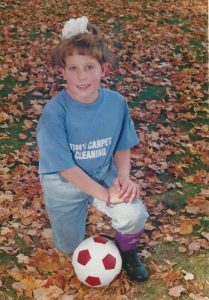 When I was little, I had a bowl cut for most of my young life usually accompanied by a big floppy bow. If you think I'm kidding, check out this photo of me in my soccer uniform. Nothing says "ready to play" like my stylish bow. Jokes aside, I loved it and I was a terrible soccer player anyways. My mom knew it, but she was kind enough to support my lousy attempts at sports. She indulged my love for the bowl cut, but gave me the parental guidance to escape the 'rat tail' trend. Learning how to laugh at yourself is a wonderful thing to do. Though I now look back at those photos with loving amusement, I have also kept my hair length past my shoulders for most of my adult life.
So on a Friday night, halfway through 30-days of proton radiation therapy, I am standing in the bathroom raking my hands through my long, blonde hair, shaking the shedding strands from my hands into the toilet. There were almost tears. Then common sense came knocking. This was always a possible side effect and it's only hair. It grows the F back. And that shave half your head thing is apparently still trendy. There is a plan. And my current plan is to paint my nails Malibu Barbie Pink so I physically cannot touch my hair. So for now, that's my plan, nail polish and a mantra to look on the bright side...at least it's not a bowl cut.