Bring on summer! These rose push pops are the perfect adult cocktail to feel like a kids again. Easy to make and even more fun to enjoy, these rosé wine infused push pops are the perfect fun cocktail for pool parties and cook outs.
Bah Bah dah dahn da da da-nana nana. Push it real good.
This post contains affiliate links.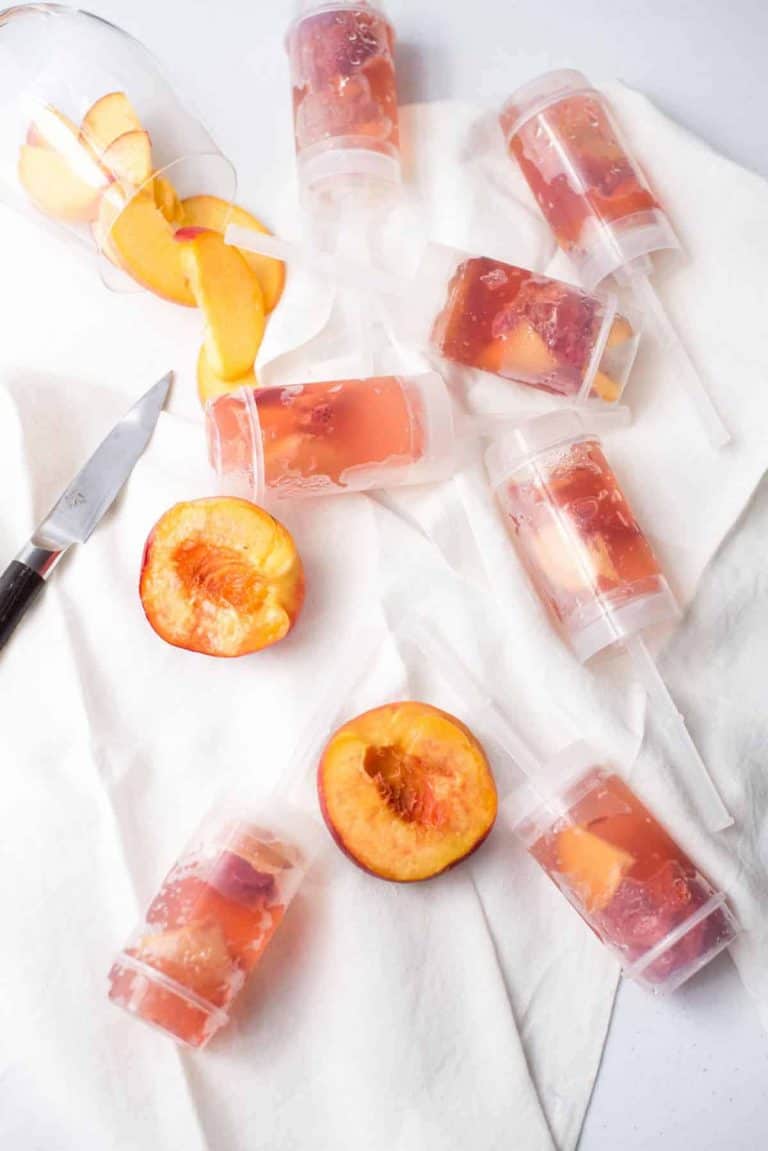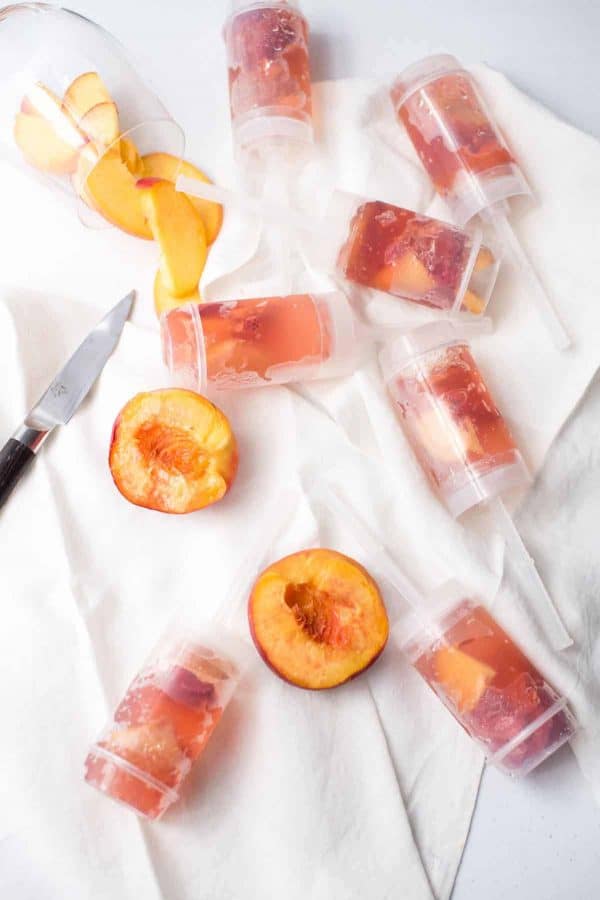 Rosé? Love it. It's pink, it's delicious, and it's wine. On a beautiful summer day, we want rosé and brunch and, hell, maybe even a little avocado toast. We didn't want that mortgage anyways.
And if we thought just plan ole' rose was good, we weren't thinking big enough. Because then came Frosé. And the whole world stopped to truly soak in all the mind blowing lighting up the sky. These Lavender Peach Wine Slushes were jam central this summer. Were. Until a more explosive option presented itself. Rosé Push Pops.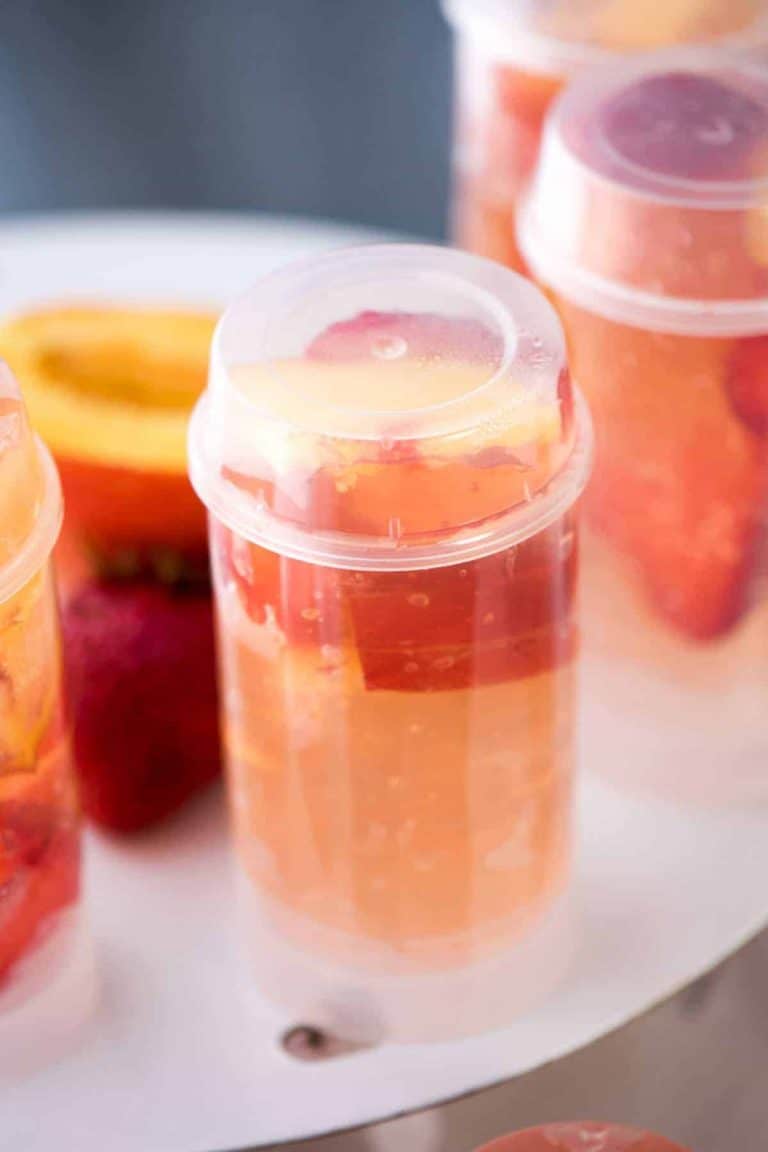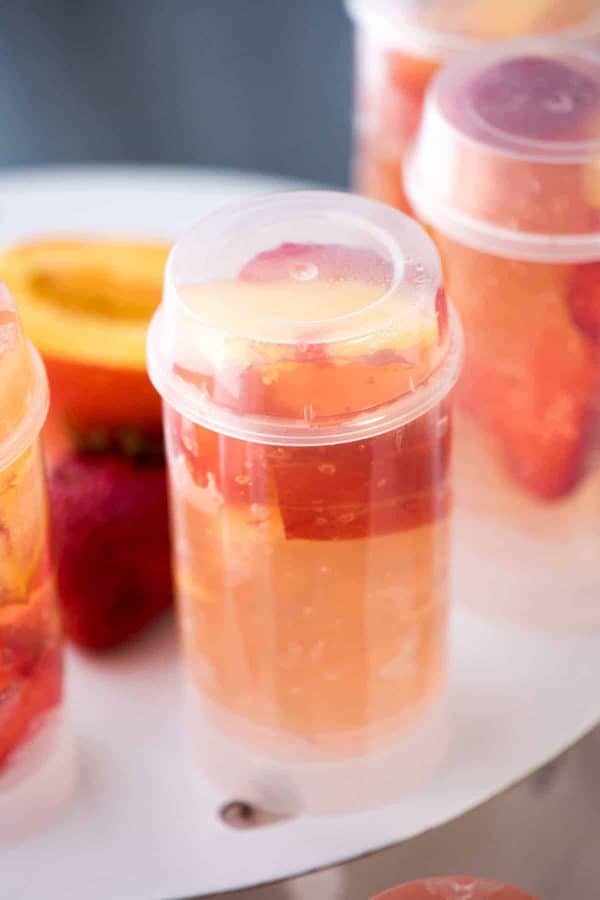 How is that possible??
Rosé + Gelatin + Amazon.
Gah, Amazon, you never fail me. You bring me two day free shipping and awesome plaid blanket scarfs. Cake decorating supplies, and oh, right, push pops.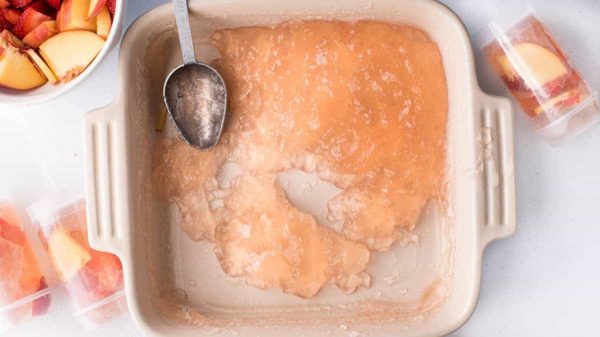 play with your food cocktails
If you've always been a 'play with your food' or a lover of interactive food, these rosé push pops should be next on your list. They're like classy jello shots. And you don't have to awkwardly use your finger to loosen the jello from the cup or do weird things with your tongue to get it out. Total win.
Besides that, they're a breeze to make. Just see for yourself:
To grab these containers, just head on over to Amazon for these Round Push Pop Containers
. They're eligible for Amazon Prime and come pre-assembled. Swoon.
Or if you're into minis, they have cute little versions of the small style here
.
For a classy way to display your new summer treats, might as well toss this 3 Tier Push Pop Stand
in the cart. Do yourself a favor, don't fall for the cardboard one. It's like trying to build something from IKEA for push pops, but it's made out of cardboard and there are only three pieces. Somewhere over the summer, one of those things claimed a small piece of my sanity.
Ok, now that we've filled up our shopping cart, let's start making some Rosé Push Pops!
Rosé Push Pops
Rosé Push Pops aren't just fun to eat, they taste good too. Dry rosé wine brings the familiar flavors of our favorite summer pink drink. Peach liquor adds a perfect sweetness that borders on flavors of sangria, while the lemon adds the perfect pop of brightness and acidity.
Not to mention the fresh fruit snacks layered amongst all that tasty Rosé Push Pop goodness.
Seriously, its a drink and a snack all in one handy, dandy push pop. Look at you multitasking like a boss.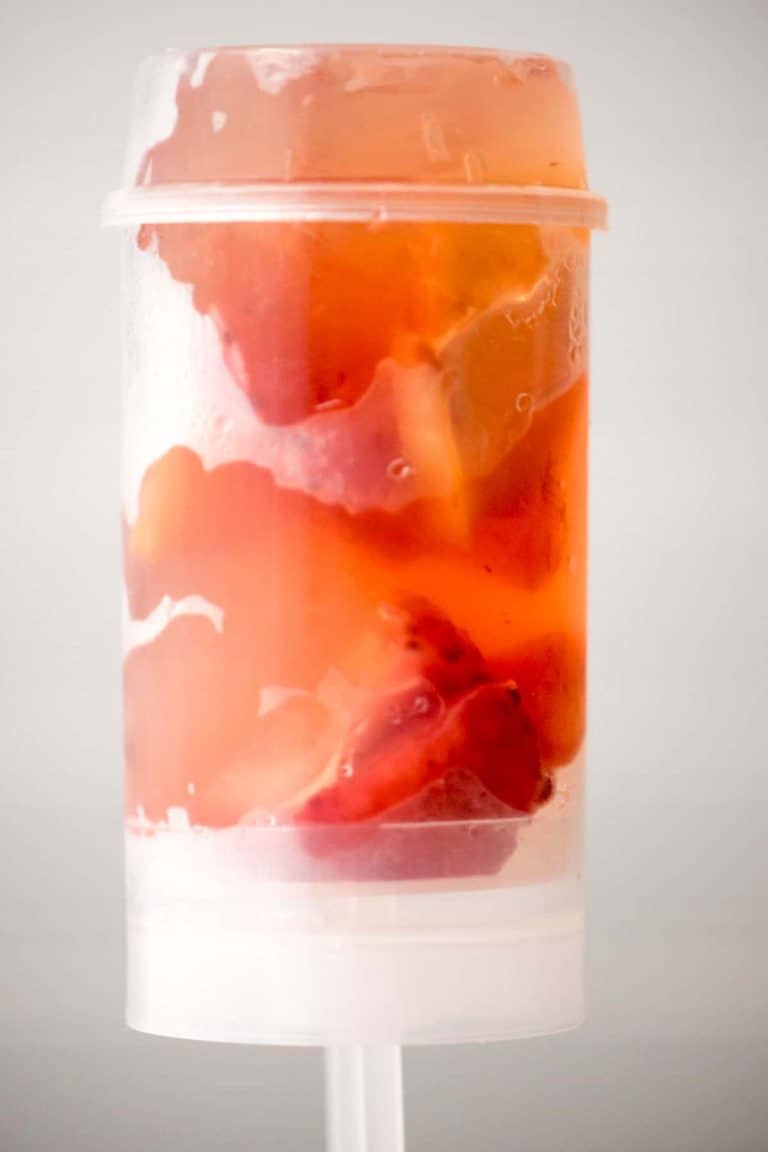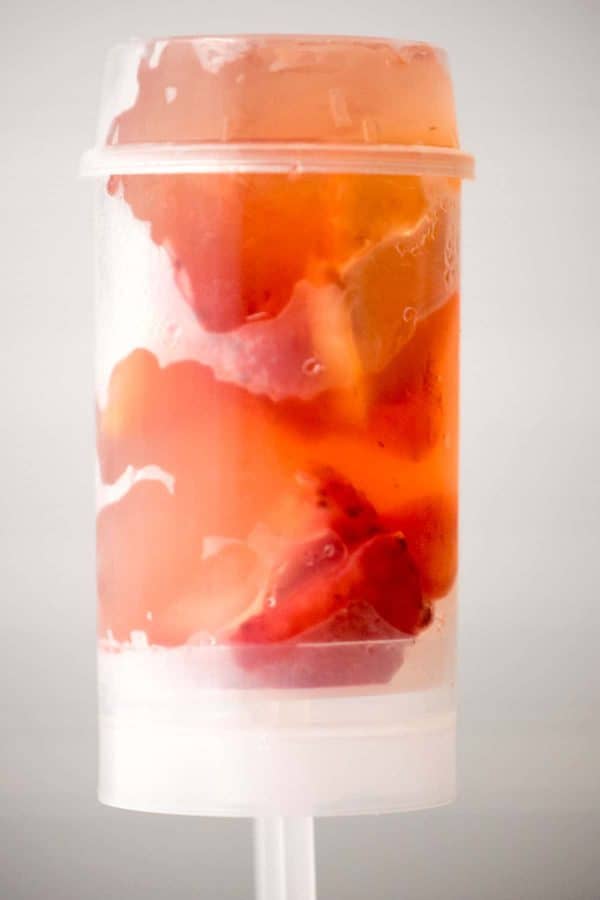 Labor Day is just around the corner, which means our rosé consumption is about to significantly decrease. As the weather shifts from warm summer nights to chilly fall mornings, we trade in our rosé for pumpkin spice lattés.
BUT, while the warm weather is still upon us bring on the rosé. Rosé Push Pops that is. End summer in classy, pink fashion by bringing these to your Labor Day cookout or gathering. Or just make them for home because, they're delicious and no one here is going to judge you.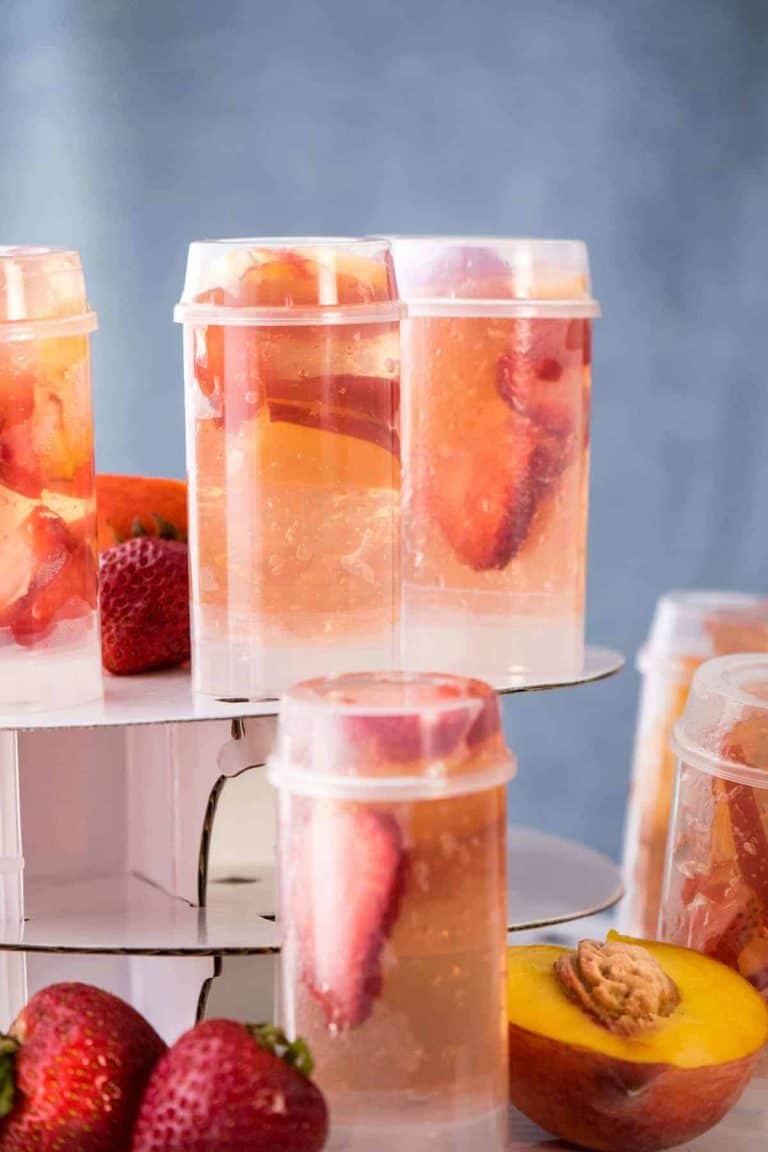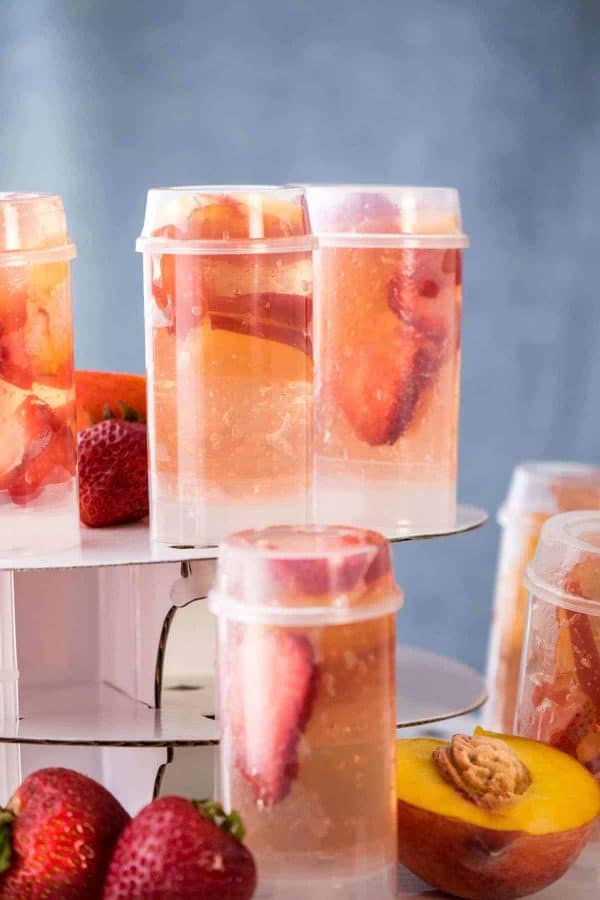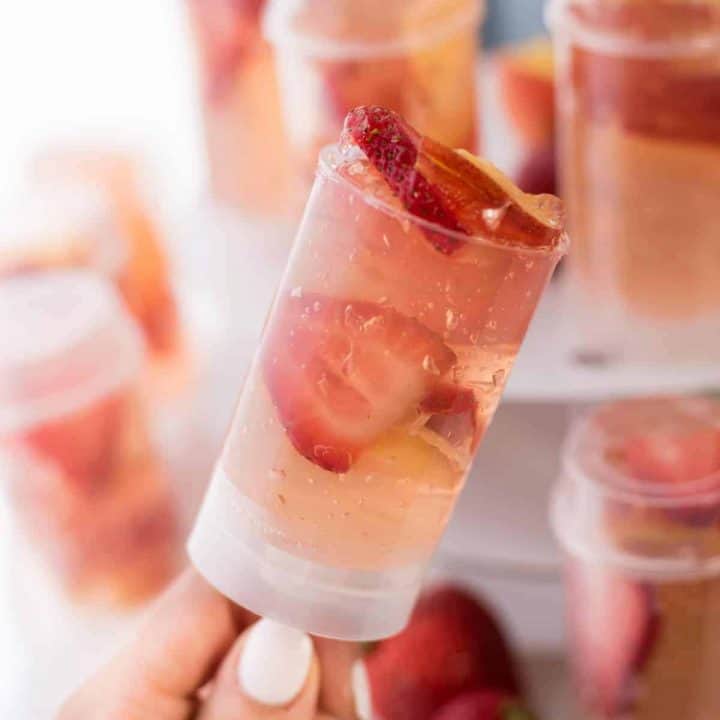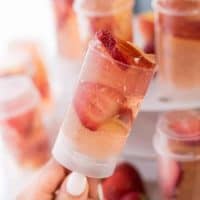 Rosé Push Pops
Dry rosé wine with sweet peach flavors and bright lemon make for the perfect, fun party treat.
Print
Pin
Rate
Ingredients
1

cup

lemonade

¼

cup

granulated sugar

4

packets Gelatin

½

cup

peach liquor

2 ½

cup

dry rosé wine

1

ripe peach

(pit removed, sliced thin)

3-4

strawberries

(sliced thin)

For 2 dozen push pops

(double recipe.)
Instructions
Store push pop containers in the freezer while preparing the push pop mixture.

Add lemonade and peach liquor to medium sauce pan. Sprinkle gelatin over the liquid. Let stand 3-5 minutes until absorbed.

Add granulated sugar and stir over low heat until all sugar and gelatin is dissolved.

Remove from heat, stir in rosé wine and immediately transfer to an 8x8 baking dish (9x13 if doubling the recipe).

Refrigerate 30 to 45 minutes, stirring every 10 minutes. Once gelatin starts to thicken, but not set, remove from refrigerator.

Remove the cap from the push pop, scoop rosé mixture into the pop half way. Add fresh sliced peaches and strawberries. Top the remaining space with rosé mixture.

Chill for 1 hour before serving. If you lay push pops flat, you may get a few 'holes' in the pop once they are chilled from air bubbles. For a full pop, uniform throughout, chill standing upright.
Nutrition
Calories:
99
kcal
|
Carbohydrates:
12
g
|
Protein:
1
g
|
Fat:
1
g
|
Saturated Fat:
1
g
|
Sodium:
4
mg
|
Potassium:
64
mg
|
Fiber:
1
g
|
Sugar:
10
g
|
Vitamin A:
41
IU
|
Vitamin C:
3
mg
|
Calcium:
6
mg
|
Iron:
1
mg