Cloud-like bites of fluffy baked dough coated in cinnamon, ginger, nutmeg, and clove and cloaked in a blanket of gooey butter, brown sugar, and molasses. Gingerbread monkey bread is an uncomplicated holiday dessert perfect for making with the kids!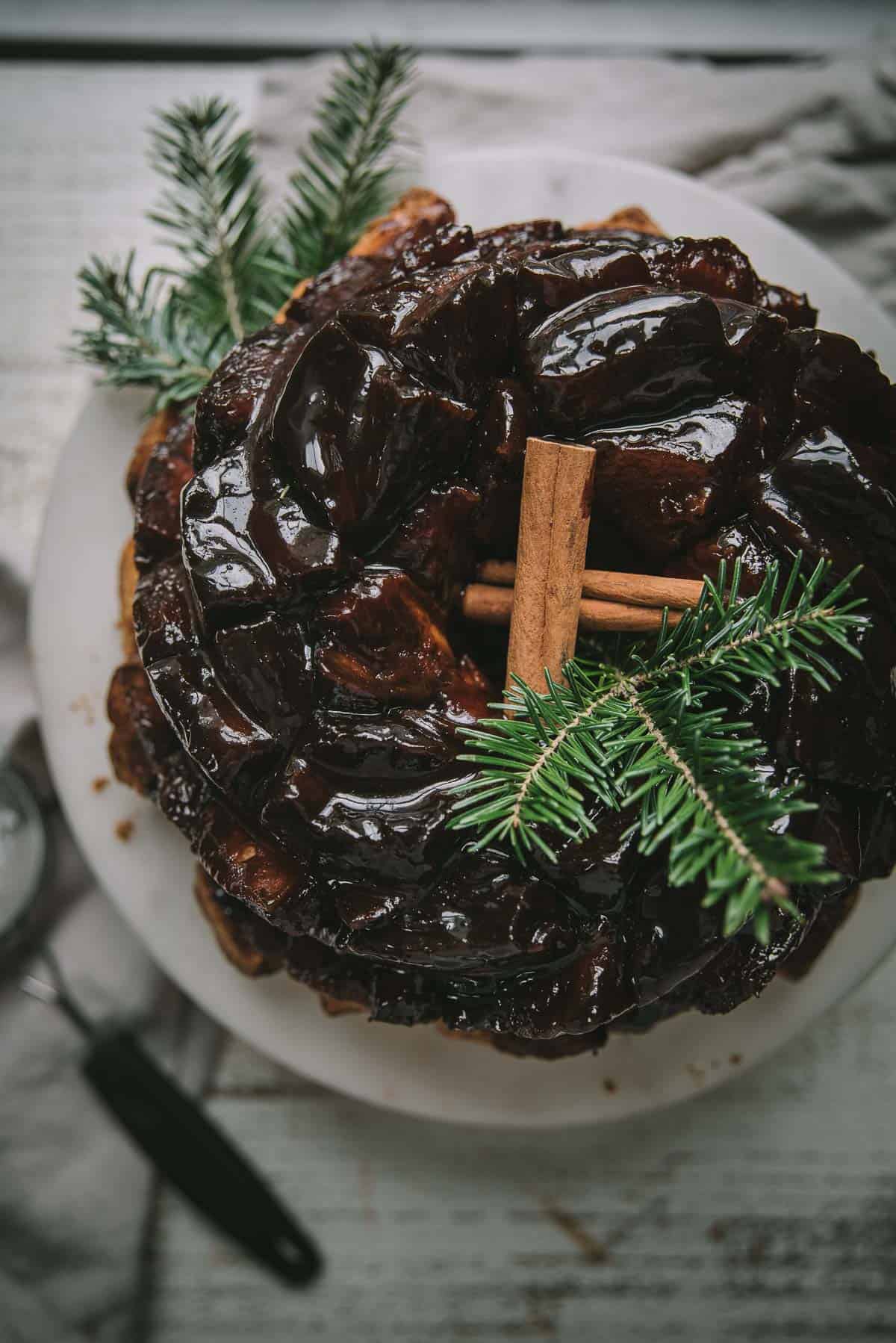 Slice it, pull it apart, eat it straight out of the pan....there's really no wrong way to savor these fluffy bites of gingerbread heaven.
Trust me. This holiday monkey bread tastes even better with how effortless it is to make.
If you love gingerbread - like the cookies, houses, lattes, etc. - and want an easy dessert to throw together, this is the one!
The whole 'desserts good to make with kids thing'....gingerbread monkey bread is where it's at! Monkey bread in general. Something about tossing those bites of biscuit in cinnamon sugar and throwing it in a pan is just so perfect.
It's easy, you get your fingers coated in cinnamon sugar, and the clean up is manageable. See evidence below.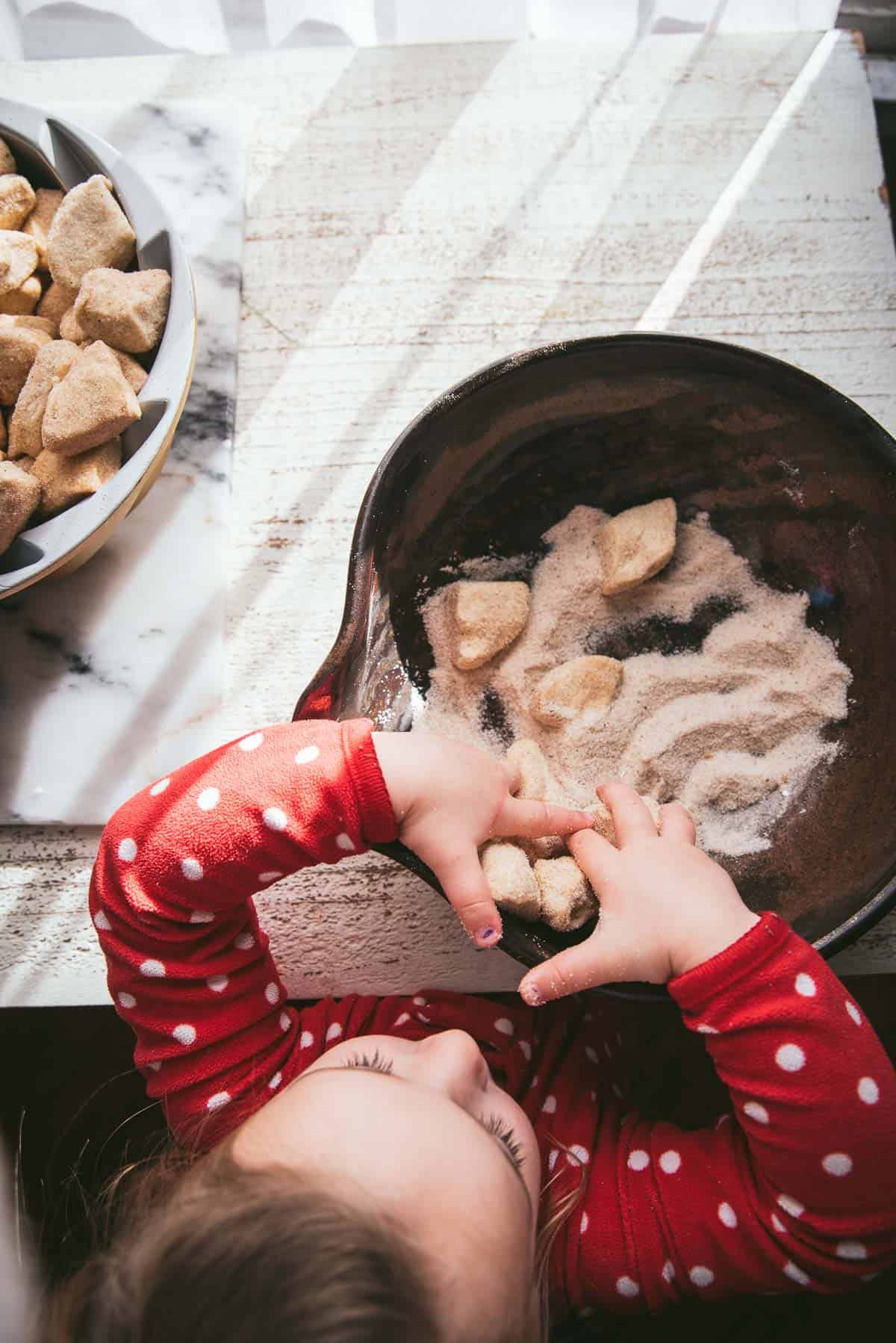 Besides the simplicity of the prep work, here are the other swoon-worthy attributes of this dessert:
gooey molasses
sweet butter and brown sugar
cinnamon and ginger spice laced in each bite
fluffy dough
Good for a crowd and great for just sharing with your family, the gingerbread spin on this classic dessert is just what December called for!
How to make Gingerbread Monkey Bread
Cut. Toss. Melt. Pour. Bake.
Easy shmeasy peasy friends.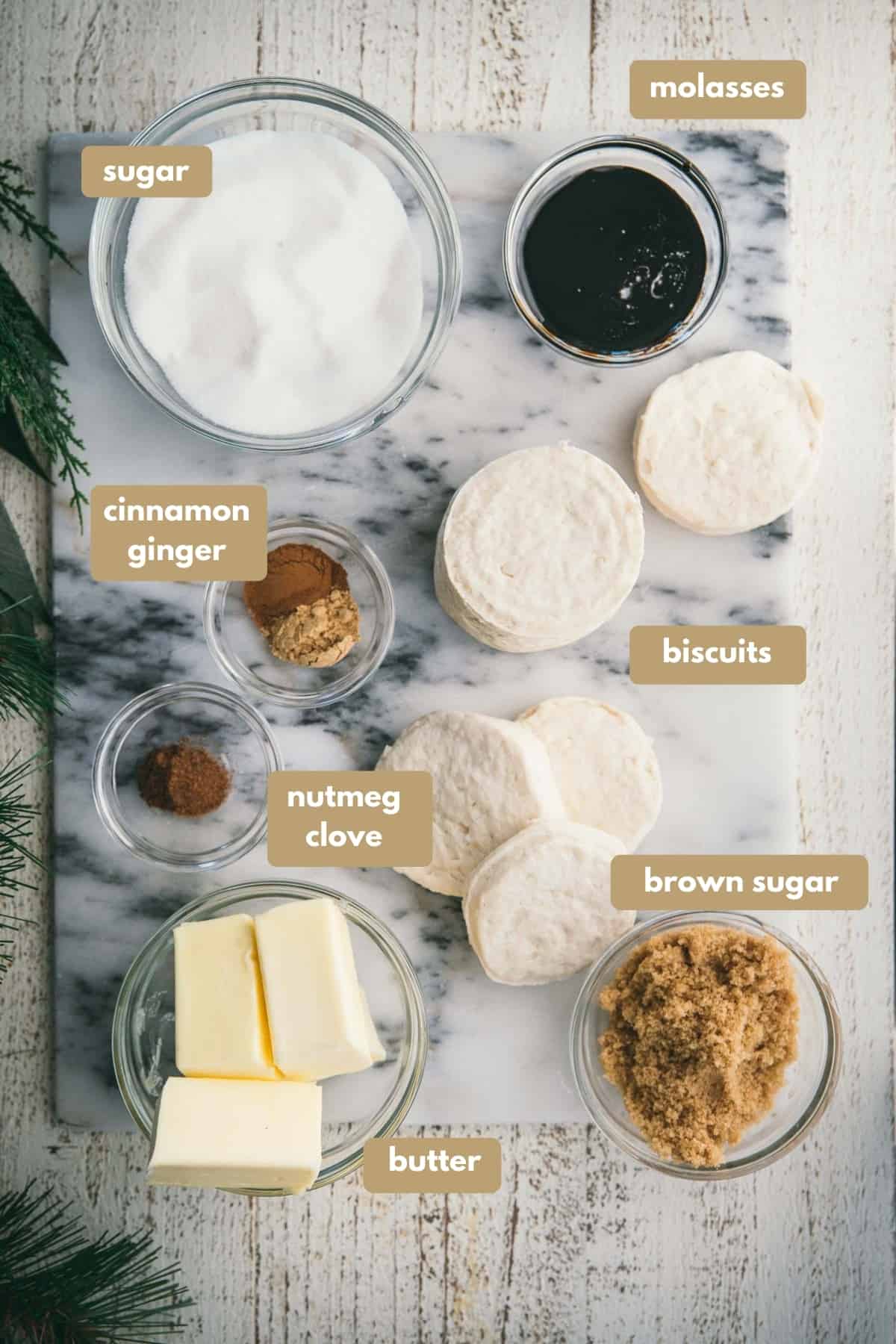 Step 1: Cut the biscuits into quarters.
Step 2: Mix the spiced sugar.
Step 3: Toss the biscuits with the sugar.
There are two ways you can do the sugar coating:
plastic zip bag
large bowl with your hands
I prefer to do the large bowl because it's less plastic and the kids like to do that part while I try to control my anxiety about them smooshing all the biscuits while overseeing the process.
But whichever method works for you, do that.
Step 4: Transfer them in a bundt pan!
Step 5: Cover with butter molasses and brown sugar and bake!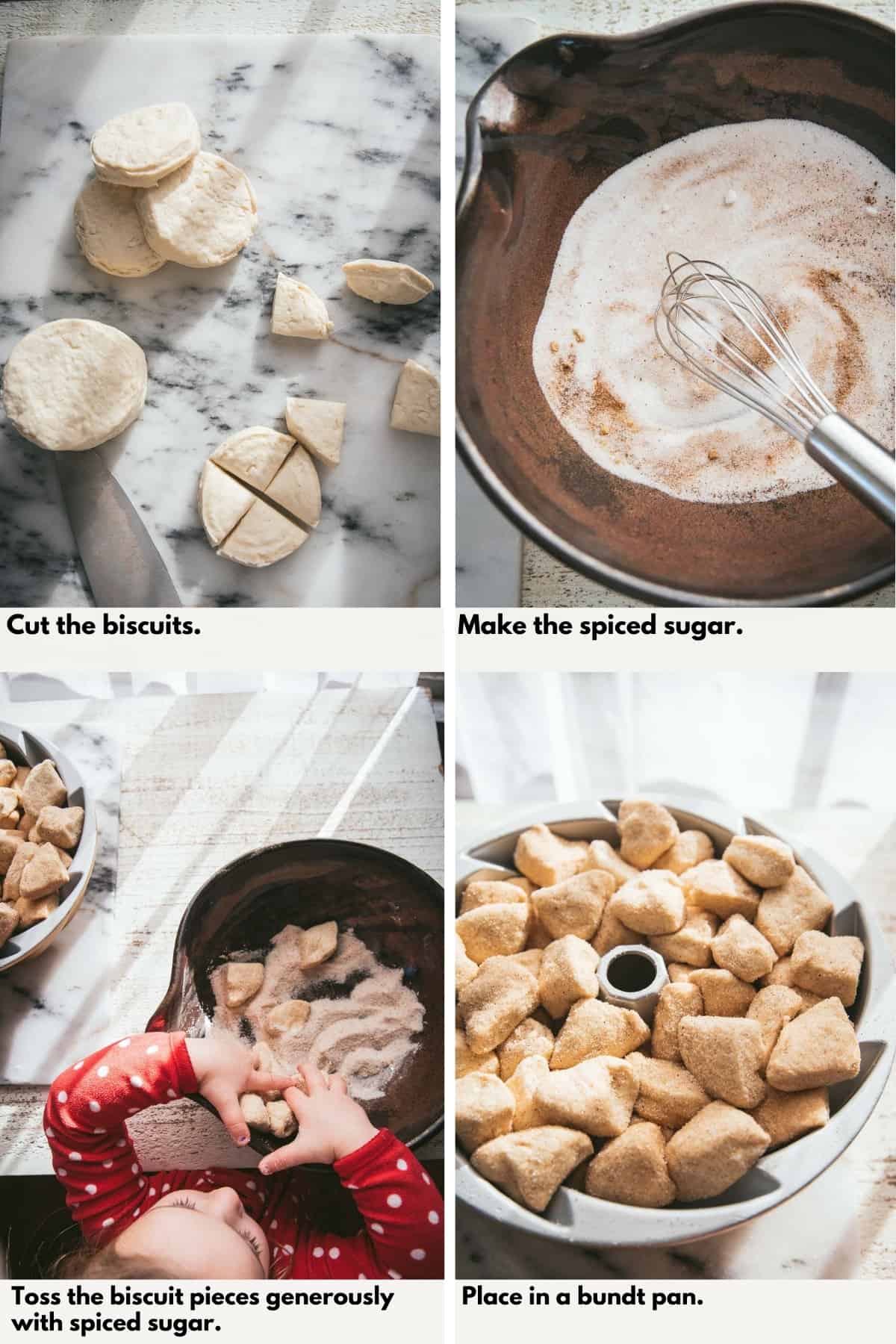 Do you need to grease the pan?
Nope! When that lovely bread comes out of the oven it will still be so gooey and delicious after cooling it will slide out of the pan...no greasing needed. Plus, there's a generous amount of butter in the recipe, so that certainly helps too.
Why do they call it monkey bread?
Because it's delectable to eat with your hands! Think back to 5th grade science when you learned about social grooming. You're essentially socially grooming this baked good.
Is that appropriate this year? Not in 2020, but if you're just sharing with the family you should definitely pick away at this gooey masterpiece.
How to tell if it is cooked?
There's a fine line in monkey bread and it's all about it the doneness. You want it soft and fluffy, but not undercooked. You also need to avoid overcooking it because you'll lose all that melty butter molasses coating.
To tell if you're monkey bread is done cooking, you can move a few pieces from the thickest part of the top of the pan to check for doneness. Or insert a long toothpick into the center of the dough. If it comes up sticky with uncooked dough, it needs more time.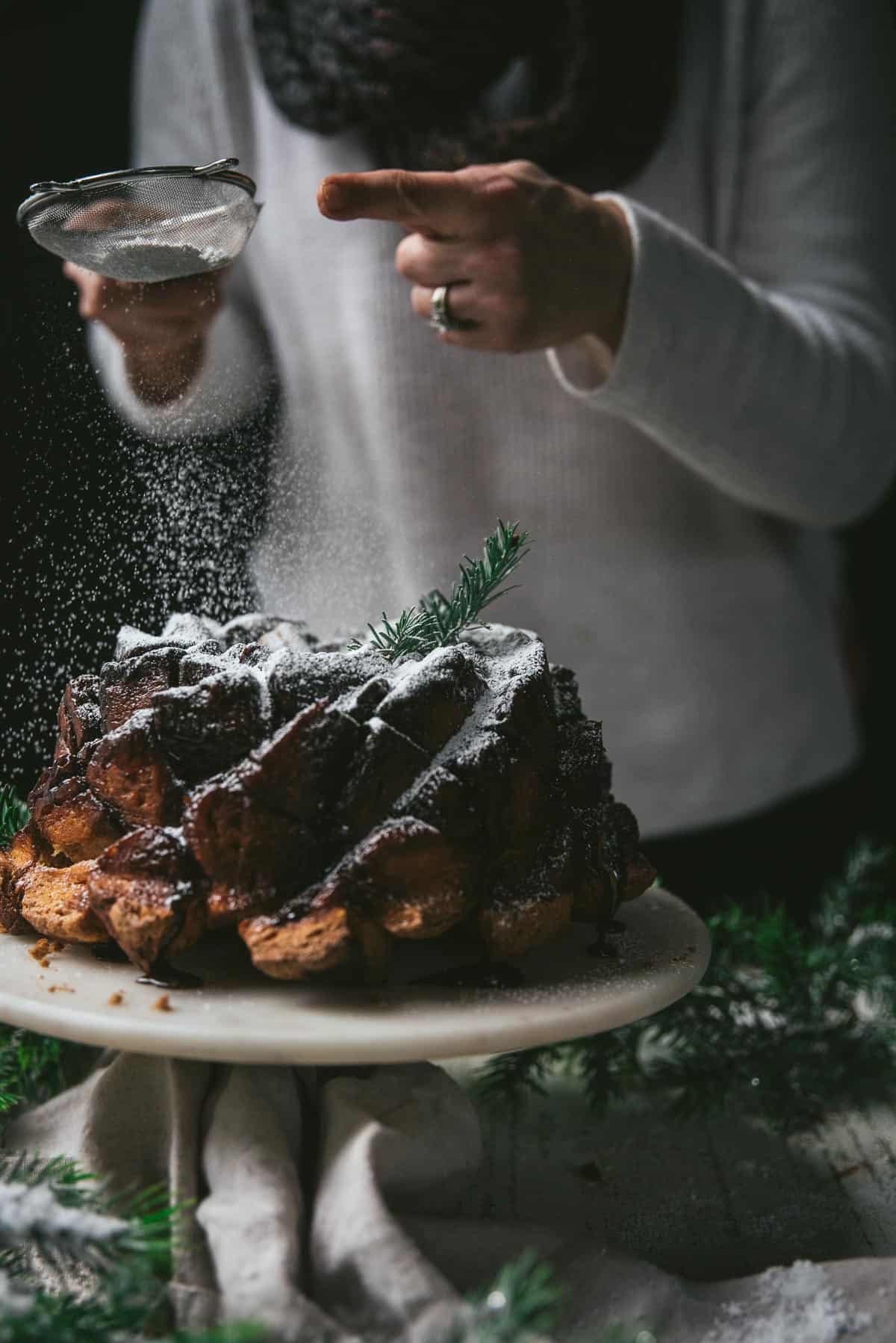 I've also found that bundt pan shape and thickness will affect cooking times. My Nordicware swirly bundt pan is thick and the shape makes for a bit longer of a cook time than my traditional bundt pan.
Also, keep in mind the cooling time because the dough will cook just a bit more in the warm pan as it cools.
Do you have to let it cool?
Yes! That butter, molasses, sugar combo is hot and thin! As it cools it will thicken. You want to wait at least 15 minutes before flipping this bad boy over.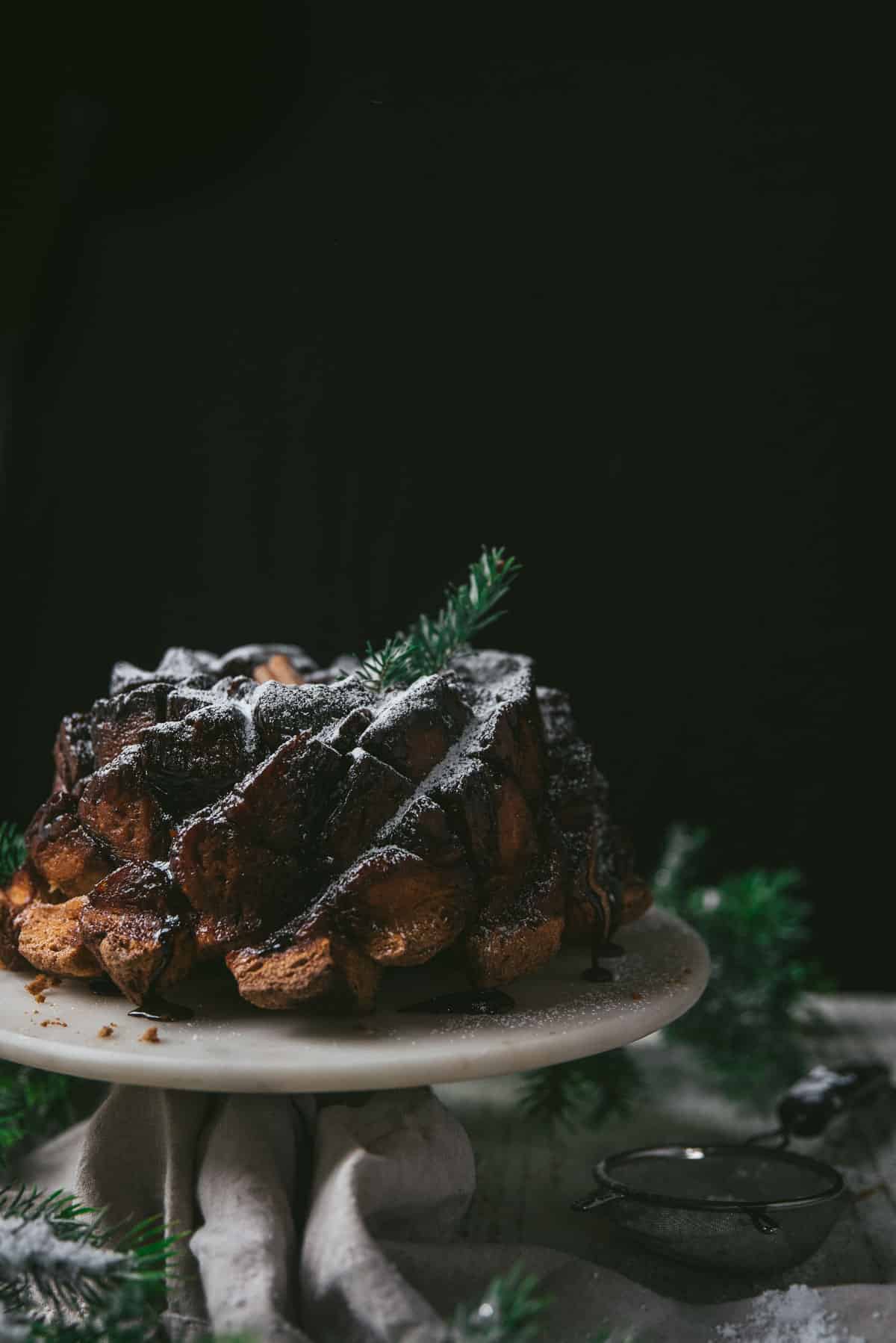 I recommend flipping it over onto a plate or a parchment paper-lined plate before transferring to a stand if you want to serve it fancy.
This will catch any of the sugary drippings so it doesn't end up all over your counter or table.
Once your gingerbread monkey bread is cooled and flipped, it's time to get down to business. Serve it right away!
Monkey bread is most delicious the day it is baked. You can store it in an airtight container in the fridge, but to be completely honest, it's not quite as good. If you are enjoying leftovers, be sure to heat them up a smidge first!
I like to dust mine with powdered sugar to give it a visual pop! It's sweet enough as is, but the molasses does make it a little dark so the stark contrast of the sugar is a nice look. You could also garnish with crushed gingerbread bark, toffee, or freshly grated nutmeg!
Did you make this recipe? Please tell me in the comments! If you have a photo to share, you can post it with the pin on Pinterest for others to take a look!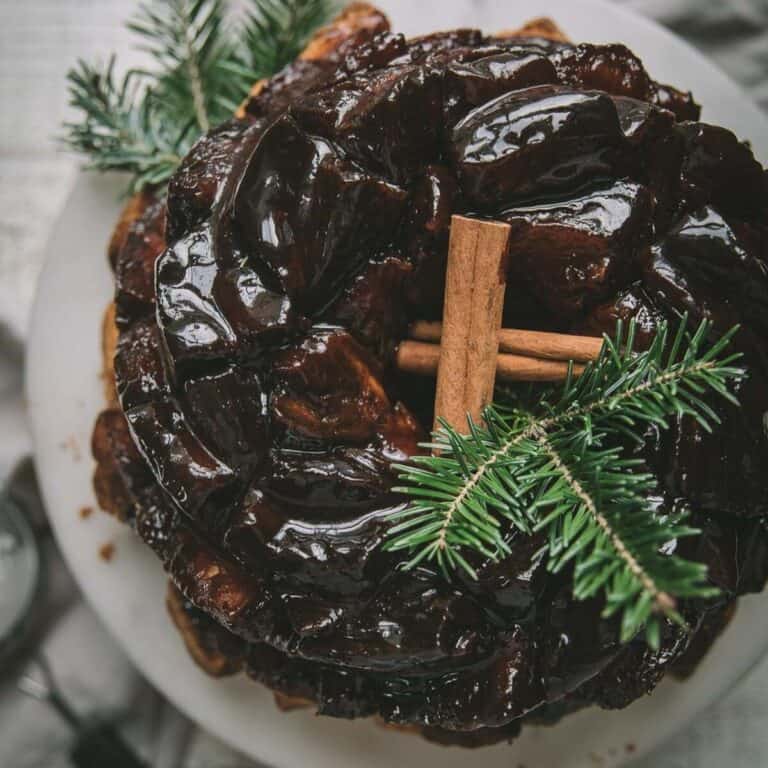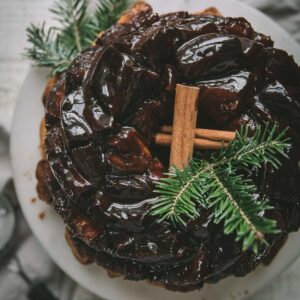 Gingerbread Monkey Bread
Gooey rich molasses with brown sugar and butter coated over spiced fluffy dough. We love this gingerbread monkey bread for its finger food snackability and as a great holiday dessert to make with the kid!
Print
Pin
Rate
Ingredients
3

cans

buttermilk biscuits

1

cup

granulated sugar

1

teaspoon

cinnamon

1

teaspoon

ground ginger

¼

teaspoon

nutmeg

¼

teaspoon

ground cloves

1

cup

unsalted butter

(2 sticks)

⅓

cup

brown sugar

¼

cup

molasses
Instructions
Prep the biscuits. Preheat the oven to 350°F. Cut each biscuit into quarters and set aside.

Toss with spiced sugar. In a plastic zip bag or in a large bowl, combine the granulated sugar, cinnamon, ginger, nutmeg, and cloves. Add the cut biscuit pieces, zip and shake or toss in the bowl to coat all sides of each biscuit piece with spiced sugar.

Make the bread. Place the spiced sugar-coated biscuit pieces in a bundt pan. In a saucepan, melt the butter, brown sugar, and molasses over medium-high heat whisking frequently. Once everything has melted and the mixture just starts to simmer, remove from the heat and pour over the biscuit pieces in the bundt pan

Bake. In a 350°F oven, place one race on the lowest rack with a sheet pan on it. Bake the monkey bread on the 2nd lowest rack for 40 to 50 minutes until the top has started to brown, using the sheet pan to catch any sugar that bubbles over. You can check the doneness of your monkey bread by inserting a toothpick into the thickest part, if it comes out clean your bread it is done. You can also move a few top pieces from the center top to check if the dough is cooked through. Let the pan cool for 20 minutes on the counter before flipping over on top a serving plate.
Notes
Baking times will vary depending on the shape, size, and material of your bundt pan.
Nutrition
Calories:
404
kcal
|
Carbohydrates:
47
g
|
Protein:
1
g
|
Fat:
25
g
|
Saturated Fat:
15
g
|
Trans Fat:
1
g
|
Cholesterol:
61
mg
|
Sodium:
105
mg
|
Potassium:
202
mg
|
Fiber:
1
g
|
Sugar:
42
g
|
Vitamin A:
710
IU
|
Vitamin C:
1
mg
|
Calcium:
45
mg
|
Iron:
1
mg