The best (and easiest!) way to make homemade applesauce is with your slow cooker! Crockpot applesauce is an effortless way to use up those extra apples from the orchard. Naturally sweetened with honey, perfectly spiced with cinnamon, and best of all it's so simple to make!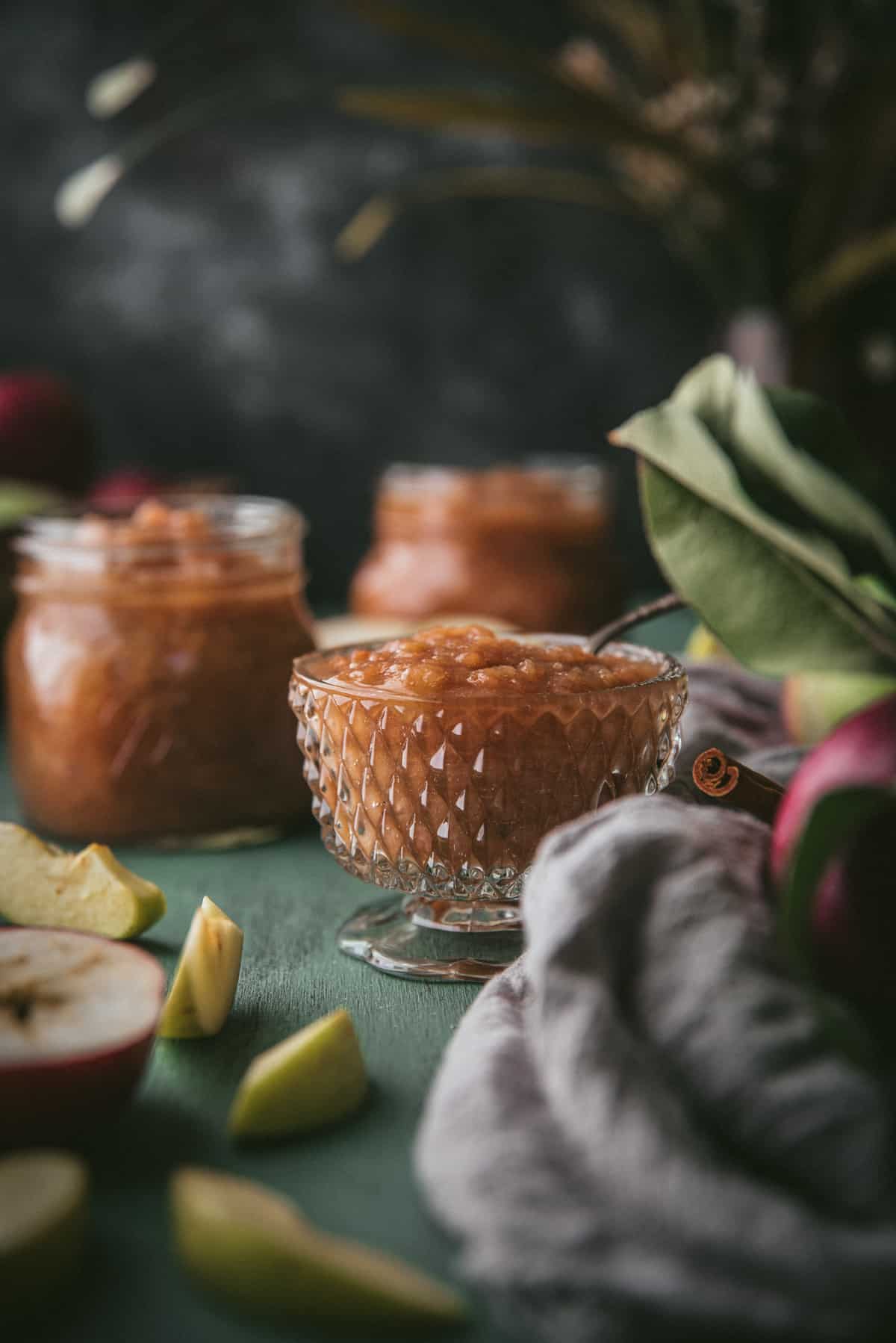 Fall is officially here now that we've got the crockpot plugged in and the trip to the orchard checked off the to do list.
If you haven't gone apple picking - don't sweat it! You can just grab some apples.
Slow cooker applesauce is so simple to make and only requires a few ingredients - you could almost make it in your sleep! You'll need just a few ingredients.
plenty of apples like mcintosh, macoun, or golden delicious
lemon juice
vanilla extract
cinnamon
water
honey
pinch of salt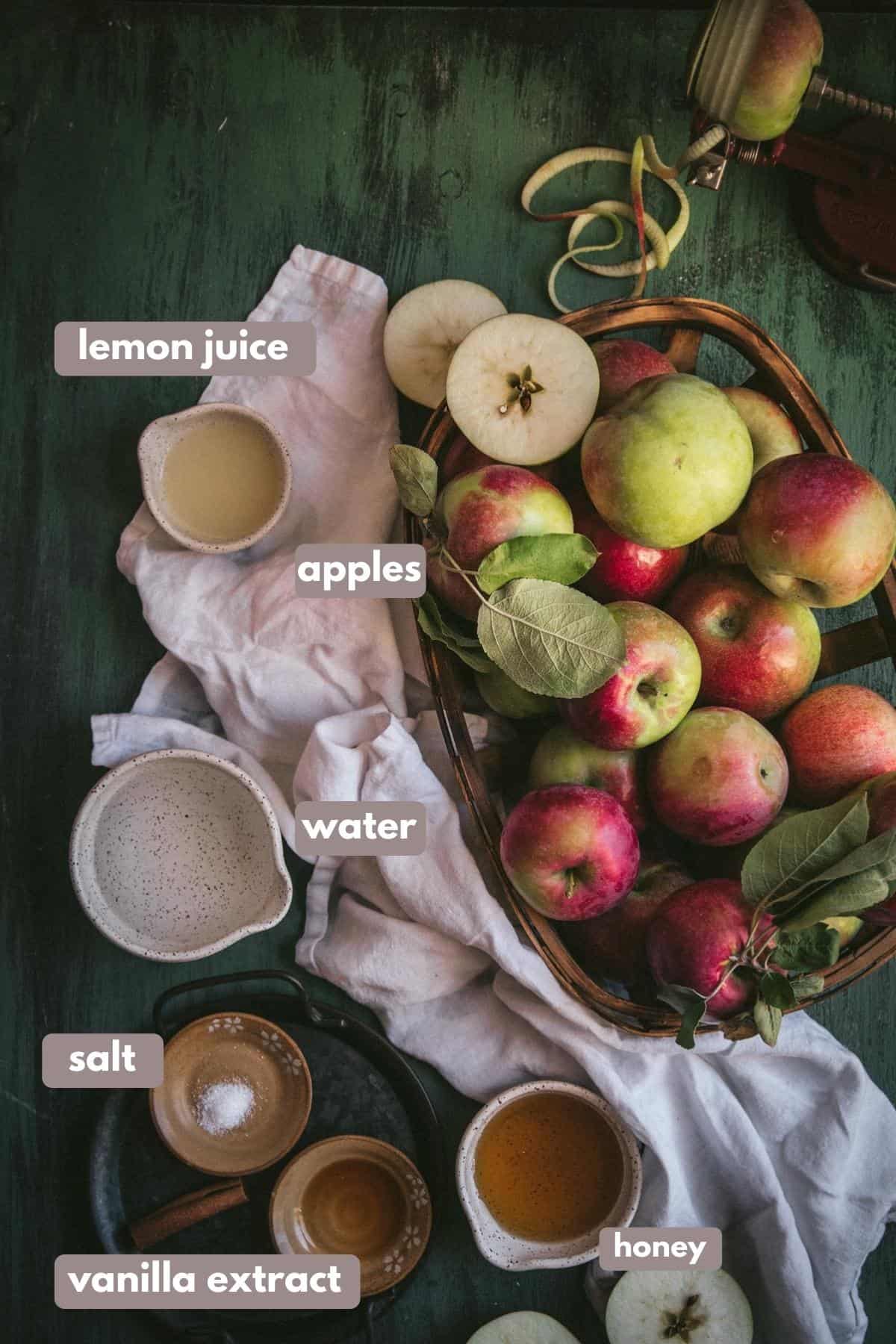 You can substitute maple syrup or brown sugar for the honey to make a vegan version or leave it out altogether for unsweetened applesauce.
Do you need a lot of apples to make applesauce?
For this recipe, you'll need about 16 medium-sized apples - or about 12 cups once they're peeled and diced.
My absolute favorite kitchen gadget during apple season is this apple peeler (affiliate link) corer, and slicer all in one. Just stick an apple on, spin and cut in quarters. So fast!
Rustic vs smooth texture
When peeling and cutting your apples, decide what kind of texture you'd like your final crockpot applesauce to have. Keeping the apples in larger slices with result in a chunkier, more rustic applesauce.
The slow cooker will break down the apples as it cooks over continuous low heat. If you leave the apples in larger chunks, it will keep some of those pieces in tact after stirring.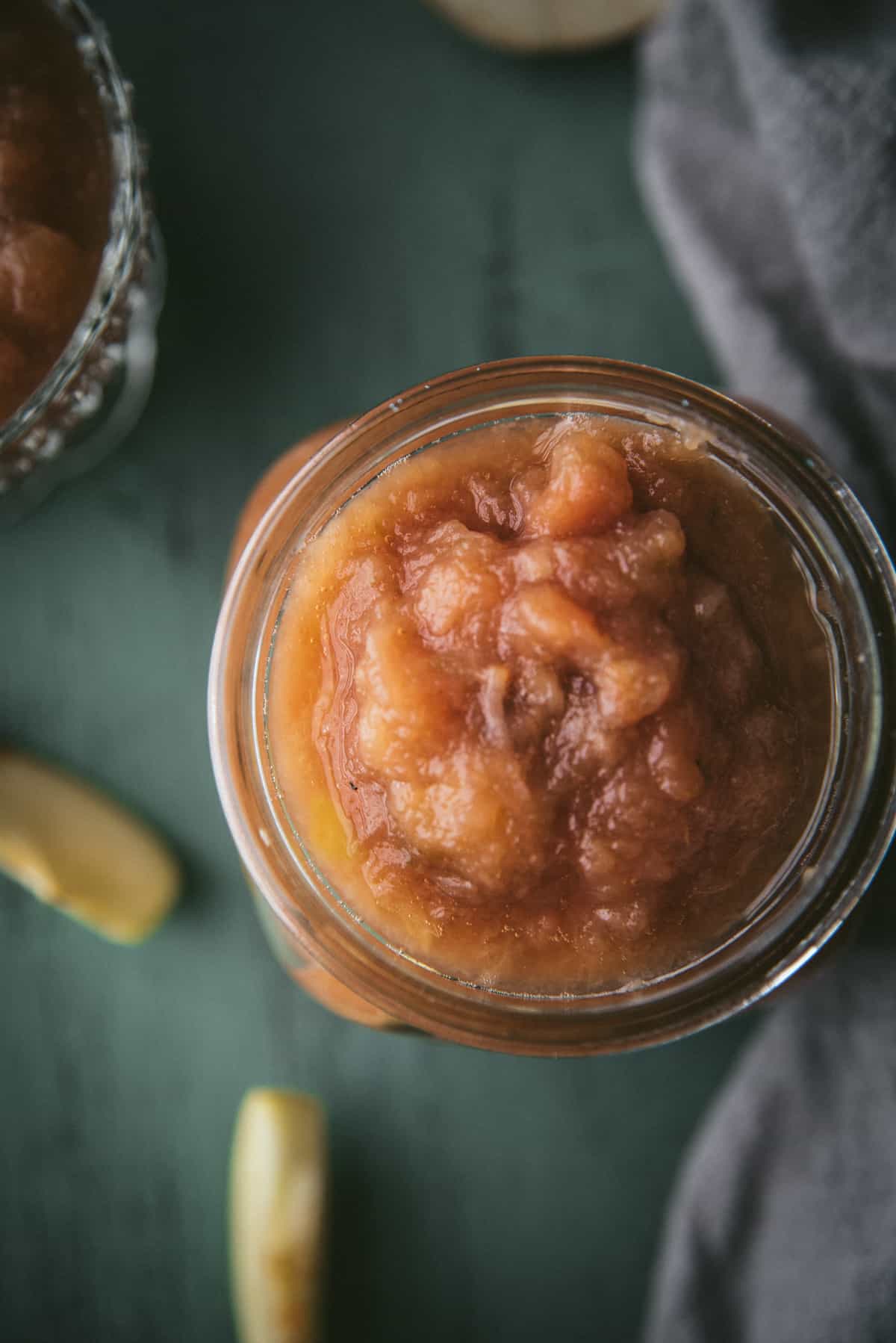 You can do two things to end up with a smooth, uniform applesauce.
After peeling, dice the apples into ½-inch cubes.
Once you have cooked and stirred your applesauce, use a hand blender to puree it.
Personally, I love the texture of a rustic sauce with bites of tart, cinnamon laced apple in it. Plus, it makes the prep so much faster not having to dice the apples.
What's the best apple to make applesauce?
MacIntosh, Macoun, or Golden Delicious are the best apples for making applesauce.
They're easy to peel, have a good balance of natural sweetness and tart flavor, and the textures of these varieties cook down really great for the texture of applesauce.
How to make easy crockpot applesauce
Its really, oh so simple.
Combine the peeled and cut apples with lemon, water, honey, vanilla, and salt in a crockpot.
Give all the ingredients a stir to coat and add in the cinnamon sticks.
Cook over low heat for 6 hours. Stir the apples at halfway and one hour before the cooking time is done.
After cooking, stir the cooked apples until the desired texture is achieved or blend into a smooth, uniform texture with a hand blender.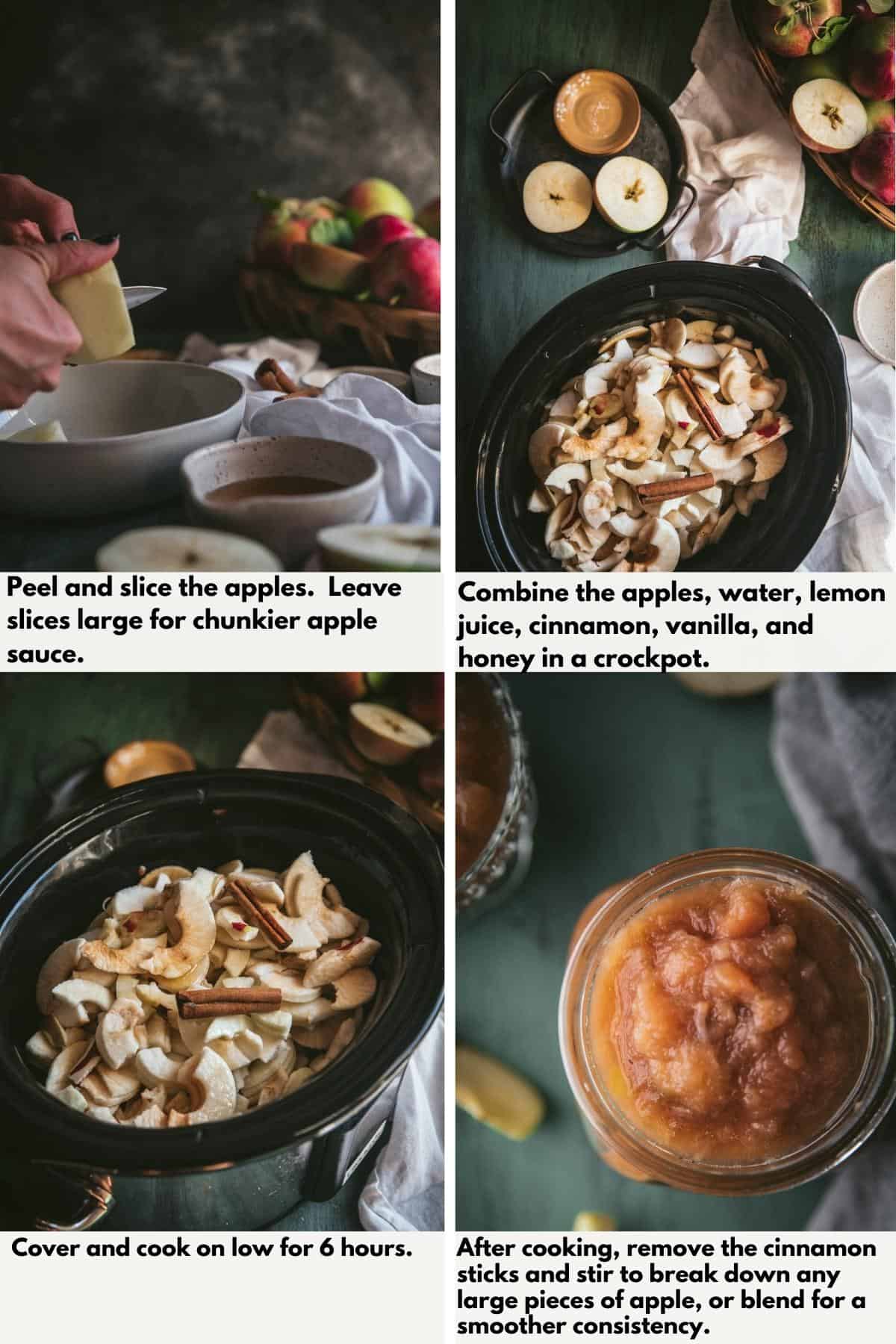 How long will it keep in the refrigerator?
After your homemade applesauce is cooked, transfer it to an airtight container. You can either store it in the fridge or follow proper canning procedures if you want it to be shelf stable.
Kept in the fridge, it will stay good for 1 to 2 weeks.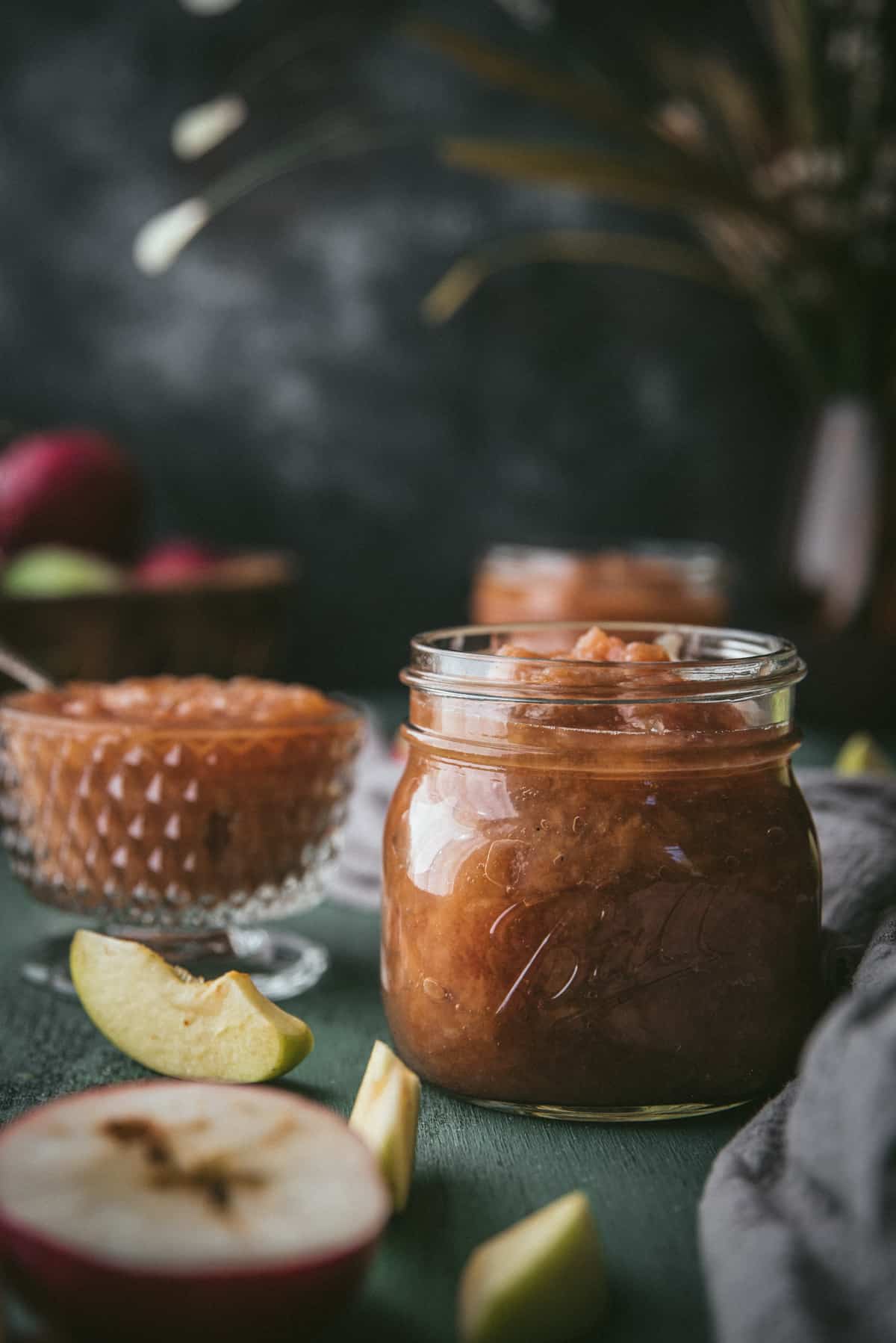 Ways to use homemade applesauce
Growing up we would eat warm, homemade applesauce for breakfast and that's still one of my favorite ways to eat it!
Substitute applesauce for oil in baked goods. This spice cake recipe is one of the most popular cakes recipes on the blog and uses applesauce to add moisture and flavor - so good!
Serve applesauce alongside roasted pork or chicken to add a sweet element to the plate. You could also top vanilla ice cream and make a fall inspired apple pie sundae!
If you have a favorite way to use applesauce that I missed, I'd love for you to let me know in the comments. And if you make this recipe, please leave a star rating below! Thanks for your support!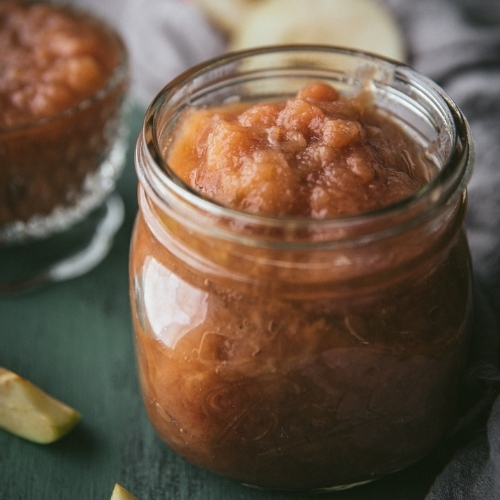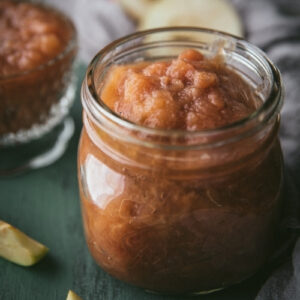 Easy Crockpot Applesauce
Homemade applesauce in the crockpot is an easy and effortless way to transform leftover apples into a delicious, mostly naturally sweetened, sauce to add to proteins, baked goods, or to serve on its own.
Print
Pin
Rate
Ingredients
16

medium sized apples

(about 12 cups peeled and diced)

¾

cup

water

¼

teaspoon

salt

¼

cup

raw honey

2

teaspoon

lemon juice

½

teaspoon

pure vanilla extract

2

sticks cinnamon
Instructions
Peel and slice the apples. The slices don't have to be perfect since they will cook down. For a rustic texture cut some bigger slices and some smaller slices. For a uniform texture, dice the apples.

Combine the apples, water, salt, honey, lemon juice, and vanilla in the crock pot. Give the apples a little stir. Add cinnamon sticks.

Cook on low for 6 hours. Stir half way through and again towards the end. Continue to stir with a rubber spatula until the apple sauce reaches your desired texture.

Remove the cinnamon sticks, stir to break down any large pieces of apple that are left, and transfer to an air tight storage container. Alternatively you can blend the cooked applesauce with a hand blender for a fine, uniform texture.
Notes
I prefer to use McIntosh or Macoun to make applesauce. The texture is softer and the taste a touch tart but with plenty of natural sweetness.
For a vegan version of this recipe, substitute maple syrup or brown sugar for the honey.
Store in air-tight containers for up to 2 weeks in the fridge or follow proper canning procedures to keep it shelf-stable until use.
You can make this without stirring halfway (think overnight or while you're away at work), you'll just need to stir it a little more once the cooking period is done.
Nutrition
Calories:
449
kcal
|
Carbohydrates:
120
g
|
Protein:
2
g
|
Fat:
1
g
|
Saturated Fat:
1
g
|
Polyunsaturated Fat:
1
g
|
Monounsaturated Fat:
1
g
|
Sodium:
156
mg
|
Potassium:
801
mg
|
Fiber:
18
g
|
Sugar:
93
g
|
Vitamin A:
398
IU
|
Vitamin C:
35
mg
|
Calcium:
64
mg
|
Iron:
1
mg