It's Spring! Spring! Spring! I know I blabbed about it finally being spring in my last post, but the weather has been so darn beautiful it's hard not to shout from the roof tops. That, or Shea and I have been watching the Curious George 'Spring Fever' episode too much. Probably both.
As we shed our winter layers and the warmer, sunny weather surrounds us, our food flavors change too. We put thick soups, sauce coated noodles and savory pies on the back burner and crave the crisp crunch of fresh vegetables, the smoke of the grill and easy no-oven required dishes. And all things salad. Especially this Spring Kale & Cucumber Salad with Honey-Ginger Dressing.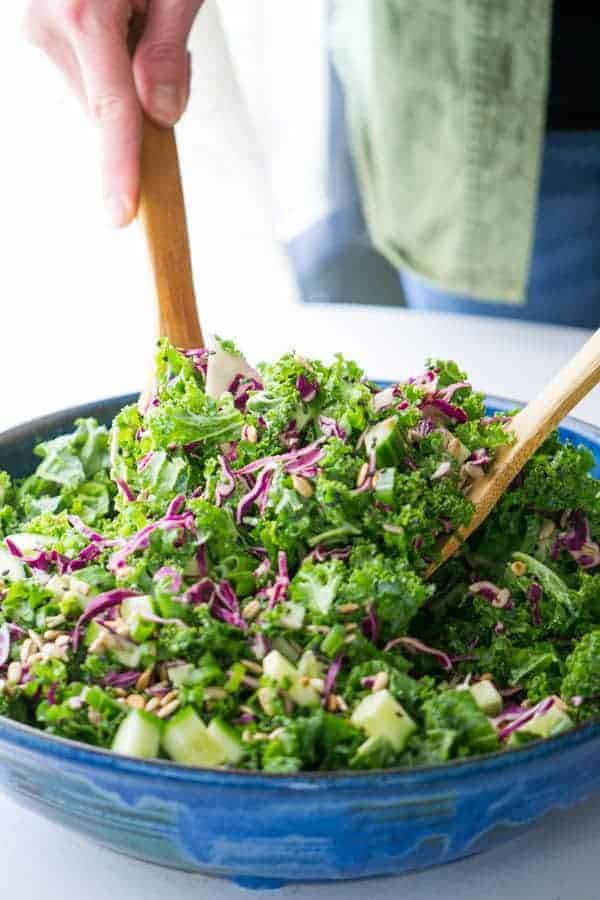 Salads are a constant throughout the year for many, but for me it just seems my body constantly craves the cool, fresh taste of a salad as winter finally ends. The impending doom of swimsuit season certainly doesn't hurt either.
One bowl, customized.
The best part of salad is that it's really just a bunch of ingredients in a bowl and comes with dressing. And right now, kale is my flavor of the month. It's usually an all-star player in this household for smoothies or braised alongside some sort of protein. But lately it's been carrying the team front and center. The results? Win, win, win.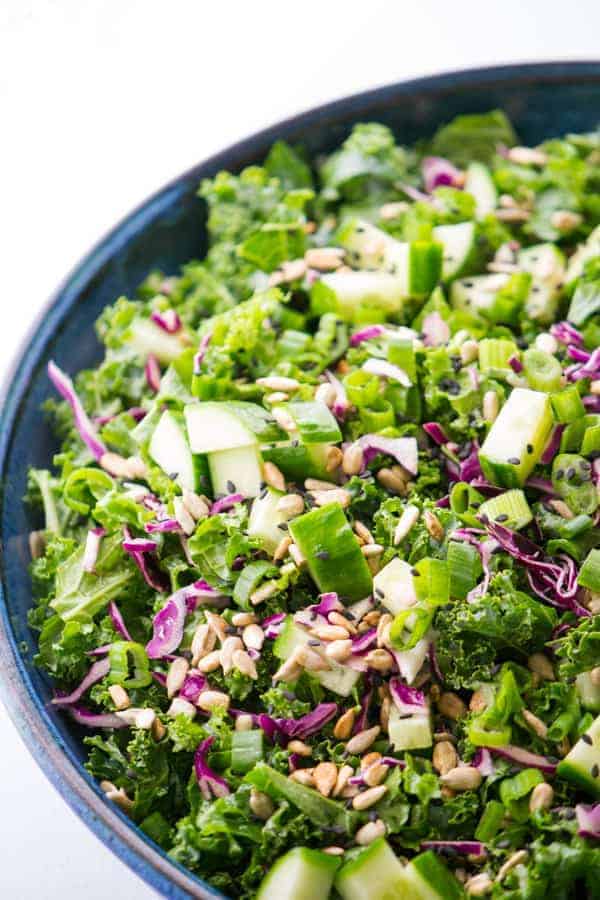 Especially when the kale for this Spring Kale & Cucumber Salad is chopped nice and bity and paired up with crunchy, cool cucumbers. Red cabbage offers a beautiful pop of color and sunflower seeds bring a satisfying crunch. And, since we're all friends here, the black sesame seeds are mostly just to look cool.
The best part of this Spring Kale & Cucumber Salad? This Honey-Ginger dressing is making my taste buds sing beautiful, cheerful songs like the birds in a Disney movie.
Dramatic much, Lauren? Eh, maybe.
But the combo of toasted sesame oil, spicy fresh ginger, and sweet raw honey transform this plain old kale into an asian-flavor inspired salad for the books blog and the belly.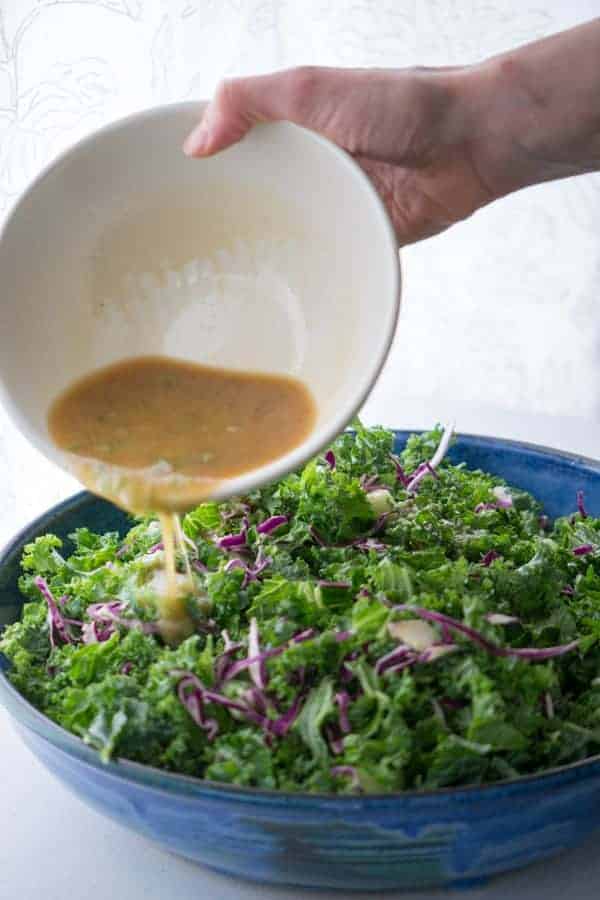 Protein optional
On its own Spring Kale & Cucumber Salad is a light, sweet and toasty flavored meal to devour. But for the carnivores in the crowd, you may feel something is missing. We found the perfect fit for this salad is grilled sirloin tips.
Juicy, tender steak with just a touch of that charcoal flavor from the grill is the perfect supporting actor to bring this Spring Kale & Cucumber Salad to the Salad Oscars. If that was a thing, idk it could be...but if it is, they'd be there.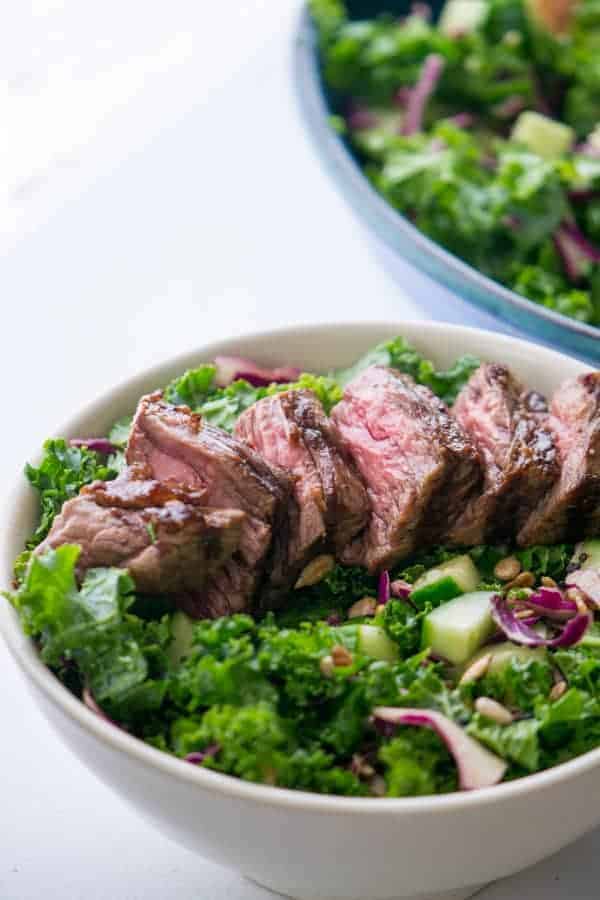 Tips for perfect steak tips:
From my few years spent working in a fine dining steakhouse, I'd like to think I learned a few things. What's really set my home grilling apart since then is a few key things.
Never stick a cold steak on a grill, grill pan, or skillet. Let that cut of juicy, beefy, perfection rest a room temp for 20-30 minutes.
Salt and pepper are really all you need.
If using a grill pan, get it hot. No, like HOT. Not to the point of smoking, but HOT.
The more you turn the beef, the more you loose the juice. So for steak tips, try to cooking 3 to 5 minutes on the top and bottom and quickly sear the smaller sides, adjusting for thickness of the cut and preference for final temp. If you desire anything above Medium, I'm sorry but we can't be friends. J/k. Mostly. No, we can be friends but full disclosure I'm eating without you if mine is done first.
REST REST REST. Being broiled, grilled or pan seared is hard work. Don't waste all that effort by cutting in right away. Let that steak chill out for 10 minutes.
Whether you're pro-protein or choosing the herbivore option, the crunchy kale & cucumber and toasted sesame, honey-ginger dressing will be making your taste buds and your tummy happy.
Spring is finally here, so if you need me - I'll be over here stuffing my face with all things salad.
I'll save you a seat.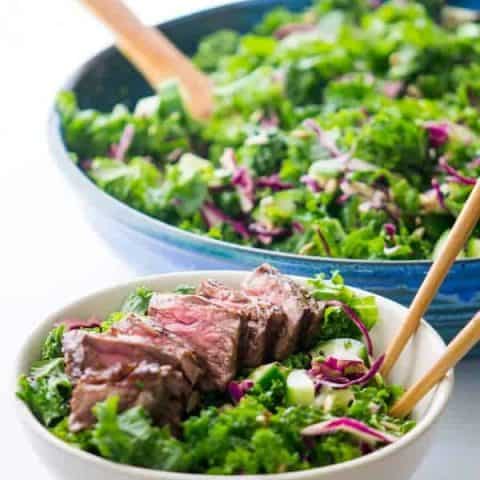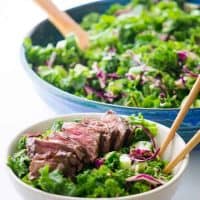 Spring Kale & Cucumber Salad | Honey-Ginger Dressing
Chopped kale, crunchy cucumber, red cabbage and sunflower seeds are perfectly paired with a toasted sesame, sweet honey, and spicy ginger dressing. Perfect for spring!
Print
Pin
Rate
Ingredients
Spring Kale & Cucumber Salad
6

cup

curly kale

(1 large head)

2

cup

chopped cucumber

(european cucumber)

2

cup

red cabbage

(shredded)

¼

cup

sunflower seeds

1

scallion

(chopped)
Honey-Ginger Dressing
½

cup

toasted sesame oil

¼

cup

rice wine vinegar

2

tablespoon

raw honey

1

teaspoon

minced garlic

(2 cloves)

2

teaspoon

fresh grated ginger

1

scallion

(finely chopped)
Sirloin Steak Strips (Optional)
2

lbs

sirloin steak strips

kosher salt

black pepper
Instructions
Honey-Ginger Dressing
Heat honey for 15 seconds, to liquify.

In a bowl combine ingredients and whisk thoroughly, about 2 minutes, until vinegar and oil are incorporated.
Spring Kale & Cucumber Salad with Honey-Ginger Dressing
Thoroughly wash and dry kale leaves. Remove the leaves from the stem and chop finely - about ½" pieces.

Cut cucumber in half. Cut each half into four strips and dice in ½" pieces. If purchasing a whole red cabbage*, cut in half and thinly slice into shredded pieces, about ⅛" thick.

Add kale, cucumber, cabbage to a large bowl, coat with dressing and toss with tongs to mix together.
Sirloin Steak Tips
Dry steak with paper towels and let sit at room temperature for about 20 minutes. Season with salt and pepper.

Heat a hot grill pan, cast iron skillet or grill on high heat. Sear the larger two sides of the steak for about 4 minutes on each side and a quick 2 minutes sear on each of the smaller sides. Let rest for 10 minutes before slicing.
Notes
*Shredded red cabbage should be available in bags by the pre-packaged lettuce in the produce department.
Nutrition
Calories:
706
kcal
|
Carbohydrates:
25
g
|
Protein:
57
g
|
Fat:
43
g
|
Saturated Fat:
8
g
|
Cholesterol:
138
mg
|
Sodium:
184
mg
|
Potassium:
1551
mg
|
Fiber:
2
g
|
Sugar:
12
g
|
Vitamin A:
10649
IU
|
Vitamin C:
150
mg
|
Calcium:
258
mg
|
Iron:
6
mg