It's definitely true that we are influenced in our younger years. And several years spent working in two different Italian style restaurants with brick oven pizza makes you a real life pizza snob. That thin, crispy bottom and light airy crust, man oh man. Welcome to my pizza dreams.
I've tried everything to replicate it in our house. Pizza stones, no pizza stones, the grill, you name it. So when a Facebook video surface for a stove top pizza oven boasting brick oven style pizza, I was found wondering why the front of my shirt was all wet. Oh right Lauren, you're drooling.
Please Note: This post is not sponsored, but you will find affiliate links listed on this page. The price you pay at check out does not change, but I may make a small commission based on your purchase from the link! Thank you for your support of Hunger|Thirst|Play!
Full disclosure: I'm a kitchen gadget hoarder. Though if you visit my mom's kitchen one might say that it's hereditary. I love trying new kitchen gadgets and tbh I actually use most of them pretty frequently. Henry told me that one of his manager's girlfriend imposed a house rule that in order to get a new kitchen gadget, he has to say good-bye to one of his current gadget. I said to Henry if he really loves me, he would never force me to make a choice like that.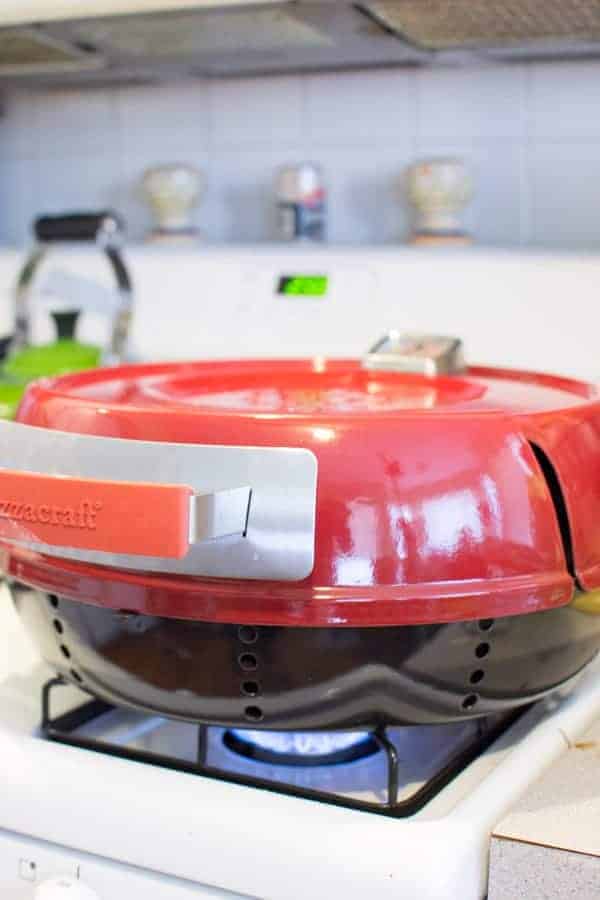 Though it probably wouldn't kill me to weed through my collection, the Pizzacraft Pizza Pronto
is here to stay. Very easy to assemble, this bad larry fits right on top of your stove top. The only caveat being you must have a gas stove. Depending on the output of your stove top it takes anywhere between 20 to 30 minutes to heat up. My gas stove can only get it to just over 500°F, which still makes a great brick oven style pizza but the cooking process does take a smidge longer.
Using a dual pizza stone and metal enclosure, the Pizzacraft Pizza Pronto is easy to assemble, use and clean.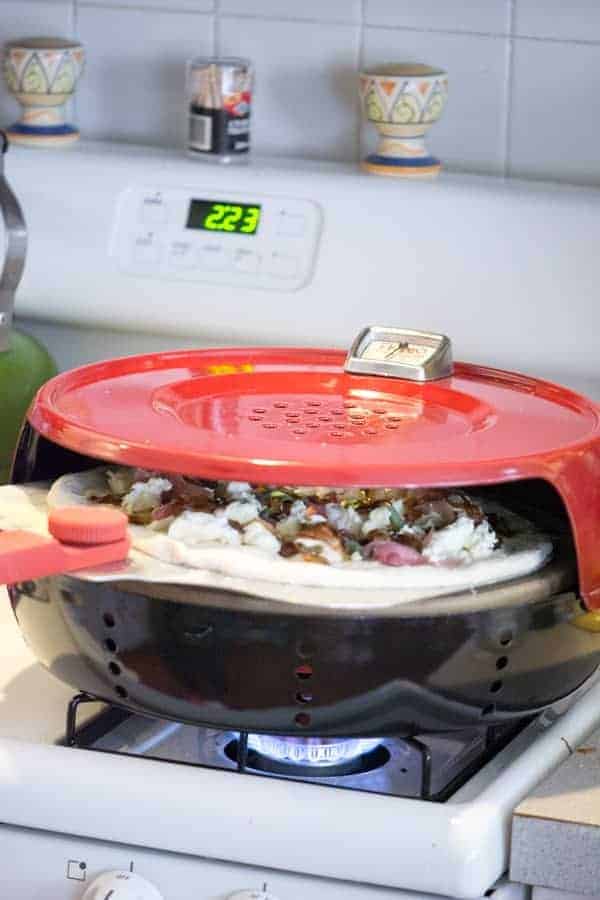 Utilize the metal zip tie to keep the unit from moving around the stove top when you're turning the pizza.
Pre-heat the Pizza Pronto with the front enclosure attached and replace while your pizza cooks to keep the heat in.
If planning on host a pizza party, it will be super helpful to have more than one pizza peel (the flat thing you use to feed the pizza in and out.) You'll need the peel to turn your pizza halfway through cooking and to remove it from the oven, but if you want to start making another pizza you will need it for that too.
Lots and lots of cornmeal. A heavy sprinkle of cornmeal on the pizza peel with keep it from sticking when you want to slide it into the oven. Use the brush to sweep off the pizza stone after each pizza so you avoid burnt cornmeal on the bottom of your pizza.
Give the pizza a little jiggle before trying to slide it into the oven. If it is sticking to the peel, gently lift up and toss a little cornmeal underneath.
Wash the pizza stones thoroughly after each use with a baking soda-water paste. Especially if you drop anything on the stone. Unwashed stones will lead to future burnt pizzas.
One regular size pizza dough (8-ounces) will yield two 10-12 inch pizzas.
White Pizza with Prosciutto & Blue Cheese
Not ready to spring the rainy day fund for your own pizza pronto? The best advice I can give is using the grill and a heavy duty sheet pan. The grill will get nice and hot to create that crispy brick oven texture.
Ok, enough about logistics of pizza cooking, let's get into some yummy pizza. Like this one, right here.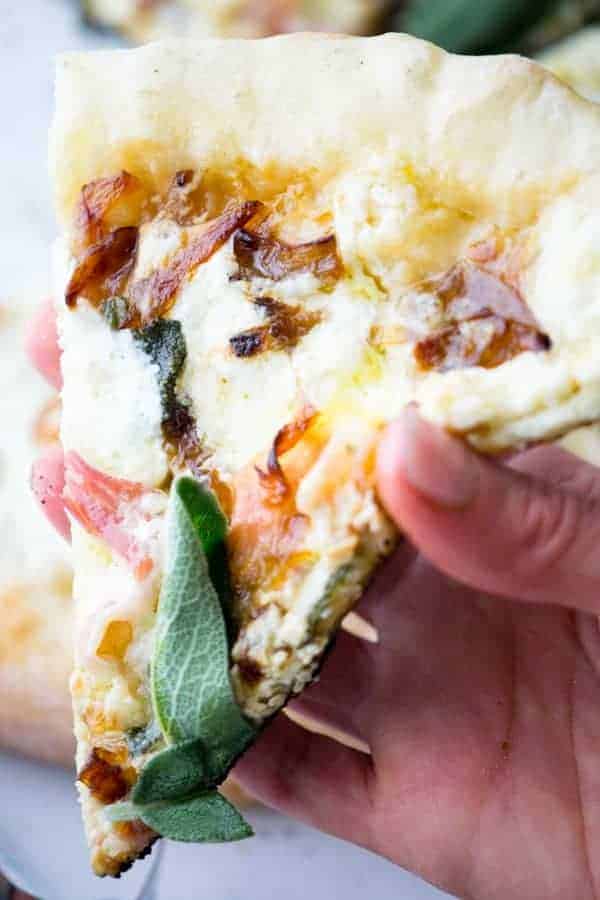 This pizza is super fast to throw together and has all the flavors of a white pizza you'll love. Sweet roasted garlic oil is the perfect drizzle for the base layer, before we add crumbles of fresh mozzarella and creamy gorgonzola (or blue!) cheese.
The thin sliced prosciutto adds a slight salty yet perfectly savory taste that is almost crispy. Caramelized onions are buttery and sweet and the fresh sage adds the perfect burst of fresh herb flavor.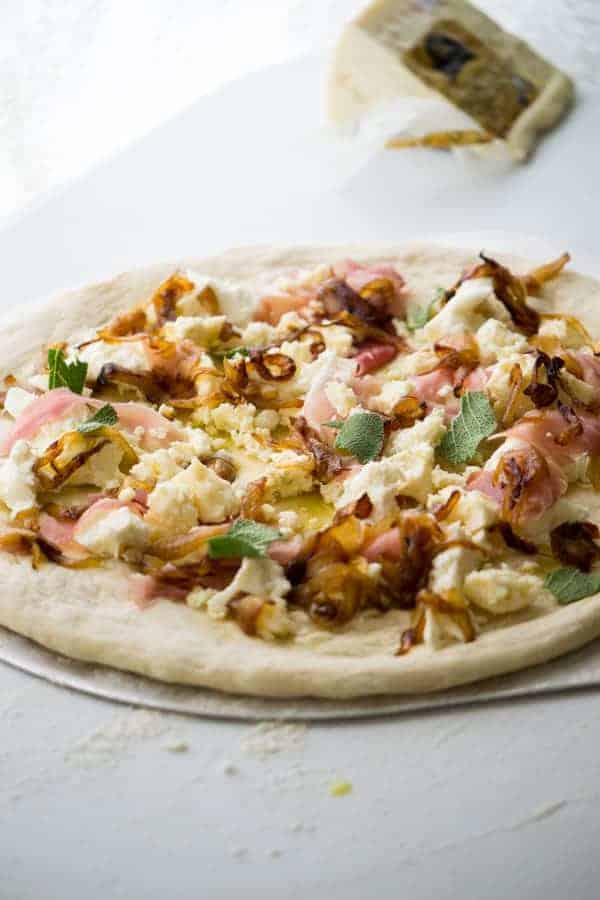 Winner, winner, pizza dinner.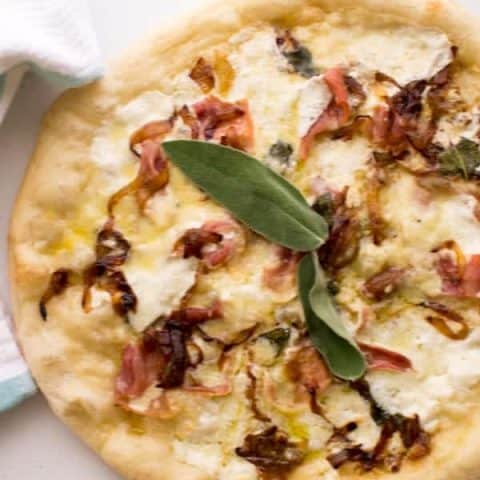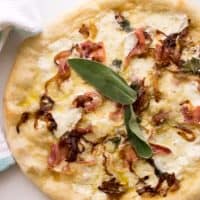 White Pizza with Prosciutto & Blue Cheese
A delicious take on white pizza, made brick oven style. Sweet, roasted garlic, tangy blue cheese and fresh mozzarella are the perfect companions for salty prosciutto, caramelized onions and fresh sage!

Print
Pin
Rate
Ingredients
1

8-ounce

pizza dough

(divided)

¼

cup

roasted garlic oil

(see notes)

8

ounces

fresh mozzarella

(divided)

4

ounces

gorgonzola or blue cheese

(crumbled and divided)

4

slices

prosciutto di parma

¼

cup

caramelized onions

(see notes)

4

large sage leaves

(torn)
Instructions
Preheat Pizzacraft Pizza Pronto or a pizza stone in a 500°F oven. Let pizza dough sit at room temperature for 10 minutes to allow for easy stretching.

Divide pizza dough in two. Using one half of dough, shape into a circle, squeezing the edges and moving in a circular motion.

Using your knuckles and finger tips, stretch the dough while continuing to move in a circular motion. Dough should be thin enough at the center to see light through the dough.

Once dough is stretch to about 10-12" diameter, sprinkle pizza peel heavily with cornmeal. Lay dough on top of peel. Drizzle with 2 tablespoons of the garlic oil.

Divide the fresh mozzarella in half. Tearing small pieces with your fingers, add pieces of mozzarella randomly over the dough. Do the same with the blue or gorgonzola cheese.

Taking one slice of prosciutto at a time, tear two slices into smaller pieces and spread randomly over the cheese.

Using half the full amount of caramelized onions, sprinkle over the pizza. Repeat with the fresh sage.

Slightly shake the pizza peel to see if any parts of the dough are stuck. If there are, lightly lift the dough and toss a little cornmeal underneath.

Place pizza peel at the back of the oven. Shake the peel until the far most part of the pizza touches the stone. At that point you should be able to remove the peel in one fast, swift motion.

Depending on your oven temp, cook for 10-15 minutes and then rotate the pizza. Cook for an additional 10-15 minutes until the outside crust is brown. The pizza is perfectly cooked if crispy enough to stand on it's end.
Notes
*Garlic oil can be purchase at the store. A recipe is also available in my free eCookbook when you sign up for email updates at the top of the page.
**Directions for making your own caramelized onions are available in this French Onion Soup Pull Apart Bread recipe.
Nutrition
Calories:
669
kcal
|
Carbohydrates:
50
g
|
Protein:
27
g
|
Fat:
41
g
|
Saturated Fat:
16
g
|
Trans Fat:
1
g
|
Cholesterol:
71
mg
|
Sodium:
1512
mg
|
Potassium:
153
mg
|
Fiber:
2
g
|
Sugar:
7
g
|
Vitamin A:
603
IU
|
Vitamin C:
1
mg
|
Calcium:
440
mg
|
Iron:
3
mg