A simple, easy way to flavor your turkey overnight. Orange sage turkey brine takes easy to find ingredients and infused their flavors into the meat while you rest up to cook the big meal!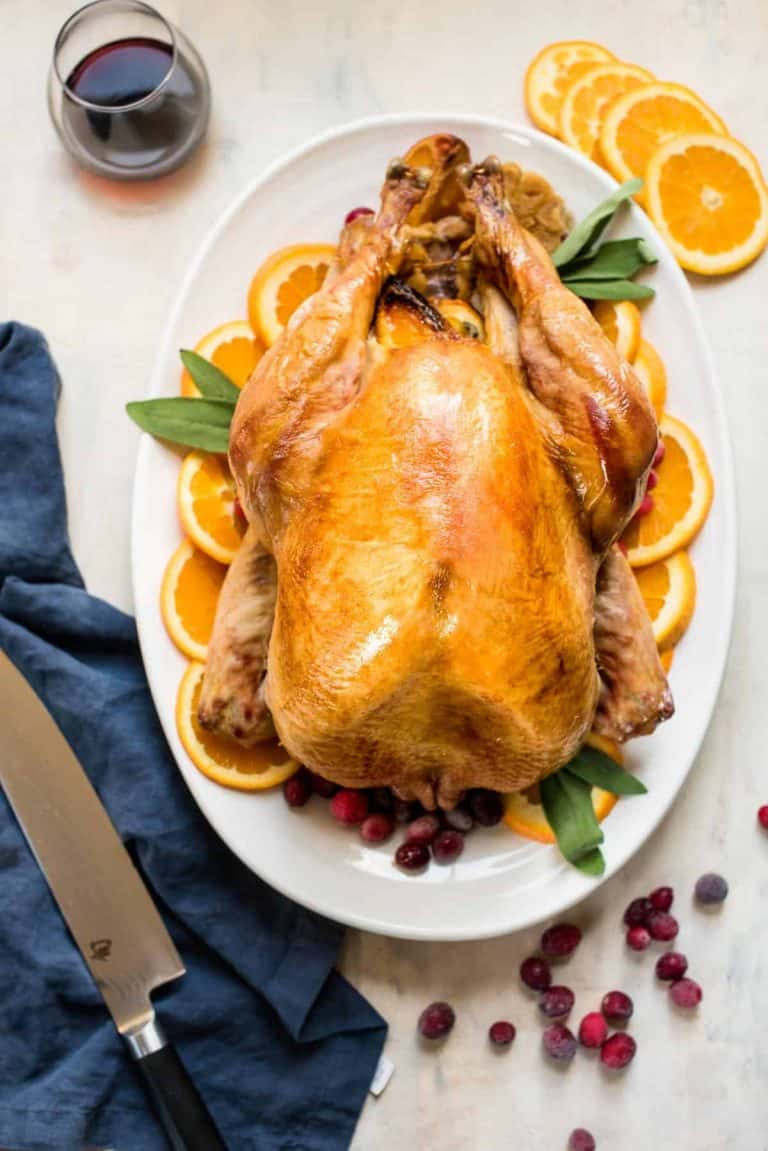 For all of you bravely donning the chef hat this Thanksgiving, this turkey brine is here to make your prep a breeze. Soaking your bird in this salty brine is going to do so much good, tenderizing the meat and adding herbaceous flavor with subtle sweet citrus.
Are you the lucky one hosting the fam this holiday? Is it your first time? Or maybe you're looking to cook your bird for a pre-thanksgiving Friendsgiving. Be it your first or your thirtieth, lemme let you in on my little secret - brine yo' bird!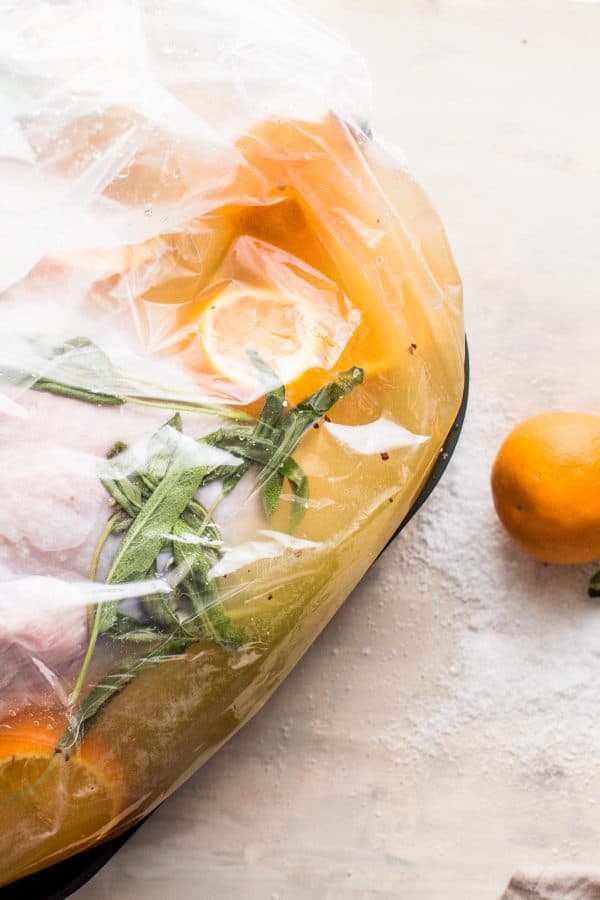 What is a turkey brine?
Brining is basically soaking turkey - or any other lean meat like chicken or pork chops - in a salty water/liquid bath. This usually takes place overnight and up to about 24 hours, but a quick brine for smaller cuts can be as short as a few hours.
If you haven't watched the Netflix series Salt Fat Acid Heat, go add it to your watch list right now. No really, I'll wait....
Besides being interesting to watch and beautifully shot, there's some serious, easy to understand food knowledge. Especially about the importance of salt.
Salt is going to do all the work in getting you a juicy bird by breaking down the tough parts of the meat and allowing it to soak up the flavors of whatever else you put your brine - in this case:
awesome earthy sage
sweet citrus orange
hints of spice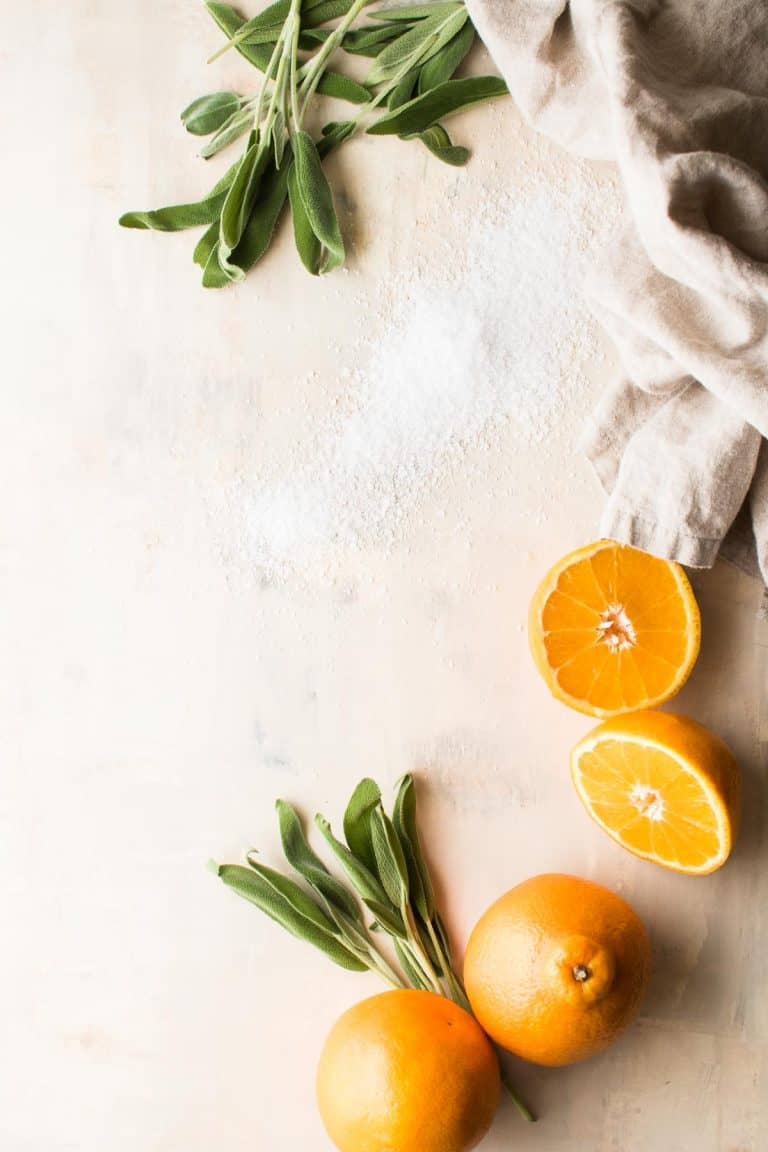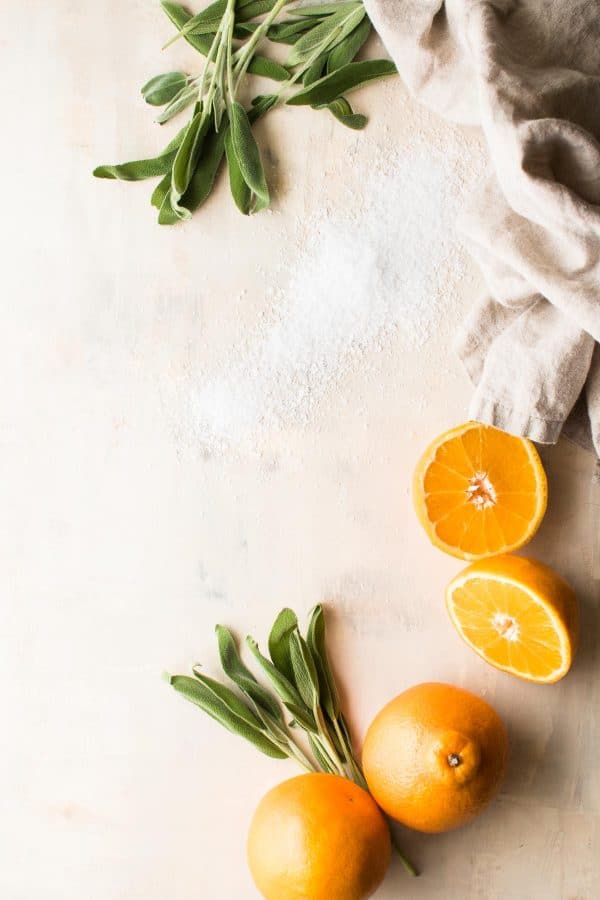 Another thing I love about brining a turkey is you can do two things at once. (If that could be my middle name, it probably would be.)
Cooking a frozen turkey is not going to give you great results and thawing takes a lot of time. Here comes brining to the rescue....again.
Thaw your turkey in the refrigerator 2 to 3 days before you plan to brine it. Unwrap it from the packaging before brining. If the inside is still frozen DON'T SWEAT IT, it will have a chance to thaw in the brine. Win win.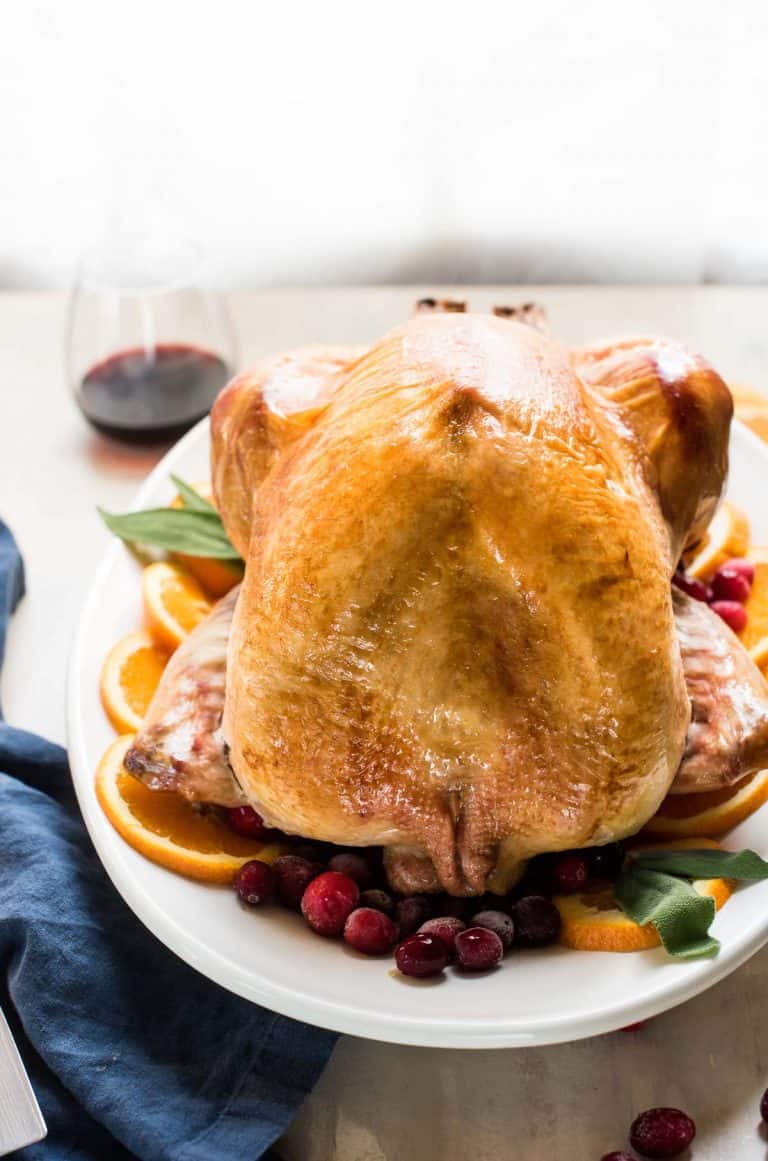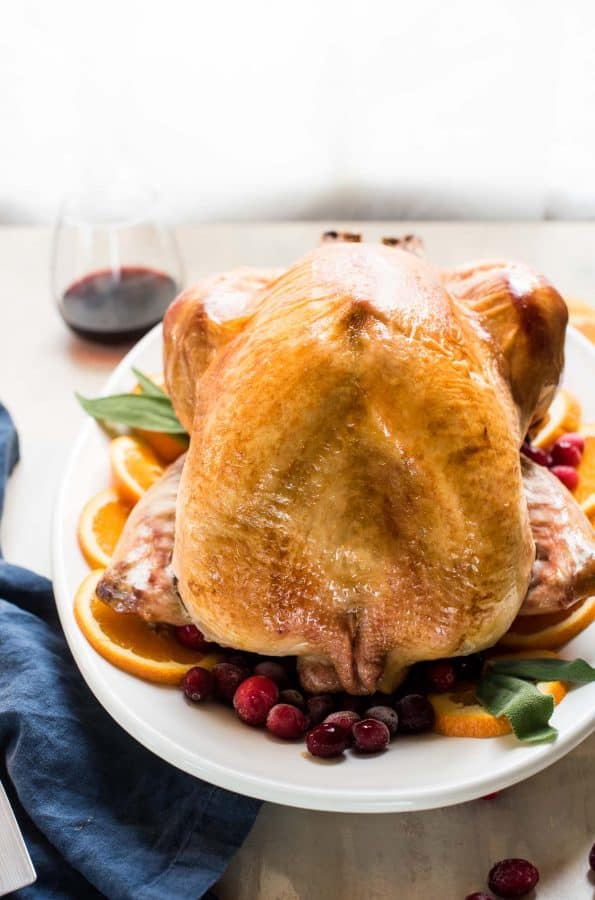 What do you need to brine a turkey?
The tools needed to brine are pretty simple. The hardest part is playing refrigerator Jenga and finding space for the brining bag or bucket along with your other Thanksgiving Day ingredients.
Conversely you could use a cooler, but you'll also need freezer packs to make sure the temperature doesn't rise above 40°F. I'm all about the season of giving, except giving food poisoning - nobody wants that gift.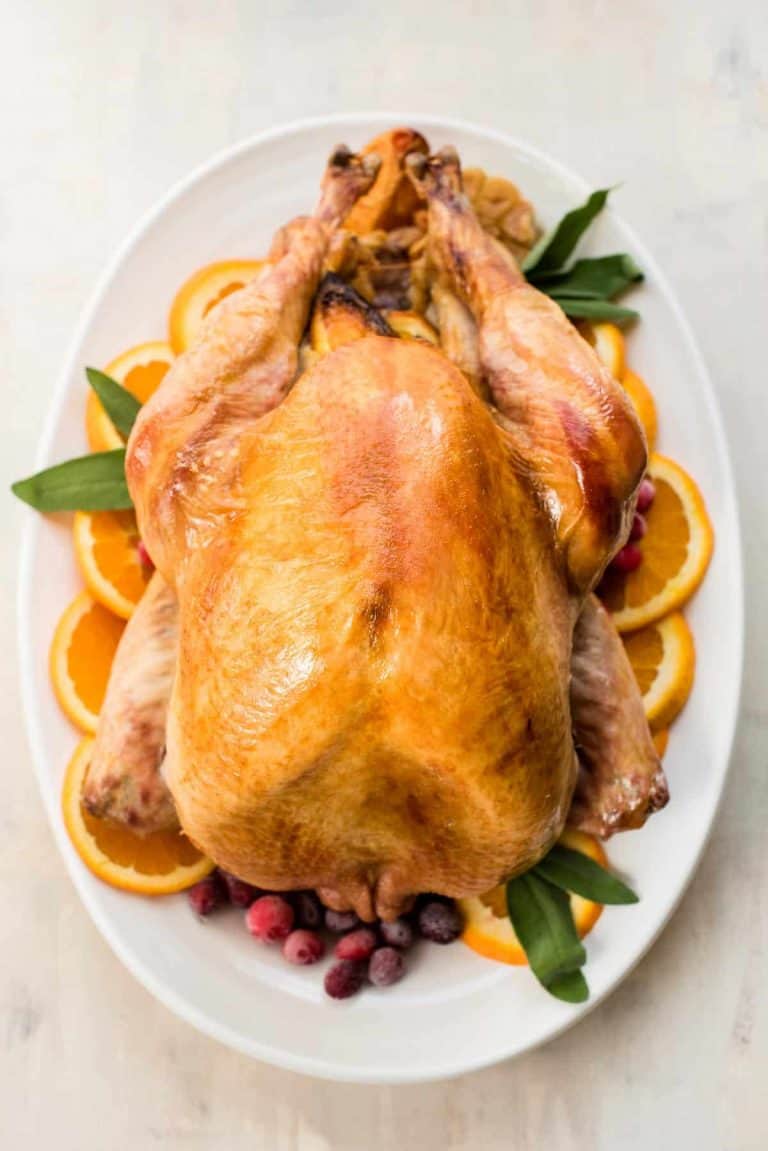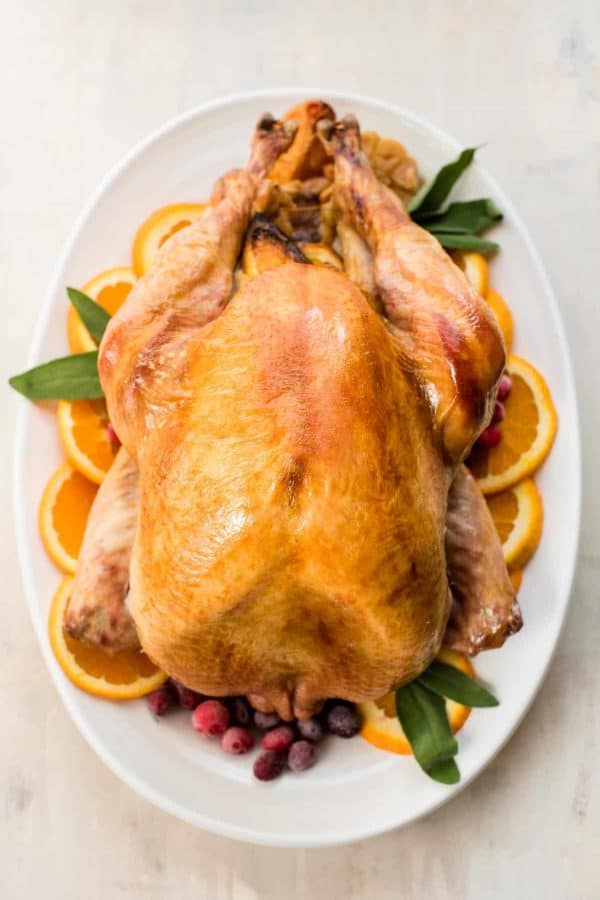 Long story short, I always go for the brining bag. They're cheap and only take up the right bottom shelf of my fridge, about the same size as the roasting pan. Store the full brining bag in a roasting pan without the insert.
From start to finish here's the tools you need in your brining tool kit:
Are you ready to be the master of Thanksgiving? Love the idea of brining? Check out this Apple Cider Turkey Brine or peruse the side dish selection for what to serve alongside your perfect bird!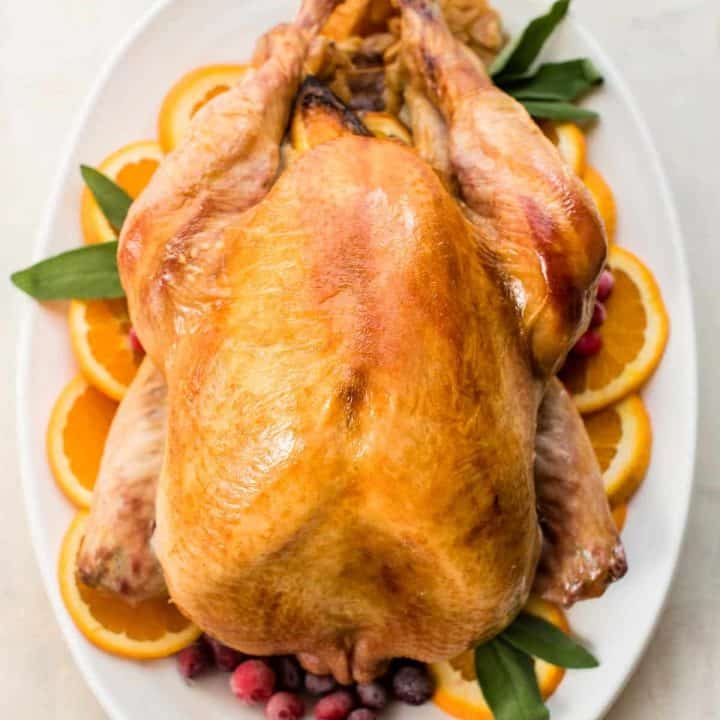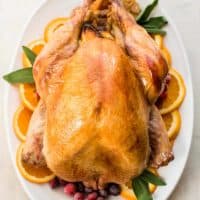 Orange Sage Turkey Brine
Orange Sage Turkey Brine is the easiest way to get juicy turkey this Thanksgiving. Sweet orange flavor with herbaceous sage will tenderize your bird overnight in a salty brine.
Print
Pin
Rate
Servings:
1
brined turkey
Ingredients
1

teaspoon

fennel seeds

1

teaspoon

mustard seeds

½

teaspoon

red pepper flake

½

teaspoon

black peppercorns

2

bay leaves

10

large sage leaves

1

cup

kosher salt

1 ½

cup

brown sugar

½

gallon

orange juice

1

quart

warm water

6

quarts

cold water

3

large oranges

12 to 18

pound

turkey

brining bag or 5 gallon bucket
Instructions
Toast the spices. In a large saucepan, add the fennel seeds and mustard seeds, heat over medium heat about 2 minutes or until fragrant. Add pepper flakes and peppercorns, bay leaves and sage and toast for 30 to 60 seconds. (Sage will crackle).

Dissolve. Add the salt and sugar to the pan, followed by the 1 quart of warm water. Bring to high heat and stir until salt and sugar are completely dissolved. Remove from heat and add the orange juice.

Prepare the brining vessel. If using a 5 gallon bucket, clean it well before adding your turkey. If using the brining bag, place the turkey in breast side down. Add the brining liquid with the spices and herbs and the cold water. Slice up 3 large oranges and add to the brining container.

Let rest. Allow the turkey to brine overnight up to 24 hours. Remove from the brine and pat dry. Let sit at room temperature for 1 to 2 hours before baking.
Notes
Pickling spice is a cost friendly substitution for buying individual spices (i.e. mustard seeds, fennel seeds, etc.) . If using pickling spice, use 1 tablespoon and omit the first 5 ingredients.
If using a brining bag place the bag wi9th the turkey inside a roasting pan before filling with liquid. Otherwise, once the bag gets full it will be hard to keep it contained and close up by yourself.
Nutrition
Calories:
6509
kcal
|
Carbohydrates:
256
g
|
Protein:
848
g
|
Fat:
222
g
|
Saturated Fat:
57
g
|
Trans Fat:
2
g
|
Cholesterol:
2783
mg
|
Sodium:
117892
mg
|
Potassium:
11536
mg
|
Fiber:
13
g
|
Sugar:
226
g
|
Vitamin A:
5266
IU
|
Vitamin C:
683
mg
|
Calcium:
1093
mg
|
Iron:
38
mg