Loads of banana flavor baked into a soft and moist bread with hints of cinnamon and spice. With no refined sugar and packed with silken tofu, this is a treat you can indulge in and leave the guilt behind.
Then it's just a matter of choice to add some vegan chocolate chips to the top!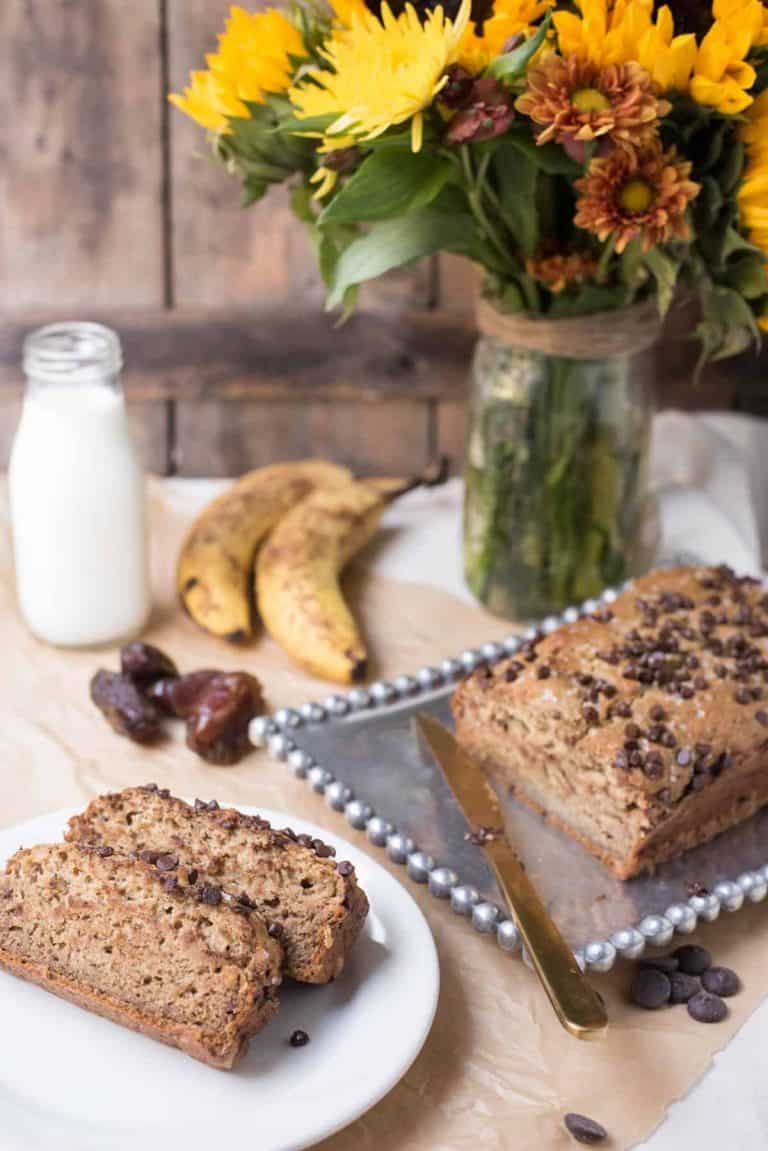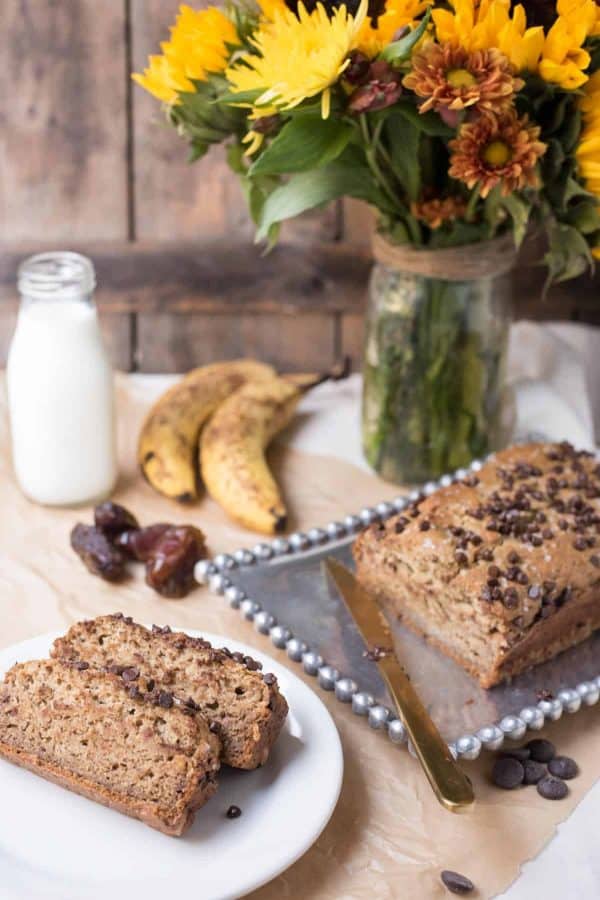 Really, this should be called "You Won't Even Know It's Vegan Banana Bread." For real, you won't. Toast and warm it for an easy breakfast to make your heart, mouth and belly happy, or cut a slice for an on the go snack.
Is there any better smell than fresh banana bread baking? OK, well maybe it's a tough tie between apple pie, cookies and banana bread.
This banana bread has no refined sugar and it tastes like a dream so I'm giving it a little boost to first place. And we're going to throw out the option of topping it with chocolate chips and sea salt, because chocolate and sea salt make most everything better. Especially when combined with the sweet fruit flavor of banana.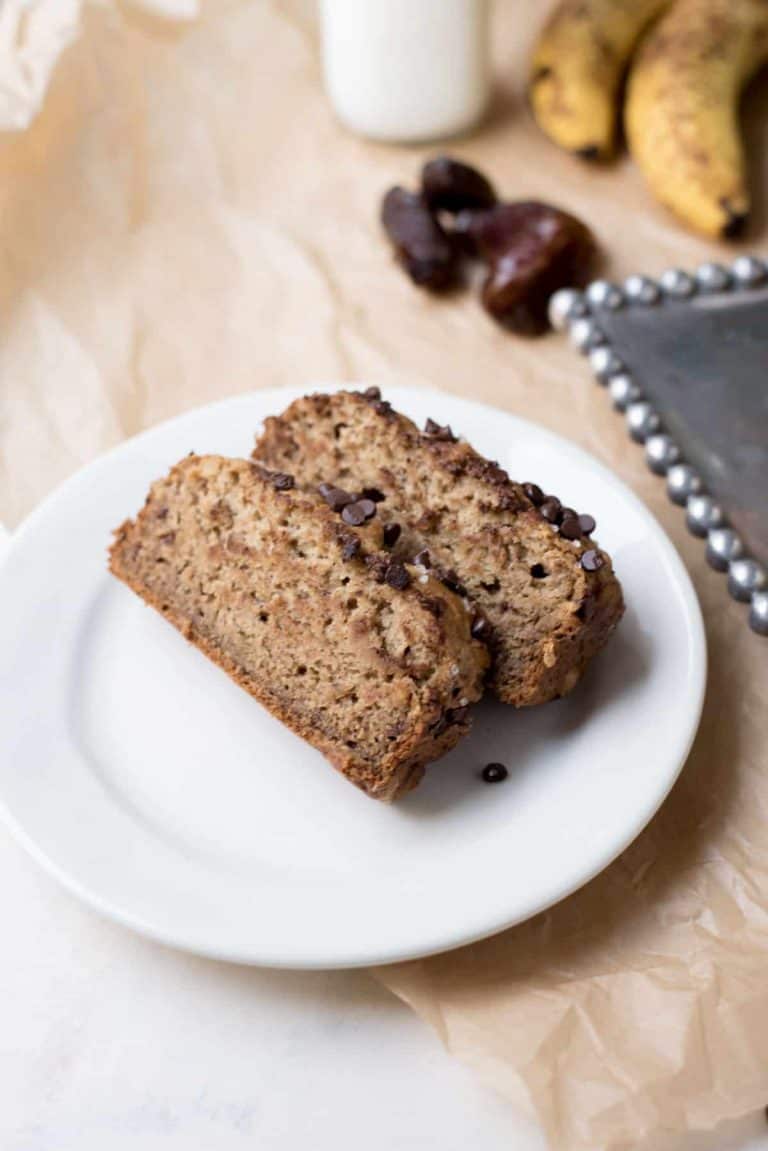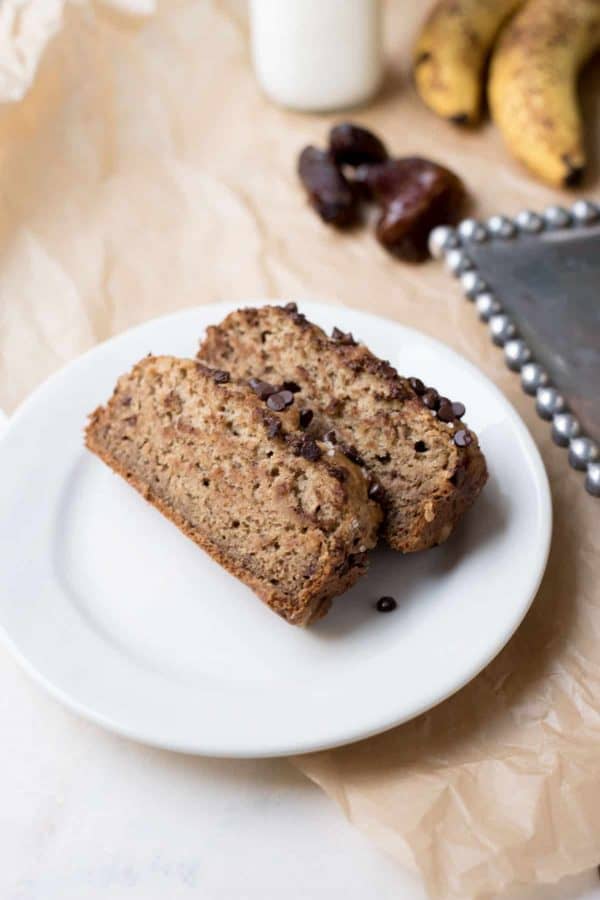 Plant Based Bread
If you've visited Hunger Thirst Play before, you already know this isn't strictly a plant based blog, but that certainly doesn't stop us from enjoy vegan and vegetarian food.
In September I decided to challenge myself to stick to a plant based diet for 30 days. Having experimented with vegan eating in college for almost a year - because college is for experimentation, yes? Looking back and remembering feeling good but also knowing the best decisions weren't always made during that time when it came to planning fully nutritious meals. Turns out wild rice and Milwaukee's Best beirut isn't a complete meal....
One thing that did come out of that time - besides accidentally swallowing a sewing needle (that's a story for another time) - was this banana bread.
Vegan Banana Bread with no refined sugar
Who's got a sweet tooth in this crowd? It's ok, you don't have to cop to it alone, I'll raise two hands in solidarity.
If you're on the loving sweets bandwagon but looking to cut out some of that refined sugar, your new bestie should totally be dates. Sticky sweet and they blend up real nice for a perfect substitution. Just like in these Pumpkin Spice Blender Pancakes, just soak them in some hot water to soften and blend with the wet ingredients.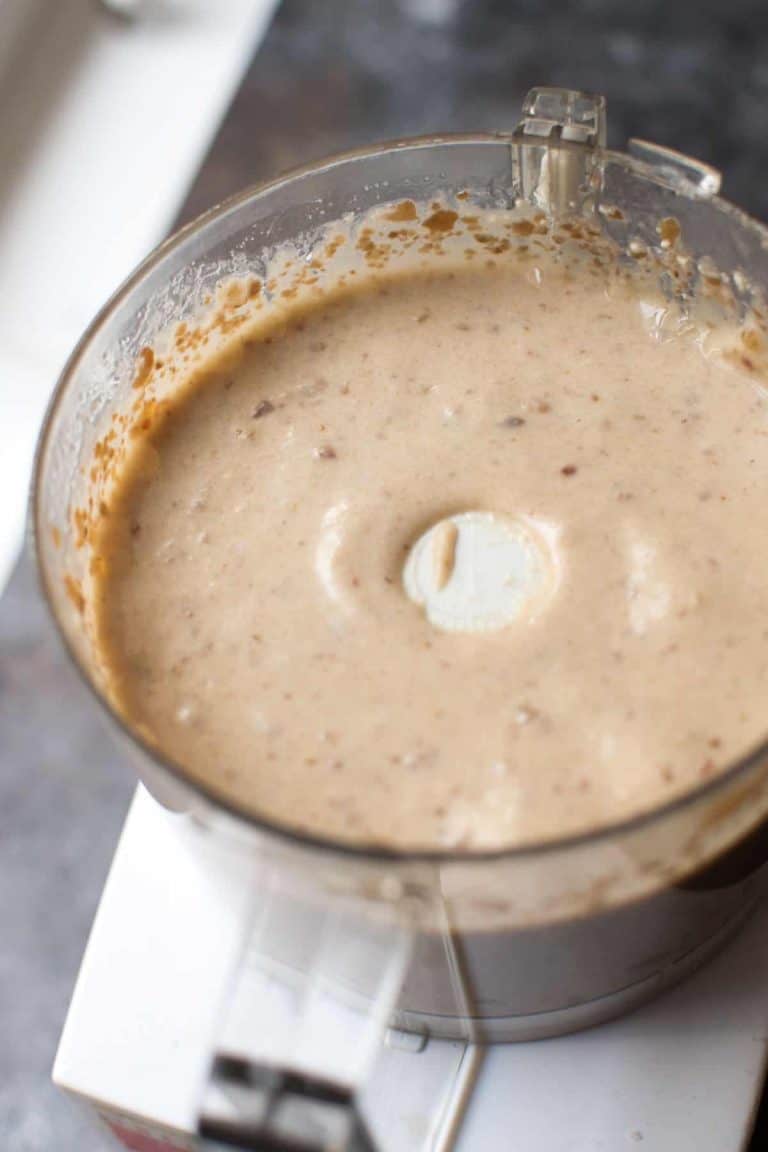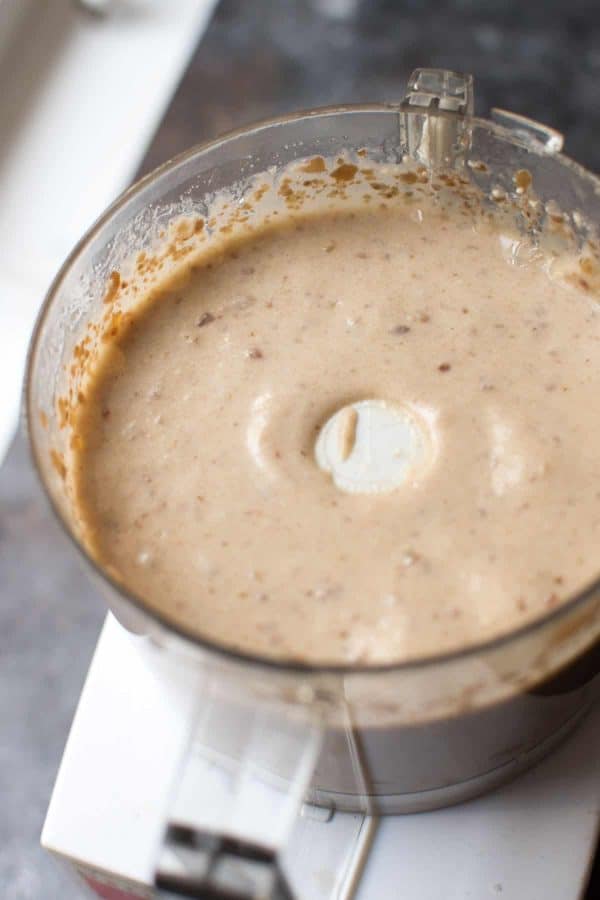 The other magic ingredient is the silken tofu. While typically reserved in the past for things like smoothies, silken tofu is a great way to add more protein into your baked goods. Don't fret if you can't find silken though, soft tofu works just as well once blended up in the food processor.
I know I know, you're seeing those chocolate chips on top and you're thinking two things:
you sit on a thrown of lies
how is this refined sugar free
We already sweetened the banana bread with dates, right? Those divine mini chocolate chips on top? They're made using cane sugar (think raw sugar) instead refined sugar so while, yes, there is still technically sugar it retains more nutrients than its granulated sugar counterpart.
Best of all these little mini chocolate treats are free of soy, dairy, and gluten. I use the Enjoy Life mini chips, they are delicious.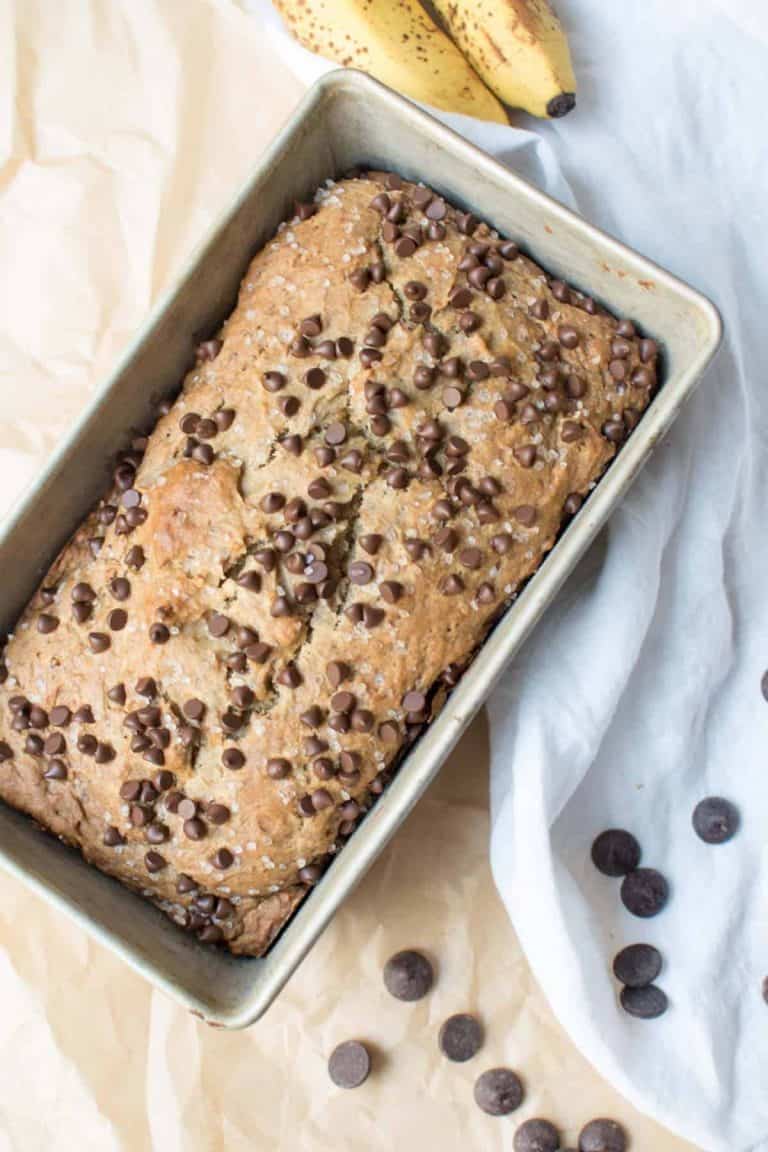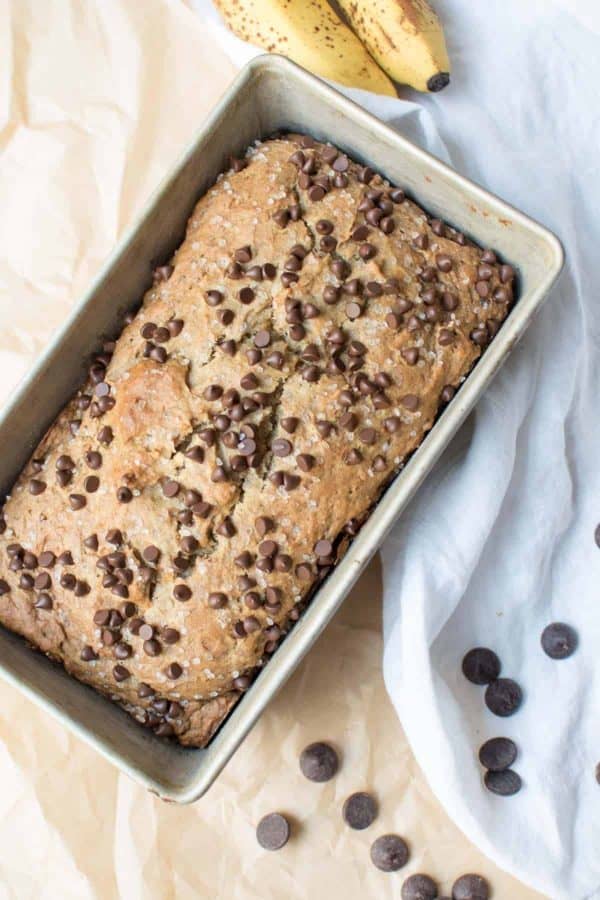 Let's blend up this goodness and get it baking so we can quench that sweet tooth craving with a wholesome option!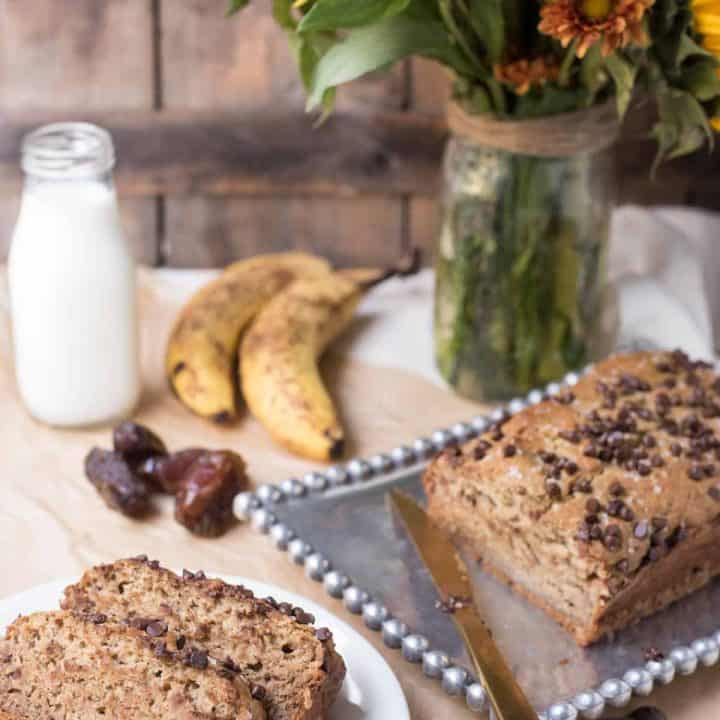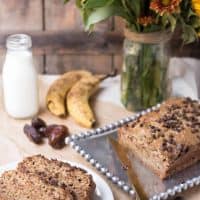 No Refined Sugar Vegan Banana Bread
Vegan with no refined sugar, this guilt-free banana bread is the perfect quick breakfast or grab a slice for an on the go snack. Sweet banana flavor with a hint of fall spices baked up moist and tender.
Print
Pin
Rate
Servings:
8
to 10 servings
Ingredients
1

large banana

(use 1 ½ if on the smaller side)

6

tablespoons

almond milk

8

medjool dates

(pitted)

½

cup

silken or soft tofu

⅓

cup

oil

1

teaspoon

vanilla

1 ¾

cup

all purpose flour

1

teaspoon

baking soda

1

teaspoon

baking powder

¾

teaspoon

salt

½

teaspoon

nutmeg

½

teaspoon

cinnamon

⅛

teaspoon

clove
Optional Topping:
¼

cup

Dairy Free Mini Chocolate Chips

¼

teaspoon

coarse or flake sea salt
Instructions
Soak pitted dates in a bowl with hot water.¹ Preheat oven to 350°F. Prepare bread baking dish (typically 8x4 inch) by greasing and flouring.

Drain the dates from the water and add to a food processor or high powered blender. Add banana, almond milk, tofu, oil and vanilla. Pulse 10 times, then turn to 'on' or 'high' for 2 minutes.

In a mixing bowl, whisk together the dry ingredients. Add the wet ingredients to the dry, mixing well with a spatula to combine.

Transfer your batter to the prepared baking dish and bake for 40-45 minutes until a toothpick comes out mostly clean. Optional: Sprinkle the top of the bread with chocolate chips and sea salt before baking.
Notes
¹If your blender or food processor are high powdered and work wonderfully, you don't need to soak the dates. If your kitchen equipment is less than reliable or if the dates are a touch old, soak to soften about 5 minutes.
Nutrition
Calories:
302
kcal
|
Carbohydrates:
46
g
|
Protein:
5
g
|
Fat:
12
g
|
Saturated Fat:
2
g
|
Trans Fat:
1
g
|
Sodium:
424
mg
|
Potassium:
278
mg
|
Fiber:
3
g
|
Sugar:
21
g
|
Vitamin A:
46
IU
|
Vitamin C:
1
mg
|
Calcium:
77
mg
|
Iron:
2
mg