A sweet and spicy spin on an addictively delicious snack! Gingerbread popcorn has the great classic popcorn crunch, kettle corn style sweetness with the perfect gingerbread spice. Best of all, it's simple to make and ready in 10 minutes!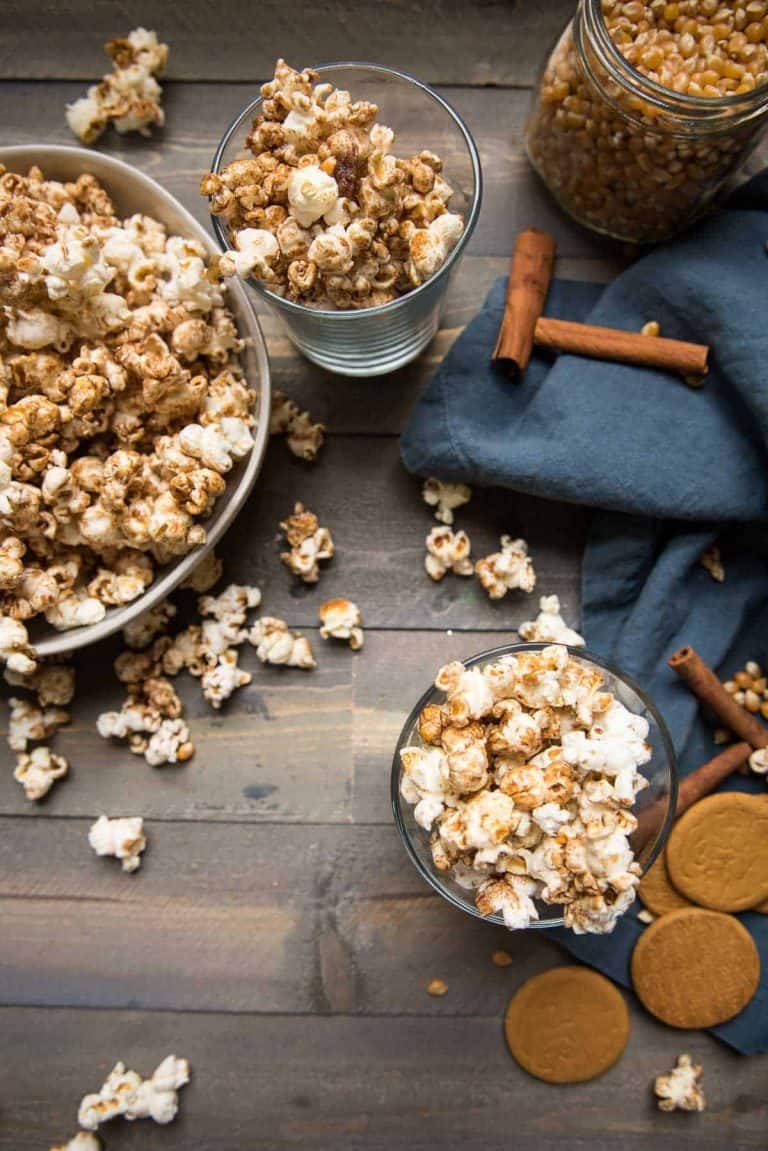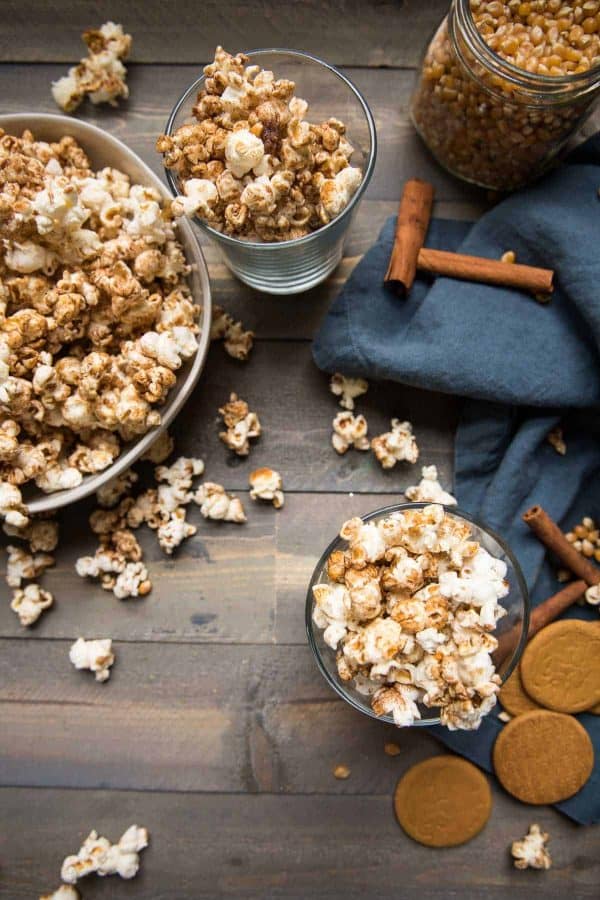 Homemade Kettle Corn with Gingerbread Spice
Calling all kettle corn lovers! Well I guess kettle corn and gingerbread aficionados because this gingerbread popcorn recipe is if those two things had a baby. It's crunchy and sweet with lots of warming spices all draped over popcorn in the light and crisp kettle corn shell.
Did you know you can make kettle corn at home? It is a complete game changer. Not just because you get that satisfying sweet and savory warm popcorn snack without a trip to the fair, but because making kettle corn style gingerbread popcorn is super fast, inexpensive and simple.
All those words are beautiful things, aren't they?
Equipment for poppin'
No fancy poppers, twirlers or any sort of new kitchen equipment needed. To easily make homemade gingerbread flavored popcorn you'll need:
sheet pan
parchment or wax paper
rubber spatula or wooden spoon
4-quart sauce pan with a lid
I can hear you over there, why do I need a sauce pan?
Because the minute that sugary sweet popcorn is done you're going to need somewhere to spread it out to cool. If you don't spread the hot sugared popcorn out, it will harden in the pan as it cools making it one massive 4-quart pan shaped popcorn ball. Of course, if that's what you're going for by all means go for it, otherwise spread that popcorn out!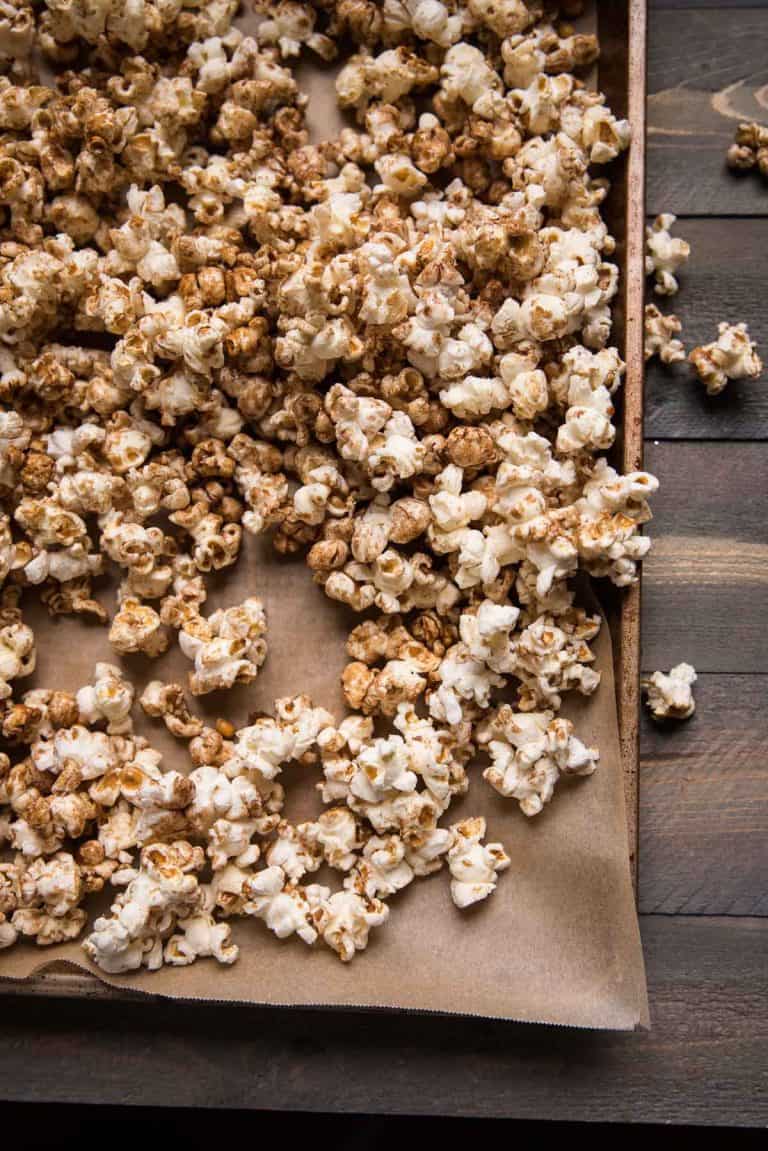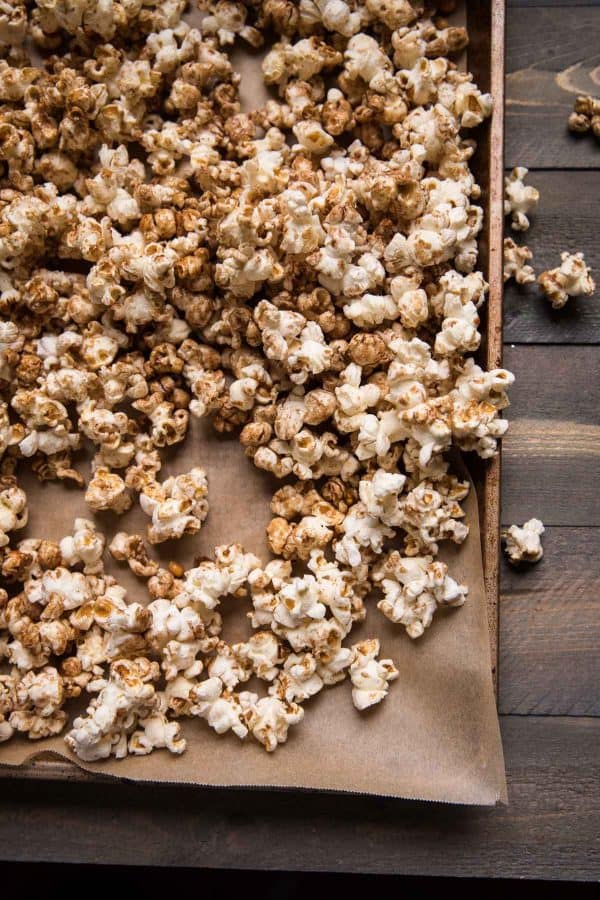 The parchment or wax paper is going to make a stick free surface to easy break after any pieces that stick together. Bonus: parchment paper makes clean up a breeze.
For your spoon or spatula, pick something with a longer style handle. You'll need to stir in the gingerbread spiced sugar mix into the hot oiled popcorn kernels. Having a long handle makes it less likely that you could be splashed by hot oil.
Why do I need a 4-quart saucepan to make kettle corn style popcorn?
This pan is the best! It has a handle which makes the frequent 'shaking the pan' easy and without accidental spills. The heavy bottom of the saucepan will keep the sugar from cooking too quickly. Also, a 4-quart sauce pan will be much easier to manage and dump the hot, sugary popcorn from sauce pan to baking sheet pan.
You'll need a sauce pan with a lid to contain the moisture and heat while popping and also while shaking the pan.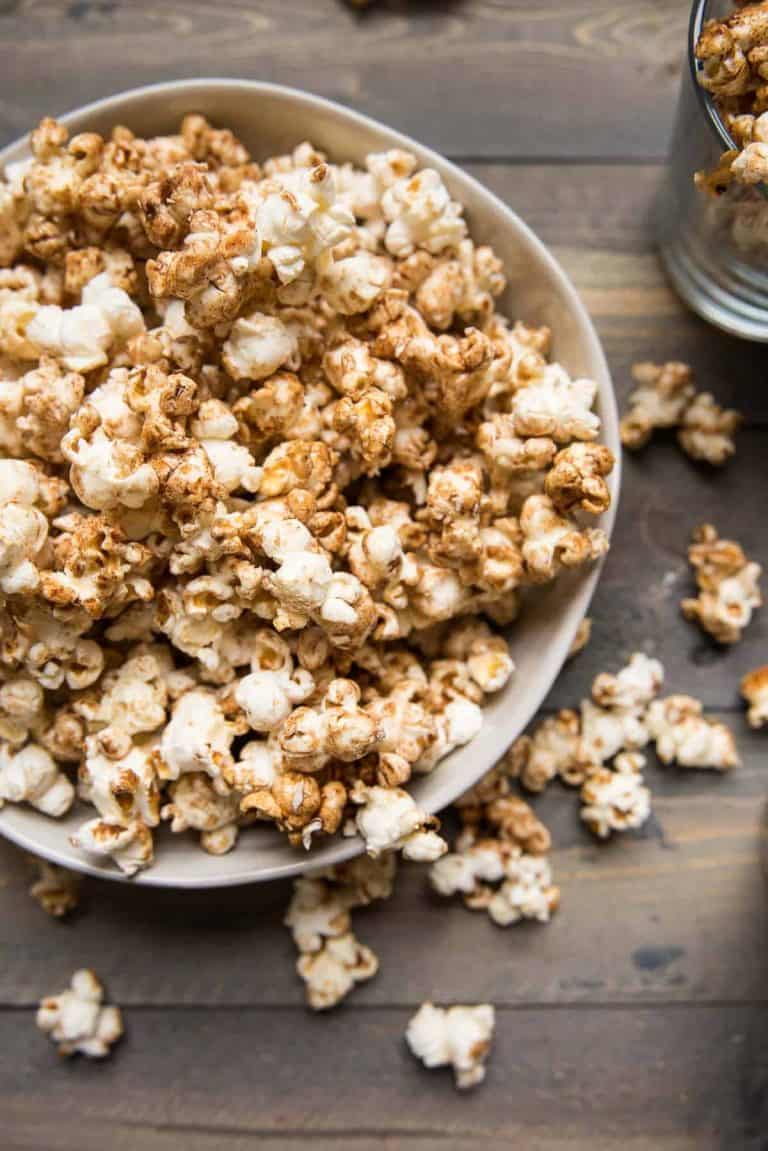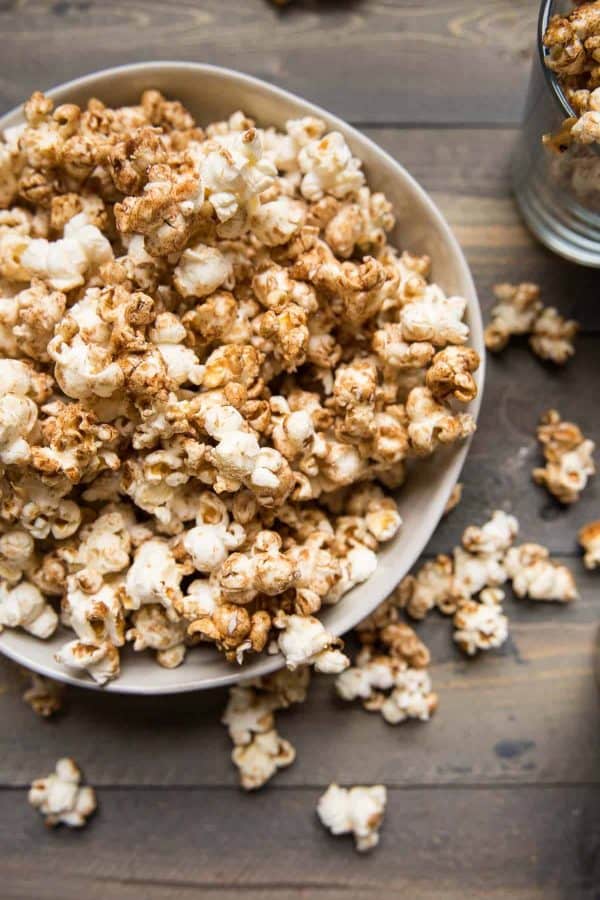 Tips for the best gingerbread popcorn
The thought of adding easy-to-burn sugar to hot bubbling oil can be daunting, but I promise this recipe is easy to make perfect the first time around.
After adding the oil to the pan, add 2 to 3 popcorn kernels. These are your 'test' kernels. When they pop, the oil is hot enough.
Stir the popcorn with the sugar and spice mixture super quick and then cover the pan. You want to evenly distribute the sugar but keep the heat in the pan.
Use a properly fitting lid to the sauce pan.
Shake the pan frequently - with the lid on - while the kernels are cooking or popping. This helps to coat the popcorn with the gingerbread sugar.
Remove the pan from the heat once the popping starts to slow. If you wait until all the kernels are popped you'll most likely end up with burnt sugar popcorn. It's better to pick out a few kernels here and there than eat burnt sugar and popcorn.
If you love simple, easy holiday snacks this two ingredient bark is ridiculous (but in only the best way). If you're in the mood for something to pair up with this popcorn recipe but need a savory dish, this cranberry brie flatbread is the way to go! It's cheesy with the perfect amount of tart cranberries and fresh rosemary.
Whether you're a first time at-home popper or a popcorn making pro, you've totally got this! This gingerbread popcorn is awesome to make as a quick, thoughtful food gift to give or a great, less indulgent holiday snack to crunchy while wrapping presents. Be sure to let me know how you're snacking on it!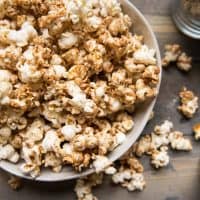 Easy Homemade Gingerbread Popcorn
Get the house smelling good while making this holiday inspired snack! Gingerbread popcorn is a sweet and spicy twist on traditional homemade kettle corn and ready in under 10 minutes!
Print
Pin
Rate
Ingredients
3

tablespoons

canola or vegetable oil

½

cup

popcorn kernels

⅓

cup

granulated sugar

1 ½

teaspoons

ground cinnamon

¼

teaspoons

ground ginger
Instructions
Line a sheet pan with parchment or wax paper. Keep it close to the stove so you can quickly spread out the popped popcorn. In a small bowl, combine the sugar, cinnamon, and ginger.

Pour the oil into the saucepan, add 3 popcorn kernels and cover with a well fitting lid. Cook over medium high heat. When these kernels start to pop you'll know that the oil is hot enough to cook the rest of the kernels.

After the test kernels start to pop, add the remaining popcorn kernels. Quickly stir in the sugar and spice mixture with the kernels and cover with a lid. As the popcorn pops, frequently shake the pan to mix the sugar with the popcorn. Increase your pan shaking as the popping speeds up.

When the popping starts to slow, about 2 seconds between each pop, remove the pan from the burner and empty onto the lined sheet pan. Using a long handled spoon or spatula, spread the hot popcorn into as much of a single layer as possible (it doesn't have to be perfect.) Let cool for 2 to 3 minutes before eating.
Notes
When shaking the pan, remove the pan from the burner and with one hand on the lid and one hand on the handle of the pan shake it back and forth vigorously. Return to the burner after shaking.
Seeing some steam from under the lid is normal, smoke is not. Smoke will mean burnt sugar.
Don't cook until all the kernels are popped or you will most likely burn the sugar and popcorn. Once there's about 2 seconds between pops is a good indicator the popping is done.
Your gingerbread popcorn should stay nice and crisp in an airtight bag for up to 2 days.
Nutrition
Calories:
118
kcal
|
Carbohydrates:
16
g
|
Protein:
1
g
|
Fat:
6
g
|
Saturated Fat:
1
g
|
Trans Fat:
1
g
|
Sodium:
1
mg
|
Potassium:
31
mg
|
Fiber:
2
g
|
Sugar:
8
g
|
Vitamin A:
1
IU
|
Vitamin C:
1
mg
|
Calcium:
4
mg
|
Iron:
1
mg