A White Walker Dragon Cake is the ultimate centerpiece for your Game of Thrones viewing party. Three layers of super moist, tender blue velvet cake, creamy vanilla butter cream filling and eye popping dragon scale piping.
There are a lot of truths involved in this cake. Truth – I'm binging GoT while I write this posts as an excuse to get in the proper mood. Truth – there's a fair amount of food dye involved in this cake. And Truth – I am unabashedly a NERD especially when it comes to nerding about fictional sagas like Harry Potter, Outlander, and Game of Thrones. Big fan of the books gone big screen over here.
This post may contain affiliate links that won't change your price but I may earn a commission.
So what do you do when it's the final season?! You prepare your best Game of Thrones themed food and have a viewing party with all your other GoT obsessed friends. Oh, and make put making a White Walker Dragon Cake on the list, too.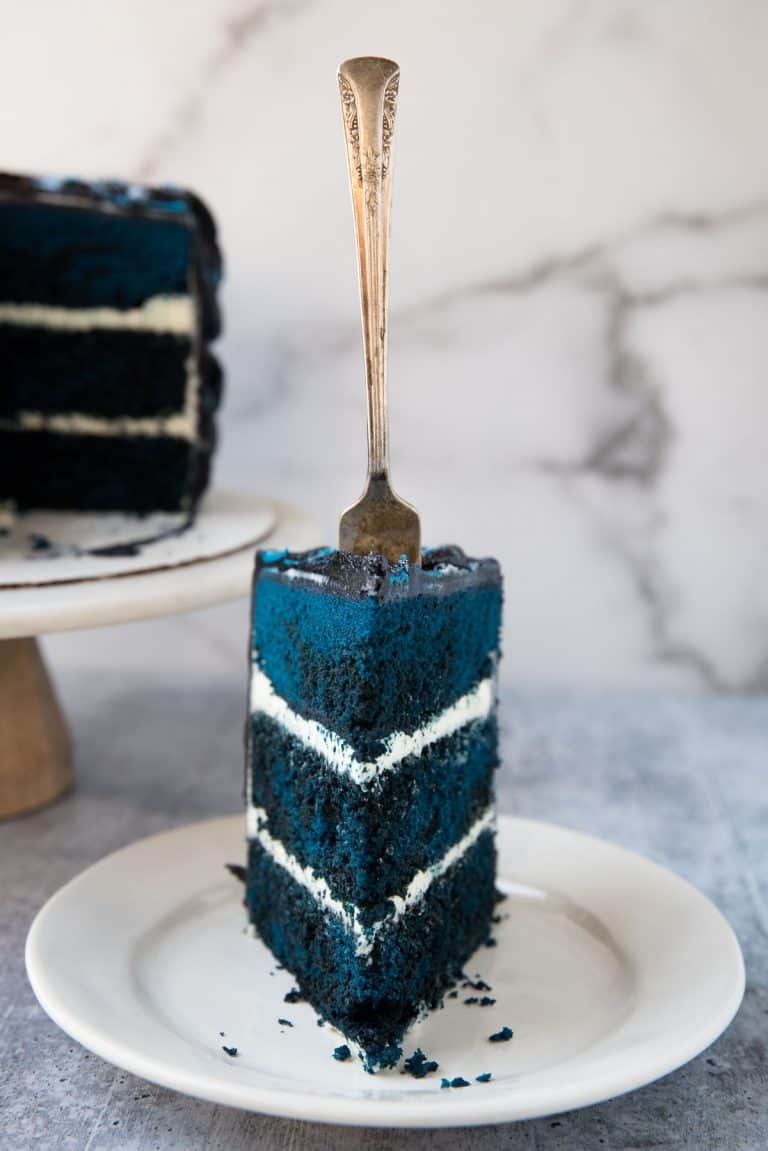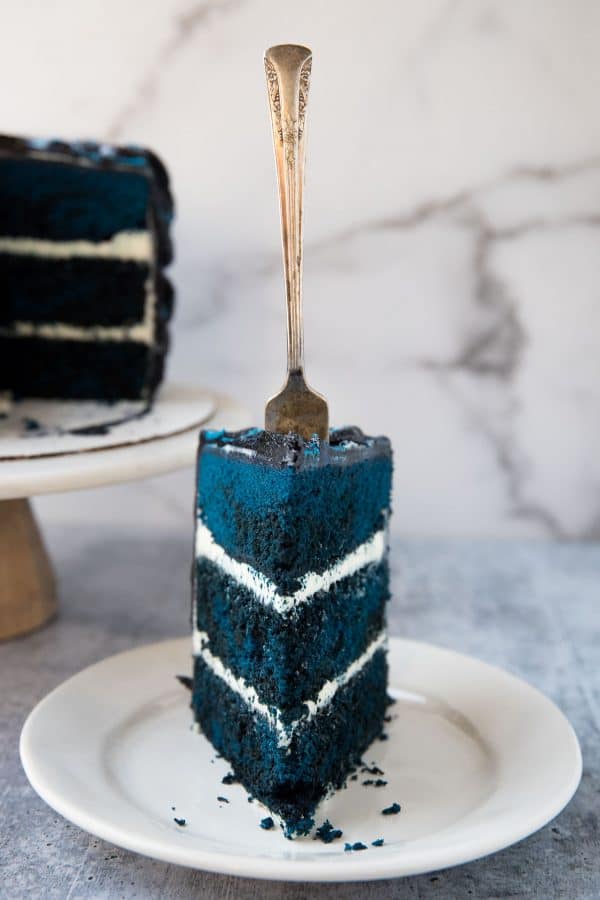 Last year for the season 7 premiere I made Liv for Cake's Red Velvet Dragonscale Cake. It's delicious and if you're a red velvet purist, I highly encourage it. But for this season premiere I wanted to up the ante and if you didn't watch the end of last season stop reading this post RIGHT NOW.
This post is literally a spoiler in and of itself starting with the title. So sorry, I guess.
Anyway, the Night King in all his creepy glory turns poor dead Viserion – Daenerys' dragon – into a wight and/or white walker (jury's still out on which one.) Then the poor zombie dragon goes and blasts the only line of defense the living has against the army of the dead. That deserves a cake, right?
Welp it's getting one and here's how we're doing it.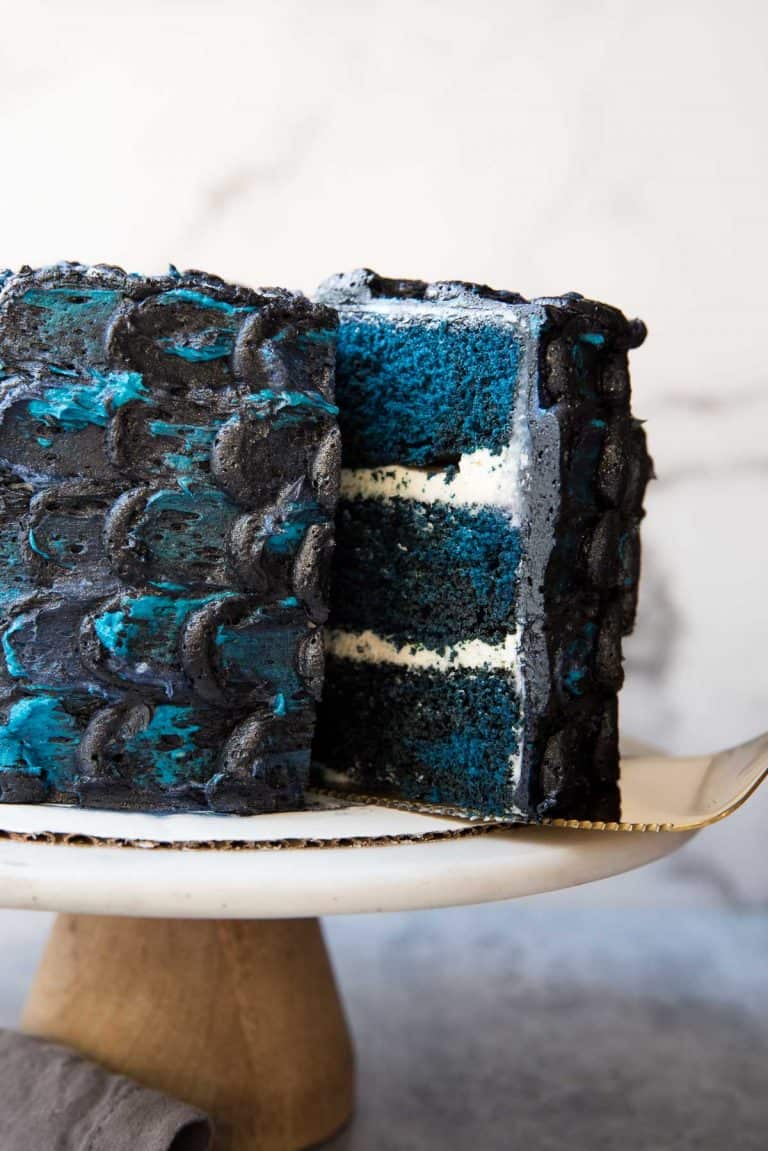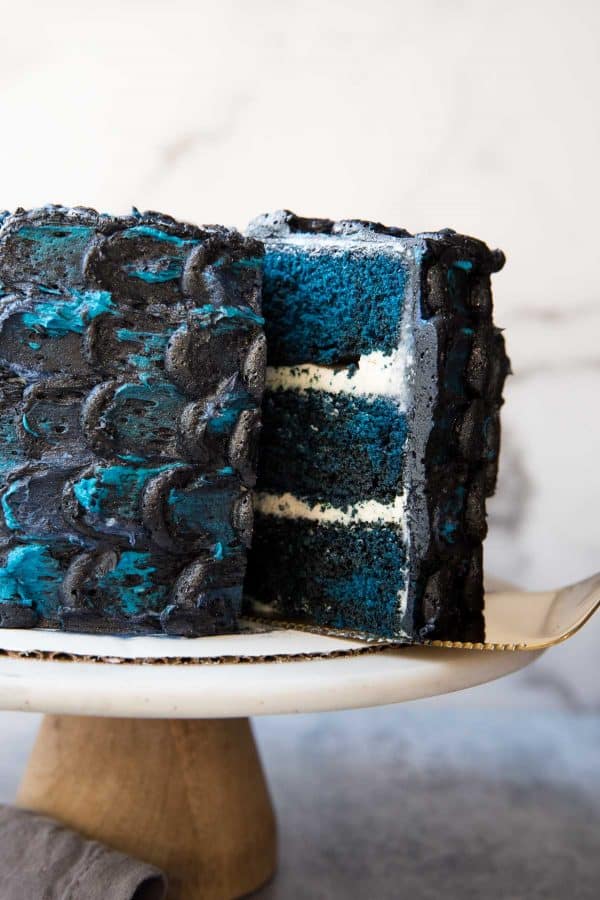 How to Make a White Walker Dragon Cake
This blue beauty is going to start with three layers or super moist, tender blue velvet cake. The recipe comes from my absolute favorite red velvet cupcakes (and that recipe is adapted from the original Waldorf Astoria's Red Velvet.) But we're going to add half to the recipes and turn it blue.
Even though they are called 'White Walkers' they're kind of a lot of blue, so we're rolling with it. If you want to substitute a white cake, I like this bakery style white cake.
This blue velvet cake follows the traditional preparations of velvet cake.
cake flour
cocoa powder
buttermilk (the full fat stuff)
shortening
baking soda and vinegar combination to help the cake rise
You can whisk the royal blue gel food coloring into the buttermilk to make sure you don't have any lumps of color hiding in the batter.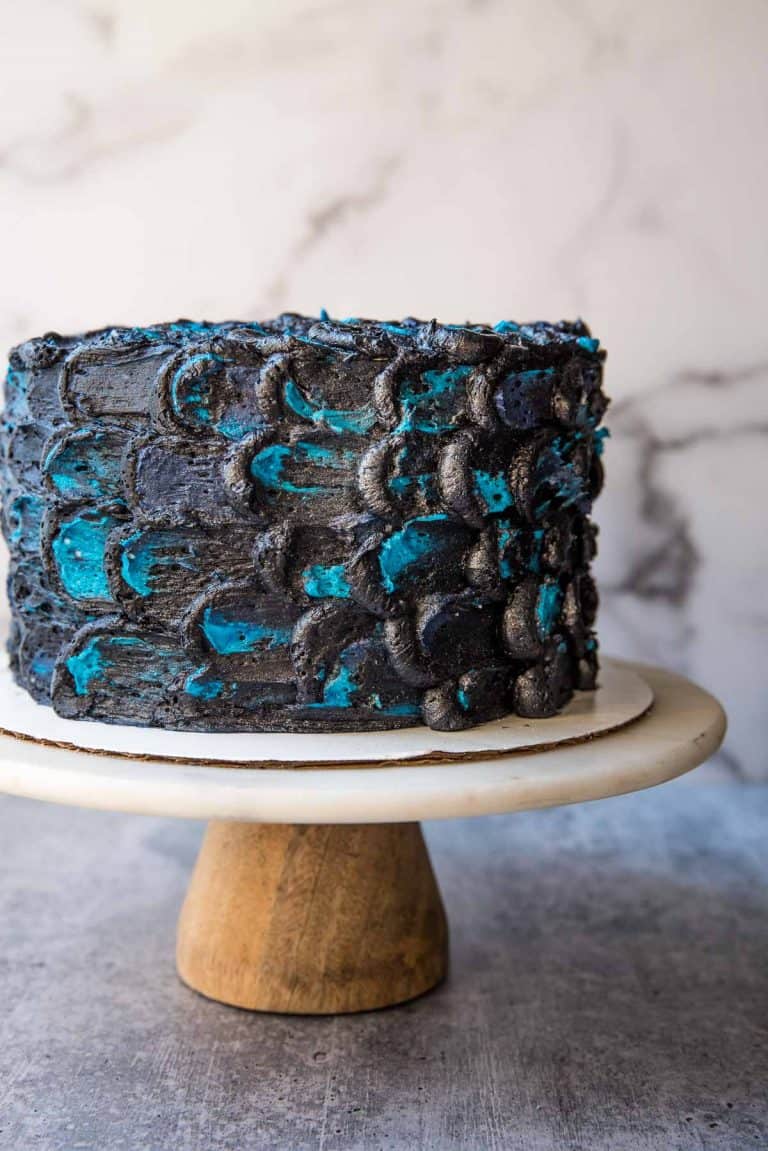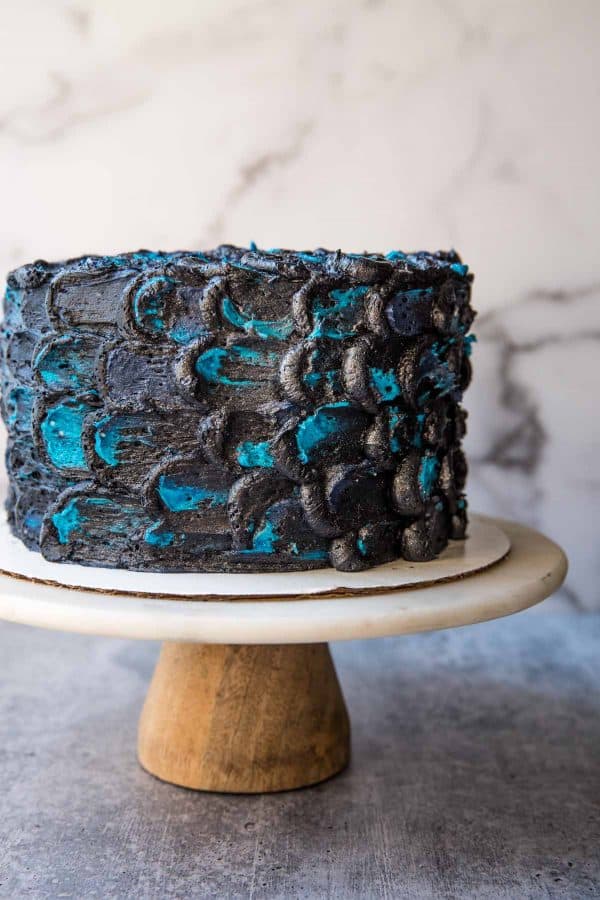 Once the cakes are baked, prep the frosting as they cool. American buttercream makes for an easy, go to frosting. Which boils down to simple ingredients:
unsalted butter
confectioners sugar
vanilla extract
heavy cream
food dye gel colors
The gel colors are my recommendation as they won't affect the texture of the frosting. You'll need three colors of frosting and silver edible shimmer dust to give it that white walker shimmer. For colors I went with Delphinium Blue, which is the darker blue, purple color and Sky Blue for that bright bold pop of color. Of course you'll need straight up black food coloring gel to get the dark shade of the dragon scale.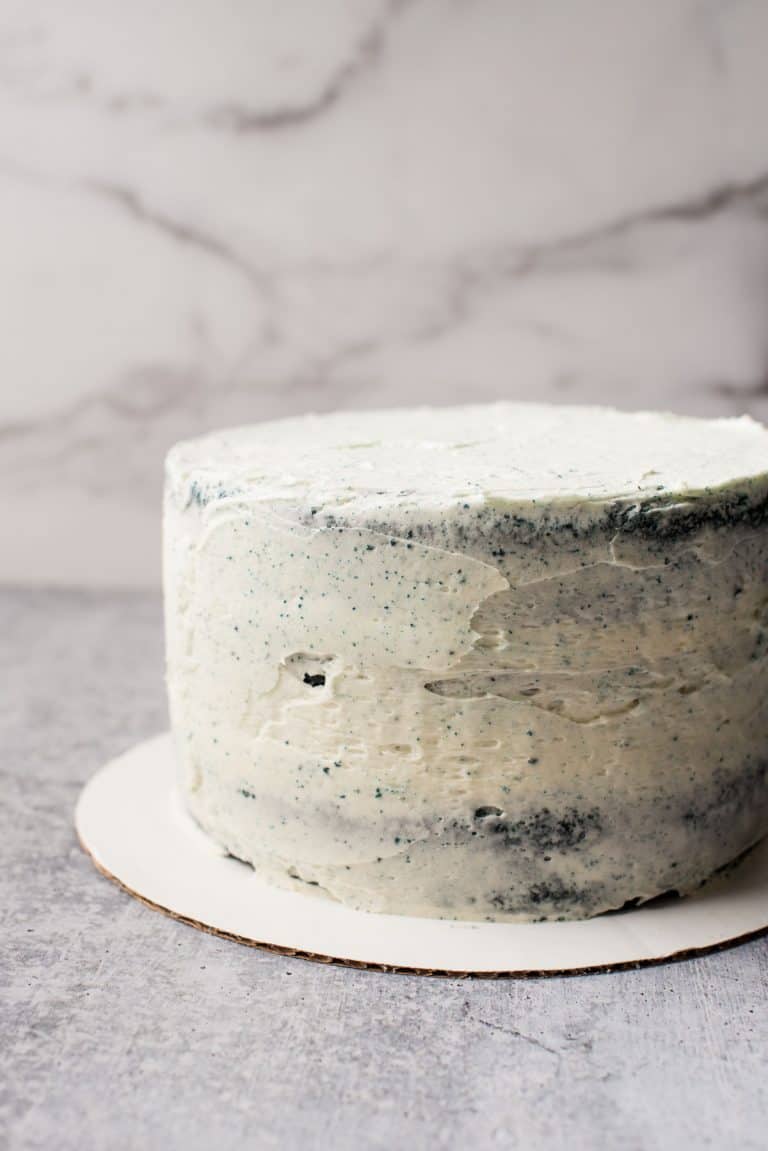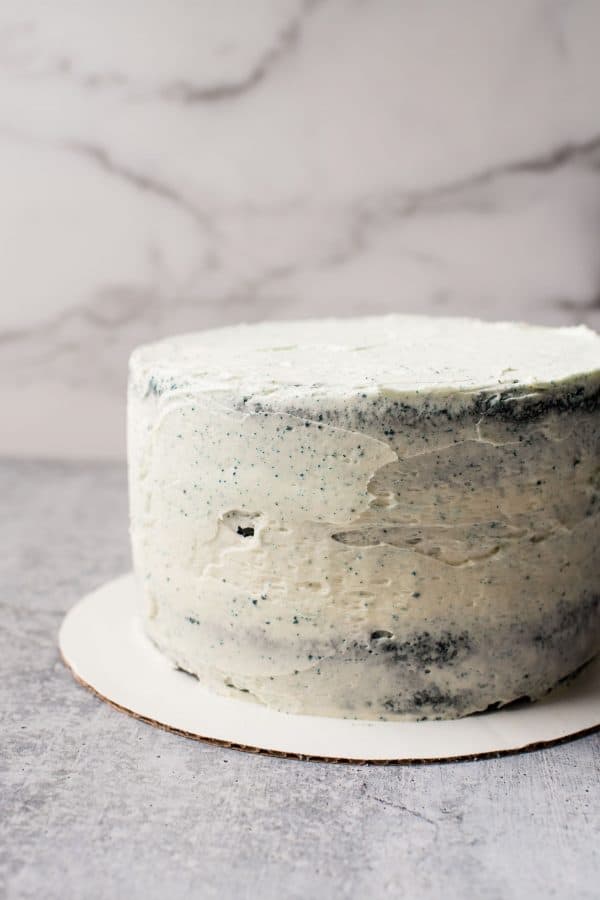 But before any of the fun dragonscale work starts, you'll want to fill the layers with white buttercream and do a crumb coat. Listen, if you want to dye the inside frosting too, be my guest. Go all in on this cake, its going to make you blue inside and out regardless….blue teeth, blue lips, blue um….ehm, bathroom business.
Hey, sometimes you have to make sacrifices for the Iron Throne and if eating a blue cake with black and blue frosting in one serving makes you the ruler of the seven kingdoms, someone pass me a fork.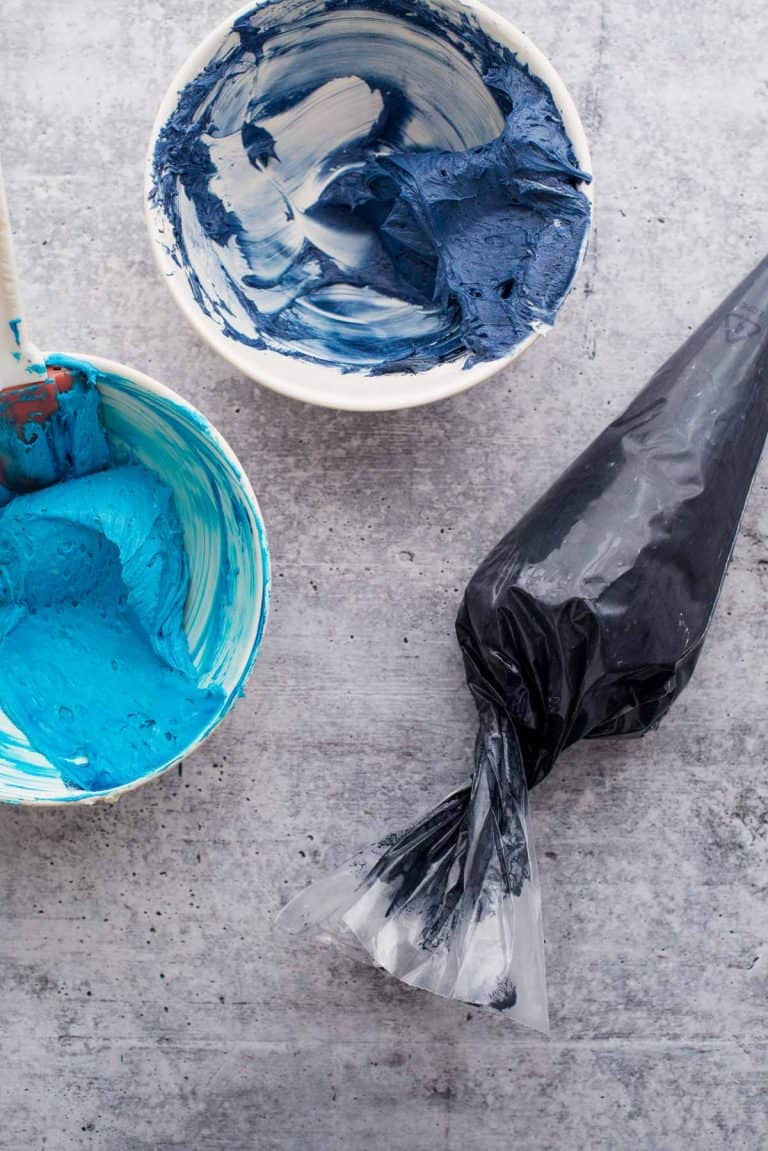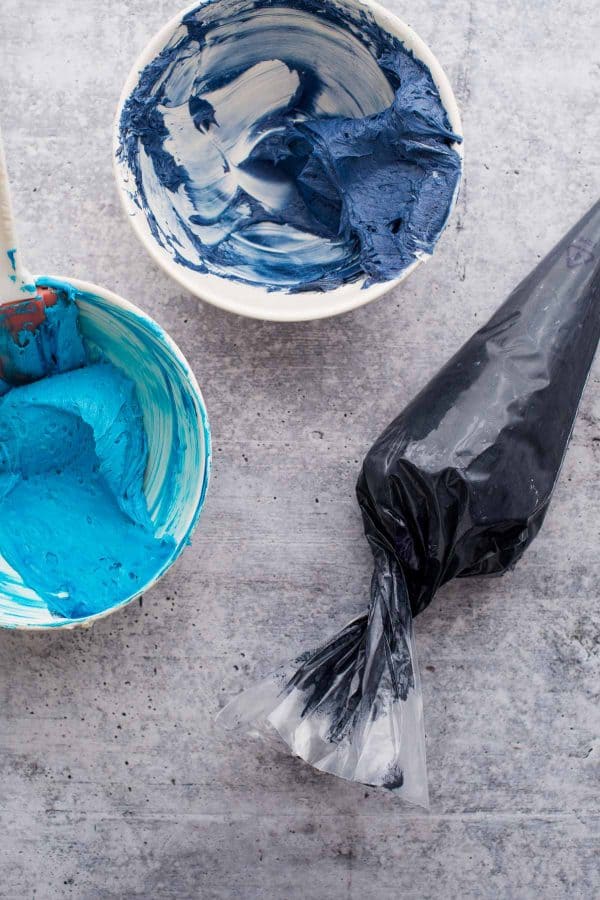 Decorating the Dragonscale
Once the crumb coat is applied and chilled to set, the get all your stuff ready to work out the dragonscale. You'll need the black buttercream in a piping bag fitted with a large round tip. Two bowls with two different colored blue buttercream and an icing spatula. I like to keep a plastic cutting board nearby too so I can scrape any excess frosting from my icing spatula.
Pipe large round dots in an uneven row down the side of the cake. Lightly scoop a tiny amount of one or the other blue buttercream frostings, or a combination of both. Press down with the tip of the icing spatula on the large round circle and drag it backwards. That's what will give the almost thumbprint pattern.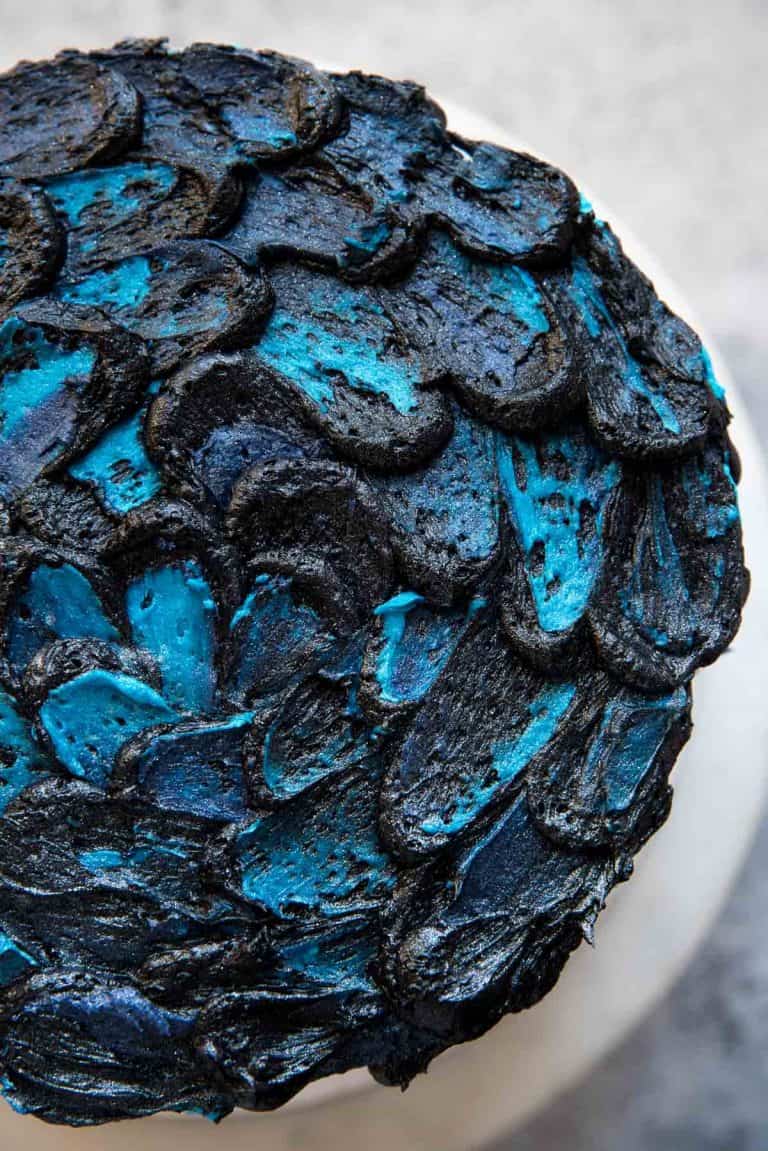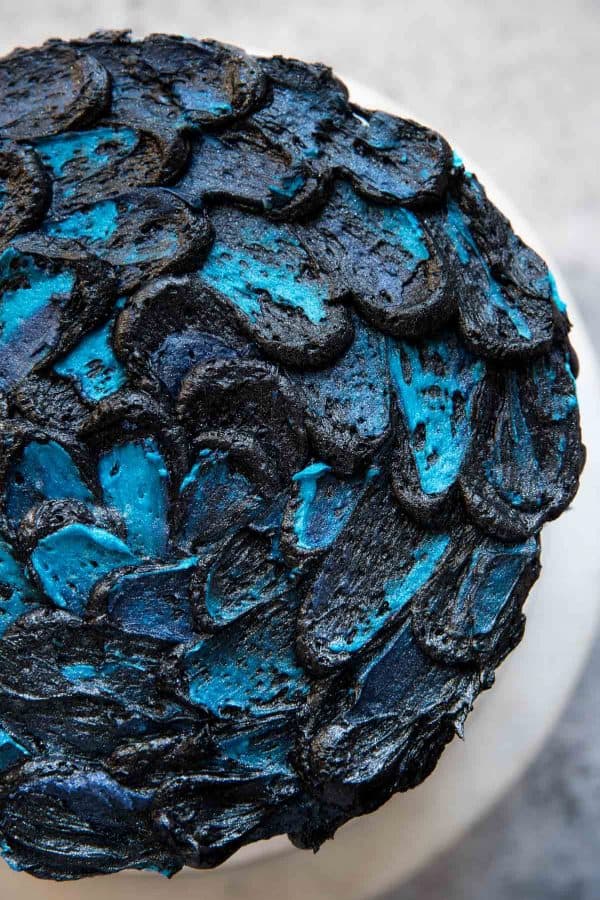 When you get to the end you'll have to work a little magic to blend in the last row to the first row. For the top of the cake, start in the center then work your way around and out. Once all the dragon scale is complete cover the white walker dragon cake in the silver shimmer dust that that icy look.
A word to the wise – icing colors will darken with time. I'd recommend trying about half the bottle of food dye for the black buttercream first, since a grey color will also be pleasing and it will darken up as the time passes. This will set nicely in the refrigerator and can definitely be made ahead.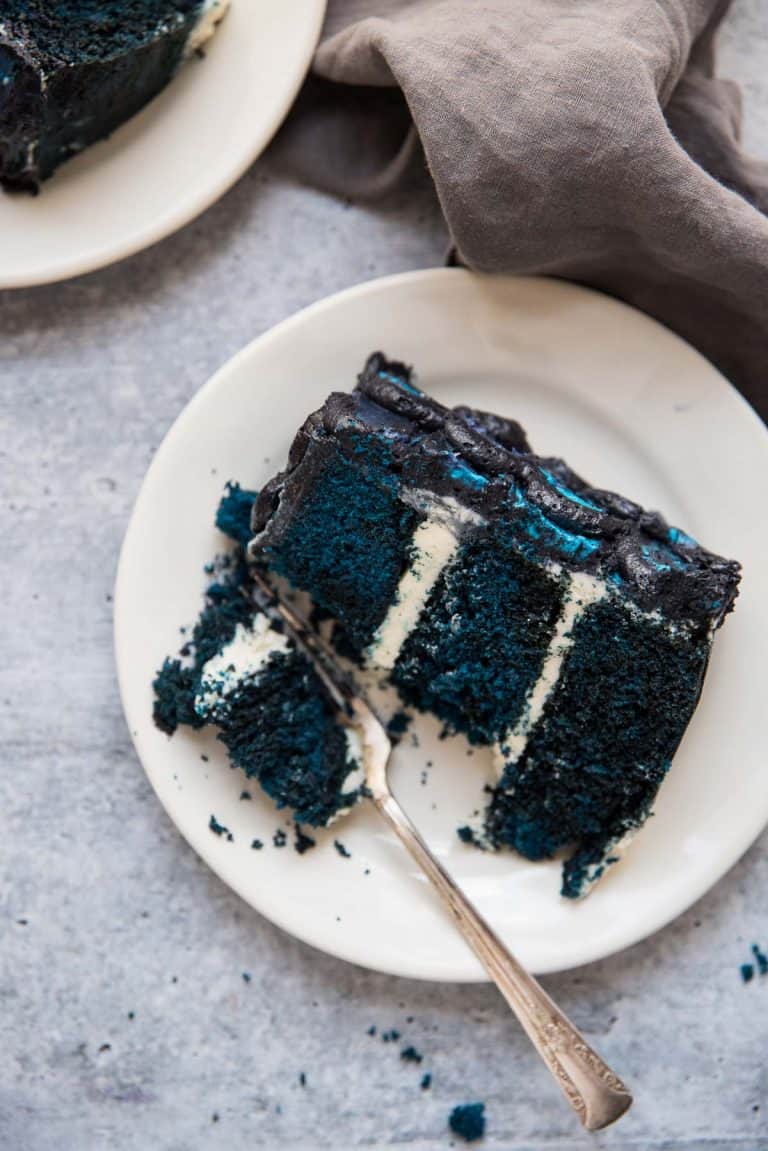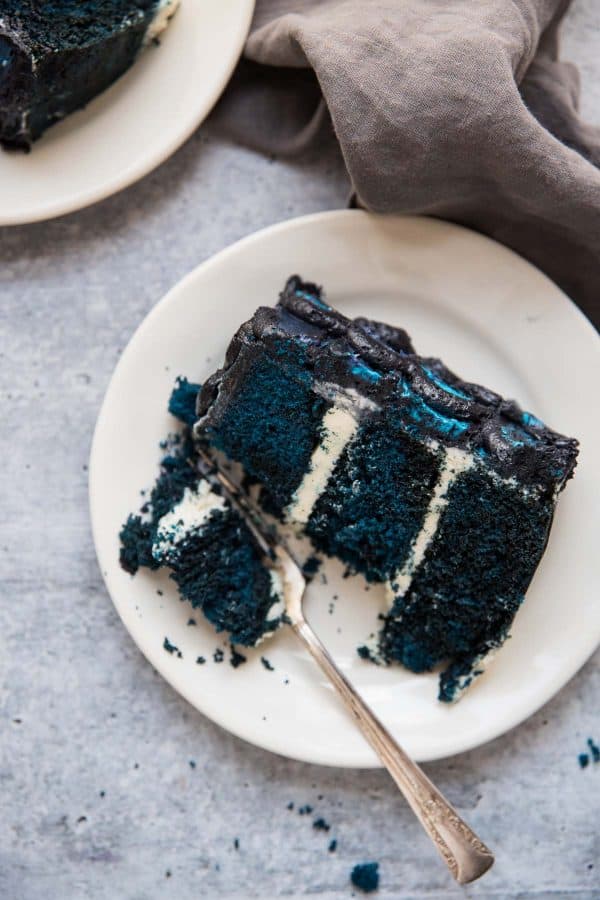 I swear – by the old gods and the new – this White Walker Dragon Cake is exactly what you need to watch the final Game of Thrones season in true style!
Did you make this recipe? Tell me in the comments! Just here for the pictures? Tell me your favorite GoTs character below!
Recipe inspired by red velvet dragonscale cake.
Print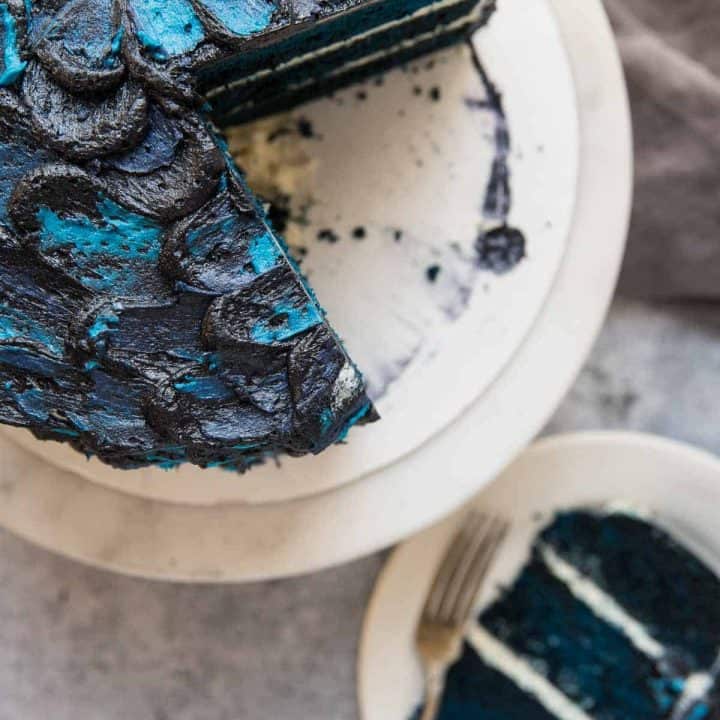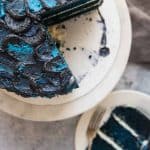 White Walker Dragon Cake
---
Author:

Prep Time:

1 hour

Cook Time:

28 minutes

Total Time:

3 hours

Yield:

12

servings

1

x
Description
The ultimate centerpiece for your Game of Thrones viewing party. Three layers of super moist, tender blue velvet cake, creamy vanilla butter cream filling and eye popping dragon scale piping.
---
Scale
Ingredients
Blue Velvet Cake
¾ cup

+ 1 tablespoon (

160g

) shortening

2 ¼ cup

(

450g

) granulated sugar

3

large eggs

1 ounce

Wilton royal blue gel icing color (see note for substitutions)

3

heaping tablespoons (

25g

) cocoa powder

1 ½ cups

buttermilk

3 ⅓ cups

(

354g

) cake flour, sifted

1 teaspoon

salt

1 ½ teaspoons

pure vanilla extract

1 ½ teaspoons

baking soda

1 ½ teaspoons

white vinegar
Buttercream Frosting
2 ½ cups

unsalted butter, softened

7 ½ cups

confectioners sugar

3

to

4

tablespoons heavy cream

2 teaspoons

pure vanilla extract
---
Instructions
Blue Velvet Cake
Preheat oven to 350°F. Grease and flour 3 8-inch cake pans.
In a standing mixer or mixing bowl with handheld electric mixer, cream shortening and sugar on medium speed. Add eggs and beat until combined.
Combine cocoa powder, food color, 3 tablespoons of buttermilk in a small bowl. Stir to make a paste and add to the mixer on low speed.
Add half the buttermilk, then half the flour to the mixing bowl on low speed. Add salt, then remaining buttercream, then remaining flour.
Increase speed to medium-low. Add vanilla and mix to incorporate, scraping down sides if needed.
In a small bowl, add baking soda to vinegar then add to the mixer and combine.
Divide the batter evenly between the three pans. Bake for 25 to 30 minutes. (If using the toothpick method to check doneness, it's ok if there are a few crumbs clinging to the toothpick).
Let cool while preparing the buttercream.
Buttercream Frosting
In the bowl of a standing mixer, beat the butter on medium speed until soft and pale yellow. Turning the speed to low, add confectioners sugar 1 cup at a time until incorporated.
Add vanilla extract and increase speed of the mixer to medium. One tablespoon at a time, add the heavy cream until a smooth and creamy consistency is achieved.
Transfer 1 ½ to 2 cups of the white buttercream to a piping bag for the crumb coat. Reserve an additional ½ cup frosting for each of the blues.
With the remaining buttercream, add the black food gel color a little at a time until a dark grey/black color is achieved. Transfer the frosting to a large piping bag fitted with a large round tip.
Assembling the White Walker Dragon Cake
Once the cakes are cooled, pipe the white buttercream between each of the layers and smooth over the top and sides. It's ok if some crumbs stick to the cake. Transfer the crumb coated cake to the refrigerator until frosting is stiff and set.
While crumb coating is setting, prepare the dyed frostings. In each bowl with the ½ cups of reserved frosting, add a little gel food color at a time and mix until desired hue it achieved.
Once crumb coat is set, pipe large round dots in an uneven column down the side of the cake. Using the icing spatula, lightly scoop a very tiny amount of one or the other blue buttercream – or a little of both – frostings.
Press down on ¾ of one round piped dot with the tip of the icing spatula on the large round circle and drag it across to give the thumbprint pattern with the streak of blue (see note.) Repeat for the remaining dots in the 'column' then start a new one.
Once the sides are complete, using the same method work in an uneven circle starting at the center of the cake and working to the edge.
Dust the sides and top of the cake with silver shimmer dust. Store in the refrigerator, serve at room temperature.
Notes
Food coloring: if using liquid food color for the cake (thinking baking aisle at the grocery store), use 2 fluid ounces. The gel food coloring can be found at any craft store in the baking department.
After a few smears with the icing spatula you may need to wipe it off on the cutting board or the side of a bowl so the black icing doesn't combine with the blue.
Category:

desser

Method:

baked

Cuisine:

game of thrones
Keywords: game of thrones party, game of thrones cake, white walker cakes, white walker dragon
Recipe Card powered by