Autumn squash flatbread takes just minutes to make and provides all the flavors to welcome the fall season! Squash purée spread over prepared flatbread pizza crust and topped with monterey jack cheese, granny smith apple slices and chopped leeks.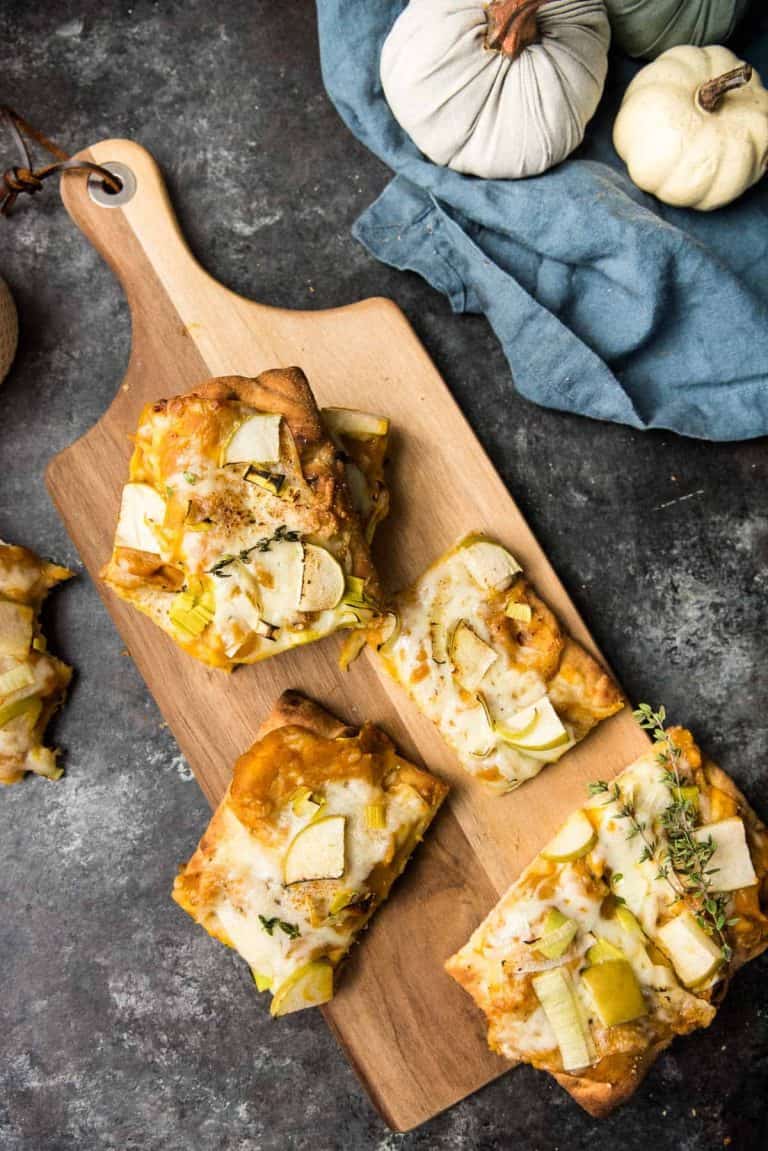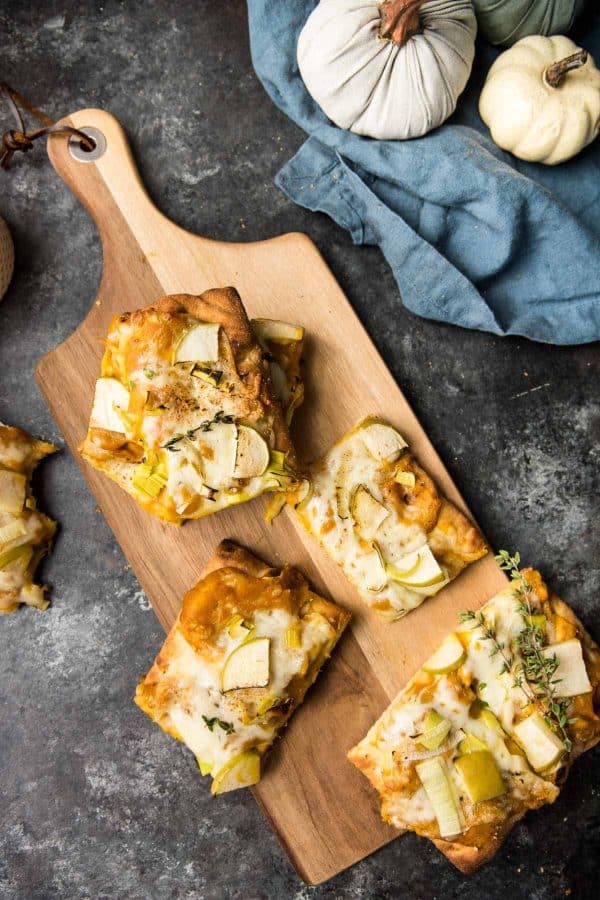 We're here. We've arrived. It's the season of pumpkin, squash, apples, PSLs, black leggings and blanket scarves. Well, ok, maybe it's a little early for the scarves weather wise, but the fall cooking season has begun. First stop....FLATBREADS.
You know when you're in the thick of the week? It's like your proverbial plate is piled so high like it's an all you can eat buffet but you can't go up for seconds so you really got make that one plate weeerk. Then dinner pops up and is all, "oh heeeeey, just thought I'd pop in and see what your plan was." This autumn squash flatbread is here for that.
Or it's here for football parties and Saturday brunch. It's here to feed your kids! Like it feed mine over the course of two weeks.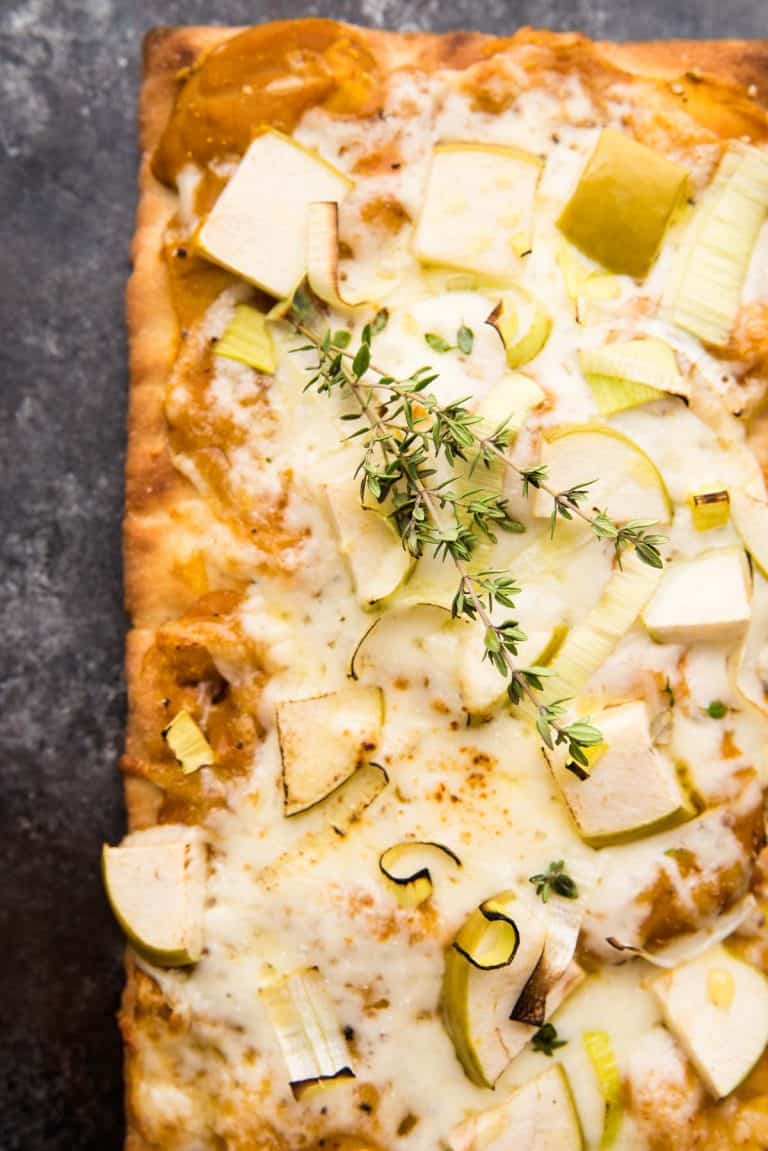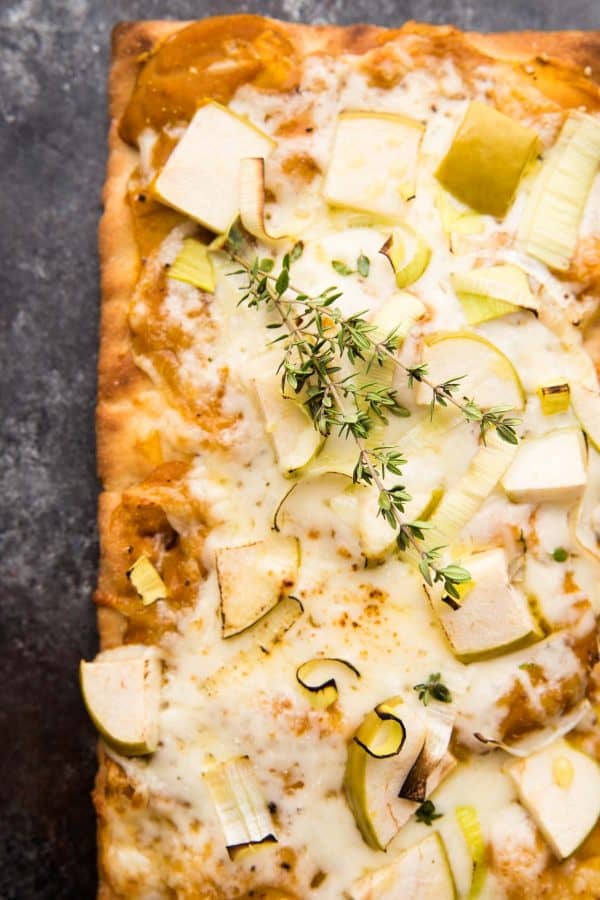 Squash flatbread is bringing all the goodness of pizza without the time consuming flour dust mess. It bakes up in minutes, uses simple, easy to find ingredients, and plays on the savory and sweet flavors of fall.
We're talking about
creamy pureed squash
melty monterey jack cheese
sweet and tart granny smith apple pieces
savory pop of crispy leeks
crunchy, premade and ready to go pizza crust
Sounds like a dream right? Well, let me just tell you that dream is a just a grocery store trip away from reality.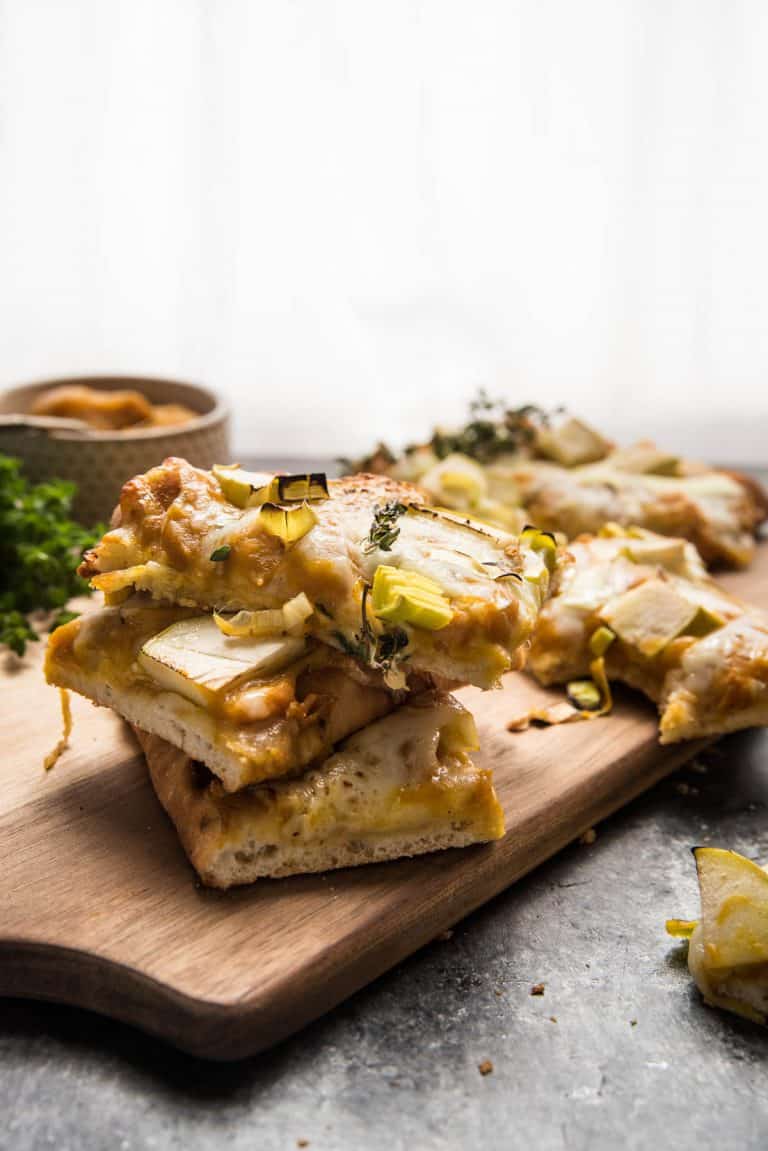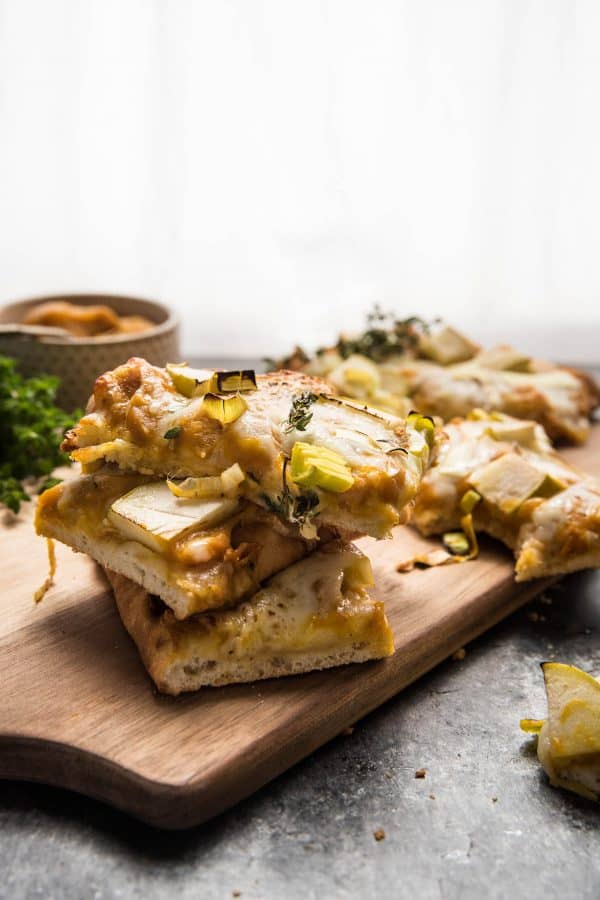 How to make an Autumn Squash Flatbread
First step. KEEP IT EASY.
We're going to go ahead and pull that pre made flatbread right out of the package and slap it on some parchment paper. For these flatbreads I used Brooklyn Bred Pizza Crusts. They're about the length of a sheet tray and come with two crust per package. Perfect for about 6 people.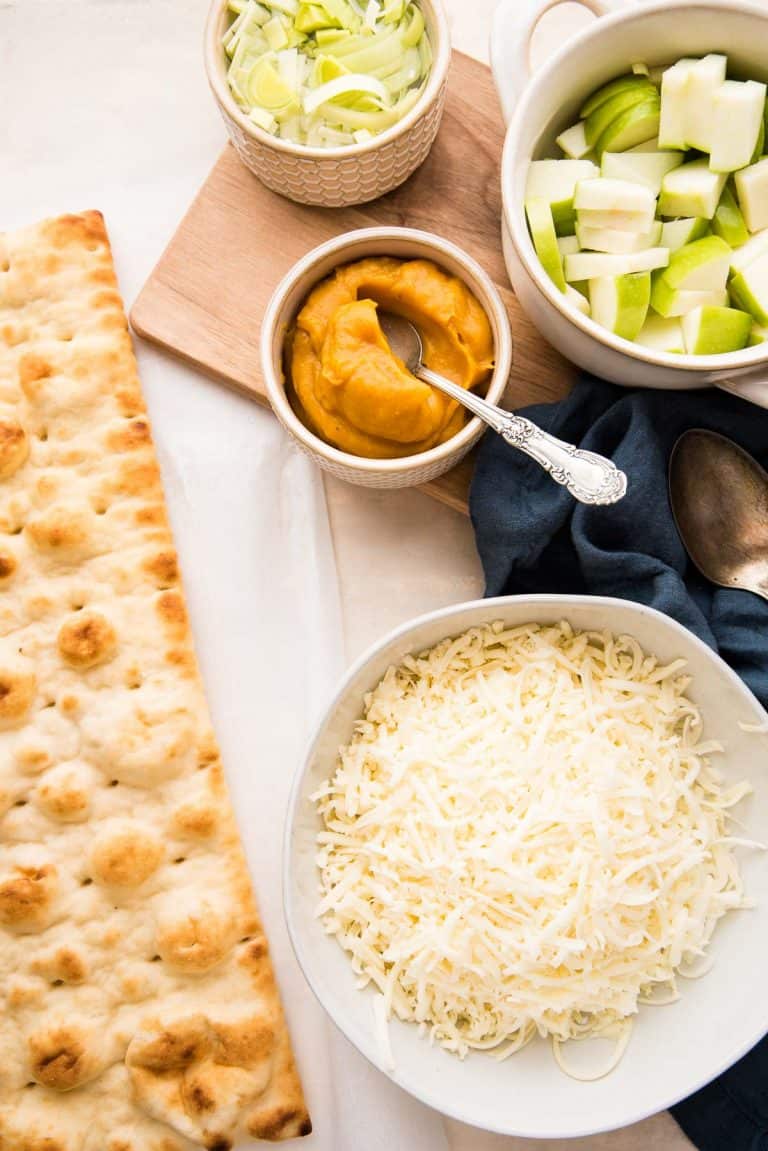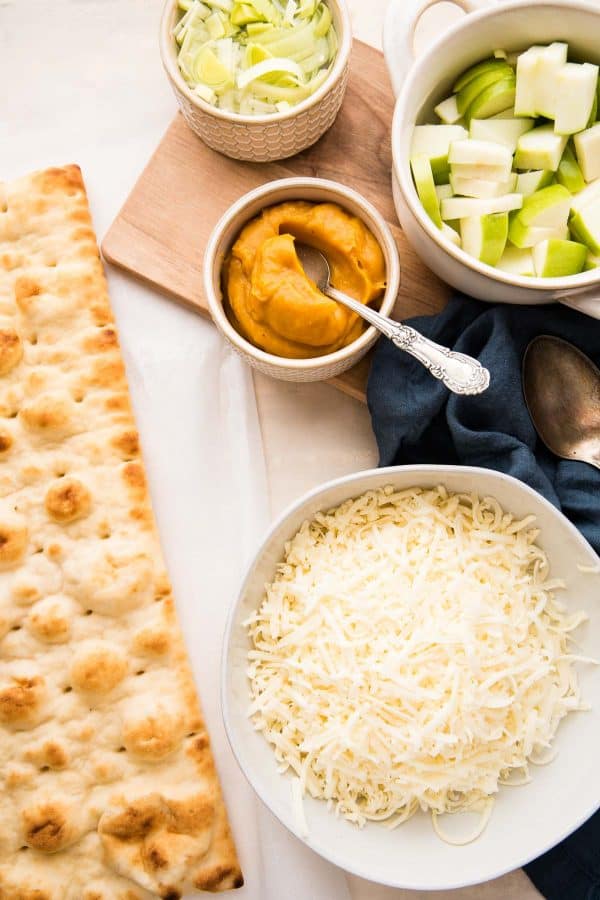 Other brands I love is Stonefire Na'an flatbreads. The rectangular ones. The Stonefire brand is a smidge smaller than the Brooklyn Bred, but that just means more delicious toppings per bite.
Of course you can use regular pizza dough as well. Just cut a one pound dough in half and stretch it into two thin, long flatbreads.
Next up comes the slathering.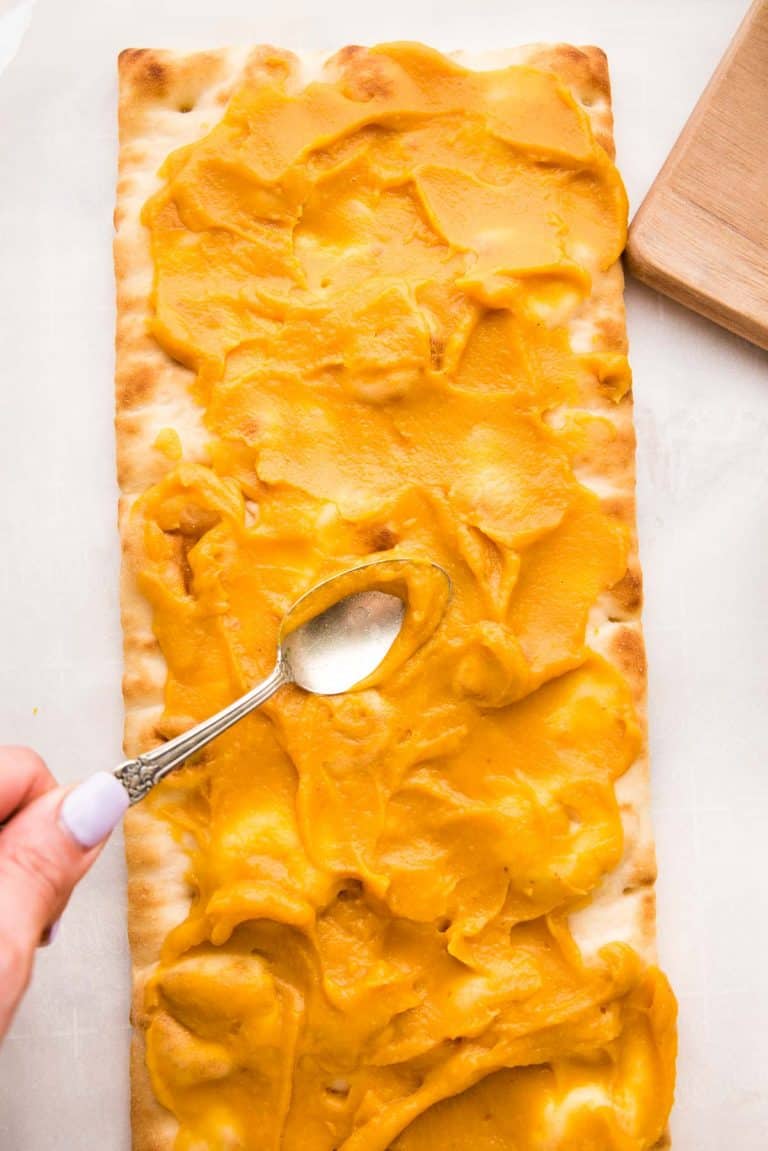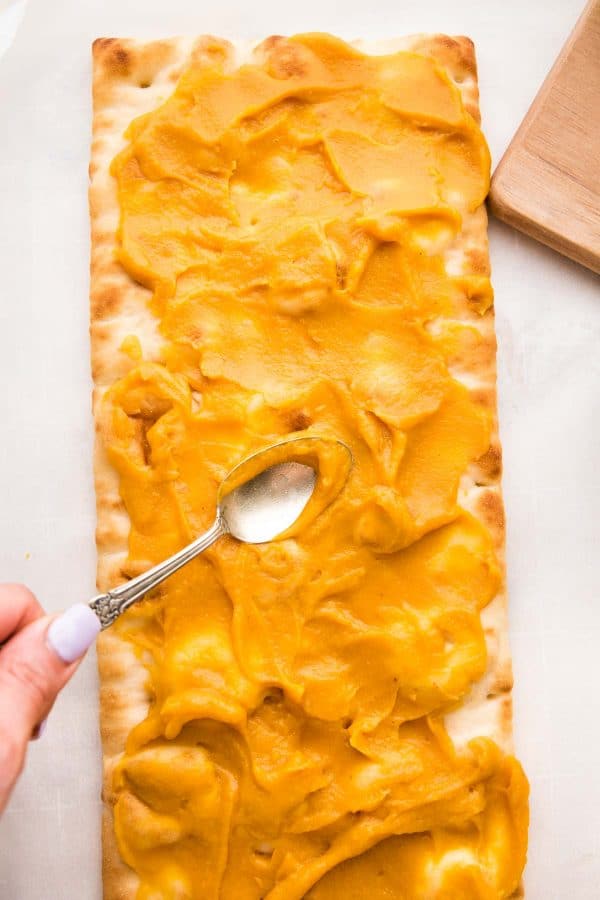 To keep it simple, we're using squash purée that you would find canned in the grocery store. Season it with salt and pepper to give it a little pop. If you're willing to go the extra mile, this maple roasted butternut squash is ridiculously creamy. The sweet roasted flavor would be a great addition.
WHAT CHEESE SHOULD YOU PUT ON A SQUASH FLATBREAD?
Time for toppings!!
Fresh grated Monterey Jack cheese sprinkled all over for ooey googy cheesey goodness is the go to here. It's just sharp enough but not over powering. I've recently become obsessed with grating my own cheese. Buy a big block and just run it through the grater on my Kitchenaid. If there's no time for that, any blend of shredded cheese is grate great.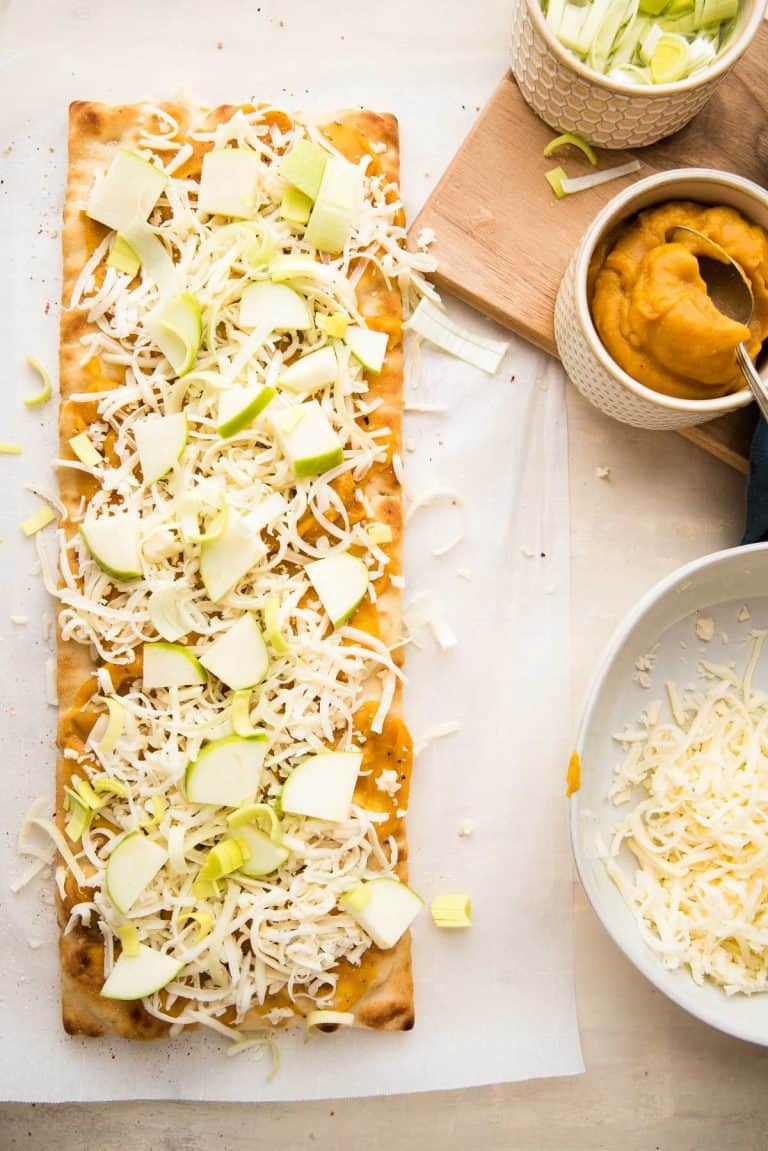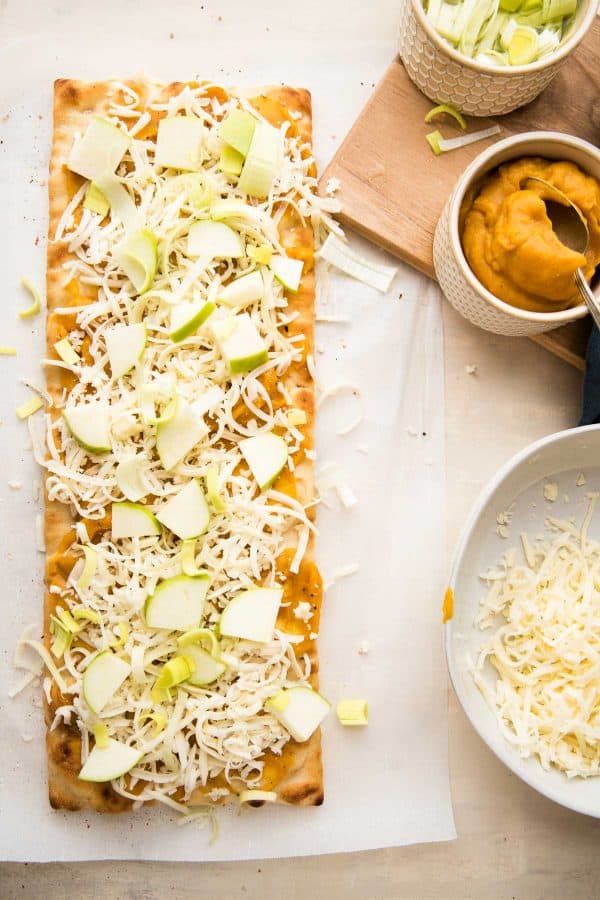 Additional cheese options:
ricotta dotted over shredded cheese
goat cheese
for the extra savory folk, some blue cheese!
WHY SHOULD YOU USE GRANNY SMITH APPLE WITH SQUASH?
Besides being delicious, it's the perfect amount of tart. The flavors will sweeten as it bakes but the granny smith apple slices will hold their shape and still be moist without adding water to the flatbread toppings.
It's a sturdy apple and that's why we love it for baking!
We extra love it when it's paired up with sweet and savory options like sliced leeks.
And then if you reeeeeallly want to up the ante with sweet and savory sprinkle some fresh thyme leaves before baking finish with a drizzle of maple syrup after.
NEED MORE FALL INSPIRED RECIPES? TRY THESE!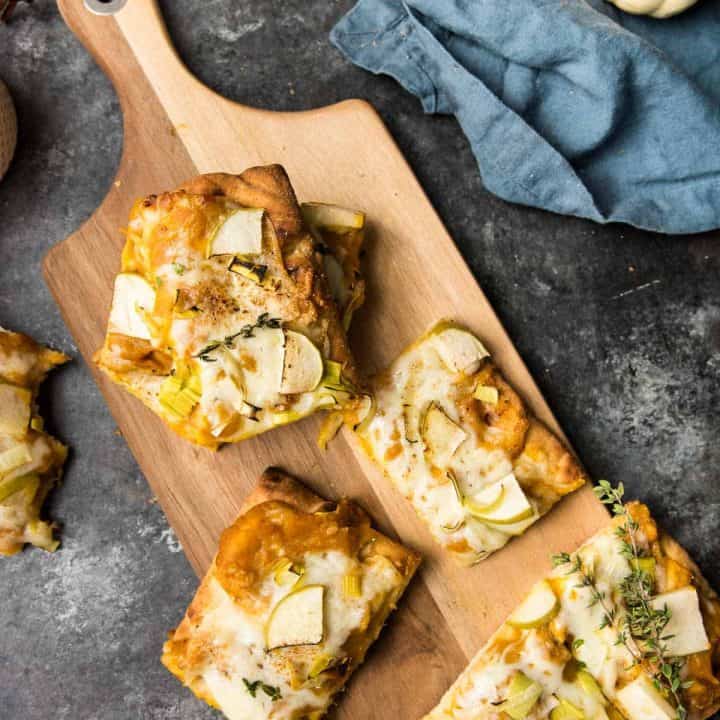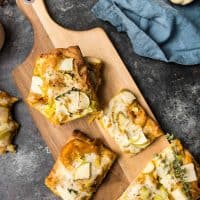 Autumn Squash Flatbread with Apple and Leeks
Easy and quick with all the flavors of fall! Autumn squash flatbread is the perfect way to welcome the season as an appetizer, entree or for brunch!
Print
Pin
Rate
Ingredients
1

package

flatbread crusts

(2 crusts per package (I used Brooklyn Bred))

1

can

squash purée

(15-ounce can)

8

ounces

monetary jack cheese

(fresh grated)

½

teaspoon

salt

½

teaspoon

black pepper

½

cup

sliced leeks

1

Granny Smith apple

(chopped)

1

spring

fresh thyme

(optional)

1

tablespoon

pure maple syrup

(optional)
Instructions
Preheat the oven to 425°F. Remove both flatbreads from the package. Using the backside of a spoon or a spatula, spread the squash over the flatbread crusts, leaving a very small crust. Sprinkle with salt and pepper.

Grate the Monterey Jack cheese and sprinkle evenly over both flatbread crusts. Repeat with the apples and leeks. Optional: Remove the thyme leaves from the springs and scatter over the flatbreads.

Bake at 425°F for 8 to 10 minutes. Cut each flatbread into 6 rectangular slices and serve. For a sweet touch, add a light drizzle of pure maple syrup!
Nutrition
Calories:
98
kcal
|
Carbohydrates:
7
g
|
Protein:
5
g
|
Fat:
6
g
|
Saturated Fat:
4
g
|
Cholesterol:
17
mg
|
Sodium:
202
mg
|
Potassium:
117
mg
|
Fiber:
1
g
|
Sugar:
4
g
|
Vitamin A:
5732
IU
|
Vitamin C:
3
mg
|
Calcium:
156
mg
|
Iron:
1
mg