Crunchy, bright vegetables layered and wrapped in thin rice paper wrappers and served with slightly spicy, lightened up Thai peanut sauce. Rainbow veggie spring rolls are just as delicious as they are vibrant! Perfect for lunch, dinner, or to serve as finger food appetizers at your next gathering.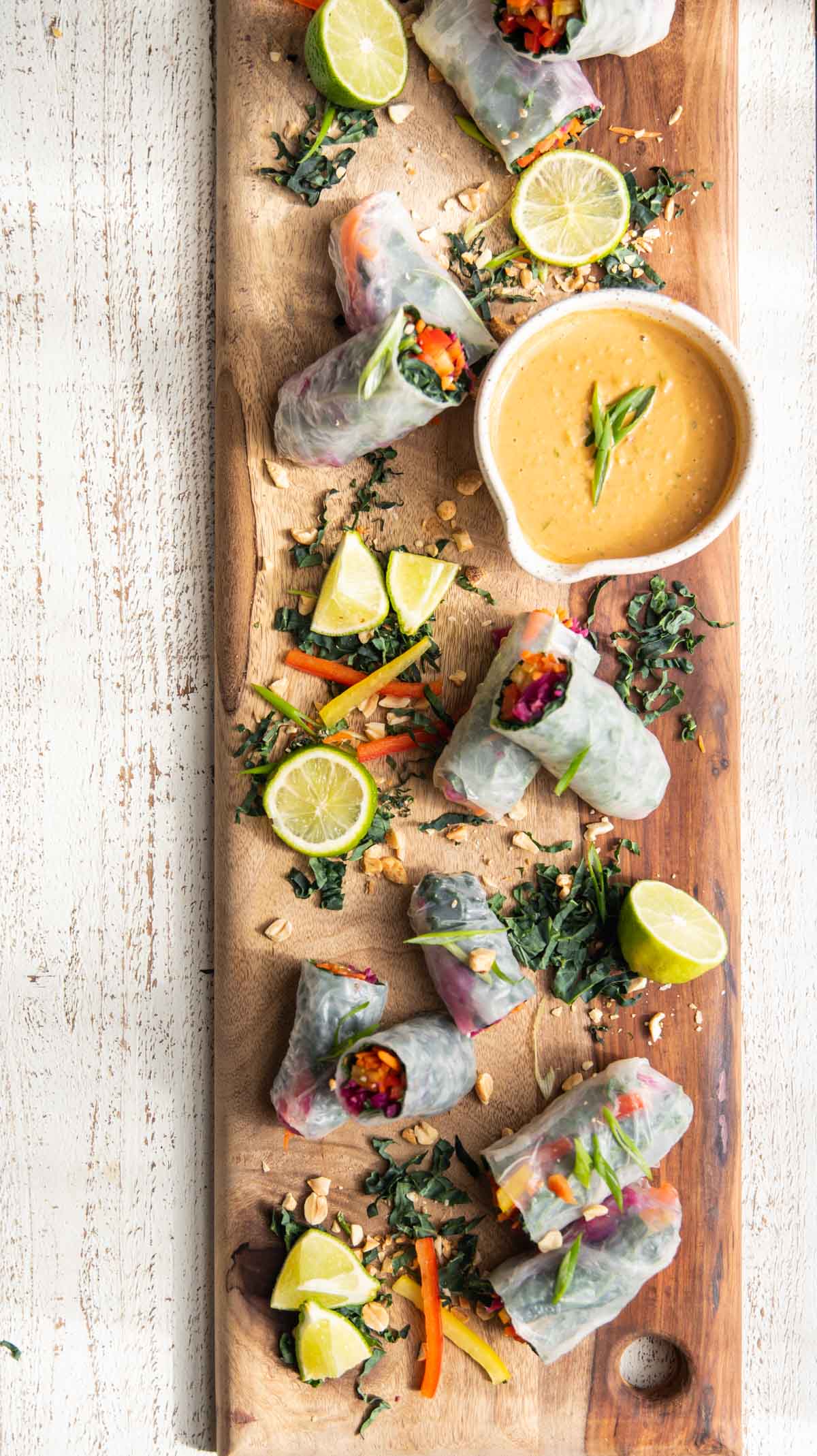 Have you ever found a lunch that you could eat legitimately every day?
Last summer my go-to convenience lunch pick-up, when I was out and about, were these beautiful, vibrant spring rolls from Whole Foods.
Except now instead of lighting money on fire and spending it on premade convenience foods, I'm making them myself - and you should too! They're super easy and oh, so delicious!
Beyond the striking assortment of rainbow vegetables layered within the rice paper wrappers and the super satisfying crunch in each bite, the dipping sauce is really what makes this meal complete.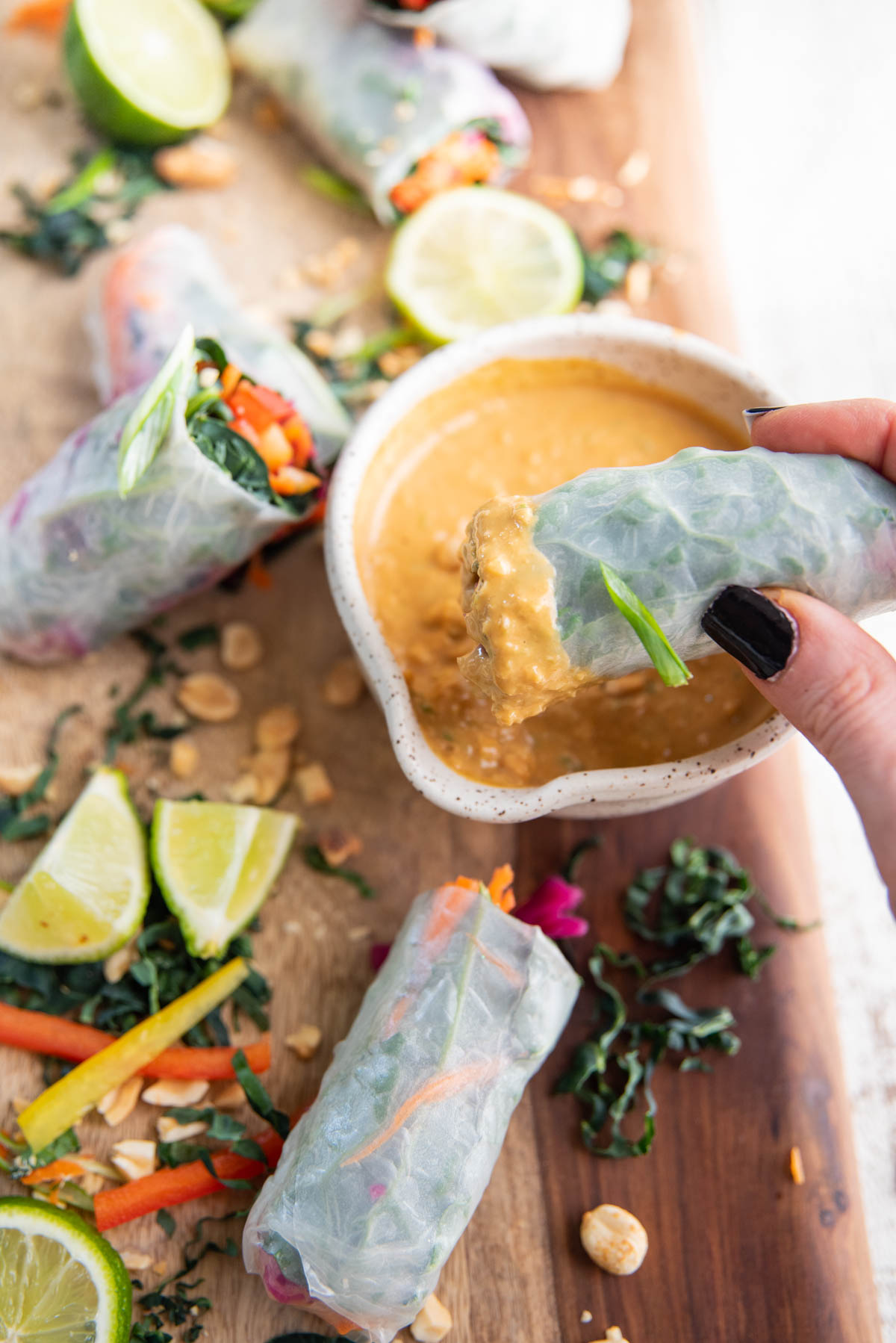 It's savory, slightly spicy, and lightened up because we're subbing in powdered peanut butter for traditional PB.
How to make rainbow veggie spring rolls
It's so so simple! Just gather up your favorite assortment of rainbow-hued vegetables, a little water, and spring rolls wrappers!
For these fresh spring rolls, I'm using red peppers, shredded carrots, yellow peppers, tuscan kale, pickled red cabbage. (Don't tell my kids I skipped blue, I'll never hear the end of it.)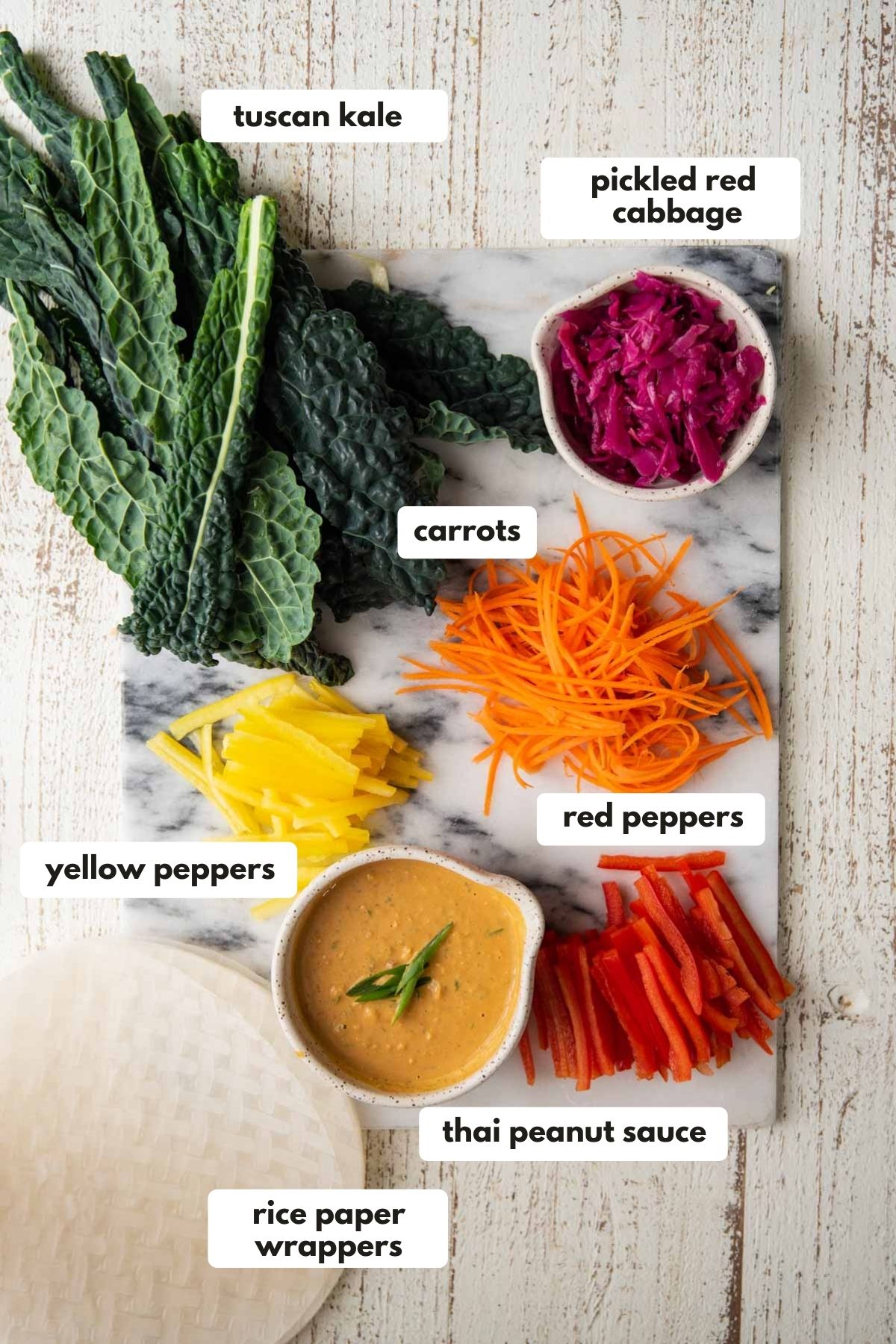 You'll wet the spring roll wrappers on both sides in warm water until softened.
Lay the soft wrapper on a clean paper or kitchen towel.
It's ok to use two wrappers! The spring rolls wrappers are pretty thin and it can take a couple of tries to get the hang of it. Especially with the raw veggies inside, sometimes it can rip a hole in the wrappers so just put another one around it. No big deal.
Layering Veggie Spring Rolls
Personally, I like the texture of the two wrappers with all those crunchy, raw veggies inside.
Tips for veggie spring rolls
Use any green - I used kale but collard greens, romaine, seriously any leaf type green - as your first layer. This will wrap all the other matchstick veggies in a little green blanket and keep them from poking out of your wrappers.
Cut the peppers into thin matchsticks, or julienne. To do this, remove the ends and the inside of the peppers. Cut it down one side so it lays in a flat strip. Remove any of the 'ribs' or the white stuff that usually holds the seeds in place. Then chop it into thin matchsticks.
How to julienne peppers...
For the carrots, I used a veggie shredder. You could also use a cheese grater or spiralizer.
The cabbage can be raw or pickled - you choose! Raw cabbage doesn't really do wonders for me but I loooooove the softened but still crunchy texture of pickled cabbage. Plus, the zing is a bonus.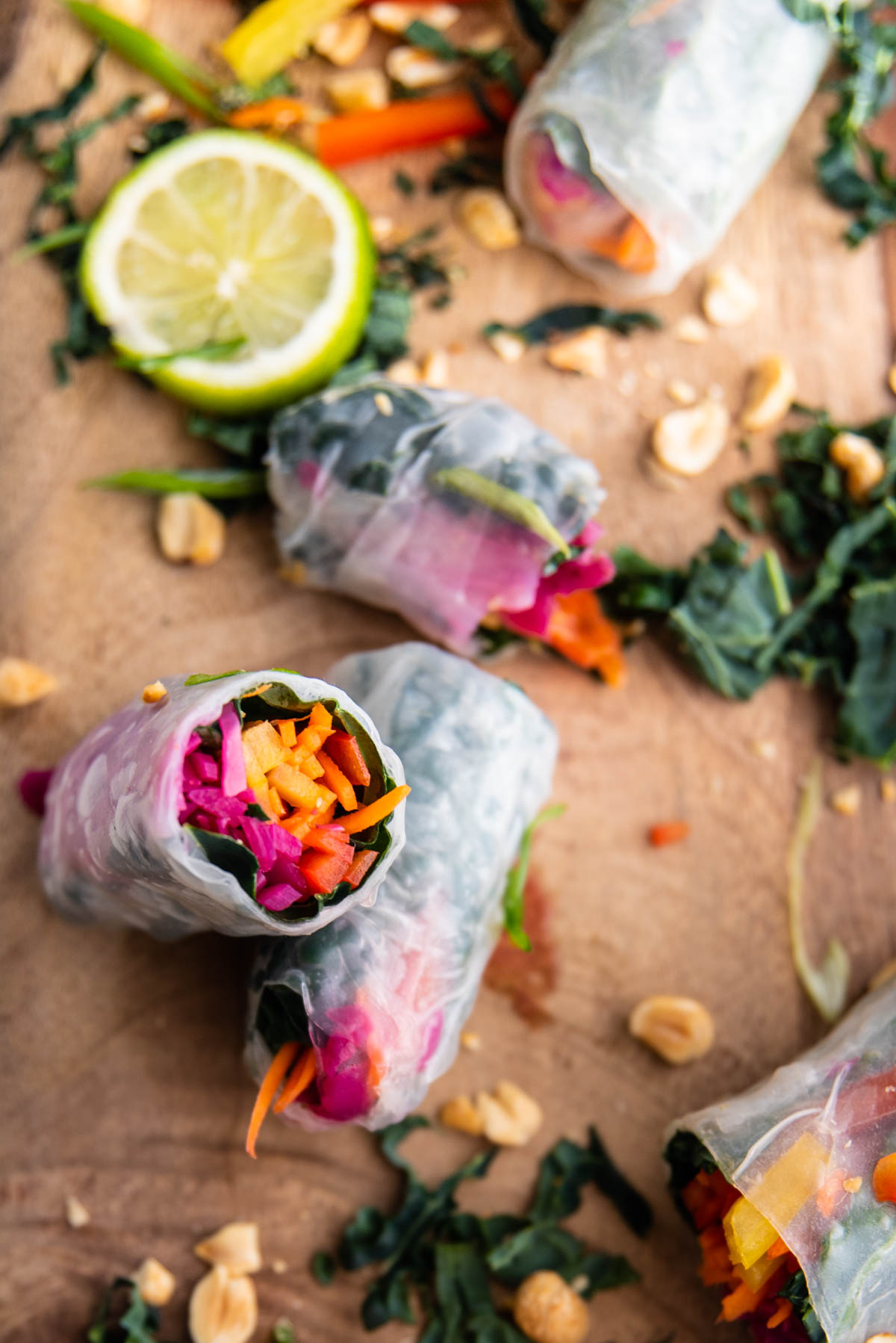 Other rainbow veggie ideas:
radishes, tomatoes, radicchio, beets, purple carrots
butternut squash, orange peppers, pumpkin, sweet potatoes
golden beets, yellow beans, mango
cucumber, avocado, spinach, collard greens, romaine
Can you make them in advance?
You can definitely make your rainbow veggie spring rolls earlier in the day or the night before, but they are best when freshly made. The longer the spring rolls wrappers sit after being softened they can get a little mushy and definitely stick together.
Be sure to wrap them individually in plastic wrap if you're going to store them in the fridge for 1-2 days.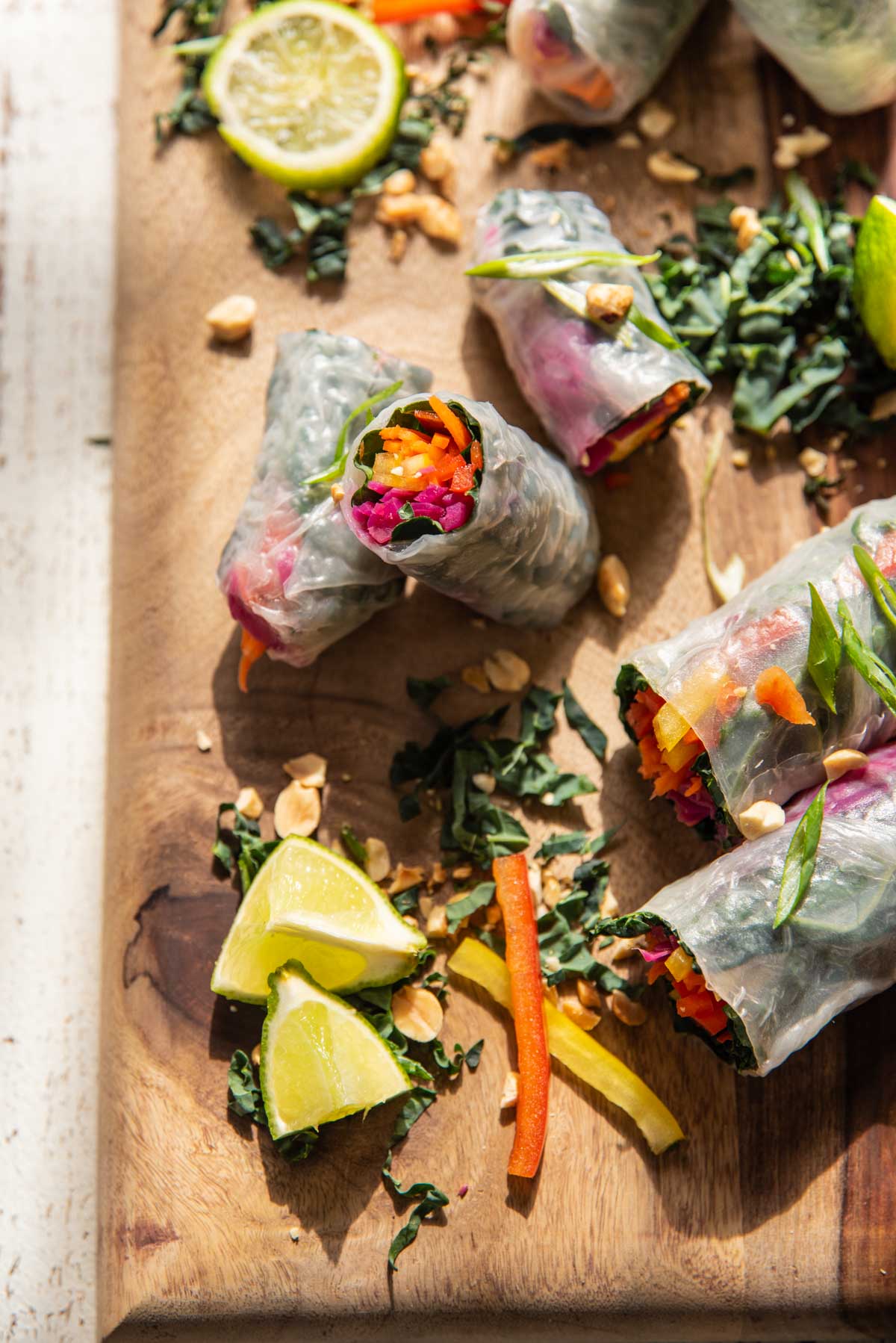 Let's talk about sauces
This Thai Peanut Sauce is SUPER good. It's great as a sauce, use it as a dressing on salad, drizzle over lettuce wraps, or an ancient grain bowl.
She's got options.
Also, she's made with powdered peanut butter so it's all that good savory taste of peanut butter but skipping some of the oil fats.
If you're not feeling the spicy peanut vibe, a sweet chili sauce or brown sugar soy would be a great pairing too!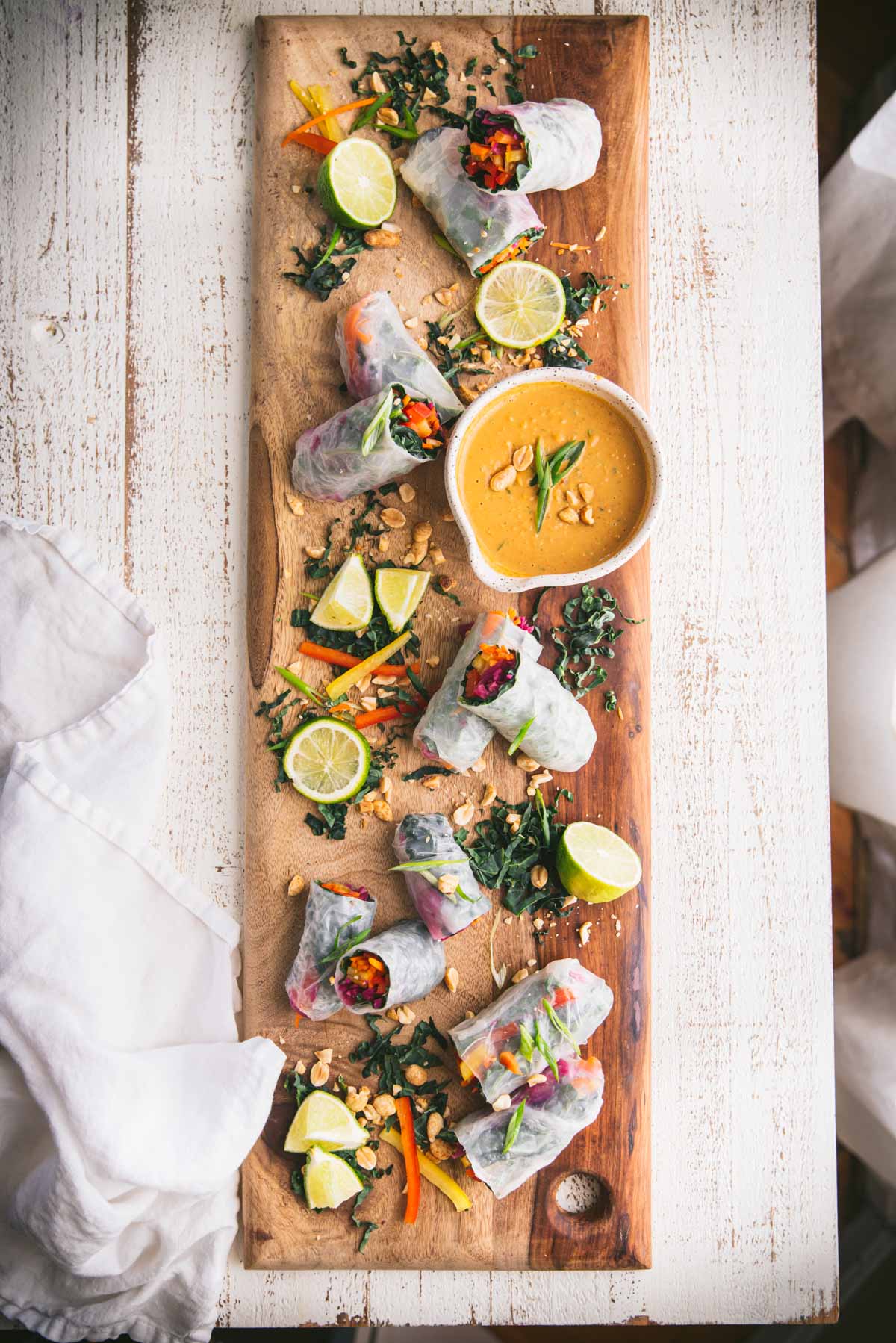 Be sure to let me know which way you go with the sauce and I'd love for you to leave a comment below when you make these fresh rainbow veggie spring rolls!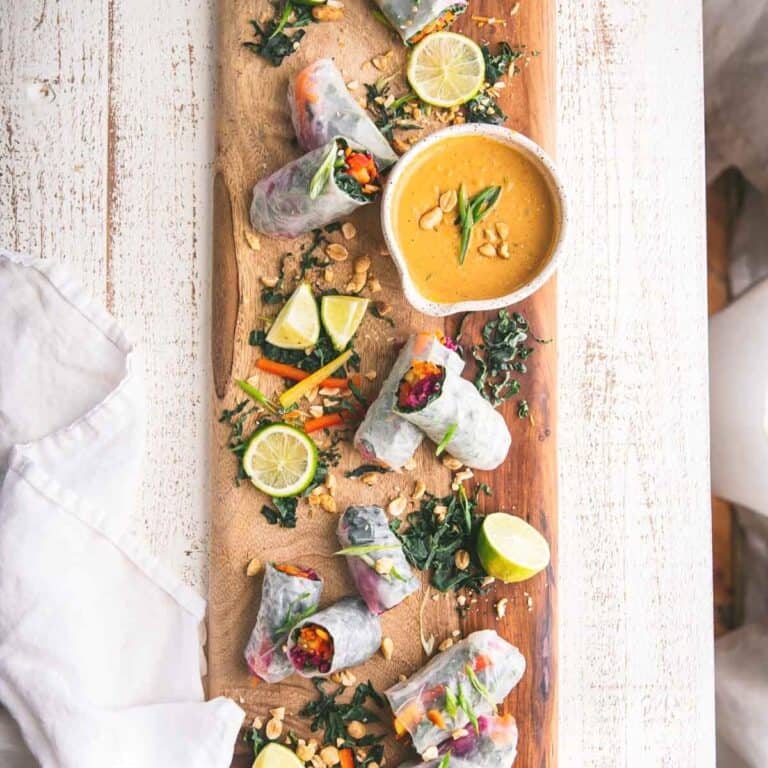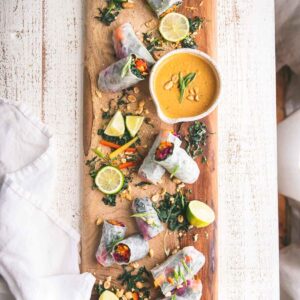 Rainbow Veggie Spring Rolls
Eat the rainbow (and your veggies!) Rainbow veggie spring rolls are fresh, simple to make, and great to serve for lunch, as an appetizer, or side dish.
Print
Pin
Rate
Ingredients
Rainbow Veggie Spring Rolls
½

head

tuscan kale

1

each

red pepper

(julienne)

1

each

yellow pepper

(julienne)

2

medium

carrots

(shredded)

1

cup

red cabbage

(raw or pickled)

12

each

spring rolls wrappers

4

cups

warm water

(for spring rolls wrappers)

1

cup

Thai peanut sauce

(for dipping)
Lightened Up Thai Peanut Sauce
4

tablespoons

powdered peanut butter

2

tablespoon

water

2

tablespoon

toasted sesame oil

2

tablespoon

rice wine vinegar

2

each

scallions

(chopped)

2

teaspoons

Sriracha

¼

teaspoon

fish sauce

(optional)

2

tablespoon

whole unsalted peanuts
Instructions
Prep the veggies. Remove the large stems from the kale leaves. Shred the carrots. Julienne the peppers.

Soak the wrappers. One at a time soak the rice paper wrappers in a shallow bowl, dish, or pan. Drain off excess. Place on a clean work surface or clean kitchen towel. Make the rest of your veggie roll before soaking the next wrapper.

Layer the veggies. Use the kale as your base layer to keep the sharper veggetables from poking through the wrapper. Add the peppers, carrots and cabbage.

Roll. Fold the bottom of the wrapper over the layered veggies, tucking them in. Fold over the sides of the wrapper then tightly roll up the spring roll. If you do get any holes in your spring roll, use another rice paper wrapper. Serve with your favorite dipping sauce and enjoy.
Lightened Up Thai Peanut Sauce
In a food processor, combine powdered peanut butter, water, sesame oil and rice wine vinegar. Blend for 10 to 15 seconds until combined.

Add scallions, ginger, sriracha and fish sauce. Blend for an addition 20 to 30 seconds until scallions and ginger are finely minced and incorporated.

Add peanuts and pulse 4 to 5 times so the pieces are broken but not blended. It should resemble the same size as 'chunky peanut butter' pieces or larger.
Notes
Keep the veggies stacked on top of each other for easier rolling.
Use any green! You can use lettuce, collard greens, kale, whatever you like most!
You can use 1 or 2 wrappers per roll. Personally, I like the texture of 2 and it helps in case any of the "sharp" vegetables, like the peppers and carrots, poke through the wrapper.
Nutrition
Calories:
105
kcal
|
Carbohydrates:
7
g
|
Protein:
3
g
|
Fat:
8
g
|
Saturated Fat:
1
g
|
Cholesterol:
1
mg
|
Sodium:
124
mg
|
Potassium:
140
mg
|
Fiber:
2
g
|
Sugar:
2
g
|
Vitamin A:
3599
IU
|
Vitamin C:
11
mg
|
Calcium:
26
mg
|
Iron:
1
mg