New year, new you, right? After two months of heavy indulgence in all the best edible vices, January will be a month of resetting the gut. 30 long, long, long...did I mention long?....days of no wine :::stifled sob::: natural sugars, and minimal carbohydrates.
In all reality, it certainly doesn't have to be the start of a new year to put a little more thought about the food you put in your body. However, if your body has a food and booze hangover from over indulgencing throughout the holidays (I'm raising my hand over here), let me start you with a super healthy and energizing breakfast.
Introducing - Matcha Chia Seed Pudding. Besides being fun to say - matcha, matcha matcha!! Lion King anyone? - it adds a whole lot of good for you stuff to a dish that's already full of superfood.

This post contains affiliate links. There is no additional cost to you, but I make a commission from the sale.
What the heck is Matcha?
Short answer - Green Tea. You like green tea? Ok, cool. Haven't had it? The initial smell of a hot cup of matcha carries similar profiles to a regular black tea but upon first taste it brings a pleasant earthiness (think grass, not dirt) to accompany the tea flavor. It is also a little thicker than steeping regular tea leaves, it's great in lattés or to use in cooking. Matcha is technically the green tea leaves ground into a superfine powder.
Though it does tend to be a little pricier than regular loose leaf tea due to all the extra work it takes to cultivate it, a little goes a long way. And besides being a beautiful, awesome shade of green it is chock full of amino acid L-Theanine.
If you ask me, because you did didn't you? The best part of matcha is that it provide to energy boost of a cup of java without the jittery caffeine buzz. Calm, controlled, energized, ready to kick the day's butt.
I am currently in love with the Zen Green Tea Matcha Powder. It blends up super easy with no clumps. Its a great place to start if you're new to matcha or have a matcha specific whisk.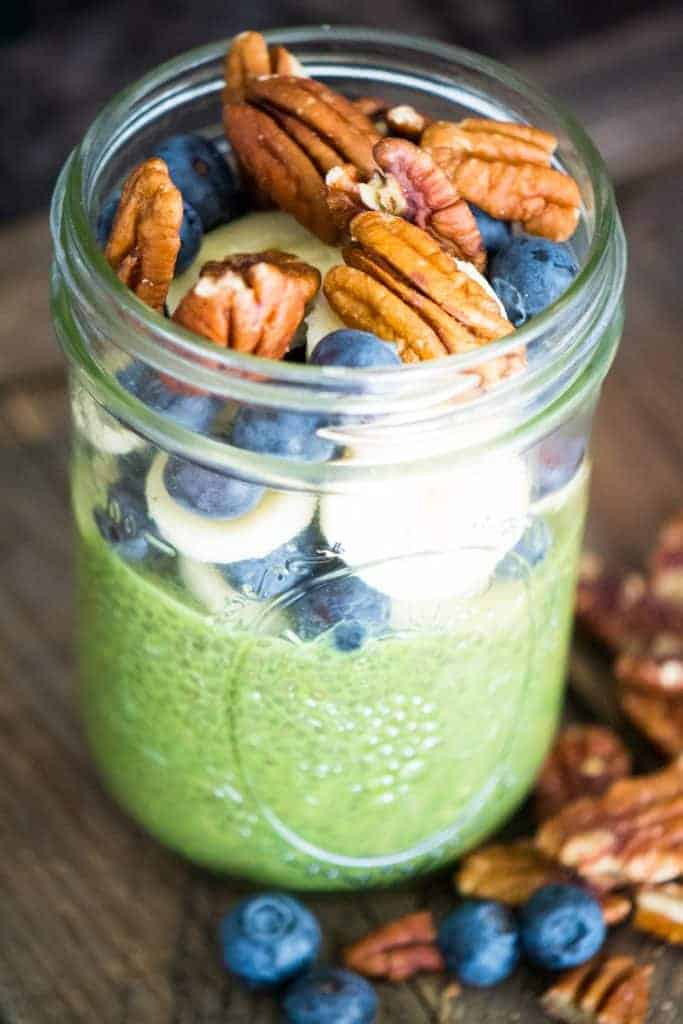 Ok...but what the heck is Chia?
Simply, they're seeds. But more important is what they do for you. These cute little guys are packed with protein, omega-3 fatty acids, calcium and fiber. Who knew a little seed could do all that?!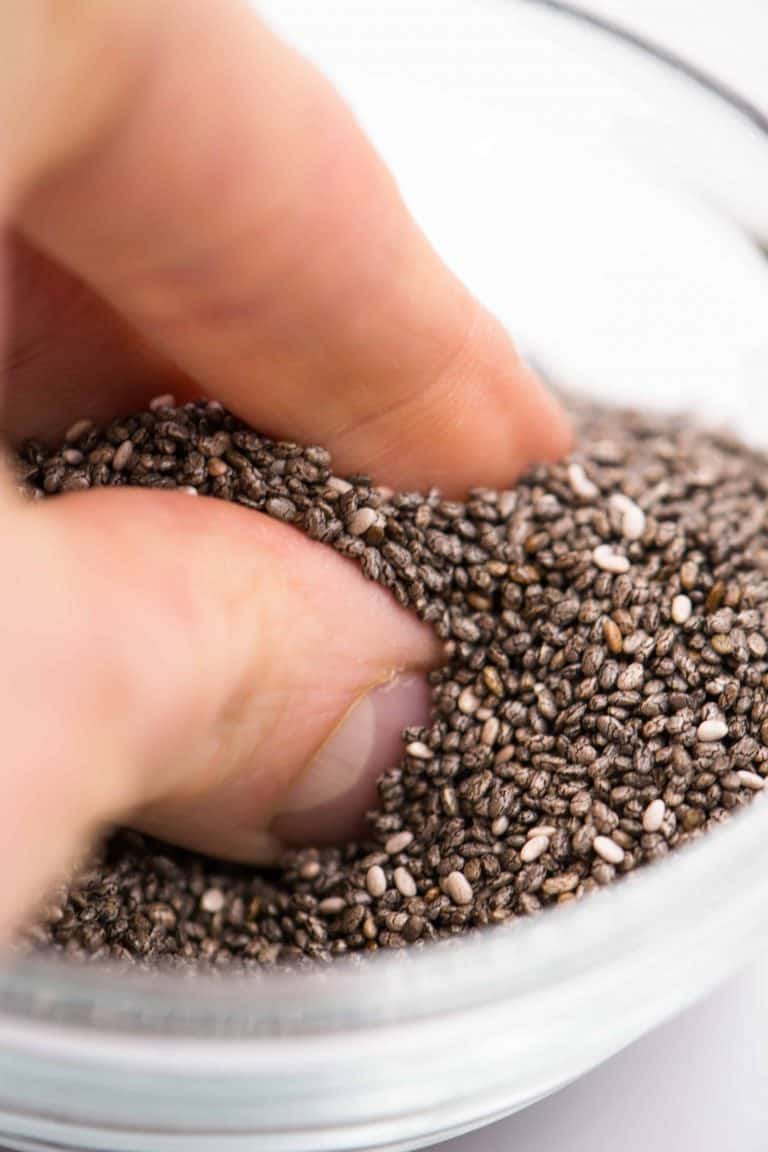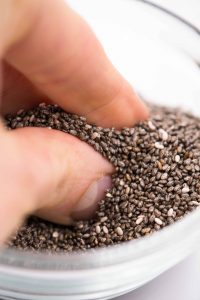 There are lots of different ways to include this superfood in your everyday meals, a sprinkle here a sprinkle there. When combined with the right amount of liquid, a yogurty-pudding consistency forms with crunchy little bites of seeds. Top with fruit and nuts and you've got yourself one fine breakfast...or snack...or dessert. You decide.
Okay, okay, it does kind of looks like pond algae I'm not going to kid myself, so if you're seriously skeptical maybe just start off with this vanilla Chia Seed Pudding recipe first. If you like that and you like the earthy tea flavors of green tea, you will love me for convincing you this isn't a science experiment.
Making this healthy treat is incredibly easy and requires just four ingredients. It begins as a cautionary tale...a mason jar serves as the bottomless pit where a lake of maple syrup and almond milk swirl together. The chia seeds come tumbling down, falling into the entrapment. Drowning in the milky liquid they sit overnight expanding slightly with an almost gelatinous texture, wondering when they will be rescued. The next morning we arrive, the hero of the story, on our white horse with our spoon in hand. But instead of rescue, we cut up a bunch of fruit, throw it on top of them and eat them. End of story.
Sorry, we've been doing a lot of story time over here lately. But even if we can't be the hero, we still end up the victor because this breakfast is seriously good. There are so many ways to chia seed, you can always adapt to suit your favorite flavors. If you can get down with a Green Tea Latte, love a super fast and easy breakfast you will be obsessed with this jar of energizing superfood.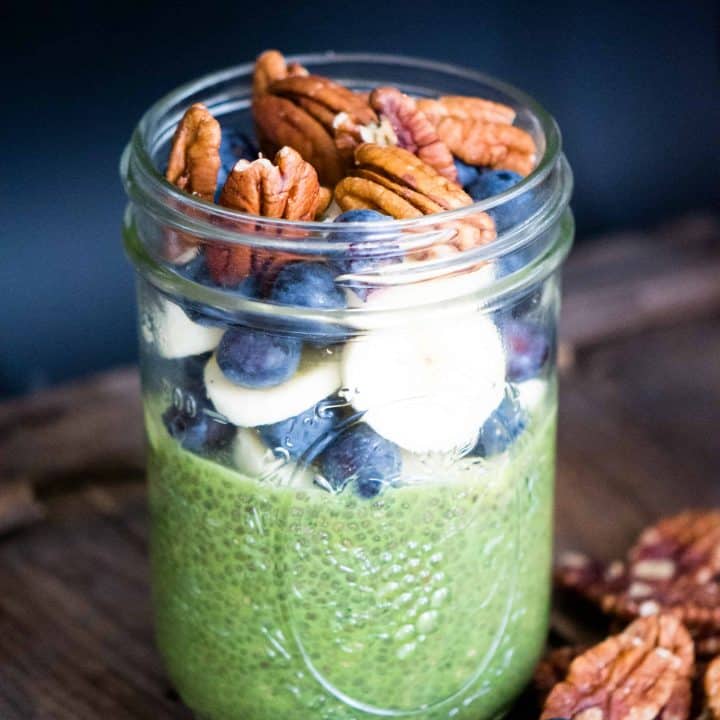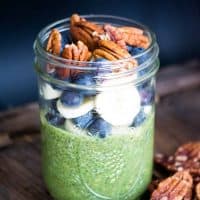 Matcha Chia Seed Pudding
Matcha green tea powder brings an energizing boost, without the jitters, to this superfood seed pudding.
Print
Pin
Rate
Ingredients
Instructions
In a bowl or jar, combine all ingredients.

Cover and shake vigorously to mix, ensuring there are no matcha powder clumps. If combining in a bowl, whisk thoroughly before transferring to a storage container with lid.

Store in refrigerator for at least 4 hours to allow the seeds to absorb liquid and create the 'pudding' texture.

Optional: Top with sliced fruit and unsalted nuts before serving.
Notes
Use any milk that suits your preference. If using plain, unsweetened almond milk, oat milk, flax milk, or soy milk, a ½ teaspoon of vanilla extract can be added for a hint of vanilla flavor.
Nutrition
Calories:
270
kcal
|
Carbohydrates:
30
g
|
Protein:
8
g
|
Fat:
14
g
|
Saturated Fat:
1
g
|
Trans Fat:
1
g
|
Sodium:
333
mg
|
Potassium:
192
mg
|
Fiber:
13
g
|
Sugar:
12
g
|
Vitamin A:
119
IU
|
Vitamin C:
1
mg
|
Calcium:
549
mg
|
Iron:
3
mg