Ah! I'm beyond excited. These cupcakes are giving me life, yes. But in addition to that, I just wrapped up my first [paid - eek!] restaurant food photo shoot. Does this make me legit now? I'm going to think so...I have business cards and stuff.
There is just something so gratifying about producing work that people enjoy. Whether it is food photos, videos or recipes it just feels dang good.
You know what else feels dang good? These matcha cupcakes in your mouth.

Let's talk about this green stuff...
Sometimes when you fall in love, you fall hard. Matcha is my new food/drink love and I'm seeing it with rose colored glasses. Or forest green colored glasses? Some sort of optical enhancement.
It's no shocker that I'm in deep with the green stuff. From matcha chia seed pudding to matcha macaroons, I'm throwing it in almost anything I can. Breakfast smoothies with a large pinch of matcha are a key way to add a healthy pep to your step.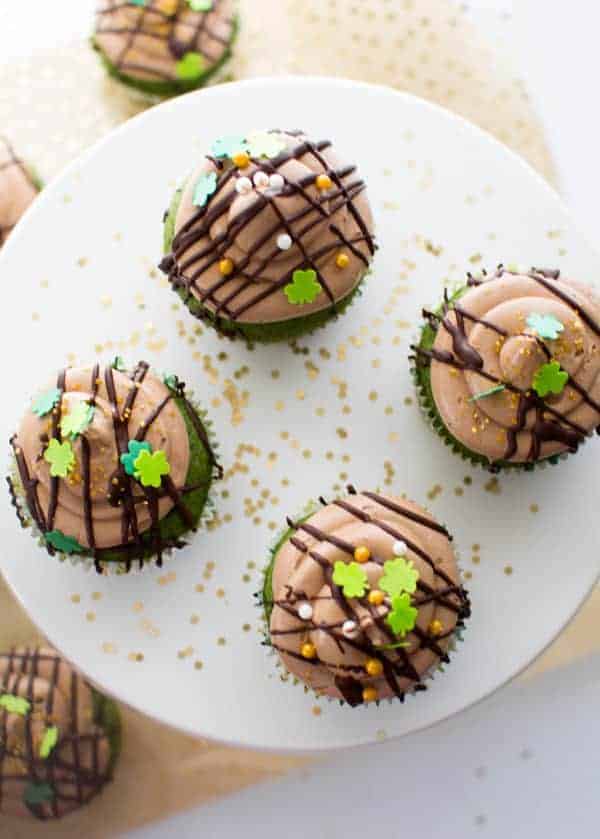 This naturally green tea powder is packed with loads of antioxidants, cancer fighting catechins, and the caffeine boost of a cup of coffee sans the jitters. Beyond it's appearance as a vibrant, kinda weird, green powder it is really just green tea. Rather than steeping the leaves, they're ground into a superfine powder that really brings tea to a coffee level. If you love lattes and you love tea, you will fall hard for matcha.
Any time is good for cake time.
So why the matcha + cupcake? Well, besides being a perfectly natural coloring to celebrate St. Patty's Day it's a really great flavor combination. That subtle grassy, tea flavor is a perfect match for sweet and light cupcake. Then top that perfect mini cake with fluffy, heaven-kind of-light chocolate buttercream.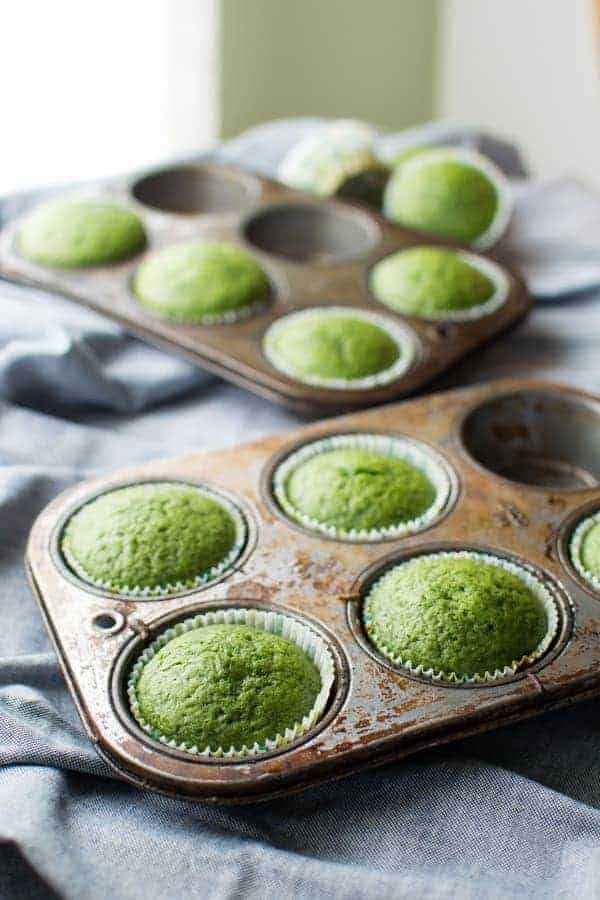 Your taste buds are going to FREAK OUT. In a good way though.
This chocolate buttercream is the real deal. How could anything with three sticks of butter not be? Sweetened with just a tad of confectioner's sugar, the frosting will pull most of it's sweetness and flavor from the milk chocolate.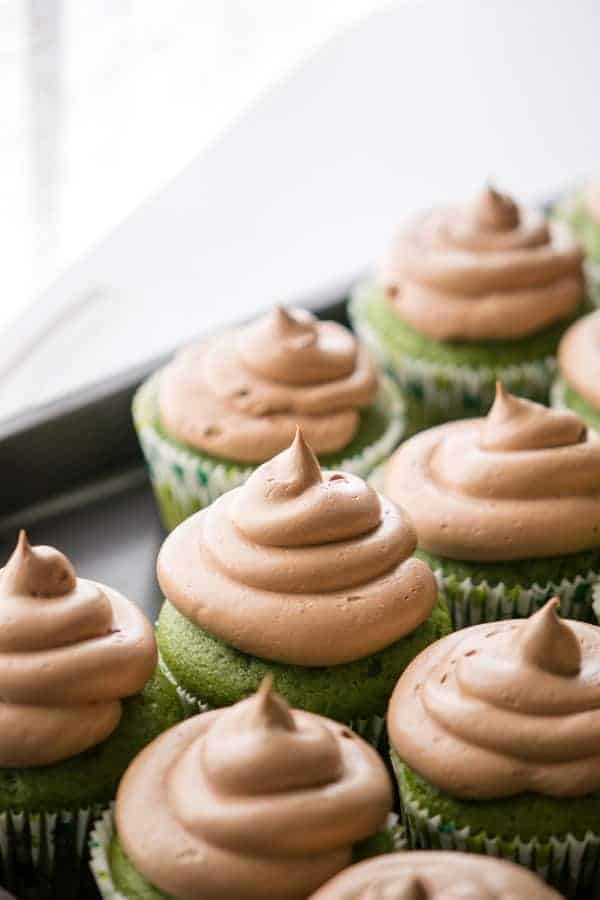 And if you really want to up the ante, drizzle those bad boys with a smidge of dark chocolate.
BAM!
Bring these to your next coffee date for the ultimate cupcake win. Cupcake - 1 You - 1,072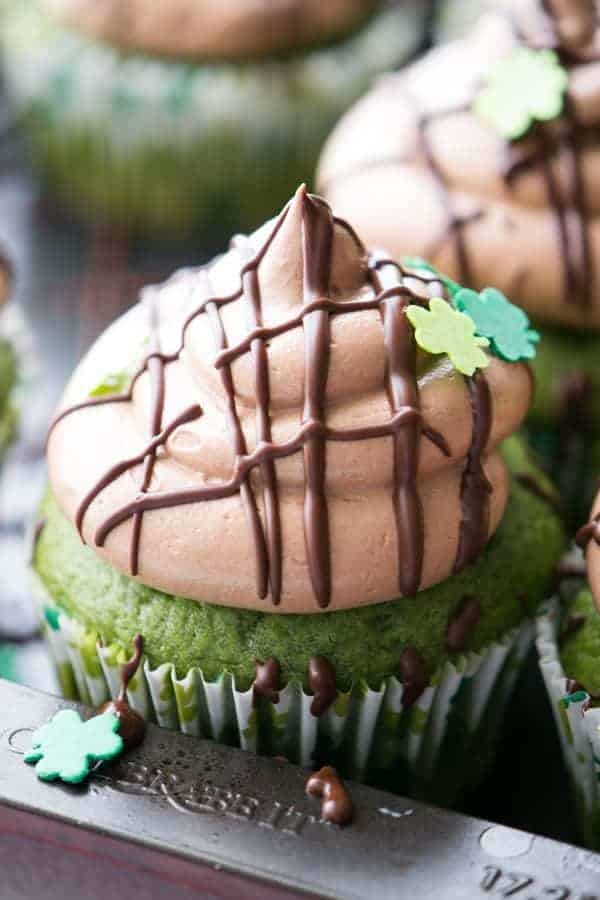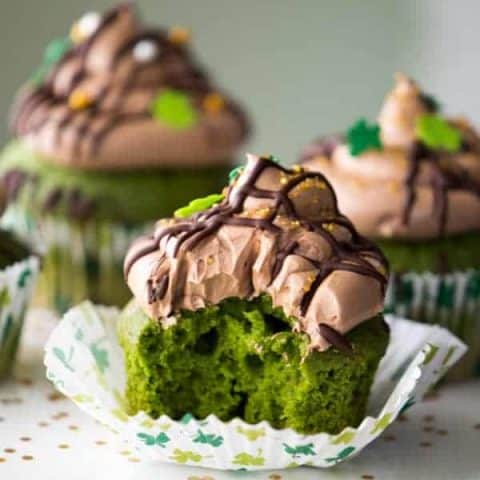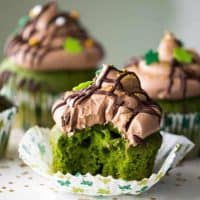 Green Tea Cupcakes with Chocolate Buttercream
These naturally green cupcakes are full of green tea flavor balanced with soft, milk chocolate buttercream and dark chocolate drizzle!

Print
Pin
Rate
Ingredients
Green Tea Cupcakes
2 ½

cup

cake flour

1 ¼

cup

granulated sugar

3

teaspoon

baking powder

1

teaspoon

kosher salt

¼

cup

matcha powder

1

cup

whole milk

½

cup

vegetable oil

2

teaspoon

vanilla extract

2

large eggs
Chocolate Buttercream with Dark Chocolate Drizzle
¼

cup

cocoa powder

¼

cup

water

3

sticks unsalted butter

1 ½

cup

confectioner's sugar

8

ounces

milk chocolate chips

3

ounces

dark chocolate chips
Instructions
Green Tea Cupcakes
Preheat oven to 350°F. In a large bowl, mix together cake flour, sugar, baking powder, salt and matcha powder.

In a separate bowl mix milk and vegetable oil. Set mixer on low speed while adding wet ingredients to dry ingredients. Bring to medium speed and beat for two minutes.

Add vanilla and eggs, beat on medium for an additional 2 minutes, stopping halfway to scrape down the bowl if needed.

Fill cupcake liners halfway with batter. Bake at 350°F for 15 minutes. Let cool completely before frosting.
Chocolate Buttercream with Dark Chocolate Drizzle
In a heat proof bowl, melt milk chocolate chips over a pan of just simmering water. Set aside to cool for 10 minutes.

In a small bowl, whisk together cocoa powder and water.

Beat together butter and sugar until pale and fluffy. Add cocoa and water mixture and beat for 1 minute until incorporated, scraping down the side of the mixing bowl.

Add the

cooled

melted chocolate to the mixing bowl and beat for 2 to 3 minutes until fully incorporated. Frosting will be light and slightly soft.

Transfer frosting to a piping bag or large plastic storage bag with tip removed. Frost the cupcakes and set inside refrigerator for 10 minutes.

While frosting hardens slightly, use the same procedure as for the milk chocolate chips and melt the dark chocolate in a clean bowl. Set aside to cool then transfer to a small plastic storage bag or small piping bag. Cut just a tiny portion of the tip off. Remove the cupcakes from the refrigerator and drizzle with the melted dark chocolate.
Notes
You can melt the chocolate using the stovetop or microwave, just follow these directions. Though it requires more effort, I find the stovetop is much more forgiving.
This frosting is light, fluffy, and relies more on chocolate than sugar for sweetness, therefore frosting is a touch softer than traditional buttercream. If traveling, refrigerate the cupcakes just enough to slightly harden so the frosting is set.
Nutrition
Calories:
198
kcal
|
Carbohydrates:
31
g
|
Protein:
4
g
|
Fat:
7
g
|
Saturated Fat:
5
g
|
Trans Fat:
1
g
|
Cholesterol:
15
mg
|
Sodium:
164
mg
|
Potassium:
68
mg
|
Fiber:
1
g
|
Sugar:
20
g
|
Vitamin A:
163
IU
|
Vitamin C:
1
mg
|
Calcium:
57
mg
|
Iron:
1
mg