Mondays...why you gotta be so Monday?? Well your Monday is about to turn right around. Why? Because today is the official start of the first annual Gingerbread Week ???? on Hunger | Thirst | Play! To kick things off let's start the week with a Gingerbread Martini.
C'mon. It's the holidays...it's totally acceptable to be ogling pictures of Gingerbread Martinis before noon.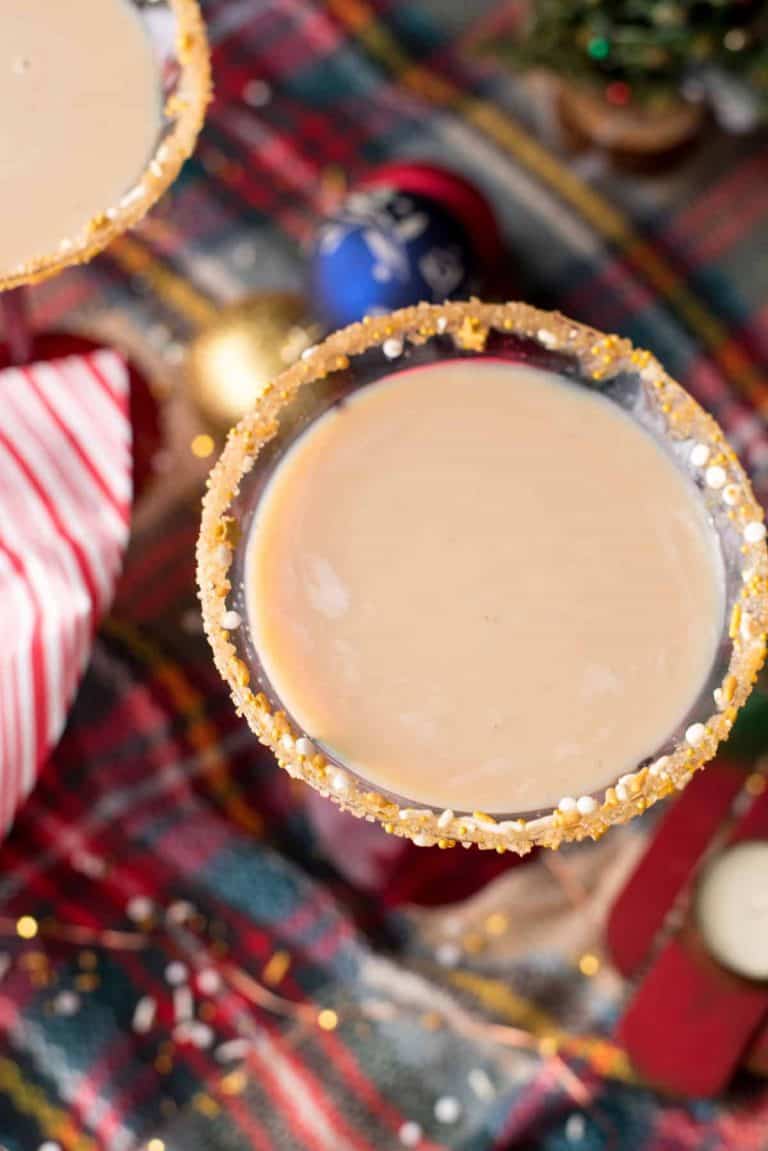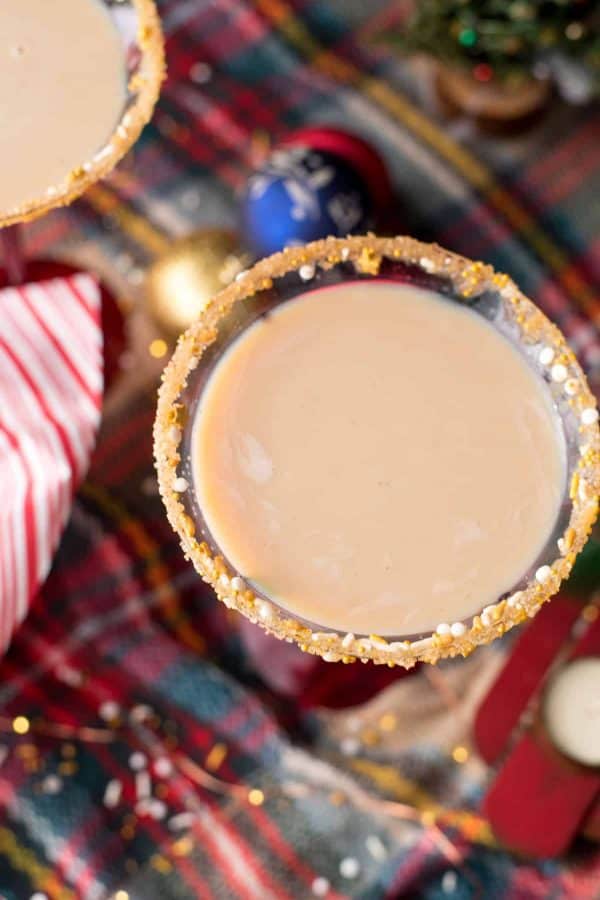 Rejoice! Gingerbread Season is here!
Gingerbread season is here! [Insert awkward kitchen dancing in pajamas.] Lattes to houses, cookies to martinis, and everything in between. We're embracing the switch to this cold weather flavor. If Pumpkin Spice Latte Martinis are the basic girl drink of Fall, than Gingerbread Martinis can be the basic girl cocktail of Winter. I am ???? percent okay with embracing that.
So while we are quietly storing our Pumpkin Spice until the crisp fall leaves begin to turn again next year, we can sip, bite, crunch and savor on the slightly spicy, peppery, and sweet molasses flavor of gingerbread. Though gingerbread can come in many delicious forms, why not liquid? Tis' the holiday season, and we all know what that really means. Shopping, lines, crowds, traffic, family, traveling....drink up my friend.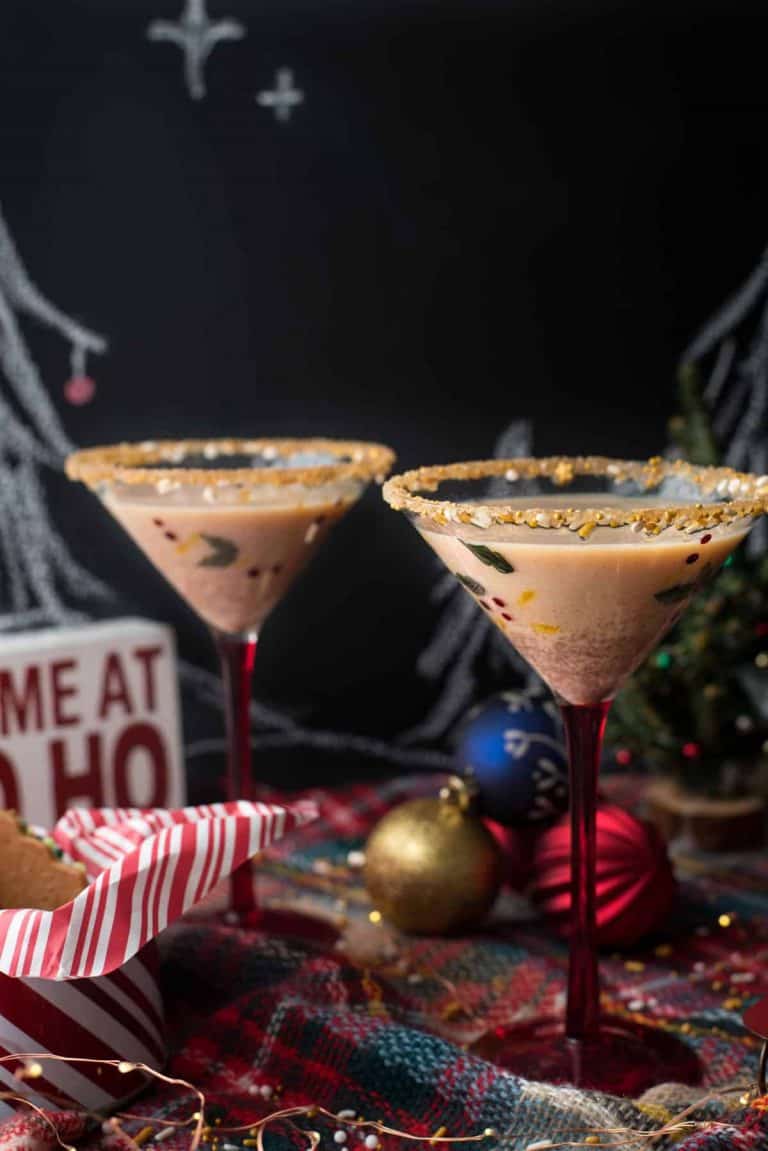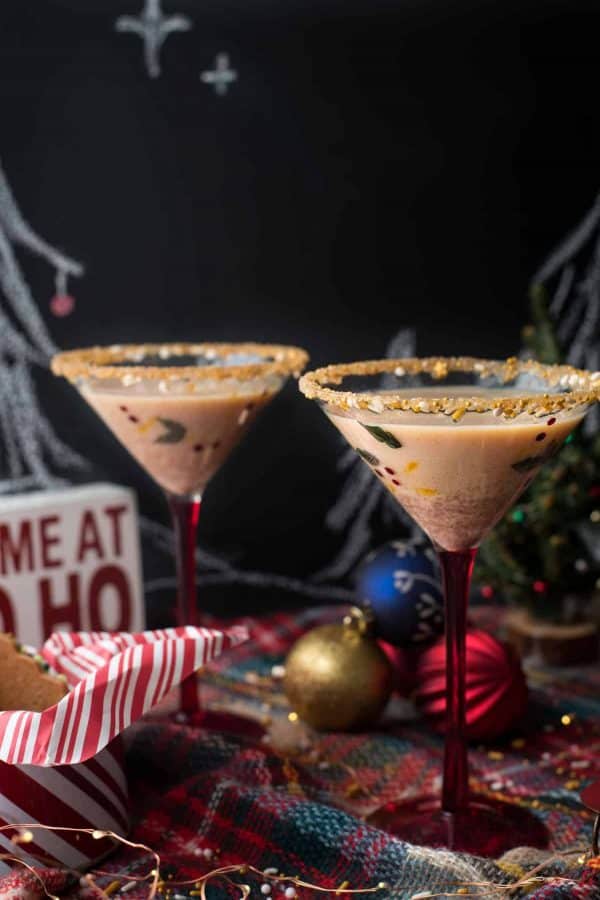 Gingerbread martinis made an appearance at a Christmas Eve long ago. Real love vibes for this sweet (and strong) liquid libation radiated throughout the room. May have also been my buzz helping me feel all warm and glowy, but we're just going to call that love for the martini for now.
If your go-to standard is a Cosmopolitan or even a dirty martini, as long as you can appreciate the creamy, subtle sweet yumminess of an espresso martini from time to time, you will love this cocktail.
But wait, let's think on this. What's not to love?
It's festive. It tastes good. And it goes down scary easy. Bailey's even makes an almond milk version for the dairy-averse. If you really want to avoid talking to people at the holiday party this year while simultaneously seeming like the life of the party - play bartender and make these. I won't say I've done that on the record, but it's I know it works for a reason.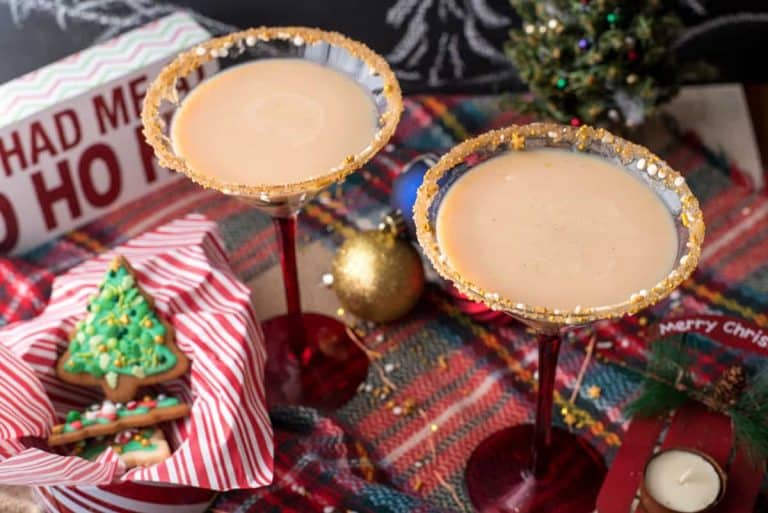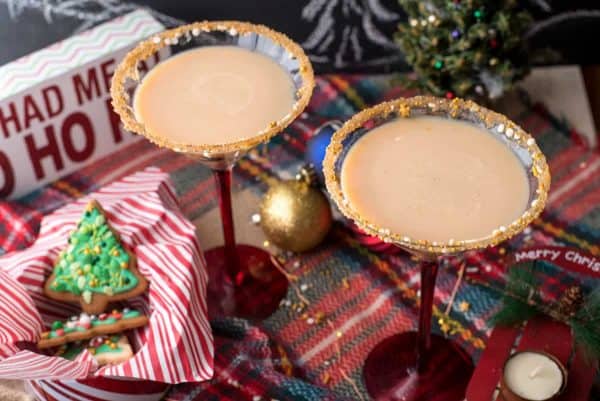 Time to get Festive
Once upon a time, a liquor company made Gingerbread liquer. Two years ago I finished my last bottle over the holidays and I have been on the hunt for a replacement since. Upon the verge of giving up came a little tinkering in the kitchen.
If you want something done you gotta do it yourself right? The result of some mad science mixing is a gingerbread syrup even better than the product I was searching for! Best of all, the gingerbread syrup packs so much flavor without the sticky, artificial taste that usually accompanies flavored liquers. All you're left with is perky, peppery ginger spice, dark molasses sweetness, and just a hint of cinnamon.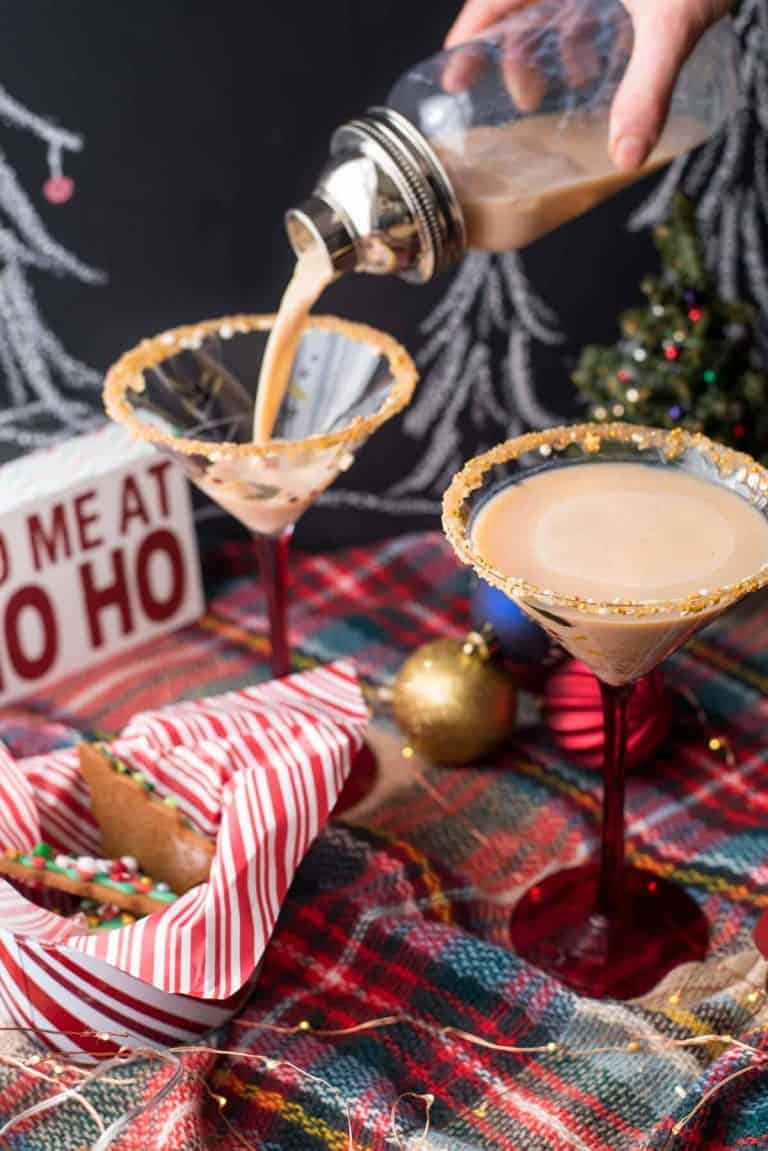 Gingerbread syrup kicking and ready to go, let's get our arm work out in shaking up these cocktails. A blend of vodka, Kahlua, Frangelico and Baileys are the perfect companion to the spicy sweet combo of the syrup. While some of those ingredients might seem a little odd ball (hazelnut and coffee?) they pull the perfect layers of sweet, nutty and rich that our Gingerbread Martini needs.
My recommendation, if you don't drink sweet drinks often would be to ask for the smaller bottles of these liquors. They usually have them behind the counter or in a different section. But if you like to practice your skills, opt for the 750ml bottles. It's nice to know you've got a full bar stocked at your finger tips.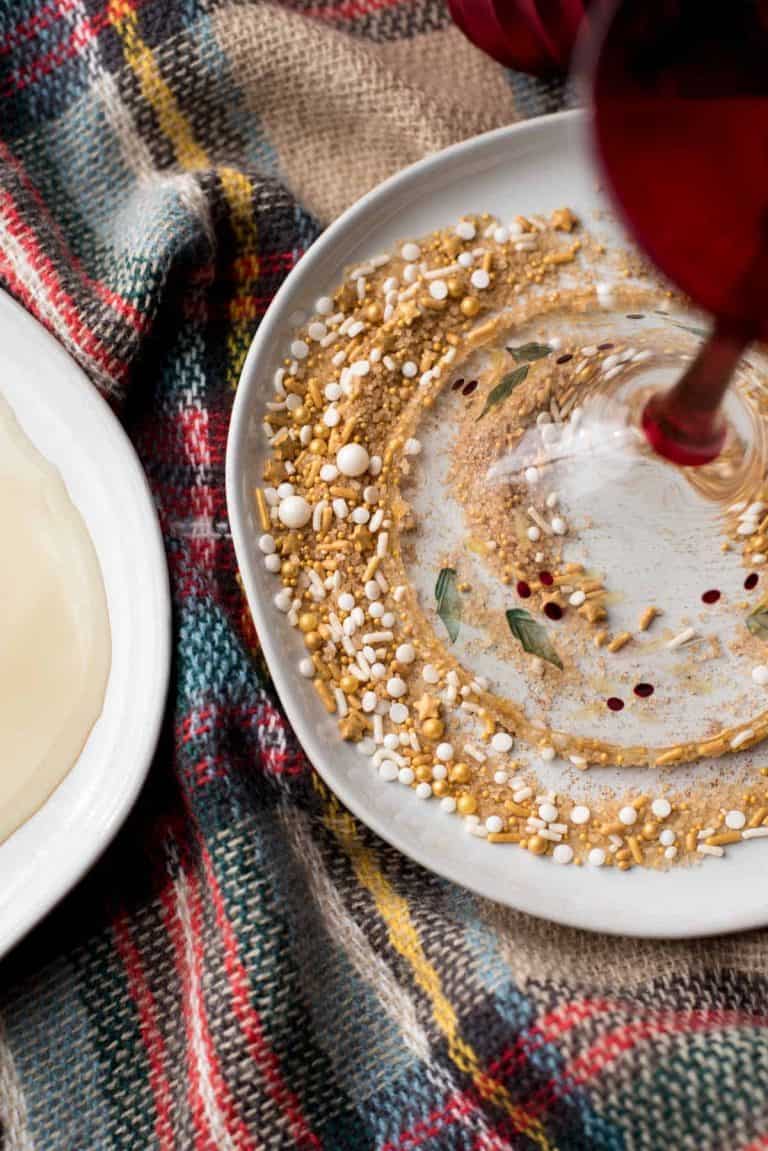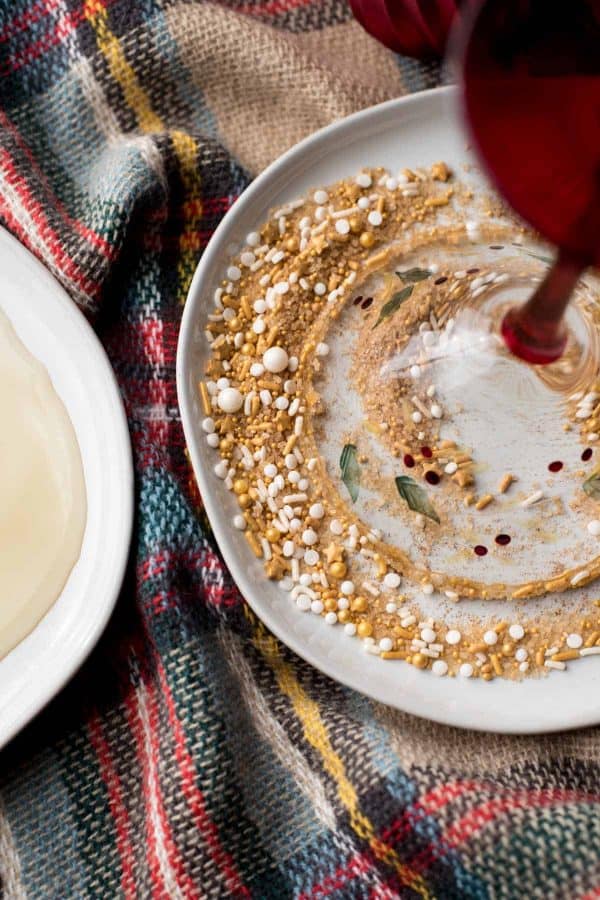 Decorating the Glass
Once you craft your smooth, sweet, holiday spirit in a glass, garnish to your heart's desire. A minimalist approach can always be appreciated with just a sprinkle of ground nutmeg or even some freshly grated. A float of fluffy whip cream is a great way to tie this cocktail into dessert. My favorite are these crazy gold and white sprinkles.
Pro Tip: Agave makes a great sticky liquid for adhering specialty rims on drink glasses. A light coat is perfect to help grab those slippery sprinkles. However, if you coat the glass with gusto, prepare for a little drip down. Gravity has to go and ruin out pretty party.
But best of all, if you have a disastrous looking gingerbread house that no one is going to eat, might I recommend knocking down a few walls for 'renovations', grinding them up and riming the glass. Speaking of gingerbread houses, have you found any or made any that you love? If you're still looking to make your own you can grab a template from Charity at Vintage Kitty and drool over her super cute Victorian Storefront Gingerbread House. It's SO impressive ????!
Anyways...no matter how you decide to jazz up the rim of your cocktail or what you serve along side it, your family and friends will be putting in requests for this Gingerbread Martini each year!
Cheers my friends!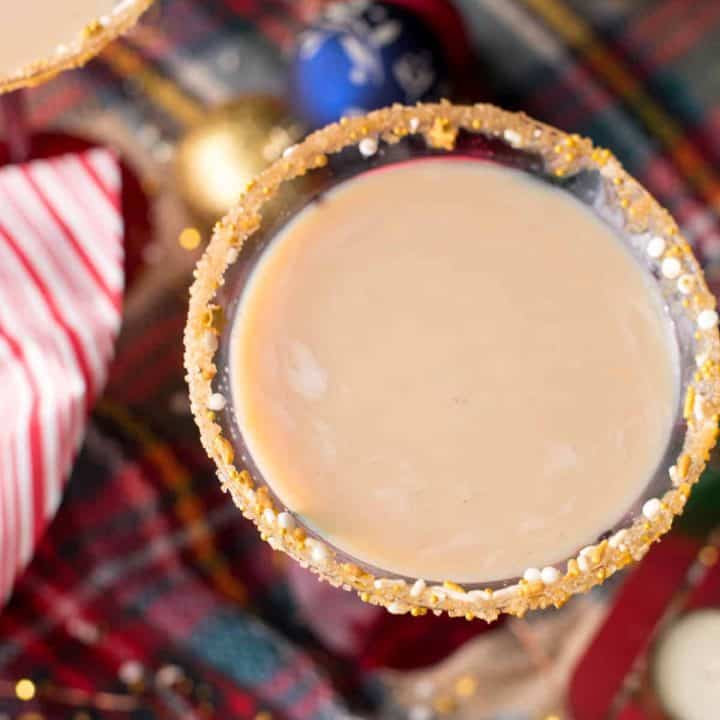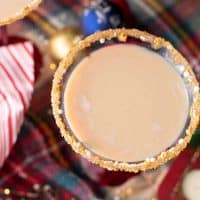 Gingerbread Martini
Gingerbread Martinis are the perfect winter cocktail. Spicy ground ginger, warm cinnamon and sweet molasses team up with the perfect blend of liquors to get you singing holiday songs in no time.
Print
Pin
Rate
Ingredients
Gingerbread Syrup:
1

cup

sugar

½

cup

water

2

teaspoons

ground ginger

1

teaspoon

molasses

1

cinnamon stick or 1 teaspoon ground cinnamon¹
Gingerbread Martini:
1 ½

ounces

Vanilla Vodka

½

ounce

Kahlua

½

ounce

Frangelico

2

ounces

Baileys

1

ounce

Gingerbread Syrup
Instructions
To make the syrup:
In a small saucepan, whisk together water, sugar, ginger, and cinnamon stick until sugar dissolves. Bring to a boil, stirring occasionally. Remove from heat and let steep for 10 minutes. Remove cinnamon stick and transfer to a heat proof container for storage.
Gingerbread Martini:
In a cocktail shaker, combine all ingredients over ice. Shake vigorously for 10 to 15 seconds.

Strain into martini glass. Garnish if desired.
Notes
¹Ground cinnamon can be substituted for a cinnamon stick, but the ground spices will settle on the bottom of the martini after a few minutes.
Tips for rimming the martini glass:
Pour a small amount of syrup (triple sec, gingerbread syrup, or agave) on one plate and ground gingerbread on a separate plate. Dip rim of glass into the syrup, shake off excess. Dip rim of glass into the ground gingerbread, shake off excess. Pour shaker ingredients into prepared glass.
Gingerbread Syrup makes about 1 cup of syrup.
Nutrition
Calories:
436
kcal
|
Carbohydrates:
39
g
|
Protein:
2
g
|
Fat:
7
g
|
Saturated Fat:
5
g
|
Cholesterol:
1
mg
|
Sodium:
101
mg
|
Potassium:
25
mg
|
Fiber:
1
g
|
Sugar:
18
g
|
Vitamin A:
26
IU
|
Vitamin C:
1
mg
|
Calcium:
15
mg
|
Iron:
1
mg