Are you ready for some deliciously creamy, non-dairy, latte-like coffee goodness in your life? You're over there raising both hands, right? Like every morning. Meeee toooo. If that first cup is like a golden ticket to happiness, well the ride is about to get even better and festive. Let's fill up our cups this morning with Creamy Gingerbread Cashew Coffee and get ready to take on the world.
Do you have a dedicated morning coffee routine or do you get your cup of Joe whenever you can get it? As soon as Shea wakes up, let me tell you, that Nespresso machine is ready for action. But this morning, shaking up this creamy gingerbread cashew coffee and sticking it in the microwave for a hot minute. Well that was just bliss.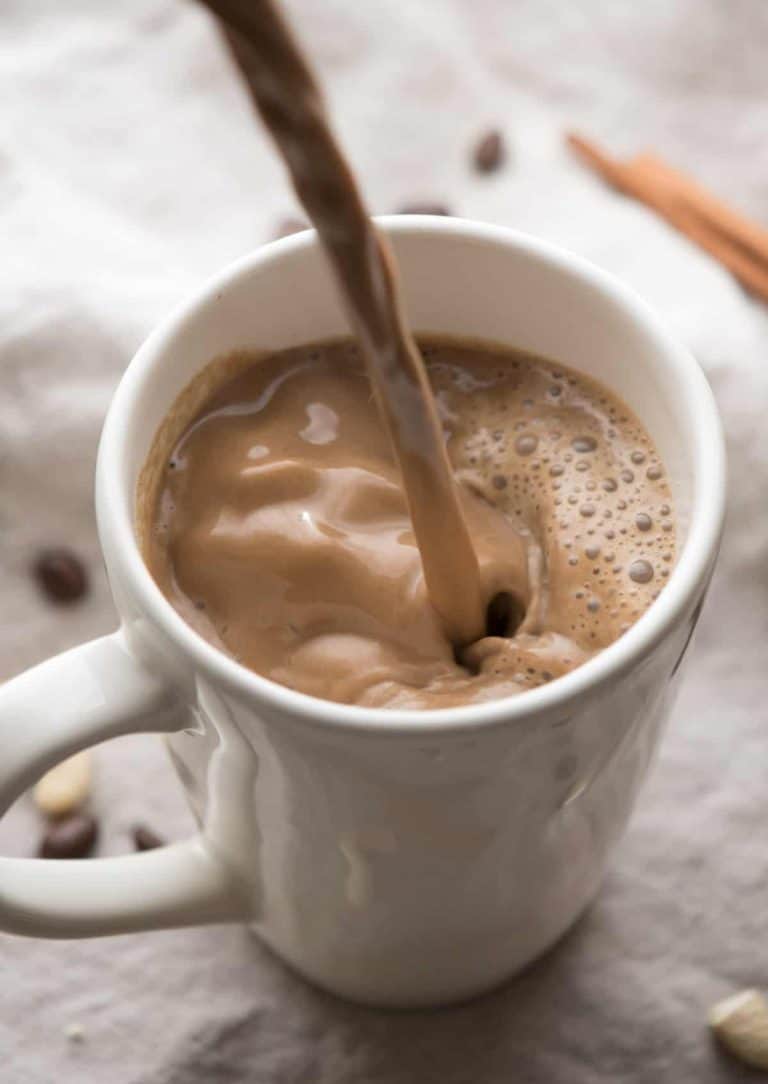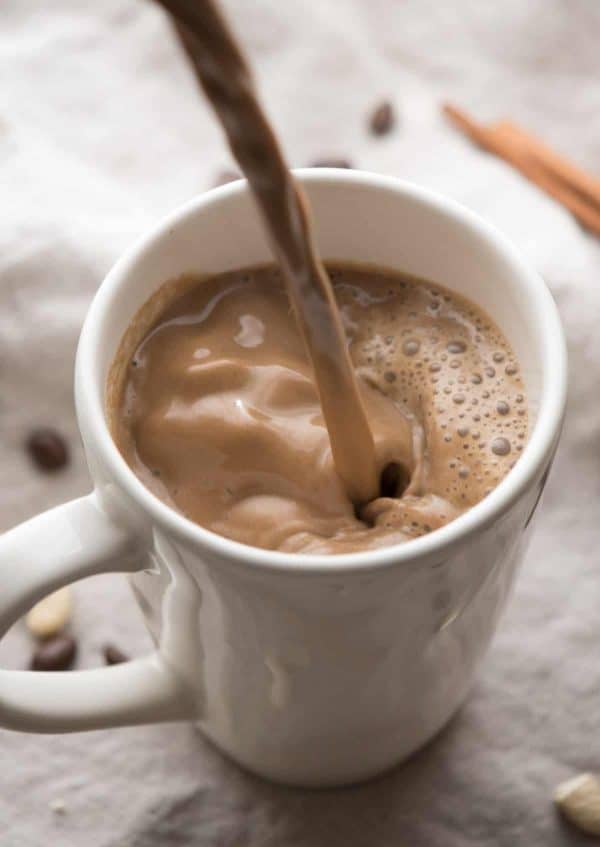 Shortly after Shea was born I had to cut dairy out of my diet. Since then I've used almond, cashew and coconut substitutes for my coffee and never looked back. Having incorporated dairy back into my diet for a while now, it certainly isn't as involved with the same gusto as before.
Will I opt for milk in my coffee when we're out of a non-dairy alternative? Yes. Absolutely. But now that this Creamy Gingerbread Cashew Coffee is so easy to whip up and keep in the fridge I don't see that happening for a while. Or at least until the festive gingerbread season is over.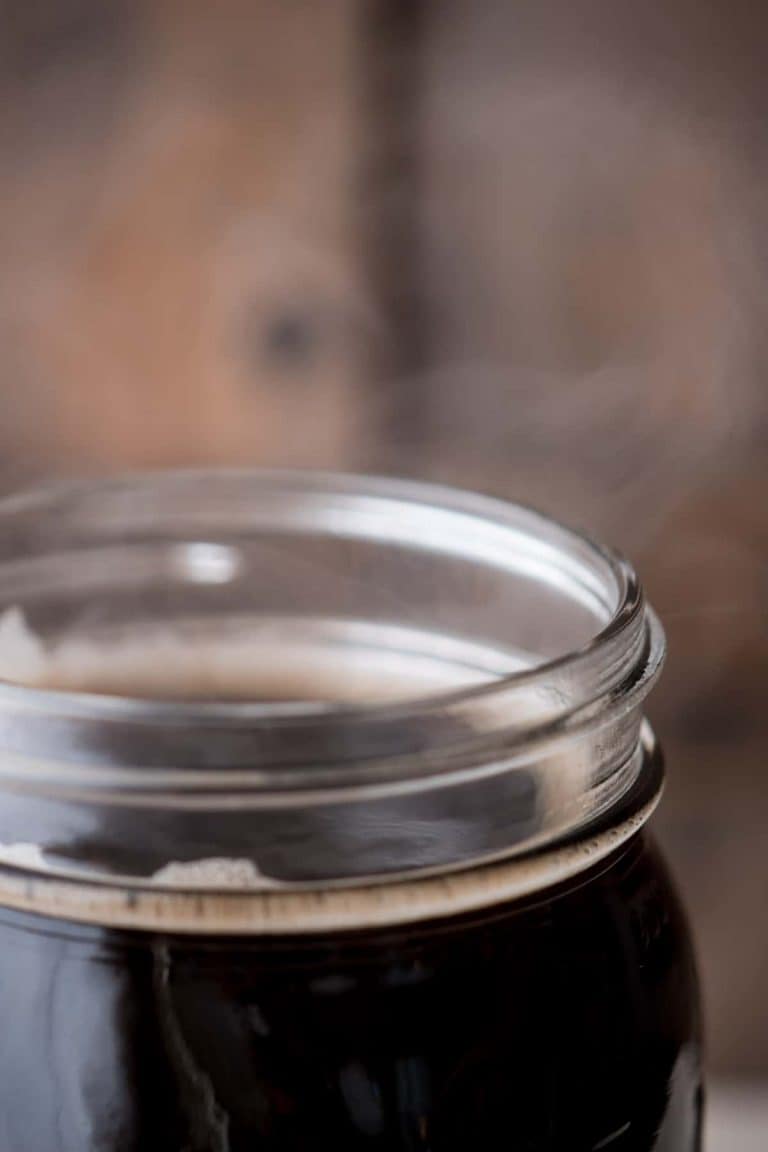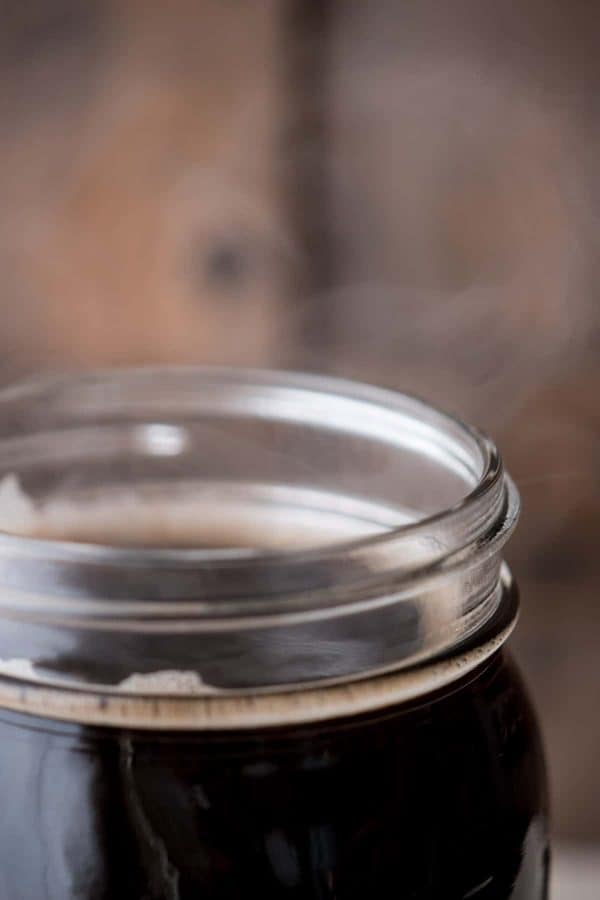 Ways to Enjoy Gingerbread Cashew Coffee
By yourself, on an island, soaking in the sun? Ha, no...a girl can dream though, right?
If you've been following along with this year's Gingerbread Week, we talked about Gingerbread Banana Motivation Muffins yesterday.
They're wholesome, dairy-free, and without refined sugar. And just happen to be a perfect pairing to Creamy Gingerbread Cashew Coffee for the morning person on the go.
However, if you're in the mood for a hot breakfast, you might as well come over because we're serving up a plate of #breakfastgoals with these California Breakfast Tacos from Brynn over at The Domestic Dietitian. Yum city. But wait! Save some room for Wanderspice's Breakfast Potatoes with Crispy Pancetta and Herbs. Avocado, eggs, tacos, potatoes, pancetta, cashew coffee?!?! Look out world, it's going to be a good day.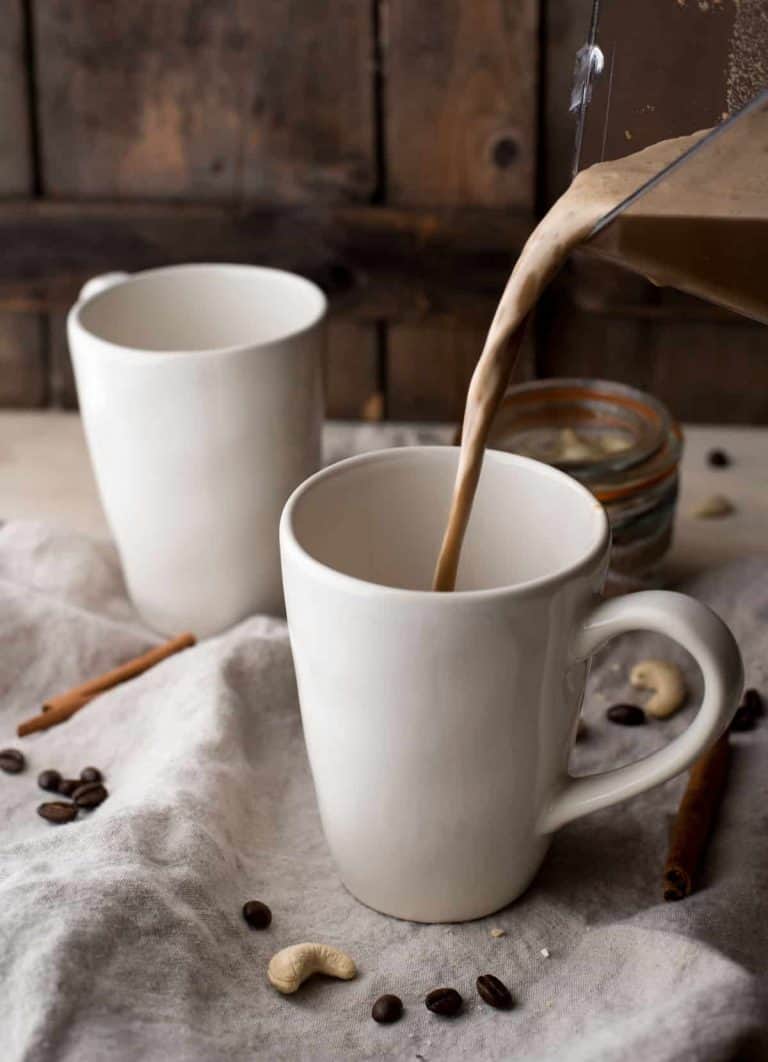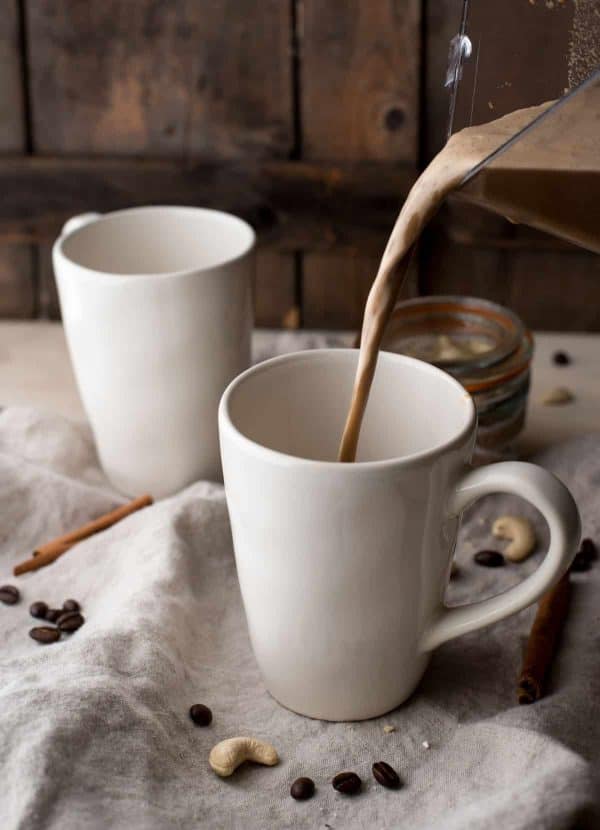 Hello, foamy latte creaminess
Are you as much of a sucker for expensive coffeehouse lattes as I am? :::cough::: Starbucks :::cough::: While it's not an every day routine, oooh boy, that gingerbread latte sings my name walking through the doors at Target. But it's super sweet. Well, let's make Creamy Gingerbread Cashew Coffee at home and cut the sweet and the cost.
This recipe is built to accommodate about 4 servings, depending on the size of your cup. If you have a monster size coffee cup...well, maybe you should double it. Sounds like a solid plan to me.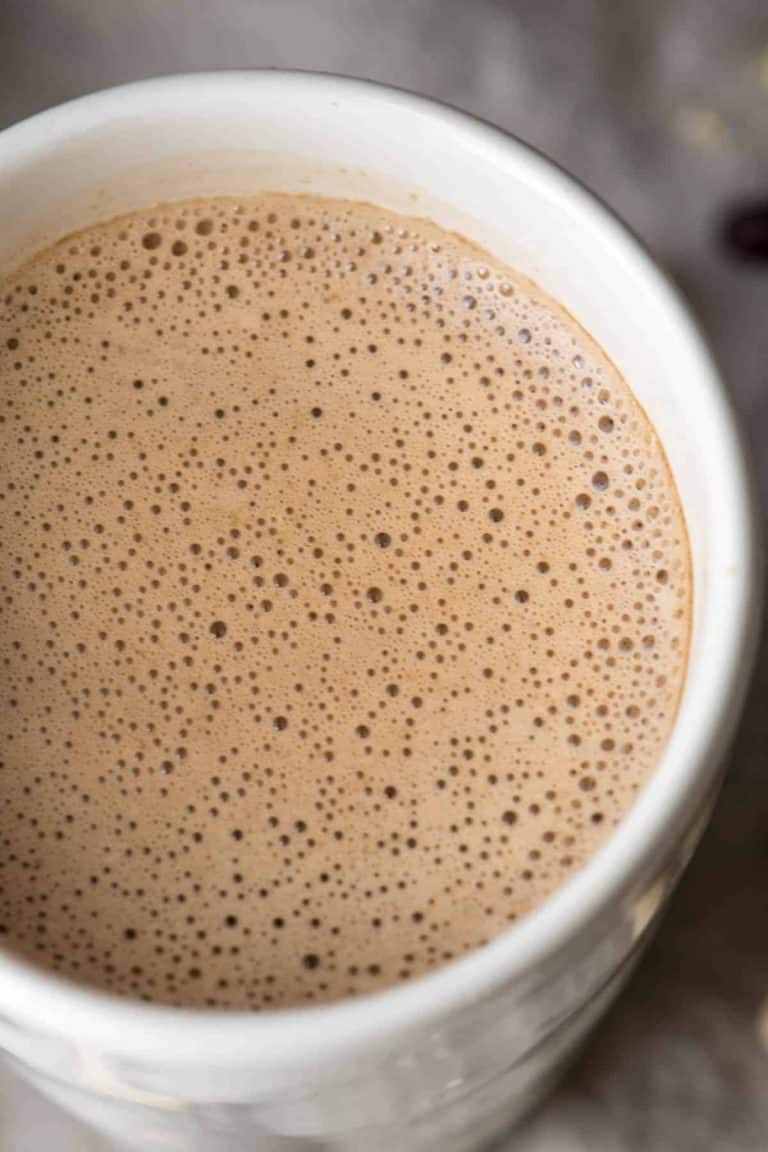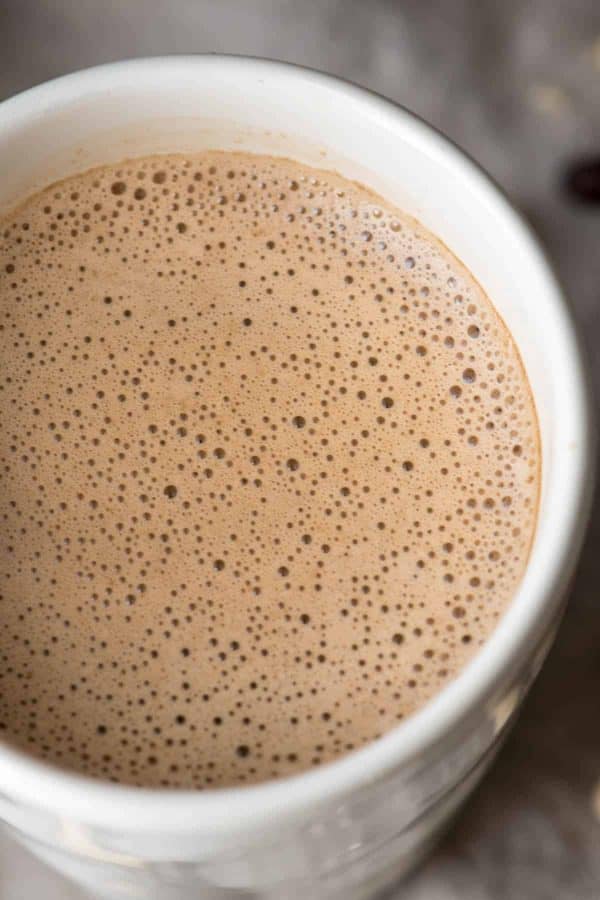 Raw, unroasted, unsalted cashews + hot coffee + a smidge of molasses + spices. That's it. Simple and full of gingerbread flavor. Inexpensive and easily whipped up. After a good long session in the blender, this gingerbread cashew coffee will have that latte foam you're accustomed to getting at your coffee house of choice.
But keep your money in your wallet, it's no good here. Just good vibes, and good cashew coffee.
Ahhhhh, we can all just enjoy that zen moment of peace? Creamy Gingerbread Cashew Coffee in hand of course.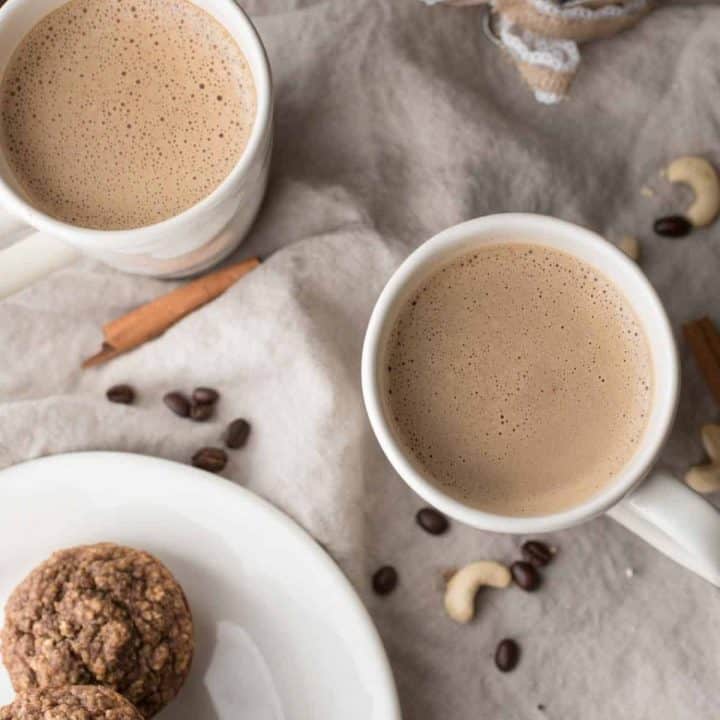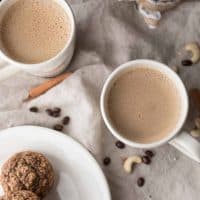 Creamy Gingerbread Cashew Coffee
Gingerbread cashew coffee is easily made in the blender for a foamy, festive and far less expensive than your favorite coffeehouse seasonal latte.
Print
Pin
Rate
Ingredients
4 ½

cups

freshly brewed coffee

1

cup

raw

(unsalted cashews)

1

tablespoon

unsulphered molasses

1

teaspoon

ground ginger

½

teaspoon

ground cinnamon

Optional: agave to taste
Instructions
Carefully transfer hot coffee¹ to blender. Add cashews, molasses, and spices. The cashews do not need to soak before blending, the hot coffee will take care of softening them so the blend up fine.

Blend on high for a full 5 to 8 minutes, depending on the strength of your blender.

Optional: add agave, or a dash of your preferred sweeter, to taste.
Notes
¹If your life is cold brew or die, soak the cashews for 2 hours before blending. Be sure to drain and rinse before adding to the blender.
The blend time will vary depending on the strength of your blender. You can also substitute a food processor, but be sure not to overfill. Splashing hot coffee everywhere is definitely NOT recommended.
If storing in the refrigerator overnight for iced coffee in the morning, the cashew cream will separate. Just give it a thorough shake in the morning and you'll be good to go.
Nutrition
Calories:
198
kcal
|
Carbohydrates:
14
g
|
Protein:
6
g
|
Fat:
14
g
|
Saturated Fat:
3
g
|
Sodium:
11
mg
|
Potassium:
424
mg
|
Fiber:
1
g
|
Sugar:
6
g
|
Vitamin A:
1
IU
|
Vitamin C:
1
mg
|
Calcium:
31
mg
|
Iron:
3
mg