It's official.  I'm going to throw caution to the wind and say it.  Spring has sprung!  Albeit, a bit fashionably late, but mother nature plays by her own rules.  Warmer weather and sunshine are in the air and taste buds are focused on all flavors fresh and light.
Well hello there, blood orange mascarpone tart!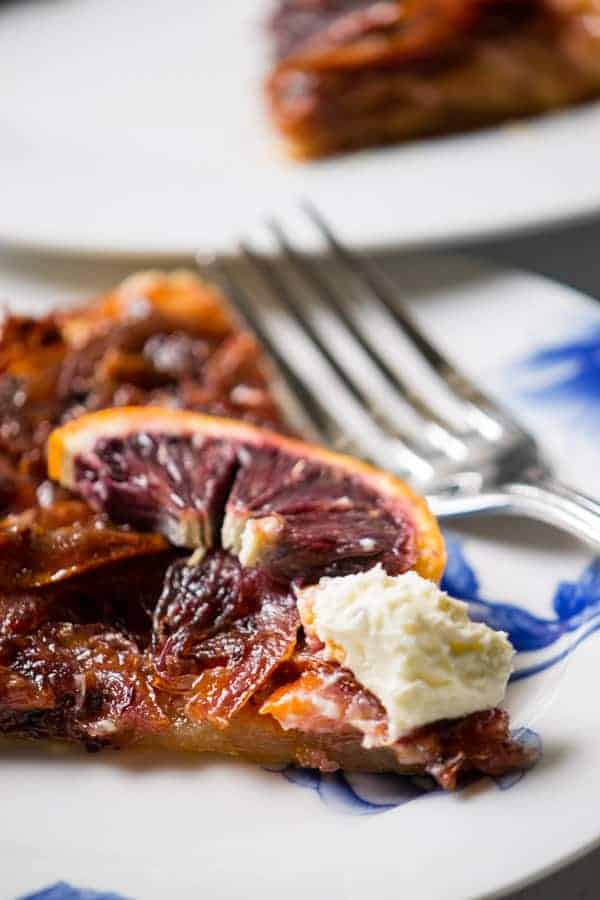 Foods that carry memories of get togethers are my absolutely favorite.  This blood orange mascarpone tart is officially going on that list!  A light. flaky puff pastry slathered with creamy mascarpone cheese hides under sweet, caramelized blood oranges.  With a girls brunch on the calendar, I knew I wanted something quick, easy, with fresh fruit flavors.  And of course it helped that I'm currently crushing on everything blood orange right now.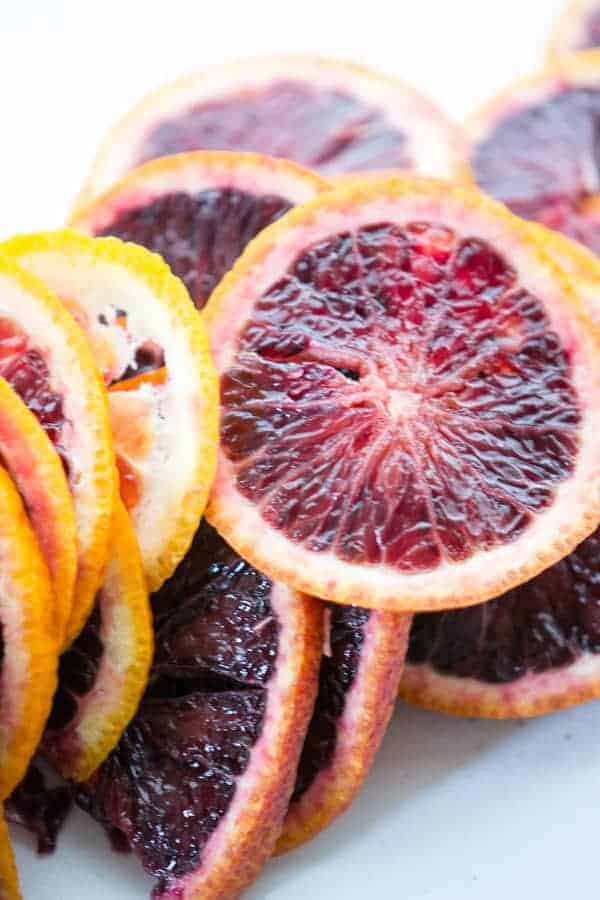 What's with the gore, blood orange?
At first peel, a blood orange is a bit shocking.  What appears to be a regular, slightly smaller, orange on the outside gives way to deep maroon crescents on the inside.  Pop one of those wedges into your mouth and you'll be greeted with sweet, citrus laced with a hint of berry and floral tastes too.
Blood oranges are great to eat on their own.  They're also great coated in butter and sugar and baked on a puff pastry…
…because duh.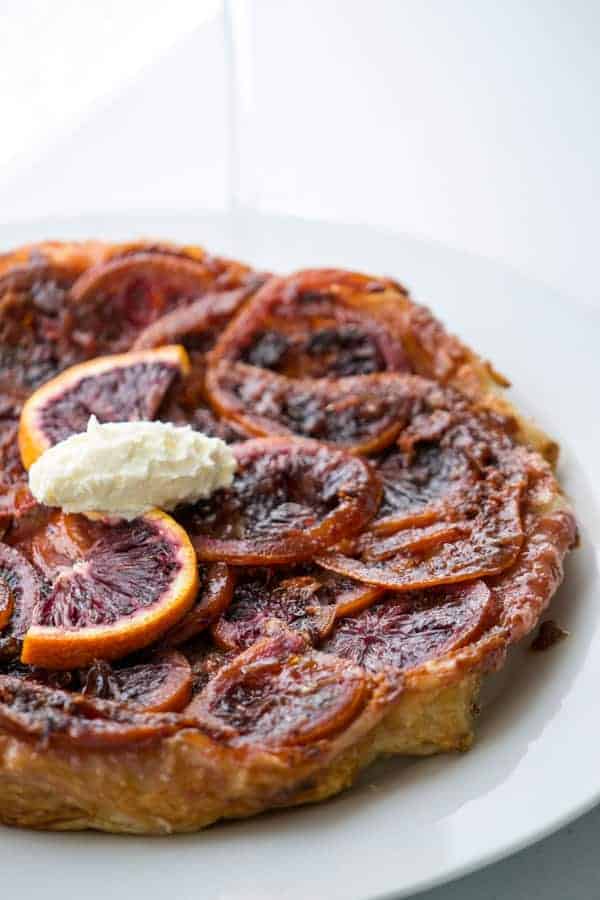 A quick, skillet tart
Puff pastry is positively a win in the fancy food made simple category.  Though you can make puff pastry at home, I'm a big fan of pulling it out of a box from the freezer section of my local grocer.  Anyone with me on that one?
Ten minutes at room temp will defrost it enough to unfold, and don't sweat if it has a few creases.  Those will bake off and end up on the bottom.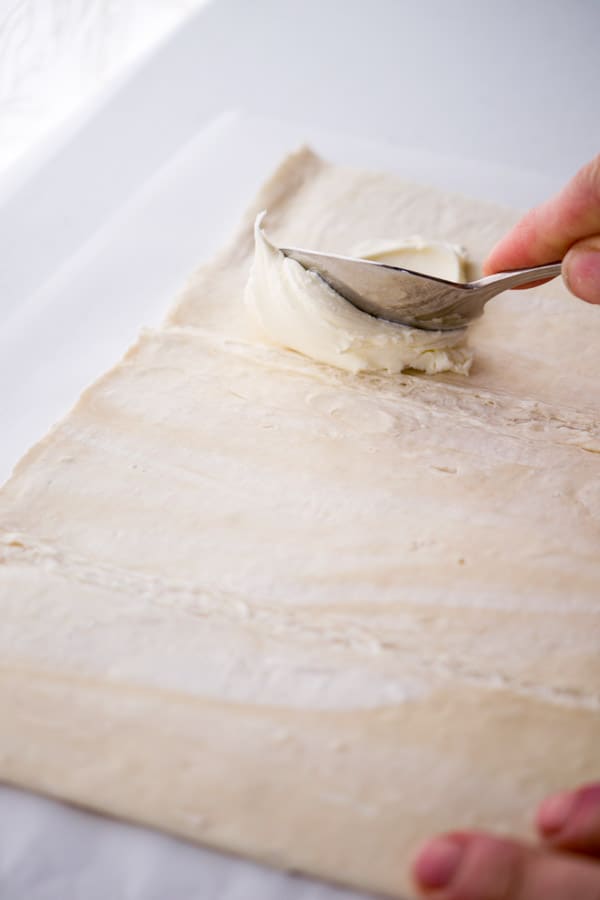 Using the back of the spoon and half a small container of mascarpone, slather the puff pastry with the light Italian cheese.  The puff pastry will still be cold and somewhat frozen so that cheese will spread nice and smooth.
Pro Tip for slathering: if the mascarpone is straight out of the fridge, leave it on the top of the preheating oven for 2 minutes to slightly soften it!
After you spread all that mascarpone goodness on your pastry, send that puff pastry straight to it's room to chill out!  (The room being the freezer.)  Refreezing the puff pastry while you work on the blood orange part of this pastry masterpiece is essential!  The butter in the pastry that has soften will solidify, making for ultra light, airy tart during the baking process.
Butter + Sugar + Orange = No problem.
Fun fact about blood oranges.  The rind on this citrus fruit tend to be a bit thicker than a regular navel orange.  So it looks like we're going to have to toss it with melted butter and sugar and let it simmer for a hot minute.
Oh darn.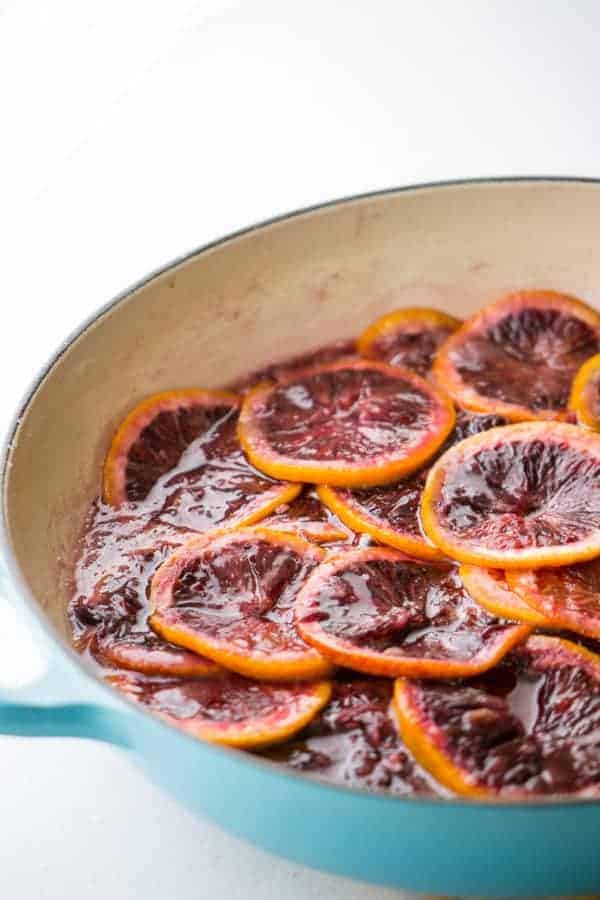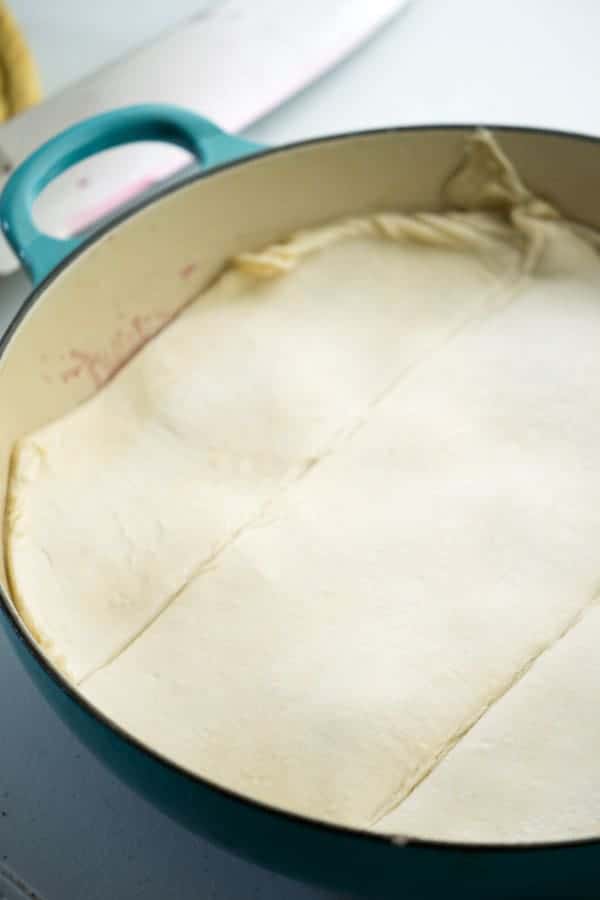 The five minutes these thin orange slices spend on the stove top will lead to soft, melt in your mouth, caramelized citrus delight after baking.  Rather than chewy, slightly raw orange rind…not speaking from experience or anything…[looks around].
The pan of bubbling, sugar orange slice beauties meet puff pastry next.  Straight from the freezer, flip that bad boy mascarpone side down.  Trim any edges really quick with a sharp knife or kitchen scissors. A quick visit to a hot oven for 20 minutes and you'll be enjoying posh bakery-style tart perfection.
Unless, of course, you are waiting until the next day to enjoy caramelized citrus and flaky mouth bliss, because your tart is going places.  If a slice is missing, I think everyone will understand.
Hey, the quality check is an important part of the process, right?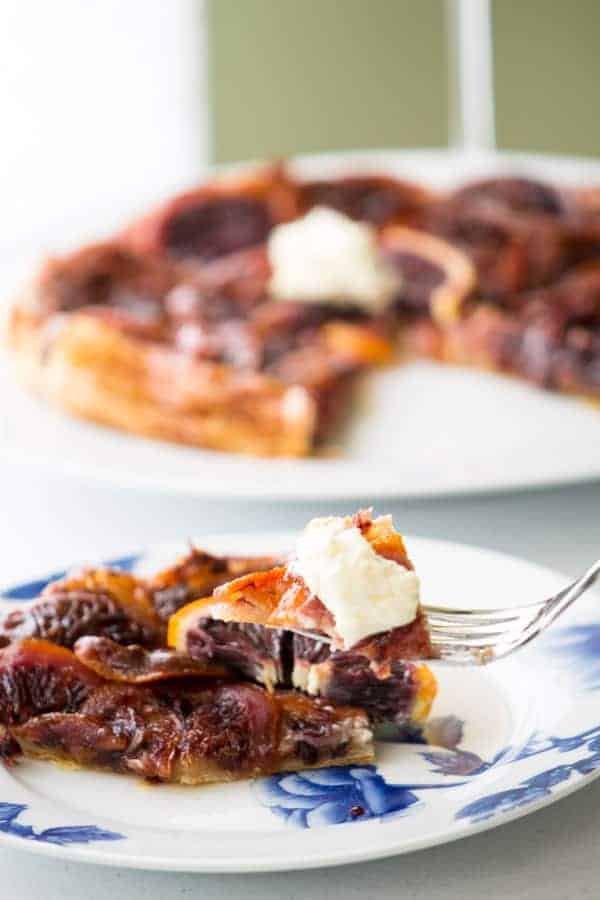 Print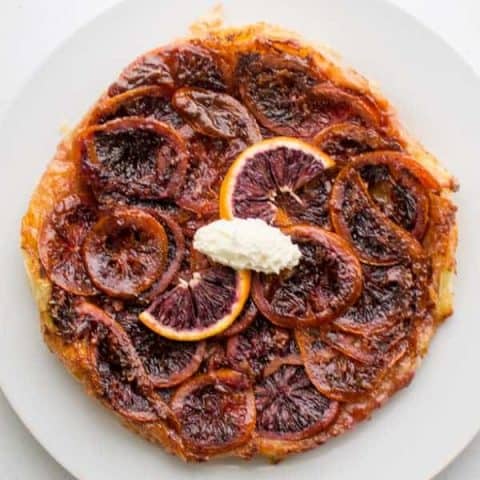 Blood Orange Mascarpone Tart
---
Author:

Prep Time:

15 minutes

Cook Time:

20 minutes

Total Time:

35 minutes

Yield:

6

servings

1

x
Description
Flaky, light crusty and a layer of creamy mascarpone tucked under caramelized blood orange slices. Five Ingredients and a skillet will get you a bakery worthy tart, perfect for brunch!
---
Scale
Ingredients
1

puff pastry shell

4 ounce

s mascarpone cheese

3

blood oranges (thinly sliced)

1/2 cup

granulated sugar

3 tbsp

unsalted butter
---
Instructions
Preheat oven to 420°F. Lay puff pastry shell flat on a piece of parchment paper or baking sheet. Using the back of a spoon, spread the mascarpone cheese, leaving a 1-inch margin around the edge of the pastry. Return pastry shell to the freezer.
Thorough wash and dry the blood oranges. Cut of each end. Slice as thin as possible without ripping the flesh of the orange, about 1/8″ thick.
In an oven-safe 9″ skillet, melt unsalted butter on medium heat. Add granulated sugar and stir together with a rubber spatula. Add the orange slices and carefully toss with the butter sugar mixture. Once all slices are evenly coated, pat them down in a flat layer with the spatula.
Let the orange sugar mixture simmer on medium-high for 5 minutes. After five minutes, remove from heat and top with puff pastry mascarpone side down. Trim any edges with a sharp knife or kitchen scissors.
Bake in a 420°F oven for 20 minutes. Allow to cool for 15-20 minutes before flipping over the tart.* If sugar is too hot, it will run.
Run a spatula around the edge of the tart. Cover the top of the skillet with a large, flat plate or serving dish and flip skillet over. If it doesn't release immediately, give it a gently shake. Slice into 6 slices using a pizza cutter or sharp knife before serving.
---
Notes
*If too much time passes during the cooling process and sugar hardens, heat skillet on the stove top over high heat for 1 minutes to loosen the sugar.
Category:

Breakfast, Brunch, Dessert
Recipe Card powered by