Buttery, flaky puff pastry crust layered with creamy mascarpone cheese and rosé simmered blood orange slices. Blood orange mascarpone tart is perfect for dessert, brunch or even breakfast that you can serve warm or chilled.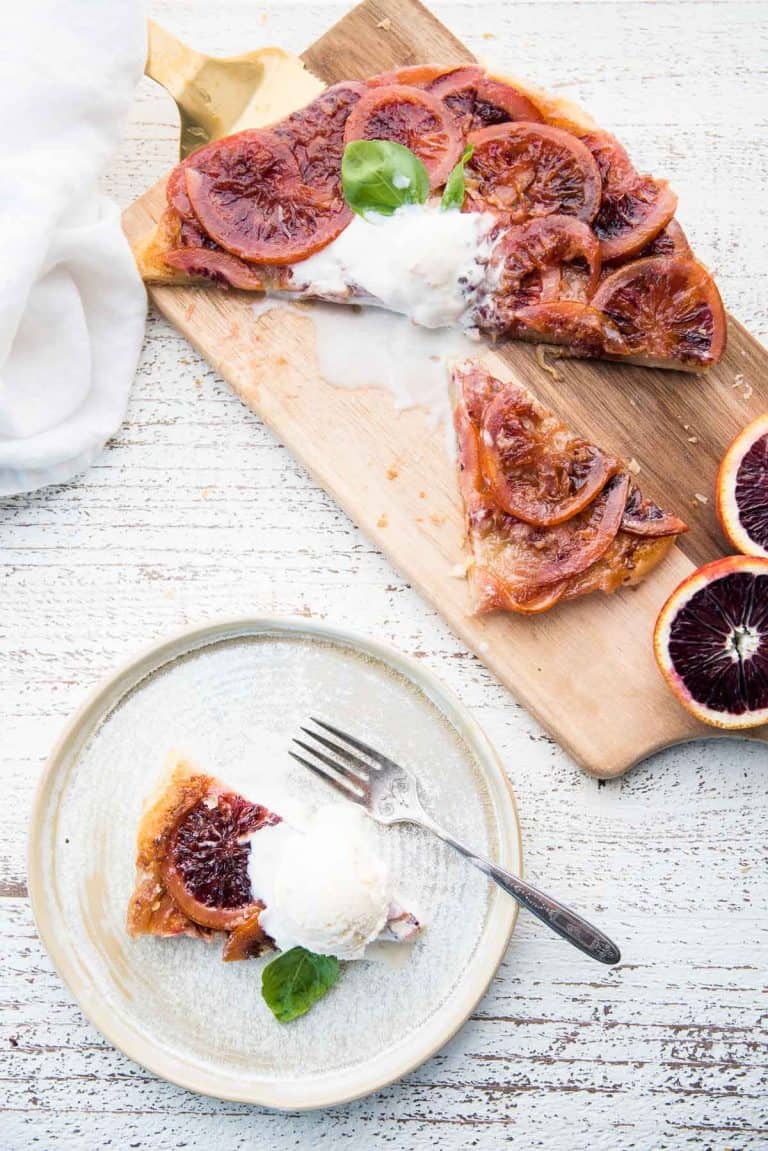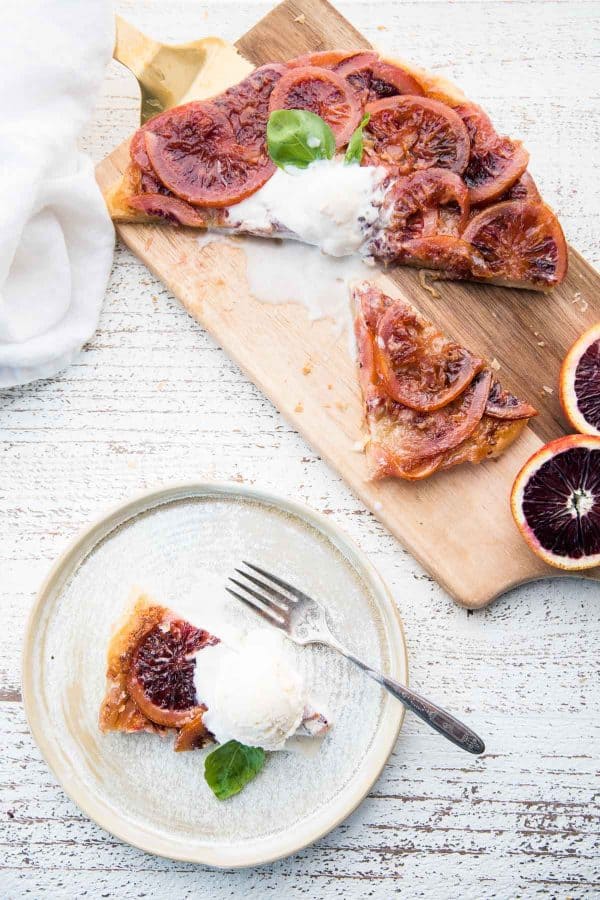 Hello Spring and hellllooooo blood orange season! And an extra hello to sweet confections that count as dessert, brunch, or breakfast. Are you with me?
Danishes? Chocolate croissants? Pancakes? Cinnamon Rolls? If you're a lover of any of those, this blood orange tart is going to fit the bill for any brunch occasion or just a great special breakfast. But, let's not stop there because these buttery thin and crisp layers are equally perfect to dish out for dessert.
Multi-purpose and extra delicious. Best of all, the steps to prepare this citrus layered mascarpone tart are super simple with minimal dishes. Just how we like it.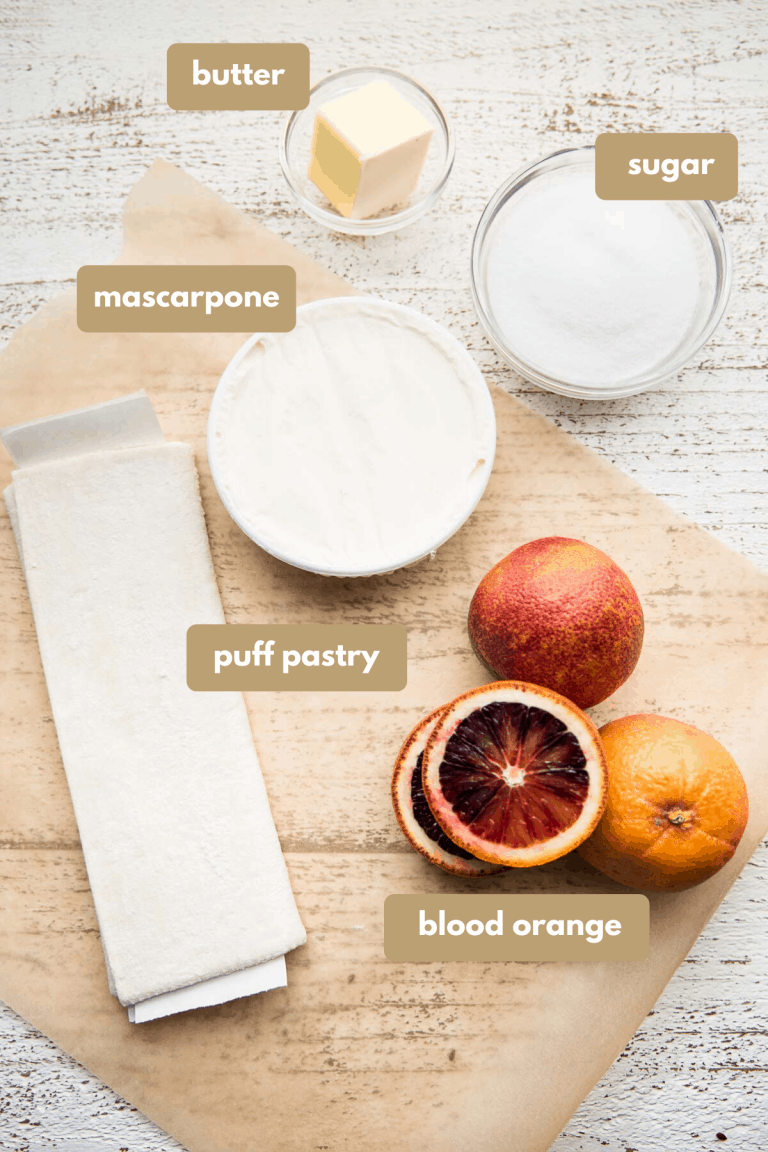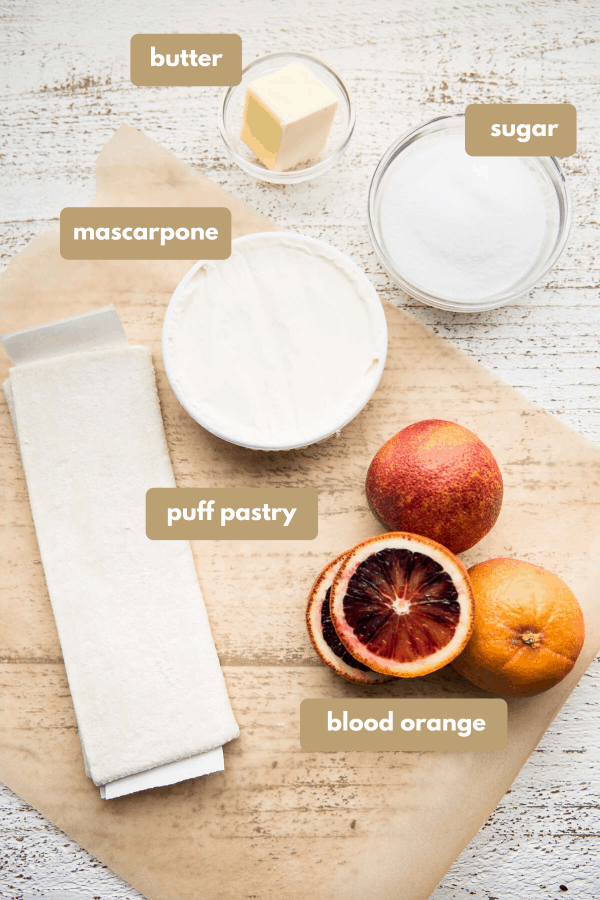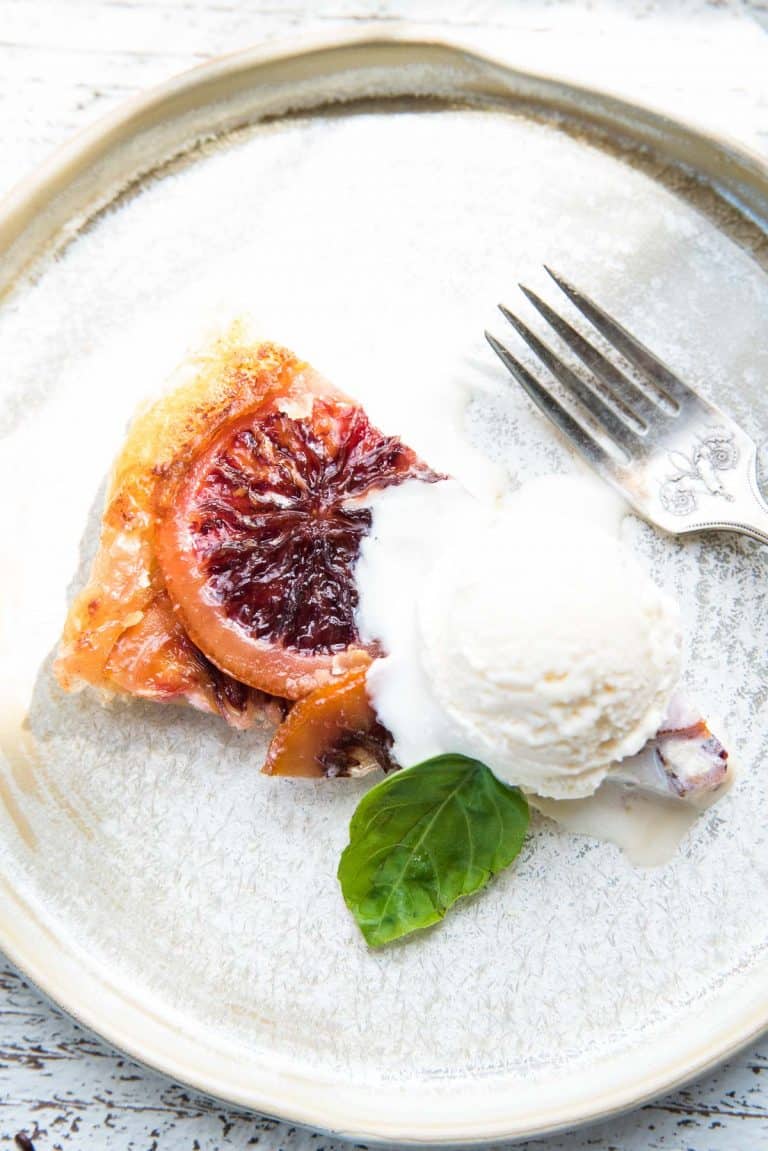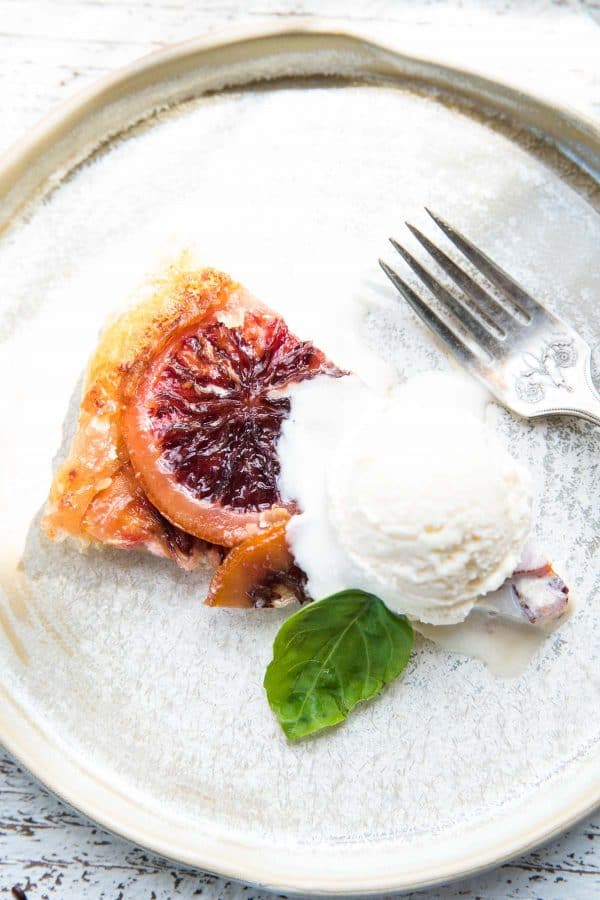 What's with the gore, blood orange?
At first peel, blood orange is a bit shocking. What appears to be a regular, slightly smaller, orange on the outside gives way to deep maroon crescents on the inside. Pop one of those wedges into your mouth and you'll be greeted with sweet, citrus with a hint of berry and floral tastes too.
Blood oranges are great to eat on their own. They're also great coated in butter, sugar and rosé then baked on a puff pastry...
...because duh.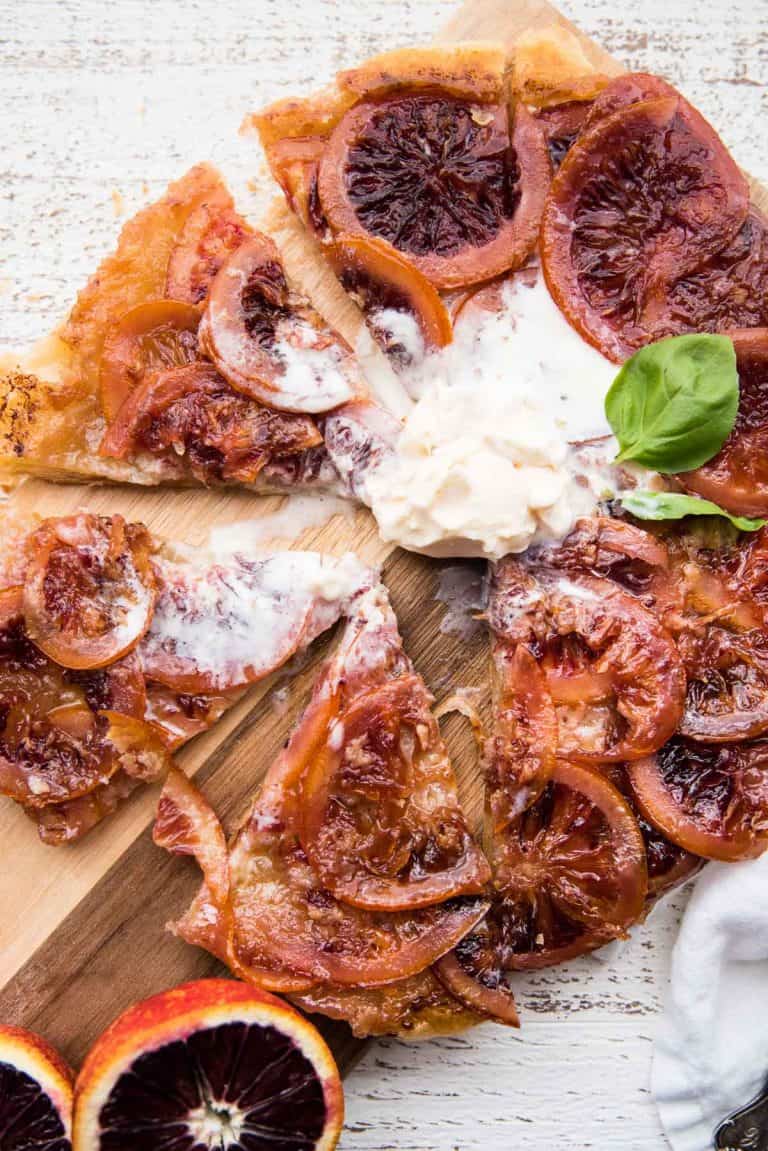 How do you make a puff pastry tart
Puff pastry is positively a win in the fancy food made simple category. Though you can make puff pastry at home, we're living on team pull it out of the freezer and let it thaw.
Defrost it enough to unfold - about 40 minutes out at room temperature - and don't sweat if it has a few creases. Those will bake-off and end up on the bottom.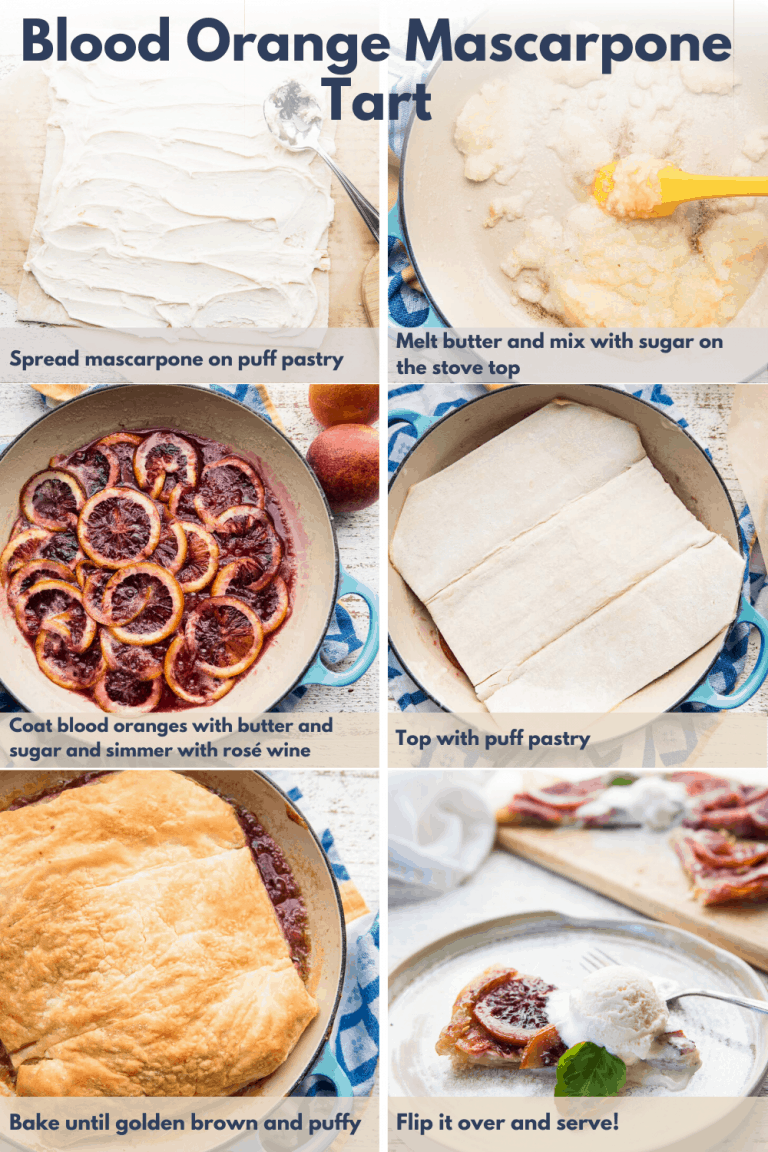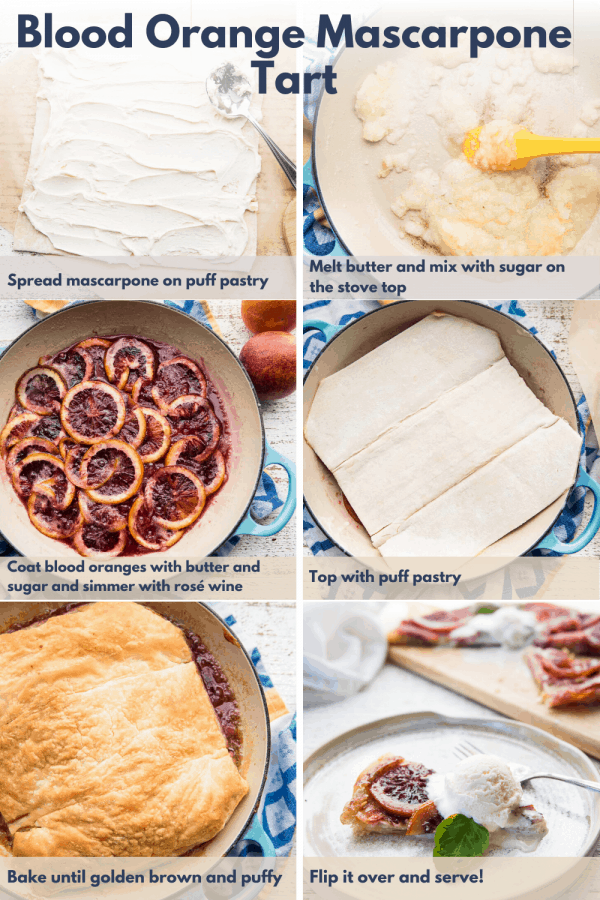 Using the back of the spoon and half a small container of mascarpone, slather the puff pastry with the light Italian cheese. The puff pastry will still be cold and somewhat frozen so that cheese will spread nice and smooth.
Pro Tip for slathering: if the mascarpone is straight out of the fridge, leave it on the top of the preheating oven for 2 minutes to slightly soften it!
After you spread all that mascarpone goodness on your pastry, send that puff pastry straight to it's room to chill out! (The room being the freezer.)
Refreezing the puff pastry while you work on the blood orange part of this pastry masterpiece is essential! The butter in the pastry that softened from being at room temp will solidify, making for ultra light, airy tart during the baking process.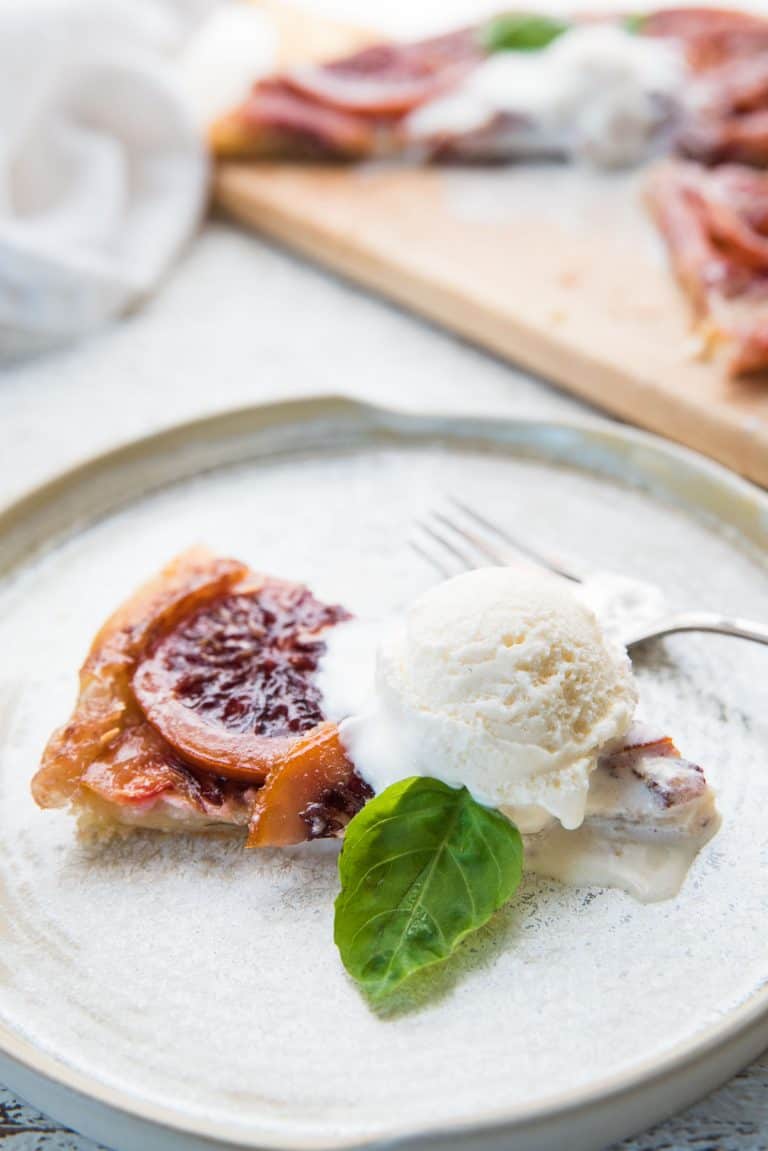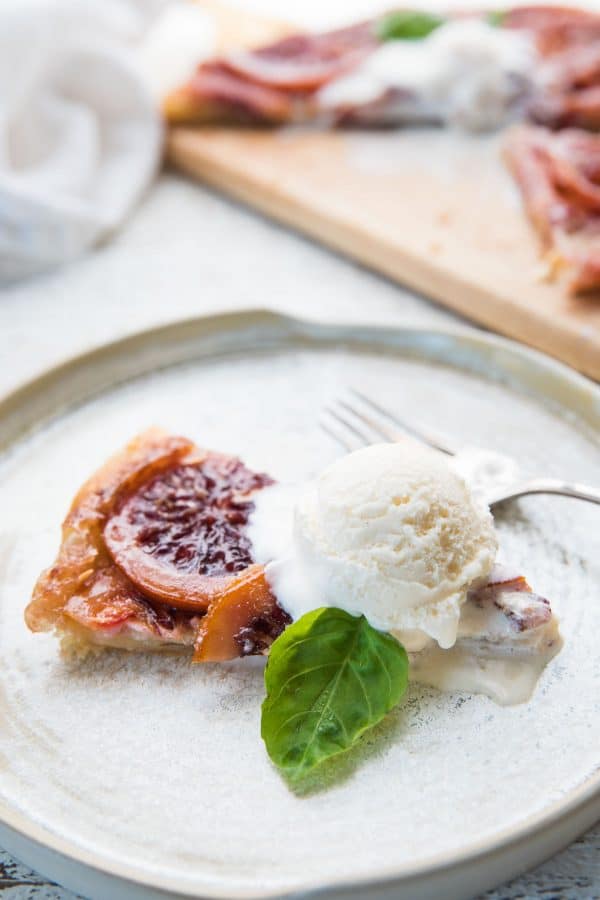 Tips for mascarpone tarts
Fun fact about blood oranges. The rind on this citrus fruit tend to be a bit thicker than a regular navel orange. So we're going to simmer it with butter, sugar, and a little rosé wine to soften before baking.
Oh darn.
Plus, oranges and rosé wine with fresh spring vibes is just a happy feeling combination.
Can I substitute something for the wine?
Sure thing! A little juice or lemon will work just fine too and add a little more sweetness.
Can I use regular navel oranges?
Absolutely! You will likely use less because navel oranges are larger. You could also try this puff pastry tart with grapefruit as well.
Be sure to cut the oranges - or whichever fruit you choose - as thinly as possible. If you have a nice sharp mandolin that's perfect, if not, just use the sharpest knife you have.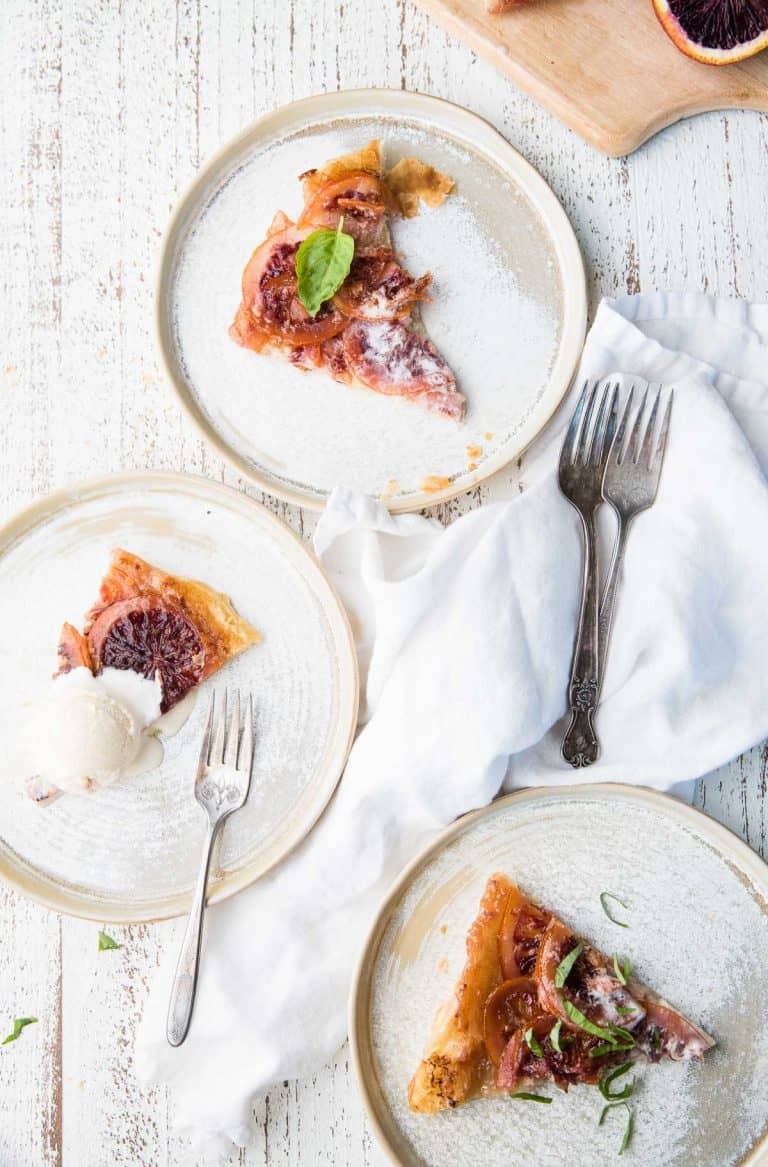 Can I peel the oranges?
Yup! (Are you liking all these yes answers?) The oranges may need a little more time to simmer to cook off the liquid in the pan, but if you want to just get rid of the rind altogether you can.
Is it ok to bake mascarpone?
You betcha. Mascarpone is a very mild Italian cheese. It's most commonly used in making tiramisu. It's kind of like a less tangy cream cheese.
Speaking of cream cheese...if you can't get your hands on mascarpone this will make a good substitution. Cream cheese will have more tang but the texture and mildness are still there.
Freeze the prepped puff pastry.
After spreading the mascarpone, refreeze the puff pastry while you simmer the oranges.
Let it cool before you flip.
Let the tart cool 10 to 15 minutes before flipping it over. Your goal is to let the hot sugar cool enough to thicken so it doesn't run, but if it cools too long you'll have trouble getting it out of the pan.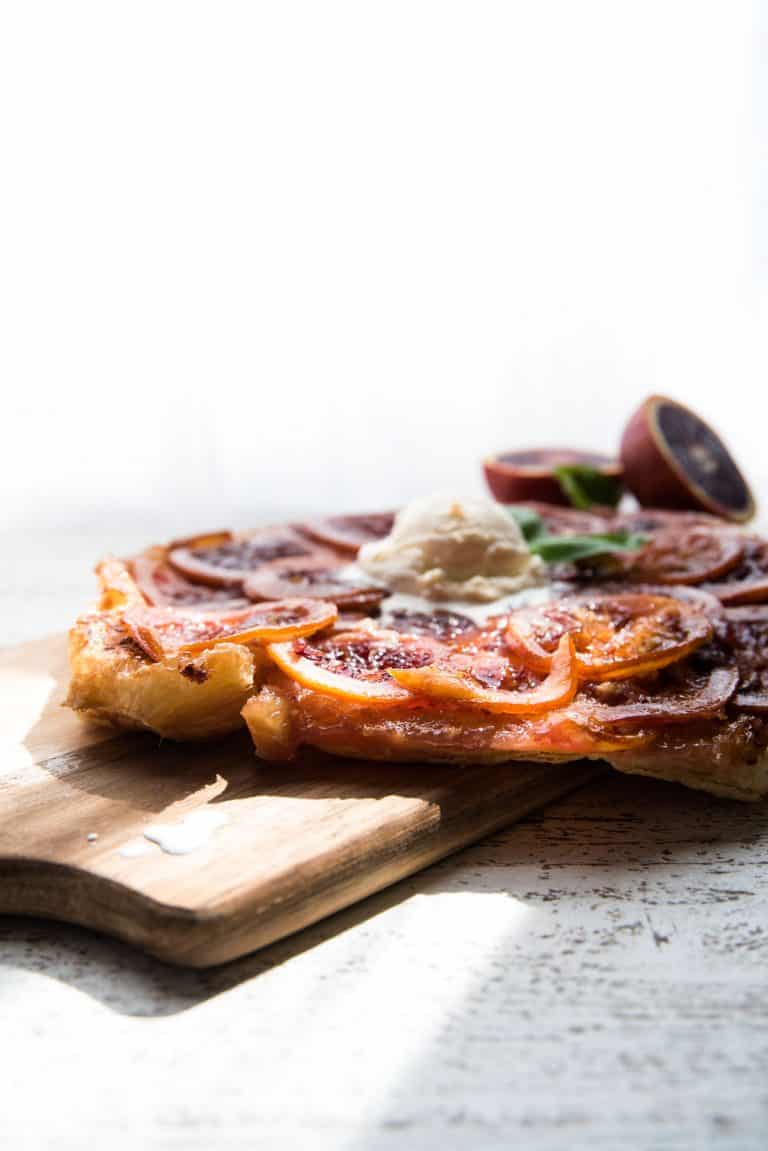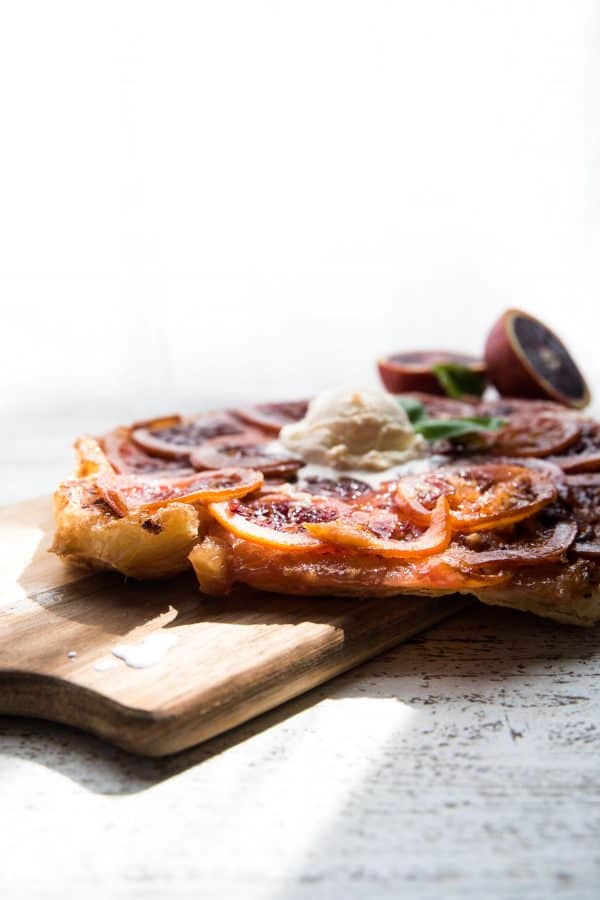 Can it be made in advance?
This tart is it's absolute best right out of the oven, but it's also delicious if made in advance. Think of it like a danish...a fresh flaky danish is divine but reheated or served at room temperature a danish is still amazing. This part can also be served chilled so if you want to eat it as a cold dessert you can!
How do you serve blood orange mascarpone tart?
Oh, the possibilities! Here are some ideas for topping your tart:
whipped cream
fresh mint
fresh basil
vanilla ice cream
balsamic glaze
shaved dark chocolate
Or just serve it straight up!
If you're loving this easy fresh fruit tart, take a peek at these peach and burrata toasts that are oh so good (and easy!) Looking for more mascarpone uses? Try some sweet and savory flatbread combos!
Did you make this recipe? Please leave a comment and rating below! For more deliciousness without effort, sign up below for email updates straight to your inbox!
This post first appeared on Hunger Thirst Play April 10, 2017, and has been updated with new photos and more detailed instructions!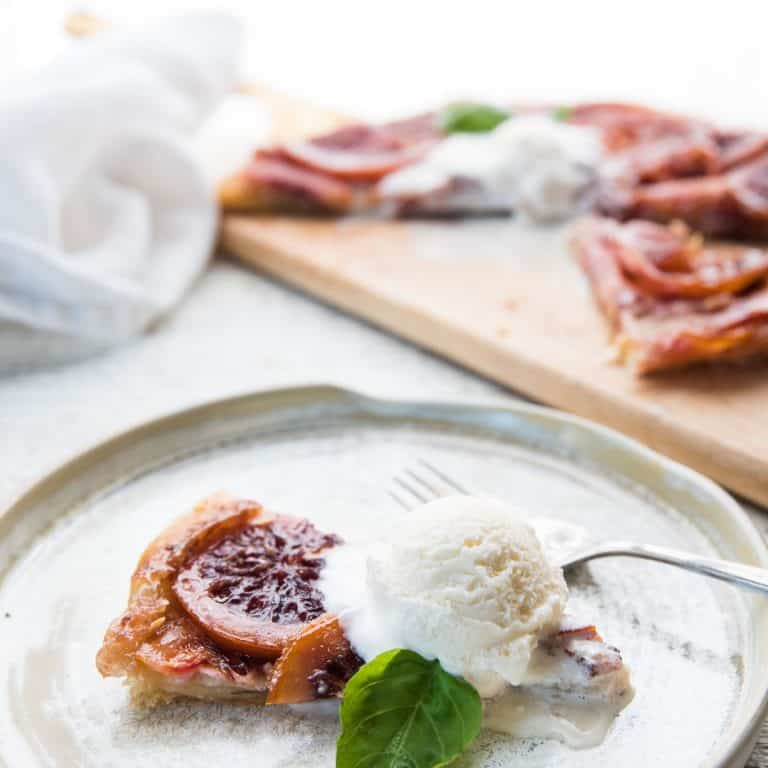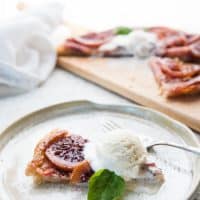 Blood Orange Mascarpone Tart
Flaky, light crusty and a layer of creamy mascarpone tucked under rosé wine simmered blood orange slices. Six ingredients and a skillet will get you a bakery worthy tart, perfect for brunch or dessert!
Print
Pin
Rate
Ingredients
1

puff pastry shell

4

ounces

mascarpone cheese

(room temperature)

3

blood oranges

(thinly sliced)

½

cup

granulated sugar

3

tablespoon

unsalted butter

¼

cup

dry rosé wine

vanilla ice cream for serving

(optional)
Instructions
Preheat oven to 425°F. Lay puff pastry shell flat on a piece of parchment paper or baking sheet. Using the back of a spoon, spread the mascarpone cheese all over the pastry. Return pastry shell to the freezer.

Thoroughly wash and dry the blood oranges. Cut off each end and slice as thin as possible without ripping the flesh of the orange, about ⅛" thick.

In an oven-safe 9" skillet, melt the butter over medium heat. Add granulated sugar and stir together with a rubber spatula. Carefully toss the orange slices with the butter sugar mixture. Once all slices are evenly coated, pat them down in a flat layer with the spatula. Pour in the rosé wine, reduce the heat to low and simmer for 5 minutes or until most of the liquid has cooked off.

Remove the skillet from heat and top with puff pastry mascarpone side down. Trim or fold over any edges with a sharp knife or kitchen scissors.

Bake in a 425°F oven for 18-20 minutes until the puff pastry if puffy and golden brown. Allow to cool for 10-15 minutes before flipping over the tart. If sugar is too hot, it will run and if the pan is cold the oranges will stick to the pan.

Run a spatula around the edge of the tart. Cover the top of the skillet with a large, flat plate or serving dish and flip skillet over. If it doesn't release immediately, give it a gentle shake. Slice into 6 slices using a pizza cutter or sharp knife. Serve plain or top with vanilla ice cream.
Notes
If too much time passes during the cooling process and sugar thickens, heat skillet on the stove top over high heat for 1 minute to thin the sugar and release the tart from the pan.
You can substitute rosé wine with juice or lemonade, if desired.
If removing the rind from the blood oranges, simmer on low heat for a few minutes longer until liquid has cooked off.
Blood oranges can be substituted with other citrus fruits.
If mascarpone is unavailable, use cream cheese.
Nutrition
Calories:
254
kcal
|
Carbohydrates:
22
g
|
Protein:
2
g
|
Fat:
17
g
|
Saturated Fat:
10
g
|
Trans Fat:
1
g
|
Cholesterol:
34
mg
|
Sodium:
31
mg
|
Potassium:
26
mg
|
Fiber:
1
g
|
Sugar:
17
g
|
Vitamin A:
454
IU
|
Vitamin C:
3
mg
|
Calcium:
33
mg
|
Iron:
1
mg