The easiest, most delicious fall cocktail is here. It's soooo close to being in your hand. You literally just have to pour it in the glass. This Apple Cider Pumpkin Shandy is fall in a glass that's not too sweet, nicely carbonated and full of apple and pumpkin flavor.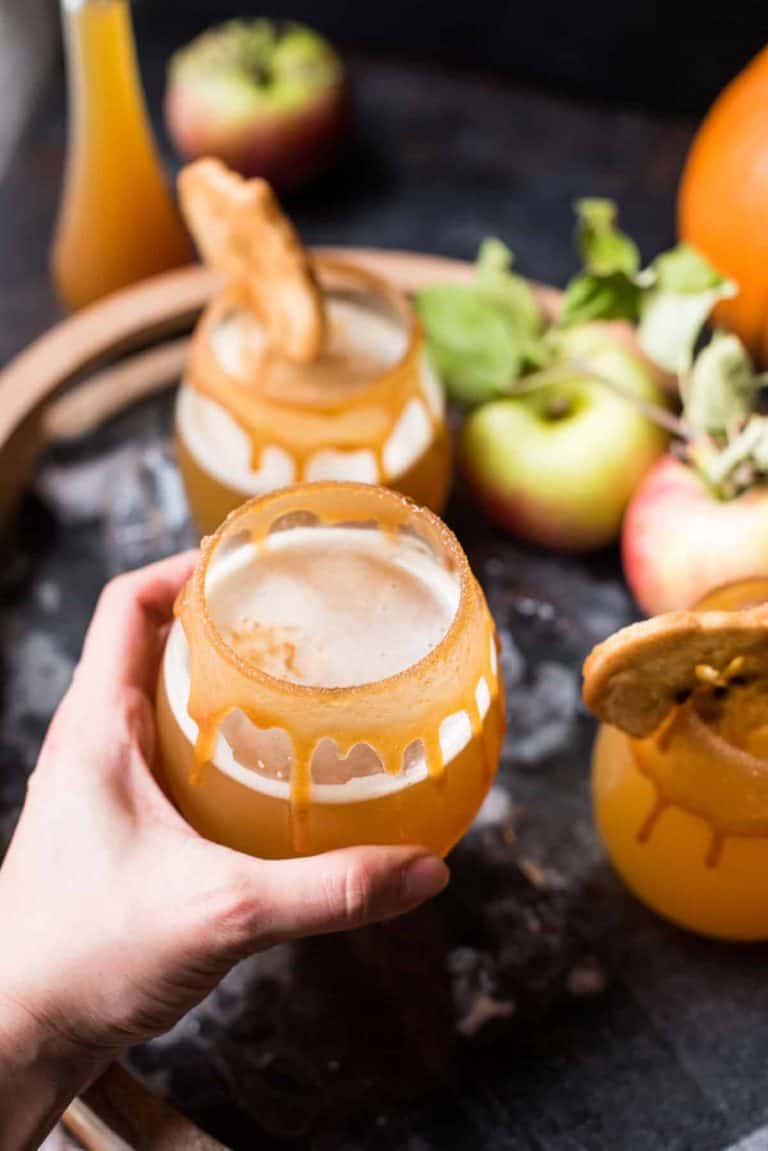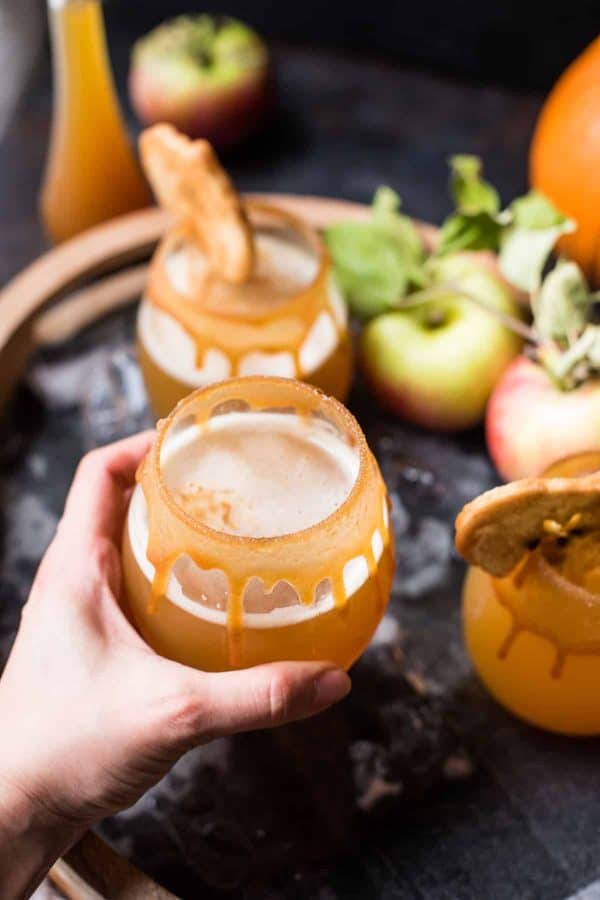 Fall is here.
We're talking crunchy leaves, crisp air, plaid everything, football tailgating, play off baseball (Go Sox!), let's get together and do all the fall things.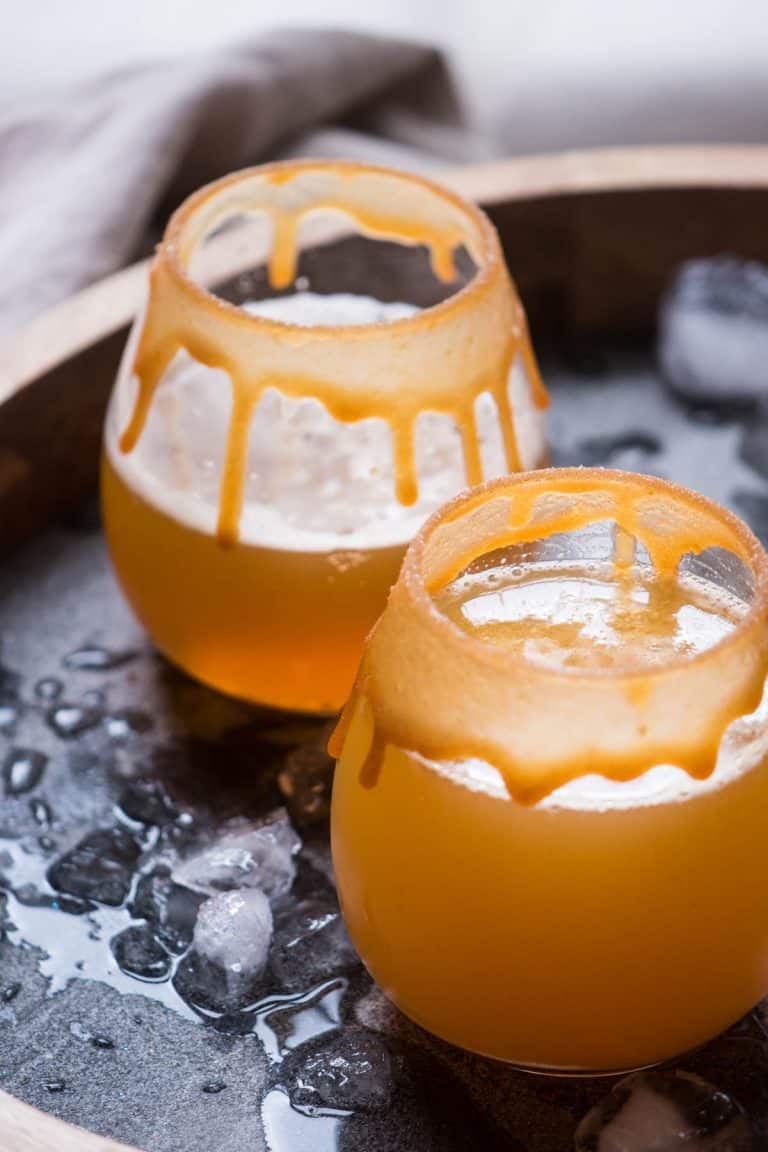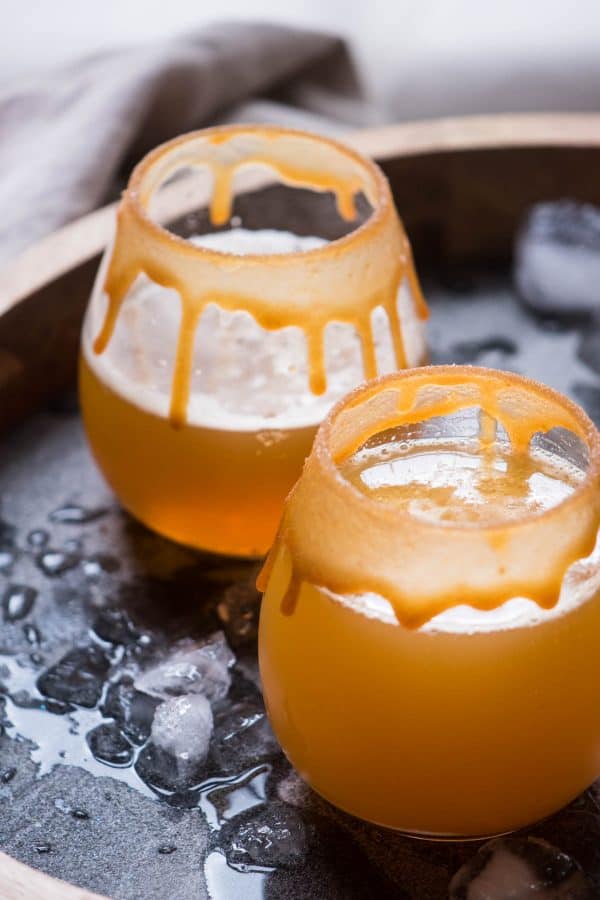 Apple Cider Pumpkin Shady
I started making Apple Cider Pumpkin Shandy drinks when I was bartending after Shea was born. With the two on tap it was easy to offer and everyone was usually on board.
The combo of hard cider and pumpkin beer made it possible to want more than one because it cuts the sweetness of the cider and made it cool for the guys to drink hard cider.
In the years since then, the stigma of loving cider has cleared. Isn't nice when we can just drink whatever the heck we want? Bring on the pumpkin and cider combos please!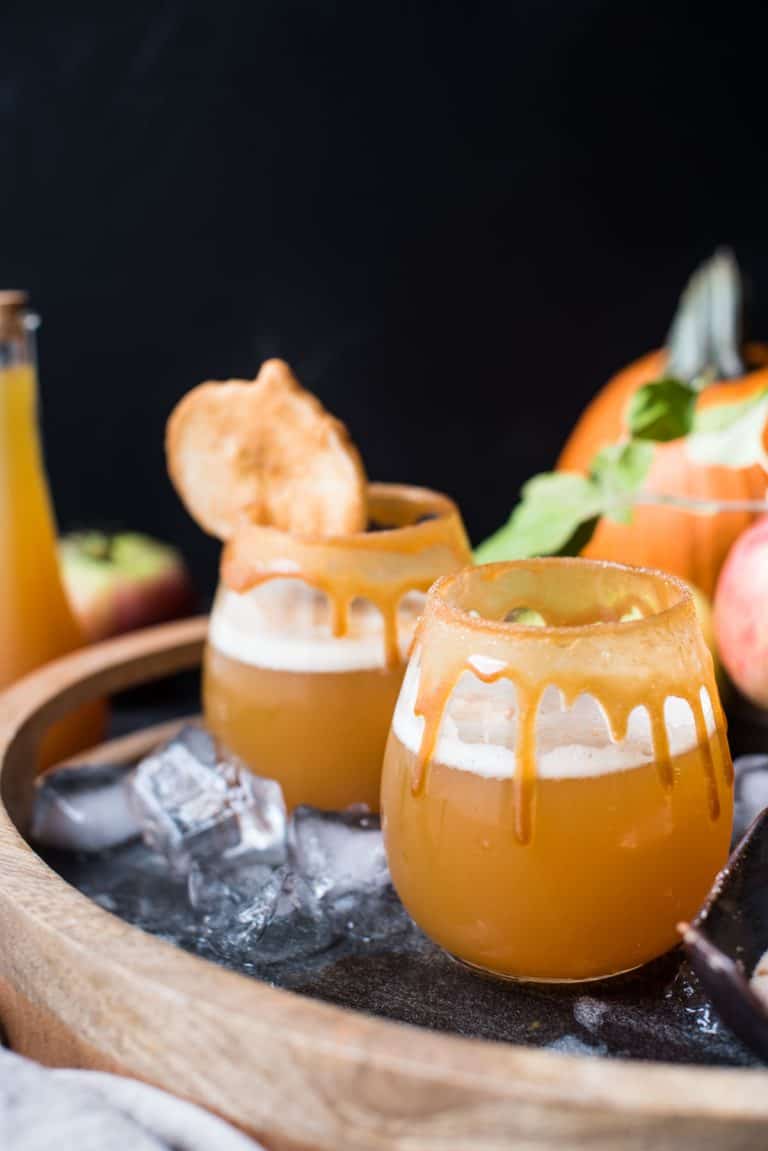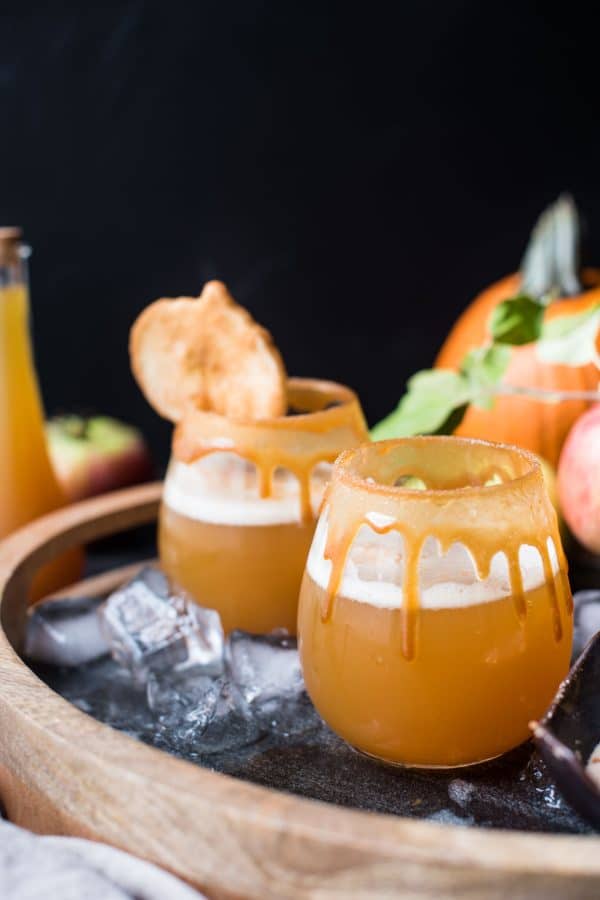 WHAT IS A SHANDY?
The standard definition of a shandy is when you take a regular beer and mix it with lemon-lime 'drink.' The original shandy actually featured ginger ale, but most likely you'll see shandys being offered with lemon or other fruit flavors in the summertime.
By combining pumpkin beer with hard hard where bringing the fruit and beer together with a oomph.
Easy Entertaining Fall Cocktail
You know how you're always like, "we should really get together" like a million times, but then you actually put it on the calendar? Now you're equal parts excited and what the F about preparing things to host said get together?
No? Just me?
Ok, well if you're just plain into tasty, easy cocktails Apple Cider Pumpkin Shandy is the way to go.
two ingredients. TWO.
sweet cider, pumpkin beer = fall in a glass
optional salted caramel cinnamon sugar rim if your Martha vibes are going.
Really Simple.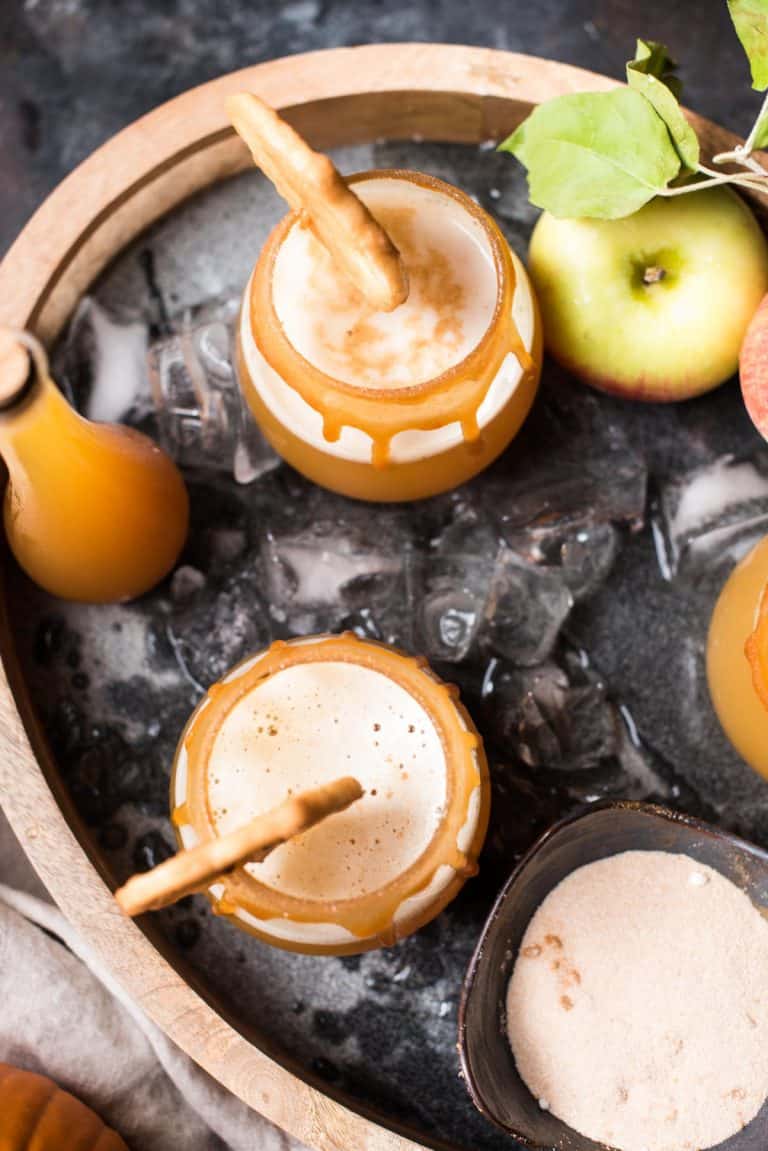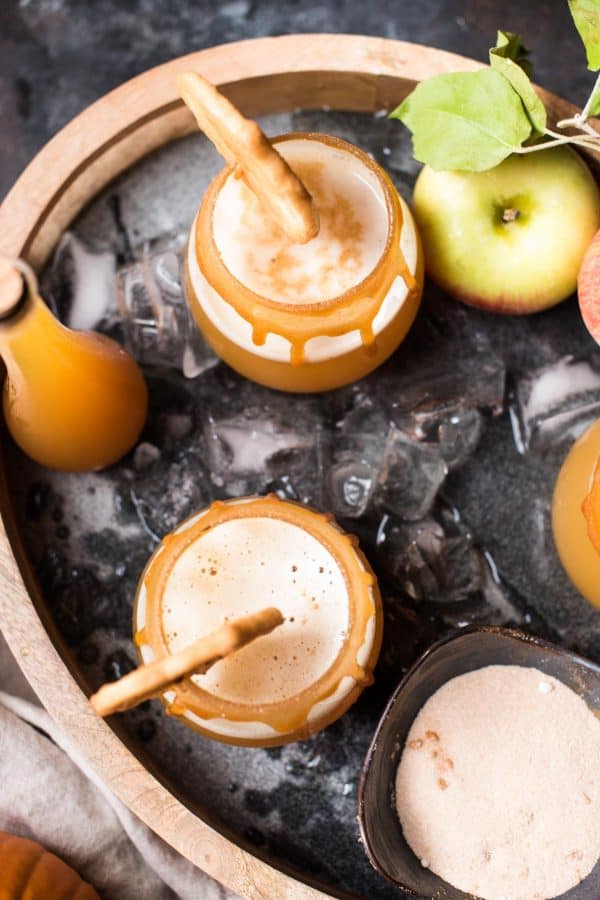 Ways to Upgrade Your Shandy
Hard Cider. Pumpkin Beer. They're like the fall, adult, liquid version of peanut butter and jelly.
They are also fantastic for tailgating or entertaining (see above.)
Two ingredients...well unless you want to up the ante. For that, try adding a little vanilla vodka or maybe a splash of cinnamon whiskey. Cause, you know, football games are cold and stuff.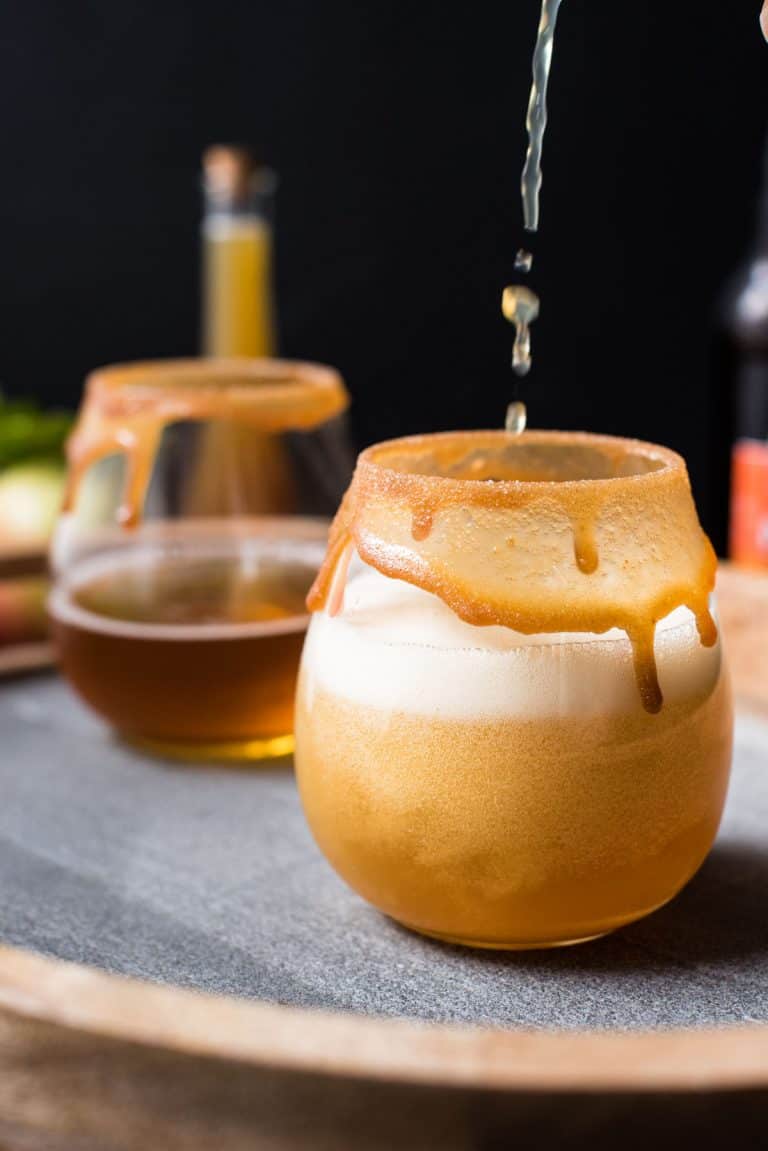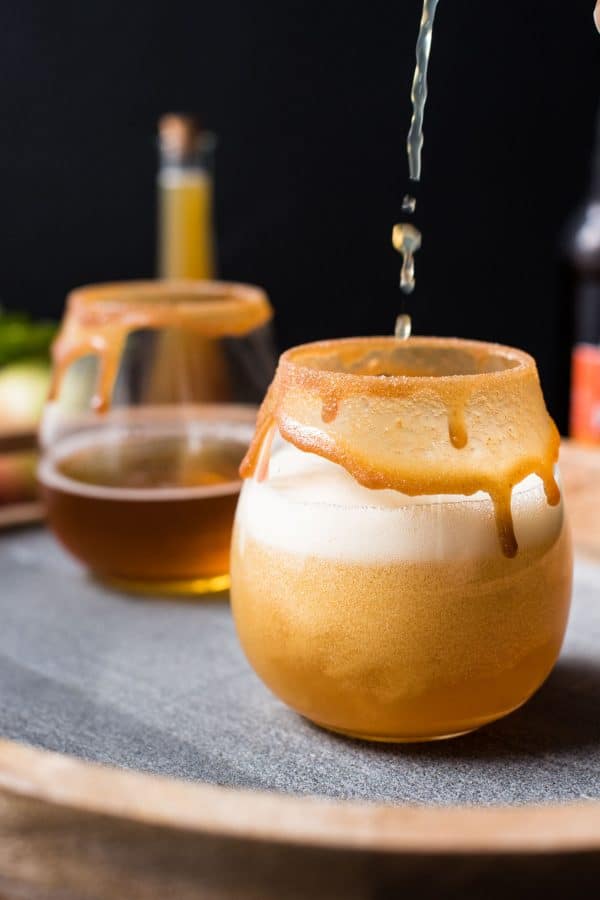 While it's probably not practical for the tailgate, if making these at home the cinnamon rim is a welcome upgrade.
Salted caramel sauce makes for a thicker binder that doesn't slip off the glass and get your hand all sticky, while pulling off some fancy drippy designs. It is a serious win for everyone.
No really, it's a win. For all the fall cocktail lovers. Go out there and get that win!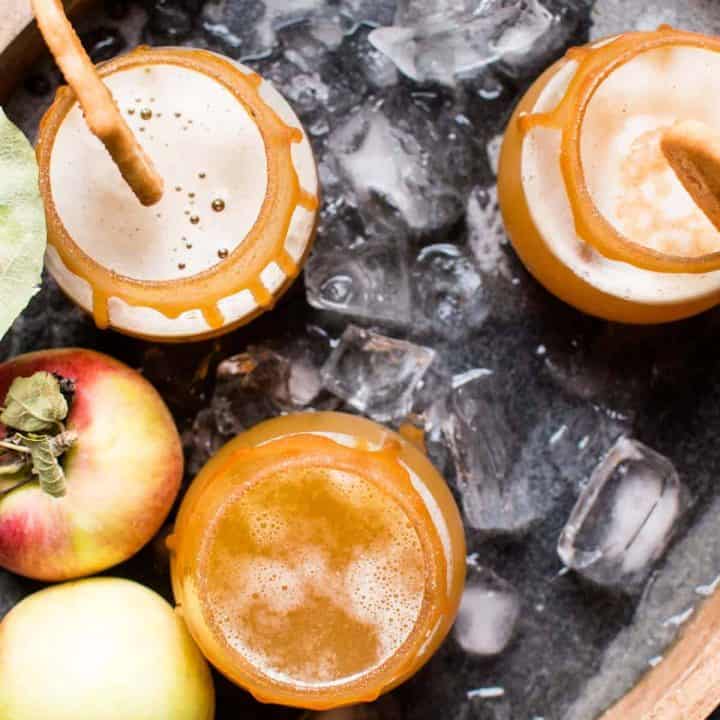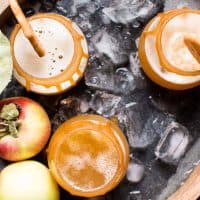 Apple Cider Pumpkin Shandy
Get all the flavors of fall in one glass! Apple cider pumpkin shandy takes off the sharp sweetness of hard cider and adds just enough pumpkin beer for a perfectly carbonated fall twist.
Print
Pin
Rate
Ingredients
2

12-ounce bottles or cans

hard cider

2

12-ounce bottles or cans

pumpkin style beer
Instructions
Make the cinnamon sugar: if you're opting for the cinnamon sugar rim, do this step before making your pumpkin shandy. In a small bowl combine the sugar, cinnamon and nutmeg and set aside.

Rim the glass: Heat the caramel in the microwave or on the stove top just until it is warm and liquid enough to slowly drip off a spoon - like the thickness of honey. Dip the lip of the glass in the caramel and slowly bring it up, letting the caramel drip down the sides then immediately dip in the cinnamon sugar before the caramel dries.

Make the shandy: In your caramel cinnamon rimmed glass, tilt the glass and pour half a can/bottle of pumpkin beer down the side of the glass. Wait 30 seconds or so for the foam to go down then top with half a can/bottle of hard cider.

Repeat. One can/bottle of each will make two cocktails. A four pack of both will make enough for 8 servings, which makes this Apple Cider Pumpkin Shandy great for entertaining.
Notes
For hard cider, Downeast is my favorite. It's unfiltered and full of real apple flavor.
For pumpkin beer, I like Southern Tier's Imperial Pumpkin. It's higher in ABV so it packs a little more punch, but the pumpkin flavor is really forward so it won't be masked by the hard cider.
You can substitute regular apple cider for the hard cider if you're looking for a cocktail lighter in alcohol. It will make the cocktail sweeter and less carbonated, just keep that in mind.
Nutrition
Calories:
240
kcal
|
Carbohydrates:
48
g
|
Protein:
1
g
|
Fat:
1
g
|
Saturated Fat:
1
g
|
Cholesterol:
1
mg
|
Sodium:
63
mg
|
Potassium:
234
mg
|
Fiber:
1
g
|
Sugar:
29
g
|
Vitamin A:
16
IU
|
Vitamin C:
2
mg
|
Calcium:
33
mg
|
Iron:
1
mg