Chocolate + Fluff + Peanut Butter. Be still, my New England soul. Fluffernutter Cupcakes have arrived.
If you grew up anywhere near the New England area, chances are pretty high you've had a fluffernutter sandwich. After all it is the official state sandwich in Massachusetts! Each September there is an entire weekend dedicated to the beloved marshmallow spread called Fluff-fest right in downtown Somerville. Though the creation of the 'Fluff' company recipe originated in Somerville, Massachusetts rumor has it the original recipe came from Kendall Square. We'll save that juicy tale for another time.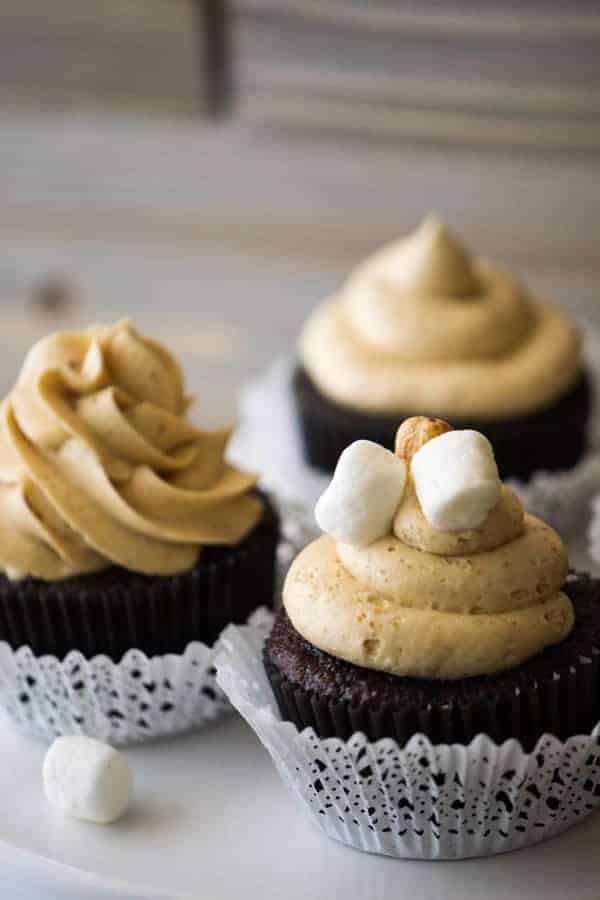 This state-wide favorite is a staple in early childhood meals or during winter time on top of hot cocoa. Everyone knows the pain that is the molten hot cocoa hidden under melty marshmallow spread. You might think its cool enough because you made it 15 minutes ago, but no.
Burnt tongue city - population: You.
Hot cocoa casualties aside, if you aren't familiar with this New England treat all you really need to know is it's spreadable marshmallow that goes perfectly with peanut butter. So why not turn those flavors into a cupcake? Mmm, yes please!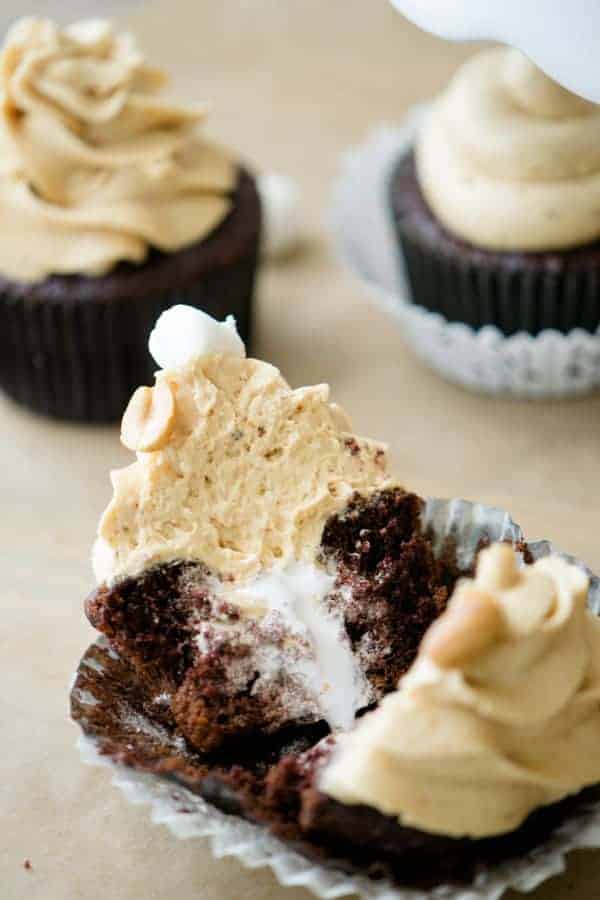 The chocolate cupcakes for this recipe follow a typical 'mud' cake method. They'll be rich, soft, and almost fudgy. Bare none, my favorite chocolate cupcake and perfect for supporting the gooey sweet marshmallow. After cooling, simply use either a cupcake corer or a large piping tip to remove the center and pipe with unadulterated Fluff. If this beautiful marshmallow creation is unavailable to you, you can combine regular marshmallows with a little unsalted butter over medium heat and mix until gooey.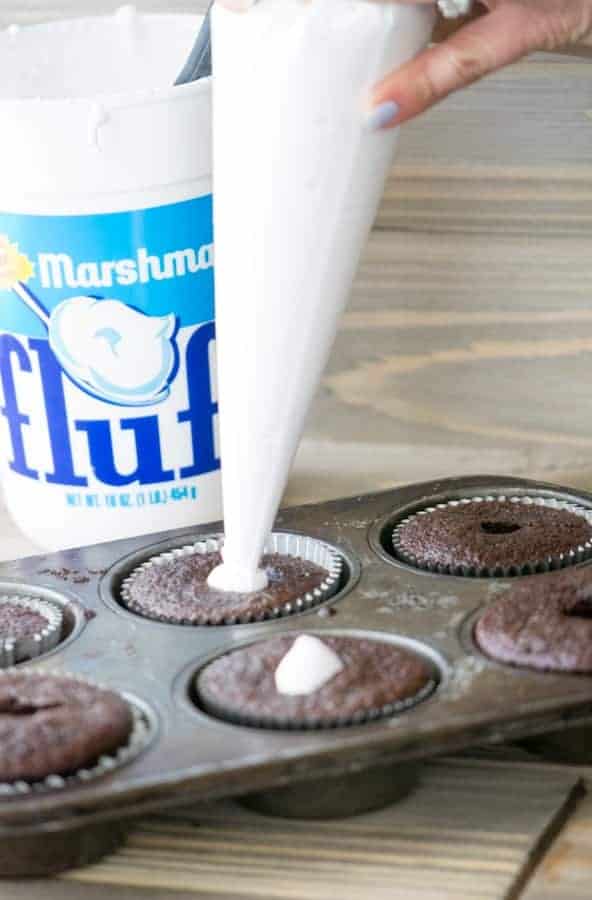 When it comes to frosting, a sweet and savory combination can be like a beacon of light when you're lost in a toothache-sweet sea. Let peanut butter buttercream be your lifesaver. And because this recipe produces 30 cupcakes versus the traditional two dozen, we need to make a little extra frosting. So you'll need 3 sticks of butter.
Let's talk PB. There are a lot of peanut butters out there. As I always say, use what works for you but first listen to my plea. The best peanut butter for this buttercream is an all-natural, fresh ground type. My favorite is Teddie's Peanut Butter. Not only is it made in the next town over (sort of), it's just ground peanuts, oil, salt. That's it. No sugar, just intense roasted peanut flavor. This style of fresh ground peanut butter will add substantial texture to the frosting and bring through peanut flavor like a freight train of goodness.
So in the spirit of National Peanut Butter Lover's Day, I say treat yourself to a dessert style Fluffernutter sandwich and make Fluffernutter Cupcakes!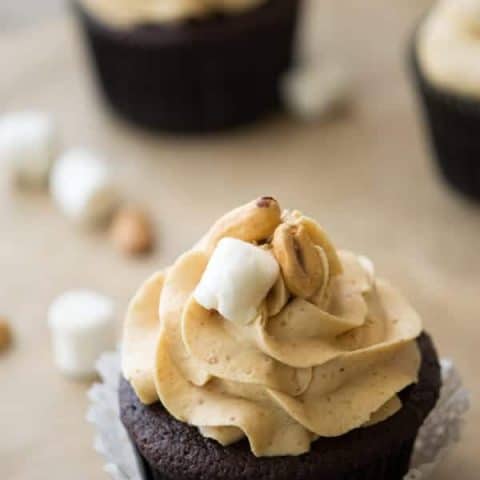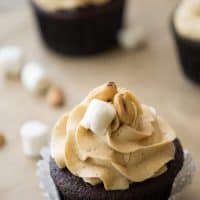 Fluffernutter Cupcakes
Rich chocolate cupcakes filled with creamy marshmallow Fluff and topped with savory-sweet peanut butter buttercream. A treat adults and kids will love!
Print
Pin
Rate
Ingredients
Chocolate Cupcakes
1 ¾

cup

all-purpose flour

2

cup

granulated sugar

¾

cup

cocoa powder

1 ½

teaspoon

baking powder

1 ½

teaspoon

baking soda

2

eggs

½

cup

vegetable oil

1

cup

whole milk

2

teaspoon

vanilla extract

1 ½

teaspoon

espresso powder

(optional)

1

cup

boiling water
Marshmallow Fluff
2

cup

Fluff

(about ½ container)
Peanut Butter Buttercream
3

sticks

unsalted butter

(room temperature)

1 ¼

cup

all-natural peanut butter

(brand such as Teddie's, see notes)

2 ½

cup

confectioner's sugar
Instructions
For the cupcakes:
Preheat the oven to 350°F and line cupcake tins with paper liners. Set the tea kettle, or pot of water, to boil.

In a mixing bowl add flour, sugar, cocoa power, baking powder and baking soda. Mix to combine.

Add eggs, milk, oil, vanilla and espresso powder. Mix on medium speed for two minutes. Scrape down sides and bottom on the bowl half way through, if using a stand up mixer.

On low speed, carefully add the boiling water and mix until combined, about 1 minute.

Fill paper liners ¾ of the way and bake for 18 to 23 minutes or until a toothpick comes out mostly clean.*

Allow to cool. Remove the 'core' of the cupcake using a cupcake corer or a 1M metal piping tip.

Fill a piping bag with Fluff, twist and tie off the top. Cut an opening to the bag slightly smaller than the core of the cupcakes. Insert the piping tip and gently pipe marshmallow into the cupcake. Marshmallow may overflow out of the top of the cupcake a bit, but will settle as some of the filling is absorbed into the cupcake.
Peanut Butter Buttercream
In a standing mixer or using an electric beater, cream the butter on medium-high speed until pale and fluffy. Add peanut butter and mix until completely combined, scraping the sides of the bowl if needed.

Add half the confectioner's sugar and mix to combine. Add the remaining confectioner's sugar and mix again. Buttercream should be firm enough to pipe but still soft. If frosting is too stiff add 1 tablespoon of heavy cream.
Notes
If the toothpick has a couple of crumbs attached, cupcakes are done. They will continue to cook as they cool in the pans. If the toothpick is covered in crumbs or still wet, cupcakes will need additional cooking time.
An all-natural, just-peanuts-and-oil type peanut butter (such as Teddie's) is the best for this buttercream recipe. It provides better texture and stronger peanut flavor. Be sure to thoroughly mix the layer of oil that settles on top of the peanut butter in the jar before adding it to the butter.
Nutrition
Calories:
334
kcal
|
Carbohydrates:
40
g
|
Protein:
5
g
|
Fat:
19
g
|
Saturated Fat:
10
g
|
Trans Fat:
1
g
|
Cholesterol:
36
mg
|
Sodium:
135
mg
|
Potassium:
130
mg
|
Fiber:
2
g
|
Sugar:
30
g
|
Vitamin A:
311
IU
|
Calcium:
34
mg
|
Iron:
1
mg