This post is sponsored by Holland House Cooking Wine. All thoughts and opinions are my own.
Thanksgiving is here! What is Thanksgiving without wine?
There's the kind you put in your glass and the kind you put in your food. Keep the wine that's for your glass right where it is, Holland House Cooking Wine has your food covered.
Come with me and let me tell you about it.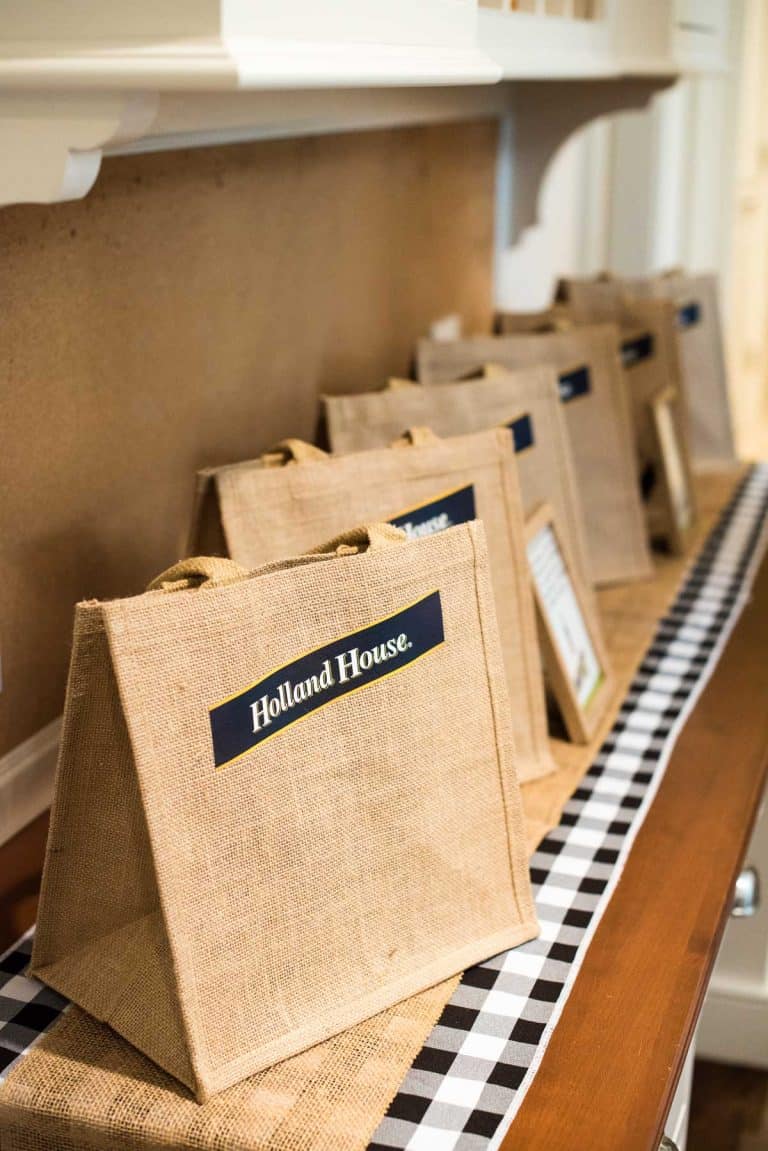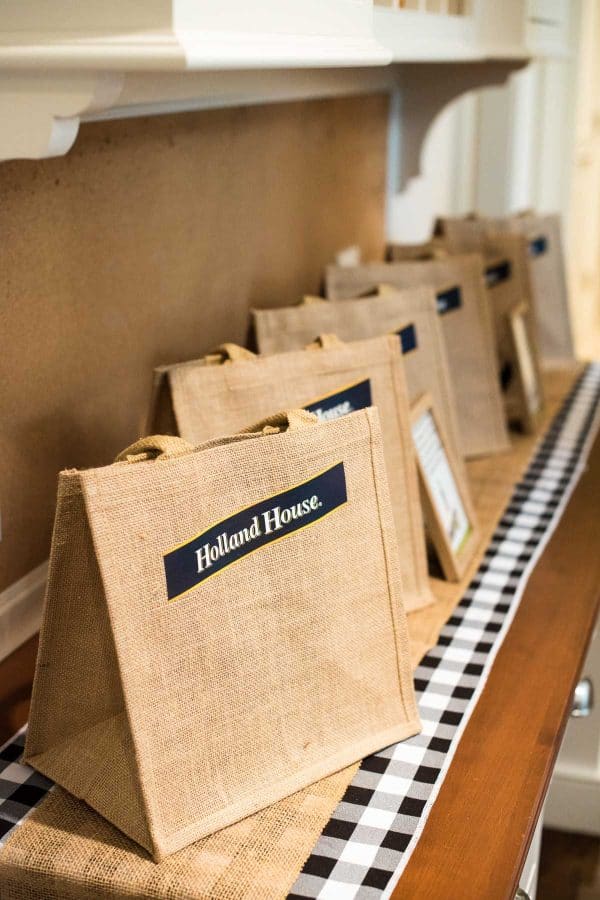 Live Cooking Event with Holland House
Do you like brownies? Like good brownies? Seriously rich with bold flavors that makes you go from, "oh, I'll just have a taste," to "oh yeah, no, I'm definitely going to need more than this, get your own."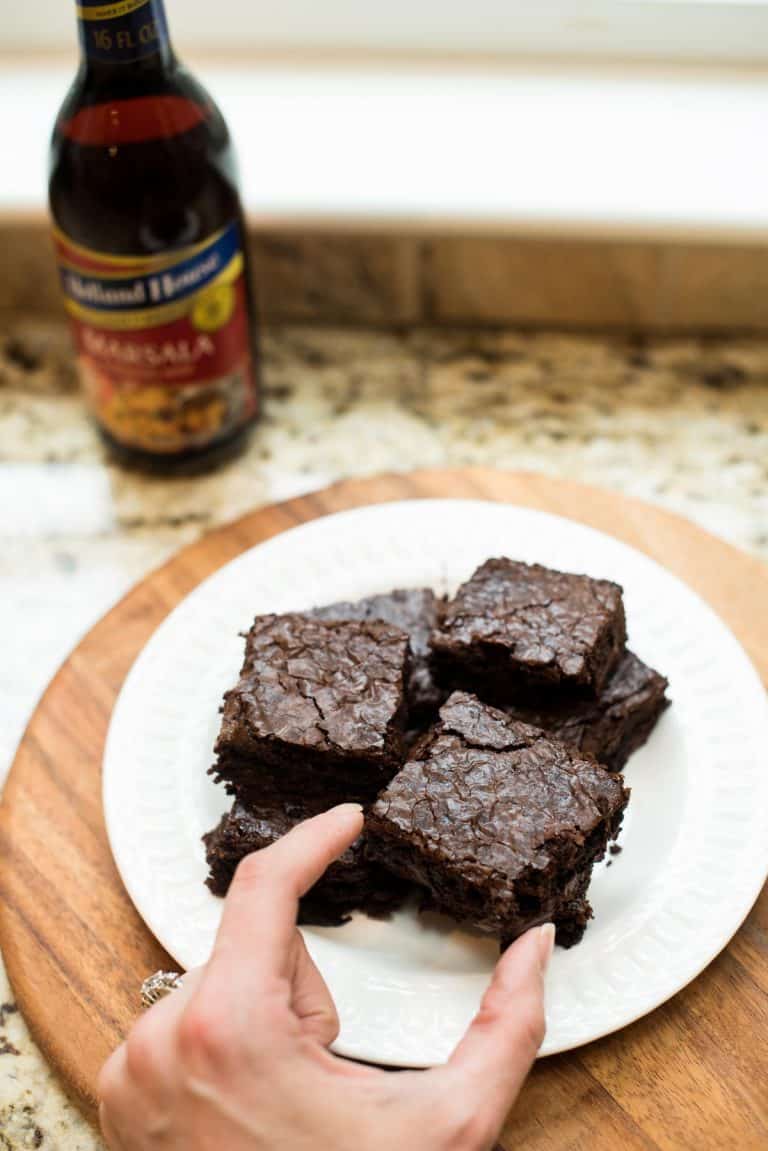 These Marsala and Dark Chocolate Malted Milk Brownies were just one of three holiday inspired dishes fitting that "this bite is not enough" description.
We had a seriously delicious Friday afternoon at a beautiful home in Weston. Seriously though, this home could grace the covers of Home and Garden or work as Martha's back up house if she ever wanted to relax in the affluent suburbs of Boston.
The fall leaves were at their peak of New England beautiful and it was one of those warmer, wet days with the perfect breeze in the air. The scene was set for a holiday inspired performance in the kitchen.
Do you know what happens when you throw a bunch of food enthusiasts in the kitchen with seasonally perfect ingredients? Tasty things. Bold, deep flavors and perfect texture.
Holiday Inspired Sides
Sherry Triple Berry Cranberry Sauce is definitely where it's at this year. If you're #TeamCannedCranberry I'm urging you to give this a shot. The Holland House Sherry Cooking Wine adds the perfect amount of sweet caramel and nuttiness without loosing the bright acidity of the fresh fruit.
Or just maaaybe, save yourself a little time and space on the stove the day of and make your gravy ahead of time using white cooking wine for a pop of fresh flavor. I'm just saying, if you can make your life easier why wouldn't you?
Perhaps you're one of the luckies that get to show up, eat and peace out before the tryptophan kicks in. Just because you're not cooking the main event doesn't mean you can't show off…I mean show up…with a tasty side dish - they don't need to know how easy it is to add hints of hazelnut and sweetness to Marsala Whipped Sweet Potatoes.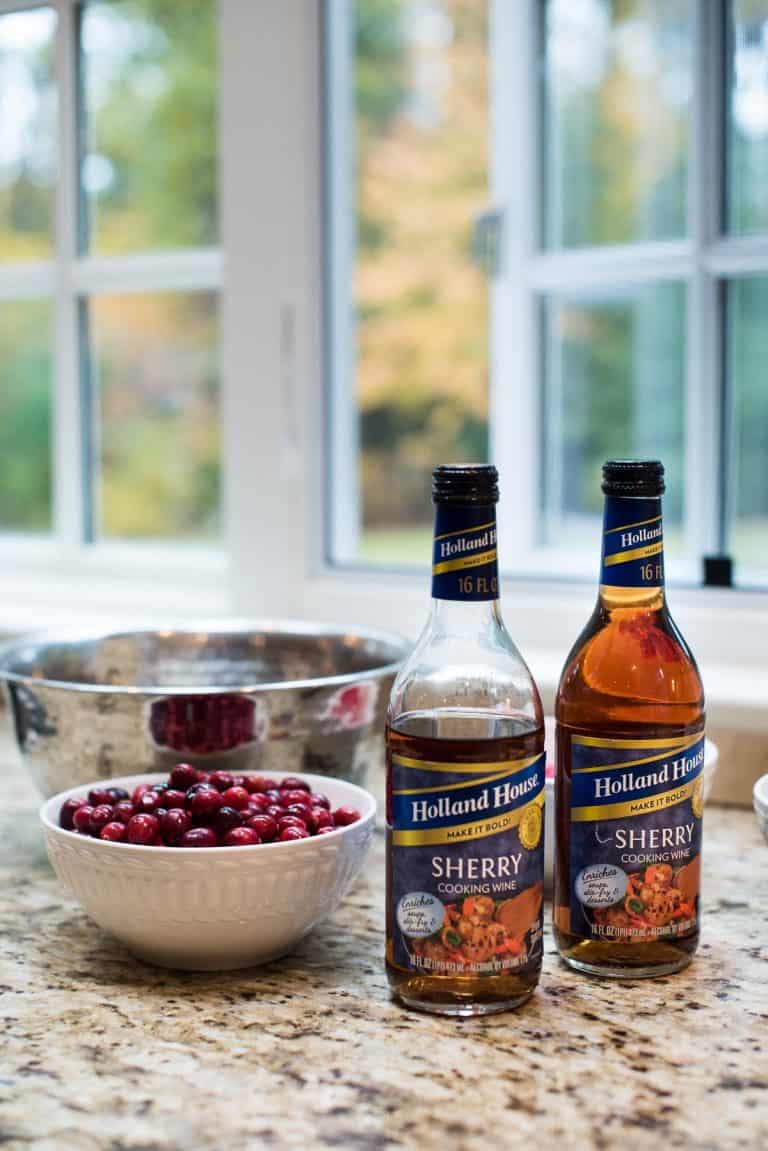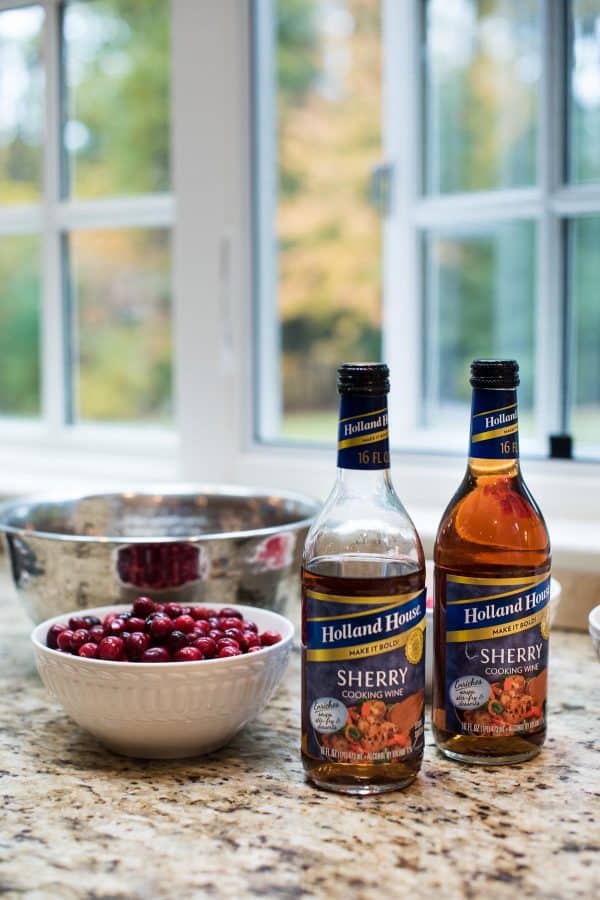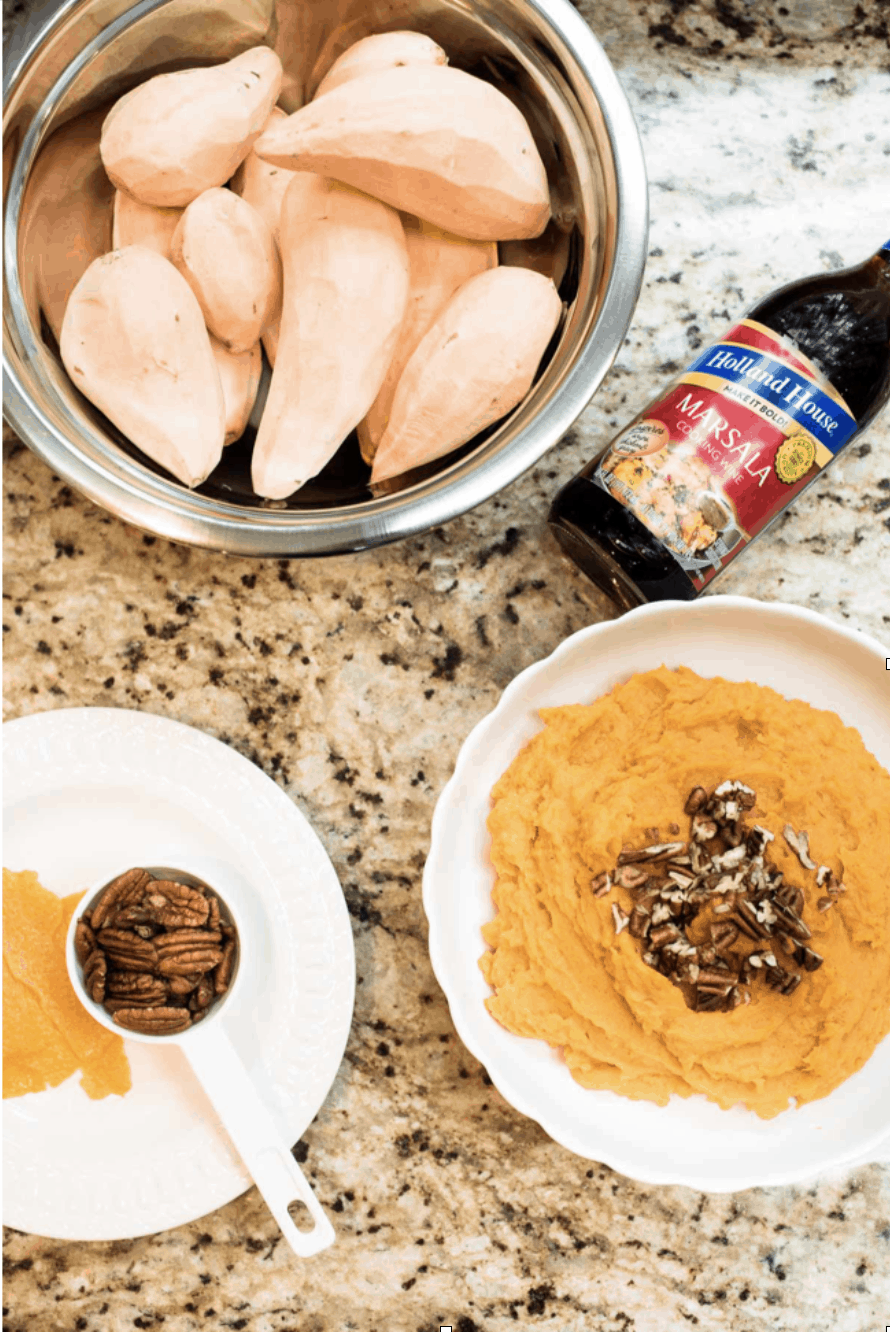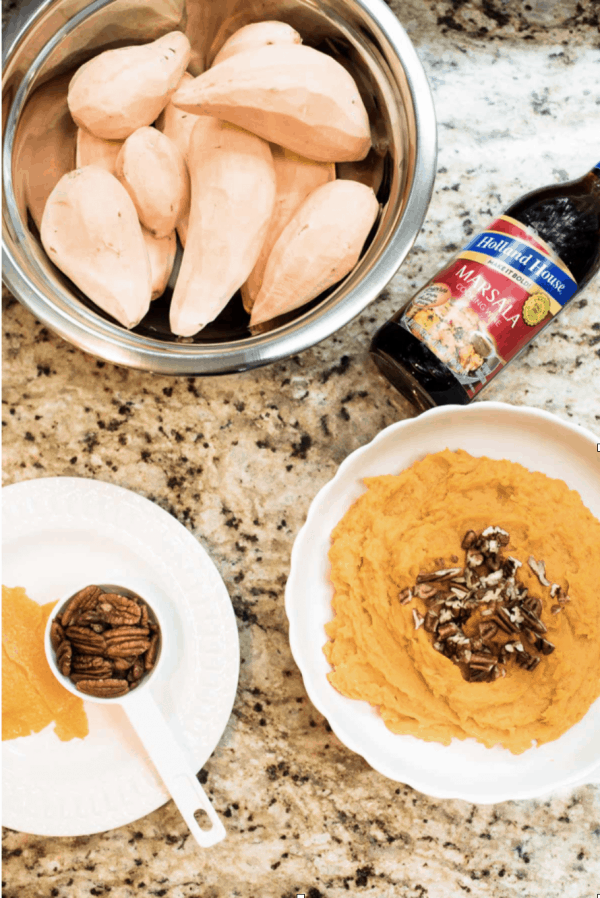 Even though it's the holidays, it doesn't mean we can't have delicious side dishes all the time. My favorite part about Holland House that's earned them a spot in my cabinet long before Hunger Thirst Play even started is that the flavor lasts throughout the cooking process. So if you're someone that cooks almost everything on high heat (I'm looking at you Mom) the flavor still stands up.
Oh, and you can buy them in the grocery store and I am all for not having to lug my two kids to more stores than necessary.
Marsala Braised Brussel Sprouts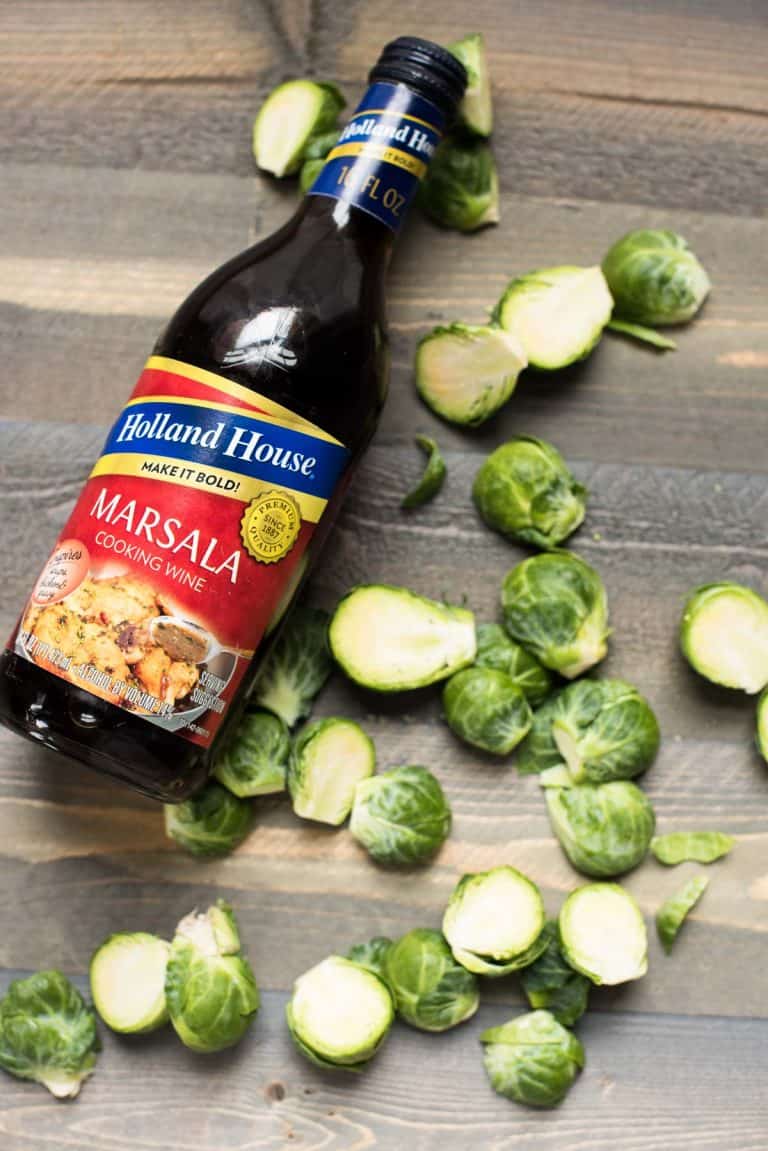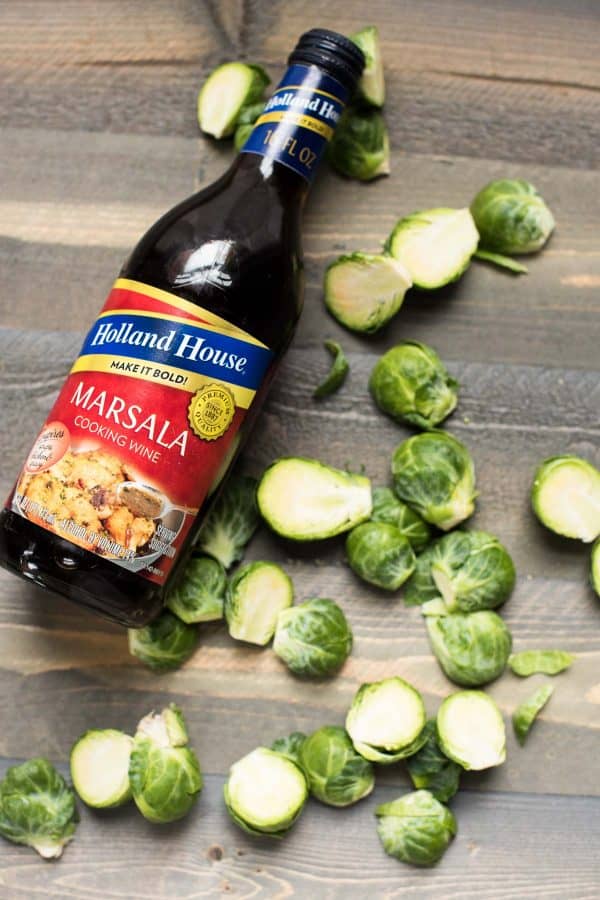 If you're not putting cooking wine in your creamy side dishes and sauces, you're not living your best life. Ever since this bottle of Holland House Marsala Cooking Wine made it home with me, I've been dreaming up how to incorporate it with a fall and winter staple.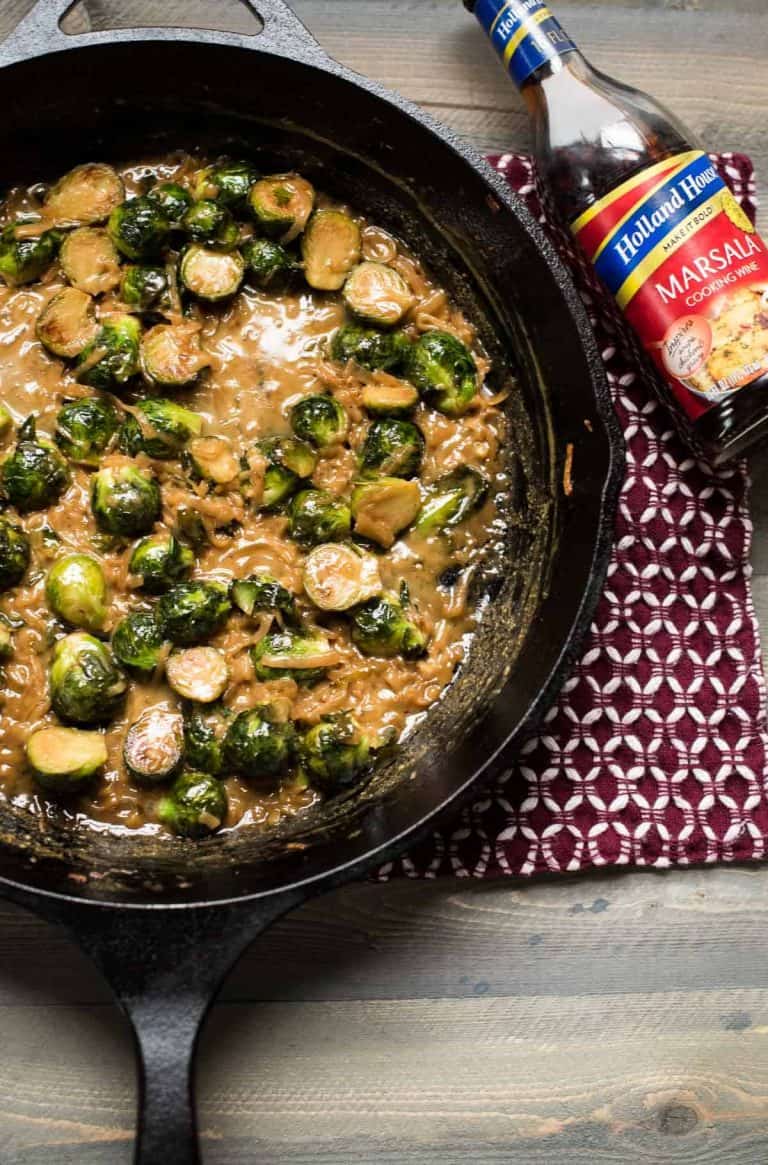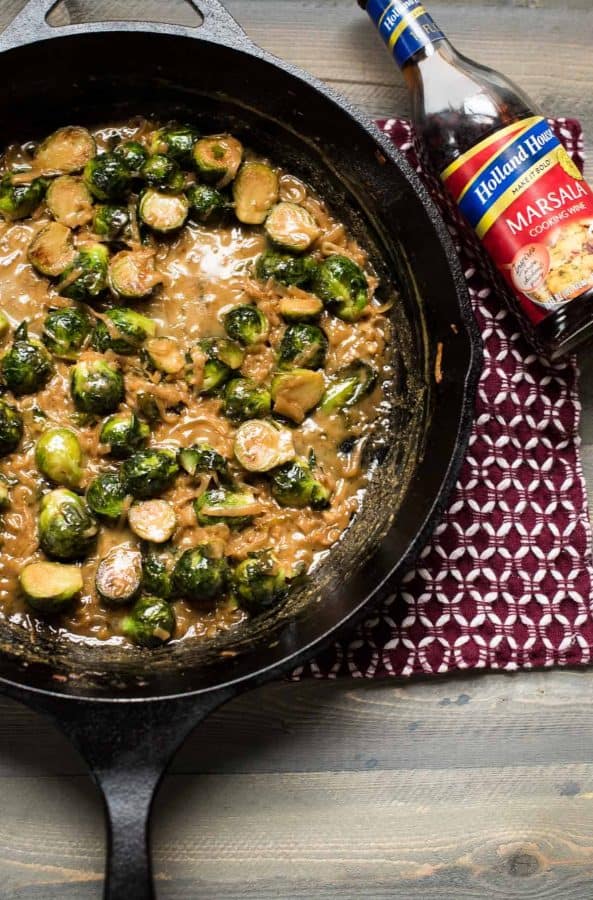 While Holland House Red Cooking Wine is a go to for red sauces and Holland House White Cooking Wine is perfect for adding to slow cooker soups, Holland House Marsala Cooking Wine is the underdog most don't consider except when it comes to chicken and mushrooms. Let's change that right now because the sprouts are all the comforting goodness you need in your belly this season.
Savory shallots, robust garlic and sweet, nutty marsala are packing so much flavor to rustic braised sprouts. Great as a vegetarian side dish or to stand alongside a hearty roast, Marsala Braised Brussel Sprouts are going to be the pleasantly unexpected side dish at the table.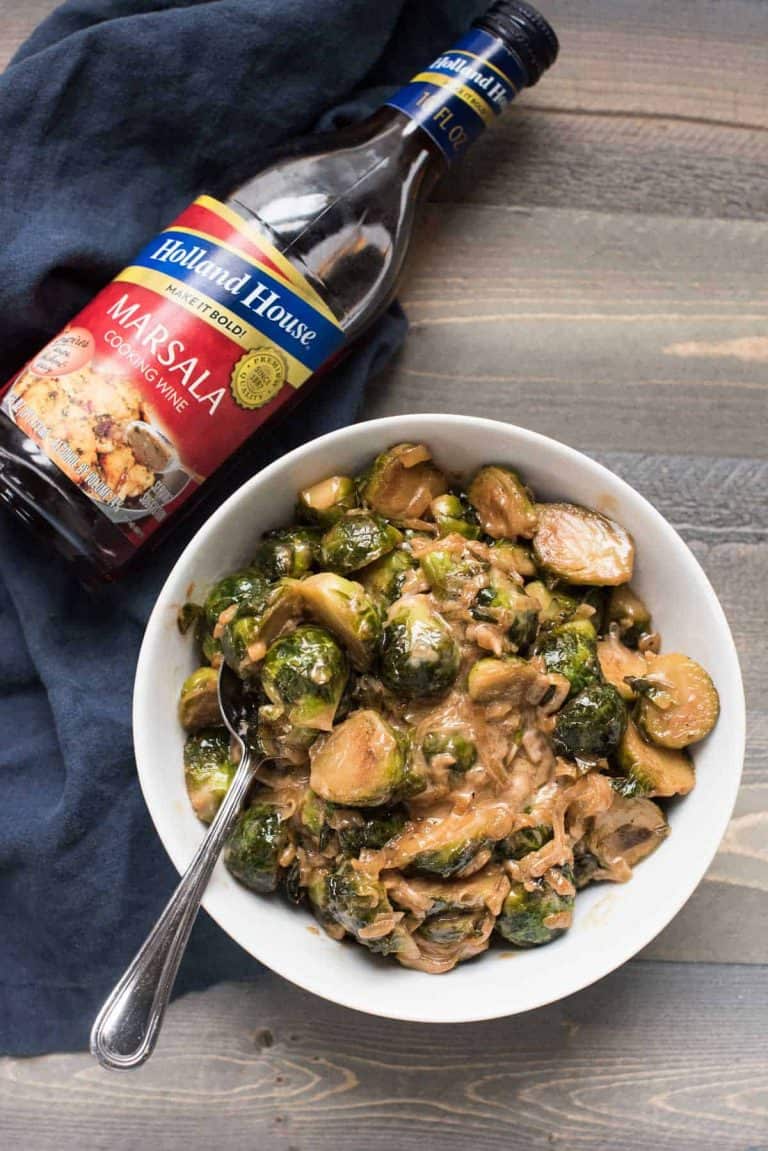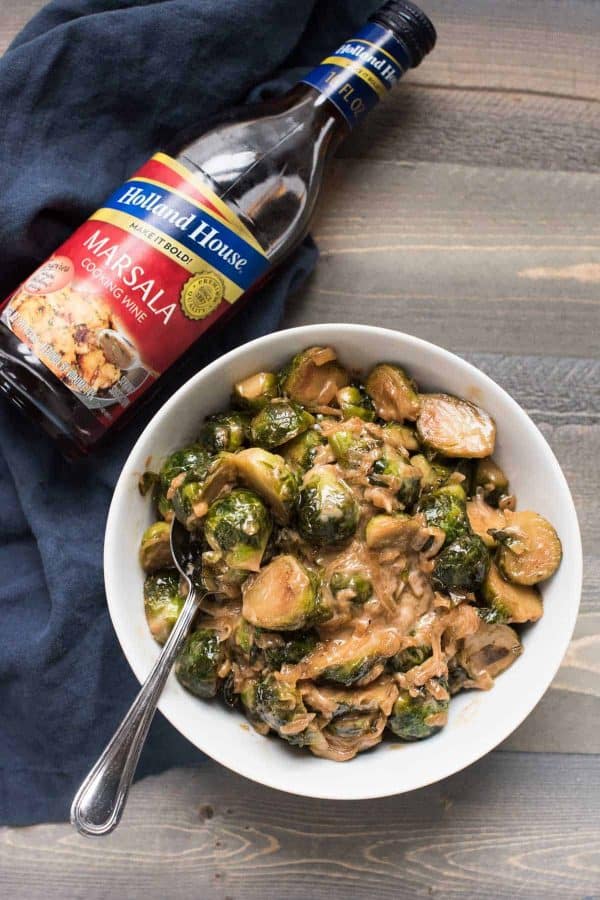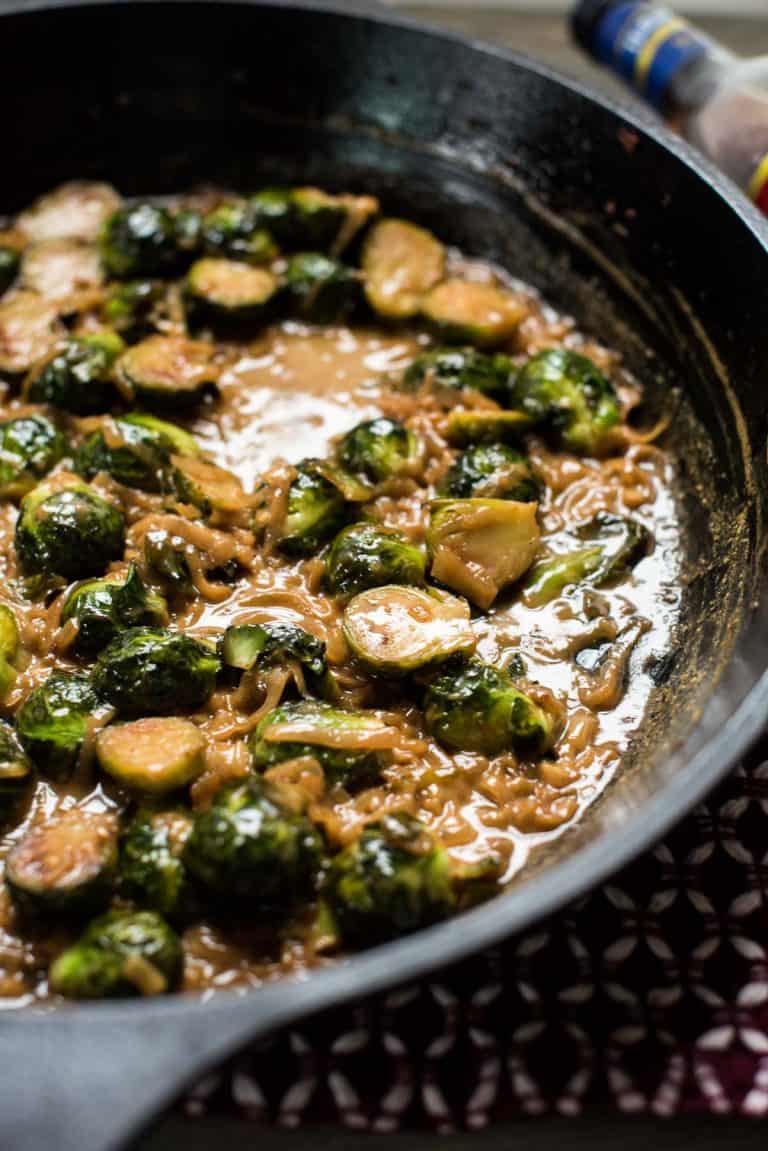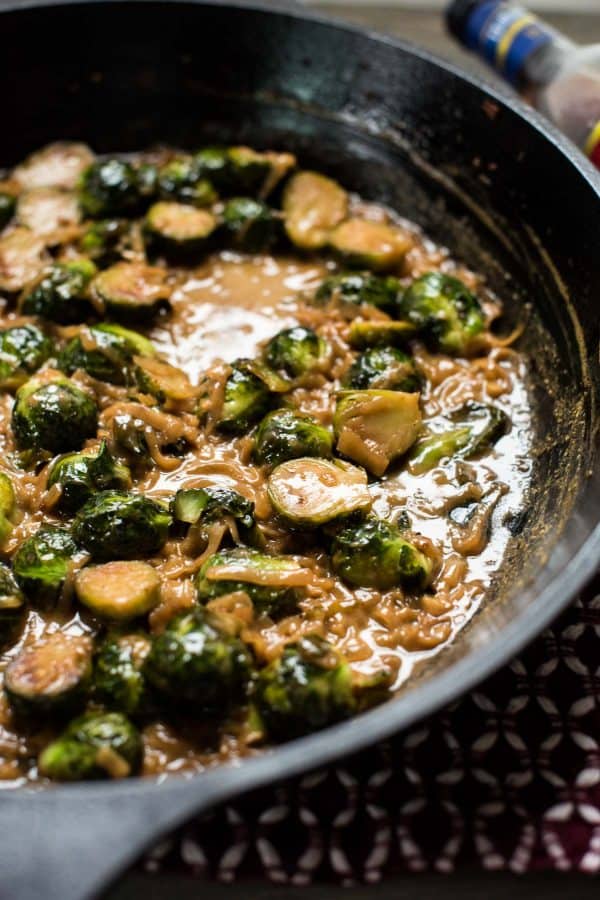 Loving what you're seeing? Follow Holland House on Facebook and Pinterest for more recipe inspiration! Or better yet, save yourself some cash at the check out and head over to the new Holland House website here for a coupon to download.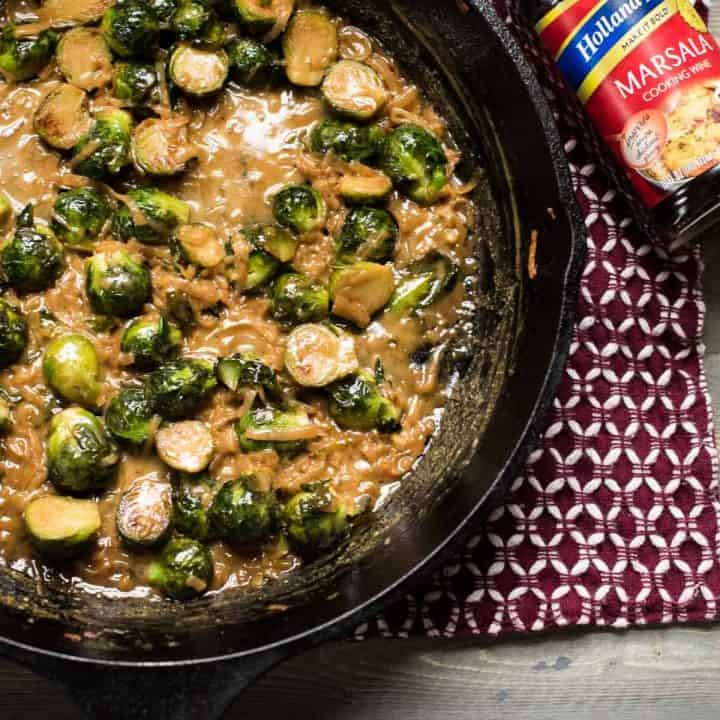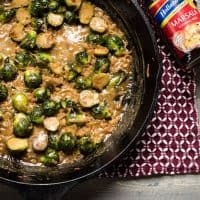 Marsala Braised Brussel Sprouts
Simmered with shallots, cream and marsala wine then finished in the oven this simple vegetarian side dish is perfect for a holiday meal or weeknight dinner.
Print
Pin
Rate
Ingredients
4

cups

brussels sprouts

(trimmed and halved, about 12-ounce bag)

2

large

shallots

(cut in ¼ inch moon slices)

2

cloves

garlic

(minced)

1

tablespoon

extra virgin olive oil

2

tablespoons

unsalted butter

(divided)

¾

cup

Holland House Marsala Cooking Wine

½

cup

heavy cream

½

teaspoon

salt

⅛

teaspoon

black pepper
Instructions
Preheat the oven to 425°F. Heat a large cast iron skillet over medium-high heat. When the skillet is hot, add the oil and butter. Once the butter is melted add the shallots and sauté for 2 minutes before adding the garlic. Cook the garlic and shallots together for 1 minute, stirring frequently so the shallots do not burn.

Add the sprouts to the pan and cook for 2 to 3 minutes, until they start to brown slightly. Deglaze the pan with ½ cup marsala wine, stirring frequently. Cook for 10 minutes until wine is reduced. When sprouts are browned and somewhat soft add remaining ¼ cup marsala, heavy cream and 1 tablespoon unsalted butter. Stir to combine.

Remove the pan from the heat and place in the oven. Cook for 5 to 8 minutes until the sauce is reduced and the brussel sprouts have crisped up. Enjoy right away!
Notes
If reheating later, reheat on the stove top with a splash of heavy cream.
Nutrition
Calories:
305
kcal
|
Carbohydrates:
18
g
|
Protein:
4
g
|
Fat:
20
g
|
Saturated Fat:
11
g
|
Trans Fat:
1
g
|
Cholesterol:
56
mg
|
Sodium:
331
mg
|
Potassium:
456
mg
|
Fiber:
4
g
|
Sugar:
6
g
|
Vitamin A:
1277
IU
|
Vitamin C:
76
mg
|
Calcium:
69
mg
|
Iron:
2
mg
This post is sponsored by Holland House Cooking Wine. All thoughts and opinions are my own.