I learned a valuable lesson this week. To tell this anecdote, let me back up. For the New England natives out there, you already know it was opening day for the Red Sox. Baseball is the only sport I religiously watch. Don't get me wrong, I'm not opposed to watching all sports. But I actually enjoy watching 9 innings of baseball. Weird, I know.
For the first time since I moved to the city 6 years ago, I missed Opening Day. But what we did get to experience was being scared s***tless, when you forget THERE IS A FLYOVER FOR OPENING DAY.
Turns out its real f-ing loud. We don't even technically live in Boston proper. There I sit, in the rocking chair. Shea in my lap. Story in hand. Dog snoozing nearby. SO picturesque.
In meer milliseconds, we went from sleepy, content story time to, "Oh my god, what the f*** is that? Run for your lives!" Snuggly and almost snoozing to literally scared pants less for two seconds.
OH, Opening Day. Right. I've never heard the flyover at home because I've never missed the game. Stab me in the heart fighter jets.
Soo...two and half hours later, I'm cracking a beer watching the game and Shea is f.i.n.a.l.l.y. taking a nap. Phew.
Now that that's over, let's get back to the namaste that is this Beets & Blue Kale Crunch Salad.
Please Note: This post is not sponsored, but you will find affiliate links listed on this page. The price you pay at check out does not change, but I may make a small commission based on your purchase from the link! Thank you for your support of HungerThirstPlay!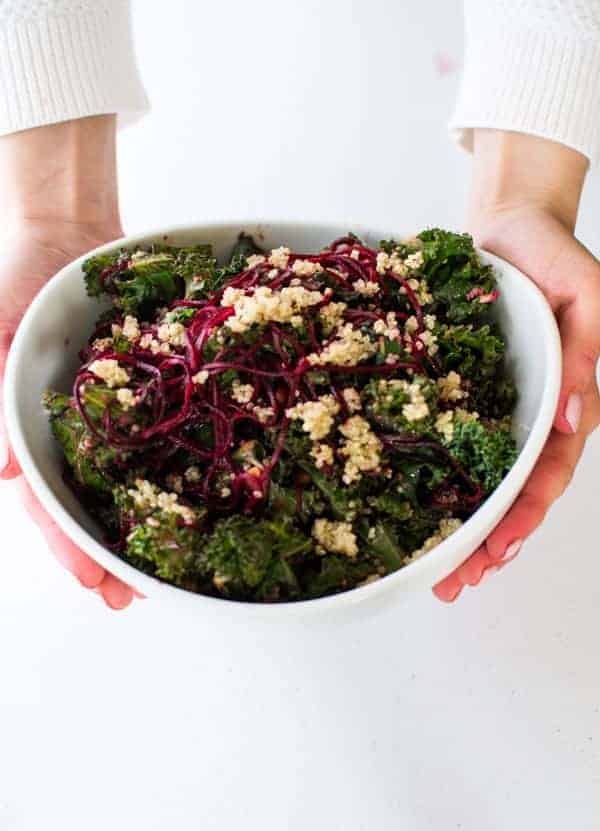 The beets and the blues
The beets and the blues of this salad are like the musical harmony of taste and texture for this bowl of superfood. Melty, tangy, blue cheese provides the perfect balance of richness to the crunchy, raw beet. There's just something about pairing up the earthy flavors of beets with a stinky blue cheese that makes my heart happy. Like romeo and juliet, two star crossed foods going to all lengths to be together. Then they just end up in your belly.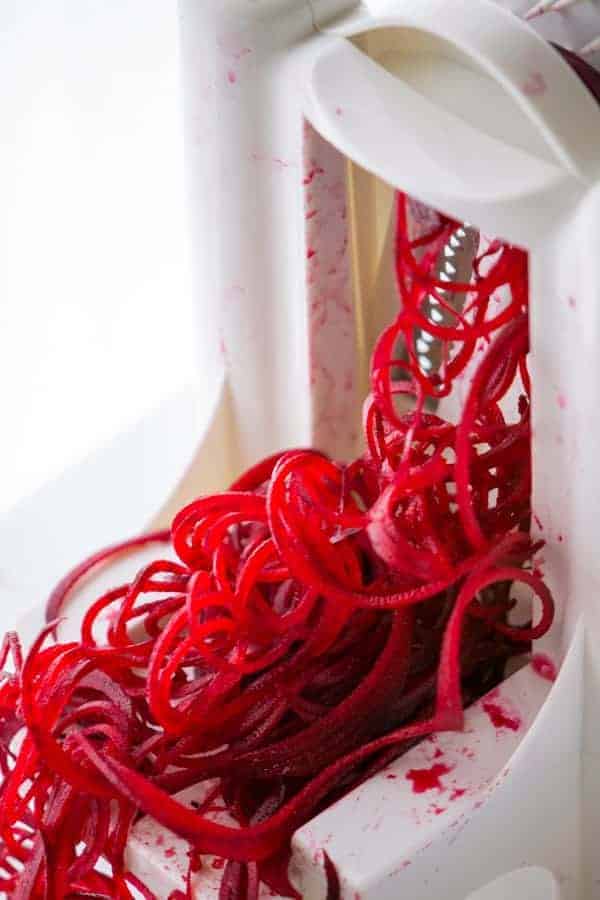 Raw beets? You may be skeptical about this. I was too the first time I tried it. But then I spiraled them on the angel hair setting and all was right with the world. The thin strands are the perfect texture without feeling like you're eating dirt fruit.
If you don't have a spiralizer, check out this one I purchased from Amazon here
or this one here
that's less expensive but still comes with the angel hair blade.
Spiralizing is my new obsession and these curly cue beets are bae.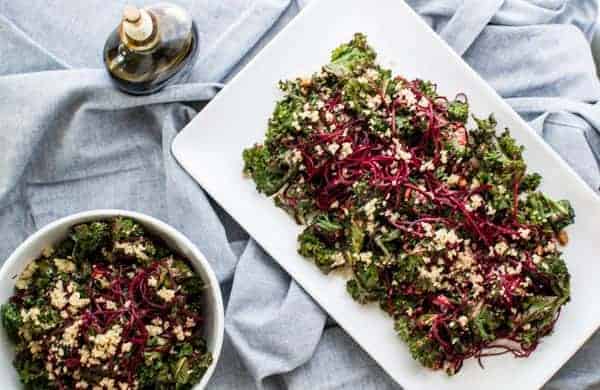 The LBD of Veggies
Each year it seems like there's a new veggie fad. Cauliflower has had it's run a couple times. Endive, romanesco, and the attack of the sprouts. Over the past five years, kale has reigned supreme as the fashionable vegetable. But I'm here to stake claim it's more than just a fad.
Kale is the little black dress of vegetables.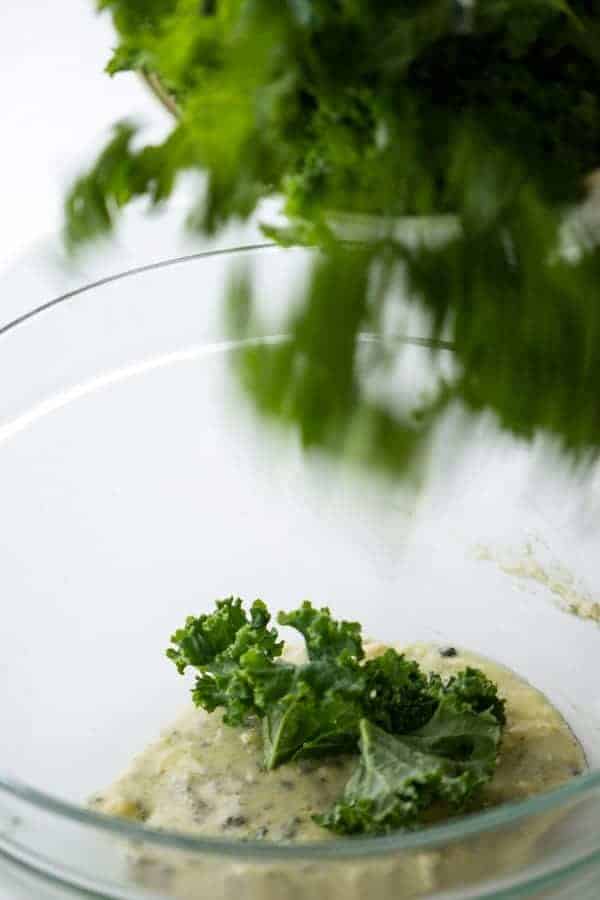 It always looks good on you, it never goes out of style and it's always an appropriate color for any event. Smoothies, braised, juiced, or raw, kale is going to be here to the bitter end. (Get it? Cause sometimes the end of the stems are a little bitter. I got food jokes.)
The kale reigns supreme for crunch in this Beets & Blue Kale Crunch Salad, it's the perfect green for mopping up all that melted blue cheese goodness. Tossing the curly leaves with the near liquid stinky, blue delight gets the cheese in all the nook and crannies so there's salty, creamy satisfaction in each mouthful.
Kale yeah.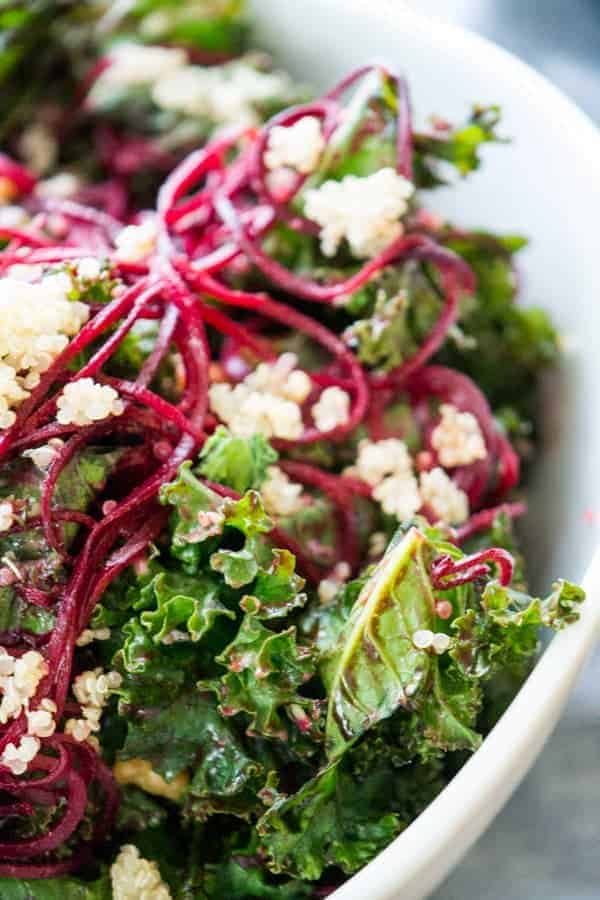 Bring on the grains
To bring up our crunch factor to the next level and to keep this kale crunch salad fueling you all day long we introduce our dear friend Quinoa. The springy texture of this ancient grain adds a different crunch in the texture department. Texture aside, the energy packed into these little grains is perfect if you're into keeping the salad vegetarian. But if meat's your thing a little grilled chicken on top is cool too.
If this beets & blue kale crunch salad wasn't already giving us feels in all the good ways, add in some glazed walnut pieces not just for texture but for a sweet and nutty taste. The glazed walnuts can absolutely be substituted for plain chopped walnuts or another nut of your choice. Fresh gourmet is the most popular brand in our produce department, over by the croutons, and is available here
on Amazon.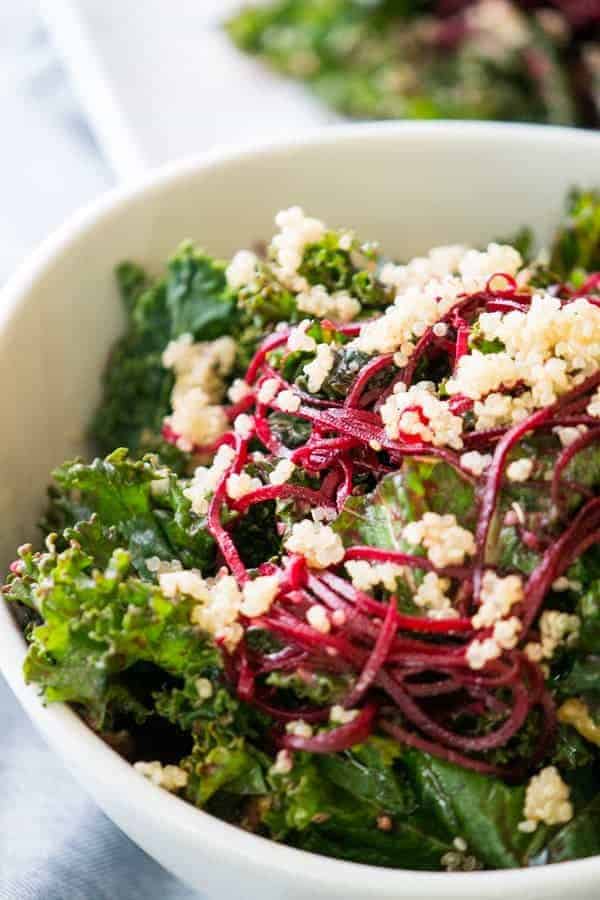 So with our kale and our quinoa we got the beets and the blues to keep grooving on the crunch train all day long.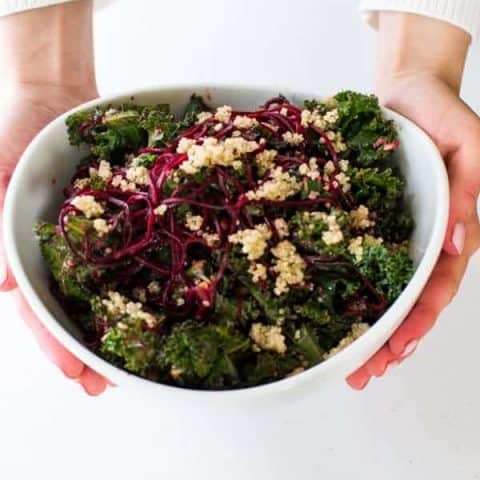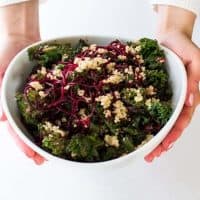 Beets & Blue Kale Crunch Salad
Spiralized beets and blue cheese are the perfect pair to boost this crunchy kale salad to the next level.
Print
Pin
Rate
Ingredients
1

head

kale

(chopped)

2

small

red beets

(peeled and spiralized (see notes))

4

ounces

blue cheese

(melted)

3

tablespoon

balsamic vinaigrette

⅓

cup

quinoa

(cooked)

¼

cup

glazed walnut pieces
Instructions
Thoroughly wash kale and remove the leaves from the stem. Roughly chop the kale leaves.

Wash and peel the beets. Spiralize using the angel hair blade.

In a large, microwave safe bowl, melt the blue cheese. Microwave for 1 minute, stirring every 15 seconds.

Add the kale to the melted cheese and toss thoroughly with tongs, coating as much of the green as the greens as possible.

Drizzle leaves with balsamic vinaigrette or dressing of choice. Toss with the tongs to coat all the leaves with the dressing. Add in beets and glazed walnut pieces. Mix with tongs. Sprinkle quinoa over the top of the salad.
Notes
If you don't have a spiralizer, steam the beets and slice thinly or purchase pre-steamed beets.
Using a good quality, soft blue cheese will bring more flavor and will melt easier.
Recommended dressing for this salad is the Port Wine Balsamic Vinaigrette, available in the free eCookbook you receive when you sign up for email updates at the top of the page!
Nutrition
Calories:
263
kcal
|
Carbohydrates:
20
g
|
Protein:
11
g
|
Fat:
16
g
|
Saturated Fat:
6
g
|
Cholesterol:
21
mg
|
Sodium:
570
mg
|
Potassium:
434
mg
|
Fiber:
2
g
|
Sugar:
5
g
|
Vitamin A:
3477
IU
|
Vitamin C:
41
mg
|
Calcium:
216
mg
|
Iron:
2
mg