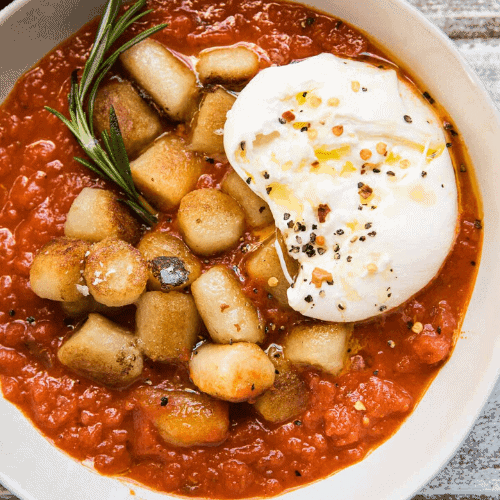 Print
How to Make Trader Joe's Cauliflower Gnocchi
No more squishy soggy stuck-to-the-pan cauliflower gnocchi!  The super popular Trader Joe's veggie pasta gets perfectly cooked with crisp outside while keeping the inside tender and fluffy.
In a large non-stick skillet, heat olive oil over medium-high heat until it shimmers.  Add the frozen cauliflower gnocchi to the oil and immediately give the pan a little shake so the frozen pasta doesn't stick.  Do not thaw the gnocchi before cooking.

Cook the gnocchi for 4 minutes, turn each piece of pasta over using a pair of tongs and cook for another 3 to 4 minutes until both sides are golden brown.

Reduce heat to medium-low and add the pasta sauce to the pan until it simmers.  Divide into 2 to 3 bowls and top with burrata, a drizzle of olive oil, salt and pepper.  For a spicier flavor, sprinkle with red pepper flakes.  Alternatively: You can heat the sauce in a seperate pan and pour into serving bowls then top with gnocchi, burrata and seasoning (as seen in the photos).
Calories:
335
kcal
|
Carbohydrates:
36
g
|
Protein:
5
g
|
Fat:
19
g
|
Saturated Fat:
3
g
|
Cholesterol:
1
mg
|
Sodium:
1518
mg
|
Potassium:
863
mg
|
Fiber:
10
g
|
Sugar:
8
g
|
Vitamin A:
803
IU
|
Vitamin C:
13
mg
|
Calcium:
74
mg
|
Iron:
3
mg