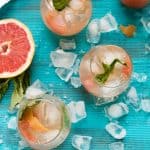 Print
Grapefruit and Rose Sangria
Ready to sip your way into spring and summer?  Sweet and tangy, fresh grapefruit juice pairs up with chardonnay and a subtle floral hint from rose infused vodka for an easy to make, crowd pleasing sangria.
Single Serving Grapefruit and Rose Sangria
Single Serving: Combine the vodka, chardonnay, grapefruit juice and triple sec in a shaker with ice.  Shake for 10 to 15 seconds.  Carefully pour the liquid and the ice cubes into your glass of choice (see notes).  Garnish with fresh basil leaves.

Batch Recipe: In the serving pitcher/container, combine the vodka, chardonnay, grapefruit and triple sec.  Whisk vigorously together and store in a cold place until serving.  Pour over ice into your glass of choice and garnish with fresh basil.
The batch recipe doesn't multiply evenly on the vodka, so you'll want just under 2 cups (2 cups minus 1 to 2 tablespoons).  You can always add more vodka if you feel you went a little under, but start with less and add as needed.
If using regular wine glasses, carefully add the ice so as not to break the delicate sides of the glass with the hard ice cubes.
Calories:
300
kcal
|
Carbohydrates:
20
g
|
Protein:
1
g
|
Fat:
1
g
|
Saturated Fat:
1
g
|
Sodium:
9
mg
|
Potassium:
207
mg
|
Fiber:
1
g
|
Sugar:
19
g
|
Vitamin A:
6
IU
|
Vitamin C:
23
mg
|
Calcium:
15
mg
|
Iron:
1
mg